Recipes: Chef Nick's Chocolate Chunk Bread Pudding with Butterscotch Sauce and Chef Ryan's Weeknight Chile-Rubbed Chicken with Glazed Brussels Sprouts
As the U.S. food landscape changes, convenience stores continue to gain share from traditional segments. But what role do food innovation and chefs play in this unique environment? Oklahoma-based QuikTrip has expanded its offerings in recent years to meet customers' demands, which include adding a full-service kitchen. At the helm are Senior Corporate Chef Nick Powell and Corporate Chef Ryan Boone. Here, we talk to both chefs about how they changed QuikTrip's approach to foodservice to overcome the stigma of "gas station food."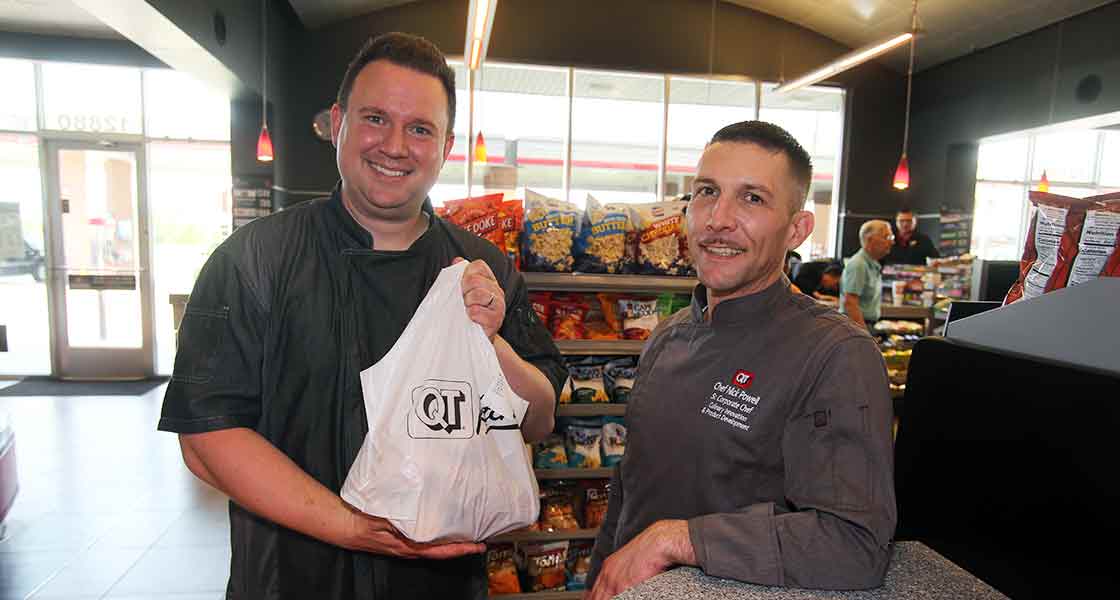 Q: Can you briefly talk about your roles and how you work together?
Nick Powell (pictured above right): We both have specific product categories that we develop products for. So, for instance, mine are mainly pizza, pastry, and pretzels. So, any product development work and product improvement work that has to do with those three categories, I pretty much handle. But, when it comes to the bigger picture of our roles, mine is more strategic, and Ryan's role is more tactical.
So, if we were to look at a new piece of equipment, my role at the very beginning is to help scope the whole project and determine what the overall considerations and impacts on the company are, and what a development path might look like. Then, Ryan can come in and flush everything out.
Ryan Boone (pictured above left): Yes, we do some work on separate categories and some work together on the larger projects. So, for categories like our breakfast foods, sandwiches, coffees, and ice cream, I do the front-end development. But when we're working together on a large-scale project, Nick helps to determine the path that's right for QuikTrip. I come in and work on developing what the possible concepts are going to be, and then, work to get those into the real concepts that we're going to end up with.


Q: Can you talk about how you work with vendor partners to take an idea from the drawing board to finished product? How long does this process take?
Powell: It really depends. We might get some ideas from them, or we might bring an idea to them, or we might come up with an idea together in a targeted work session. If it's a simple project, it might just take a couple of months, or it could take more than six months. The way that we work with our vendors is that we do some things iteratively, where we're sort of giving feedback on the samples that they are submitting, but for bigger projects, we prefer to actually go on site to the supplier and work with them for a day or two. That really cuts down on the time it takes. Plus, it's much easier to explain to someone what you do and don't like or what you're looking for face-to-face than it is through email or over the phone.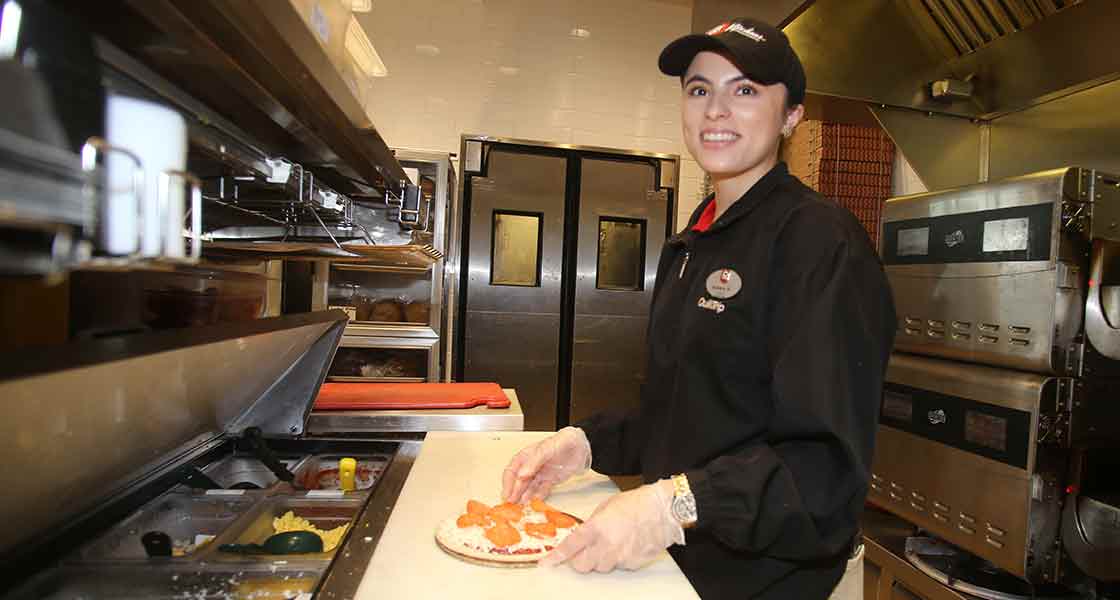 Q: Why has QuikTrip made the decision to move away from made-to-order food to focus on the grab-and-go menu?
Powell: So, I wouldn't say that we're moving away from made to order, we're just shifting our focus. Everything that you can get on grab-and-go menu, you can also get made to order, and that won't stop. We'll always have items that are made to order because there are people who prefer to customize and want things made their way. Our lifeblood really is in grab-and-go food, and that's where we have the best possibility of success.
Boone: We want to have two prongs: "Here's something if you need something right now" and "If you have time, and want to make it your way, we're always happy to make it fresh just the way you like it."


Q: How does the quality of the ingredients help customers overcome the "psychological hump" that they have to get over to eat at a c-store?
Boone: We spend a lot of time talking about price value and quality value. How do we bring what consumers perceive to be value? Some customers are looking for a low price, while some are looking for a high-quality item. Many times, this is sorted out by working with our supplier partners. What we're trying to do is a little different from what a lot of people in the foodservice industry are doing in terms of both the level of preparation on-site and the consumer needs that we're trying to fill.
A lot of what's available out there hasn't been optimized from a culinary perspective for an operation like QuikTrip. Many times, if we work with our vendor partners, we can identify steps in the process that can improve the quality of a product without necessarily adding costs just because they haven't developed their items with our system in mind.


Q: Nick, in your presentation at the RCA conference in March, you mentioned that uniqueness is not that important when it comes to product development for QuikTrip. However, you shared some unique products that you have debuted such as the Maple Bacon Shake. How successful are unique items?
Powell: So, my point in my RCA presentation was that it's not the worst thing for us to have lower uniqueness scores. It's not that we don't value uniqueness in our foods, but because we are a c-store people want to be familiar with what they will find here. We can tweak things a little, but at the same time, it must make sense for a c-store.
That doesn't mean that we can't have some more unique items. But they serve a different purpose, which is as disruptors to the category, or to lift the category as a whole. Also, they are usually just limited-time offers. The Maple Bacon Shake did well enough that they brought it back for two years after it launched.
Boone: When we talk about uniqueness versus approachability, we want to maintain a careful balance that varies a little by category. So, for a lot of the categories, we're looking for what we like to say is risk without risk, where it has something new but also something familiar. It's about how we offer something interesting without going so far that people feel uncomfortable.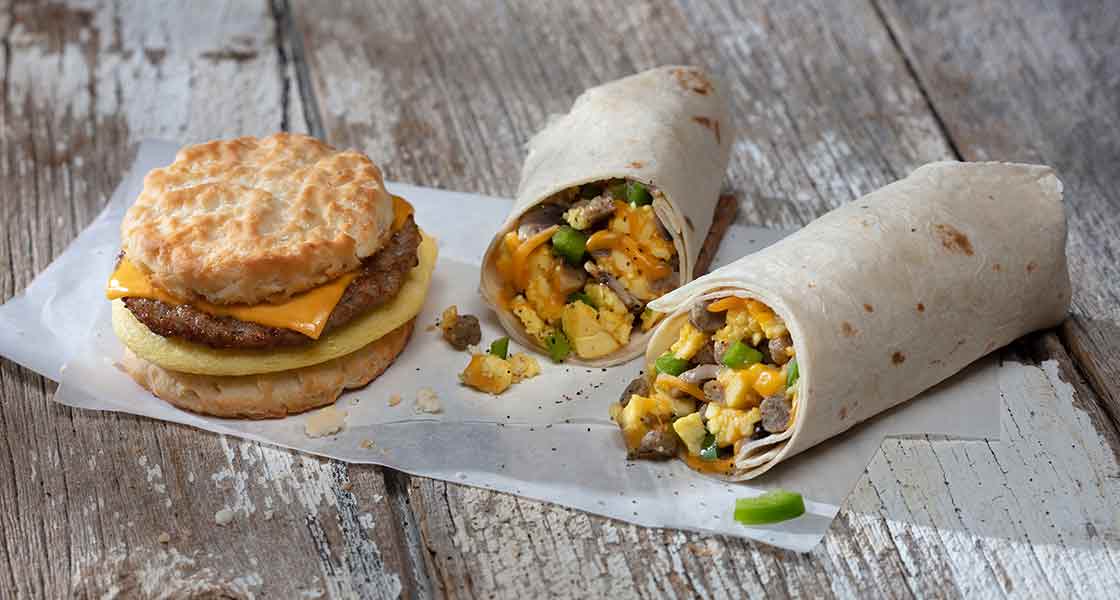 Q: Labeling foods as "healthy" is as Nick said, the "kiss of death," but do you make efforts to improve the healthfulness of the items on the "down low"?
Powell: I would say that we have taken a more holistic view of it, which is that healthfulness means different things to different people. So, you can go into our store right now and get a very healthy meal. But, ultimately, the onus is going to be on you, as the consumer, to decide what it is healthful to you and to put that together.
We've made a lot of strides in the past few years, and I would say that as a chef, I'm interested in putting out some more healthful items. However, it's the calling attention to them as vegetarian, vegan, or "better for you" that's really the issue. I think if we can find some things that stand on their own as delicious menu items that you would order not because they're good for you, but because they're delicious, that's really the type of thing that I think would do well at QuikTrip.

Q: What products you have developed that are both healthy and popular?
Boone: One item that's popular right now is the breakfast scramble. It's got scrambled eggs, and, if you go to get it made-to-order, you can add veggies and choose how much protein you want. A lot of people on the low-carb diet, like the keto diet, have a high affinity for that item right now.

Q: How do you foresee your product development process changing as your target customers gets older and has different food needs?
Powell: It's really all about consumer insights. Right now, we're working off fresh consumer insight data, where we've identified who our customers are and what they need. That has been tremendously helpful in the product development process. But we know that won't stay true forever. Periodically—maybe every five years or so—we go back and refresh our consumer insights. That's when we find out our consumers are getting older, or they're getting younger, their needs have changed, their financial status has changed—all these sorts of things that help us target them and develop the items that they want.
This interview has been edited and condensed for clarity.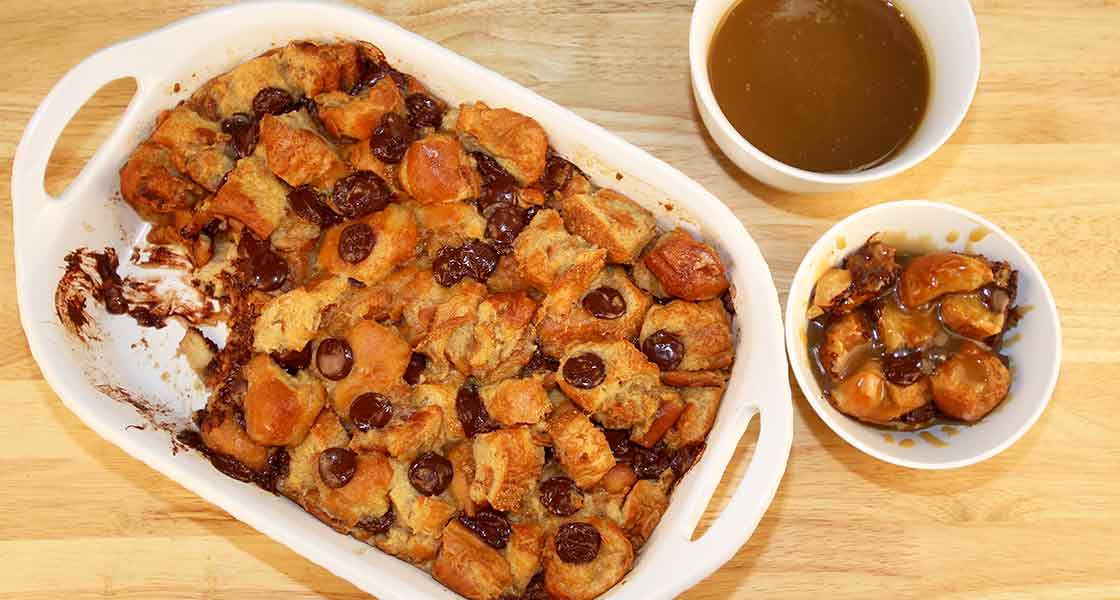 Chef Nick's Chocolate Chunk Bread Pudding with Butterscotch Sauce
Notes from the chef: "For the bread, I like to use a mix of mostly glazed donuts and other sweet breads such as cinnamon rolls, with some softer, less sweet breads like an Italian loaf or sub rolls, but it must include donuts. For the chocolate, it's important to use couverture or something similar in viscosity. Chop it into giant chunks directly off a block, or just use the callets (coins) couverture often comes as, so that you get nice deep pools of melted chocolate scattered throughout."
Ingredients
Bread Pudding:
4–5 L of day old bread/pastry, cubes, cut into 1.5-inch pieces
200 g sugar
Pinch of salt
2 tsp of vanilla extract
1 tsp of cinnamon
5 eggs
750 mL of whole milk
225 g of dark chocolate couverture, chopped into large chunks, or use callets
Sauce:
115 g of butter
200 g of brown sugar
250 mL of heavy cream
Pinch of salt
Instructions
Bread Pudding:
Whisk the eggs, sugar, salt, cinnamon, and vanilla in a bowl large enough to hold the bread with some wiggle room for mixing until the sugar starts to dissolve.
Add the milk and whisk to combine.
Add the bread pieces and very gently toss them by hand with the liquid until soaked but not mushy.
Add the dark chocolate and toss again gently to distribute.
Transfer it into a casserole or into a 2-inch half pan. Bake at 300°F in a convection oven or 325°F in a standard oven for 25–30 minutes until set but still jiggly.
Sauce:
While it's baking, make the sauce by melting the butter in a small saucepan.
Add the brown sugar and whisk over medium heat until boiling. Let it boil for about a minute, whisking intermittently just to keep anything from burning. Cook it until it reaches 250°F.
Whisk in the cream and let it return to a boil, then turn the heat down and let it boil for a couple of minutes.
Serve the pudding warm, while the chocolate is still very melty, and drizzle the sauce over each portion.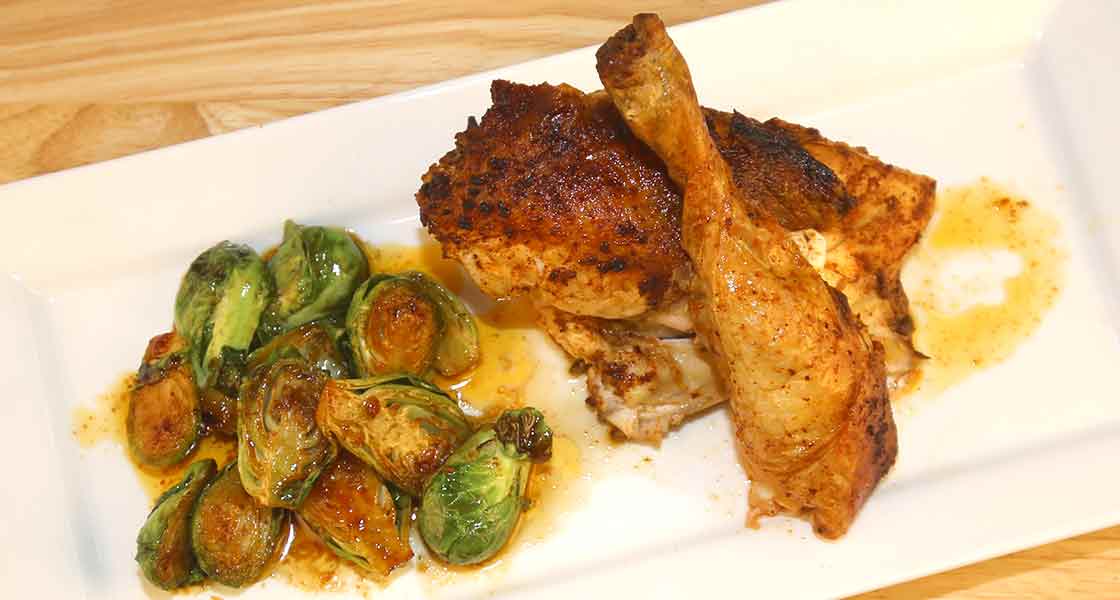 Chef Ryan's Weeknight Chile-Rubbed Chicken with Glazed Brussels Sprouts
Notes from the chef: "This is my go-to weeknight dinner. Once you've mastered the spatchcocking process it's easy to prepare, affordable, delicious, and can be ready in 45 minutes. Best of all, it only uses one pan, so cleanup is a breeze."
Ingredients
1 small chicken, 3–3.5 lb
Salt and pepper
Spice Paste:
100 g chile powder (or powdered toasted chiles)
10 g garlic powder
15 g cumin
25 g onion powder
25 g hot smoked paprika
25 g thyme
200 g refined oil, such as soy
Glazed Brussels Sprouts:
1 lb brussel sprouts, sliced in halves
1 shallot, finely minced
4 cups of unsalted chicken stock
1 oz of butter, divided into four small pats
Instructions
Preheat oven to 500°F.
For the spice rub: Combine all dry ingredients in a small bowl and drizzle in oil until mixture forms a loose paste. This batch will create enough paste for approximately 10 chickens. You can store it covered and refrigerated for up to a month. You can also make a batch at 10% of this size for a single chicken.
After spatchcocking (see below), season the chicken over and under the skin with salt. Rub chicken with spice paste, making sure to season under the skin.
Place chicken skin side up in a heavy cast iron skillet and cook 25–30 minutes, until the skin is blistered and charred and takes on a crisp, rigid texture.
For larger birds, open the oven door and reduce oven temperature to 350°F, then cook to an internal temp of 160°F (cooking will continue after removing from oven).
While the bird is roasting, reduce 4 cups of chicken stock over high heat to a sticky glaze consistency, about ¼ cup total.
Once the chicken is done roasting, remove from oven and place on a cutting board to rest.
Place sprouts, cut side down, in the hot cast iron skillet. Place back in the hot oven for 5 minutes, or until tender.
Remove from oven and place on range over high heat. Add the shallots and chicken glaze and cook for 1–2 minutes more. Slowly whisk in one pat of butter at a time until all butter is melted into the glaze. Season with salt and pepper.
Spatchcocking Method:
Using kitchen shears, put a chicken breast side down on a clean cutting board and cut the backbone of the chicken out.
Flatten the chicken out so you can see the inside of what was the chicken cavity. Wedge your first and second finger under the keel bone of the chicken and pry it out (this takes a little bit of force.)
If the full bone doesn't come out, use a sharp paring knife to slice the meat away from the rest of the keel and remove.