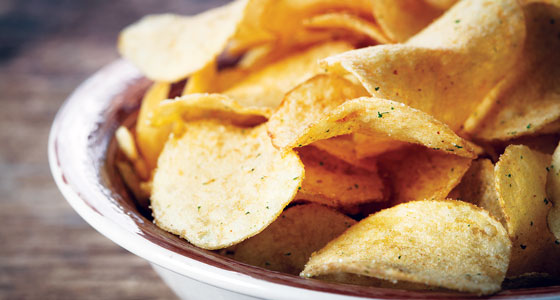 Vacuum impregnating potato chips with green tea
Potato chips, one of the most popular snacks in the United States, generally are not considered nutritious because of their high fat and carbohydrate content. A recent study in the Journal of Food Science tested the feasibility of enriching the chips with antioxidants by introducing green tea extract using vacuum impregnation (VI) technology.
Total phenolic content (TPC) was used to find the optimal VI parameters. Sliced potatoes were fried under vacuum at 110°C, 120°C, or 140°C from 20 to 720 seconds to test the thermal degradability of the TPC. Three frying systems were also compared: vacuum frying (VF), dual-step (DS) frying, and atmospheric frying (AF).
The maximum TPC of 196.11 ± 15.41 mg GAE/100 g of dry matter was achieved with a green tea concentration of 5%, vacuum time of 10 minutes, and a pressure of 80 kPa. Samples fried at 120°C showed an overall greater phenolic retention capacity compared with the chips fried at 140°C and 110°C.
Using the optimal VI and VF parameters (140°C, 100 seconds), the three frying systems were compared. Samples fried using the AF system contained twice as much oil content as those fried using the VF or DS systems. VF chips had the highest percentage in TPC increase (209%) while AF chips had the lowest (163%). A consumer panel found the samples fried under AF more acceptable and were given the highest scores for all quality. VI had a negative effect on the color scoring, with the chips being dark.
The researchers concluded that the enriched potato chips have the potential for manufacture and may influence the public into consuming a phenol-rich snack.
Evaluating nutrition: regulators versus consumers
Consumers may not consciously differentiate between nutrition and health claims on foods in the way that regulatory experts do, according to research published in the journal Nutrients.
An international team of researchers investigated whether consumers in the United Kingdom, Slovenia, Germany, Spain, and the Netherlands were able to differentiate among various health and nutrition claims required by EU food regulations, which distinguish nutrition claims (i.e., a claim stating that a food contains a particular element) from health claims (i.e., a claim implying a health benefit from consuming a food).
Study results showed that consumers' predetermined beliefs about nutrients and their relationship with health outcomes were key drivers in interpreting claims. When nutrients are familiar and personally relevant, there is the potential for consumers to "upgrade" the nutrition claims to health claims based on previous knowledge.
The researchers believe that regulators need to consider making information available to consumers that keeps them well-informed so they can respond appropriately to claims in the marketplace.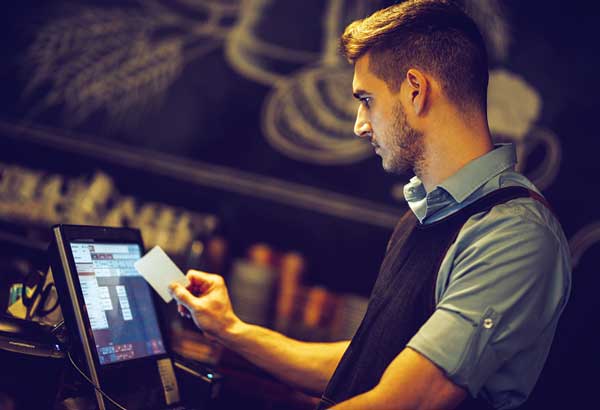 Restaurant operators invest in technology
Restaurant industry sales are forecast to reach $863 billion in 2019, according to the National Restaurant Association's 2019 State of the Restaurant Industry Report, which examines significant forces shaping the industry.
Approximately half of restaurant operators rate their business as stronger than two years ago, with 1.6 million new restaurant jobs projected to be added by 2029. Roughly three in four gave ratings of "excellent" or "good" when assessing business conditions in the United States. However, operators are also acutely aware of competitive pressures, rising labor costs, a tighter labor market, and a complex regulatory landscape.
Off-premises options will be important drivers in 2019, with 38% of U.S. adults—including 50% of Millennials—indicating they are more likely to have restaurant food delivered than they were two years ago. To meet the demand, nearly four in 10 operators plan to expand their off-premises business in 2019. In addition, more than eight in 10 agree that the use of technology provides a competitive advantage, and many plan to ramp up their investments in 2019.
"Consumer demand for greater convenience and speed will continue to accelerate, and restaurants are responding by adopting and incorporating more sophisticated layers of technology into day-to-day operations," said Hudson Riehle, senior vice president, research and knowledge group, National Restaurant Association. "Operators across all restaurant segments will focus on building their business among Millennials and younger consumers in the years ahead. To attract these digital natives, we can expect the majority of operators to get creative in offering personalized incentives, deals, loyalty programs, and rewards through various digital channels."
Added sugar label could generate savings
The U.S. Food and Drug Administration's mandatory added sugar labeling policy for packaged foods and beverages, taking effect between 2020 and 2021, could generate important health gains and cost savings for the healthcare system and society, according to a modeling study led by researchers from the Friedman School of Nutrition Science and Policy at Tufts University and the University of Liverpool.
The study estimates that the label could prevent or postpone nearly 1 million cases of cardiometabolic disease over a 20-year period, including 354,400 cases of cardiovascular disease and 599,300 cases of diabetes. In addition, 727,000 quality-adjusted life years could be gained, and savings of $31 billion in net healthcare costs and $61.9 billion in societal costs could be realized. Policy costs were estimated to be $1.7 billion.
When combined with possible reformulations to reduce added sugar, the study estimates that the label could prevent or postpone nearly 3 million cases of cardiovascular disease and diabetes over the same time period. The cost-effectiveness of each scenario was evaluated from a healthcare perspective and a societal perspective. Both scenarios were estimated to be cost effective within five years and cost saving within seven years.
"These findings have important implications for individuals, policymakers, and the food industry alike," said Renata Micha, the study's co-senior and corresponding author. "Modest industry reformulation would be a powerful way to maximize potential benefits, highlighting industry's critical role in being part of the solution."
Plant breeding technologies support food security
An international team argues in a perspective article published in Science that new plant breeding technologies can contribute significantly to food security and sustainable development. Genome editing techniques in particular could help make agriculture more productive and environmentally friendly.
"Plant breeding and other agricultural technologies have contributed considerably to hunger reduction during the last few decades," said Matin Qaim, an agricultural economist at the University of Göttingen and one of the article's authors. But the resulting high intensity in the use of agrochemicals has also caused serious environmental problems. Future technologies, he believes, need to reduce the negative environmental footprint and make agriculture more resilient to climate stress.
"Genome editing allows us to develop crop plants that are more resistant to pests and diseases and more tolerant to drought and heat," said Shahid Mansoor from the National Institute for Biotechnology and Genetic Engineering in Pakistan. In genome editing, certain DNA sequences are changed or "switched off" without foreign genes being introduced. Hence, genome-edited crops are different from transgenic genetically modified organisms (GMOs). "The new methods are already being used in various cereals and also to improve neglected food crops such as pulses or local vegetables," Mansoor explained.
In Europe, regulations for genome-edited crops are still being debated. In July 2018, the EU Court of Justice ruled that the crops would fall under the existing GMO law. "This will hold up future applications," said Qaim. In addition, regulation of new breeding technologies will affect developing countries, carrying the risk that the potential of genome editing for food security cannot be fully harnessed, noted the researchers.