Karen Tran remembers the first time she saw pot stickers being demonstrated at a Costco store in California. Amid the bustling sample-fest at the warehouse-club outlet on a Saturday morning, shoppers were swarming to the lady who was microwaving and putting out Ling Ling Asian Kitchen pork and vegetable dumplings. They disappeared into consumers' mouths as quickly as she could place them on a tray.
"Ling Ling had a great recipe and put out tons of samples and it just snowballed," says Tran, who was working for a consumer packaged goods (CPG) brand in product development at the time and now is a consultant on the foodservice side. "People saw it being prepared by demonstration agents at Costco, and it was easy and approachable. They saw pot stickers as more than something you could only order at a Chinese or Japanese restaurant. It went from something you'd normally consume in a restaurant to something you buy in a store. And pot stickers have been pretty mainstream for several years now."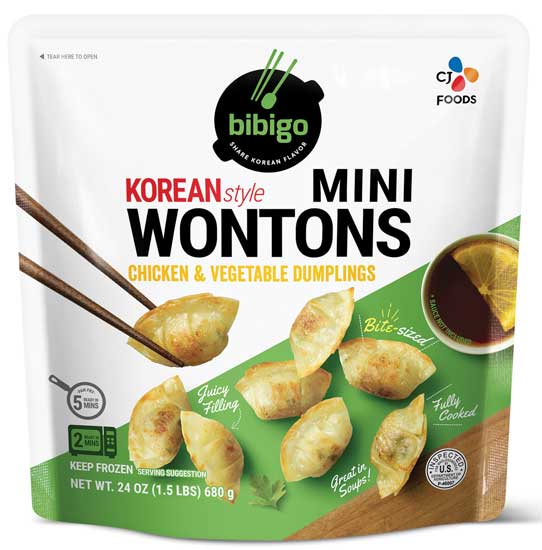 Costco also has been a huge growth venue for sales of Bibigo Chicken & Cilantro Mini Wontons, where the frozen dumplings made by a Korea-based manufacturer are exclusively available in the United States. With thin dough and hearty fillings, the Bibigo wontons are popular as appetizers and snacks. Pan-seared pot stickers are also one of the best-selling appetizers at TGI Fridays, the venerable chain of U.S. fast-casual restaurants.
So it goes with Asian foods, tastes, ingredients, and influences in both the CPG and foodservice worlds these days. Chinese, Japanese, Indian, Korean, Vietnamese, Filipino, Thai and other ethnic disciplines from across Asia have invaded the general American diet and already have stolen a big share of stomach from European, Latin, and traditional American fare.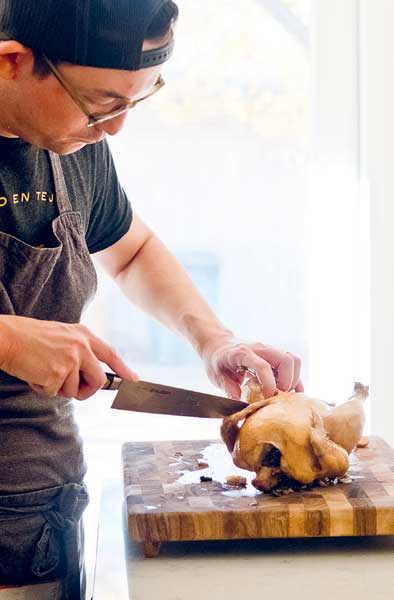 "For the longest time in the United States, if you talked about Chinese food, you were only talking about Panda Express or P.F. Chang's, and if you were talking Japanese, it was just sushi," says Eric Silverstein, a marquee Asian chef in Austin, Texas. "But Americans are realizing that Asian food is a lot more than that and can be created in a lot of different ways."
Pot stickers are just one example of how Asian tastes have wended their way into the typical American diet over the past decade. A handful of products gradually have insinuated themselves into the mainstream of U.S. culinary life, also including sushi, matcha teas, kimchi, ramen noodles, and seaweed snacks.
"My husband and I come from a generation [of Asian-Americans] where we used to hide in a corner and eat our roasted seaweed because [other] kids thought it was weird," says Jin Jun, creator and CEO of Los Angeles-based SeaSnax, a line of roasted seaweed foods in a category that now is estimated at several hundred millions of dollars a year in the United States. Then at kids' birthday parties "the children started screaming and jumping for the seaweed instead of the cupcakes. That's remarkable."
Asian Expansion
Over just the past few years, vastly more tastes and influences from Asia have exploded onto the American culinary consciousness and are being tried and adopted by pioneering food and beverage brands—and their customers—including the following:
Gochujang, a red chili paste from Korea that is savory, sweet, and spicy all at the same time, made from chili powder, glutinous rice, and other ingredients, and which recently made its way onto the shelves of Whole Foods Markets.
Cheese tea, a recent innovation by way of Taiwan, which takes traditional tea flavors and caps them with a range of creamy, milky cheese toppings.
Tonkatsu, a deep-fried pork cutlet from Japan that is breaded with crispy panko crumbs.
Robatayaki, a form of Japanese barbecue.
Ube, also known as purple yam, which hails from the Philippines and has a vivid lavender color that lends itself to desserts such as ice cream and cookies as well as lattes and milk teas.
Togarashi, a seven-spice mix from Japan, which is emerging as a favorite of American chefs, according to an annual chronicle of new culinary and cocktail trends compiled by Kimpton Hotels & Restaurants.
Celtuce, or Chinese lettuce, a cultivar grown primarily for its thick stem or its leaves, which quickly was in demand in the United States last year as consumers and restaurants dealt with a shortage of romaine lettuce because of a foodborne illness outbreak.
Asian is big now in the United States for several reasons. One huge factor has been the overwhelming shift by many Americans to eat healthier in general. This revolution has transformed nearly every part of the food and beverage industry, of course, and radically adjusted the balance of power toward startups and away from traditional giants.
Specifically, the move also has made millions of Americans more intrigued with Asian diets that are credited with centuries of efficacious wisdom, from "Chinese medicine" to the Indian ayurvedic tradition. The popular application of ancient Asian staples as modern nutraceutical ingredients—such as ginger root for digestive ailments and turmeric as an anti-inflammatory—illustrates this phenomenon.
And as forms of algae that serve as initial links in the vast maritime chain of life, seaweed is high in antioxidants, protein, calcium, potassium, folic acid, iron, fiber, omega-3 fatty acids, and other crucial nutrients, including vitamins A, B-6, and C and iodine. It's also one of the only natural, nonanimal sources of vitamin B-12.
Another huge accelerant for the spread of Asian cuisine in the United States has been the boom in foreign travel over the past several years, especially by Americans venturing to heretofore remote locations across Asia in China, Vietnam, and elsewhere. They sample local cuisine in their travels around the Orient and want to be able to continue accessing their favorite dishes and tastes upon their return home. "Also, among their friends, they want to be the first to try those little bits of culture at home," notes Caitlin Sherwood, account director for Room 214, a Boulder, Colo.-based marketing company.
Generational differences also have powered the trend. Millennials are now the largest generation of Americans, and they're certainly more food-forward than their parents, the Baby Boomers, and also more so than Generation X that preceded them in influencing American culture. The same cohort of consumers that mainstreamed better-for-you products such as bone broth has been largely responsible for bringing Asian into the fold.
"Asian food in this country has been elevated to more of a foodie space," says Justine Kelly, chef for Sun Basket, a San Francisco–based subscription meal-delivery service that turns to Asian cuisine for about 30%–40% of its 18 new recipes each week. "There is an artisanship that has come into a lot of Asian food that hits right where Millennials are. They want to check all those boxes of unique and flavorful and artisan."
Demographics Play a Role
Another contributing demographic trend, of course, has been a steady increase and spread of Asian populations in the United States. A record 20 million Asian Americans trace their roots to more than 20 countries, and the U.S. Asian population increased by 72% between 2000 and 2015—the fastest growth rate of any major racial or ethnic group, according to Pew Research, and compared with a 60% increase in Hispanics during the same time period. New cultural touchstones, such as the unexpected box-office success of the 2018 movie Crazy Rich Asians, also attest to the growing reach of Asian themes in American life.
Perhaps the most powerful boon to Asian cuisine in the United States has been social media, specifically Instagram, which have prompted millions of Americans to become culinary voyeurs. In making a competitive hobby of posting photos of unusual foods and meals that are intended to make statements about their adventurism and sophistication, consumers are searching far and wide for new and especially exotic raw material—and Asian fare has been able to offer plenty of that, perhaps more than any other kind of ethnic cuisine.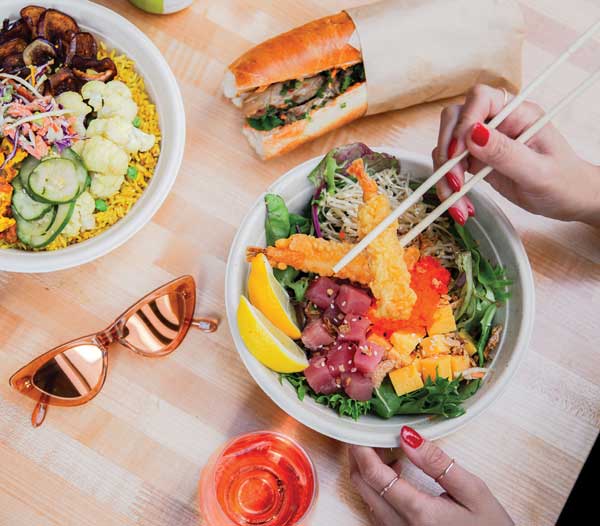 "People are able to connect with someone on the other side of the world every day from their couch and can see what's going on with food via Instagram," Sherwood says. "And there is so much variety that Asian cuisine is probably the biggest trend. Plus the whole timeline of trends is moving faster than ever before. Because of that, you see brands wanting to be further ahead of the curve than ever before."
Indeed, just as important as broadening consumer appetites is mainstreaming availability. In that regard, the boom in Asian-concept restaurants has been crucial. "People can try things out at these restaurants on a small scale and ask for samples," says Tran, who consults for Bamboo Asia, a San Francisco–based chain that lets patrons sample tastes with customizable toppings and side dishes. "There may be lots of ingredients that they've never heard of before, but getting a tiny taste of them opens the door a bit."
The rising popularity of Asian fare also pulls non-Asian chains into the territory. TGI Fridays, for example, recently introduced new Sizzling Street Noodles entrées on a limited-time basis, leveraging familiar Asian flavors, including shrimp, lo mein, stir-fry veggies, crunchy peanuts, and fresh cilantro; they're served with a new twist on a sizzling-hot platter complete with a fortune cookie on top. The Sizzling platform has been a core category for the chain, and Asian flavors are important to it.
"Asian-inspired items do well for us domestically and internationally, so we definitely lean into them as much as we can," says David Spirito, senior director of food and beverage for Dallas-based TGI Fridays, which operates nearly 900 restaurants in about 60 countries. "We can't add many more Asian notes to our menu because we are an American concept."
Inevitably, the Asian innovations introduced in the foodservice world are finding their ways into more supermarket fare. "CPG companies pick up on the trends and deliver them in convenient-size packages, making the barrier to trial a lot lower than before," Tran says.
InnovAsian, for instance, recently introduced four new breakfast bowls, one of the first major Asian products for breakfast. One of them is Fried Rice with Eggs and Bacon. The Tukwila, Wash.–based frozen foods purveyor sells a variety of frozen Asian meals and multiserve entrées, many of them based on fried rice.
Ka-Me has introduced a new line of Heat and Serve Easy Asian Complete Meal Kits that are available in four varieties: Sesame Teriyaki with Hokkien Noodles, Pad Thai with Thai Rice Noodles, Spicy Mongolian with Spinach Vegetables Noodles, and Sweet Chili Mango with Nori Seaweed Noodles. The Rochelle Park, N.J.–based company fields products based on the cuisines of a number of different Asian countries.
Some pioneering retail chains even serve as spear carriers as they scour the world for new tastes to bring back to American shoppers, such as Trader Joe's, which introduced cashews in a Thai Lime and Chili variety. "They're one step ahead in introducing consumers to flavors that you don't necessarily find in other places," says Sherwood.
Ramen Rising
The boom in ramen shops and ramen packaged goods products has been an example of the evolution of Asian fare in America. In Japan and Korea, of course, ramen long had been "everyday working-man's food," says Silverstein, the Texas chef, who was born in Tokyo, lived in Japan until he was 11 years old, and is author of the new book, The Peached Tortilla: Modern Asian Comfort Food from Tokyo to Texas.
In the American context, ramen formerly was considered mainly a sad dietary staple. The typical ramen experience consisted of consuming instant packages of cheap, bland instant noodles from little hot pots in dorm rooms, or as a stomach filler for those on a budget. But lately in the United States, ramen has come into its own as a broader convenience food and as a vehicle for a variety of new tastes from Asia.
These days a handful of restaurants, food trucks, and Asia-based fast-food chains are boosting the quality of ramen and finding many fans not only on the coasts but increasingly across the United States. More Americans are purchasing ramen as street food or a snack for commuting. Chains based in Japan and elsewhere also are penetrating the U.S. market with ramen offerings.
"Ten years ago, ramen done right was tough to find outside of the coasts," says Silverstein, who opened a food truck in Austin in 2010 based on his fusion of several Asian methods and now has a handful of restaurants, trucks, and a catering business serving his cuisine to the area under The Peached Tortilla umbrella.
"But nowadays you can find ramen in Texas, the Midwest, and so on, and restaurants are able to execute a variety of ramens. They can do this because of access to tons of different types of noodles through manufacturers like Sun Noodles."
Asian food distributors across the country also have upped their games by making available more common and exotic ingredients used as ramen flavorings, as well as worthy noodles. "You have this proliferation of ramen houses making very different types of bases, whether it's chicken or pork," says Silverstein.
Better-for-You Asian
An increasingly significant aspect of the Asian trend is the intersection of the better-for-you nutrition revolution with traditional Asian foods, both in restaurants and in packaged goods companies.
For example, Flame Broiler acknowledges that trend by "having really clean food and cooking it as close to raw as we are able to," says Daniel Lee, a top executive of the chain of Korean barbecue restaurants founded by his father 24 years ago that now has grown to nearly 200 restaurants in California and six other states. "We have clean and simple ingredients. About the only thing in our system that really is processed are our sauces; you can't really avoid it."
But Sun Basket is taking a whack at overhauling the skimpy nutritional bona fides even of legendary Asian sauces. Many components of Asian cooking are heavy in salt and sugar, Kelly notes, "so when you look at the ingredients on some of the jars, it's kind of frightening." So, at Sun Basket, the culinary brain trust has been emphasizing recreation of some iconic Asian sauces with more nutritious ingredients.
For instance, Sun Basket product developers have been using pureed prune and sweet potato for sweetening, and coconut nectar and coconut aminos as substitutes for soy sauce. And they have "dissected" hoisin—a sweet and salty, thick sauce frequently used in Chinese cooking as a meat glaze—to make a paleo version, says Kelly, who previously ran The Slanted Door Vietnamese restaurant in San Francisco for 17 years.
While the spread of Asian themes in American food is generally helpful to purveyors of all ethnic traditions from Asia, it also causes some difficulties for those brands. For example, some have to make important decisions about fusion in America among various national food traditions that hardly would mix across the Pacific Ocean.
"There is a good chance that embracing other Asian cuisines would result in incremental sales for us," Lee of Flame Broiler says. "But overall, the brand is a lot more important. We would be kind of diluting the Korean aspect of it any time we would add something that's not Korean."
There are other challenges amid the boom in Asian cuisine in the United States. Fun and stimulating restaurant experiences don't necessarily translate into regular hunts by consumers for Asian ingredients in their local supermarkets. For one thing, the concepts—even Korean barbecue sauce—don't necessarily translate well into mainstream CPG products.
"Yes, 90% of Americans are grilling out this summer," Silverstein says. "So the concept translates. But for it to have broad reception, it still has to be dumbed down or at least appeal to a much broader palate, which limits what you can do."
Asian foods are still fighting the perception "that they're difficult to make at home," Silverstein says. "And there's the X factor of people not understanding the ingredients. If you go to the average person and ask them if they're going to make ramen at home, 98% will say no."
Kelly adds, "Asian food is something that most Americans don't feel comfortable cooking at home. The flavor profiles and combinations and ingredients are very foreign to most people."
Yet Silverstein and other players in Asian cuisine believe that the trend still has a lot of runway left with U.S. consumers. One reason is that the boom in Asian has allowed some purveyors to come full circle. Flame Broiler, for instance, sold kimchi initially but eventually stopped making it a menu standard "because people just didn't know what it was," Lee explains. Yet in the past few years, American consumers have come to embrace kimchi, the staple of Korean cuisine that is made from salted and fermented cabbage and radishes, with spicy seasonings.
"The palate is there now, but it wasn't before," Lee says. "So now we're considering bringing kimchi back."
Dale Buss is a freelance writer based in Rochester Hills, Mich. ([email protected])