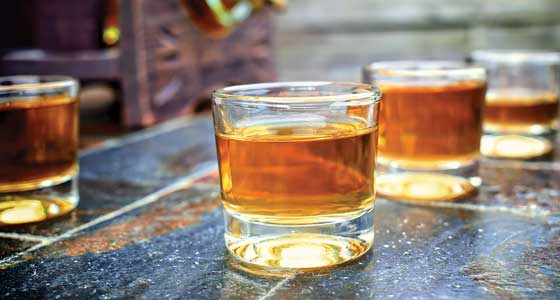 Differentiating between bourbon and rye
Popular beliefs about American rye and bourbon whiskeys hold that bourbon is sweet, luxurious, and mellow but rye is bitter, herbal, and spicy. To determine whether a trained panel could find sensory differences between the two, a Journal of Food Science study presented 11 judges with a representative sample of 24 bourbon and rye whiskeys, respectively distilled from a fermented "mashbill" of at least 51% corn or rye.
The judging panel was trained for 10 hours to develop a lexicon of 24 flavor, taste, and mouthfeel descriptors for the samples (15 bourbons and nine ryes). The subjects rated each sample on each attribute, using unstructured line scales, in standard, good sensory-evaluation conditions, and in triplicate. Results were analyzed using MANOVA, Barycentric Discriminant Analysis, and Hierarchical Cluster Analysis.
Overall, while 10 descriptors significantly differentiated the whiskeys, no attribute or combination of attributes was predicted by mashbill: the judges did not find differences in sensory character between bourbon and rye whiskeys as categories. However, significant differences could be attributed to the producer of the whiskey and to age at bottling.
For producers, consumers, and researchers, the research points to the need for new theories on the origins of flavors in whiskey, as it is now clear that the grain content alone cannot predict sensory qualities.
When is a burger not a burger?
One in four consumers believes vegetarian products should not be allowed to use meat-related names, according to a survey commissioned by PR agency Ingredient Communications.
Out of 1,000 participants (499 in the United Kingdom and 484 in the United States), 25% of respondents said manufacturers of vegetarian products should not be permitted to use names like sausage, burger, or steak. Vegetarians were the least likely to disapprove, with only 18% supporting a ban. By contrast, 33% of vegans and 26% of meat eaters favored banning meat-related names.
Richard Clarke, managing director of Ingredient Communications, commented, "It's no secret that many in the meat industry want to stop what they see as the misrepresentation of vegetarian products. What is perhaps surprising is that so many consumers also seem to support a ban. With interest in plant-based diets increasing, and a backlash from the meat industry underway, it is time for a debate about the way vegetarian and vegan products are presented."
The survey also revealed significant differences when it came to purchasing decisions. Nearly half of vegetarians (49%) said they were more likely to buy a meat-free product if it was labeled sausage, burger, or steak. Only 19% of vegans said the same, with 57% being less likely to buy a product with a meat-related name.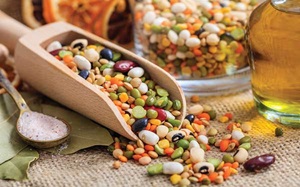 Pulse market to grow at 4.5% CAGR
The market for pulse ingredients, estimated at $17.4 billion in 2018, is projected to experience a compound annual growth rate (CAGR) of 4.5%, to reach $21.6 billion by 2023, according to research by MarketsandMarkets. The food and beverage segment is estimated to account for the largest share in 2018, with pulses being widely used in meals and meal centers, followed by soups, sauces, seasonings, and snacks.
Growth will be driven by the increasing demand for convenience foods, including snack foods and extruded food products such as pasta and noodles, as well as rising consumer preferences for gluten-free and clean label products.
The pulse flour segment is projected to dominate. Pulse-based flours have different levels of starch and protein to meet different applications, enabling food manufacturers and retailers to produce products that are highly nutritious, protein-fortified, have a low glycemic index, and are gluten-free.
The Asia Pacific region is projected to account for the largest market share during the forecast period due to the high demand for convenience foods, higher per capita consumption of baked goods, and the presence of major players in the region.
Moderate drinking may raise hypertension risk
A study of more than 17,000 U.S. adults shows that moderate alcohol consumption—seven to 13 drinks per week—substantially raises one's risk of high blood pressure, or hypertension, according to research presented at the American College of Cardiology's 68th Annual Scientific Session.
The researchers analyzed data from 17,059 U.S. adults enrolled in the National Health and Nutrition Examination Study between 1988 and 1994. Participants reported their drinking behavior on questionnaires, and their blood pressure was recorded during visits in participants' homes and at a mobile examination center.
Participants were split into three groups: those who never drank alcohol, those who had seven to 13 drinks per week, and those who had 14 or more drinks per week (heavy drinkers). High blood pressure guidelines defined stage 1 hypertension as having systolic blood pressure of 130–139 or diastolic pressure of 80–89, and stage 2 hypertension as having systolic pressure above 140 or diastolic pressure above 90. The researchers adjusted for age, sex, race, income, and cardiovascular risk to separate the effects of alcohol consumption from other factors.
Compared with those who never drank, moderate drinkers were 53% more likely to have stage 1 hypertension and twice as likely to have stage 2 hypertension. Heavy drinkers were 69% more likely to have stage 1 hypertension and 2.4 times as likely to have stage 2 hypertension. Overall, the average blood pressure was about 109/67 mm Hg among never-drinkers, 128/79 mm Hg among moderate drinkers, and 153/82 mm Hg among heavy drinkers.
"I think this will be a turning point for clinical practice, as well as for future research, education, and public health policy regarding alcohol consumption," said study lead author Amer Aladin. "It's the first study showing that both heavy and moderate alcohol consumption can increase hypertension."
Mapping the taste center in the brain
Using functional magnetic resonance imaging (fMRI) and a new method of statistical analysis, researchers at Cornell University have discovered the taste center in the human brain, uncovering which parts of the brain distinguish different types of tastes.
"By using some new techniques that analyze fine-grained activity patterns, we found a specific portion of the insular cortex—an older cortex in the brain hidden behind the neocortex—[that] represents distinct tastes," said study senior author Adam Anderson.
"The insular cortex represents experiences from inside our bodies," Anderson noted. "So taste is a bit like perceiving our own bodies, which is very different from other external senses such as sight, touch, hearing, or smell."
Previous work has shown that a nearby insular region processes information originating from inside the body—from the heart and lungs, for example. In this way, distinct tastes and their associated pleasures may reflect the needs of the body. Taste, noted Anderson, not only reflects what is on our tongue but also our need for specific nutrients.
The researchers also found evidence of a potential "sweet" spot, an area where a large ensemble of neurons respond to sweetness stimulation on the tongue. However, the precise location differed across people, and the same spot responded to other tastes but with distinct patterns of activity.
Compared with previous animal studies that show distinct activation clusters of basic tastes in the brain, the new study revealed a more complex taste map, where the same insular region represents multiple tastes.