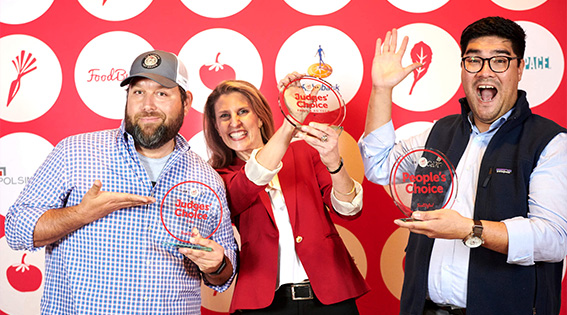 photo courtesy of FoodBytes!
Three innovative food startups seized the spotlight in Chicago last week, clinching top honors in the 16th FoodBytes! pitch competition presented by Rabobank. The winners included a maker of artisanal Mexican sauces and snacks; the developer of a closed-loop system for raising salmon; and the inventor of a fermentation process for upcycling dairy waste.
Fifteen startups, representing food technology, agriculture technology, and sustainable consumer packaged goods (CPG), took part in the fast-paced pitch event. Judges' Choice Awards were presented in two categories: food tech/ag tech and CPG. Winners of the Chicago competition will advance to a December pitch event at Rabobank's Annual Food & Agriculture Summit in New York City. Here's a closer look at the presenters who came out on top in Chicago.
Tia Lupita Foods (Judges' Choice CPG Award) makes a line of artisan, non-GMO hot sauces with a very short list of ingredients. The company also recently introduced tortillas and tortilla chips made with cactus and cassava flour.
Local Coho (Judges' Choice Food Tech/Ag Tech Award) produces sustainable, traceable Coho salmon via a proprietary land-based recirculating aquaculture platform. The first salmon production facility is currently operating in upstate New York, and another is in the works for the Chicago area.
Capro-X (People's Choice Award) developed a fermentation bioprocess that uses non-GMO microbes to convert acid whey waste from Greek yogurt production into clean water and natural bio oils that have applications in the flavor/fragrance industries as a substitute for palm oil.
"All of the startups we watched at FoodBytes! Chicago showcased some of the most innovative solutions we have seen yet when it comes to building a more nutritious and sustainable food supply," said Darren Streiler, investment director, ADM Ventures, who served as a judge on the panel. "The key trends that emerged among our pool of applicants this year centered on plant-based and functional foods, climate-resistant crops, food waste and precision agriculture."
Global food and agriculture bank Rabobank launched FoodBytes! in 2015. Since then 280 startups have pitched in 16 competitions held around the globe.
In Chicago, other participants in the ag tech segment of the competition included Agremo, developer of cloud-based agriculture sensing and imagery software for growers and agronomists; SeedLinked, which uses crowd-sourced data and advanced analytics to enable plant growers to choose, breed, and sell specialty seeds; and Cytophage Technologies, which develops synthetic bacteriophage products to prevent and treat bacterial infections in livestock.
Food Tech participants included Spira, creator of functional ingredients from spirulina microalgae; Higher Steaks, which produces cell-based pork products; Journey Foods, developer of an artificial intelligence–powered software platform to aid product developers in the formulation of nutritious food products; Evigence Sensors, maker of low-cost freshness-monitoring sensors; and The Better Meat Co., a provider of plant-based protein ingredients for meat processors and foodservice operators.
CPG company participants in addition to Tia Lupita were Start Right Foods, makers of high-protein breakfast waffle products; Yolélé Foods, which is working to bring the African-grown ancient grain fonio to market; TeaSquares, a producer of tea-infused energy snacks; and Shameless Pets, maker of healthy dog treats formulated with upcycled ingredients.
Applicants for the FoodBytes! Chicago event came from 18 countries. According to the organizers, many of the startup applicants were clustered in the area of food as medicine and novel ingredients. About two-thirds of the CPG applicants claimed a functional benefit for their products.
A quarter of the finalists were focused on sustainable agricultures, 40% developed unique health foods and ingredients, and 20% were involved in food supply chain advances.