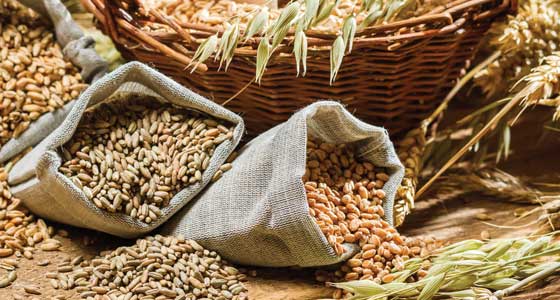 The 2015-2020 Dietary Guidelines for Americans and its predecessors stressed that whole grains remain a food category that many Americans simply do not eat enough of, and that whole grains are a major source of dietary fiber, which is a shortfall nutrient in the United States. How can this trend be reversed? Increasing the amount and variety of whole grain foods in U.S. school food programs was one of the original goals of the Grains for Health Foundation, which is a collaborative group of researchers, educators, health professionals, and industry leaders working together to make whole grains more accessible to consumers. Through research, training programs for school foodservice personnel, and other activities, the foundation realized its initial objective.
The U.S. Dept. of Agriculture (USDA) implemented a requirement (effective July 1, 2014) that all grains served at the national school breakfast and lunch programs must be whole grain-rich. The USDA Food and Nutrition Service defines whole grain-rich foods as products with at least 50% whole grains, and that any other grains in these products must be enriched. Food manufacturers responded to the legislative change with more offerings suitable for school programs.
Some challenges remain such as plate waste and food neophobia. A comparison of Nebraskan fifth grade students (ages 9–12 years) in Title I schools where at least 40% of students receive free or reduced-cost school lunches with students in non-Title I schools demonstrates the complex nature of nutrition education (Hall et al. 2016). Students in the Title I schools had significantly lower knowledge and intakes of whole grains. Elementary school students in southeast Texas chose more whole-grain foods in 2013 than they did in 2011, with no difference in waste (Cullen et al. 2015). Whole grains were widely available in U.S. schools according to the 2014 School Health Policies and Practices Study (SHPPS) (Figure 1) (Merlo et al. 2015).
Whole Grain Summit
The Grains for Health Foundation organizes a Whole Grain Summit conference regularly to foster communication about whole grains and to identify potential avenues for increasing whole grain consumption. The 2015 conference was held June 24–26 in Portland, OR, and was jointly hosted by the Oregon State University Moore Family Center for Whole Grain Foods, Nutrition and Preventive Health and the Grains for Health Foundation. The Moore Family Center was established through a generous donation by Bob and Charlee Moore, the founders of Bob's Red Mill Natural Foods, which is based in Milwaukie, OR.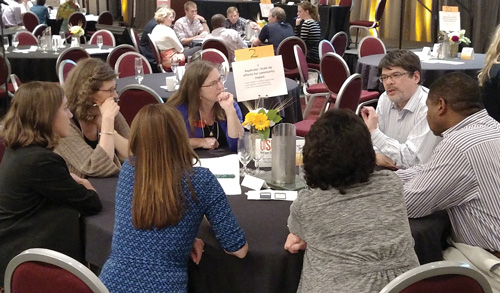 Catherine Woteki, the under secretary for the USDA's Research, Education, and Economics (REE) program and the USDA's chief scientist, welcomed attendees with her discussion of the importance of public-private partnerships in grains and health. She described new ventures to translate USDA findings into practical solutions for the food industry. Her keynote presentation set the tone for the conference: government, industry, and academia must work together to increase whole grain consumption for improved public health. Physiologist Kent Thornburg, director of the Moore Institute for Nutrition and Wellness and M. Lowell Edwards Chair, professor of Medicine, director of the Center for Developmental Health at the Knight Cardiovascular Institute at Oregon State University, focused his second keynote presentation on the timely topic of epigenetic gene regulation by diet and the need for encouraging healthful diets early in the lifespan, even before birth.
Global Perspectives
A session addressed the global state of the grain market. Colleen Zammer of Bay State Milling provided an overview of the factors supporting and dissuading whole grain consumption. Scientific studies suggest that whole grains reduce the risk of strokes, heart disease, and type 2 diabetes. While the Whole Grains Council has licensed its Whole Grain Stamp on more than 10,000 products in over 40 nations, popular media personalities and books such as Wheat Belly and Brain Drain still encourage consumers to avoid wheat and other grains.
Lisa Feldman of foodservice giant Sodexo reviewed the complex nature of school district and foodservice systems. Great strides have been made in delivering tasty and healthful whole grain foods to these systems in recent years. U.S. federal regulations make the inclusion of whole grain foods into school meal programs challenging, but not insurmountable. Confusion about federal whole grain definitions could deter integration of whole grains into menus. Taste and other sensory qualities must be high to encourage children to eat the foods repeatedly. Food manufacturers are working with Sodexo and other distributors to develop appealing whole grain products for a variety of consumer niches. A case study, "Operation Lunch Lady", by Jimmy Simonte of Domino's Pizza and Don Trouba from Ardent Mills showcased the product development challenges of meeting school lunch guidelines for reduced fat and sodium in whole grain foods while still keeping pizzas appealing to children. Attendees had the opportunity to sample these special school pizza varieties during lunch.
Rebecca Lindberg of the Minneapolis Heart Institute Foundation explained the community approach in New Ulm, MN, that led to a 15% increase in whole grain consumption among residents from 2011 to 2013. Consumers in the U.S. are not the only ones hesitant to try whole grain foods. The traditional bread of southern Europe is challenging to modify with whole wheat flour. Open Fields' representative Roberto Ranieri described efforts in the European Union to increase whole grain consumption via the HealthBread project. This innovative program provides recipes and guidance to small- and medium-sized enterprises in Europe that would like to offer whole grain bread to their customers.
China's booming population and the concomitant rise in type 2 diabetes and obesity have refocused efforts in that nation to include more healthful foods. Professor Xiaodong Yu, general director of the National Public Nutrition Office of China, described the challenges in persuading Chinese consumers to adopt a more healthful diet. About 40% of Chinese consumers have little knowledge of health and nutrition. The preference for tasty and delicious foods dates back more than 2,500 years to Confucius, the Chinese teacher and philosopher who promoted the principle of "eating refined and well processed foods."
Misperceptions in the Marketplace
The popular press has spread stories about gluten toxicity, fattening and addictive wheat, and many other unsubstantiated claims. The session titled "The Whole Grain Debate — Fact or Myth" explored several controversies involving whole grains. Gastroenterologist Matt Riley noted that while many consumers self-diagnose themselves as gluten-intolerant, the best diagnosis is progressive confirmation along with the elimination of wheat from the diet. Several promising treatments for gluten intolerance and celiac disease are in development.
Judi Adams of the Wheat Council tackled media charges that modern wheat varieties are somehow more toxic than forms grown decades ago. One common misperception is that wheat is a genetically modified organism (GMO). The increase in gastrointestinal complaints by consumers after eating wheat is largely attributable to fermentable oligo-, di- and monosaccharides and polyols (FODMAPS) in wheat, especially whole wheat; diagnosed gluten allergy or sensitivity is rare. Gluten-free diets are not beneficial for everyone since they are not usually enriched, and may be more expensive than wheat-containing foods. Adams also pointed out that French and Italian consumers eat far more wheat than do Americans but have considerably lower obesity rates.
Professor Fred Brouns of Maastricht University posed the question, "Is gluten-free the healthier option for most of us?" His conclusions were that most people would benefit from consuming more whole wheat and that more research on health and grains is needed. University of Minnesota epidemiologist David Jacobs suggested that health benefits of whole grain consumption are linked to those provided by moderate alcohol consumption. Next, Jan De Vries of De Vries Nutrition Solutions and Simin Liu from Brown University debated why intervention studies of whole grain consumption do not reflect findings of epidemiological research. The panel questioned whether further epidemiological studies were needed due to the similarity of findings.
The first day closed with an interactive networking session to foster cross-discipline interaction and discussion. The session was moderated by Shelly Melroe of Confluency, LLC and Denise Hauge of the Grains for Health Foundation. Attendees rotated among small groups to address questions such as "What are positive or negative messages you have experienced with whole grains in the past few months?", "What are the most important questions to answer to move whole grains forward?", "Share a headline of successful collaboration. What was the key enabler of success?" This session emphasized the power of collaboration and communication across disciplines to further the impact of whole grains and health.

Food Attributes and Innovations
The second day of the conference focused on food attributes and innovations. Nancy Ames of Agriculture and Agri-Food Canada provided an overview of efforts to breed wheat for improved nutritional value (e.g., soluble fiber, mineral uptake). Eric Decker, chair of the Food Science Dept. at the University of Massachusetts, outlined nutritional changes that occur in each step of whole grain processing. YiFang Chu, Quaker Oats Center of Excellence, PepsiCo R&D Nutrition, described how oatmeal increased satiety relative to an oat ready-to-eat cereal, and how that data could be used to support a health claim for increased satiety. Joel Gittelsohn, representing the Global Obesity Prevention Center at Johns Hopkins University, communicated ways to lead change in retail operations in order to increase the availability of whole grain foods. Laurian Unnevehr from the University of Illinois at Urbana-Champaign closed the session with her presentation on the policy and economics considerations for increasing whole grain consumption. Sales of whole grain products (e.g., cereal, bread, and pasta) have risen following advice in the Dietary Guidelines for Americans to eat more whole grains (Figure 2).
Food technology innovation was the theme of the symposium chaired by Gary Hou of the Wheat Marketing Center and cereal scientist/baking expert Andrew Ross, who holds a split appointment between the Crop and Soil Science and Food Science and Technology Departments at Oregon State University. New technologies for using whole-grain flour in noodles, a novel enzyme in frozen bread dough, and chemically-leavened baked goods were highlighted in presentations by Hou, Suyong Lee from Sejong University, and Sharon Book of ICL Food Specialties. University of Nebraska Research Assistant Professor Andreia Bianchini broached the critical topic of microbial control in whole grain foods. Pathogens and mycotoxins can be concentrated on brans, which are discarded in conventional milling to produce refined wheat. Ardent Mills' Gang Guo introduced sprouted grains and theirs uses in foods to the audience.
Nutrition Education
Technology drives consumer demand and can be a positive influence for changing nutrition behaviors. What are innovative new tools for messaging and nutrition education? Paula Quatromoni from Boston University outlined the KickinNutition.tv online nutrition show that features tweens who want their own cooking show. Immersion in a virtual world is another approach to nutrition education. Jonathon Richter of the University of Oregon provided an overview of how this technology motivates consumers to make lifestyle changes. Accessing social media through multiple mobile devices is becoming a way of life for many consumers. Kay Nobuko Hongu, University of Arizona, explained how these tools could be used to increase nutrition knowledge and encourage exercise. The final presentation by Carol Boushey of the University of Hawaii focused on a new tool for assessing whole grain consumption. The Technology Assisted Dietary Assessment (TADA) tool may facilitate more accurate estimates of food consumption by analyzing images of foods eaten by consumers who are trained to use the cell phone application to take pictures of their meals. An interactive poster session concluded the day. Attendees were asked to post their answers to the following questions:
• What next steps will move whole grains forward?
• What is needed to strengthen collaboration in the whole grain community?
• Can you create a message that communicates a scientific fact about whole grains in a consumer-friendly way?
LeeAnne Murphy of the Manitoba Agri-Health Research Network opened the final day of the conference with the question, "How do we overcome consumer/public misunderstanding?" WebMD's Kathleen Zelman provided tips for getting the whole grain story across to consumers. The Whole Grains Council, the creator of the Whole Grains Stamp for food products, was represented by Cynthia Harriman, who tackled some common public confusion about whole grains. Murphy and Shelly Melroe of Confluency LLC led the attendees in an exercise to address consumer misperceptions about whole grains and to develop effective education points to motivate consumers to add these foods to their diets.
Changing the Food Environment
Increased consumer demand for whole grains might not translate into increased consumption if whole grains are not widely available through retail markets and foodservice operations. Thus a session addressed how to create a healthier food environment. Shari Steinbach, healthy living manager at retailer Meijer, reported that in-store dietitians increased basket sales by 39% with items sampled in stores and that labeling foods as "Dietitian's Pick" with shelf signage increased sales by an average 10–15%. Amy Myrdal Miller, Farmer's Daughter Consulting, LLC, presented findings (Figure 3) from the Culinary Institute of America's Healthy Menus R&D Collaborative, a consortium of foodservice chains, contract operations, and campus dining groups. The December 2013 survey revealed that collaborative members were more committed to using intact whole grains and products made with whole grains than for whole grain flours. Breakfast, but not late night snacks, appears to be the best opportunity for introducing new whole grain foods.
The Oregon Department of Education's Garrett Berdan, who holds both chef and Registered Dietitian Nutritionist credentials, addressed the challenges of preparing and serving whole grains in school meals. The USDA's 36-page guide for whole grain resources for school programs is a major step forward in facilitating the introduction of whole grains foods in schools (USDA 2014). Kathryn Hoy from Cornell University provided examples of how behavioral economics can help design smarter lunchrooms that encourage students to make more healthful food selections.
Applying Learnings and Moving Forward
The final session was a call for collaboration among governments, companies, and researchers. W. Stephens James from the California Milk Processor Board revisited the successful milk mustache campaign to increase milk consumption and encouraged the whole grain industry to find messages that resonate with consumers of all ages. Colorado State University's Henry Thompson offered suggestions for how to mimic the success of the Global Pulse Confederation, an inclusive group representing beans, peas, chickpeas, and lentils. Small groups then met to brainstorm solutions for issues identified at the summit. A summary of the break-out session and slides for most presentations are available on the Oregon State University website http://health.oregonstate.edu/moore-center/whole-grain-summit.
Efforts to increase whole grain consumption will require continued collaboration among researchers, processors, and all aspects of the retail market, but prior successes provide hope that further gains can be made in the next few years.
---
Whole Grains on the Menu
Portland's renowned food truck purveyors offered special whole grain dishes for Whole Grain Summit attendees, and nine Portland restaurants featured whole grain dinner specials on June 24. Lunch on the final day of the Summit was organized by Chef Jay Perry of Oregon State University Housing and Dining Services. Chefs Robin Asbell, whole grains cookbook author, Garrett Berdan, culinary consultant to the Oregon public schools, and Vitali Paley of Portland restaurant Paley's Place conducted whole grain demonstrations of the dishes served to attendees. Luncheon dish recipes are available from the summit website http://health.oregonstate.edu/moore-center/whole-grain-summit. Chef Perry of OSU joined Asbell and Paley to provide a four-course gala dinner with amaranth, kamut, teff, brown rice, freekeh, and corn starring in the well-received meal.
Emily Ho is endowed director of Moore Family Center for Whole Grain Foods, Nutrition and Preventive Health, College of Public Health and Human Sciences, Oregon State University, Corvallis, OR 97331-5103 ([email protected]). Leonard F. Marquart is associate professor, Dept. of Food Science & Nutrition, University of Minnesota, St. Paul, MN 55108 ([email protected]). Mary Ellen Camire, a professional member of IFT, is professor of Food Science & Human Nutrition, School of Food & Agriculture, University of Maine, Orono, ME 04469-5735 ([email protected]).
Support for the conference was provided by the Oregon State University College of Public Health and Human Sciences Moore Family Center and the Grains for Health Foundation.