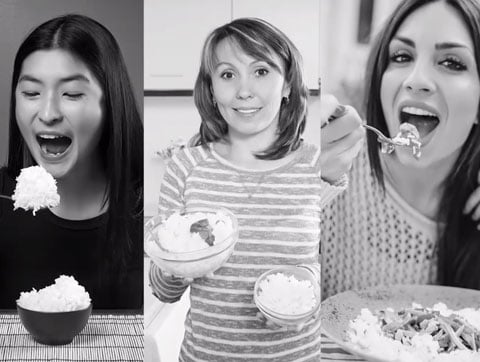 Ever wonder how brown rice becomes white rice? Or which is actually healthier for you? In this Food Facts video, Paul Counce, a professor at the University of Arkansas's Rice Research and Extension Center, explains the process behind how brown rice becomes white rice.
Five different types of rice products can be produced from rough rice: hulls, bran, brown rice, whole-kernel milled rice, and brokens (broken-kernel milled rice). The first stage of milling removes the hull, which is inedible, producing brown rice which has bran layers and germ intact. According to Ya-Jane Wang, another professor at the University of Arkansas, brown rice is nutritionally superior to white rice because the bran layer contains a lot of vitamins and minerals. For this reason, white rice is fortified with iron, niacin, thiamin and folic acid in six countries, including the U.S.
The next stage of milling removes the bran layer, leaving milled white rice. Or, prior to milling, rough rice may be parboiled, a process of soaking the rice in water and steaming it under intense pressure. Parboiling makes the rice less likely to break during milling and pushes nutrients from the bran layer into the kernel.
On average, every 100 pounds of rough rice yield around 60 pounds of whole-kernel milled rice, around 10 pounds of brokens, about 9 pounds of bran, and 20 pounds of hull. Brokens can be used for a variety of things, but it is mostly used for rice flour – a gluten-free product.
According to the USDA, the United States is a major exporter of rice, with the global market accounting for nearly half the annual sales volume of U.S.-produced rice. Four U.S. regions produce nearly all the country's rice crop—three in the South and one in California—with the South growing mostly long-grain rice and California producing almost exclusively medium- and short-grain rice.
Domestic uses of rice include food for human consumption (direct food use and in processed foods), beer, and pet food. Direct food use accounts for about two-thirds of total domestic rice. Use in processed foods – primarily flavored rice mixes, cereal, and rice cakes, accounts for around 13 percent of domestic use. Use of rice in beer production, at less than 10 percent of domestic disappearance, has been declining since 2002. Rice use for pet food, which almost exclusively involves broken grains, accounts for almost 10 percent of total domestic disappearance.
Sources:
Cultivating the Evolution of Rice, Food Technology Magazine
Rice: An Overview, USDA-ERS