Created through a $1 million bequest from his estate, Dr. Caldwell believed strongly in Feeding Tomorrow's mission and that students in the science of food should be encouraged and fostered to pursue their own research.
The fellowship is for students currently enrolled in a master's or doctoral program in the science of food and will provide a generous stipend to students pursuing research focused on addressing the current and future needs and demands of the global food system.
Candidate Qualifications
Fellowships are available to students who are currently enrolled in and pursuing a graduate degree at a designated institution of higher learning. The fellowship is available to both international and U.S. domestic students.
The candidate must be pursuing a graduate degree in food science and technology.
The candidate must be conducting research addressing future needs and demands of the global food system.
The candidate must be a full-time student going into the second year of their MS or PhD program. PhD candidates are preferred.
Past recipients of the Dr. Elwood F. Caldwell Graduate Fellowship will not be considered.
Fellowship Details
The fellowship will be a one-year fellowship (12 months) and will be awarded annually.
The fellowship will be distributed under the donor's name, Elwood Caldwell, and the recipient of the fellowship shall be known as an Elwood Caldwell Fellow.
The amount of the fellowship will be equal to 110% of the amount most commonly paid to research assistants at the University of Minnesota as a cash stipend for part-time services.
The fellowship does not include allowance for the cost of fringe benefits, tuition waiver, or other expenses. The fellowship shall be paid through the department/institution in two installments.
Fellowships are awarded annually. Fellowships are not eligible for renewal.
If a student terminates study at any point during fellowship year, remaining amount shall be returned to Feeding Tomorrow.
Awarded fellowships may not be deferred.1 A fellowship will be canceled at any time if a Fellow engages in misconduct affecting the Fund, breaches any of these rules, or provides false information to the Fund either directly or indirectly.
Fellowship Timeline
Updates on the availability of a 2024 application will be posted in October 2023.
Application Opens: TBD
Application Deadline: TBD
Selection committee conducts review: TBD
Recipient and Non-Recipients Notified: TBD
Deadline for student to accept offer: TBD
Selection Process
Feeding Tomorrow's selection process is based on an online application system. Applicants who wish to be considered for the Elwood Caldwell Fellowship must submit their application via our online application portal.
A Selection Committee comprised of members from academic backgrounds uses a rubric and selects fellowship awardees based on the highest ratings.
The Selection Committee will consider the following criteria:
Completion of application
Undergraduate and graduate grade point average (GPA): >3.0/4.0
Rubric ratings of addressing future needs and demands of the global food system
Rubric ratings of letters of recommendation
Conflict of Interest Policy
All fellowship candidates must disclose to Feeding Tomorrow in writing any and all actual or potential conflicts of interest, including but not limited to those listed below, which may compromise the integrity of the program.
Feeding Tomorrow may, in its sole discretion, refuse to accept or cancel a fellowship award if an actual or perceived conflict of interest exists. Potential conflicts of interest include:
Fellowship candidate is a close familial relative (spouse, parent, child, sibling, grandparent, grandchild, aunt, uncle, nephew, niece, or first cousin) of members of the selection committee (or any member or employee of selection committee) selecting the candidate;
Fellowship candidate solicits, provides, or accepts any compensation or other consideration in exchange for the nomination;
Fellowship candidate is a current or former employee or board member of the selection committee, Feeding Tomorrow, or Institute of Food Technologists; or
Fellowship candidate engages in any conduct that may reflect negatively upon Feeding Tomorrow or Institute of Food Technologists.
Feeding Tomorrow Discretion
The fellowship will be awarded upon recommendation of the chosen selection committee.
The fellowship may require that the selected student may not accept other fellowship awards for the year, or limit awards to a specified maximum amount of stipend. This should not prevent institution from providing fringe benefits or tuition waiver. Student may not receive another award through Feeding Tomorrow.
Application Deadline
The application is closed.
2022 Recipient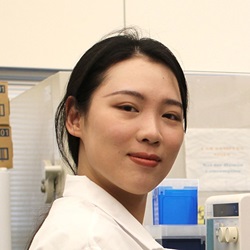 We are pleased to announce Yutong Li as the 2022 recipient of the Elwood Caldwell Graduate Fellowship. Yutong Li is a doctoral candidate in food science at the Ohio State University, with an emphasis in food microbiology. She earned a BS in food science and technology from the Ohio State University.
"I am very passionate about food microbiology and how it is closely related to our life and health. Receiving such an exceptional award of the IFT Dr. Elwood F. Caldwell Graduate Fellowship through IFT's Feeding Tomorrow is a great encouragement for me to further pursue my goal of revealing the complex interaction among food, gut microbiota, and human health for the next generation of food R&D. I hope one day we will be able to make targeted and personalized food intervention to individuals' gut microbiota and host health a reality." Yutong Li
Fellowship News Release
An April 2020 news release announcing the creation of the fellowship created to honor Dr. Caldwell's legacy.
About Dr. Caldwell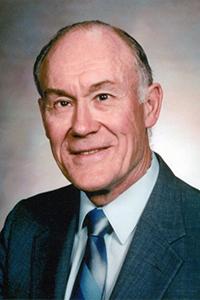 A long-standing IFT member, Dr. Caldwell believed strongly that Feeding Tomorrow serves a valuable purpose and its support to the student of the science of food should be encouraged and fostered so he committed to endorsing a full graduate fellowship. This fellowship will commemorate his memory by providing a valuable stipend to a graduate student pursuing research in the area of Food Science and Technology.
As a member of the Chicago Section of IFT, Elwood established the Tanner Lectureship, which brings scientific speakers to the section. With the Minnesota Section of IFT, he was responsible for the beginning and subsequent growth of Minnesota's Suppliers Night with over 250 exhibitors. Elwood also chaired (and raised the initial funding for) the establishment of Minnesota's Macy Award, which recognizes an outstanding example of food technology transfer or cooperation between scientists in academic, government and private industry.
Caldwell was the first recipient of the CSIFT Chairman's Service Award, and in 1988 a recipient of a similar award from the Minnesota Section. He was an IFT Fellow and, in 1991, was the recipient of the Calvert L. Willey award for distinguished service to the Institute.
1 Extenuating circumstances related to the above will be evaluated on an individual basis by Feeding Tomorrow.
The reporting of the fellowship award for income tax reporting purposes is the recipients responsibility. Please consult a tax advisor to inform you of your reporting obligations if you receive the fellowship.
Under sec. 1441(a), the rate of withholding on US source payments to NRAs is 30%. However, sec. 1441(b) reduces the rate of withholding to 14% when all of the following requirements are met:
The nonresident alien individual is temporarily present in the United States as a nonimmigrant under subparagraph (F), (J), (M), or (Q) of section 101(a)(15) of the Immigration and Nationality Act; and
The fellowship is granted by an organization described in sec. 501(c)(3) as a scholarship or fellowship for study, training, or research in the United States.
Because IFT is an organization described in sec. 501(c)(3), the 14% withholding rate would apply to the extent that the NRA recipient enters the US pursuant to one of the visa types listed above.
Additionally, depending upon whether the recipient of the fellowship is resident in a country with which the US has entered into a tax treaty, such individual may be eligible to reduced withholding under such treaty. Such individuals should provide a completed Form 8233 to IFT showing intent to claim such reduced withholding. If no such form is provided, IFT should withhold at the 30% rate, unless the preferential statutory rate of 14% applies.