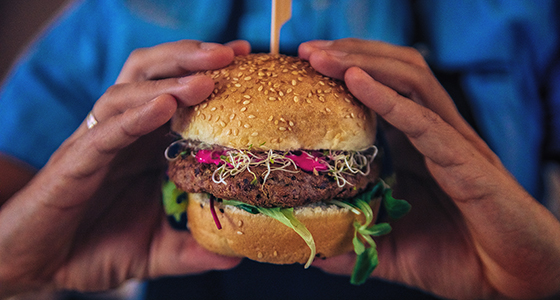 What once was considered a niche market for vegetarians and vegans is seeing explosive growth around the world. With motivations ranging from improving personal health and protecting the planet to concerns around animal welfare, global consumers are increasingly seeking alternatives to animal-based foods. This is creating immense opportunities for food scientists and entrepreneurs to think differently, expand on current product offerings with new ingredients or formulations, and deliver on the nutrition, flavor, texture, functionality, and clean label demands of today's meat-averse consumers.
According to investment firm UBS, growth of plant-based protein and meat alternatives is projected to increase from $4.6 billion in 2018 to $85 billion in 2030. In fact, Lux Research says alternative proteins could make up one-third of the market by 2050. Another market research firm, Reports and Data, estimates the global plant-based meat sector alone is set to reach $30.92 billion by the year 2026. Continued growth and innovation in this space is clearly on the horizon.

Alternative proteins are mainly categorized into plant-based, cell-based, and fermentation-based proteins. With entrepreneurs as well as large food companies getting in on the alternative protein action, launching successful new products that are tasty, reasonably priced, and potentially healthy, one might wonder if there is enough room in the marketplace for everyone. According to panelists featured in a recent IFTNEXT podcast, innovations in each of these categories complement each other nicely and there is plenty of space to go around.

With mainstays such as soymilk, tofu, and tempeh, plant-based protein products have been around for decades, but they are far from outdated and stale. Large food companies and entrepreneurs alike are expanding their footprint in the plant-based space to meet consumer demand for healthier and more sustainable foods. Soy, peas, chickpeas, lentils, beans, oats, peanuts, and almonds are among many popular sources of plant-based protein. These plant proteins are being formulated in a variety of creative ways to give consumers the protein they crave. As the demand for plant-based proteins in the diet continue to evolve, food scientists will be challenged to take it a step further, mimicking the bite, the chew, the flavor, and the mouth feel consumers expect from conventional meat and dairy products.

Cell-based protein is an emerging technology that has the potential to make a significant impact on human health, animal welfare, food security, and the global supply chain, while delivering on the sensory experience consumers expect from conventional protein sources. Made by replicating actual egg, seafood, or meat cells in a lab, cell-based protein opens new doors for scientists to create great-tasting protein sources with 100 percent yield, without trade-offs, toxins, environmental pollutants, or animals harmed in the process. Because these products are derived from animals without the need to sacrifice them, they may appeal to vegans and vegetarians who are concerned with protecting animals from harm.

Using fermentation technology in a different way to move the future of food forward is the premise behind fermentation-based protein. The fermentation process utilizes bacteria or yeast strains to break down carbohydrates, sugar, and bacteria in foods, and the microbial strains are used to produce protein. Fermentation also has been tailored to produce traditional proteins, such as dairy and egg protein, utilizing cow or chicken DNA, respectively. The protein produced resembles the traditional protein in functional characteristics and taste. This technology has increasingly been used to produce protein in the last five years, as it provides an attractive alternative to plant-based protein for vegans and vegetarians, and provides yet another option for food scientists to explore as they look to create nutritious, functional, and tasty choices for protein-hungry consumers.

Listen in as alternative protein experts Andrew Ive of Big Idea Ventures and New Protein Fund, Julie Mann of Ingredion, Inc., and Lou Cooperhouse of BlueNalu dig deeper into the different types of alternative proteins, the opportunities and challenges of each, and the myriad of reasons alternative proteins are positioned for expansive growth despite a fragmented marketplace.
REFERENCES
UBS Group. July 17, 2019. Disruption at the Dinner Table. https://www.ubs.com/global/en/wealth-management/marketnews/home/article.1441202.html
Reports and Data. October 14, 2019. Plant-based Meat Market To Reach USD 30.92 Billion By 2026. https://www.globenewswire.com/news-release/2019/10/14/1929284/0/en/Plant-based-Meat-Market-To-Reach-USD-30-92-Billion-By-2026-Reports-And-Data.html
Lux Research. December 22, 2014. WhooPea: Plant Sources Are Changing the Protein Landscape. http://members.luxresearchinc.com/research/report/16091