Americans—and just about everyone else—love candy. According to the National Confectioners Association, the United States confectionery industry has grown from $100 million in shipments at the beginning of the century to more than $14 billion today in wholesale and more than $23 billion in retail. In 1998, candy and gum ranked third among the top ten food categories and first among all snack categories in terms of total dollar sales.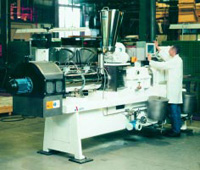 At NCA's Market Research Summit on October 13, 1999, James Corcoran of NCA reported U.S. Dept. of Commerce data showing that Americans ate more than 6.8 billion lb of candy in 1998, including nearly 3.3 billion lb of chocolate candy and nearly 3.3 billion lb of nonchocolate candy, such as hard candy; caramels, fudge, and toffee; and soft and chewy candies (gummies and chewy candies). 
New products are always appearing on the market, but is there anything new in the technology of candy processing? I posed that question to a number of experts in confectionery processing. Here are their responses.
John Kitt (phone 973-503-4851), Research Scientist at Life Savers Co., a division of Nabisco Foods, East Hanover, N.J., and past president of the American Association of Candy Technologists, said that the candy industry is not a hotbed of innovation, but there is continual upgrading, and bigger, faster machines. One of the latest developments in the industry, he said, is proliferation of hard candy produced by the depositing process rather than the traditional die-forming process. This has enabled the production of products containing higher levels of dairy products than ever before, at least in the United States. One of the reasons is that the dairy fats are not expressed from the cooked product in the depositing process, whereas they tend to be in die forming. The current surge of interest in deposited products containing dairy products began with the success of Werther's Original candy imported from Germany. 
Depositing is not really a new process, he said, having been used in Europe for many years, but it is relatively new in the U.S., where three major companies have recently begun using it—Life Savers' Creme Savers and Hershey's TasteTations, which both contain relatively large amounts of milk, and Mars' Starburst Hard Candy, which contains fruit juice. Creme Savers was introduced in August 1998 and has sold very well. The hard candy is available in three versions—Orange & Creme, Strawberry & Creme, and Chocolate & Caramel Creme—and features a two-tone swirl effect obtained by using a co-depositor, or twin-head machine. 
In both the traditional die-stamping process and the depositing process for manufacturing hard candy, a mixture of sugar and corn syrup is cooked, using heat and vacuum, to a temperature high enough (generally 280–300ºF) to concentrate it into a plastic mass containing 1–2.5% moisture. In the die-forming process, the mixture is cooled to 200–220°F and formed into a thin rope, and the shape is stamped out between dies at about 180°F. In the depositing process, the mass is poured directly into molds at the final cooking temperature. Also, in the traditional process, cooking involves kneading by hand or machine, which incorporates air, making the product opaque and slightly rough. The depositing process produces a clear product with no inclusion of air and with much smoother texture.
Maurice Jeffery (phone 508-428-8506), President of Jeffery Associates, Sandwich, Mass., and chair of the Education and Training Committee of the Pennsylvania Manufacturing Confectioners Association (PMCA), said that there is a drive toward continuous operation. Although continuous operation is less flexible than batch operation, it gives better control and more uniform quality. In addition, more plants are being designed with built-in HACCP and process control, which are key to most process design.     
There are also some new approaches, particularly in making caramel. Caramel has traditionally been made by cooking sugar, corn syrup, condensed milk, and fat in a batch kettle for about 30 min, during which the Maillard reactions produce flavor and color. When the process is converted to a continuous process, the cook times are very short, and the Maillard reactions don't have time to occur. The result is a white caramel with no color or flavor. One approach to develop the desired color and flavor is to cook continuously, then hold the product at temperature for 10–20 min to develop color and flavor, then cool it. 
Another approach is to take the caramel syrup under pressure so it won't evaporate, raise the temperature to above 300ºF to get very rapid caramelization, then evaporate to reduce the moisture content to the desired level (which governs the hardness and texture). This precaramelization process is very efficient, provides better control, and saves energy. It is not a new technology, having been developed and used by Cadbury in England since the 1970s, but several years ago Ter Braak and the Dutch company TCC began offering equipment for this process to the industry. 
Jeffrey added that microwaves are increasingly being used, particularly with vacuum ovens, since they produce very efficient heat transfer in the product being dried, compared to use of heated plates and belts. Microwaves are being used for vacuum drying of semifinished products, mostly chocolate crumb used as raw material for chocolate manufacture. 
There is also increased use of liquid jets, both water jet and oil jet, for cutting confectionery, as well as baked goods. Water jets have an advantage over oil jets, he said, because oil is very viscous under pressure and tends to wear out the nozzles. Water jets potentially can affect or interfere with the product, but the stream is so small (0.015–0.017 in in diameter) that they don't. 
One of the trends he foresees is functional confectionery, the application of good nutrition science to confectionery. As we learn more about nutrition and genetic science, such as what makes people age, he said, functional confectionery may take on a role as meal replacements, allowing snacking with a nutritional benefit, such as providing calcium or perhaps an enzyme blocker that reduces the effects of aging. Confectionery is an ideal carrier, he said, because it doesn't require refrigeration. The processes may be the same as current confectionery processes, but the formulations will be different.
Mel Warnecke (phone 423-499-9755), President of Warnecke Technical, Inc., Chattanooga, Tenn., said that confectionery manufacturing is being converted from an art into a science. With better understanding of crystallization, aeration, and ingredients, a candy technologist can create many different textures and other differences among products. Knowing the chemistry and the art of candy making allows processes that used to take days to be completed in a manner of minutes. 
For example, the traditional method for making chocolate-covered creme products used to take at least 24 hr. The hot liquid vanilla creme was deposited into an impression in a tray of corn starch. This intermediate product would be held overnight for sufficient crystallization to take place before being enrobed with tempered liquid chocolate. The chocolate would then be cooled to harden around the creme center and packaged. Now, because we have a better understanding of crystallization chemistry and the principles of heat exchange equipment, we have better control of the process and can make the same product in only 30 min—in a continuous process in which the center is cooked and set in 15 min, followed directly by chocolate enrobing, cooling, and packaging in the next 15 min.
Better control of processes allows a company to convert its hard candy manufacturing from a small batch operation of 200–400 lb/hr to a continuous operation at 10,000 lb/hr. Obviously, such processes need controls, he said, or there will be a lot of rework and scrap. As batch processes get converted to continuous processes, he added, one of the concerns is to make sure the desired flavor is developed. We may get the same texture but not the same flavor, since there may not be enough time for various reactions such as Maillard and others to occur. Certain products require both time and temperature to obtain the desired flavor and color. Caramel manufacturing is an excellent example. 
It is interesting, he said, that the technology of the confectionery industry is moving to other areas of the food industry. We're seeing confectionery technology becoming more a part of food technology. Major food companies are selling fruit snacks, and confectionery technology is now being used to make a lot of other food products, including many baked goods. Even the pharmaceutical industry is becoming interested in confectionery as a delivery system. An example is Mead Johnson Nutritionals' Viactiv Soft Calcium Chews, which are essentially caramels containing 500 mg of calcium each, providing half the Daily Value for calcium with only 20 calories. The recommended daily intake of calcium for women is 1,000–1,300 mg/day. This can be difficult to take in pill form, he said, but a caramel chew is very convenient. Targeted to teen and young adult women to help reduce the risk of osteoporosis, the product also contains vitamins D and K. 
Warnecke has always considered confectionery products as convenient portable foods. They require no preparation by the consumer. The consumer can carry them with and eat them at any time. They are shelf stable and don't require a can opener. They are an impulse item and are a good base for developing functional foods for healthy living.
Ian Purvis (phone 616-785-7574), Director of Sales, Chocolate and Confectionery Machinery, APV Baker, Grand Rapids, Mich., said that one of the benefits of depositing systems is that the flavor release from deposited candies is far different from that of die-formed candies. 
With regard to improvements in equipment, he mentioned increased output and processing capability, ability to use large quantities of milk components, particulates, center fills, and double and triple fills. Lines today run with virtually no scrap, while producing and wrapping up to 10,000 pieces/min, or 2 tons/hr, of hard candy individually wrapped in bags or roll packs. APV is the largest supplier of depositing equipment in the U.S. and the world. Others include Sollich/Klockner, W&D, Macat/Bosch, and Ter Braak Div. of Hosokawa. 
In traditional molding, a bottom shell of chocolate is poured and set, then a filling is poured and set, and then the top shell of chocolate is poured and set. In centerfill depositing technology (called one-shot molding in the chocolate industry), two concentric pistons, one inside the other, can be used. The outer nozzle can start depositing the outer shell, then the inner nozzle deposits the center, and then the outer nozzle effectively encapsulates the center. Two or three different components can be deposited, and stripes and layers can be made. The most recent advance is three-color striping, or two components inside a third shell, or three materials simultaneously. 
The depositing equipment is also applicable to the baking industry, as in the manufacture of cookies. We can put some things out there that are really quite striking, he said, such as a sandwich cookie with a center of white creme with jelly inside or peanut butter with jelly inside. 
Purvis added that there have been great strides in the industry in the development of automated equipment. Modern equipment provides operators with a very clear screen interface, with very good information on the different elements of the process. Features include pictorial representation, recording information for analysis, supervisory control and data analysis (SCADA) systems, sophisticated recipes (sets of operating conditions/machine settings for a particular product), and definitions of startup and shutdown procedures. Such automation reduces or eliminates the risk of operator error. It gives the operator the ability to change a recipe, accept a new recipe, etc., as well as to go back and compare and trend particular parameters.
Robert Boutin, Executive Vice President, Knechtel Research Sciences, Inc., Skokie, Ill. (phone 847-673-4477), said that the candy industry is in a state of transition, with small companies being absorbed by bigger companies, with different structures. Opportunities disappear, and new opportunities appear. For the past 40–60 years, he said, the industry was very stable, with 4–5% annual growth, somewhat recession proof. Now with mergers and consolidations, it's much more like other food industries, affected by economics, ingredients, imports, etc. 
The world is becoming more competitive, he said. Previously, a company with basic equipment would make a wide variety of products. But as companies become more specialized, more mechanized, they lose flexibility. That means that the company is not able to make as many products as it would like profitably. A company might have made a complete line of products, but now because of automation, ingredients, and labor expenses, it only makes the profitable ones. Thus, some products are dropped, but that makes opportunities for other companies. Every time a product is deleted from one company, another takes it. 
Automation is now the key thing, he said, the only way companies can keep prices down. Every step of the production has to be automated, not just the wrapping machine. That includes weighing, cooking, forming, enrobing, wrapping, packing, and palleting. Automating just one part doesn't help. Since this is very expensive, outsourcing allows companies to try new products without big investments, logically and fast. 
He added that the array of ingredients for confectionery keeps expanding, requiring new equipment and new processes. For example, sugarless candies have different characteristics than candies based on sugar and corn syrup and may need different processes and equipment.
Greg Ziegler (phone 814-863-2960), Associate Professor in the Dept. of Food Science at Penn State University, University Park, Pa., said that the department's Cocoa, Chocolate and Confectionery Research Group is well along on a process for the conversion of spray-dried milk powder to a more functional ingredient for chocolate and coatings. The process involves the application of high shear and heat (above the glass transition temperature) to result in crystallization of the lactose, liberation of entrapped fat, and generation of crumb-like flavor. The advantages to manufacturers would be higher levels of free fat, and therefore lower viscosity, and much better flavor than a combination of spray-dried skim and anhydrous milkfat. 
PATENTS
Crunchy chewing gum and process for making. U.S. patent 5,958,472, filed 2/26/1997, issued 9/28/1999 to M.K. Robinson et al., assigned to Warner-Lambert Co. Describes preparation of a crunchy sugarless chewing gum having a crunch similar to that provided by incorporating granulated sugar into a sugar-based gum product. The product is prepared by introducing a granulated isomalt additive into the interior of a sugarless gum formulation.
Treatment of chocolate so that the chocolate treated contains added water. U.S. patent 5,965,179, filed 4/11/1997, issued 10/12/1999 to P. Ducret et al. Describes a method for incorporating water into a chocolate. Chocolate and an emulsion or dispersion of a thickening or gelling substance in water, particularly microcrystalline cellulose, are introduced into an extruder, which mixes them and extrudes a chocolate mass that has a temperature of 0–28ºC and contains 3–20 wt % added water. This makes it possible to prepare functional chocolates with nutritional value, such as by incorporating calcium and vitamin C. The product is said to have fewer calories, a similar taste, and better heat resistance than a standard chocolate and can act as a vehicle for nutritional or functional constituents, such as humectants, flavorings, calcium, and vitamin C.
Process and apparatus for the production of confectionary mass. U.S. patent 5,962,061, first filed 3/7/1996, issued 10/5/1999 to J.G. Ter Braak, assigned to Ter Braak B.V. Describes a process and apparatus for the production of confectionery—with or without caramelization—from milk proteins, sugar, glucose, fat, and water. When a homogenized mixture of these components is cooked at 120–140ºC and evaporated at reduced pressure, the milk proteins are subjected to the so-called Maillard reaction, producing a caramelized brown toffee. In some cases, this discoloration is unwanted and product should be white or creamy white. In other cases, an accelerated Maillard reaction, allowing a faster production process, is desirable. In the patented process, the components are homogenized in a closed tank under controlled pressure and temperature and are transferred to a scraped-surface rotor cooker at a pressure of 0.2–0.9 bar absolute. The components are retained in the cooker for 4–10 sec, then transferred from the cooker to an evaporation chamber at the same pressure. When little or no Maillard reaction is desired, the closed tank is maintained at a pressure no more than 1 bar absolute at 40–90°C, but when Maillard caramelization is desired, the tank is maintained at 2–4 bars absolute and 110–140°C.
Aerated lactic protein and crystallized fat food product and its preparation. U.S. patent 5,962,059, filed 9/4/1997, issued 10/5/1999 to J. Pernin et al., assigned to Nestec S.A. Describes an aerated food product containing a large quantity of milk proteins that can be used as a garnish for preparation of composite products, such as baked biscuits with the garnish positioned between them. The product has a crystalline fat structure and is prepared by mixing skimmed milk powder, a sugar, and a sugared concentrated milk with a lipid composition to obtain a mixture having 30–60% fat and a dry matter content of 80–90%. While being cooled to an ambient temperature, the mixture is kneaded mechanically and injected with an inert gas to obtain the aerated food product.
Process of making a fruit ganache. U.S. patent 5,958,503, filed , issued 9/28/1999 to D. Dumoulin et al., assigned to Puratos Naamloze Vennootshcap. Describes a fruit ganache for decorating, coating, and/or filling pastry, biscuit, and/or chocolate products. The ganache contains fruit, fruit extracts, or fruit substitutes and a cocoa butter substitute in the form of a solid fat when kept at 25ºC, as well as the usual ingredients of a ganache, namely, sugar or a sugar substitute, water, one or more emulsifiers, milk or a reconstituted product based on milk powder and optional additives. The fruit ganache is in the form of a water-in-oil emulsion.
Gumi candies and a process for making the same. U.S. patent 5,932,273, filed 4/30/1997, issued 8/3/1999 to H. Yasui; Hiroyuki, assigned to Mondo Beni Co., Ltd. and Yasui Confectionery Co. Ltd. Describes production of gummy candies made by mixing water, sugar, starch syrup, an acid, a buffer solution, a flavoring material, a coloring agent, and a setting agent consisting of a combination of pectin and gelatin. The candies are said to have good consistency at about 80°C, whereas conventional gummy candies melt at 40–45°C and lose their shape, making them unable to be sold by automatic vending machines exposed to an ambient temperature of 80°C.
Process for preparing a fat for preventing fat blooming of chocolate. U.S. patent 5,928,704, filed 10/9/1996, issued 7/27/1999 to N. Takeda et al., assigned to Fuji Oil Co. Describes a process for producing a shortening that prevents fat blooming of chocolate. Chocolate standing at a temperature near body temperature for a certain period of time is subject to "fat blooming" caused by unstable crystals of fats and oils and "sugar blooming" caused by recrystallization of sugar. To prevent fat blooming, a tempering process is generally employed to convert a fat-and-oil ingredient of chocolate to a stable crystal form as much as possible. However, fat blooming can still result from insufficient tempering and temperature changes during marketing and storage. The shortening consists of SUS-type triglycerides containing saturated fatty acids with 20–24 carbon atoms and SSU-type and/or SUS-type triglycerides not containing saturated fatty acids with 20 or more carbon atoms, with the SUS-type triglycerides being in a stable crystal form.
Reduction of chocolate bloom. U.S. patent 5,925,399, filed 6/3/1998, issued 7/20/1999 to P. Cheng et al., assigned to Nestec S.A. Describes a process for preparing chocolate or a fat-containing confectionery material by incorporating 0.01–0.5% by weight of a silicon dioxide into the chocolate or a fat-containing confectionery material. This significantly reduces bloom on the chocolate or confection during storage and retains the desirable snap. The anti-bloom effect also applies to vegetable-fat coatings such as lauric and non-lauric fat coatings
Process of modifying texture of food products. U.S. patent 5,922,388, filed 8/19/1998, issued 7/13/1999 to R.E. Garwood et al., assigned to Nestec S.A. Describes a process for controlling the softness of a food product which tends to lose water and become progressively harder during storage. The process involves adding an edible plasticizer immobilized in an edible lipid or protein. The plasticizer is gradually released during storage of the food product to compensate for water loss.
---
Products & Literature
CONFECTIONERY PROCESSES AND EQUIPMENT described in a 6-p brochure, "What's New from APV Baker?" include milk injection, plug valve, chocolate depositing, double row centerfill, short-term layering, three-color depositing, chocolate-filled toffee cups, chews, encapsulated biscuit/cookie fillings, co-deposit sandwiching, depositor, baking oven, wirecutting machine, equipment for making fruit-filled bars and two-dough cookies, extruder, and others. For a copy, contact APV Baker 3200 Fruit Ridge Ave., N.W., Grand Rapids, MI 49544 (phone 616-784-3111, fax 616-784-0973)—or circle 363.
CONFECTIONERY EQUIPMENT is described in a 40-p brochure entitled "Machines, Production Lines and Process Technologies for the Confectionery Industry." The brochure includes descriptions of equipment and processes for production of filled and unfilled high-boiled candy, soft caramels, sugarless high-boiled candy, toffees, chewing gum, gum and jelly confectionery, multilayer and cereal bars, and other products. The brochure discusses equipment for dosing, weighing, dissolving, and precooking; batch cooking; continuous cooking, with and without batch discharge; tempering; drawing and aerating; extruding high and low boiled masses; filling; rope forming; embossing; cooling; rolling; cutting; mixing; wrapping; and other functions. Each description includes color photographs as well as schematic drawings of the production lines. For a copy, contact Robert Bosch Corp., 9890 Red Arrow Hwy., Bridgman, MI 49106 (phone 616-466-4000)—or circle 364.
CONTINUOUS CONFECTIONERY PRODUCTION is accomplished by Bepex System Engineering, a combination of processing equipment from Ter Braak, including weighing, mixing, preheating, dissolving, cooking, mixing, and cooling of sugar confectionery syrups and masses; Bepex-Hutt forming, cooling, and cutting equipment; and Kreuter enrobing , tempering, and cooling equipment. For a 12-p brochure, "Technology and Equipment for the Confectionery Industries," prepared by Hosokawa Bepex GmbH, contact Turbo Systems, Inc., 120 Cockeysville Rd., Hunt Valley, MD 21030 (phone 410-527-2800, fax 410-527-2825)—or circle 365.
CHOCOLATE COATING MACHINE, the Driamat, accomplishes chocolate and soft sugar coating of all types of hard and soft sugar centers, such as chocolate lentils, jellies, licorice, caramels, almonds, nuts, raisins, and other products. For a 4-p brochure describing the fully automatic unit, which features an infrared heating system for the drum wall, contact Driam USA, Inc., P.O. Box 4216, Spartanburg, SC 29305 (phone 864-579-7850, fax 864-579-7852—or circle 366.
DESICCANT DEHUMIDIFICATION SYSTEM for confectionery plants is described in a 6-p brochure, "Confectionery." The brochure discusses the advantages of desiccant dehumidifiers over cooling-coil air conditioning in controlling humidity in such applications as pan coating (sugar and chocolate), packaging, cooling, and cold storage. For a copy, contact Cargoaire Div., Munters Corp., P.O. Box 640, Amesbury, MA 01913-0640 (phone 800-843-5360 or 508-388-0600, fax 508-388-4556, www.munters.com) —or circle 367.
RETORT BASKET LOADING and unloading equipment provides low-cost, repeatable container loading and unloading with varying levels of automation. The X-series includes four models, ranging from an operator-assist workstation (Model 100-X) to a fully automated system (Model 400-X). For more information, contact Allpax Products, Inc., 13510 Seymour Myers Blvd., Covington, LA 70433 (phone 504-893-9277, fax 504-893-9477)—or circle 368.
DRYER FOR INFUSED FRUIT PRODUCTS and dried fruit and vegetable products features a dual-plenum design that provides extremely uniform drying of product and enhanced flexibility through increased control of airflow through the dryer. External and interior doors around the entire periphery of the dryer allow ease of maintenance and cleaning. For more information about the Series VII dryer, contact Wenger, 714 Main St., Sabetha, KS 66534-0130 (phone 785-284-2133, fax 785-284-3771)—or circle 369.
SOLID-BARREL TWIN-SCREW EXTRUDER, the SB65, features a unique PLC control system, with automatic start and stop sequences that reduce time and waste on startup. The control system can be enhanced with the addition of a Wonderware InTouch supervisory control and data analysis (SCADA) system that monitors and records key product and process parameters such as moisture content, die pressure, die temperature, and motor torque to help operators run the machines more efficiently. The system also includes recipe management, alarm handling, and a comprehensive data historian. Heating and cooling characteristics and process control are enhanced by 360° elements around the barrel. Other innovations include an integral water pump and liquor handling system with variable-speed positive-displacement pumps and optional flow meters, to give smooth, controlled flow of liquids to the barrel. The extruder also provides high outputs and process flexibility, with rapid changeovers between products and modular barrel segments. For more information, contact Ian Purvis at APV Baker, 3200 Fruit Ridge Ave., N.W., Grand rapids, MI 49544 (phone 616-785-7574, fax 661-784-0973)—or circle 370.
CONTROL SYSTEM for Optima chocolate enrobers uses Wonderware software and covers the complete tempering, enrobing and cooling process, bringing information and control capability to one central point. The operator can see at a glance what is happening at every stage of the process, and a monitoring system provides information on process variations. Consistent product quality can be ensured by making adjustments to maintain optimum conditions. The system also includes a recipe handling capability, with automatic pushbutton changeover between products and types of chocolate. For more information, contact APV Baker, 3200 Fruit Ridge Ave., N.W., Grand Rapids, MI 49544 (phone 616-784-3111, fax 616-784-0973)—or circle 371. 
---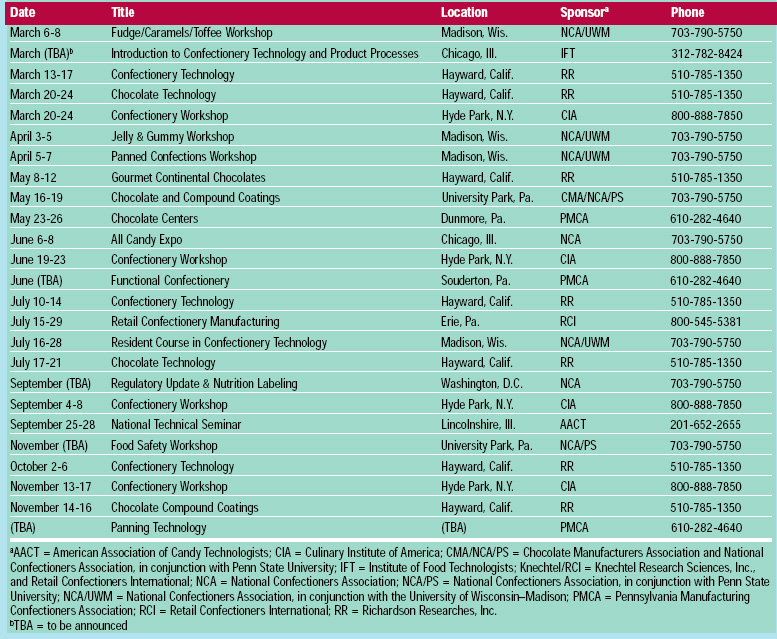 Continuing Education in Confectionery and Chocolate Technology

The table below lists confectionery-related courses, workshops, and conferences scheduled for the year 2000 in the United States and Canada. The courses are sponsored by (1) trade and professional associations, such as the American Association of Candy Technologists, Chocolate Manufacturers Association, National Confectioners Association, Institute of Food Technologists, Pennsylvania Manufacturing Confectioners Association, and Retail Confectioners International; (2) schools such as Penn State University, the University of Wisconsin–Madison, and the Culinary Institute of America, some in conjunction with others; and (3) companies, such as APV Baker, the Barry Callebaut Institute, Knechtel Research Sciences, Inc., and Richardson Researches, Inc. 
Here is a brief description of the offerings of the companies mentioned above.
APV Baker centers its confectionery work at the APV Food Processing Center in Peterborough, England, 1 hr north of London, where potential customers can conduct feasibility trials, scale-up tests, etc. More information can be obtained by calling +44(0)1733283000. The company has a similar facility in Grand Rapids, Mich., dedicated to the cookie industry (phone 616-784-3111). The company's Web site is www.apvbaker.com. 
Barry Callebaut Institute, scheduled to open in late autumn 1999 at the chocolate manufacturer's plant in St. Hyacinthe, Quebec, Canada, is a full-service research and development and education center, including modern classroom and conference center, test kitchens, pilot plants, chocolate library, and analytical laboratory. The institute will provide, among other things, chocolate courses, as well as technical assistance on chocolate handling and equipment. More information can be obtained by calling 800-774-9131 or 450-774-4132. The company's Web site (www.barry-callebaut.com) will be in operation next month.
Knechtel Research Sciences, Skokie, Ill., consults with companies on specific subjects and also participates in continuing education courses sponsored by trade and professional associations. Every other year (next in May 2001), Knechtel hosts the RCI Candy Tech Workshop. More information is available by calling 847-673-4477. The company is in the process of establishing its Web site at www.knechtel.com. 
Richardson Researches Inc., Hayward, Calif., as well as being an independent contractor, teaches courses on confectionery, chocolate, gourmet continental chocolates, compound chocolate coatings, and other topics. A pilot plant contains equipment for making almost any type of confectionery, including all equipment for making chocolate, from winnowing beans to enrobing. More information is available by calling company president Terry Richardson at 510-785-1350 or accessing the company's Web site at www.richres.com. 
by NEIL H. MERMELSTEIN
Senior Editor
What's New on IFT's Web site? Take a look . . . www.ift.org