At first glance, "upscale casual" may seem like an oxymoron. Rather, it's a new term describing one of the most widespread—and irreversible—food trends to come along in years.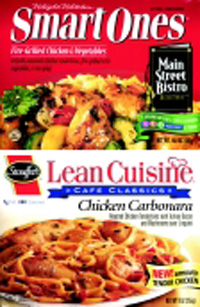 "Upscale casual" refers to fresh, mildly trendy, upscale signature dishes and hand-made fast foods sold at reasonable—although hardly bargain—prices through eat-in or take-out restaurants, gourmet take-out buffets, upscale supermarket foodservice, trendy delis, etc. Also known as "fast casual" or "fast upscale," the "haute casual" segment—sandwiched between the $115-billion quick-service restaurant (QSR) and the $106-billion full-service industries—is estimated by Chicago-based Technomic Inc. to be worth more than $1 billion and growing. Even McDonald's is eyeing this segment, with its minority investment in the Denver-based upscale chain, Chipotle Mexican Grill.
Haute casual cuisine will dramatically enhance the culinary sophistication of the American public by offering easy, everyday opportunities to sample more exotic menu items, ingredients, and ethnic fare. At the same time, it will bring renewed interest to a wide variety of favorite foods—such as slow-cooked and roasted meat dishes, home-made soups, stews, etc.—that have been virtually abandoned because they require timely, more-expensive, or large-batch preparation at home. Last, the desire for casual upscale dining is romancing less-glamorous culinary categories such as French country foods, foreign "street" and "peasant" foods, and American regional home-style cooking. New York–based Market Facts reported in 1998 that although three-quarters of diners expect to see comfort foods on menus, one-third search for them with a "twist"! 
With the large and growing interest in upscale casual dining, it's not surprising that bistros and brasseries are regaining their once trendy popularity. With or without their signature French foods, their fresh, affordable, casual fare served in a fun, lively atmosphere symbolizes the way America loves to eat! Today, bistros and brasseries have become synonymous with serving just about any food that is simple, affordable, casual, and fresh. While the terms are used interchangeably in the United States, they still differ in France—with bistros serving simple home-style local foods, including wine, cheese, and meats, while brasseries remain larger and more elaborate, reflecting their roots as Alsace German beer gardens. Not surprisingly, a number of trend-setting restaurants have labeled themselves Mediterranean, Latin, and even Asian bistros. 
Likewise, food marketers are naming products, such as Stouffer's Lean Cuisine Café Classics and Weight Watchers Smart Ones Main Street Bistro™ line, to capitalize on the everyday romance of the upscale dining trend. And on the home front, even diners are back. Today's blue plate specials, however, have a new "gourmet" twist. California-based Ruby's Diner chain now serves a wide variety of upscale casual menu items, including veggie burgers and Caesar salad on a roll!
The contemporary American bistro movement and our recent air of food sophistication have also caused foreign comfort foods to gain mass attention. Pierogis, gyros, papusa, potato pancakes, crepes, and fondues are all gaining in popularity. Today, ravioli—an Italian comfort food historically made with leftovers—is filled with upscale stuffings from lobster to asparagus, wild mushrooms, and even onion puree. And bruschetta—the item most likely to be added to U.S. restaurant menus, according to Restaurants and Institutions' 1999 Menu Census—has also emanated from similar foreign country casual trends. Likewise, restaurant cheese platters and sausage samplers, crusty wholegrain peasant breads, pot pies, and seasonal stews and soups—the American answer to bouillabaisse—are all reflections of the rejuvenated American bistro movement.
Even the basics are going upscale, and America's favorite food, the $30+ billion pizza segment, is no exception. We have Greek pizza and veggie pizza, while Kraft's California Pizza Kitchen offers Thai Chicken with Guacamole and Rosemary Chicken Potato pizzas, too. Muellers' new Savory Collection ™ flavored pasta line includes pesto, basil, and garlic cavatappi, sun-dried tomato and basil pennette, lemon pepper penne rigate, and more. Betty Crocker makes a risotto line and also has upscale pasta offerings such as roasted chicken vegetable penne pasta. Hellman's Citrus Splash salad dressing, made from Florida citrus, comes in orange vinaigrette, ruby red ginger, and tangerine balsamic. Knott's Berry Farm salad dressing has a sun-dried tomato version. Even Chef-Boyardee Homestyle has cannelloni and ravioli primavera . . . canned! Ragú went Gardenstyle with Italian cheese, and Campbell's ready-to-serve tomato soup added roasted garlic and herbs. Even bar food has changed: peanuts and pretzels have given way to coconut shrimp, Asian marinated skewers, and ahi tuna, with chop sticks, too!
Putting gourmet foods behind the QSR counter or even at a drive-up window—such as Newport Beach, Calif.'s "AutoBistro," which dispenses $6 upscale casual sandwiches through drive-up toll windows—is being met with widespread success. Whether sold via upscale in-store supermarket foodservice or gourmet take-out delis like New York City's incredible "lunch-and-dinner-to-go" buffets with more than 150 items, upscale casual foods will surely set the foundation for tomorrow's more-sophisticated diners and shoppers in any price range. While tomorrow's mature consumers are likely to take their QSR habits with them as they age, their discretionary income, lack of free time, and an overwhelming desire to experiment will surely make upscale casual fast foods a logical path for food marketers to follow.
by A. ELIZABETH SLOAN
Contributing Editor