Soybeans that have a neutral taste. Spaghetti that isn't soggy if it's cooked too long. Wines with enhanced aromas. A specialty oil that may prevent an increase in body fat. Sauces that excel under high retort conditions. The development of new anti-inflammatory agents. All these examples illustrate the use of innovative enzymes to solve problems of functionality or improve health benefits.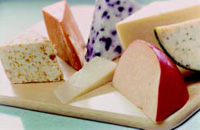 One research company has described enzymes as "the power machine" behind all biological reactions, acting as catalysts to speed up these reactions and ultimately helping to produce foods and beverages of higher quality or increased value. In the November 1999 Ingredients section, I took a similar, although slightly simpler view, referring to enzymes as proteins that make things happen. In that article, I discussed the valuable role that enzymes can play in the production of new ingredients and food products.
Two years later, enzymes continue to demonstrate wider and wider applications. This may be due to various reasons.
First, there is more and more research uncovering new enzymes or new applications in both the food and nonfood areas.
Second, tailored enzyme mixtures are being produced which increases the viability of enzyme usage and makes enzymes competitive alternatives for other sources.
Third, new technologies can be employed to create new, more efficient enzymes.
Fourth, microbial production of enzymes, for example, can lead to a greater availability compared to other sources, some of which are animal derived.
Fifth, many applications that use enzymes, such as producing a soybean without a beany taste or an oil with improved health benefits, fit in very well with today's trends on health and the development of food products with improved functionality or improved flavors.
Sixth, already established applications in the food arena or possibly even applications in nonfood products can help provide new directions.
Seventh, food manufacturers may be looking for alternatives to other ingredients such as emulsifiers or preservatives.
Eighth, enzymes can be certified kosher, halal, or vegetarian, leading to labeling advantages and the creation of foods that are designed for certain segments of the population.
As noted in the November 1999 Ingredients section, the search for novel enzymes is ongoing and covers the fours corners of the world. For example, enzymes from sources in the deep-sea environment can provide new opportunities for food applications.
This article will look at 12 food or ingredient areas and some of the new enzyme developments that may have impact in those areas.
--- PAGE BREAK ---
Processed Tomato Products. The appearance, consistency, and overall quality of processed tomato products in end-product applications can be improved by the use of a pure fungal pectin methyl-esterase integrated into existing processes. Available under the name FirmFruit®, the natural enzyme system is available from DSM Food Specialties, 2600 MA Delft, The Netherlands (phone 31-15-279-3474; fax 31-15-279-3540); or in the U.S., 2675 Eisenhower Ave., Eagleville, PA 19403 (phone 610-650-8480; fax 610-650-8599; www.dsm-foodspecialties.com).
Tomato pieces are prone to damage and even disintegration during processing and cooking. However, the negative effects of mechanical and thermal treatment can be reportedly overcome by the enzyme, which when added to tomatoes prior to their incorporation into the final product can successfully maintain the firmness and identity of the tomato pieces as well as improve the viscosity of sauces.
According to the manufacturer, the enzyme acts by demethylating the naturally occurring pectin in tomatoes to create a strong pectate network with the calcium already present. The gelling characteristics of the pectin are altered from high methylated to low methylated, improving the viscosity and consistency of tomato sauces and tomato pieces. As a result, tomato segments are firm, consistent in size, and easy to identify. Mouthfeel and taste are also enhanced.
The treatment of processed tomato products is the newest application of the enzyme system, which is based on proprietary technology (Rapidase® FP Super) from DSM. The application was introduced at Fi Europe 2001, London, November 5–7, 2001, where it was demonstrated in finished product samples.
Previously, the pectin methylesterase system has been used successfully in the production of fruit preparations for yogurts, fruit compotes, and other such applications. Its treatment of fruit and vegetable products was said to deliver enhanced texture and identity, leading to a marked increase in product firmness and integrity, with minimal fragmentation.
Pasta and Noodles. A variety of enzymes function in wheat flour for baking applications. Although noodles and pasta are made from flour mixed with water, the dough is very different from bread dough. It is considerably drier, containing 30–35% water vs 58–65% for bread.
Also, the quality of flour can vary, which may have an undesirable impact on the final product. For example, a pasta product such as spaghetti, if made from a lower-quality flour, can have a softer texture and lower cooking tolerance. If cooked too long, it may become soggy and sticky. Or the degree of color brightness can be affected, with the dough turning to an unattractive gray color. Or the flour might be more susceptible to a speckled appearance.
In an attempt to solve some of these problems, a new enzyme for improving the overall quality of wheat flour-based pasta and noodle products has been launched by Novozymes, 77 Perry Chapel Church Rd., Franklinton, NC 27525 (phone 919-494-3000; fax 919-494-3485; e-mail enzymesna@novozymes.com). Called Noopazyme, the microbial lipase is said to reduce the speckled appearance of the dough and increase color stability during dough sheeting and extrusion. Noodles and pasta treated with the enzyme have increased firmness, reduced stickiness, increased tolerance against overcooking, and more color stability.
According to the manufacturer, the enzyme increases the number of amylose–lipid complexes in the flour, which, in turn, inhibits the swelling of starch granules as well as the leaching of amylose that frequently occurs during cooking. (The addition of the lipase reportedly increases the amount of these complexes by more than 60%). The result is a product with a smoother surface, more firmness, and reduced stickiness.
Also, the enzyme indirectly strengthens the gluten, a protein that maintains the structure of the dough and gives it elasticity. Improving the texture properties of gluten can help to increase the firmness of noodles and pasta. Furthermore, by increasing the strength of the available gluten in the flour, the enzyme can help lower-quality, lower-protein flours perform better and improve the quality of noodles and pasta made from these flours.
Novozymes, formerly Novo Nordisk, is a leader in offering an extensive range of enzymes.
--- PAGE BREAK ---
Oils and Fats. A specialty vegetable oil prepared using an enzyme from Novozymes has been developed and successfully marketed by Japan-based Kao Corp. The "healthy" cooking oil, consisting of diacylglycerol (DAG) which is made enzymatically from natural oil, is said to help maintain healthy triglyceride levels in the bloodstream, aid in the maintenance or loss of weight and fat mass, and lower the level of cholesterol in the body.
Marketed in Japan under the name Healthy Econa Cooking Oil, the product is said to be digested and absorbed in the small intestine and is consumed as energy without resynthesizing into a neutral fat. As a result, it reduces the level of neutral fat in the blood compared to conventional oil, and its long-term use may prevent an increase of body fat, especially fat that deposits in the internal organs. The oil is reportedly indistinguishable in taste and appearance from conventional oils and may have application in such products as vegetable oil spreads, home cooking oil, and salad dressings.
According to the Japanese manufacturer, the idea for the oil was first conceived back in the 1980s when an immobilized lipase was used in research to make cocoa butter substitutes from palm oil. Researchers at the company were interested in the possibility of making DAG, which does not transform into body fat and which could lead to a less fattening oil. The next 15 years was marked by trial and error as Kao and Novozymes worked together to create the product. On several occasions, the enzyme was improved to fit into the manufacturer's process.
Today the oil is the first commercial success of a product based on immobilized lipase. A variety of salad and cooking oils are sold at approximately 40,000 stores in Japan. Sales of the product account for 80% of premium oils and it is used in such applications as canned tuna fish, margarine, and bread.
Archer Daniels Midland Co., Decatur, Ill., has formed a joint venture with Kao for the manufacturing, marketing, and sales of DAG oil. ADM is expecting to construct a pilot plant to produce DAG oil at its Decatur facility, which would be operational by November 2001. The oil was designated as GRAS by an outside panel of scientific experts. The conclusion was then reviewed by the Food and Drug Administration in December 2000, indicating acceptance of its safety in the U.S.
Bread. A new microbial lipase for the baking industry was introduced by Novozymes A/S, Bagsvaerd, Denmark, at the 2001 American Association of Cereal Chemists Annual Meeting, held in Charlotte, N.C., October 14–18, 2001. Called Lipopan F, the enzyme is said to significantly increase loaf volume and improve crumb appearance in bread and other yeast-raised baked products. A technical presentation was also given which covered functionality in baking and mechanism of second-generation lipases compared to emulsifiers and the traditional 1,3-specific lipases.
Also highlighted at the meeting were enzyme-based dough conditioners, Essential PBR 150 and PBR 175, available from Lallemand/American Yeast, 3A St., Derry, NH 03038 (phone 603-432-4006; fax 603-432-5283). The dough conditioners are designed for gluten and emulsifier reduction in bread-making applications.
Bread dough can be improved by an enzyme-technology-based ingredient blend, PowerBake™ 502, available from Danisco Cultor USA, Inc., 201 New Century Pkwy., New Century, KS 66031 (phone 800-255-6837; fax 913-764-5407; www.daniscocultor.com). The addition of the product to the dough can result in bread dough properties that are more stable, making the baking process easier and more reliable.
The dough-strengthening product consists of a combination of xylanase, ascorbic acid, and azodicarbonamide, which provides oxidation designed to increase loaf volume and improve crumb structure. The basic level of oxidants is said to provide a stable foundation for the performance of the proprietary xylanase found in the combination.
--- PAGE BREAK ---
The ingredient is highly suitable for a wide variety of bread-making procedures and improves process tolerance, volume and grain. Studies have reportedly shown that use of the ingredient greatly improves volume and grain compared to other market standards. Finished bread products made with the ingredient are said to have a desirable texture and volume.
The ingredient is available as a tablet which makes dosing easy. The user disperses it in water and then adds it to the dough. Dosage is designed to be 1–2 tablets/hundredweight.
Wheat flours, especially in frozen and retarded dough, may be stabilized by an enzyme preparation with transglutaminase activity, available from Rohm Enzyme, 2 Turner Place, Piscataway, NJ 07081 (phone 732-981-5372; fax 732-981-5382). Called Veron® CLX, the product is said to ensure very good dough and fermentation stability; dry, fluffy, and smooth dough; high baking volume; and improved break and shred.
Transglutaminase creates new bonds between amino acids: It catalyzes an acyl transfer reaction between the amino acids lysine and glutamine, linking peptide chains and stabilizing the protein structure. By crosslinking gluten proteins, the enzyme improves the rheological properties of the dough during breadmaking. As a suitable complement to other bakery enzymes, it strengthens the gluten and provides optimum dough properties.
The use of the enzyme can offer some important advantages. For example, doughs are often deep-frozen and then baked after being stored for several days or weeks. This deep-freezing can have a negative influence on the dough, leading to breads of inferior quality; however, through its crosslinking action, transglutaminase stabilizes the gluten structure and can provide a clear improvement in bread quality.
Also, according to the manufacturer, the effect of emulsifiers can now be substituted by transglutaminase, in combination with other bakery enzymes. Particularly noticeable are the positive dough properties and the baking volume which are achieved through the dough-stabilizing action of the enzyme product.
In November 1999, United Kingdom–based Abitech Ltd. acquired Rohm Enzyme GmbH from Degussa Huls. Abitec is a member of the ABF Group (Associated British Foods). As of September 1, 2001, Rohm Enzyme GmbH changed its name to AB Enzymes GmbH.
Dairy Ingredients. Advancements in the study of whey protein separations, modifications, and performance analysis are enabling increased market opportunities for dairy ingredients. In particular, modification of whey protein fractions can be achieved with enzymes.
Achieving improved foaming and gelling properties for isolated whey protein fractions was the objective of an enzyme treatment of whey protein isolate (WPI) by researchers from North Carolina State University. Bioreactors containing enzymes are prepared using an adsorption process. The enzymes are genetically designed for selective adsorption on a specially prepared surface. This process allows for the purification and immobilization of the chosen enzyme in one step.
--- PAGE BREAK ---
The researchers found that covalently immobilized trypsin effectively limits the proteolysis of the isolated protein, resulting in a product that remains stable in solution. Using an immobilized enzyme allows researchers to isolate proteins without the use of a downstream, heat-inactivation treatment. (Although this treatment would be necessary to limit the proteolysis that otherwise occurs with a soluble enzyme, the heat exposure would ultimately denature the product.)
Enzyme treatment during the separation of these large peptide fractions resulted in impressive characteristics for emulsification, foaming, and gelling (compared to unfractionated versions of the WPI). For instance, controlling foam overrun was achieved by minimizing the degree of hydrolysis that occurs during the process. Also, enzyme-treated WPI formed functional, particulate gels as compared to the fine-stranded gels that result from untreated WPI.
Controlling protein crosslinking during this polymerization step is another study underway at the university. By introducing a different immobilized enzyme, transglutaminase, to the ligand surface, the extended crosslinking of β-lactoglobulin, WPI, α-casein, and κ-casein's glycomacropeptide was reduced. This work confirms the rapid formation of large polymers of crosslinked proteins. It is clear that formation of the polymers with immobilized enzymes results in products that have marketable functionality and higher nutritive values.
More information about this research can be obtained from Dairy Management, Inc., 10255 W. Higgins Rd., Suite 900, Rosemont, IL 60018-5616 (phone 847-803-2000; 847-803-2077).
Flavors. A full line of natural seafood flavors made using autolysis (hydrolysis by a self-digestive enzyme) have been introduced to the North American market by Japan-based Senmi Ekisu. These flavors are said not only to impart a rich taste and aroma, but also to function as water-retention agents.
According to the manufacturer, the specialty of autolysis is the ability to gain a more sophisticated taste and aroma by the effect of naturally derived protease and peptidase. The process transforms protein into a form of peptide that allows these flavors to reach such a standard.
Peptides not only give richness in taste and aroma, but also function to enhance moisture retention and flavor-masking effect. Furthermore, studies have shown that peptides may be used in a number of products to help treat hypertension.
The manufacturer reports to have an extensive amount of technical data on the functional peptide, Sardine Peptide, obtained through research collaboration with Kyushu University of Japan. In Japan, the Ministry of Health and Welfare approved it for Food for Specified Health Uses.
Recently, a combination of the autolysis process and a standard enzymatic hydrolysis process has been applied to respond to the customer's wide range of product variations, as well.
For more information about these natural seafood flavors and how they are produced, write to Mitsubishi International Corp., 520 Madison Ave., New York, NY 10022 (phone 212-605-2408; fax 212-605-1810.)
--- PAGE BREAK ---
A family of protease/peptidase enzymes intended for use in the development of savory flavor systems was recently introduced by Valley Research Inc., P.O. Box 750, South Bend, IN 46624 (phone 219-232-5000; fax 219-264-2458). Marketed under the name Flavareze, the enzymes are said to exhibit activity that will optimize flavor precursor systems for use in downstream Maillard reactions. These products can also be used to optimize enzymatic hydrolyzed vegetable proteins and yeast extracts. Derived from non-GMO microbial sources, they will consistently produce nonbitter hydrolysates.
Garlic flavor ingredient called Flavourcin™ is not an extract of garlic, but is manufactured through enzyme technology by Britannia Natural Products Ltd., U.S. office, P.O. Box 4554, New Windsor, NY 12553 (phone 914-534-1335; fax 914-534-1312).
The ingredient is described by the manufacturer as a natural stable form of allicin, the active constituent of garlic. Early-stage trials have shown that it provides a fresh natural garlic taste. Furthermore, it offers the antimicrobial and positive health benefits that have been associated with garlic. Its patented process of manufacture does not involve any form of extraction and therefore does not use extraction solvents or materials.
The ingredient—which is natural, kosher, and halal—is suitable for use in soups and sauces (dried, bottled, or canned), dips, spreads, and pasteurized, chilled, or frozen foods.
Several new flavor enzymes are available from Amano Enzyme USA, 1504 Willow Creek Lane, Darien, IL 60561 (phone 630-953-1891; fax 630-953-1895). For example, Umamizyme, a protease/ peptidase enzyme preparation, produces savory flavors from a broad cross-section of protein sources, and Lipase "Amano" G, a short-chain fatty acid specific lipase, is suitable for use in the manufacture of enzyme-modified cheese flavor. From Amano Enzyme Europe are several protein-and lipid-modifying enzymes which are said to be capable of producing savory flavor effects. By use of Glutaminase F "Amano" 100, in combination with these enzymes, free glutamate level can be increased in products.
A flavor capturing the delicate notes of vanilla is made by a process using enzymes and microorganisms. Called AromaZe™, the natural vanillin may be used to replace vanilla extracts in a variety of formulations. The ingredient was recently launched by Zylepsis Ltd., 6 Highpoint Henwood Bus. Estate, Ashford, Kent, United Kingdom (phone +44-1233-660555; fax +44-1233-660777).
Natural flavor compounds, produced by using enzymes and culture bioactives, have been developed by International Bioflavors, 1730 Executive Dr., Oconomwoc, WI 53066 (phone 262-569-6200; fax 262-569-6202). Called Bio-Ferment ™, these natural flavor compounds are harvested and converted into novel raw materials which enable flavorists to construct complex, sophisticated flavorings. Natural dairy flavors, which are totally derived from named source, are said to have a true-to-nature taste and are easily applied in a broad range of applications. The flavors may also be customized to meet individual requirements.
Also, available from International Bioflavors, Inc., are newly developed flavors such as Natural Fermented Vanilla Flavor, Hazelnut Butter Paste, Cocoa Flavor Paste, Kosher Coffee Flavor Paste, and Peanut Butter Flavor Paste. Data sheets are offered describing the physical and chemical characteristics of each product.
Two new lipoxygenase enzyme products for the flavor industry are available from Biocatalysts Ltd., Treforest Industrial Estate, Pontypridd CF37 5UD, Wales, UK (phone +44-0-1443-843-712; fax +44-0-1443-846-500). Lipoxygenases, which catalyze the oxidation of fatty acids, can be used to generate aroma and flavor compounds, particularly green note aldehydes and alcohols. They are useful in the flavor industry to give not only the "green" note compounds that are desirable, but also the impression of freshness.
Biocatalysts is also making available a range of enzymes called Lipomod™ which can produce enzyme-modified cheese flavors from rounded Cheddar type to blue. The enzymes are available as an alternative to animal-derived products such as pancreatic lipase and can be kosher, halal, or vegetarian certified.
--- PAGE BREAK ---
Soy Ingredients. Soybeans which have a neutral taste have been developed using an enzymatic treatment by Japan Cellfoods, 5-45-1001, Mukogawa-cho, Takarazuka City, Hyogo Prefecture, Japan (phone 0797-84-0014; 0797-84-9447).
The soybeans, marketed under the name Unicell, have been broken down into their individual cells, which remain intact even after spray-drying. The substances binding the cells together are dissolved by a pectinase. Because most of the individual cell membranes are not ruptured in this process, the soybeans are said to have almost none of the "beany" taste of regular soybeans that is produced when an enzyme in the soybeans oxidizes the bean's unsaturated fat.
Keeping the individual cell membranes intact prevents this oxidation process, minimizing the distinctive taste and retarding spoilage. Also, the intact cell walls help keep foods moist when the product is used as an ingredient. For example, bread remains soft and moist for days, and the soy ingredient can be added to pizza dough to produce a desirable crust.
Since the entire soybean is used in this process, all of its beneficial components are retained as well, preserving—and even boosting—its nutritional value and health benefits. As an ingredient, it has potential application in bread, sauces, curry, hamburgers, tofu, soymilk and other nutritional drinks, and other products without compromising their taste.
The Japan-based company expects the soy product to help expand acceptance and consumption of soy in the U.S. At a recent press conference in New York, the ingredient was sampled in a variety of foods and beverages. The samples included nutritionally enhanced bread developed in cooperation with the American Institute of Baking. Also featured were representatives of Henningsen Foods, Rye Brook, N.Y., which produced the spray-dried soy used in preparing food samples, and researchers from Iowa State University who are working on food applications for the new soy product.
In addition to supplying the consumer and institutional markets, including the school lunch programs, in the U.S., Japan Cellfoods intends to cooperate with U.S. firms to produce soy in this country for export.
Wine. Using enzymes to enhance wine aroma is discussed on a Web site designed to function as a technical resource for winemakers. The site,  www.DSMOenology.com, was recently launched by DSM Food Specialties USA, Inc., 13325 South Point Blvd., Suite 200, Charlotte, NC 28273 (phone 800-438-1361; fax 704-583-8358).
Free monoterpenes play an important role in wine varietal character. These compounds are present in the grape—as free, volatile odorous molecules and as nonvolatile, odorless, glycosidically bound precursors. Enzymatic or acid hydrolysis can free monoterpene alcohols from their precursors and improve the wine varietal character.
The addition of exogenous enzymes with the complete range of glucosidase activities will significantly increase and improve wine aromatic quality. The release of free aroma from the odorless monterpenic glycoside molecule consists of several reactions, each requiring a specific enzymatic activity. A commercial preparation, AR 2000, contains four enzyme activities required to complete the process. These activities are produced in a single fermentation of Aspergillus niger.
The site answers a variety of frequently asked questions regarding yeast and enzymes and their function within fermentation. Use of specialty enzymes for making higher-quality red, white, and sparkling wines is covered, and winemakers can request product samples online.
A natural antimicrobial lysozyme, marketed under the name Inovapure by Inovatech, 31212 Peardonville Rd., Abbotsford, British Columbia V2T 6K8, Canada (phone 604-857-4539), has been developed for use in wines—reportedly a growing application for the company. The ingredient—a standardized preparation of lysozyme extracted from fresh chicken egg white—is used to inhibit the growth of problematic lactic acid bacteria which may interfere with the yeast in alcoholic fermentation. Acting as an antimicrobial agent, it is said to effectively rupture certain Gram-positive bacteria cell walls. It may be used as a suitable alternative to chemical preservatives such as nitrates and sulfites.
--- PAGE BREAK ---
Fruits/Vegetables and Juices. A variety of enzyme systems are available today which are reportedly improving the quality of fruits/vegetables and their juices.
A variety of enzyme systems are available today which are reportedly improving the quality of fruits/vegetables and their juices.
For example, Valley Research, Inc., P.O. Box 750, South Bend, IN 46624 (phone 219-232-5000; fax 219-264-2468) features pectinase enzyme systems marketed under the name Crystalzyme®.
APXL Concentrate, obtained from Aspergillus niger var., includes pectin depolymerases and esterases which together hydrolyze both soluble and colloidal pectin substances. The colloids formed by the pectin are thereby destroyed and the viscosity of the juice is reduced. The ingredient also contains significant arabinase activity which hydrolyzes araban haze in pear and other fruit juices.
Also under the Crystalzyme line are 100XL, a pectin enzyme system for depectinization of fruits and vegetables; 200 XL, a pectinolytic enzyme system for high-acid fruit processing, which effectives hydrolyzes and depolymerizes pectin in low-pH fruits such as cranberries, raspberries, blackberries, and strawberries; and Concord, an enzyme system obtained from nongenetically modified strains of food-grade fungal cultures which is designed for fruit juice processes that utilize maceration to maximize juice and solids extraction. Products made with these enzyme systems are said to demonstrate improved yields, higher quality, and improved functionality.
An enzyme system for fruit and vegetable firming is offered by Novozymes. Called NovoShape™, the highly specific liquid enzyme preparation of a microbial pectinesterase is said to increase the number of intact fruit pieces in the final product, retain original shape and structure of each fruit piece, adapt easily into the processing line, and act as a special processing aid. The enzyme system, which hydrolyzes the methyl esterified galacturonic acid units of pectic substances, minimizes textural damage during processing of the fruit pieces. Products that have been treated by the enzyme system include strawberries, cane berries, cherries, tomatoes, and others.
Sauces. An enzyme-modified egg yolk product—called Emulsa 8482—has been developed for use in the preparation of retortable sauces by Inovatech, 31212 Peardonville Rd., Abbotsford, British Columbia V2T 6K8, Canada. Sauces made with the product are said to excel under high retort conditions without separation. According to the manufacturer, one highlighted application was in the preparation of hollandaise sauce. Chefs report that when they use the enzyme-modified egg yolk product, sauces can be brought to the boiling point without breaking down and there is no waste.
Gelatin Alternative. A thermoreversible gel derived from starch called Amaz was developed using an enzymatic process. (Substitution of gelatin by starch is hampered by the fact that starch does not normally form thermoreversible gels.)
New or enhanced functionalities of starch may be obtained by enzymatically changing its structural properties. These enzymes include glucosyltransferases such as phosphorylase (elongation of amylopectin side chains) and branching enzymes (increase in number of branching points).The research work was performed by The Nethlerlands-based TNO Nutrition and Food Research for the Dutch potato starch company Avebe. For more information, write to Avebe America Inc., 4 Independence Way, Princeton, NJ 08543 (phone 609-520-1400; fax 609-520-1473).
Other Applications. At the 2001 IFT Annual Meeting, Genencor showcased a new fungal alpha-amylase for baking and food processing. Marketed under the name Clarase G Plus, the enzyme was developed with proprietary microgranulation technology.
Also introduced were food-grade proteases for protein modification and hydrolysis. Called Multifect Neutral, they have many diverse applications, ranging from brewing to casein and whey hydrolysis.
For more information, write to Genencor International, Inc., 1870 S. Winton Rd., Rochester, NY (phone 716-256-5286).
An experimental ascorbic acid oxidase has been introduced by Enzyme Development Corp., 9716 Oliver Ave. N., Brooklyn Park, MN 55444 (phone 212-736-1580; fax 212-279-0056). The enzyme is reportedly designed for use in seafoods and baking applications. Also available are lipases for enzyme-modified cheeses and trypsin and chymotrypsin blends from bovine and porcine sources.
--- PAGE BREAK ---
Let's now look at some of the future directions that emerging enzymes and their applications may be taking.
Finland-based VTT Biotechnology and Food Research, one of Europe's leading research institutes, is working on making more efficient enzymes using gene technology as well finding new applications for enzymes.
The use of molecular biological methods has made it possible to change the genetic regulation of enzyme production. The formation of a specific enzyme may be accelerated or inhibited, which enables the production of tailored enzyme mixtures, and the improved efficiency of production processes. This increases the economic viability of enzyme usage and makes enzymes competitive alternatives for other sources. Gene technology can also be used to create new, more efficient enzymes by protein engineering, and to change enzyme activity levels of food raw materials.
According to VTT, which has focused on enzyme technology since the 1970s, by combining knowledge of the biochemical characterization of enzymes, together with applications expertise, the same enzyme or enzymes may be found useful in a number of food and nonfood areas. (Although we, of course, are interested in food, keep in mind that there are some exciting enzyme developments in a wide range of other industries such as textiles and wood.)
The nutraceutical area, which is increasingly receiving attention, may find enzymes a particularly useful tool. In Japan, for example, Amano Pharmaceuticals has been developing nutraceutical enzymes for many years, looking for new and unique sources of digestive enzymes and exploring the role of enzymes as anti-inflammatory agents. Representatives from the company believe that in the next 50 years a significant percentage of the world's population will utilize these enzymes to improve the daily quality of life, and that health care facilities will use them to deal, in part, with both chronic and acute health problems.
In October 2000, Genencor International formed an alliance with Danisco A/S to discover, develop, and produce innovative bioingredients for use in the food industry. Integrating advanced genomics and other biotechnology platforms, Genencor is developing bioingredients with new functionality, such as proteins, enzymes, peptides, and other biologically derived compounds. Danisco brings to the alliance its application technology and global market reach.
A patent search illustrates the kinds of innovative enzymes and applications that we will be seeing in the future:
A method for manufacturing a food based on a protein hydrolysate in which an enzyme is allowed to effect hydrolysis after packaging was the subject of U.S. patent 6,171,621, assigned to Nestec S.A. The food is manufactured by preparing a solution of a starting material containing proteins, adjusting the pH of the solution, sterilizing the solution, aseptically adding a proteolytic enzyme in an amount which is sufficient to produce the desired degree of hydrolysis, aseptically packaging the sterilized solution, and allowing the solution and enzyme to effect hydrolysis after packaging. The method used is said to be cost effective and does not result in any deterioration of the organoleptic or nutritional qualities of the products.
The enzymatic preparation of glucose syrup from starch was the subject of U.S. patent 6,287,826, assigned to Novo Nordisk A/S. The invention is based on the finding that a glucose syrup with a D.E. in the range of 35–45 having a sugar spectrum close to that of the traditionally acid-converted 42 D.E. glucose syrup can be obtained by treating starch with an alpha-amylase. The syrups obtained have characteristics which render them particularly desirable for applications in the food industry. According to the patent, the process makes possible for the first time the use of one enzyme to obtain these syrups which closely match syrups whose preparation was previously only feasible using acid hydrolysis (nonenzymatic hydrolysis) of starch.
A novel endopeptidase produced from the culture of Lactobacillus helveticus is detailed in U.S. patent 6,168,939, developed by M Sasaki et al. The endopeptidase does not degrade proteins but degrades peptides and thus can be used together with other proteolytic enzymes such as proteinases and aminopeptidases to effectively produce protein hydrolysate used for foods and beverages. In addition, the endopeptidase can be used solely to selectively produce specific peptides.
As I think can be seen, enzymes are a useful tool which can be used to improve food quality, offering consumers better-tasting, safe, and wholesome foods, as well as increasing nutraceutical benefits and improving the efficiency of food industry processes. Furthermore, the broadening application of enzymes shows no signs of slowing down.
Or as one research company quite accurately phrased it, the wider application of enzymes in food processing is set to become one of the key food industry trends over the next 10 years.
--- PAGE BREAK ---
PRODUCTS & LITERATURE 
Garlic Flavors have been developed which are said to replicate the taste of a variety of cooking techniques, such as roasting, sauteing, baking, or fire-roasted. These flavors allow food product developers to include all the desirability of garlic flavor in a product without adding processing steps. Applications include focaccia and other specialty breads, salad dressings, marinades, seasoning blends, rice and potato mixes, noodle bowls, case-ready prepared foods, frozen meals and baked goods. For more information, write to Innova, a Griffith Laboratories Co., 2021 Swift Dr., Oak Brook, IL60523 (phone 630-928-4800; fax 630-928-4820)—or circle 300.
Antioxidant Blends—called Oxy-Phyte™—contain concentrated combinations of phytonutrients extracted from vegetables, fruits, and herbs selected for their antioxidant benefits. Providing maximum antioxidant activity, the products are available in powder form for use in traditional nutritional supplements and in liquid concentrates for use in beverages and functional foods. For more information, write to RFI Ingredients, 300 Corporate Dr., Suite 14, Blauvelt, NY 10913 (phone 845-358-8600; fax 845-358-9003)—or circle 301.
"Guide to Selecting Gums" is the title of a 12-p publication which provides the latest information on gelling properties, solubility characteristics, natural labeling status, and suggested usage levels. The guide, designed for research and development professionals, helps make selection of gum systems customized to individual applications easy. For a copy, write to TIC Gums, P.O. Box 369, Belcamp, MD 21017 (phone 410-273-7300; fax 410-273-6469)—or circle 302.
Pineapple Flavors may be used in such products as yogurts, beverages, dairy beverages, and ice cream. Each of the flavors is said to offer its own characteristic flavor profile: Fresh, Canned, Candy, and Juicy Type. Suggested usage levels are 0.10–0.40% in yogurt and 0.10–0.30% in beverages. For more information, write to Robertet Flavors, 10 Colonial Dr., Piscataway, NJ 08854 (phone 732-981-8300; fax 732-981-1717)—or circle 303.
Pure Vanilla, Madagascar Bourbon, may be used to add fragrance and flavor to rice pudding. The sweet, rich flavor of vanilla is said to complement the flavor of cream, butter, and sweet spices such as cinnamon, without overwhelming the delicate character of the dessert. In addition to rice, vanilla is suitable for use in bread puddings, customs, creams, and low-heat, low-shear applications. For more information, write Nielsen-Massey Vanillas, 1550 Shields Dr., Waukegan, IL 60085-8307 (phone 847-578-1550; fax 847-578-1570)—or circle 304.
Nonfat Dry Milk is said to boost overall quality of cooked deli poultry. According to research findings from the Dept. of Nutrition and Food Science at Utah State University, Logan, the addition of 2% nonfat dry milk significantly increased the overall acceptability of cooked turkey deli breast meat, compared to cooked turkey deli breast meat without nonfat dry milk. For more information, write to Dairy Management Inc., 10255 W. Higgins Rd., Suite 900, Rosemont, IL 60018-5616 (phone 847-803-2000; fax 847-803-2077)—or circle 305.
Ultra-High-Maltose Syrups (above 95% purity) are produced using a novel process. This process is said to allow Innova LLC—the joint venture company of Grain Processing Corp. and SPI Polyols, Inc.— to broaden its product portfolio to better serve customer demand for high-quality maltose and maltitol-related products. For more information, write to Innova LLC, 1600 Oregon St., Muscatine, IA 52761-1494 (phone 563-264- 4265; fax 563-264-4289)—or circle 306.
Flavors for Trail Mixes and other snack foods recently launched. The new flavors include Spicy Nut, Thai Peanut, Pumpkin Pie Granola, Apple Pie Spice  Granola, and Chipotle Pepper & Cheesy Spicy. Available as spray-dried powders in both natural and natural/artificial versions, the flavors are designed specifically for trail and other snack mixes, as well as for snack and nutritional bars, cracker fillings, and cereals. For more information, write to Ottens Flavors, 7800 Holstein Ave., Philadelphia, PA 19153 (phone 215-365-7800; fax 215-365-7801)—or circle 307.
A Stabilized Form of Choline, developed through encapsulation technology, helps provide a reliable and cost-effective source of the nutrient. Current fortification requirements outlined by FDA call for infant formula to be fortified with choline. Choline is recognized to play a key role in the structural integrity of cell membranes, processing dietary fat, and reproductive development and neural functions. For more information, write to Balchem Corp., P.O. Box 175, Slate Hill, NY 10973 (phone 845-355-5300; fax 845-355-8032)—or circle 308.
Magnesium Citrate Supplement—called Gadomag+—offers high magnesium content in a highly bioavailable, highly soluble formula that can be custom formulated. The organic magnesium citrate formula is suitable for use in baby foods, sports drinks, dietary supplements, and meal replacement beverages as well as other products. According to the manufacturer, the formula is especially useful in applications requiring high solubility such as beverages and sports drinks. The product is often used in conjunction with calcium-enriched products. For more information, write to Gadot Bio-Chem, 1440 Hicks Rd., Rolling Meadows, IL 60008 (phone 888-424-1424; fax 847-259-6984)—or circle 309.
by DONALD E. PSZCZOLA
Associate Editor