Since February 1, 1966, IFT has housed its headquarters office at 221 N. LaSalle St., Chicago, Ill. The initial lease with the building provided IFT approximately 4,000 square feet of office space. The continued success and growth of IFT propelled the size of its Chicago office to approximately 21,000 square feet in 1999.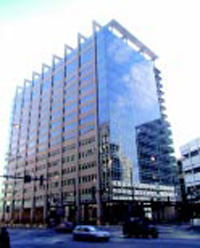 With IFT's lease due to expire in 2002, the Executive Committee established a Task Force on Headquarters Relocation in June 1999. Members of the task force were Bob Smith (Chair), R.B. Sleeth, Dick Lechowich, and Linda Kragt. IFT staff assigned to the project were Dan Weber and Mike Cernauskas. The charge of the task force was twofold: (1) Should IFT relocate its office? and (2) Should IFT consider the option of owning a building?
The task force developed an extensive workplan that included: identification of key factors, development of criteria, selection and evaluation of location options, and buy vs lease analysis.
Key factors identified included geographic regions, staffing, and facility specifications. Criteria established took into consideration the availability, quality, cost, and turnover of staff, while gauging the location's public transportation, safety, ability to conduct business, and cost. Seven cities that cut across the Midwest, East Coast, and West Coast were identified and evaluated. The finalists, Chicago and Washington, D.C., were further evaluated on city vs suburban location. Owning or leasing analysis incorporated cost of capital, cash flow, and property management.
In March 2000, IFT's Executive Committee approved the Task Force's recommendation to relocate the headquarters office in downtown Chicago under a leasing arrangement. IFT's existing building was precluded from further consideration, as its 1930s architecture prevented cost-effective and efficient expansion for future growth. The bottom line is that had IFT elected to stay at its current location, overall cost would have equaled or exceeded a relocation to a more functional building.
The task force received a new charge: (1) oversee relocation to leased office space in downtown Chicago, and (2) engage Gibraltar Real Estate Services Corporation to proceed with a property search. Subsequently, an architectural firm was selected, an assessment of space requirements completed, and seven properties were selected for site visits. Properties were chosen on the basis of geography, floor plate size, economics, and image/amenities.
The task force developed a "short list" of three properties in downtown Chicago, one of which subsequently became unavailable. The remaining two properties were evaluated under the criteria of accessibility, flexibility, technology, and cost.
In March 2001, the Executive Committee approved the task force's recommendation to relocate IFT's headquarters to 525 W. Van Buren St. under a 15-year lease arrangement. Compelling rationale for the decision included: better accessibility for members and staff, greater efficiency and flexibility, enhanced technology capabilities, significant economic benefits ($2.4 MM savings over the life of the lease), a new building, and 15-year lease option.
IFT moved into its new headquarters on February 11. Our new address is 525 W. Van Buren St., Suite 1000, Chicago, IL 60607. IFT retains its telephone (312-782-8424) and fax (312-782-8348) numbers.
I am confident in stating that you will be proud of our new headquarters office, and we cordially invite you to visit us when you are in the area. We'd love to show you around. I also want to extend my appreciation to the Task Force on Headquarters Relocation for a job well done.
by PHILIP E. NELSON
IFT President, 2001–02
Head, Dept. of Food Science, Purdue University