It's that time of year for food technologists to gather and share information and see the wares that exhibitors have on display. The Annual Meeting & Food Expo of the Institute of Food Technologists will be held in Anaheim, Calif., June 15–19, 2002. It will have a variety of new developments of interest to those involved with food quality assurance, food analysis, and food safety. The following are short descriptions of technical symposia and instrumentation and quality assurance exhibits.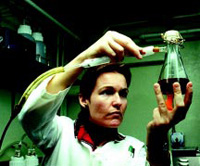 Papers
Ultrasonic sensors and measurements have been used in various forms for more than 50 years. The fundamental physics for ultrasound–liquid/slurry interactions is well established. L.J. Bond, Pacific Northwest National Laboratory, Richland, Wash., describes the resurgence of interest in applications to provide process monitoring and control, including applications in food processing. This interest is in part facilitated by advances in computer and related digital signal processing technology that now make on-line real-time data analysis for many ultrasound signals feasible.
Examples will provide an introduction to the scope and potential of ultrasound for process monitoring, analysis of chemical systems, and chemometrics. The scope of applications includes flowmetry, thermometry, density and porosity characterization, interface sensing, moduli determination, characterization of homogeneity/degree of mixing, and detection of foreign materials.
Applications in the food industry include determination of properties for both raw and processed food items, particle size determination, phase change detection, fouling/cleaning quantification, and methods for the quantification of tenderness in raw beef. Paper 7-1, Sunday morning
Utilization of allergen testing methods in the manufacturing environment will be discussed by S.L. Hefle, Food Allergy Research & Resource Program, University of Nebraska, Lincoln. Undeclared food allergens have been the reason for a large number of regulatory recalls; these recalls have large negative public relations and economic impact for the companies involved. Until recently, there were no commercially available testing methods to assist in evaluating cleaning strategies, raw materials, or changeover products in the struggle to reduce the risk of presence of undeclared allergens in food products. Now, with some commercial enzyme-linked immunosorbent assay (ELISA) methods on the market, issues of adequate detection limits, detection limits vs clinical allergen thresholds, and how regulatory agencies will use or are using the methods are being raised. This presentation will cover what methods are available now and which are in the development pipeline. Paper 10-5, Sunday morning
Diagnostics and detection of BSE will be addressed by D. Momcilovic, Center for Veterinary Medicine, Food and Drug Administration, Rockville, Md. The author will discuss the diagnostics and detection of bovine spongiform encephalopathy, a chronic degenerative and debilitating disease of the central nervous system in cattle. The disease is not curable but can be prevented. Years of research have failed to identify the precise mode of transmission of BSE, although epidemiological evidence suggests strongly that feed containing rendered mammalian materials from BSE-infected cattle is the vehicle spreading the disease.
Reliable tests are needed to detect prohibited materials in feed and to diagnose BSE disease in tissues. Methods to detect prohibited animal protein in feed are not designed to detect the BSE agent in feed. Some food methods are designed specifically to detect central nervous system (CNS) tissues, which are believed to contain the greatest level of infectivity. Diagnostic methods for BSE are designed to detect the disease process, or the presence of the abnormal prion protein, which is the marker for the disease, or both the disease process and the prion protein.
--- PAGE BREAK ---
Although BSE may be suspected ante mortem by physical examination, it can be confirmed only by post-mortem examination using certain diagnostic methods. Considering the relatively fast pace by which scientific information on detection/diagnostics of BSE is becoming available, and the fact that it is not always simple to figure out whether a new test is pertinent to detection of prohibited material in feed or to diagnostics of BSE, this presentation will review current testing methods and draw the distinction between testing animal feed for prohibited ingredients and testing tissues for BSE. Paper 18-4, Sunday afternoon
Proteomics in food science will be discussed in a symposium sponsored by the IFT Food Chemistry Division and Biotechnology Division. Presentations will cover the use of proteomics to identify and characterize food allergens, the use of genomics and proteomics in meat science, the use of mass spectrometry to characterize biopolymers, and the identification of novel structures in wheat dough. Session 35, Monday morning 
Diet supplement analysis and current progress in this area will be discussed in a session entitled, "Actions of the AOAC Task Force to Develop/Validate Official Methods for Diet Supplement Analysis." The symposium is sponsored by the Food Chemistry, Nutrition, Toxicology and Safety Evaluation, and Nutraceuticals and Functional Foods Divisions.
The AOAC International Dietary Supplement Task Group was formed over a year ago, and this session reports on its progress. The Task Group was formed to identify dietary supplements, identify methods that currently exist for these ingredients, and assist AOAC in validating these methods. The group has identified the top 18 dietary supplements where analytical methods are needed. The session will also provide the FDA perspective and support of the Task Force activities. Session 48, Monday afternoon
Bioengineered foods and how to detect them is another area of great interest to the food industry. The impact of identity preservation and food traceability on the food industry is the topic of a symposium sponsored by the Food Laws & Regulations Division and the Biotechnology Division. Presentations will cover traceability issues facing the food industry, a history of traceability, a process-based approach to quality control and food safety in the supply chain, grain channeling, and GMO liability prevention. Session 83, Tuesday afternoon
New products and technologies session being offered on Tuesday afternoon will contain a variety of reports on new laboratory tests and instruments of interest to food scientists:
T. J. Hendra, Neogen Corp., will discuss their New Alert® food allergen test kits. Testing for allergens is important because there are still more than 100 recalls every year due to unlabeled food allergens. The company claims that this rapid test may be easily run at the plant level for real-time results and decision making. The test kits are rapid enough that they can be used to verify cleaning procedures, check incoming ingredients, or spot check final product prior to shipping. The test kits work on a standard ELISA technology, where antibodies specific to the food allergen react with the allergen to form a color change in a microwell. 
J.B. Fagan, Genetic ID NA, Inc., will discuss the company's new Varietal ID GMO testing technology. The test provides definitive identification of all commercialized maize, potato, and soy genetically modified crop events or varieties. These methods use the polymerase chain reaction (PCR) method to definitively identify Monsanto RR soy, Novartis Bt176 and Bt11 maize, DeKalb DLL25 and DBT418 maize, Monsanto Mon810, NK603, and GA21 maize, Aventis T25, T14, and CBH351 maize, and Monsanto NewLeaf, NewLeaf Plus, and NewLeaf Y potatoes.
--- PAGE BREAK ---
R.G. McGregor, Brookfield Engineering Laboratories, Inc., will provide information on a new method to evaluate viscoelastic behavior of soft food items such as puddings, sauces and spreads. The new firmware algorithm incorporated into a standard benchtop rotational viscometer equipped with vane spindles gives food manufacturers the required tool to perform quality control checks on soft solid food items. When equipped with the new firmware, characteristics such as yield stress, yield strain, and shear modulus can be measured simply and routinely with standard viscometers on the production floor.
S.K. Park, Food Science & Technology/FIGASA International Inc. will discuss hydrogen sulfide–detecting tubes for alcoholic beverages. Spoilage by sulfides can seriously deteriorate wine quality because wine spoilage sulfides have aromas similar to those of rotten eggs, rotten cabbage, burnt rubber, or garlic. To avoid spoilage by sulfides in wine, it is necessary to determine which of the possible causative factors are actually responsible for H2S overproduction in any specific winemaking situation. However, methods and tools for the accurate and easy determination of causative factors have not been available for most wine producers worldwide. To better understand the reason for the overproduction of H2S in the earlier stages of winemaking, sulfidedetecting tubes have been developed. Applications include yeast screening tests, quantification of elemental sulfur residue on grapes, monitoring H2S production in large-scale fermentations, and quantification of the H2S remaining in finished wine. Session 72, Tuesday afternoon
Exhibits
Temperature and pressure measurement system, the OSR-4, overcomes difficulties in obtaining real-time temperature and pressure profiles in the microwave/radiofrequency environment. Because temperature and pressure affect different aspects in food, applications such as food ingredient search, new product development, and packaging will require a reliable system that can work in microwave/ RF environment. The challenge faced by most food developers is to have a real-time temperature and pressure profile during microwave processing, especially with rotating turntables. This system is designed to provide user a reliable solution, with no tangled probe lines or interruptions during testing. The sensors are said to be immune to microwave and RF interference. The system is remote controlled through an RS-232 communication port and includes a complete program that enables full sensor as well as data control and management. The software provided with the system allows users to export data to most Excel-compatible spreadsheets. Fiso Technologies Inc., 2014 Jean-Talon Nord, Ste. 125, Ste Foy, QC G1N 4N6, Canada, Booth 8042
Test kits for detection of species and allergens, the Melisa-Tek kits, are based on patented monoclonal technology developed at Auburn University. Troponin I, the antigen detected by these antibodies is thermostable and species and muscle specific. These tests will detect the presence of species troponin I in rendered meat and bone meals, feeds, and other products processed at high temperatures that destroy the DNA and antigens detected by other immunoassays. The tests are also useful for species detection in a wide range of raw and cooked food products. The first kits will be for detection of pork antigens and an all-ruminant test. The company is also offering ELISA tests specifically designed to determine if meat and bone meals have been properly heated as specified by EC regulations (133ºC, 3 bars pressure, 20 min). The kits contain a reference control that enables the user to easily and reliably determine if the sample material has been sufficiently heated. The Gluten Rapid Test introduced to industry for use in rapid field screening of samples for gluten in 2000 is now also available as a home test. This test enables users to screen food samples for the presence of gluten in about 5 min with no special equipment or specialized training. The company will also exhibit a new test in the lateral flow device format based on their Peanut Protein Assay that will enable the user to screen samples for peanut residues in the field in only minutes without additional equipment. ELISA Technologies, Inc. 4581-L NW 6th St., Gainesville, FL 32609 (phone 352-337-3929; fax 352-337-3928), Booth 3720
--- PAGE BREAK ---
Colony counting system, the QCount, uses patent-pending technology to bypass limitations of ambient lighting and clustered colonies, giving you sharp, error-free plate counts. The unit combines a high-resolution CCD video camera, specialized lighting, and contour-analysis software into a system that counts microbial colonies on plates with exceptional ease and accuracy. The software is said to accurately analyze colony size. The company says that a recent study demonstrated that the system performed within 0.1 log of the corresponding manual (hand) count over 95% of the time. The study is available on request. Spiral Biotech, Inc., Two Technology Way, Norwood, MA 02062 (phone 800-554-1620; 781-320-9000; fax 781-320-8181; www.spiralbiotech.com), Booth 6341
Protein determination is the subject of a new study for the University of Applied Sciences and Arts in Hanover, Germany. The study is said by Elementar Americas to demonstrate the consistency of their vario Max elemental analyzer vs Kjeldahl extraction. The study reports on a variety of dairy products, including whey, milk protein concentrate, sodium caseinate, fluid milk, yogurt, cottage, processed, and natural cheese. The analyzer determines nitrogen by combustion of the dairy food, followed by reduction of the nitrogen to N2, then detection using a thermal conductivity detector. Elementar Americas, Inc., 520 Fellowship Rd., Ste. B-204, Mt. Laurel, NJ 08054 (phone 856-787-0055; www.elementar-inc.com), Booth 1903
Water activity instruments will be exhibited by Rotronic Instrument Corp. Using digital signal processing, the new line of instruments is said to offer flexibility and reliability. The line includes a handheld portable solution, PC-based software with indicator and probes, and a stand-alone instrument for the measurement of water activity. The portable unit, the HygroPalm AW, is an inexpensive instrument consisting of a microprocessor and a probe. For PC-based solutions, the company is offering the HW3 Aw Software and HygroLab2. When it is connected to a PC, up to four samples can be measured at the same time, using either the accelerated or standard modes. Using the quick mode, the average time required to measure a product sample can be reduced to less than 1 min by running four probes simultaneously. Conventional water activity measurement with automatic detection of equilibrium and the option to record and graph data is also available. Automatic logging of end results, product description, probe identification, date and time simplifies record keeping and is available in both measuring modes. The HygroLab 3 offers all of the features of the HygroLab 2, with the requirement for a PC for quick measurements. Up to four probes can be connected to the instrument for simultaneous measurement of four different product samples. Rotronic Instrument Corp., 106 E. Main St., Huntington, NY 11743 (phone 631-427-3902 or 800-628-7101; www.rotronic-usa.com), Booth 1631
Electronic nose and tongue, the Gemini Electronic Nose and the Astree Electronic Tongue, will be exhibited by Alpha M.O.S. The Gemini is a screening tool for aroma and volatile organic compounds analysis. It provides the verification of incoming raw materials and detects taints and off-odors before product shipment. The instrument features chemical sensor array technology, LIMS, data transfer, control charting, and an autosampler. The Astree is designed for liquid product analysis and taste control. The instrument works by measuring dissolved compounds and taste substances in liquid samples. It allows product conformity testing, taste default detection, origin identification, and substance quantification. It features an autosampler and integrated software. The company also offers testing and technique development services. Alpha M.O.S. Inc., 20, Av. Didier Daurat, Toulouse 31400, France (phone 011-33 5 62 47 53 80; www.alphamos. com), Booth 1636
High-purity standards will be exhibiting high-purity spectrometric standard solutions and custom blends for the calibration, interference check, quality control, and method development of analytical methods for AAS, ICP, ICPMS, and ion chromatography. These standards are directly certified aganist NIST 3100 Series Standard Reference materials. Their certified reference materials line includes standards in both solution and solid form. These materials cover a variety of products including sugar, cornmeal, milk powder, and baby formula. High-Purity Standards, 4741 Franchise St., Charleston, SC 29418 (phone 843-767-7900; www.hps.net), Booth 8919
--- PAGE BREAK ---
Rapid test kits will be offered by 3M Microbiology. The company will be showcasing the Petrifilm Rapid Staphylococcus aureus (RSA) plate method that has received AOAC Official Method 2001.05 status. The company claims that the dry rehydratable film method for S. aureus enumeration in foods is the fastest, approved, confirmed one-plate S. aureus test available. 3M Microbiology, 3M Center, Bldg. 275-5W-05, St. Paul MN 55133-3275 (phone 651-737-9710), Booth 4124
Antioxidant analyzer, called the Photochem, will be shown by Analytik Jena. It is said to allow precise, cost-effective measurements of the antioxidative capacity in water or lipid-soluble samples. Antioxidants in various kinds of samples are analyzed within 3 min by using the photochemiluminescence detection method. The instrument is said to be the first for the examination of the antioxidative capacity of water-soluble and lipid-soluble substances. Applications in food include oils, wine, beer, coffee, and tea. The company will also have information on the BIAffinity biochip. This instrument analyzes molecular interactions with a biochip technology. The optical technique is a label-free method that allows the time-resolved determination of affinity binding. Analytik Jena USA, Inc., 601 Sunbury Rd., Delaware, OH 43015 (phone 740-369-9385; www.analytikjena.de), Booth 8918
Food and water testing products will be presented by Bio-Rad Laboratories. The company's new iQ-Check Salmonella and iQ-Check Listeria monocytogenes kits are real-time PCR-based assays for the detection of Salmonella and L. monocytogenes in food samples. The use of chromogenic substrates in culture media is said to allow specific microorganisms to be tested for, identified, and enumerated in a single step. The company's Rapid'L. mono is a selective medium for the direct identification of L. monocytogenes. Other products used for industrial and environmental control will also be offered. Bio-Rad, 2000 Alfred Nobel Dr., Hercules, CA 94547, Booth 6047 
Rapid tests for pathogen detection, quality control, and hygiene monitoring will be offered by BioControl. On display will be the Lightning MVP system. It is said to be the first testing platform to integrate multiple quality parameters in one instrument. The company will also have information on the recently granted AOAC International method applicability extensions for the VIP for Listeria (AOAC Official Method 997.03) and the Assurance Listeria EIA (AOAC Official Method 996.14) to include environmental sampling. Both methods have previously been validated for the testing of food products. Biocontrol Systems, Inc., 12822 S.E. 32nd St., Bellevue, WA 98005 (phone 425-603-1123; www.biocontrolsys.com), Booth 6430
Microbiology solutions for quality assurance labs in the food industry will be exhibited by bioMerieux, Inc. The product groups include prepared culture media, manual test kits, automated systems for pathogen screening, identification, and quantitation. bioMerieux, Inc., 595 Anglum Rd., Hazelwood, MO 63042 (phone 314-506-8093), Booth 5700
Titration systems, electrodes, pH meters, and Rancimat instruments will be offered by Brinkmann. The company will also be highlighting Eppendorf pipettes, micro and multipurpose centrifuges, Biophotometers, and Thermomixers; homogenizers and generators; Seward Stomachers and lab blenders; and probe colorimeters. Brinkmann Instruments, Inc., 1 Cantiague Rd., Westbury, NY 11590-0207 (phone 516-334-7521; www.brinkmann.com), Booth 4134
Viscosity measurement and control systems will be offered by Brookfield Engineering. The company will be introducing several new products, specifically designed for the food industry. The YR-1 Yield Rheometer and the SST Soft Solids Tester are suitable for measuring salsa, chile, sauces w/particulates, cream cheese, yogurts, peanut butter, cream style corn, jellies and jams, and other similar type products. Brookfield Engineering, 11 Commerce Blvd., Middleboro,MA 02346 (phone 800-628-8139 or 508-946-6200; www.brookfieldengineering.com), Booth 5602 
X-ray solutions for the rapid analysis of chemical phase, polymorphism, structure, texture, stress, orientation, elemental analysis, and composition in samples ranging from pure to inhomogeneous, small, and large samples will be offered. The instruments are said to determine and screen sugar and lipid distribution in food products without the need for sample prep. Bruker AXS, 5465 E. Cheryl Pkwy., Madison, WI 53711 (phone 608-276-3000; www.bruker-axs.com), Booth 8936 
--- PAGE BREAK ---
Microwave laboratory instrumentation will be exhibited by CEM Corp. The company offers a range of moisture/solids analyzers, fat analyzers, muffle furnaces, sample preparation systems, and extraction systems. The company also provides experienced applications chemists and technical support personnel to solve difficult applications problems. CEM Corp., P.O. Box 200, Matthews, NC 28106 (phone 704-821-7015; www.cem.com), Booth 8539
Moisture measurement of foods is a critical quality attribute. Decagon Devices will be exhibiting its AquaLab water activity meter and Pawkit portable water activity meter. There are two AquaLab models— the Series 3 with standard aw meter and the Series 3TE with internal temperature control. The patented chilled-mirror dewpoint sensor measures water activity from 0.030 to 1.000 aw. The portable unit is 4 in sleek and weighs 4 oz. The company also has a new temperature equilibration plate for rapid equilibration of up to four samples for faster aw measurements. The KD2 is a handheld meter that uses a singleneedle sensor to measure the thermal properties of any medium, including liquid samples. Decagon Devices, Inc., 950 NE Nelson Ct., Pullman, WA 99163 (phone 509- 332-2756), Booth 4024
Starch and flour sample evaluation may be accomplished with the use of the Micro ViscoAmyloGraph. The new instrument needs only 5–10 g of sample for an evaluation. Total test time can be reduced with the use of an elevated temperature rate. Correlation software allows the user to compare up to 15 different curves. C.W. Brabender Instruments, Inc., 50 E. Wesley St., South Hackensack, NJ 07606 (phone 201-343-8425; www.cwbrabender.com), Booth 4847
Environmental conditions often need to be measured in the food industry. DeltaTrak, Inc. manufactures portable test instruments and software that monitor and record environmental and product conditions such as temperature, humidity, and pH levels. Products include waterproof digital probe thermometers, noncontact infrared thermometers, chart recorders, data loggers, humidity sensors, and pH meters. Services include data archiving, validation, and certified calibration. DeltaTrak, Inc., P.O. Box 398, Pleasanton, CA 94566 (phone 800-962-6776; www.deltatrak.com), Booth 3045
Specialty testing products for the food and beverage industry will be offered by EM Science, the North American Affiliate of Merck, KGaA, Darmstadt, Germany. These include microbiology culture media featuring granulated media for safety and convenience; the MAS-100, a lightweight, portable air-sampling instrument; and the HyLite 2 System, a portable system for determining the cleanliness of surfaces and work spaces. EM Science, 480 S. Democrat Rd., Gibbstown, NJ 08027 (phone 800-222-0342; www.emscience.com), Booth 1639
Determination of moisture and fat content as well as pH and water activity will be highlighted by Omnimark. The company will be exhibiting its microwave moisture analyzer with Bruker fat analysis. The instrument offers both moisture and fat determinations in one package. The IR-30, Mark 2, Mark 4, and Omni-1 moisture analyzers will also be on display. Omnimark Instrument Corp., 1320 S. Priest Dr., Tempe, AZ 85281 (phone 480-784-2200; www.omniwww.com), Booth 6544
Chemical measurement products offered by Thermo Orion include pH, ISE, conductivity and dissolved oxygen meters, electrodes and solutions, colorimeters, and titrators. Recent product releases include liquid-handling-automation systems, autosamplers, the award-winning EZ Flash gas chromatography accessory, and TEA Analyzer detector for HPLC and GC. Thermo Orion, 500 Cummings Center, Beverly, MA 01915 (phone 800-225-1480; www.thermoorion.com), Booth 6406 
Additional coverage of laboratory papers and exhibits will appear in the June issue.
by JAMES GIESE
Internet Editor