The person who has been on the staff of the Institute of Food Technologists longer than anyone else in the organization's 64-year history is retiring. After a 36-year career with IFT, Daniel E. Weber will step down as IFT Executive Vice President on August 7, 2003.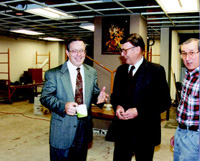 He leaves an organization that has grown immensely in size, stature, and accomplishments under his direction. The organization has increased in membership from 8,000 in 1967 when he joined the IFT staff to 28,000 worldwide today, and its Annual Meeting + Food Expo®, with 24,000 attendees, has become one of the nation's largest conventions and the world's largest annual food exposition of its category.
How He Began his Career
Dan Weber graduated from DePaul University in 1962 with a degree in Business Management, then went to work for the American Oil Chemists' Society as Administrative Assistant to the Executive Director. While there, he earned a certificate in Association Management from the Institute for Organization Management at Michigan State University.
In 1967, at age 26, he left AOCS to become Administrative Manager of IFT, reporting to Executive Director Calvert L. Willey.
"When I joined the staff," he said, "IFT was located on the 21st floor at 221 N. LaSalle St. in Chicago, sharing the floor with McDonald's Corp.'s headquarters. The office took up 3,400 sq ft, compared to the 26,000 sq ft we now have." IFT only had seven employees then, compared to 70 now.
"At that time," he said, "only one secretary had an IBM Selectric typewriter. All the others had Smith-Corona manual typewriters. IFT had just installed a Scriptomatic paper tape system for circulation data collection and for mailing labels." Within a few years, he had installed a Wang data processing system. "It was strictly a circulation fulfillment system, with no capacity for accounting or other functions," he said. "We only had names and addresses and very little else. We didn't even have data on members." Today, IFT has a state-of-the-art computer system that handles accounting, circulation, membership, and other functions.
Weber was named Director of Convention Services in 1969, with responsibility for the Annual Meeting and its associated exhibits, now called Food Expo, as well as marketing, sales, advertising, and membership development. He was named Director of Marketing & Meetings in 1979 and Executive Vice President and CEO in 1991.
What He Accomplished at IFT
During Weber's career at IFT, the organization grew in size and scope, and many important changes occurred under his direction. He numbers the following among his many accomplishments at IFT:
• Development of integrated marketing programs for the Annual Meeting + Food Expo and advertising sales for Food Technology, and the conversion from using independent sales representatives to IFT's own sales force. "The result," he said, "was enormous growth in both exhibit and advertising sales." Advertising revenue increased from $300,000 in 1967 to more than $2 million today, and Anual Meeting net revenue from $58,000 to more than $5 million.
• Continued growth of the Annual Meeting + Food Expo. The number of papers presented at the Annual Meeting increased from 155 in 1967 to 1,739 this year, and the number of booths at Food Expo grew from 211 to 2,400. Attendance increased from 2,100 to nearly 22,000.
--- PAGE BREAK ---
• Growth in membership and the establishment of a sound financial position for IFT. Membership grew from 8,000 to 28,000, and the IFT budget increased from $600,000 to more than $17 million, including the IFT Foundation. Income from investments increased from $15,000 to $400,000.
• The IFT staff. "IFT is blessed with the best association professionals in the business," he said. "We have strength in every major area of the organization."
• The culture of trust that exists between the staff and the IFT volunteer leadership. "As a result," he said, "the passion and commitment on the part of volunteers is extraordinary. There are a lot of organizations with strong leadership and strong staff but without a culture of trust. As a result, there is a lot of turnover, the organization is stymied, it doesn't move forward, and there is constant upheaval. IFT doesn't have those kinds of issues."
• Development of five-year strategic plans. "IFT is now in its third strategic plan, with the majority of the strategies for the previous plans completed. All of IFT's strategic plans have been living plans with a process for completing them," he said.
• Establishment of the "Three Presidents" model of governance. "This provides a continuous concentrated focus on the strategic plan and has greatly enhanced volunteer leadership capabilities," he said.
• Restructuring of the volunteer organization. "We recently reorganized and streamlined the IFT Council to make it more flexible, representative, and responsive," he said, "and we reorganized the Executive Committee's committee structure to enable it to focus more strategically and less tactically and thereby keep IFT up to date in the ever-changing business climate."
"A lot of associations today are unfortunately not in the same position as IFT," he added. "These are tough economic times, with international issues and terrorism, and associations need to carefully scrutinize the value of the services they provide. Change is coming at an ever-increasing rate, and associations need to have governance structures, program, staffing, and leadership that can react to change. Some organizations have serious problems because they do not have a governance structure that allows them to foresee change."
• Creation of the IFT Foundation. "The Foundation has more than $5 million in assets and will contribute $1 million to IFT programs this year," he said.
• Establishment of IFT's Washington, D.C. office. "This has allowed IFT to bring sound science on food issues to government, associations, and the public," he said. "In addition, we were awarded a five-year contract with the Food and Drug Administration. To date, we have completed eight scientific projects valued at more than $3 million. And we've inaugurated an annual scientific report on current issues, plus research summits and international conferences on food safety and quality."
• Advancement in quality and content of Food Technology and Journal of Food Science. Food Technology circulation increased from 7,000 in 1967 to 30,000 today, and JFS circulation increased from 400 to 6,600.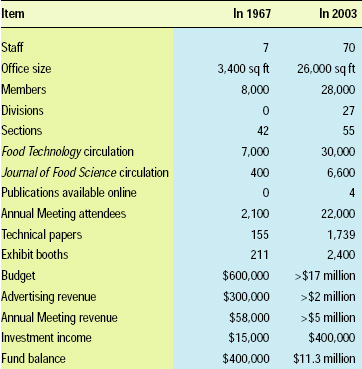 • Increasing scientific credibility. "The expansion of Journal of Food Science, the growth of IFT's continuing education program and career guidance activities, and the growth of the technical program at the Annual Meeting have all have strengthened IFT's scientific credibility and exposure worldwide," he said.
--- PAGE BREAK ---
• Relocation of IFT's world headquarters. "By 2001, we had outgrown our Chicago office on two floors at 221 N. LaSalle St., so in February 2002 we moved to a new building at 525 W. Van Buren St.," he said. "This put the staff together on a single floor and provided expanded storage capacity, a large conference room, a video conferencing room, and a staff teaming area in each department."
• Installation of state-of-the art computer technology to collect and analyze accounting, circulation, membership, and other information.
• Improved communication. "We have a very sophisticated system to communicate with our members and constituencies worldwide," he said. "We've progressed from mail, phone, and fax to e-mail and to an integrated Web technology that now features two electronic journals and weekly and monthly newsletters. And soon to be launched is myIFTSM —a Web portal that provides members with information customized to their individual needs. We've gone from literally zero Web activity to more than 145,000 visits per month and more than 1.5 million minutes per month participation."
"Associations have to get out of the traditional model of being information providers and become knowledge providers," he added. "This is a significant change. Associations have been been putting out journals, magazines, and books, but the future lies in providing knowledge—taking the information, interpreting it, and delivering an opinion based on the information. That's one thing that associations such as IFT can provide that commercial organizations can't. We have the ability to garner and organize members by expertise and be able to deliver knowledge content based on information.
In recognition of his service to IFT, Weber received IFT's Calvert L. Willey Distinguished Service Award in 2001.
What Else He Has Done
In addition to all his work for IFT, Weber has long been active—and taken leadership roles—in professional associations in the meeting, convention, and exhibition industry, including the Convention Industry Council, the International Association of Exposition Managers (IAEM), Center for Industry Exhibition Research, Council of Engineering & Scientific Society Executives, American Society of Association Executives, Association Forum, IACVB Foundation, Professional Convention Management Association (PCMA), and PCMA Education Foundation. He was President of IAEM and PCMA and served on the board of directors of several of the above organizations. In recognition of his contributions, he received the Meeting Planner of the Year award from the Association for Convention Operations Management in 1990 and the Achievement Award from PCMA in 2002, and in 2002 he was inducted into the Convention Industry Council's Hall of Leaders, one of the highest honors given by the meeting, convention, and exhibition industry.
"I am grateful to IFT for its support and commitment to that involvement," he said. "The bottom line is that for the time and effort I put in as a volunteer, both IFT and I have been rewarded exponentially." His serving on other organizations has led to a better understanding of IFT's volunteer efforts.
--- PAGE BREAK ---
He also served two terms as a council member for the City of Rolling Meadows, Ill., and has served as a member of the Crusade of Mercy and as an officer of the Northwest Mental Health Association, from which he received a Distinguished Service Award.
His Plans for the Future
Weber said he has a collection of events and relationships and friendships developed over the years that will be life lasting. He could tell stories about every city, president, Executive Committee, and staffer, enough to write a book about his experiences. "I can honestly say that I have never gotten up in the morning and said, 'I don't want to go to work.' I've had a great run, no question."
Having never taken a vacation longer than a week in his entire career, Weber plans to take the next six months to determine his next steps. "Three years ago, I had a heart attack," he said, "and the good Lord gave me another lease on life. I'll use part to contemplate how to make a difference, to give back in some way."
Saying that "old association executives never die, they just become consultants," he added that he will probably do some consulting work in association and exhibition management.
One thing for sure, he said, he's going to become a full-time husband to Char, his wife of 42 years, a father to his children Judy, Dan, and Nancy, and grandfather to his nine grandchildren. "I always say I was born married with three kids, working at IFT," he said. "It's hard to remember life prior to that."
"I really believe I've done all I can do for the organization," Weber said. "It's time for someone else to take IFT to new levels. If I have a legacy, it would be that IFT has the best association staff in the business, a strong financial position, a culture of trust and cooperation between volunteer leaders and staff, and a new strategic plan that is already taking shape and moving forward."
"IFT's new Executive Vice President, Barbara Byrd Keenan, can hit the ground running," he said. "She literally won't have any fires to put out, and she'll have all the resources to take IFT to new levels."
by Neil H. Mermelstein, Editor