Everyone knows that at least five servings of fruits and vegetables are recommended daily. Unfortunately, many consumers do not meet that recommendation. As a result, ingredient companies, food manufacturers, and trade associations are increasingly searching for ways to get more fruits and vegetables—or at least their components—into the diet, whether by promoting the foods themselves or by getting them into various food formulations.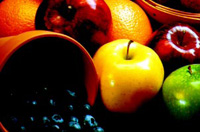 The old axiom, "An apple a day keeps the doctor away," was an early way of urging people to eat more apples and hopefully other fruits and vegetables as well. Today, that old axiom is still true, but there are a variety of other ways to try to increase the intake of foods from this very important food group. This article will look at some of these strategies.
For example, new ingredient developments are emerging which may have an influence on health. Components with antioxidant properties are isolated and concentrated for use in supplements and nutraceutical foods. Fruit and vegetable extracts providing synergistic components are playing an important role in a wide range of applications, including beverages, snack foods, confections, and dairy products. Combinations of fruit and vegetable concentrates with natural flavors are finding increasing use in products such as frozen novelties. Flavor fractions derived from fruits and vegetables are processed in such a way as not to lose their nutrient profiles. Fruits and vegetables in combination with other ingredients such as flax are working synergistically to provide health benefits. Even fruit-derived ingredients, already healthy by themselves, are being further enhanced by other nutraceutical ingredients. And as this article will attempt to show, the examples go on and on.
The use of color, in particular, is playing an important role. For example, the Produce for Better Health Foundation has recently launched a program, 5 A Day the Color Way, which promotes healthier eating by associating colors of the fruit or vegetable with certain potential health benefits.
The use of health labels may also catch the attention of some consumers. Imagine, for example, the logo of a 5 A Day the Color Way, combined with the American Heart Association's Heart-Check Mark, which certifies that the product is low in fat, saturated fat, cholesterol, and sodium, as well as containing 10% of the daily value of one or more of the nutrients protein, vitamin A, calcium, iron, or dietary fiber.
--- PAGE BREAK ---
In the marketplace today, there is a new food product that may signal interesting things to come. In October, six varieties of natural vegetable chips and sticks, marketed under the name Harvest Bay, were launched in Publix food stores in the Miami area and selected health food stores around the country. The manufacturer, Hershey Import Co., expects that in future weeks the product will be available in conventional food store chains in the New York area.
Made with real carrots, green beans, squash, taro, sweet potato, red sweet potatoes, and radishes, the snack is vacuum cooked in 100% non-hydrogenated canola oil. The major health benefit of these chips is that they contain no saturated fat, no trans fat, and less total fat than most conventional potato chips. This is the result of the combination of using non-hydrogenated canola oil and cooking the chips at lower than typical temperatures.
Furthermore, according to the manufacturer, through vacuum flash frying, the vegetables spend less time in the oil, which means there is less oil absorbed by the product and a lower loss of nutrients.
The future will determine how successful such a product will be in the marketplace. Based on present trends, however, the signs look promising. McDonald's recently made a statement that it would be reducing the content of trans fatty acids in the French fries. And companies such as Frito-Lay have reduced fat in their potato chips. Furthermore, trends have suggested that the growth in natural and organic chips has been moving faster than that of conventional products.
Will we be seeing more products derived from fruits and vegetables in the marketplace that offer healthier nutrient profiles and other health benefits? Based on the ingredients discussed in this month's Ingredients section, my guess would be yes.
This month's Ingredients section will be looking at a variety of ingredients derived from fruits and vegetables, and some of the ways that value can be added to food and beverages by their incorporation.
Here are some of the new developments:
--- PAGE BREAK ---
Developing foods of a different color. In recent months we have seen a wide range of products which have had colors added to them to appeal to children, to appeal to individuals seeking novelty, or to extend existing product lines. Some of these products have included ketchups, yogurts, cheeses, soft drinks, French fries, and many others. Blue especially has been a popular color (for example, Pepsi Blue and Yoplait's Berry Blue Blast). In the November 2002 Ingredients section, we discussed some of the ways that color can help maximize the value of the food or beverage products.
Perhaps partly in response to this trend, color is also being equated with health benefits. The Produce for Better Health Foundation's 5 A Day the Color Way campaign to promote healthier eating urges consumers to eat a colorful variety of fruits and vegetables: at least one serving from each of five color groups (blue/purple, green, white, yellow/ orange, and red) daily. The campaign is being introduced to the public in various phases, including a school foodservice program, and supermarket promotion beginning in early 2003.
Such a campaign may have a possible impact on the development of food products where color of an ingredient can be associated with potential health benefits. Take blueberries, for example. (When talking about blueberries as an ingredient, it is difficult not to think about the color blue in any case.) In the new campaign, blueberries belong to the Blue/ Purple category that provides varying amounts of health-promoting phytochemicals such as anthocyanins and phenolics, currently being studied for their antioxidant and anti-aging benefits. Some potential benefits might include reducing the risk of certain cancers, maintaining urinary tract health and memory function, and providing overall healthy aging.
Blueberries' potential health benefits combined with its visual appeal can create a variety of food development opportunities in dairy products, such as ice creams, cheeses, yogurts, and dairy-based drinks; bakery products; cereals; snack foods; salsa; confections; and many others. Some recent examples of the innovative uses of blueberries reported in previous Ingredients sections include a prototype flaxseed and blueberry antioxidant bar, a cooperative effort between Pizzey's Milling and the U.S. Highbush Blueberry Council (December 2002), bakery and pastry products designed for the Mexican market (November 2002), and cheeses and cheese spreads (August 2002). The 5 A Day the Color Way campaign can help promote these products as well as future development.
More information about the health and functionality benefits of blueberries can be obtained from U.S. Highbush Blueberry Council, c/o Thomas J. Payne Market Development, P.O. Box 281525, San Francisco, CA 94128-1525 (phone 800-824-6395; fax 650-340-8568; www.blueberry.org).
--- PAGE BREAK ---
Healthy raisins come in different colors. Like the previously mentioned blueberries, raisins fall under the Blue/Purple category of the 5 A Day the Color Way plan because they contain health promoting phytochemicals such as anthocyanins and phenolics, currently being studied for their antioxidant and anti-aging benefits.
According to a recent study conducted by the Health Research and Studies Center and the Sphera Foundation of Los Altos, Calif., a group of adults who consumed sun-dried raisins before and during workouts experienced lower or no DNA damage compared to a control group. Dr. Gene Spiller, who presented his research results at the 43rd annual meeting of the American College of Nutrition in San Antonio, Tex., noted that "this data leads one to believe that foods with a high ORAC value, such as California raisins, when used as a source of energy during strenuous exercise, protect most athletes from oxidative damage."
In addition to their potential health benefits, raisins are also being used to enhance the appearance of the food product. As was discussed in the November 2002 Ingredients section, colored raisins resembling a range of different fruits are available for use in baked goods, breads, snacks, dairy desserts, and other food products. The colored raisins may also be flavored with lemon, cinnamon, peppermint, cherry, strawberry, licorice, and even jalapeño pepper.
However, no matter what color the raisin is, it still belongs in the Blue/Purple category. Consequently, a product made with these raisins may be promoted using the 5 A Day the Color Way program. At the same time, the raisins may be used to create holiday products (for example, red and green raisins for Christmas breads) or be used in formulating spicier or more novel-flavored foods (such as ethnic dishes ranging from Indian to Mexican or upscale bakery products that combine exotic spices or herbs).
One market, in particular, that may benefit from the raisins is the Latin/Hispanic market (Mexican, South American, Caribbean) which in recent years has been growing at a very quick rate. In fact, the 35 million Hispanics in the U.S. represent 12.5% of the population and have a purchasing power approaching $323 billion. They are expected to reach 56 million by 2010 and 70 million by 2020. In this month's issue of Food Technology, a Developing Foods Special Report will be discussing this market (see page 26).
Traditional Hispanic dishes, such as sweet tamales, dessert-type pastries, and flan or custard, use raisins. Although tortillas do not typically contain raisins, food processors often incorporate a small percentage of raisin juice concentrate to extend shelf life. The propionic acid in raisins functions as a natural mold inhibitor.
Chefs today are preparing a wide range of Latin-inspired formulations using raisins. These may include spiced rum-butter cake; pork loin with raisins and jalapeños; huevos (eggs) served with hot and spicy chilies, roots, plantains, and raisins; and flautas (small flute-shaped snacks which are rolled corn tortillas containing meat fillings and served with hot and spicy salsas, fruit purees, pulps of avocados, and raisins. For these Hispanic dishes, the Golden California Raisin works particularly well. The California Raisin Marketing Board has available information, recipes, ideas, and other data about the Spanish heritage of California raisins.
For more information about the raisin, contact the California Raisin Marketing Board, c/o Thomas J. Payne Marketing Development, 865 Woodside Way, San Mateo, CA 94401-1611 (phone 650-340-8311; fax 650-340-8568).
--- PAGE BREAK ---
Fruit and vegetable formulations target women. A novelty prototype, a frozen fruit and vegetable juice bar, has been formulated by Danisco USA Inc., P.O. Box 26, New Century, KS 66031-0026 (phone 913-764-8100; fax 913-764-5407; www.danisco.com). The prototype is specifically targeted toward women, especially those in the 20–40 age group.
A novelty prototype, a frozen fruit and vegetable juice bar, has been formulated by Danisco USA Inc., P.O. Box 26, New Century, KS 66031-0026 (phone 913-764-8100; fax 913-764-5407;
www.danisco.com
). The prototype is specifically targeted toward women, especially those in the 20–40 age group.
According to the manufacturer, carrot and apple juice concentrates are combined with a natural mango flavor for a clean and healthy taste. A pectin/guar gum blend, Elevations 1000, helps to control ice crystals, slows melting, and allows for a very clean flavor release, giving the concentrates and mango flavor more vivid tastes without any masking properties.
Also, malt-based alcoholic beverages containing a dominant citrus flavor or a citrus component have become especially popular with women and younger drinkers. In response to this trend, a citrus flavor system that maintains stability in an alcoholic product as well as a fresh profile over a length of time has been developed by Danisco USA, Inc.
Citrus flavors, because of their chemical makeup, have a tendency to degrade quickly in citrus-based beverages. The new citrus flavor system, however, uses a process which involves isolating, then removing or reducing the components that tend to degrade quickly. Citrus components with better aging properties and those that help mask the off notes produced in the aging process are added back to the flavor. The citrus flavor systems that are supplied are predominantly custom formulated for a customer's specific application.
At the IFT Chicago Section Suppliers Night, the company highlighted a 10% juice drink made with a pink grapefruit and mango combination that provided a sweet-tart profile with a tropical twist. A 90% fiber ingredient, Litesse® Ultra, was added to the formulation to supplement fiber content and to enhance mouthfeel without contributing any negative attributes. A copy of the formulation is available.
--- PAGE BREAK ---
Freeze dried lime powders bring out flavor top notes. Freeze-dried fruit and vegetable powders, produced from juice concentrates and purees by a special low-heat, continuous vacuum, freeze-drying technology, offers a variety of functionality and health benefits in beverages, baked goods, confections, and many other foods. An extensive portfolio of easy-to-use powders, including apple, banana, beet, blueberry, carrot, cranberry, grape, guava, orange, pineapple, strawberry, spinach, and many others, is available from Crystals International, Inc., 600 W. Dr. ML King Jr. Blvd., Plant City, FL 33563-5117 (phone 800-237-7629; fax 813-757-6060; www.crystalsinc.com).
In the company's newsletter, Your Success! (Vol. 3, Issue 3), lime freeze-dried juice powders, were focused on as a flavoring agent. Marketed under the name Crystals™ Lime Freeze-Dried Fruit Juice Powders 12409, the product is said to contain 55% juice solid, and offer the nutritional and flavor characteristics of the real fruit. According to the manufacturer, one pound of the product can reconstitute into a volume of juice equal to that squeezed from more than 70 limes. The convenient, free flowing powder may be used as a replacement for liquid concentrates.
Lime juice can enhance the flavor of other fruits such as papaya, mango, peaches, nectarines, berries, and sweet cherries, and can make them less prone to browning reactions. Lime powders are suitable for use in a broad range of applications, including salad dressings, marinades, spices, confections, beverages, and other products. The newsletter includes two formulations, Lime-Lemon Sports Drink Mix and Citrus Marinade.
The manufacturer has the ability to dry them out at varying concentrations and in combination with other ingredients specified by their customers. For example, the company also offers Crystalettes® Lime Freeze-Dried Fruit Flavor 10655 as a lower juice concentrate (25%) alternative.
Organic, kosher, non-GMO, and halal juice powders are available.
Tomato-derived ingredient offers low viscosity. A tomato-derived ingredient offering advantages over conventional tomato concentrates has been introduced by A&B Ingredients, Inc., 24 Spielman Rd., Fairfield, NJ 07004 (phone 973-227-1390; fax 973-227-0172; www.abingredients.com)
Marketed under the name TomEssence Liquid, the ingredient has been filtered to remove the pulp and fiber, enabling it to have a much lower viscosity with twice the Brix of tomato paste and nearly eight times the Brix of a typical tomato juice. Also, its high concentration of soluble tomato solids and free amino acids provides a richer tomato flavor.
According to the manufacturer, the ingredient has a natural synergistic effect with other flavor components, resulting in increased flavor release in food systems. Potential applications include fruit and vegetable juices, soups, sauces, and salad dressings.
--- PAGE BREAK ---
Pomegranate extract offers health benefits. A pomegranate extract, an addition to the OxyPhyte™ line of products, is available from RFI Ingredients, 300 Corporate Dr. #14, Blauvelt, NY 10913 (phone 845-358-8600; fax 845-358-9003), and may offer potential health benefits.
A pomegranate—the fruit of a semitropical shrub or small tree, Punica granatum, native to Asia—is about the size of an apple or orange; has a tough, dark-red or brownish rind; and contains many seeds enclosed in a juicy translucent scarlet-red pulp which has a mildly acidic flavor. The seeds and the pulp are the edible parts of the fruit.
Used in folk medicine for centuries in the Middle East, India, and Iran, the pomegranate has recently been acclaimed for its health benefits, particularly for its antioxidant potential. Preliminary studies suggest that pomegranate juice may contain almost three times the total antioxidant ability compared with the same quantity of green tea or red wine.
Research has shown pomegranate juice consumption to have potent antiatherogenic effects in healthy humans and in atherosclerotic mice. In addition, the juice has been shown to inhibit serum angiotensin converting enzyme. ACE inhibitors prevent certain enzymes in the body from constricting blood vessels, which helps to lower blood pressure and make the heart beat stronger.
Pomegranate juice also contains high concentrations of ellagic acid, which is known to inhibit certain carcinogen-induced cancers and may have other chemo-preventive properties.
Also, in a breaking story, a new product in the OxyPhyte line, was introduced at Supply Side West. Called Ultra Blend, it is described as a proprietary combination of white tea, rosemary, and apple. It is said to offer the highest Oxygen Radical Absorption Capacity (ORAC— see sidebar) value on the market and can economically provide the antioxidant equivalent of several servings of fruits and vegetables in either supplement or in food form. More information about this product and bioavailability assays will be provided in future issues of Food Technology.
Flavor fractions get potent treatment. Natural distillates from various fruits and vegetables are available from Florida Treatt Inc., P.O. Box 215, Haines City, FL 33846 (phone 863-421-4708l fax 863-422-5930; www.treatt.com). These distillates provide the opportunity to create distinctive flavor profiles for a number of applications.
--- PAGE BREAK ---
Recently added to its broad line of natural distillates, citrus fresh notes, and specialty chemicals was the highly concentrated natural ethyl vinyl ketone ex orange fraction. Wholly distilled from orange Citrus sinensis, it can be used to give a high-impact, pungent, yet fresh top note to flavor creations for a variety of food systems. A natural fraction of orange waterphase (orange aroma), the product includes the naturally occurring ethyl vinyl ketone (also known as 1-penten-3-one). This chemical is present in natural orange alcohol as found in fresh orange juice. The EVK concentration is in the region of 1,000 ppm.
A water-soluble kiwifruit distillate, Kiwifruit Treattarome™ 9770, was recently launched which imparts a fruity, green flavor to many food systems. Distilled from fresh, top-grade fruit, it is particularly effective in clear, natural beverages and natural juice blends, and has been successfully applied to drinks, juices, alcoholic drinks, dairy products, and dressings. The flavor of kiwi is extremely sensitive to degrees of ripeness, with ester levels increasing markedly as the fruit softens. Through its processing technique, the company can achieve a balance between the fresh, green "bean-like" components and the sweet, ripe esters.
The product is said to provide high-impact odor and flavor profiles—even at low levels. As the sole flavoring, at 0.1%, it provides an intense kiwi character which is fresh, green, and fruity. In a blend, at 0.05% or less, it still gives tropical green/strawberry notes with gooseberry, green tea, and grape skin undertones and is particularly effective in natural/WONF strawberry and tropical blends.
Other natural distillates that have been developed include tropical passion fruit, guava, banana, watermelon, and cantaloupe melon. At the 2002 IFT Food Expo®, the company highlighted distillates derived from cucumber, green pepper, and black tea and has recently extended this range to include 17 new distillates.
Pizza for Popeye? Spinach is said to be gaining in popularity as a topping for pizza, as well as a filling for savory pastries and as an ingredient in soups, sauces, and dips. In these healthy times, there are suddenly many options for Popeye.
A freeze-dried spinach reportedly offering advantages over canned or fresh steamed spinach is available from Van Drunen Farms, 300 W. 6th St., Momence, IL 60954-0009 (phone 815-472-3100; fax 815-472-3850). The product is said to retain the color, flavor, and nutrition of fresh steamed spinach without the time consuming preparation. It will add a bright green color to any dish and is offered in a wide range of particle sizes to suit the application. Also available is air-dried spinach.
--- PAGE BREAK ---
Fruit and vegetable extracts provide synergistic components. In last month's Ingredients section, we saw several nutraceutical ingredients that emphasized synergy. This next ingredient, a fruit and vegetable extract, is another example of this property.
Recent research is suggesting that components such as anthocyanins and carotenoids are most beneficial when in combination with other nutrients, as opposed to taken individually. An extract made from an assortment of 10 fruits and vegetables has been developed by GNT USA, Inc., 660 White Plains Rd., Tarrytown, NY 10591 (phone 914-524-0600; fax 914-524-0681). Called Nutrifood® Complex, the ingredient may be used in foods and beverages to deliver the healthy benefits of phytochemicals from whole fruits and vegetables. (At the 2002 IFT Food Expo, the ingredient was served with vanilla ice cream and as an ingredient in gummy confections.)
The ingredient is gently processed by removing the water and leaving phytochemicals in their natural state. When incorporated into fillings and fruit preparations, it reportedly raises the actual phytochemical content of yogurts and fruit-based dairy items, baked goods, and other snacks. According to the manufacturer, 3 g of the ingredient can significantly boost the anthocyanin and carotenoid content of a product. Consumers are getting the anthocyanin and carotenoid content equivalent to 100g of 10 different fruits and vegetables.
The company has also introduced a standard ultra powder concentrate of fruits and vegetables called Nutrifood OxiMax. The kosher ingredient is said to contain powerful levels of natural antioxidants (13% polyphenols and 10% anthocyanins) and can be incorporated into dry mixes, baked goods, beverages, cereal bars, tablets and other applications. It has excellent solubility in both water and alcohol solutions.
Also available from the company are natural colorants derived from fruits and vegetables. For example, Exberry® Shade Mango Yellow is said to impart vibrant yellow shades in ice creams, yogurts, smoothies, gelatin desserts, shakes, soy beverages, fruit preparations, and inclusions for baked goods and sugar confections. It may also be used as a replacement for annatto when coloring cheeses and complements flavors such as vanilla, pineapple, lemon, mango, citrus, banana, and other yellow fruit flavors. According to the manufacturer, there is no variation in color quality or color strength because of the proprietary technology and standardization processes that are used.
Study investigates health benefits of passionfruit juice. Research work continues at the University of Florida in conjunction with members of the Ecuadorian Passion Fruit Processors Association on investigating the health benefits of passionfruit juice. The study, which has continued for more than a year, has found the following results.
--- PAGE BREAK ---
First, passionfruit juice inhibited growth of two types of cancer cells in culture. The phytochemicals in passion fruit juice are thought to decrease cancer cell growth while at the same time, increase cancer cell death.
Second, the phenolic profile of passionfruit consists of phenolic acids and flavonoids. Passionfruit juice is also rich in carotenoids. Such information is useful to predict health benefits and understand effects of processing on those health benefits.
Third, the phenolic profile of passionfruit is promising for its antimicrobial activity, possibly leading to a way to preserve foods by using passionfruit. Preliminary data show that passionfruit juice inhibits the growth of E. coli, and future research may show that it will inhibit the bacteria responsible for ulcers.
Fourth, passionfruit contains plant sterols, which are compounds that have been suggested to help lower cholesterol.
Fifth, pasteurization of passionfruit juice has no effect on stability of color or the antioxidant capacity.
For more information on the findings of this study, contact ITI Tropicals, 3371 Rte., Ste. 209, Lawrenceville, NJ 08648 (phone 609-987-0550; fax 609-987-0252; www.iTitropicals.com).
Recent apple developments. A low-moisture, naturally sweetened apple piece infused with a red wine extract has been developed by TreeTop, Inc., Ingredients Div., P.O. Box 248, Selah, WA 98942-0248 (phone 509-698-1435; fax 509-698- 1409). According to the manufacturer, 18 g of these extract-infused dried apple pieces has the same amount of flavonoid phenols as five glasses of wine and the dietary fiber equivalent of one whole apple. Studies have shown that red wine polyphenols have the potential to reduce the risk of cardiovascular disease and cancer. Such an infusion enhances the existing health benefits of the apple, which includes better lung function, reduced risk of lung, colon, and liver cancers, and positive impact against LDL cholesterol.
In a related development, the American Heart Association agrees that apples promote good health, and the association's Heart-Check Mark will soon be found on Tree Top's Vitamin C-enriched apple juice containers. To be certified to bear the label, a product must be low in fat, saturated fat, cholesterol, and sodium. Furthermore, it must contain at least 10% of the daily value of one or more of the nutrients protein, vitamin A, vitamin C, calcium, iron, or dietary fiber.
--- PAGE BREAK ---
Researchers at Tree Top, in collaboration with nutraceutical food product companies and universities, are developing food prototypes that could offer specific health benefits for diabetic patients, gluten intolerant individuals, seniors, children, and others who need nutritional supplements. The functionality and health benefits of apple-derived ingredients, such as apple powders, are also finding use in an increasing number of food applications, including barbecue sauces, sausages, tomato and pizza sauces, doughs, and many others.
New developments in fire-roasted vegetable flavors. Fire-roasting vegetables provides a flavorful and colorful addition to a variety of food products, such as salsas and chutneys, pasta sauces, soups and stews, and many others. However, food processors are looking for products that are easy to use, save time, and reduce costs.
Here are some examples of recently introduced ingredients that may be suitable:
• Fire Roasted Flavors, available in both liquid and dry versions, have been developed by U.S. Ingredients, Inc., 550 N. Commons Dr., Ste. 100, Aurora, IL 60504 (phone 630-820-1711; fax 630-820-1883). The heat-stable flavors which reportedly duplicate the process of fire roasting add extra flavor boost to tomatoes, garlic, onions, and more. Potential applications include focaccia breads, pizza dough and sauces, pasta dishes, salsas, and condiments.
• A new product line, Smokehouse Premium vegetables and fruits, was recently introduced by Jon-Lin Frozen Foods, 1620 N. 8th St., Colton, CA 92324 (phone909-825-8542; fax 909-370-4014; www.jon-linfoods.com). The vegetables and fruits are lightly coated with extra-virgin olive oil, then roasted over an open flame, resulting in a product which is crisp in texture, brilliant in color, and has a distinct, campfire cooked flavor. The product line is available in a variety of cut sizes, ranging from strips and diced to minced and pureed.
• A line of individually quick frozen fire-roasted vegetables is available from Van Drunen Farms, 300 W. 6th St., Momence, IL 60954-0009 (phone 815-472-3100; fax 815-472-3850). The vegetables are said to add a subtle smokiness and slight sweetness to many vegetables for use in salsas, sauces, vegetable blends, and many other applications. Individually quick freezing the vegetables preserve their nutrition, color, and flavor, as well as delivering them in an easy-to-use form.
Fruit flavors certified organic. Six certified organic fruit flavors, Blueberry (F55064), Banana (F55065), Strawberry (F55066), Apple (F55067), Peach (F55068), and Raspberry (F55069), are available from McCormick Flavor Div., 226 Schilling Circle, Hunt Valley, MD 21031(www.mccormickf lavor.com). The flavors may be used in organic products such as purees, yogurts, beverages, cereals, and desserts.
The company's global sourcing program allows for a continuous, certifiable supply of flavoring materials to produce these certified organic flavors.
--- PAGE BREAK ---
White cranberries provide sweeter, lighter taste. White cranberries, which may be used in the formulating of a milder, smoother-tasting juice, are available from Northwest Naturals, 11805 N. Creek Pkwy. South, Ste. A-104, Bothell, WA 98011 (phone 425-881-2200; fax 425-881-3063)
The supplier describes the fruit as ripe cranberries harvested when the sugar levels are at a peak and before the red color and tartness have set in. This results in a fruit which has a sweeter, lighter taste.
Products available include 100% white cranberry concentrate and four blends—white cranberry with peach, concord grape, strawberry, and mango.
Tomato complex may help prevent osteoporosis. According to recent Canadian clinical studies, a natural tomato complex, marketed under the name Lyc-O-Mato®, may help prevent bone mass loss and promote new bone cell activity. Researchers at Toronto-based St. Michael's Hospital, in collaboration with the University of Toronto, have found that the water-dispersible lycopene formulation promotes the growth and development of human osteoblasts, which are responsible for making bone.
In another study, the researchers have shown that the formulation inhibits the formation and activity of human osteoclasts, the cells that are responsible for the destruction of the bone. Together, these findings suggest that the natural lycopene complex may help prevent osteoporosis.
The natural formulation delivers lycopene in the tomato's own oil, complete with natural vitamin E and other phytonutrients. The product is available from Israel-based LycoRed Natural Products Industries, Ltd.
Beverage combines fruit and vegetable flavors. A prototype beverage combining fruit and vegetable flavors, Guanabana Pineapple Carrot Beverage, was highlighted at the IFT Chicago Section Suppliers Night by Chr. Hansen, Inc., 9015 W. Maple St., Milwaukee, WI 53214-4298 (phone 414-607-5700; fax 414-607-5704).
The formula contains 12.0% carrot juice (from 42º Brix concentrate), 10.5% white grape juice (from 68º Brix concentrate), and 2.5% pineapple juice (from 60º Brix concentrate). Flavors in the formula include Natural Guanabana Type Flavor 635055 and Natural Fresh Pineapple Flavor WONF 632957. Color is provided by Beta Carotene Liquid BC-140-WSS #502983.
A 1-p formulation is available from the company.
--- PAGE BREAK ---
Cherry projects recognized as innovative. Several cherry projects recently received federally funded state grants for initiatives that will help boost the cherry industry. The grants were awarded under Michigan's Julian-Stille Value-Added Agricultural Development Act, created two years ago to enhance the overall value of Michigan-grown commodities.
Projects receiving the grants included the following:
The Michigan Cherry Committee (MCC) was awarded a grant to determine the market potential for various products made with the new Balaton tart cherry. The Cherry Marketing Institute will implement the grant for MCC and will work in partnership with Michigan State University to conduct market research on Balaton cherries.
The new tart cherry variety was introduced by a Michigan State University researcher in July 2001 and was brought to the United States from Hungary in the 1980s. The Balaton cherry is said to be larger and firmer than other varieties of tart cherries, and this firmness helps it maintain its shape after pitting and reduces fruit bruising. The cherry also has a natural deep red pigment found in both its skin and its flesh so no dye is needed in cherry pie filling or other processed cherry products. It also tastes a bit sweeter than many other tart cherry varieties. These characteristics are leading some cherry growers to see great potential in this variety.
Other developments receiving grants included a brandied cherry product targeted to both the domestic and international baking industry and a technology capable of recovering and recycling cherry juice lost in the pitting process.
Peppa . . . what? A new fruit called the Peppadew™ has recently been approved for sale in the United States, and is sold in South Africa, Australia, United Kingdom, Ireland, and Canada. Heralded as the first new fruit in 26 years since the introduction of the kiwi, the fruit originates from the Republic of South Africa, Northern Province, and is described as a cherry tomato and red pepper propagation that is rich in beta carotene, lycopene, vitamin C, and fiber.
A member of the capsicum family, the fruit is said to be sweet, tangy, and hot, providing a unique peppery and sweet flavor profile. It has a juicy flesh with a strong sweet flavor that reportedly delivers a warm fiery afterglow taste.
The fruit is available as a refrigerated or frozen puree from Vegetable Juices, Inc., 6410 W. 74th St., Bedford Park, IL 60638 (phone 773-586-6800; fax 773-586-6841).
Dried plum puree extends its benefits. Dried plum puree, which for more than a decade has been used as a fruit-based fat replacement in a range of baked goods, provides a variety of both health and functionality benefits. For example, it may be added to bakery formulas to enhance moisture, extend shelf life, and boost nutrition profiles in healthy baked goods.
--- PAGE BREAK ---
To keep bakers and technologists current on bakery innovations with dried plums, the California Dried Plum Board has compiled a convenient new bakery CD consisting of a series of technical bulletins that describe dried plums' natural composition (a combination of sorbitol, pectin, and malic acid), and explain how it works to improve baking formulas. The CD also offers an extensive file of healthy baking formulas and substitution tips. Demonstrating dried plum puree's versatility, the applications range from baked good to tortes, with particular attention paid to energy bars, and high-fiber breads.
For a copy of this CD, write to the California Dried Plum Board, 3841 N. Freeway Blvd., Ste. 120, Sacramento, CA 95834 (phone 916-565-6232; fax 916-656-6237; www.CaliforniaDriedPlums.org).
Berries provide base for functionality and health. Fruit- and vegetable-derived ingredients, including natural colors, standardized nutritionals, fruit juice concentrates, and fruit materials such as fibers, are available from Artemis International, Inc., 9318 Airport Dr.,Fort Wayne, IN 46809 (phone 260-436-6899; fax 260-459-1733; www.artemisinternational.com).
The company specializes in berries, especially elderberry, billberry, and chokeberry, which are high in anthocyanins and other phenolic compounds known to possess potential antioxidant, anti-inflammatory, anti-carcinogenic, and other beneficial health properties. For example, PhytoSolutions derived from these berries are customized proprietary formulas designed to meet specific consumer healthcare concerns.
Also offered is a range of red to purple color hues, primarily derived from anthocyanin pigments. Marketed under the name Rubini, these products are standardized to a specified level of color units. For example, a highly intense elderberry juice concentrate provides a stable red color at very low usage levels. Product names include Rubini Powder (concentrated elderberry standardized to 5000 color units); Rubini Liquid (highly concentrated elderberry product standardized to 2500 color units); Purple Carrot (carrot concentrate provides greater stability and 500 color units); Rubini/ Purple Carrot (blended concentrate provides intense color, increased stability, and 1900 color units); Belrubi 905 (elderberry juice concentrate blended with other fruit juice concentrates to match grape skin extract); and many others.
Nutraceuticals derived from fruits and vegetables are offered. A variety of nutraceuticals derived from fruits and vegetables are manufactured by FutureCeuticals, 300 W. 6th St., Momence, IL 60954-0009 (phone 888-472-3545).
For example, a high-potency blueberry extract for use in dietary supplements and capsules is standardized to provide the purest level of active ingredients possible. Called VitaBlue Blueberry Extract, it is high in anthocyanins and antioxidants, which have been found to improve memory and cognitive function.
Also available are natural fruit and vegetable blends called Hi Actives which may be used to supplement a diet with high levels of natural antioxidants and phytochemicals. Based on scientific studies, it is suggested that daily antioxidant intake should be increased to 3,000—5,000 ORAC units/ day/ human subject) to reach a significant antioxidant capacity in blood plasma and other tissues. According to the manufacturer, these high-ORAC blends can effectively fight oxidative stress and oxidative damage caused by free radicals.
--- PAGE BREAK ---
A proprietary new food form of the essential microelement boron, marketed under the name FruiteX-B, is said to support, maintain, and promote bone and joint health, reducing complications of osteoarthritis. Boron also optimizes calcium, magnesium, and phosphorus metabolism, and has been shown to improve mental functions. The product is said to be the only natural-form boron complex identical to naturally occurring boron complexes found in fruits, vegetables, and nuts.
Sweeteners derived from fruits. Low-calorie sweeteners derived from fruits also have potential. According to the Calorie Control Council (www.caloriecontrol.org), dihydrochalcones (DHCs) are non-caloric sweeteners derived from bioflavonoids of citrus fruits that are approximately 300— 2,000 times sweeter than sucrose. Neo-DHC, synthesized from seville oranges, is said to have the greatest potential for food applications and is about 1,500 times sweeter than sucrose. Potential uses include chewing gum, candies, fruit juices and other products. It is approved for use in the U.S. for flavoring products such as baked goods, beverages, chewing gum, frozen dairy products, candy, and sauces.
Fruit-derived powders are promoted for their health-promoting properties. Nutraceutical powders derived from fruits such as apples, blackberries, blueberries, cranberries, sour cherries, strawberries, and yellow peaches are available from Quality Brands, Inc., Nutraceutical Div., 10 Kelly Ave., Middleport, NY 14105 (phone 716-735-7722; fax 716-735-9076).
Powdered products in the company portfolio include Apple Fiber Powder A-100 (prepared from the skins, seeds, and carpel of fresh apples which is high in fiber and pectin concentration), Blueberry Powder B-215 (prepared from wild IQF blueberries which is high in ORAC and has a 2.5% anthocyanin concentration), Cranberry Powder C-310 (prepared from cultivated domestic cranberries which has a high ORAC, phenolic, and anthocyanin concentration), and Strawberry Powder S-1905 (prepared from domestic cultivated strawberries which have excellent aroma and flavor characteristics and high ORAC, phenolic, anthocyanin, and ellagic acid concentrations.
New flavors based on fruit. A wide range of new flavor developments based on natural fruit flavor technology are available from Robertet Flavors, 10 Colonial Dr., Piscataway, NJ 08854 (phone 732-981-8300; fax 732-981-1717).
 For example, a Pummelo flavor for use in beverages, yogurts, syrups, and other products has been developed. The pummelo, Citrus maxima, is the largest of the citrus fruits and has a sweet grapefruit flavor profile but is less acidic and less bitter. (Other grapefruit varieties available include Grapefruit; Pink; Ruby Red; California, Florida, and Israeli types, Grapefruit Zest, and Pink Grapefruit Zest.)
Blush Fruit Flavors are said to be light and crisp, delivering pleasing fruit profiles in applications not requiring high-impact flavor profile. The flavors—cherry, cranberry, raspberry, and red grape—may be used in carbonated or still beverages, tea or juice-based products; and dairy beverages.
Floral flavors blended with fruit flavors may be used to create sparkling and fruit juice based beverages that have a female appeal. Examples of such flavor combinations include Acerola Orange Blossom, Blackberry Violet, Cassie Strawberry, Cherry Orange Blossom, Guanabana Violet, Guava Rose, Jasmine Orange, Linden Apricot Guava, Mango Mimosa, and Mandarin Mimosa.
--- PAGE BREAK ---
Tropical flavors provide innovative profiles. More than 200 flavors derived from tropical fruits are available from Wild Flavors, Inc., 1261 Pacific Ave., Erlanger, KY41018-1260 (phone 859-342-3600; fax 859-342-3610; www.wildflavors.com). The flavors which are said to provide highly aromatic and flavorful profiles include Acai, Calamansi, Cherimoya, Coconut, Cupuacu, Drag-onfruit, Feijoa, Fuji Apple, Guanabana, Guava, Jaboticaba, Lulo, Mango, Mangosteen, Marula, Mora Berry, Passionfruit, Prickley Pear, Starfruit, White Sapote, and Yuzu. Mainly native to lands such as South Africa, Australia, New Zealand, Asia, and Central and South America, the tropical fruits supply valuable nutrients and are rich in vitamin C. Novel flavor profiles may be created by combining familiar flavor profiles with these exotic flavors.
New line of fruit flavors may appeal to South American tastes. A new line of fruit flavorings for beverages has been introduced by Ottens Flavors, 7800 Holstein Ave., Philadelphia, PA 19153 (phone 215-365-7800; fax 215-365-7801). The line, which is said to provide a more true-to-fruit profile for the South American market, includes citrus flavors and blends such as Orange, Lemon, Lime, Banana, Apple, and Pineapple. Tropical flavors include Mango, Guava, Passionfruit, Kiwi, and Guanabana.
The flavorings are offered in liquid, spray-dried, and encapsulated forms. They may be used in soft drinks, juice drinks and waters, and fortified, functional, and dairy drinks.
When shopping in the produce section, certain factors influence our decisions to select a particular fruit or vegetable. One, of course, is color. Color can tell us how ripe a banana is. How fresh that head of lettuce is. Or what kind of variety that apple is and what kind of taste it might have. A second factor is health. "An apple a day keeps the doctor away" is an in-grained axiom. Or if you're a baby and you have a grandmother who is confident in the health benefits of bananas, expect to be eating a lot of bananas before you even learn how to walk.
This article has shown how the roles of color and health keep evolving in the development of foods and beverages using ingredients derived from fruits and vegetables. What is especially interesting is how closely related the two areas are.
As we have seen, an active campaign is being launched to get people to eat more fruits and vegetables by associating colors with potential health benefits. Actually this is not a new idea. The Chinese culture has been following this practice for a very long time. But here in the U.S. such an approach may prove very timely.
Combinations of fruit and vegetable ingredients with other ingredients are not only helping to enhance the appearance of the product, but providing additional health benefits.
Many of the ingredients discussed here are promoted for their health benefits as well as their ability to color products. And although I am not sure a natural colorant (because of its low usage levels) offers substantial health benefits, it is a good marketing tool, and it might even get people to eat more fruits and vegetables.
And if there's one point to get out of this month's section, let's hope that some of these ingredient developments may help people get their necessary servings from the fruits and vegetables group.
And since this is the beginning of a new year, make that resolution now. Eat more fruits and vegetables!
Next month's Ingredients section will focus on ingredients from such grains as wheat, rye, oats, rice, barley, corn, and others, looking at the functionality and health benefits they offer.
--- PAGE BREAK ---
Understanding ORAC and the role it can play in ingredient development
Because the term ORAC (Oxygen Radical Absorbance Capacity) is mentioned several times in this month's Ingredients section, I thought it might be necessary to quickly review what it means. I am taking the following material from an 8-p brochure, Understanding ORAC: A Special Supplement on Measuring Antioxidant Capacity, which is available from RFI Ingredients, 300 Corporate Dr., Ste. 14, Blauvelt, NY 10913 (phone 845-358-8600; fax 845-358-9003; www.rfiingredients.com).
The ORAC assay is a method for quantifying the antioxidant capacity of a number of products, including whole fruits and vegetables, beverages such as fruit juices and wines, and supplement products, and is used primarily for water-soluble antioxidants. It measures the degree to which a sample inhibits the action of an oxidizing agent, and how long it takes to do so. These measurements are integrated into a single measurement called the ORAC value. Trolox, a noncommercial water soluble derivative of tocopherol, is used as the control standard of antioxidant activity, and the units of an ORAC value are expressed as micromoles of Trolox equivalents per gram of a substance.
The chemical assay combines a fluorescent probe with a test sample and an oxidizing agent. The intensity of the fluorescent probe decreases as it is damaged by free radicals. In the presence of an antioxidant, the fluorescence decreases more slowly as the antioxidant sacrifices itself to the free radicals, protecting the probe. As the antioxidant is spent, the fluorescence eventually drops to zero. By allowing the reaction to go to completion and by measuring the area under the curve (relative fluorescence intensity vs time), the ORAC method combines both inhibition time and inhibition percentage of the free radical damage by the antioxidant into a single quantity.
What relevance does this have on the future development of food products using fruit-based ingredients? Well, first of all, the ORAC assay can provide a much-needed system for ingredient manufacturers and suppliers to compare the antioxidant capacity of various functional foods and even fruits and vegetables themselves. New studies of fruits and vegetables using the ORAC method are being done, and companies are using the ORAC concept on their packaging labels.
Finally, consuming fruits and vegetables and products containing fruits and vegetables offers numerous health benefits. In fact, scientists are recommending that consumers get 5–9 servings of fruits (or approximately 4,000–7,000 ORAC units) per day. For individuals requiring extra antioxidants, the intake should be increased even further. Since consumers are not consuming enough fruits and vegetables, additional ways need to be found to get these foods into their diet. One way is the development of high-ORAC ingredients, and in this the ORAC assay can play a major role.
by DONALD E. PSZCZOLA
Senior Associate Editor