Botanically Speaking
There is no question that consumers are increasingly turning toward botanicals for their health-promoting properties. A recent article in Family Circle magazine (readership 21 million) highlighted 15 botanicals that "really work" (Rabkin, 2002). These included aloe vera, arnica, black cohosh, chamomile, echinacea, evening primrose oil, feverfew, garlic, ginger, ginkgo biloba, ginseng, peppermint, psyllium, St. John's wort, and valerian.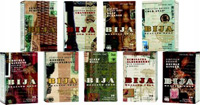 Consumers mainly take these botanicals as dietary supplements in pill form, but companies are increasingly adding them to products such as beverages, nutrition bars, candy, and snacks. Though they may appear as a young sector in the functional foods market, botanicals have been utilized for their medicinal and beneficial health properties for years.
"If you go back into older reference books, you will find that each botanical has a unique story and heritage," said Steven Dentali, Vice President for Scientific and Technical Affairs at the American Herbal Products Association, Silver Spring, Md. "For example, saw palmetto berries were a staple food item of the Seminole Indians of the southeastern United States. It was later adopted into standard medical practice, as shown by its inclusion in the United States Pharmacopoeia from 1908 to 1946. In 1998, it was reintroduced into the USP-NF."
Botanicals are in their infancy in terms of regulations and substantial clinical studies, but progress is being made in both areas. As more botanicals become popular with consumers, more clinical work will evolve showing their potential. Table 1 on p. 66 lists some conditions or diseases that can potentially be prevented or treated by botanicals, and the following is a rundown of some of the common botanicals currently used and the work being done to support their health-promoting properties.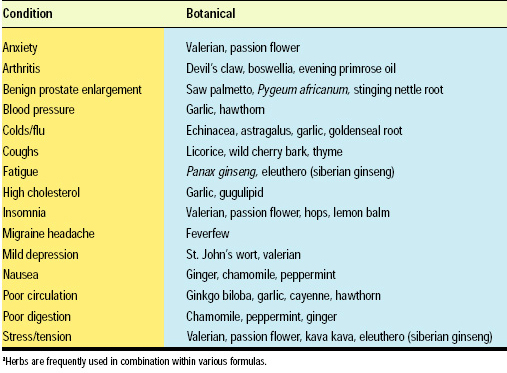 • Garlic has been shown to exhibit antimicrobial, antithrombotic, and antitumor activities. Attention currently focuses on garlic's cardiovascular benefits, said Dentali.
A study published in 1999 in Atherosclerosis indicated garlic's ability to decrease plaque buildup in the arteries (Koscielny et al., 1999). In this randomized, double-blind, placebo-controlled clinical trial, researchers studied 152 subjects who were diagnosed with significant plaque buildup and at least one additional cardiovascular risk factor. Continuous intake of high-dose garlic powder supplements reduced the increase in arteriosclerotic plaque volume by 5–18% within the observational period of 48 mo. The researchers concluded that the results "substantiated that not only a preventive but possibly also a curative role in arteriosclerosis therapy (plaque regression) may be ascribed to garlic remedies."
A review of data on the cholesterol lowering properties of garlic extracts in humans and animals was published in the Journal of Nutrition (Yeh and Liu, 2001). One of the studies listed was a randomized, double-blind, placebo-controlled intervention study conducted in the Pennsylvania State University Dept. of Nutrition. It showed that aged garlic extract supplementation was effective in lowering plasma concentration of total cholesterol by 7% and low-density lipoprotein cholesterol by 10% in hypercholesterolemic men, compared to subjects consuming a placebo.
The authors of the review stated that the hypocholesterolemic effect of garlic may stem in part from impaired cholesterol synthesis. Their own in-vitro studies revealed that water-soluble organosulfur compounds, especially Sallylcysteine, were potent inhibitors of cholesterol synthesis, and hence may be the major principles of garlic responsible for the reduction of plasma cholesterol level.
--- PAGE BREAK ---
• Ginkgo Biloba has been well studied in terms of slowing the decline of age related mental function, said Dentali. There is still conflicting evidence, however, on how well ginkgo works in healthy individuals.
In October of last year, Britain's Alzheimer's Society, together with the Cochrane Collaboration, published a comprehensive review on the use of ginkgo biloba for the treatment of dementia (Birks et al., 2002). The review concluded that "Ginkgo biloba appears to be safe in use with no excessive side effects compared with a placebo. Many of the early trials used unsatisfactory methods, were small, and we cannot exclude publication bias. But overall there is promising evidence of improvement in cognition and function associated with ginkgo. Our view is that there is a need for a large trial using modern methodology to provide robust estimates of the size and mechanism of the treatment effects."
The findings initiated a major new clinical trial of ginkgo in people with early dementia who are looked after by their general practitioner. The new study, to receive funding from the Alzheimer's Society, will recruit 400 people with dementia and follow them for six months while they receive treatment with either ginkgo or a placebo. The trial is being jointly run by Imperial College of Science, Technology, and Medicine, London, and the Royal London Homeopathic Hospital.
Peter Fisher, Director of Research at the hospital, said, "Ginkgo contains a number of organic biologically active components. It is the ginkgolides that are unique to the ginkgo tree, although it is not fully known which component or components are the ones that give the leaves their medicinal properties."
James Warner, Senior Lecturer and Consultant in Old Age Psychiatry at Imperial College of Science, Technology, and Medicine, added, "The medicinal effects of ginkgo are believed to be gained by causing blood vessels to dilate, improving blood flow to the brain, and through thinning the blood and making it less likely to clot. Ginkgo probably also has some antioxidant effects, protecting nerve cells against biological 'rusting.' All of these effects would suggest that ginkgo might slow down a degenerative process."
• Echinacea. Many people have rediscovered echinacea's ability to prevent colds and flu if enough is taken at the first sign of one, said Dentali, but more clinical work is needed to support this. Researchers at the University of Virginia have recently started a three-year clinical trial to identify echinacea's medicinal components. The study has received $2.2 million in funding from the National Institutes of Health.
Numerous variables could influence how echinacea works and the effective components of the supplement, said principal investigator Ronald B. Turner, Professor in the Division of Infectious Diseases at the University of Virginia Dept. of Pediatrics. The part of the plant used, the growing conditions and season, how it is processed, and which of the plant's three species—each of which has a different chemical composition—are in a product could all possibly affect its medicinal value.
--- PAGE BREAK ---
The study will use one crop of echinacea plants processed using three different extraction methods to produce three different concentrations of various echinacea constituents. The composition of these three products has been characterized by a leading plant chemist at the University of Graz in Austria, a subcontractor for the study. These three products, which are identical except for their extraction methods, will be administered to study subjects.
Turner and his research team plan to recruit approximately 450 subjects for the study. The volunteers will be infected with a cold virus. One group will be given echinacea before being infected with the cold, and another group will receive it after being infected. Some subjects in each group will receive a look-alike placebo.
• Ginseng is taken by consumers to help them deal with mental, physical, and emotional stress, said Dentali. Ginseng is often referred to as an adaptogen because of its proposed ability to increase resistance to all types of stress. The primary types of ginseng include Asian ginseng (Panax ginseng), American ginseng (Panax quinquefolius), and Eleuthero or Siberian ginseng (Eleutherococcus senticosus).
"Studying ginseng's effect is often difficult," observed Dentali. "Since ginseng improves the ability to recover from stress, it is hard to define or quantify this in studies. The best type of trial you can do with ginseng is double-blind, placebo- controlled."
In an 8-week, randomized, double-blind study at the University of Connecticut School of Pharmacy (Ellis and Reddy, 2002), 15 subjects were given 200 mg/day of P. ginseng and 15 were given a placebo. The researchers used a validated general health status questionnaire to assess health-related quality of life at 0, 4, and 8 weeks. They observed that P. ginseng improved aspects of mental health and social functioning after 4 weeks of therapy, although these differences attenuated with continued use.
A new line of functional teas utilizes ginseng for its energizing abilities. Introduced in October 2002, BIJA Healing Teas, manufactured by Flora Inc., Burnaby, Canada, are all-natural and caffeine free. Double Ginseng with Rooibos is one of nine types of teas the company offers. It contains P. ginseng, lemongrass, bergamot, and rooibos. According to company literature, "Panax ginseng has been used throughout ancient times to the present day to stimulate the body to overcome all forms of physical and mental illness. It is used to maintain healthy blood pressure, increase endurance, balance hormones and improve mood. It tones the body during stress, assists it to overcome fatigue, and aids in rejuvenating the entire body."
• Saw Palmetto is believed to have effects on the urogenital systems of men and women and has been shown to have definite positive benefits in clinical trials involving elderly men, said Dentali. It is used predominantly for enlarged prostates in men (benign prostatic hyperplasia, BPH).
A recent Cochrane Review aimed to assess the effects of saw palmetto in the treatment of lower urinary tract symptoms consistent with BPH (Wilt et al., 2002). The authors assessed data from 21 randomized trials lasting 4–48 weeks. They concluded that "Serenoa repens (saw palmetto) provides mild to moderate improvement in urinary symptoms and flow measures. Serenoa repens produced similar improvement in urinary symptoms and flow compared to finasteride, a drug, and is associated with fewer adverse treatment events. The long term effectiveness, safety and ability to prevent BPH complications are not known."
--- PAGE BREAK ---
• St. John's Wort has been shown in a large body of research to be effective in treating mild depression, said Dentali.
A telephone survey of 43 subjects who had taken St. John's wort for depression found that 36 respondents (84%) reported improvement (Beckman et al., 2000). The dosages taken were in the range of 300–1,200 mg/day for a duration of 1 day to 5 years. Although the dosages were effective, 20 respondents reported side effects such as agitation and gastrointestinal disturbances. The data suggested the need for greater consumer and provider awareness of the potential risk of St. John's wort in self-care of depression and related syndromes.
Another study at St. John's Episcopal Hospital in Far Rockaway, N.Y., compared hypericum (St. John's wort extract) and the selective serotonin reuptake inhibitor sertraline in the treatment of depression (Brenner et al., 2000). In this double-blind, randomized study, 30 male and female outpatients with mild-tomoderate depression received 600 mg/day of a standardized extract of hypericum or 50 mg/day of sertraline for 1 week, followed by 900 mg/day of hypericum or 75 mg/day of sertraline for 6 weeks. The researchers observed that the severity of the symptoms was significantly reduced in both treatment groups.They concluded that the hypericum extract was at least as effective as sertraline in the treatment of mild-to-moderate depression in the small group of outpatients.
• Black Cohosh is currently used by women to treat symptoms of menopause, including hot flashes, night sweats, mood swings, irritability, and occasional sleeplessness. The German government's Commission E, a special committee of physicians, pharmacists, and other scientific experts to evaluate and approve herbs, has approved black cohosh as a nonprescription medicine for treatment of the various symptoms associated with menopause.
The American Botanical Council recently made available a scientific review of the health benefits of black cohosh (see www.herbalgram.org). "The ABC monograph provides an excellent overview for clinicians as well as patients who want to better understand the science behind black cohosh," said Mary Hardy, M.D., Director of the Integrative Medicine Medical Group at Cedars-Sinai Medical Center in Los Angeles.
Hardy added that she does not recommend that women on HRT discontinue their hormone pills without consulting their physicians. She also discussed the importance of choosing herbs based on individual symptoms and needs. "There is an increasing amount of evidence supporting the use of black cohosh as well as soy, red clover, and some other dietary supplements in treating menopausal symptoms. Women should discuss with their doctors or other healthcare professionals who are knowledgeable about herbals which options may be appropriate for them," she noted.
--- PAGE BREAK ---
• Valerian is believed to be a sedative and sleep aid. It has been shown to be effective in conditions of anxiety, insomnia, and nervous irritability.
A review of pharmacologic therapies of insomnia was conducted at the Rutgers University College of Pharmacy (Wagner et al., 1998). The researchers identified relevant clinical studies, case reports, abstracts, and review articles published between 1992 and 1997. They looked at prescription hypnotics as well as nonprescription products such as valerian and melatonin. They concluded that over-the-counter agents such as valerian and melatonin may be useful in alleviating mild, short-term insomnia but further clinical trials are required to fully evaluate their safety and efficacy.
• Kava, like valerian, is taken as an anti-anxiety treatment. A study at the University of Surrey investigated whether kava or valerian could moderate the effects of psychological stress induced in a group of healthy volunteers under laboratory conditions (Cropley et al., 2002). The 54 participants performed a standardized color/word mental stress task on two occasions one week apart. Blood pressure, heart rate and subjective ratings of pressure were assessed at rest and during the mental stress task. Following the first session (time 1), 18 individuals took a standard dose of kava and 18 took valerian for 7 days, while the other 18 remainder acted as controls. Differences in blood pressure and heart rate from resting levels were calculated as reactions to the stress task at both time points.
At the second session (time 2), there was a significant decrease in systolic blood pressure responsivity in both the kava and valerian groups relative to time 1, but there were no significant reductions in diastolic blood pressure. Between time 1 and time 2, the heart rate reaction to mental stress was found to decline in the valerian group but not in the kava group. Individuals taking kava or valerian reported less pressure during the task at time 2 relative to time 1. The results suggested that kava and valerian may be beneficial to health by reducing physiological reactivity during stressful situations.
When working with any botanical, it is important to know the raw material and the botanical's heritage, stressed Dentali. "Botanicals do not necessarily serve one particular health benefit. They do not come with directions on how to use them when they are growing in the fields." When adding them to functional foods, it is of utmost importance to have the appropriate GRAS and regulatory status and to use enough of the botanical to serve its purpose without raising any health concerns. See this month's Regulatory Impact column on p. 18 for a discussion of the regulations regarding use of botanicals as food ingredients.
---
 Database covers botanical safety and efficacy
The American Herbal Products Association provides direct access to HerbMed®, a comprehensive and easy-to-use interactive database that catalogs and provides links to the scientific data underlying the use of therapeutic botanicals. Continually updated, the database presents published evidence of herbal efficacy and activity, side effects, and interactions, historical data, and other significant information for more than 160 botanicals. It also captures the herbal literature of the past that documents how herbs have been used for centuries. The database can be found at www.ahpa.org/herbmed.
by LINDA MILO OHR
Contributing Editor
Chicago, Ill.
References
Beckman, S.E., Sommi, R.W., and Switzer, J. 2000. Consumer use of St. John's wort: A survey on effectiveness, safety, and tolerability. Pharmacotherapy 20: 568-74.
Birks, J., Grimley Evans, J., and Van Dongen, M. 2002. Ginkgo biloba for cognitive impairment and dementia (Cochrane Review). Cochrane Library, Issue 4. Update Software, Oxford.
Brenner, R., Azbel, V., Madhusoodanan, S., and Pawlowska, M. 2000. Comparison of an extract of hypericum (LI 160) and sertraline in the treatment of depression: A doubleblind, randomized pilot study. Clin. Ther. 22: 411-419.
Cropley, M., Cave, Z., Ellis, J., and Middleton, R.W. 2002. Effect of kava and valerian on human physiological and psychological responses to mental stress assessed under laboratory conditions. Phytother. Res. 16(1): 23-27.
Ellis, J.M. and Reddy, P. 2002. Effects of Panax ginseng on quality of life. Ann. Pharmacother. 36: 375-379.
Koscielny, J., Klussendorf, D., Latza, R., Schmitt, R., Radtke, H., Siegel, G., and Kiesewetter, H. 1999. The anti-atherosclerotic effect of Allium sativum. Atherosclerosis 144: 237-249.
Rabkin, Rachel. 2002. Herbal remedies that really work. Family Circle, Nov. 1, pp. 63-64.
Wagner, J., Wagner, M.L., and Hening, W.A. 1998. Beyond benzodiazepines: Alternative pharmacologic agents for the treatment of insomnia. Ann. Pharmacother. 32: 680-691.
Wilt, T., Ishani, A., and Mac Donald, R. 2002. Serenoa repens for benign prostatic hyperplasia (Cochrane Review). Cochrane Library, Issue 4. Update Software, Oxford.
Yeh, Y.Y. and Liu, L. 2001. Cholesterol-lowering effect of garlic extracts and organosulfur compounds: Human and animal studies. J. Nutr. 131: 989S-93S