Developments in Beverage Processing
There are always developments occurring in the area of beverage processing. Some of these developments relate to processes, but others relate to packaging and ingredients. Here's a brief rundown of some recent developments in these areas.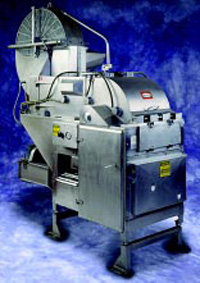 • Aseptic Processing and Packaging in Plastic Bottles. This is probably the most important new processing concept for beverages, according to Y. Steve Henig (phone 508-923-3201), Senior Vice President of Technology & Innovation at Ocean Spray Cranberries, Lakeville-Middleboro, Mass. Henig's experience with aseptic processing goes back to his time at Land O' Lakes and Hunt Wesson. Ocean Spray, of course, has pioneered putting juice in aseptic boxes using technology from Tetra Pak and Combibloc. Several vendors, including Stork Food & Dairy Systems Inc., now offer aseptic lines for plastic bottles.
The motivation for aseptic processing and packaging is the lower cost of the bottles compared to those suited for hot fill. Hot filling or the even more rigorous retorting process demands heavier-weight containers to resist distortion under heat. Cost of plastic containers is directly related to weight, so even a few grams per container matter.
The relatively short heating time used in aseptic processing also reduces damage to nutrients in the juice, some of which may be added at extra expense to support health-related claims. Lower-weight containers also save on shipping costs and are popular with consumers.
Other observations Henig made include the proliferation of package types, including standup pouches, the familiar paperboard boxes, single-serve plastic bottles, and the old standbys of glass bottles and metal cans. The same products may be offered in several different containers depending on distribution patterns, selling occasions, and consumer preferences. A particular market segment is school lunches, where mothers like to offer children a safe, nutritious, leak-resistant, yet easy-to-open container of beverage.
Ocean Spray has also innovated with large plastic containers which have an attached handle for convenient carrying. The plastic handle is attached as part of the blow-molding process.
Finally, there is a trend toward multi-packs of single-serve beverages, which creates interesting challenges in secondary packaging, as different flavors need to be assembled. This is especially popular in sports beverages, but also with fruit juices and drinks.
• Interesting Ingredients. Sometimes it is difficult to separate ingredients, processing, and packaging from one another as topics. An example is the use of a chemical preservative in beverages. Bayer AG, Leverkusen, Germany, is promoting a chemical named Velcorin as a preservative for various beverages, such as teas, carbonated apple juice drinks, and others. The chemical is toxic and kills microbes in the juice but quickly decomposes to methanol and carbon dioxide. Its usage limit is set by a limit on residual methanol, which occurs naturally in many juices but is toxic in larger quantities.
Velcorin has not caught on very widely yet because it does not kill most yeasts and molds, which are the major issue in many fruit juices. It also requires special equipment for dosing and special training for safe use in a plant. Nonetheless it is an interesting concept.
According to an executive in a major juice company, who preferred not to be identified, there is interest among several food companies in tagatose, a reduced calorie sweetener derived from cheese whey. It is a naturally occurring sugar with a good flavor and about 90% of the sweetness of sucrose. It is often used with other sweeteners, such as sugar alcohols. Patents on its use have been obtained by Procter & Gamble, Kellogg, and Pepsico.
Jones-Hamilton Co., Walbridge, Ohio, is promoting sodium acid sulfate as an acidulant in competition with organic acids such as citric and malic. Sodium acid sulfate is more effective, so less needs to be used to achieve the same degree of sour taste. At the recent Suppliers Night presented by the Chicago Section of IFT, Jones-Hamilton exhibited sodium acid sulfate in flavored waters.
While not intended as an ingredient, new food-grade lubricants from DuPont, Rockland, Del., promise longer periods between replacement because of their durability, according to Bruce Ulissi (phone 302-651-7391), Market Development Manager, at the recent International Exposition for Food Processors (IEFP) in Chicago. The oils and greases are based on fluoropolymer technology and are capable of withstanding temperatures up to 762°F, making them attractive for baking ovens and other machinery subjected to wear and high temperatures.
• Clean-in-Place Citrus Extractor. Brown International Corp., Covina, Calif., has long been supplier of one of the two major types of citrus juice extractors, the Brown Premium NFC Juice Extractor. This device operates much like the hand reamer used in a home to make fresh orange or grapefruit juice from sliced halves. In a commercial plant, fruit is sorted by size and cut in half by a knife. Then the halves are picked up by cups and converge on rotating reamers. According to Bill Harris (phone 626-966-8361), Director of Advanced Technology, advantages of the Brown extractor for citrus includes higher yields, lower peel oil (which can cause bitterness), and lower viscosity with more intact juice sacs, giving a more "homemade" quality.
One competing technology, offered by FMC Corp., involves squeezing fruit with a ribbed cylinder which punctures and crushes each piece of fruit to extract the juice. In Europe, many fruits are first peeled before extracting the juice. Brown claims that three of the top juice processors—Tropicana, Sunkist, and Florida's Natural—use its extractors. Besides extractors, Brown offers other equipment for processing materials other than citrus.
In the course of designing its equipment for ease of automatic cleaning, the company developed a novel spray nozzle. Harris is one of the inventors. The concept is to drive a rotating nozzle through a system of small gears, using the momentum of the cleaning liquid. This allows a dual-orifice spray pattern to be directed at the surface to be washed as well as the inside of the surface the nozzle is mounted through. Other clean-in-place (CIP) nozzles work more like small jets, using the pressure of the liquid stream to cause them to rotate, but then it may be hard to direct the cleaning stream at the surface near the nozzle.
The drive mechanism remains outside the surface to be cleaned, and the nozzle's penetration is small. While Brown developed the nozzle for its own equipment, the company has recognized that it may have applications in other CIP situations and is marketing the nozzle on its own.
• Equipment Exhibited at IEFP. Stork Food & Dairy Systems Inc., Gainesville, Ga., showed its linear aseptic fillers for plastic bottles, which is now approved by the Food and Drug Administration, according to Jan Kuiper (phone 770-535-1875), Stork Executive Vice President. The system uses hydrogen peroxide vapor to sterilize containers and the conveying chain.
VR Food Equipment, Inc., Penn Yan, N.Y., represents several lines of Italian food processing equipment, especially Bertocchi cold and hot extractors, according to Steve Von Rhedey (phone 315-531-8133), President. The Bertocchi extractors were developed especially for tomato processing and are calibrated in tons of tomatoes per hour but have been used to produce pulp and juice from a wide variety of fruits and vegetables. The extractors are often combined with rapid heating systems to inactivate enzymes and improve texture.
VR also offers an aseptic filler from Astepo and a mechanical vapor recompression (MVR) evaporator system from Metro International. Von Rhedey observed that plastic containers in general are becoming more important in the beverage industry and that larger plastic bags of 1- to 3-gal capacity are becoming important in foodservice for milk and coffee creamer. These are typically filled on aseptic bag fillers.
• Separation in Juices. Nearly all fruit and vegetable juices contain some pulp composed of juice sacs, cell debris, and other fine particles. Sometimes the pulpis removed by filtration, as in making clear juices, such as cranberry and apple juices, and many juice-based drinks. In other beverages, some pulp is expected, such ascitrus, tomato, some tropical fruits, and "cloudy" apple cider. Sophisticated producers of citrus juices remove pulp, process it aseptically, and store it for addition to products where more pulp is desired. Thus, one can find orange juice with "less" pulp, "some" pulp, and "more" pulp.
Citrus and tropical fruit pulps, such as mango and guava, tend to settle under gravity, but the settling is not noticeable in opaque containers, such as paperboard cartons, which also bear labeling advising the consumer to "Shake well." Settling in transparent containers such as glass and plastic containers can be detrimental to consumer image.
Various solutions have been proposed and tried. Use of larger labels can help disguise the existence of sediment, but that also reduces one benefit of transparent containers. Shipping bottles upside down causes the sediment to gravitate to the neck. When the bottles are set right side up on the shelf, the juice appears homogeneous, at least for a while.
Removing excess pulp or reducing the particle size can extend the time pulp remains in suspension. Some processors use homogenizers for this purpose. Inactivating enzymes that break down the naturally occurring pectin can maintain higher viscosity and helps keep cloud or pulp in suspension. This is one purpose of rapid pasteurization in juice processing, besides removal of pathogens such as Escherichia coli. 
In Egypt, mango processors often promote separation, where desired, as in wine or beer clarification, by adding bentonite clay or colloidal silica as a fining agent. These particles help neutralize electrostatic forces that otherwise repel suspended particles from each other. As the particles aggregate, their settling velocity increases, and they come out of suspension.
However, when the processors complained about excessive separation in some of their juices, it was observed that many plants had wide-open doors and windows, permitting dust and other foreign matter to enter the plants. It was suggested to the processors that keeping their plant environments dust free might reduce the tendency of their juice pulp to separate. This can be done by filtering incoming air, keeping doors closed, and enclosing filling equipment and tanks in rooms where the environment can be controlled. Those who maintained such conditions had fewer problems.
PRODUCTS & LITERATURE
Miniature UT/HTST System, the FT74X, now features two-stage cooling of the plate-and-tube heat exchangers. The small-footprint cabinet contains a pressurized hot water circulator on which interchangeable heat exchangers can be mounted. Water circulating at temperatures above 160ºC enables a full range of processes, from pasteurization to ultrahigh-temperature operation, with throughputs of up to 20 L/hr. For more information on this and other improvements to the system, contact Armfield Ltd., 436 W. Commodore Blvd., No. 2, Jackson, NJ 08527 (phone 732-928-3332, fax 732-928-3542, www.armfield.co.uk). 
Impingement Convection Oven, the SO-V Jet Stream® oven, is a high-velocity linear oven added to the JSO Jet Stream line of ovens designed for cooking meat, Poultry, and other products. The impingement oven features J-Style THERMoFIN® eat exchangers and VaporJet® technology or superior oven atmosphere control and 40% increase in the high-intensity cook area over previous versions. For a 6-p older describing the oven, contact FMC FoodTech's Stein-DSI, 1622 1st St., Sandusky, OH 44870 (phone 419-626-0304, fax 419-626-9560, www.fmcfoodtech.com).
Color Sorter, the Prism®2, features a built-in graphical user interface and control module, plus cameras and flexible camera configurations for superior surface defect detection and viewing versatility. Camera options include full-color, Vis/IR, and monochromatic. Five camera configurations and three camera options provide 15 viewpoint selections to choose from. The high-resolution color recognition distinguishes more than 2.1 million different shades. For more information, contact Key Technology, Inc., 150 Avery St., Walla Walla, WA 99362 (phone 509-529-2161, fax 509-527-1331, www.keyww.com)
Cleaning System sanitizes and cleans without chemicals and can be used in a variety of applications, including foodservice, supermarkets, and others. The portable Vapor Blitz I dry steam vapor system sanitizes all hard-to-reach areas, such as ovens, display cases, racks, sealers, conveyors, etc. Water is superheated in a stainless-steel boiler to a high degree, and the dry steam vapor is released by the touch of a button. For more information, contact AmeriVap Systems, 1292 Logan Cl., Atlanta, GA 30318 (phone 800-763-7687 or 404-350-0239, fax 404-350-9214, www.amerivap.com).
X-Ray Inspection System, the Axis X3, can examine different "zones" with different product densities, such as in a frozen dinner, to identify contaminants, underfilled and misfilled zones, missing items, and broken items. The AutoTrack Technology enables image capturing at up to 2,000 scans/sec, with analysis at 600/pieces/min. The software also adjusts to accommodate for variations in the product. Among the equipment options are systems for use with high-speed wrapping machines, pipelines for pumpable, meat-based products, and bulk flow products such as peanuts and other raw ingredients. For more information, contact Loma Systems, Inc., 283 E. Lies Rd., Carol Stream, IL 60188 (phone 630-681-2050, fax 630-588-1394).
Fluid-Bed Drying System features a pre-drying zone to inhibit stickiness. The zone pretreats sesame seeds, spices, sugar, bread crumbs, and other sticky extruded and expanded products with low-temperature heating at high velocity. Installed after the dewaterer, the pre-dryer removes the outer layer of moisture that causes particles to stick together or to the drying section, permitting smooth movement from the Teflon-coated pre-dryer deck into the vibrating fluid bed drying section. For more information, contact Witte Co., 507 Rte. 31 S., Washington, NJ 07882 (phone 908-689- 6500, fax 908-537-6806, www.witte.com).
Post-Baking Dryers in the Macrowave™ line can be custom engineered to allow manufacturers of cookies, crackers, and snack foods to increase oven band speed by eliminating the final drying requirement from the last third of an oven line. The dryers utilize radiofrequency energy to preferentially heat and dry the moist areas of products to eliminate surface checking and control moisture and color. For more information, contact Radio Frequency Co., Inc., 150 Dover Rd., Millis, MA 02054 (phone 508-376-9555, fax 508-376-9944, www.radiofrequency.com).
Hot-Air Cooking of breakfast cereals, snacks, and other foods is accomplished by the Torbed® fluidized-bed processor. The processor uses high-velocity hot air to perform fat-free cooking of snack materials, much like the process used in hot-air poppers. It allows extruded snack pellets to be "puffed" in the machines at higher temperatures than conventional frying equipment, providing a similar taste and mouthfeel while dramatically reducing the fat content. The processor can also be used for pasteurization of spices, cocoa deshelling and roasting, coffee roasting, and puffing and dehydration of vegetables. For more information, contact Torbed Services Ltd., Unit 25, Young's Industrial Estate, Aldermaston, Reading, Berkshire RG7 4PW, England (phone +44 (0)118 9811255, fax +44 (0)118-981-0117, www.torbedservices.co.uk) .
by J. PETER CLARK
Contributing Editor
Consultant to the Process Industries
Oak Park, Ill.