Hispanic foods are proliferating in specialty and retail stores and foodservice operations, and the mainstream market is beginning to discover them. The result is a boom for food marketers savvy enough to understand the nuances within the Hispanic market.
What better metaphor for the growing influence of Hispanic consumers than a 200-lb tamale. This culinary marvel was but one of hundreds of demonstrations featured at Expo Comida Latina, the Hispanic Food & Beverage Show that debuted last November in Los Angeles. The event brought to the fore both the rapidly growing economic power of Hispanics, and the profound impact of Hispanic culture on Americab�0;19;s food preferences.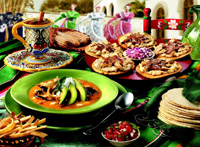 Expo Comida Latina was the first national trade show to exclusively target the burgeoning Hispanic market, attracting 250 exhibitors of both retail and foodservice products from throughout the United States, Mexico, and Latin America. According to show organizer Denyse Selesnick, it drew about 4,000 people and featured three kinds of exhibitors: mainstream American companies seeking entree or expansion in the Hispanic market; U.S.-based Hispanic companies looking to expand into the mainstream; and companies from Latin America, the Caribbean, and Mexico looking to break into the U.S. market on any level. International manufacturers represented 25% of the exhibitors, of which 67 were from Mexico.
Fastest-Growing Ethnic Population
While Hispanic foods have been a growing component of most major U.S. food expos, this was the first trade show specifically targeting this marketb�0;14;with good reason. The Hispanic population is growing at a torrid pace, soaring 58% between 1990 and 2000, according to the U.S. Census Bureau, making it the fastest-growing, and now largest, ethnic population. Hispanics represent nearly 15% of the total U.S. population, at more than 35 million. With size comes purchasing power, and the economic might of Hispanics is growing faster than their numbers, increasing 160% over the past decade. In raw numbers, Hispanic buying power today totals some $542 billion. In 2000, this group spent nearly $51 billion on food, about 65% of it for at-home eating.
This pattern shows no signs of slowing. The Census Bureau projects that by 2020 the Hispanic population will expand to more than 55 million. The largest individual groups are Mexicans, representing more than 60% of the total Hispanic population, Puerto Ricans, and Cubans.
Size also means complexity. b�0;1C;Hispanics are not a homogeneous group,b�0;1D; cautions the Food Marketing Institute in its report, b�0;1C;U.S. Hispanics: Insights Into Grocery Shopping Preferences and Attitudes, 2002.b�0;1D; Countries of origin vary, as do cultural differences relating to educational and economic circumstances and assimilation into various regional cultures from Los Angeles to New York. This process, termed acculturationb�0;14;adaptation to the new cultural patterns of a dominant cultureb�0;14;is a major factor in how Hispanic consumers behave.
--- PAGE BREAK ---
The process involves not only the impact of American culture on the Hispanic population, but the reverse as well. Hispanic culture is having a significant impact on so-called mainstream American culinary trends. After all, the U.S. Hispanic population is greater than that of all Spanish-speaking Latin American countries except Mexico, Colombia, and Argentina. And each specific group has its culinary preferences.
Mexicans, for instance, favor corn and amaranth. South Americans favor wheat, quinoa, and potatoes. Rice is preferred by Hispanics from the Caribbean and coastal regions of Latin America, according to USDAb�0;19;s Agricultural Research Service. Consumers of Mexican descent eat nearly six times more beans than non-Hispanic whites.
And different Hispanic cultures prefer different types of beans. Cubans, southern Mexicans, Central Americans, and Venezuelans use black beans. Northern Mexicans, Dominicans, and Puerto Ricans prefer pinto or pinta beans. Cubans, Central South Americans, and Hispanic Caribbeans use red kidney beans. Chickpeas or garbanzo beans are popular with Venezuelans and Brazilians, according to ARS data.
As for heat, or spiciness, this varies, too. Cooks from Cuba, Puerto Rico, and the Dominican Republic use more oregano, garlic, tomato, and black pepper than chiles to season their recipes.
Where cuisines meld, new fusion cuisines emerge. Tex-Mex combines Mexican, Native American, Asian, and European influences. Nuevo Latino blends cuisine from Latin America, the Caribbean, and Mexico. The mixture is usually b�0;1C;Americanizedb�0;1D; through the addition of nontraditional ingredients and cooking methods. Pan Latin cooking also combines various Latin regional cooking styles. Other mutations include Nuevo New York, New California, and Floribbean.
In fact, Hispanic foods can arguably be considered an integral and historical part of American cuisine. Florida, New Mexico, Arizona, and most of California all were part of Mexico before joining the U.S. Thus, Hispanic populations have a rich and vibrant history in America, reflected in large measure by culinary contributions ranging from rice and beans to tacos and tortillas. Today, however, the enormity of the population has created far greater diversity and demand for more specialized and authentic ingredients, as reflected by the growing proliferation of Hispanic foods in both specialty stores and mainstream retail and foodservice operations. While these foods are primarily aimed at the Hispanic population, the secondary, or mainstream market is beginning to discover them. The result is a boom for food marketers savvy enough to understand the nuances within the Hispanic market and the long-term implications for b�0;1C;next-generationb�0;1D; Hispanic foods featuring attributes of both the traditional Hispanic and more accultured mainstream markets.
--- PAGE BREAK ---
Marketing to Hispanics
Despite the size and complexity of the Hispanic market, some common attributes do exist, according to FMI. Hispanics spend more on food eaten at home and more on retail food purchases than non-Hispanic households. Average family size also is greater. Within the Hispanic market, food preferences and shopping habits can best be associated with language preferences, according to FMI.
FMI divides Hispanic consumers into Spanish-preferred, Bilingual, and English-preferred. The latter two categories are more accultured and tend to have a much higher percentage of persons born in the U.S. Household incomes also are higher, and food purchases reflect more eating out and prepared foods. Despite these differences, 70% of all Hispanics prefer to read in Spanish, and just 10% say they feel more American than Latino, according to FMI. This phenomenon is reflected by the 300,000 ATMs nationwide, the majority of which are bilingual. In addition, the fifth-largest television network, Los Angeles-based Univision, is Spanish-speaking. On any given night, Univision has a 75% share of the Hispanic viewing audience and reaches 97% of all U.S. Hispanics, according to a company spokeswoman. She called the market b�0;1C;young, isolated, and still untapped.b�0;1D;
Other relevant insights from the FMI report indicate a strong tie to both traditional cuisines and the role of preparing food from scratchb�0;14;including the importance of teaching these skills to offspring. In addition, meal occasions are an integral part of socializing.
To date, the food retailing landscape has consisted of mainstream supermarkets with a limited but growing number of Hispanic food offerings and small shops in largely Hispanic communities specializing in authentic foods, both prepared and fresh. These small stores include Spanish-language supermarkets, panaderC-as (bakeries), carnicerC-as (butcher shops), and bodegas (corner stores). Authenticity is the key. Most popular Mexican food brands, including taco sauces and preparations, refried beans, taco shells, and dips, are aimed at the non-Hispanic population, and have limited appeal to Hispanics. Most mainstream supermarkets also group all authentic Hispanic foods, such as masa (cornmeal for making tamales), menudo, chorizo, horchataB (a rice drink), nopalitos (cactus), beef tongue, tripe, and pigb�0;19;s feet into one section of the store, offering everything Hispanic consumers might want in one location.
Often dominating these sections is Goya Foods, Inc., based in Secaucus, N.J. Itb�0;19;s a 66-year-old prototype for companies seeking to crack the Hispanic market, and has been so successful in establishing its brand that it has never paid a retail slotting fee, according to company Chief Operating Officer Andy Unanue. Last year, Goya had revenues of $715 million, up from $695 million a year prior, and itb�0;19;s the fourth-largest Hispanic-owned company in the U.S., according to Hispanic Business, Inc. Despite the recession, Unanue projects a 7% revenue increase for 2002.
--- PAGE BREAK ---
The key to Goyab�0;19;s success is its focus on the Hispanic consumer. While it has made a push to move some of its products into the mainstream, 75% of its sales are to Latinos, many of whom are recent immigrants in the Spanish-preferred category. And Goya likes it that way. b�0;1C;What we may lose in the cross-over market, we gain more in making our core clients happy,b�0;1D; Unanue told the Wall St. Journal in an interview published on July 9, 2002. Goyab�0;19;s broad line consists mostly of canned Mexican chiles, Caribbean fruit juices, and hundreds of other specialties.
Goya works through a network of 500 independent brokers that have honed an intimate knowledge of individual local markets. This, and a six-decade head start, gives Goya a major competitive advantage against a rising tide of competition from domestic and foreign specialty food companies and newly interested global giants, including Unilever unit Iberia Foods. Because Hispanic shoppers have a high degree of brand loyalty, imported brands, representing familiarB names from home, also are an important component.
While authenticity is important to Hispanics, mainstream, non-Hispanic foods also are a key part of the diet. To reach them, an increasing number of food marketers are beginning to finally realize the importance of language. Burger King is providing Spanish-language menus in areas with large Hispanic customer bases. Both Wendyb�0;19;s and Mc-Donaldb�0;19;s also have aggressive efforts to attract Hispanic consumers to their mainstream fare. McDonaldb�0;19;s was the ninth-largest Hispanic advertiser in 2001, according to Advertising Age, and the largest food product advertiser, spending $27 million.
Benihana Inc., the Miami-based chain of teppanyaki-style Japanese steakhouses, has undertaken one of the most interesting cross-cultural marketing initiatives. Benihanab�0;19;s research showed that its cooking techniques appealed to Hispanics, so it developed a multi-million-dollar Spanish-language ad campaign, which ran on Hispanic television and magazines. The effort also included Spanish-language menus, according to the National Restaurant Association. b�0;1C;The company also tweaked the ad to appeal to the various ethnic backgrounds of those in the Hispanic community. Because the television spot ran in Miami and Los Angeles, the music and the Hispanic actors had to reflect the ethnic makeup of the communities,b�0;1D; an NRA report noted. This meant salsa music in Miami and banda music in Los Angeles. Not bad for a Japanese restaurant chain.
Coca-Cola Co. also has a major marketing focus on Hispanics. And many supermarket chains, such as Safeway, offer bilingual help in stores with a significant Hispanic customer base.
--- PAGE BREAK ---
In addition, many mainstream retail brands are reformulating brand extensions to seek a share of the lucrative Hispanic market. Gatorade Co.b�0;19;s new Extremo sports drink features flavors like mango and tropical punch; PepsiCob�0;19;s Frito-Lay brand recently launched a new version of DoritosB aimed at Hispanics; and Doctorb�0;19;s Associates Inc. Subway Restaurants has been building a major Hispanic ad campaign, now accounting for about 10% of its overall ad budget. Kraft Foods actually has a director of multicultural marketing, Linda Crowder. She is responsible for products such as Mayonesa con Limon (mayonnaise with lemon) and Gelatina par Leche (Jell-O with milk), both introduced into the U.S. market in an attempt to gain a share of the Hispanic market. Even Pillsburyb�0;19;s Haagen-Dazs brand has introduced an ice cream called Dulce de Leche, a caramel-and cream confection similar to a popular Latin dessert.
The rising tide also has lifted many of the smaller bode gas and specialty markets that have long served Hispanic populations in cities such as Phoenix, where customers are after more than food. Espinozab�0;19;s Market, for instance, creates an atmosphere filled with Mexican music and the aroma of fresh tortillas. Customers enjoy the friendly, familiar social environment as much as the food. Phoenix has seen a major increase in the number of such bode gas, as well as traditional carnicerC-as and farmerb�0;19;s markets. The trend is replicated in Los Angeles, New York, Chicago, and other major centers of Hispanic population. Resourceful Hispanic entrepreneurs have even created larger supermarkets dedicated to the same style and atmosphere of the bodega. In Phoenix, 36 Food City stores, operated by Bashasb�0;19;, are the result of acquisition and skillful reformatting. More are in development, including a new 40,000-sq-ft unit expected to open later in 2003.
New York City is home to an estimated 2,700 bodegas, well suited to the higher-density urban environment. The ambiance, convenience, and unique, if limited, variety of Hispanic foods like yucca, imported spices, and plantains have a broad appeal beyond the Latino population. Some forecasters say these little stores reveal the secret to success for larger, more mainstream retail chains and restaurants. Create ambiance and familiarity, stock authentic foods from both U.S. and Latin food companies, speak the language, and ride the tide.
More Hispanic Fare Ahead
Acculturation will lead many Hispanics further into mainstream American cuisine, but these consumers will keep their traditions and the preferences for generations. In the process, the so-called mainstream cuisine of the American melting pot will increasingly become a fondue of Hispanic-infused fare. Food companies in tune with the trend are poised to profit greatly.
By the way, the 200-lb tamale featured at Expo Comida Latina did not establish a Guinness Book record. That belongs to a behemoth 1 ft in diameter and 40 ft long produced on December 4, 1999, at the Indio International Tamale Festival in Indio, Calif.
by Pierce Hollingsworth, Contributing Editor
The author is President, The Hollingsworth Group, P.O. Box 300, Wheaton, IL 60189.