This year's Annual Meeting + Food Expo® was alive with innovative health-promoting ingredients showcased in taste-temping concepts, ranging from a fortified low-carb pizza and Macintosh apple–flavored Joint Juice™ to a 1-carb Cappuccino coffee drink and an allergy-free sunflower-based "peanut" butter. A new influx of innovative health-promoting ingredients from international suppliers, a strong focus on naturally occurring bioactives, and an ever-growing number of self-affirmed GRAS substances, are broadening the range of health linkages accessible to food and beverage marketers.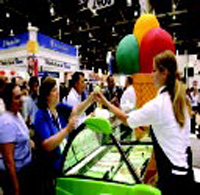 But it wasn't all about health. Mouthwatering grilled flavors could just make backyard grilling obsolete. Exotic fruit flavors including Blood Orange and Pomegranate; gourmet natural cheese concentrates in Feta, Bleu, and Gouda versions; and zesty international condiments, including a variety of fiery roasted peppers, Oyster Sauce, Chili Garlic Sauce, and lots of curry, will continue to make every day a little more gourmet!
Fully Fortified
With 58% of adults using a functional food or beverage last year, according to the Natural Marketing Institute (NMI), it's clear that consumers are looking to foods to deliver more than just positive nutrition. And judging from the potential health benefits made possible by new ingredients introduced in Las Vegas, they won't be disappointed.
With 63% of consumers regularly using fortified foods and beverages— and the market segment more crowded and competitive than ever—suppliers continued to deliver new ingredient solutions to help differentiate nutritional products, including more bioavailable forms of traditional nutrients, innovative additives to enhance their absorption, and more bioactive phytochemicals and botanicals—facilitating an ever-broadening list of health linkages.
With 37% of adults saying they are deficient in calcium, 31% omega-3s, 27% antioxidants, 23% vitamin C, 19% lutein, and 15% folic acid, according to NMI, exhibitors at Food Expo responded with cutting-edge concepts. Watson Food developed a Fortified Low Carb Pizza to meet the nutrition criteria for the school lunch program and a Low Carb Trail Mix. The Wright Group sampled a Cardio Pomegranate Smoothie and Low Carb Peanut Butter Meal Replacement Bar.
The trend to fortified clear beverages and waters will continue with new and improved calcium concepts such as Purac America's Puracal®XPure line, developed for use in water and minimally flavored beverages. Rhodia Foods' VersaCAL™ Tricalcium Phosphate was also featured in a fortified Orange Carrot Juice—right on target for the growing demand for fruit/vegetable juice combination drinks—and in a clear apple juice. Eastman Chemical Co. introduced water-soluble Eastman Vitamin E TPGS also for clear functional beverages. Intellisoy's new water-soluble Intellisoy isoflavones were sampled in Aqua Soya clear, lightly flavored bottled water. Novartis' Benefiber™ and Wacker Specialties' Cavamax® W6 Food, both colorless fibers, are perfect for transparent beverages.
--- PAGE BREAK ---
Along with waters, beverages, and bars, fortified "treats" such as Fortitech's fortified ice cream and gummy candies were right on trend with consumers' desire for healthier versions of their favorite foods. Chocolate received a lot of attention for its antioxidant properties. Cargill added New Frontier™ antioxidant-rich, sugar-free chocolate coatings and inclusions and a "no sugar added" ice cream coating to its Wilbur® chocolate line. Cognis Nutrition and Health's Lipoes® lipoic acid was another unique antioxidant featured this year.
Several traditional vitamins and minerals received increased attention. With the reemergence of rickets in children and the ongoing role of vitamin D in bone/joint health, Fortitech and BASF showcased easy vitamin D fortification options. Increasingly linked to energy levels by consumers, iron is now a much-sought- after nutritional ingredient and is spurring an increased fortification demand, particularly for dairy products. Purac's Puramen FE and Gluconal FE are well-positioned to meet this need.
Lactoferrin—e.g., MG Nutritionals' NatraFerrin—which is derived from milk, was recognized for its ability to naturally enhance iron absorption. Lactoferrin is also a natural antioxidant, helps protect against pathogens, exhibits antiviral activity and—by protection of lymphocytes—reduces inflammation and enhances immunity. Snow Brand Milk Products Co, Ltd. introduced MBP™, a multifunctional protein—also derived from milk—that works directly and/or indirectly on bone cells to accelerate formation of healthy bone. Several new zinc complexes— key to immune and bone-enhancing products—that were less reactive in foods were also introduced.
Choline, well recognized for its role in memory and cognitive function, is another fast-emerging nutritional ingredient. Cargill's Lecigran® lecithin is high in choline and inositol and helps to improve body cell activity, while acting as an emulsifier and instantizing agent. Cargill also marketed a soy-based lecithin, Secisoy™, for the first time this year. The National Sunflower Association promoted sunflower seed's high choline content as well as the potential heart benefits gleaned from its arginine, lignan, vitamin E, and betaine levels.
With the industry practice of "nutrient bundling"—combining specific vitamins and minerals as a means to achieve health benefits such as improved immunity or heart health, or customizing nutritional profiles for specific population groups—becoming increasingly popular, suppliers continued to promote their ability to develop creative customized premixes to help differentiate fortified products. With flavor in mind, microencapsulation technology was another important nutrient supplier differentiator. Balchem Corp. sampled its Balchem Encapsulates in a fortified cookie.
"Made in America" and "all-American-grown"—as used by Riviana Industrial Rice Products—"gluten-free," and "allergy-free" were some new emerging buzz words to describe health-directed ingredients. Gadot Biochemical Industries highlighted its GMO-free and kosher nutrients, including calcium, potassium, and magnesium. MG Nutritionals featured Natracal Natural Milk Calcium in a high-calcium, reduced-fat dairy spread.
With a growing trend toward relying on a product's inherent nutrients or the phytochemicals naturally occurring in specific commodities to achieve a desired health benefit, new health linkages for specific phytochemicals, emerging food-friendly botanical/herbal extracts, and new extracted phytochemical ingredients were prominent show additions.
New research presented in Las Vegas on Kemin's FloraGLO® Lutein –mostly known for its role in eye health and as an antioxidant— indicates that oral lutein supplementation may also reduce the risk of skin damage from UVB radiation, opening the door for a new food benefit relating to reduced risk of skin cancer. Cognis Health and Nutrition has petitioned the Food and Drug Administration for a qualified health claim linking consumption of Xangold® Natural Lutein Esters to a reduced risk of age-related macular degeneration and cataracts.
--- PAGE BREAK ---
BASF previewed the concept of naturally coloring beverages with nutrients and displayed the range of eye-catching colors possible when beverages were fortified with BASF carotenoids. D.D. Williamson introduced Organic Caramelized Rice Syrup that imparts a rich brown color to foods such as granola bars, cereals, and rice cakes and retains the nutrient-rich bran, making it a prime source of fiber, essential oils, vitamin B, and other nutrients.
Decas Botanical Synergies promoted its NutriCran Bio-100™ spray-dried cranberry concentrate powder, containing the unique proanthocyanidins or condensed tannins thought to be the active component in preventing/treating urinary tract infections. Decas' Omega Cran™ oil is derived from cranberry seeds that are rich in tocotrienols and linoleic acid content, providing the benefits of omega-3s and 6s. Nutrinova featured its Nutrinova®DHA in Twinlab's new Infant Care Multi-Vitamin Drops with DHA. Spain's Puleva Biotech S.A. highlighted deodorized and stabilized omega-3s and a line of patented functional probiotics isolated from human breast milk. Cereform USA introduced Cerelite Heart Healthy Wheat Pan Bread Mix, supplemented with DHA omega-3s and beta-glucan.
The Wild Blueberry Association of North America presented new research from the U.S. Dept. of Agriculture ranking blueberries No. 1 in total antioxidant capacity, followed by cranberries, blackberries, and prunes. Kikkoman featured its GRAS Gravinol Grape Seed Extract, the only grape seed extract patented for use in protein-based foods. MegaNatural® Gold Grape Seed Extracts, with a phenol content of more than 90%, reported its self-affirmed GRAS status for beverages, cereals, bars, yogurts, and desserts.
The Arnhem Group's line of flavonoid antioxidant products now includes FlavexPLUS™ herbal extracts which contain 6–10% rosemarinic acid and have potent antimicrobial and anti-rancidity properties. Rosemary extract's natural antioxidant properties were promoted by Newly Weds Foods. Amax Nutra- Source, Inc. and Plantextrakt featured tea extracts. Bio Pure-World's Maca Pure™ introduced maca, said to be the vitality agent of the Incas. Pechiney World Trade USA and Bio-Botanica offered an array of plant-based bioactives, ranging from guarana extract to olive powder and energizing Siberian ginseng.
America's 40 million young adults age 15–24 are moving into the prime years for using sports-nutrition products— sending sales in this lucrative category sailing. IFT exhibitors were lying in wait with a bevy of new energizing and performance ingredients, including a variety of whey proteins and caseinates, such as MG Nutritionals' NutraPro line. Morinaga Milk Industry Co., Ltd. introduced Chicken Breast Extract (CBT) which contains a large amount of carnosine and anserine, that prevent the acidification of muscles caused by the accumulation of lactic acid. It also minimizes fatigue and improves performance.
Amax NutraSource, Inc.'s new Glutarcarob™ delivers a natural combination of glutamine and arginine, among the most important amino acids for high-performance athletes. Amax's Oryzbran™, an enzymatic extract from rice bran, has a high content of sulfur-containing amino acids—important for endurance— in the form of peptides and free amino acids. A natural steroid component in the rice extract helps to develop lean muscle mass and improve definition.
For sports bars and beverages, Nash Nutritionals' Gempro HiQ, a soluble wheat protein derivative, delivers a naturally high concentration of glutamine, which stimulates muscle growth and recovery. With 10 g of whey protein and more than 20% of the Daily Value (DV) for calcium, Dairy Management Inc. sampled an Orange-Peach-Mango Whey Protein Enriched Sports Nutrition Drink. Whey protein contains a high level of essential amino acids, which have been shown to build and restore muscle after exercise.
--- PAGE BREAK ---
The Highs and Lows of Nutrition
With sales of low-carb foods approaching $1 billion in supermarkets and $435 million in natural supermarkets, and sales of naturally low-carb foods approaching $30 billion, according to Information Resources, Inc., exhibitors were not surprisingly poised to help deliver better-tasting and higher-quality low-carb products—a critical assignment, with repeat sales of many poor-tasting low-carb processed foods slowing.
Low-carb prototypes were everywhere on the exhibit floor. Hahn & Co. featured a Low Carb High Protein Cappuccino Drink with 1 g of "net carbs" and 12.5 g of protein per 8-oz serving. Damascus Bakeries formulated low-carb Sandwich Roll-Ups" with 6 net carbs and reduced-carb lavash, pitas, and paninis. TIC Gums' Research Chef Walter Zuromski prepared and served several low-carb soups thickened with GuarNT® Bland guar gum as replacement for traditional starches. Gums can help boost soluble dietary fiber levels and reduce net carbs. Along with TIC organic gums, P.L. Thomas & Co.'s new Ecoguar Organic Guar Gum is now available in North America.
Pizzey's Milling showcased low-carb Almond Flax Chicken Breading and a low-carb pizza—formulated with 5% Selectgrad™ Ultra-Fine Whole-Milled Flaxseed—delivering 1,100 mg of omega-3s and less than 3 net carbs per serving. Bioriginal Food & Science Corp. and Astaris, LLC both featured low-carb yeast-raised bakery and bread mixes. French Meadow Bakery's line of Carb Watcher baked goods and tortillas were formulated with a "starch neutralizer," Phase 2, a white bean extract used in a number of weight-loss supplements sold worldwide. Lallemand Advanced Baking Solutions' Carb-Aid 10 improves dough strength, crumb structure, and flavor in low-carb products with a net carb of 5 g for each 28-g serving.
Dakota Growers Pasta Co. developed Dreamfields™ lowcarb pasta with al dente texture and 5 g of "digestible" carbs. Foremost Farms formulated a Carb Smart Macadamia Nut Candy and a Carb Smart Shortbread Cookie with less than 1 g of net carbs, using its lactose-based carbohydrate ingredients, Daritek, Culturtek, and Tekla. Nuvex Ingredients, Inc. unveiled a line of particulate low-carb analogs, including a low-carb corn flake, a low-carb oat, and Net Zero Carb Crisp. They are available in a several forms, including flakes, balls, squares, and crisps.
As expected, no- and low-calorie sweeteners—that don't illicit an insulinemic response—are in high demand among low-net-carb product marketers. To that end, Cargill introduced Eridex™ Erythritol, an all-natural/noncaloric (0.2-kcal/g) bulk sweetener that has no glycemic impact and superior digestive tolerance. It is 70% as sweet as sugar and works well in baked goods, desserts, beverages, and confections. Cargill booth visitors sampled a soft-serve low-net-carb ice cream. Cargill's Special Fx is a new sweetener line directed at the emerging mid-calorie market; it permits formulations with less sugar and 20–40% fewer calories, requires no label change, and delivers equally good taste. It was featured in a trendy Latin Piña Colada Slushi and a Berry Flavored White Tea with less sugar and 33% fewer calories.
Nutrinova also showcased a selection of partially sugar-replaced drinks containing blends with its high-intensity sweetener, Sunett® (acesulfame K). Following the recent FDA approval of Sunett as a general all-purpose sweetener, Nutrinova introduced reduced-calorie sauces and condiments.
--- PAGE BREAK ---
FlavexLC™, an extract of citrus, is a new all-natural sugar substitute 1,800–2,000 times as sweet as sugar. Available from the Arnhem Group, it is suitable for savory products, baked goods, confectionery products, beverages, desserts, and nutritional foods.
Roxlor International, LLC's BakeFlora™ is a line of clean-tasting, inulin-based ingredients with the same sweetness as sucrose that replaces sugar 1:1. The product, containing more than 85% dietary fiber, has a caloric value of 2 kcal/g. Amax NutraSource, Inc.'s Luo Han Guo is an intensely sweet fruit grown in the Guangxi District in the People's Republic of China. Because of its intense sweetness and a flavor profile similar to that of sugar, low levels of Lou Han Guo juice extract can be useful in developing lower-calorie beverages. Procter & Gamble's patented technology concentrates unique chemicals of the plant—mogrosides—that are noncaloric sweetening agents.
Polyols have also found a welcome home in low-net-carb products. SPI Polyols featured a No-Sugar-Added Milk Shake made with Matisweet™ Maltitol Syrup. CHECK
At the same time, the natural sugar category is also skyrocketing,with sales of natural sweeteners up 35% in the natural channel in 2003. Riopaila S.A.'s Sugar Cane Juice Concentrate is 100% natural and maintains the unique flavor, nutrients, and properties of sugar cane. Florida Crystals showcased its organic and natural cane sugar lines, Certified Organic Evaporated Cane Juice and Demerara Cane Sugar. Florida Crystals also offers a complete line of organic and natural white and brown rice, rice syrups, and rice flours.
Cargill introduced Likewise™, an affordable all-natural sweetener blend that matches the sweetness, taste, color, and mouthfeel of USDA Grade A honey — and replaces honey 1:1. Applications included Honey Barbecue Sauce, Honey Mustard Dressing, and a whole-wheat bread.
A&B Ingredients introduced Remy CN, the first rice starch formulated for pastry creams. Rice is the "starch of choice" in Italy for creamy Italian pastries like cannoli. The company also unveiled a rice starch that replaces milk fat in ice cream to reduce fat content and lower costs.
--- PAGE BREAK ---
Favor Falls on Fiber
With dietary fibers permitted to be subtracted out from the total carbohydrate count, resulting in low "net carb" products, dietary fibers are drawing unprecedented attention, particularly those that offer additional health benefits such as cholesterol lowering or blood sugar control.
Matsutani America, Inc. showcased its new Fibersol-2™ Digestion Resistant Maltodextrin, in a carb-friendly white bread, bagel, hard pretzel, hamburger bun, pizza crust, and muffin. Roxlor Internationals' diabetic-friendly BeFlora Plus® powders are a synergistic blend of prebiotic oligofructose fiber, fructose, and sprouted mung bean extract grown in an acesulfame K– enriched medium, giving a sweet perception.
SunOpta Ingredients' Canadian Harvest® offered an expanded line of oat fibers, stabilized brans, cellulose gel/gum, and specialty starches. Oat Ingredients is marketing OatWell® Oat Bran in North America for the first time. J. Rettenmaier USA's LP Vitacel® Isolated Oat Products are a value-added fiber ingredient for sausage, hamburger patties, and whole-muscle products that helps reduce calorie and fat level, improves juiciness, reduces weight loss during cooking/smoking, and shortens ripening times.
With 1.5 million new cases of diabetes each year, nearly 80 million Americans insulin resistant, and energy remaining a prime mainstream concern, ingredients that help to manage blood sugar will soon be in high demand. With a health claim petition pending before FDA for improved glucose and insulin metabolism, prevention of diabetes, and possibly heart disease submitted to FDA, Nutrition 21's Chromax® chromium picolinate received unprecedented attention. More important, new human clinical research from the National Institutes of Health confirmed that chromium picolinate supplementation reduced carbohydrate cravings associated with atypical depression.
GTC Nutrition announced its new Natureal® GI (glycemic index) oat bran concentrate, which is rich in beta-glucan and has been clinically proven to help maintain healthy blood sugar levels. Matsutani America presented results of human feeding studies confirming that Fibersol-2 can also be used as an ultralow- glycemic-index ingredient.
MGP Ingredients Inc. and Cargill teamed up to offer a new resistant starch, Fibersym™ H, derived from high-amylase corn. Applications include breads, tortillas, pizza crust, cookies, muffins, waffles, breakfast cereals, snack products, and nutrition bars.
Fibers from less-traditional and more-exotic sources are gaining in popularity. International Fiber Corp. offers JustFiber ® Bamboo, Cottonseed and White Wheat Fibers. Cargill produces barley fiber. Soy fibers are also getting attention. The Fibred Group featured FI-1 Soy Fibre® in a High Fiber Light Multi-Grain Bread. Larex Inc.'s FiberAid® AG contains concentrated arabinogalactans. Excelon Specialty Products, Inc.'s hydrocolloid-based blends, Netcarb™ CST Carbohydrate Replacement Ingredients, also help provide the texture, appearance, and stability needed for successful low-carb formulations.
--- PAGE BREAK ---
Protein Power
The low-carb movement, first-ever RDIs for amino acids, and a decision by the Food and Nutrition Board not to put a cautionary "Upper Limit" on protein have spawned a horsepower race for complete, highly nutritious proteins, along with new and novel sources.
Although the competition is increasing daily, soy still dominates the high-protein segment. The Solae Co. unveiled a high-soy-protein breaded coating system, in crunchy and flour-type versions, that facilitates low-carb products and retains less fat. The coatings are perfect for breaded cheese sticks, poultry, steaks, fish/seafood, vegetables, and other coated items. Solae invited bar manufacturers to test their bar formulations at its new pilot-plant-scale bar line in St. Louis, Mo. Solae also recently unveiled new protein technologies that help nutrition bars maintain first-day freshness. Sensory evaluation tests confirm a 5X reduction in the overall rate of bar hardening.
Spectrum Foods, Inc. introduced GMO and organic versions of Nexsoy Extra, a high-fiber, low-fat soy flour that can be incorporated at high inclusion rates without affecting flavor or texture. Sweetened and unsweetened soynut butter for baking, snack, sauce, and bar applications were featured by T&G Associates. The soynut butter can be used in a manner similar to peanut butter. Zumbro Riber Brand, Inc. has developed Soy Snacks, which provide 13–14 g of soy protein/28-g serving—nearly 50% of the amount recommended by the American Heart Association as a benefit for heart health. They are gluten-free, high in protein and fiber, and low in calories, and contain less than 9 g of net carbs per serving.
Whey protein ingredients—which can deliver health benefits ranging from blood pressure lowering to enhanced physical performance and endurance as a result of their high content of branched-chain amino acids—are another fast-emerging protein source. DMI highlighted the role of dairy ingredients in developing nutritious high-protein, low-carb products and showcased a moist Low Carb Apple-Cranberry Muffin using dairy protein to replace some of the carbs and a Low Carb High Protein Quesadilla featuring a mix of Mexican cheeses. DMI also featured milk protein concentrates which can enrich the protein content and stabilize emulsions in meringues, mousses, cakes, ice creams, and souffles. Ultrafiltered skim milk was shown to facilitate lower-carb beverages and have an extended shelf life and lower carb content.
A number of new and novel protein sources are rising to challenge the leaders. Corn protein isolate (CPI) was introduced by Energetic, Inc. in conjunction with USDA's Agricultural Research Service. CPI is tasteless, odorless, and fat-free, with high protein purity (93–95%). It has been shown to be "equal or superior to" the other leading forms of functional proteins. According to USDA, it is as nutritional as meat or milk protein and can help to replace more expensive proteins. During processing, the natural phytochemicals and antioxidants are retained. In mouse studies, CPI lowered blood pressure, blood sugar levels, and blood triglycerides, while eliminating a number of circulating carcinogens. USDA reports that soy and CPI amino acids are complementary and deliver an even greater health benefit.
With naturally low-carb, high-protein properties and sales up 23% to date in 2004, egg protein is also taking its rightful place as a high-quality animal protein source. The American Egg Board distributed a "how to" brochure, EGGsolutions, to food manufacturers and marketers.
Nitta Gelatin NA Inc. introduced Hydrolyzed Collagen GCP—1000, a highly purified protein that can be easily absorbed and digested. It also provides added-value benefits, including the health of skin, hair, and nails, paving the way for "inner beauty" foods and beverages, already popular in Europe and the Far East. Levapan® Baker's Yeast Extracts contain high protein levels, several vitamins, and other micronutrients. Weishardt International added fish and cold-soluble gelatin to its traditional line of gelatins.
--- PAGE BREAK ---
Dipasa USA's edible sesame seed flour has a high protein content and high levels of the sulfur-containing amino acids such as methionine and tryptophan. Dipasa Mexico produces sesame flour in which oxalic acid content and residual levels of phytic acid are strongly reduced.
And there are new value-added protein forms, too. Cargill's new Prolisse™ Soy Crunch soy protein crisps provide crunch and texture. Solae introduced a high-protein soy nugget which imparts a light, crispy, crunchy texture with zero net carbs, 80% protein (on an as-is basis), and dietary fiber. First-time exhibitor MicroSoy's soy flakes, available in toasted and un-toasted varieties, are being used to increase the protein content of potatoes, while preserving the potato flavor. A 26% reduction in carbs (37% reduction in net carbs) was achieved by substituting 40% of potato flakes with soy flakes and 3.5 g of soy protein/serving. A consumer test indicated that the soy flakes could be added at up to 40% without objectionable soy flavor, texture, and appearance. Grande Custom Ingredients Group has a line of whey protein crisps, WPCrisp™, which is perfect for cereals, snacks, granola, trail mixes, frozen desserts, and salad and yogurt toppings.
With nearly half of all casual, family, and fine-dining restaurant operators reporting to the National Restaurant Association that their customers ordered more vegetarian items in 2004 than two years ago, protein/meat alternatives are grabbing the spotlight. Garden Protein International introduced Gardein™, a new vegetable protein alternative that is cholesterol-free, high in protein, and low in carbs and fats. A combination of wheat and soy that can be transformed into shapes, textures, and flavors, it is available in regular or sauced beef, chicken, or pork and breaded chicken nuggets, strips, or cutlets.
MGP Ingredients Inc.'s Wheatex® is a highly functional textured wheat protein that doesn't produce an aftertaste. Available in an array of sizes, shapes, and colors, the new Wheatex RediShred varieties have the look and texture of shredded beef, pork, chicken, and many types of seafood products.
Archer Daniels Midland Co. (ADM) introduced a new generation of its 40-year-old TVP® textured vegetable protein, the NutriSoy® Next line of soy-based, high-moisture, whole-muscle meat alternatives. A 3-oz serving of the meat analog has only 0.5 g of saturated fat but 15 g of soy protein and 4 g of fiber. It is available in strips, shreds, dices, chunks, battered/breaded nuggets, and filets.
And with trans-fat labeling pending for 2006, trans-fat solutions continued to stream onto the exhibit floor. Stepan Food & Health Specialties featured a line of structured medium-chain triglycerides—Neobee®MCTs—which are more readily metabolized than long-chain fats, provide fewer calories/g, and are metabolized 1.8 times faster than typical triglycerides. The Arnhem Group's Flavorlean FAT™ is a fat substitute with no cholesterol, trans, or saturated fat that can replace meat or fat at levels of 10, 15, or 20%. Oilseeds International, Ltd. featured high-linoleic safflower oil, high-stability rice bran oil, and high-oleic sunflower oil.
--- PAGE BREAK ---
Favoring Functional Foods
As the functional food market slowly shifts from prevention to treatment, ingredients that can deliver risk factor reduction or aid in alleviating the symptoms of serious health conditions have a very bright future. New functional food ingredients presented this year will open up a series of new potential health benefits, ranging from the treatment of high blood pressure and arthritis to enhanced immunity and "inner beauty."
Almost every consumer behavior related to heart health has escalated, according to NMI. Two-thirds of adults say they're trying to eat heart-healthy foods, four in ten have made dietary changes to lower cholesterol—41% to lower trans-fats—and an equal number are trying to eat more high-fiber foods. Low-fat topped the list of cuisines consumers said they were going to eat more of in 2004, follow by high-protein, low-carb foods.
With FDA's approval of a heart health claim for cholesterol-lowering vegetable-oil sterol esters, it's not surprising that these heart-healthy ingredients continued in the spotlight in Las Vegas. Cargill Inc. launched CoroWise™ Instant water-dispersible plant sterol esters, which are well suited for use in heart-healthy beverages, soup mixes, bars, and cereals. ADM is now marketing Eugene Science's Euchol™ as part of its' CardioAid™ line of phytosterol ingredients, with applications for milks, soymilks, juices, functional beverages, and yogurts.
Forbes Medi-Tech has developed Vivola™ oil—clinically shown to promote weight loss and cholesterol reduction in adults, joining its Tech Reducol™—a unique blend of polysterols and phytostanols. Cognis featured its Vegepure® Sterol Esters in an orange juice beverage with Vegepure® 95, Betatene® 1% CWD naturally mixed carotenoids, and Covitol® natural vitamin E. The company also presented results of the first long-term human study using Tonalin® conjugated linoleic acid (CLA). The results, published in the American Journal of Clinical Nutrition, show that Tonalin helps reduce body fat by as much as 9%. CLA supplementation has been shown to improve body composition by reducing fat and preserving lean muscle tissue.
With a recently established new medical category—pre-hypertension, which afflicts 45 million Americans—the potential market for functional foods that can help manage blood pressure has reached 100 million. In addition to various whey peptides introduced last year, Calpis Co., Ltd. from Japan presented Ameal Peptide™—the latest natural ingredient to help keep blood pressure in the normal range. It is a combination of two peptides derived from milk protein, clinically proven to be effective in controlling elevated blood pressure and helping maintain it at healthy levels. With all the attention to blood pressure, it's only a matter of time before the sodium content of food becomes a serious issue.
With more than 80 million sufferers of joint pain/arthritis and one million new cases of arthritis per year, food solutions to ensure joint health are poised to be the next major crossover category from the dietary supplement arena. Cargill announced self-affirmed GRAS status for its OptaFlex™ chondroitin sulfate and unveiled a new performance-grade OptaFlex Chondroitin that is 100% water soluble for use by beverage manufacturers. Cargill's Joint Wise™ joint-health beverage, which contains 200 mg of chondroitin/8-fl-oz serving, was featured.
--- PAGE BREAK ---
Itochu Corp. introduced two Japanese supplement jelly beverages— one an anti-aging and fat-burning formula with CoQ10 and L-carnitine and the other a skin-care formula with cysteine peptide and hyaluronic acid. NutraGenesis introduced OptiNutrin™, a GRAS-affirmed immune-enhancing ingredient, and Sensoril™, a stress-management ingredient for help with overeating and carb control.
Moringa Milk Industry Co., Ltd. introduced Triple Bifidus for Kids, a highly concentrated stable powder of three strains of Bifidobacterium: infantis, breve, and longum. Lifetree Biotech Co., Ltd. from Korea presented science-based functional foods for liver and gastrointestinal health utilizing Korean native botanicals.
With FDA mandating that the labeling of well-known allergens and USDA creating a new allergy-free category for the school lunch program, food allergies have quickly become a major food industry issue. SunGold Foods Inc.'s SunButter™ sunflower seed butter has been approved for use in a new USDA school feeding category in an effort to address the growing incidence of peanut allergies. The product has been tested in cereal dessert bars, cookies, Thai dipping sauce, muffins, frozen pie, and icing.
And we can't talk "healthy" without talking fruit and veggies. After all, consumers say eating more fruits and veggies is their No. 1 strategy for improving their health. With vegetables typically excluded from refrigerated meals because of their shorter shelf life, Graceland Fruit's new Fridg-N-Fresh™ line of veggies that lasts up to three months in the refrigerated case is a welcome addition. Shandong Tianfu Group Corp. of China joined Oregon Freeze Dried Fruits and Invertec Foods in offering high-quality frozen and freeze-dried fruits, vegetables, and juice concentrates. With the emerging trend to fruit/vegetable juice combinations and an eye for the exotic, Bolhouse Farms' carrot concentrates, Amoretti's pomegranate juice concentrates/glazes, Brazil-based Niagro's high-vitamin-C juices/purees, and Valley Fig Growers' Food Service Guide for Figs, found a very receptive audience at this year's Food Expo. The Ultimate Beverage Flavor Manufacturing Co. introduced Capriccio Exotic Island Smoothies and Granitas bases of whole fruit, with a one-year shelf life at room temperature.
Domino Specialty Ingredients Envision® is a one-of-a kind flavor and texture modifier that facilitates moisture control and extends perishable shelf life for weeks on end.
Fascinating and Coupled Flavors
With a growing demand for more gourmet and stimulating flavors, better-tasting low-carb foods, pre-seasoned ready-to-eat products, and more diverse ethnic items, IFT flavor suppliers were ready with trendy new flavors, sauces, seasoning systems, and flavor-masking and -enhancing agents.
--- PAGE BREAK ---
With health on the front burner, it's not surprising that fruit flavors were once again a major Food Expo trend. Fresh berry flavors, especially those with extreme intensity like cranberry, marionberry, blueberry, and blackcurrent, will form a new generation of tart and tangy candies, desserts, and beverages. While tropical fruits and citrus flavors, such as Treatt PLC's new Mango Treattarome 9830 for use in clear beverages, ices, and ice cream, will remain popular, expect the long-term trend to move toward more-exotic fruit flavors. Wild Flavors introduced cherimoya, passionfruit, starfruit, orange peel, prickly pear, and guava flavors. Kerry's Impact Flavors added pomegranate, tangerine, dragonfruit, agave cactus, lychee, and fig flavors to an ever-lengthening list.
Following the recent restaurant trend toward regional menu descriptors, watch for fruit flavors to be connected to their exotic source locations, such as Fuji Apple, Brazilian Plum, or Tahitian Vanilla. Among the trendy fruit-flavored applications showcased in Las Vegas were Blood Orange Seafood Ceviche and Filled Chocolates, Pomegranate Gazpacho, Starfruit Fruit Chew Taffy, and Organic Chili Lime Seasoned Popcorn. June Plum Caribbean Beverage, Orange Mango Banana Milk, and Blood Orange/Grapefruit Spritzer are indicative of the wide range of up-and-coming fruit drinks.
Health-promoting and exotic tea extracts such as Wild Flavors' Oolong, green, Rooibos, and Mate represent another important direction. Citrus Green Tea Vinaigrette, Pomegranate White Tea, and Organic Peach Lime Green Tea were among the refreshing tea-based products sampled at the show. Emerging herbs and seeds, including fennel, lemongrass, and herbes de Provence; "green tastes" for natural and organic flavors; and flavors certified as kosher/halal were other important directions. Look for botanical flower and blossom flavors to grow in popularity, such as Baristella's Orange Blossom, Rose, Violet Lavender, and Jasmine syrups. Near Water Pear-Herbs and an Orange Blossom Honey Almond Cookie were two pleasant-tasting prototypes.
Flavor marketers were also intent in doing their part to remedy the poor taste perceptions associated with the current crop of low-carb foods. Visitors to Kerry Ingredients' booth sampled Crab Rangoon Sticks made with yeast extracts that enhance flavor impact and mouthfeel. Kerry also sampled Rainforest Fruit Crocs, which featured fruit powders, flavored and colored soy crisps, nuts, and textured proteins, in a colorful tart coating enhanced with protein. Baltimore Spice featured a Low Carb Squealin Hot Seasoning.
With restaurants increasing the use of sauces to add flavor to high-protein foods and to appeal to nostalgic Boomers who equate them with fine dining, Land O'Lakes Ingredient Solutions' Sauce Technology line offers Hollandaise, Alfredo, Butter Sauce-Base, and Reduced Heavy Cream, which remain stable during manufacturing and won't break or separate when heated or reheated. Hidden Valley Dressing and Toppers for meats, salads or sandwiches are now available in Caribbean Vinaigrette, Sesame Oriental, and Parmesan Peppercorn in a variety of sizes, including single-serve.
With high-protein foods in vogue and restaurants continuing to use cooking techniques as flavor descriptors, it's not surprising that interest in grilled flavors is higher than ever. Kraft Food Ingredients Inc. expanded its Grill Flavors® line to reflect the latest cooking trends, with new Mesquite, Hickory, Lemon, Char-Grill, International flavors, and combination flavors such as Grilled Steak and Onion, Grill Fajita, Cajun Grill, and Grilled Hamburger. Wild Flavors' New Generation Beef flavors come in roasted, broth, grilled, and braised versions. Red Arrow's new Roastin® flavors impart the rich taste of a long, slow-cooking process. Its Off the Grill™ flavor—Grillin'® Chef 's Grill 3104—imparts a gas-grill flavor, followed by a subtle meaty/pork finish.
--- PAGE BREAK ---
Slow Char-Roasted-in-the Bag Pork Roast with Pan Drippings; Bistro-style Sautéed Turkey and Mushrooms with Wine and Pan Drippings; and Turkey Club Cheese Wrapper with Home-style Pan Drippings Spread and Sun-Dried Tomatoes were some of the scrumptious meat-based items tasted at the show.
Summit Hill® Flavors featured natural seafood flavors, including Natural Shrimp, Lobster, Crab, and Cod extracts, right on trend for the increased ordering of seafood in restaurants and Boomers' preference for seafood over other protein sources. Organic Valley Family of Farms introduced its "delicious organic ingredients from independent farmers," which included an array of products ranging from brown eggs and frozen poultry to pasteurized cheese and whey powders. RFI Ingredients is partnering with Overseal Natural Ingredients to offer Overseal Natural Food Colors.
With explosive sales of specialty cheese, it's not surprising that gourmet cheese flavors were a "hot" category in Las Vegas and were incorporated in a number of recipes, including Smoked Gouda Seasoning Dip with Vegetables. ButterBuds introduced XB Asiago, Gouda, Bleu, and Feta and other specialty cheese blends in powdered form. Kraft Food Ingredients added two new restricted-melt cheese sauces—Swiss American and Italian-style—to its line of modified-melt ingredients, perfect for frozen entrees, appetizers, enrobed sandwiches, and other applications.
Ingretec's Legend-Dairy™ Cream Cheese Type, Sour Cream Type, and Ranch Type Cheese Flavors are designed to hold their flavor intensity even in high-heat applications. But it's not just about cheese: Sargento offers IQF Sauces in a range of flavors—Mediterranean, Southwestern, and Nacho Cheese—and Single Serve Sauces in Queso, Cheddar, Salsa, and Marinara. And North Carolina State University's entry into the IFT Student Association Product Development Competition was right on target. Their MacnCheese Grabbers finger-food concept was a major new product breakthrough that took first place.
Adult flavors, including liquor-flavored concepts—prevalent in restaurant cooking over the last few years—were another sophisticated taste sensation introduced this year. Bell Flavors & Fragrances showcased Tequila-Flavored Gummies as well as a Lampshade and Peach Frozen Drink. Monarch Wine Co. featured its powdered Burgundy, Chablis, and Sherry flavors in addition to their line of gourmet vinegars, which range from Orange and Grapefruit Vinegar to Tarragon White/Red Vinegars. ButterBuds introduced Dried Beer Extract™ a spray-dried concentrate that gives beer flavor to batters, meats, baked goods, and snack seasonings. At the same time, nostalgic Boomer-directed flavors such as David Michael & Co.'s and Briess Malt & Ingredients Co.'s old-fashioned malted milk flavors are sure to bring back fond memories and great taste.
At the same time, the trend to ethnic, American regional, and Nouveau American ethnic cuisines continues. Cajun Injector offered uniquely flavored American regional marinades such as Creole Butter and Honey Bacon BBQ. Total Ultimate Foods' Buffalo Wing Sauce uses Grande Bravo 510 dairy protein as an ingredient and reconstitutes with water in minutes. Bruce Foods Corp. showcased its Yams, Squash, Okra, and White Potatoes.
--- PAGE BREAK ---
Moody Dunbar Inc., featured sweet Bell peppers in a variety of eye-catching colors, pimientos, and a new line of Marinated Roasted Peppers in Olive Oil and Garlic. On trend with the demand for flavor-intensive sandwich toppers, Dunbar displayed its new line of ethnic Roasted Pepper Accents in Hispanic, Cuban, Middle Eastern, and Asian flavors. Crystal's Crystal® Chipotle Sauce is now available in Crystal Chipotle Mayonnaise, Honey Glaze, Salsa, and Sloppy Joe's forms. Traina Dried Fruits' Premium California Sun-dried Tomatoes, Plums, Cherries, and Pears can add an upscale note to any food product. With the desire for "heat" still sizzling, check out Border Foods' Hot & Healthy line of chili peppers including Hungarian and Banana. Cholula Hot Sauce was featured in a Three Onion Salsa and Feta Dip with a "Cholula Kick."
"Umami," the Japanese word for savory, is another popular term which is believed to be distinct from the traditional taste qualities of sweet, sour, salty, and bitter. Ajitide™ nucleotides from Ajinomoto and Ajinomoto's monosodium glutamate work in synergy to capture the full sensation of umami. Kikkoman NFE-S Natural Flavor Enhancer, made from fermented wheat protein, offers balanced umami flavor, neutral color, and a "clean label."
Asian sauces such as Lee Kum Kee's Oyster, Chili Garlic, Hoisin, Plum, and Sweet Chili sauces are right on trend with the growing demand for more-diverse savory Asian flavors. First-time Food Expo exhibitor Yamasa Corp. USA introduced its Yamasa Naturally Brewed Soy Sauce, the winner of the 2000, 2001, and 2002 American Tasting Institute's Gold Medal for Best Flavor Enhancer. Kikkoman Liquid Products added a preservative-free and a clear soy sauce as well as a line of Sweet Rice Wine Seasoning and Salted Sake ingredients. Baltimore Spice featured Red Curry Thai Snack Seasoning, while Kikkoman continued to innovate with Sushi Chips, a crispy sesame-wasabi rice chip/cracker, and Rice as a Bun, a hand-held serving of rice that can be eaten like a bun.
At the same time, several ingredients were introduced that enhanced the featured flavor or helped to block undesirable flavors. ABIC International Inc.'s AMP™ blocks the bitter taste often left behind when potassium chloride is added to low-sodium foods. Recent studies using Jones-Hamilton Co.'s pHase™ Acid Sensory Enhancement ingredients indicate that it can mask the unpleasant aftertastes associated with artificial sweeteners and that sweetener levels can be reduced by 15% with minimal difference in perceived sweetness. Grande Custom Ingredients Group's Grande Gusto natural whey flavor enhancers replace MSG, HVP, and other chemically modified products. They are low in salt/fat, are certified kosher and halal dairy, and can be labeled as a "natural flavor" or "milk solids." Amax NutraSource's line of Natural Flavor Enhancers is ideal for low-carb beverages, confections/icings, baked goods, tortillas, pizza dough, and bagels.
Everything Mexican and Latin continued to draw a crowd. Attendees sampled Carnitas with Mango Jicama Slaw and Orzo Mexican Caviar featuring an all-natural low-fat soy flour, lower net-carb/high-protein soy powder, and organic seasonings. Baltimore Spice featured an Española Chili Dip Seasoning, Dulce Cinnamon Snack Seasoning, Adobo Dip Seasoning, and a Jalapeño Cheddar Dip Seasoning. Kraft Food Ingredients' Cuisine Mexico-Pueblo-Style Flavors were used in skinless chicken drumettes to replace the natural fat from the skin. Sugar-Free Mexican Flavored Hard Candies; Lettuce Tacos Filled with Santa Fe-style Char-grilled Beef; Dulce de Leche Ready-to-Drink Coffee; and Mexican soups, such as Shrimp Broth with Chili, Beef Broth with Guajulo Chili & Epazote, Pork Broth with Chili and Oregano, Corn Broth with Epazote and Tomato, and Tortilla and Chicken Broth with Tomato, Epazote, and Guajilo Chili, were some of the dozens of featured foods. Distinctive forms and flavors of caramel, a Latino favorite, were featured throughout the show.
--- PAGE BREAK ---
Perhaps most notable was the growing incidence of suppliers offering the fastest-growing ethnic cuisines: Middle Eastern, Greek, German, and Indian. Baltimore Spice featured Greek Tzatziki Snack Seasoning, German Shallots & Peppercorn Dip Seasoning in Sour Cream, and Thai Red Curry Dip Seasoning. Universal Oleoresins introduced its new exotic range of "Indian Flavors" for the dairy industry, as well for use in beverages and other products. The new flavors include Spice Drop™ Saffron and Spice Drop Saffron Milk Mix. Attendees also sampled Moroccan Spiced Beef with Cucumber Tomato Riata.
And despite the growing demand for health, there is nothing like a good treat, snack, or dessert. Healthier snack versions included Mixed Berry Breakfast and Cinnamon Sweet Roll Flavored organic bars, Organic Mesquite Seasoning on roasted almonds, Organic Thai Sweet Chili Seasoning on chips, and Organic Creole Type Seasoning on trail mix. Kraft Food Ingredients's desserts included Oreo® and Dulce De Leche Cream Cheese Truffle Pie; Oreo and Coconut Magic Bars with Caramel; Caramelized Coconut Crème Brulee and Fresh Summer Berries; and Oreo Cheesecake-Pecan Pie with Caramel Drizzle. Rhodia introduced a microwavable cake, brownie mix, and pizza. Its Tortilla-Rise™ provides a valuable tool for improving the leavening of tortillas and giving a better surface texture and brown points.
Amoretti offered a variety of baking mixes and ingredients for upscale bakeries, including Cappuccino Tiramisu Compound, Liqueur Flambé, Almond Pastes, and Rolling Fondant. And once again matching the glitter of Las Vegas was Watson Foods' colorful gum-based glitter—great for decorating baked goods, sprinkling over ice cream, or mixing into yogurt, gelatins, and puddings.
And with all of the new advances, even salt isn't salt anymore! Cargill's Alberger® Brand Salt's unique pyramid-shaped natural salt crystal gives it a variety of properties such as increased solubility and adherence to snack foods. It is sold customized for various applications. Icelandia Life Sea Salt® has 60% less sodium, more potassium, and magnesium and is 100% natural.
by A. Elizabeth Sloan, Contributing Editor
The author is President, Sloan Trends & solutions, Inc., P.O. Box 461149, Escondido, CA 92046. E-mail: [email protected].