To the throbbing rap beat of the theme from Men in Black, the stalwart "Men in Chocolate" strode determinedly to the stage in their distinctive white jackets, cool shades, and black berets embroidered with their team name. Presenting "Elegant Endings," a novel dessert kit concept, the four-person team provided a fitting finale to the three-day Culinary Challenge at the 2004 IFT Annual Meeting + Food Expo.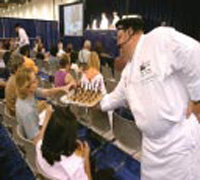 The enthusiasm and creativity of this team epitomized the spirit and skill shown throughout the event. Conceived by Mark McLellan, Past President of IFT, and Steve Schimoler, President of the Research Chefs Association, about one year ago, the concept was implemented by Roy Hlavacek, IFT Vice President, Communications, John Matchuk, Corporate Chef at T. Hasegawa and an RCA officer, and Rob Brannan, Research Chef at Pierre Foods. McLellan and Schimoler served as emcees and hosts throughout the event.
RCA is a relatively young professional association devoted to promoting the careers, quality, and opportunities for research chefs—meaning those trained in the culinary arts, certified after defined years of experience and training, and mostly employed in product development for industry. Many research chefs have backgrounds in restaurants and often are employed by foodservice chains and suppliers. Others work for large food companies and as consultants.
IFT, of course, is a professional society whose members are mostly trained as food scientists, nutritionists, or engineers. Many members are academics from the 50 or so food science and technology departments in the United States and other countries.
For some years, it has been clear to members of both organizations that their interests had much in common and that joint activities of some sort would make a lot of sense. Finally the idea for the Culinary Challenge crystallized.
The Challenge
The Culinary Challenge was conceived as a demonstration of the benefits of the blending of culinary arts and the science of food, what RCA has trademarked as Culinology®. Each team of chefs, food scientists, and students would develop a new food product in about two months (or less, in some cases). The products would be aimed at one of seven categories and would be intended for relatively large-scale manufacture. The product categories, discussed in more detail below, were Fine Dining, Manufacturing/Private Label, Retail/Entree, Business & Industry/Catering, Theme Restaurants, Quick-Serve Restaurants, and Retail/Dessert.
One early challenge was how to select and assign team members. Since all were volunteers with their own obligations, invitations were extended to long-time supporters of both organizations, active members, and those suggested by officers and others. For example, one student member, Don Moss, is the first graduate with a degree in Culinology from the University of Nebraska-Lincoln, and so was known to RCA.
--- PAGE BREAK ---
Given the interest and warm reception of the event this year, finding future participants is going to be a matter of difficult selection rather than avid recruiting. It is safe to say that active involvement in the two associations, and support through advertisements, exhibiting, and membership, will bolster one's case for participation in the future.
Another consideration in planning the Challenge was to add excitement to the Food Expo floor. At the same time, it was important not to clog aisles or to obstruct exhibitors. Accordingly, a pavilion was established at one side of the Food Expo with about 100 chairs, some tables, and a stage flanked by screens showing the proceedings. The executive chef of the Las Vegas Hilton Hotel and the catering staff of Aramark cooperated by providing utensils and supplies. On stage, there was power for small appliances, an oven, a holding refrigerator, and a table. Off stage, there was a preparation area, where Matchuk and volunteers worked in support.
Each team gave a presentation on its work process, the resulting concept, and some lessons learned, then presented samples to the audience. It was clear that all team members learned from the experience. For example, a normal role for a chef is to prepare a "gold standard" of a concept. If the chefs were to rely exclusively on their culinary training, they would normally choose fresh ingredients, if possible. With food scientists on their team, the chefs learned of special starches, frozen ingredients, and flavors that enabled production of a special dish at lower cost, more consistently and more conveniently than otherwise would have been possible.
Fine-Dining Dessert: Playing with Texture
The first session featured Chef David Burke [1], owner of davidburke & donatella, an upscale New York restaurant, and also a member of the RCA board. In his restaurant, Burke serves a panna cotta dessert, a raspberry mousse with a gelatin cap, often presented in an egg shell. The team decided to demonstrate how a versatile base using modified tapioca starch and gelatin could become a variety of desserts, including a pretty good copy of Burke's signature dish.
As fragrant smoke drifted from the curried cotton candy stirred by Lauren Brown, a Culinary Science student at the University of Cincinnati, Burke and Janet Carver [1], a 14-year veteran of National Starch, told the audience about replacing eggs and gelatin in the "gold standard" base. Ordinarily, pastry chefs soak sheet gelatin to hydrate it and often have to cope with inconsistencies, and always with a time-consuming process. The combination of modified tapioca starch and carrageenan gave a clean flavor and good setting properties.
The team then explored other textures and the impact of other flavors. They made bubble gum raspberry ice cream by freezing the base mix. The panna cotta was enhanced with an orange stained-glass tuile, replacing the traditional candy, which is vulnerable to humidity, with a more durable confection.
--- PAGE BREAK ---
Rob Brannan of Pierre Foods was the team coach. Coaches were charged with facilitating communications, serving as backup in case another team member had conflicts, and in Brannan's case, recruiting students to the teams.
Burke said that for him, one of the great outcomes was the discovery that he could thicken his beloved coffee with the modified tapioca starch and create a new texture sensation. He sees opportunities for that concept in novel bar drinks as well.
Another novel dessert was a breaded and fried piece in which the center melted during frying so that the sensation was a burst of liquid flavor in the mouth. Samples of all the desserts were offered to the standing-room-only audience.
Burke already has developed a few commercial products from his restaurant kitchen and sees the panna cotta base as another possibility. Samples of his cheesecake lollipops were available to the audience. Despite the short time for development, Carver felt that the final results were pretty close to optimum. She said she would tinker a bit with flavor and texture.
Burke affirmed that starches and flavors were increasingly common items in his kitchen and those of his colleagues. One of his more generous gestures was to have Brown work with him for a day in his kitchen, a very exciting experience for a young culinary student. Generosity, collegiality, and cooperation really characterized all of the teams.
Manufacturing/Private Label: Hot and Trendy
Chef Eric Sparks [2] of Park 100 Foods is in the business of providing custom foods in large quantities to restaurant chains. He typically starts with a product inspired by some fine-dining menu and scales it up to be manufactured in 700-lb or larger batches, then frozen.
The team, which included food scientist Kim Lehman of Innova/Griffith Labs, Connie Childs of Kentucky Fried Chicken as coach, and student Ashley Spokowski of Clemson University, decided to create a dish that was hot and trendy, by which they implied Caribbean-influenced, manufacturing-friendly, flavorful, and eye-appealing. In several conference calls, they established the parameters of their target. Lehman, with her access to Innova's library of flavors and ingredients, created several prototypes.
Important variables included whether to use fresh or frozen vegetables. The issue was cost, as compared with quality. The team concluded that, with the exception of celery, frozen vegetables were cost-effective and gave acceptable texture and flavor. The target product was a Caribbean shrimp, corn, and sweet potato chowder. Viscosity was adjusted with starches, then again with gums when starch was reduced to lower carbohydrate levels.
--- PAGE BREAK ---
Freeze-thaw stability was tested and improved with starches and gums. A high-quality frozen creamed corn was located and then enhanced with a sweet corn flavor from Innova. Shrimp content was increased over the first prototype after the team convened and compared various test batches of about 5,000 g. Sweet potato pieces were made larger and more irregular. It was discovered that cooking the mix concentrated the flavors in a desirable way.
The standard process at Park 100 is to cook the product in kettles to 185°F, add sensitive ingredients, and cool to about 165°F, where it is held for at least 1 min, then filled hot into 4-lb bags which are frozen over about 65 min. Before filling, every batch is tasted as a last quality check. The team used 20-lb kettles in the Culinary Challenge.
The crowning touch for the new chowder was the suggested garnish to be added in the serving restaurant. Some ideas that were floated including using coconuts as bowls, adding fried plantain, using chopped mango, fresh cilantro, and toasted coconut, and using a habanero cream. The first version of a whipped cream with a habanero flavor from Innova was one-dimensional, but addition of a bit of sugar rounded it out. A restaurant could buy the flavor and make the cream, or—more likely, given the consequences of human error with such a strong flavor—the cream could be prepared and frozen, probably with the aid of some stabilizing starch. The final preparation included the flavored cream, chopped mango, fresh cilantro, and toasted coconut. Small samples were distributed to the appreciative audience.
Sparks said that he learned the value of industrial ingredients, such as frozen creamed corn, which capture for year-round availability the fresh flavor of a seasonal vegetable. The synergy between the magic of a flavor-savvy food technologist and the creativity of a chef in presentation and imagining the target flavor profile in the first place was clear in this team. The end result was a product that most felt was close to market-ready after a short and unconventional development effort.
Retail/Entree: Kortney's Kornucopia
Kortney Kamok [3], a graduate of the University of Georgia now attending culinary school, inspired the concept of an upscale, healthy frozen entree with a side dish. ChefNick Spinelli [4] of Kraft Foods supported the idea of a sauteed chicken breast with a tomato, mushroom, and shallots sauce. Normally, he would rely on the fond in the pan to be the base for a sauce, he said, but this is impractical on an industrial scale.
A commercially available cooked chicken breast, portion controlled and with a grilled flavor, was found from Tyson. To replace the fond, some chicken flavor was added to the sauce. Grilling can create bitterness, said Spinelli, but coach George Tucker of International Dehydrated Foods, Inc. (IDF) pointed out that bitterness is not all bad. Wine, tomato, and chicken flavors all helped round out the sauce, according to Spinelli, explaining why the sauce had added marsala wine.
--- PAGE BREAK ---
Mike Helbig of Newly Weds Foods was responsible for developing the side dish of green beans, for which he decided to create a dry sauce base that would be reconstituted with water by the user.
An overriding concern for this team was the label, especially the nutrition information, which distinguishes a retail item from a foodservice product. Kamok used a computer program to calculate the nutrition information as formulas were modified.
Kortney's Kornucopia is a concept for an entire line of frozen meals that would generally conform to the South Beach Diet Phase I and have an upscale image as well. The meals would be packaged in a two-compartment polymer tray that was microwavable and would keep the two components from mixing. The dry vegetable sauce could be econstituted in the tray.
As hard as it was for the team to develop a creative concept in about three weeks, they were further challenged when their chicken breasts were held captive at O'Hare Airport by a power outage. So they prepared and sampled their marsala, tomato, and mushroom sauce, which was delicious, and shared their thought processes, experiences, and learnings. Kamok had her first real experience with an industrial team, and, of course, had the gratification of seeing her idea brought to fruition.
Business & Industry/Catering: Creative New Uses
Luiz Tecedor [5], Research Chef and Technical Representative consultant for IDF, led the team with Dana Cornelius of Litehouse Dressings and two enthusiastic students, Cathy Parsons [6] of Cal Poly and Shannan Sombers of Purdue University. The concept they developed was cold sauces for hot foods, using existing marinades offered by Litehouse. The marinades are sold in groceries as retail products, along with a line of salad dressings. The challenge for the team was to create new presentations of vegetables and proteins suitable for a 10-store chain of restaurants. The same approach would be attractive to college or industrial cafeterias, where foods are often offered on steam tables.
The marinades are shelf stable and packaged in 32-oz PET bottles, four to a case. Being shelf stable and ready to use, they save labor in food preparation. Used as marinades, they were applied to various proteins which were then prepared by grilling or roasting. In addition to providing flavor, the marinades help meats retain moisture under holding conditions.
While marinating meats was the original purpose of the existing products, using them on vegetables was a completely new idea. Cornelius provided the marinades in Jamaican Jerk, Lemon Herb, Honey Dijon, and Mesquite Tequila versions. Tecedor conceived the pairings of meats and vegetables with the various flavors.
--- PAGE BREAK ---
Sombers and Parsons assisted with the presentation at the demonstration, and, while they have academic and industrial experience, both felt their experience on the team was special.
The products presented, more than done by any other team, were grilled shrimp with lemon herb marinade, grilled filet with Jamaican Jerk, roast pork with honey Dijon, chicken breast with Mesquite Tequila, cabbage with Honey Dijon, oven-braised bok choy with Jamaican Jerk, and spinach with hot lemon garlic. The vegetables were sautéed or steamed, and the marinades were used as sauces.
Tecedor commented that in foodservice, it is important to leave something for the chef to do, so various creative garnishes, such lemon peel, bacon bits, and nuts, could be applied to the presentations.
Discussion inspired by the tasting and presentation touched on trends in college feeding, including concerns about sustainable agriculture, low-calorie, organic, and other issues. Schimoler, as emcee, observed that colleges have kitchen managers, not chefs, so offering an easy-to-prepare and attractive dish like warm spinach salad was surely welcome.
Tecedor pointed out that because of other obligations the team had only 21 days in which to develop their solutions. Furthermore, Tecedor had been the coach, but after losing their original chef, he stepped into the role of chef, demonstrating the wisdom of having a reserve on each team. Parsons had been on another team which was dispersed, so she joined at the last minute.
Returning to the question of issues influencing college foodservice, Schimoler asked how Litehouse was responding. Cornelius pointed out the difficulty of finding organic suppliers of the ingredients for her marinades and dressings. Inspired by the success of the team, Litehouse is considering marketing its dressings and marinades for foodservice and introducing 2-oz ounce sample pouches to be given to restaurant customers.
In contrast to some other teams, Tecedor did not try to create a "gold standard" before applying the commercial products. Rather, he relied on his 25 years of experience to conceive combinations that he knew would taste good.
Theme Restaurants: Pizzaiola del Manzo for Buca di Beppo
Chef Kevin Kleist [7], Director of Culinary Development for the 95-store Buca di Beppo chain, challenged his team with one of his pet research projects. The chain offers generous, immigrant Southern Italian–style dishes. Kleist wanted to offer braised, boneless beef short ribs over a pizzaiola sauce of tomatoes, herbs, peppers, and onions. Yet, knowing that "If you have 95 restaurants braising the ribs, you are going to get 95 different results," the team needed to apply food science to deliver a high-quality manufactured product that matched Kleist's vision and gold standard.
--- PAGE BREAK ---
Ted Herrara, consulting food scientist, tackled the sauce component, while student Don Moss [8] of the University of Nebraska developed the meat. Chris Hansen of Quest was coach.
Braising is a powerful culinary technique for developing meat flavor and tenderizing tougher cuts of meat. It normally takes 6–8 hr of low-temperature cooking. A distinctive characteristic of culinary braising is the rich, seared browning of the outer part of the meat.
It is difficult to duplicate this distinctive browning in typical commercial meat cooking, which usually occurs in a sealed bag. Flavors may approximate the seared taste, but not very convincingly. Moss took advantage of the University of Nebraska's conveyor grill to sear boneless short ribs after they had been marinated and vacuum tumbled. He added some phosphates to improve moisture holding. Searing was done at 500°F for 4 min, then the pieces were put in a polymer bag and cooked at 200°F for 6 hr. After chilling, the bags were opened to remove purged fat and liquid, and portion-sized pieces were repackaged and frozen.
Because the meat is prepared separately from the sauce, it can be used in other dishes after simple reheating in the bag.
Herrara built the sauce around individually quick-frozen peppers that had been fire roasted. This step helped set the vegetable structure. He used commercially available canned tomatoes, and added some pepper and beef flavors to compensate for the fact that he could not use the cooking liquid from the beef. Herrara's Italian mother-in-law gave her approval.
The gold standard had used fresh parsley and basil as a final garnish, but Herrara used IQF herbs. Kleist pronounced his satisfaction with the sauce as "pretty close to target." He would use a special, high-solids Buca crushed tomato, joking, as he used the term "Brix" to describe the tomato, that he could use scientific language if he wanted.
Moss made one of the more significant contributions of all the student participants with his creative meat process. He is the first graduate in the U.S. with a degree in Culinology, offered by the College of Consumer Science at the University of Nebraska. Moss started in animal science before switching to Culinology when it was first offered and is now in graduate studies in animal science. It is safe to say that he will be in demand among meat processors when he finishes his degree.
--- PAGE BREAK ---
Quick-Serve Restaurants: Ubiquitous Beef
Quick-serve restaurants are one of the more challenging sectors of the food industry, considering their cost constraints, volume, and popularity. Brock Zentz, Research & Development Manager, National Accounts for Pierre Foods, described the team's challenge as developing a restructured or solid muscle meat that could be used in multiple applications, for breakfast, lunch, and as a salad topping. It should not have soy or any allergen, no genetically modified organisms, and no monosodium glutamate. There had to be a large quantity available (enough to supply 5,000 stores without driving up the price), and it had to be of high quality and preferably have a marketable pedigree name, such as sirloin. "Sufficient quantities" meant about 12 lb per animal.
The product had to have a fresh, seared flavor character; be able to be held for 30 min without losing flavor; have a tender, uniform bite; and be useful in hot and cold applications—all this for about 20¢/oz!
Pierre makes restructured meats, so Zentz started there. It is common to use lower-quality cuts to reduce cost, but they needed a large cut. Annual volume requirements are estimated as 30–50 units/day/store. Multiplied by 365 days and 5,000 stores, the volume is substantial, to say the least.
Strips of beef are a high priority for quick-serve restaurants because of their versatility. However, other restructured products have some undesirable features, including too regular an appearance and poor flavor.
Pierre had a random mold which permitted making a large slab that could be sliced as needed. Zentz reminded the audience that quick-serve restaurants can have 200% annual turnover among their employees and as many as 40 items on the menu, served over three shifts. Simplicity is a requirement.
Selling price is estimated as about three times the food cost, so at 20¢/oz, with a 3-oz serving, the cost of the meat alone is $1.80, before adding bread, greens, or condiments.
Imperatives for the product included good texture, a clean label, and low salt content; the raw material availability, as previously mentioned; holding quality, achieved in part with phosphates; and ability to be cooked on a 350°F grill in 3 min or less. Culinary influences included achieving flavor with a marinade and the presentation of the applications.
--- PAGE BREAK ---
Peter Gibbons, Senior Vice President, Noble Associates (a food marketing agency), was chef for the team, and Danny Bruns [9], Corporate Chef, Kerry Americas, was coach. Rachel Neal, a recent graduate of the University of California, Davis, helped prepare the samples and commented that she learned a lot about working in teams.
The specific applications used a layering of flavors. So, for example, Hangover Helper was a breakfast steak sandwich with tobacco onions (fried with pepper seasoning), smoked Gouda cheese, and a mild, shelf-stable horseradish sauce on a breakfast brioche. The goal was to achieve a umami flavor (the fifth taste) with a lingering effect rather than a flavor spike.
The lunch application was Tuscan Steak—grilled steak with sautéed button mushrooms, caramelized sweet Vidalia onions, herb-laced Mozzarella cheese, and a roasted tomato demiglace on focaccia.
The Hudson Valley Harvest Salad was grilled steak, fire-grilled peppers, Maui onions, zucchini, Maytag blue cheese, and candied walnuts on a bed of fresh field greens with an apple walnut vinaigrette dressing.
Zentz avoided adding flavor to the meat, to preserve its versatility. He said the meat they developed is not quite the product Pierre desired, but it is close. They would need to work with quick-serve restaurant customers to achieve the final product.
Retail/Dessert: Elegant Endings
The "Men in Chocolate" mentioned at the start of this article were Chef Charles Hayes, Director of Research & Development, Schwan Food Co., coach Greg Grisanti [10], Research Chef at Mane Inc., James Bell from Kraft Foods, and student Steve Corson from Michigan State University. Elegant Endings is a concept for a dessert kit permitting a home cook to exercise his or her creativity without spending the entire day in the kitchen.
The concept was to achieve an upscale chilled dessert with an exotic touch plus chocolate. One driver was to achieve dynamic contrast—smooth and crunchy, cold and hot. A gold standard was chocolate mousse in a pastry shell. The team immediately realized that the shell must be protected with a moisture barrier, such as white chocolate or palm oil.
A dry mousse base was prepared using modified starch to deliver an aerated foam that looked cooked but was not. Grisanti brought flavor beads from Mane which allowed the cook customer to mix and match flavor combinations. Shells were developed in flavors such as butter, ginger snap, and hazelnut.
Corson researched competing offerings in groceries and suggested a price point of $5–6/package of 12 shells and enough base and beads to fill the shells.
Samples were presented garnished with fresh berries, chocolate shavings, and nuts, giving just a small taste of the opportunities for creativity by the user.
The team was convinced that the brand and product concept is a winner, liable to be commercialized.
--- PAGE BREAK ---
Creative Synergy
The Culinary Challenge at the 2004 IFT Annual Meeting + Food Expo demonstrated vividly to several hundred people that creative synergy is sparked when chefs and food scientists collaborate in product development. Team members from both professions testified to the learning and fun they experienced as they worked together, often at a distance, under ridiculous time constraints, and while trying to do their normal jobs. The students who participated, in particular, had the novel and enriching experience of working with some of the more successful chefs and scientists in the industry.
IFT had hoped to bring some excitement to the Expo floor while not antagonizing nearby exhibitors. In this they succeeded wildly—the exhibitors in the closest booths were thrilled at the traffic in what otherwise would have been a relatively desolate area of the hall. The 100 chairs set up in the presentation area were filled for every one of the seven sessions, and usually there were standing observers.
RCA had hoped for—and obtained—greater visibility for its members and appreciation of their potential contribution to food company research. Any company without a research chef should be envious of those who do have one, after seeing how they can contribute. Likewise, any company relying exclusively on culinary arts should appreciate what food science can provide in the way of reliable ingredients, convenient mixes, and distinctive flavors.
Across all the examples presented by the teams, there were numerous instances of modified starches, flavor boosts, and always-available ingredients, making creative concepts into practical and consistent manufactured products. Just hearing about and understanding the real constraints for various food markets, whether retail, fine-dining, or quick-serve, was an important education in itself.
After almost a year of "thinking and saying it would be nice to do something together," IFT and RCA have presented a complex, enjoyable, and educational experience that should benefit both organizations and their members. Certainly, all who participated and all who observed benefited greatly. The big challenge for next year will be how to satisfy all who want to take part.
---
Behind the scenes
An extraordinary amount of work went on behind the scenes at the IFT/RCA Culinary Challenge, and the people involved deserve recognition as well as those on stage.
John Matchuk [11],Corporate Chef at T. Hasegawa's Chicago Culinary Center, was the prime mover behind the Culinary Challenge and was RCA's representative in the planning. His counterpart at IFT was Roy Hlavacek, IFT's Vice President, Communications.
Matchuk, a former officer of RCA, had had experience in organizing such an event before—the Midwest Food Processors Conference (see Food Technology, January 2004, pp. 71–73)—and he established the methodology and framework used in both Culinary Challenges and did the immense job of organizing the seven teams of chefs and food scientists involved in the presentations.
IFT Past President Mark McLellan (at left in [12]) and RCA President Steve Schimoler [13], in addition to conceiving the event, served as on-stage commentators.
Catherine Propper, Research Chef at ConAgra, and Jack Cacciabondo, IFT's National Sales Manager, were responsible for the stage and pavilion design. Matchuk and Anne Hildebrandt, Research Chef at T. Hasegawa's Chicago Culinary Center, worked behind the scenes during all seven of the presentations. Rob Brannan, Research Chef at Pierre Foods, was the head coach for the event.
Many others volunteered their help.
They all contributed to the success of the event.
---
Your suggestions are welcome
Based on the very positive preliminary response to the Culinary Challenge Pavilion at the 2004 Food Expo, IFT is inviting comments about the event, as well as suggestions regarding presenting a similar program at next year's Food Expo. Send your comments and suggestions to Roy Hlavacek, Vice President, Communications, Institute of Food Technologists, 525 W. Van Buren, Suite 1000, Chicago, IL 60607 (fax 312-416-7921, [email protected]).
by J. Peter Clark, Contributing Editor
The author is Consultant to the Process Industries, 644 Linden Ave., Oak Park, IL 60302, [email protected].