Approximately 500 people visiting the New Products Pavilion at this year's IFT Food Expo® in Las Vegas learned about emerging trends in new products around the world and had the opportunity to taste about 50 of the newest products from various countries.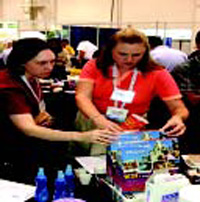 Cosponsored by IFT and Mintel's Global New Products Database, the pavilion featured presentations on Health & Wellness Ingredient Trends, Ethic Flavor Trends, and Convenience and Packaging Trends by David Jago [1] and Lynn Dornblaser [2], Directors of Consulting Services at Mintel. Sessions were presented two per day on Tuesday through Thursday and one on Friday. Each session concluded with a tasting session of many of the products mentioned in the sessions.
Products Shown and Tasted
Dornblaser and Jago presented PowerPoint presentations of many products (see accompanying table) and invited participants to taste many of them after the presentation. After each tasting session, the attendees were asked to rank their favorite products as well as the products they thought would have the most impact. A bottle of water with a belt clip from China, Feta cheese potato chips from the United kingdom, Turkish Doritos with poppy seeds and tomato flavoring, and a probiotic supplement to help strengthen the body's natural defenses were the products voted the favorites. Among the products that attendees thought would have the most impact were Dannon's DanActive probiotic supplement drink, Hershey's Kit Kat Lemon and Yogurt White Chocolate Fingers, D&B Specialty Foods' Chef 5 Minute Meals Prepared Meals, and Unilever's Knorr Instant Soup Cubes.
"Sometimes a very simple concept, such as high-quality soup cubes, can make a significant difference in the marketplace, and the attendees at the sessions recognized that," Dornblaser said after the event. "Also, unique flavor variations, such as a summertime limited-edition chocolate confection or an ethnic twist on a standby tortilla chip, also can spark ideas for new product development among many companies."
With respect to health and wellness, Dornblaser and Jago recommended that companies should accentuate the positive benefits of the product, such as inherent goodness, natural and organic (especially in the United States); target the health needs of older consumers; focus on balance and well-being; and consider beauty inside and out.
With respect to convenience and packaging, they recommended not over-engineering the convenience. Single-serve plus value equals success, they said. Convenience alone is not enough—marry convenience with other attributes. Consider packaging for older consumers.
With respect to ethnic flavors, Dornblaser said that the emerging ethnic cuisines for the U.S. are Indian and North African. She concluded by recommending that with respect to authentic and regional flavors, companies should "keep thinking global and acting local, but take that local thinking global."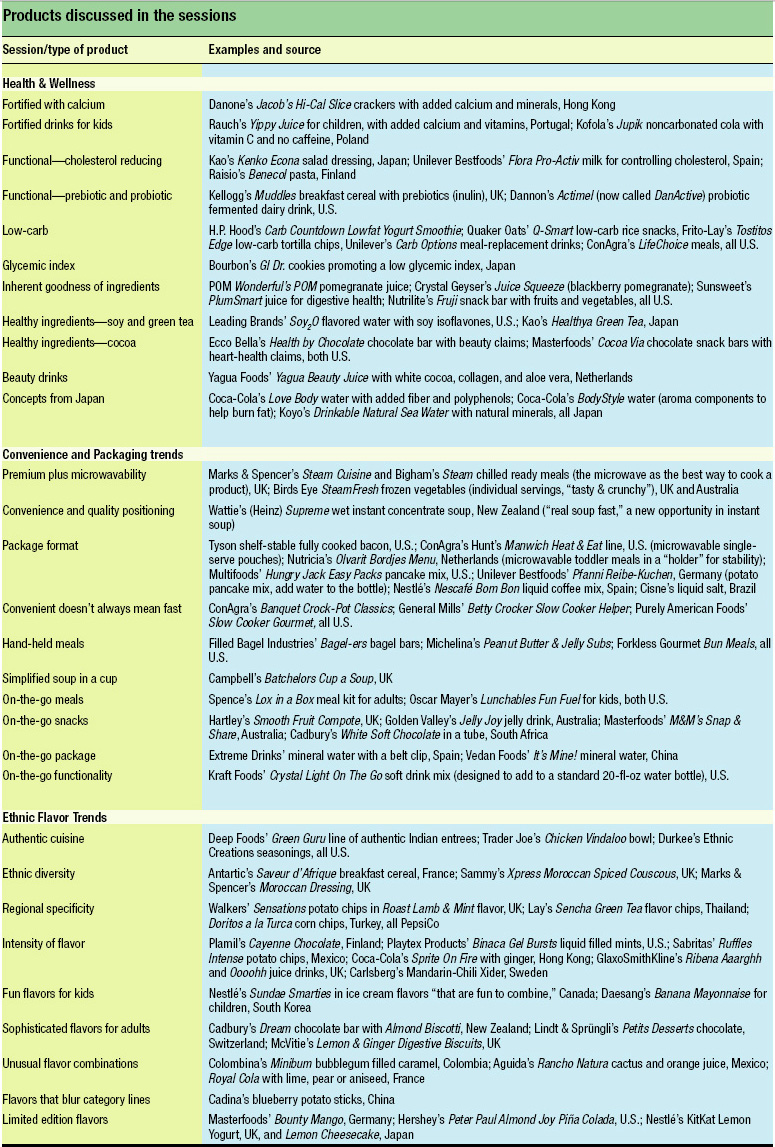 Suggestions Are Welcome
The sessions were well received by the attendees. Based on preliminary results of the questions attendees were asked after each session, 98% said they learned something new from the session, 98% said they saw products that they had never seen before, and 95% said the presentation and tasting inspired them with some new ideas. Overall, 64% rated the session excellent, 32% good, and 4% okay. Based on this favorable response, IFT is inviting comments about the event, as well as suggestions regarding a similar program at next year's Food Expo. Send your comments and suggestions to Roy Hlavacek, Vice President, Communications, Institute of Food Technologists, 525 W. Van Buren St., Suite 1000, Chicago, IL 60607 (fax 312-416-7921, [email protected]).