Three stimulating New Products & Technologies sessions at the IFT Annual Meeting described new processes, instruments, novel ingredients, and innovative products for health and food safety.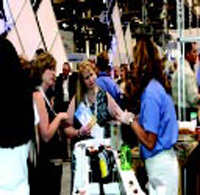 H. Durand Lallemand/Institut Rosell presented Probiocap®: a protective technology to improve viability of probiotics in food. Lactic acid bacteria commonly used as probiotics are relatively sensitive to physico-chemical stresses such as heat, acidity, or mechanical constraints; as a consequence, most of the conditions encountered in food manufacturing are generally deleterious for probiotics, thus limiting the possibilities of use in a narrow range of formulations. A process based on coating freeze-dried lactic acid bacteria with fatty acids in specific conditions has been designed primarily for food supplement applications.
S.A. Anderson, IKA Works, Inc., discussed wet milling of difficult materials with the cone mill, a new type of mill that provides superior wet-milling performance compared to traditional mills, such as colloid mills. The hybrid tool combines the "grinding" action of a stone mill with the fluid-dispersing capabilities of a colloid mill. The conical-shaped rotor and stator utilize spiral-shaped teeth for pre-milling, then a coarse surface coating for fine milling.
L. Majno, Instron Corp., described food testing with the In-Spec 2200™ handheld tester, a lightweight precision instrument that provides a new level of portability for characterizing the physical properties of food and packaging. Weighing less than 7 lb, the battery-powered instrument can be used virtually anywhere while providing the accuracy and functionality normally associated with larger, more expensive systems.
S.R. Grant, ADI Systems Inc., discussed the membrane biological reactor, a relatively new technology in North America for the treatment of industrial wastewater. It is an activated sludge process that uses a membrane system to retain the biological solids within the system rather than using gravity or dissolved air flotation for solids separation.
D.E. Best, Pizzey's Milling USA, discussed nutraceutical applications for whole flaxseed in baked goods and beverages. Among the major grains and oilseeds, flaxseed contains the highest level of omega-3 oils (22% by weight) and is the only oilseed for which the omega-3 content exceeds the omega-6 content. The highly unsaturated oil content of flaxseed (40%) makes flaxseed a challenging raw material, prone to unwanted oxidation of the oils as a result of improper processing, handling and storage. A process has been developed whereby full-fat flaxseed flour can be fine-milled to a 30- and 40-mesh grade without damaging its shelf stability.
--- PAGE BREAK ---
J.T. Heimbach, Toxicology & Pharamacology, Inc., spoke on a new way to protect food from microbial growth. Ethyl-N-dodecanoyl-L-arginate hydrochloride (LAE) is a new product manufactured and patented by Laboratorios Miret, S.A. (LAMIRSA) of Barcelona. Desirable properties of LAE include its suitability for use in many different foods and beverages, effectiveness in inhibiting the growth of a broad range of microbial pathogens and spoilage organisms, low minimum inhibitory concentration, and extremely low toxicity.
E. Pinthus, Adumim Food Ingredients, presented new beverages containing nano-emulsions of soy isoflavones. The use of isoflavones in functional food products is limited to solid food systems and opaque beverages due to the fact that isoflavones are insoluble in water. Moreover, drinks containing isoflavones often exhibit undesirable effects such as sedimentation and "sandiness" resulting from the particle characteristics of the commercial isoflavone complexes. Recently, Adumim succeeded in formulating oil-based concentrates that are easily diluted in aqueous systems to form nano-emulsions.
Z. Nir, LycoRed Natural Products Industries, described a new natural tomato lycopene source for the food industry. Epidemiological, in-vitro, in-vivo, and clinical studies substantiate the beneficial role of tomatoes and tomato products in the prevention of degenerative diseases. Recent research findings indicate that it is not lycopene alone but rather the synergy of lycopene with the other tomato phytonutrients that is responsible for these benefits.
H. T. Barnes, Kemin Foods, discussed FloraGLO® lutein with ClearTEC™ coating. Lutein is an oxygenated carotenoid that absorbs visible light and plays a role in the quenching of singlet oxygen. There is accumulating evidence that lutein protects against photoaging in the skin and age-related macular degeneration. However, as a fat-soluble carotenoid, lutein is difficult to incorporate into water-based systems and limits a manufacturer's ability to produce functional beverages with the nutritional benefits of lutein. Kemin developed a novel delivery system for the inclusion of lutein into beverages.
S. Lawlor, GTC Nutrition LLC, described CalciLife™, which combines a unique, sea plant–derived mineral matrix rich in calcium, magnesium, and a variety of trace minerals with the calcium-absorbing power of short-chain fructooligo-saccharides (sc-FOS). Recent research shows that this combination significantly increases calcium absorption and has positive effects on bone mineral density and bone mineral content.
J.K. Ashby, California Natural Products, presented a trans-fat replacer for baked goods. Bake-Trim™ can replace much of the functionality of trans fats, with the advantages that the ingredient declaration is simply "rice syrup solids" and the product can be certified as "organic" (95% organic).
--- PAGE BREAK ---
P. Decock, Cargill, inc., discussed low-carb innovations with Eridex™ erythritol. It is non-glycemic as well as non-caloric (max 0.2 kcal/g). The sweetener improves body and smoothness in diet beverages and masks unwanted off-tastes such as bitter, astringent and irritant that are often associated with the use of high-intensity sweeteners.
I. Bishay, The NutraSweet Co., discussed the high-intensity sweetener neotame. The FAO/WHO Joint Expert Committee on Food Additives (JECFA) has assigned it an ADI of 0–2 mg/kg. It provides options for product developers and manufacturers, not only as a sweetener but also as a flavor enhancer.
C.R. Mitchell, Creative Research Management, Inc., described a novel natural flavor that improves stability and aftertaste of artificial sweeteners. Acesulfame K, aspartame, neotame, and sucralose all have a distinct aftertaste ranging from metallic in the case of acesulfame K to an annoying lingering sweetness evident in sucralose. A natural flavor, Sucrasmask™, has been used at 3–15 times the amount of the high-intensity sweetener to successfully stabilize the sweetener under adverse heat and pH conditions.
D. Cardin, Entech Instruments, Inc., discussed improving detection limits for volatile flavor compounds using pulsed dynamic headspace/GCMS analysis. A new analytical technique called pulsed dynamic headspace (PDH) has been developed to address the limitations of previous headspace methods.
P. Birschbach, Genencor International, described a new phospholipase A2 for modification of egg yolk and soy lecithin. LysoMax is food-grade and kosher and has true A2 phospholipase functionality; previous commercial products lacked one or more of these attributes.
P.M. Cook, Eastman Chemical Co., discussed a new beverage weighting agent, Sustane SAIB™ MCT, a blend of sucrose acetate isobutyrate and medium chain triglycerides. It offers taste neutrality at the maximum allowable usage level and stability to air oxidation and hydrolysis.
S. Barat, Colloides Naturels International, presented an innovative, all-natural emulsion stabilizer based on high-molecular-weight polysaccharides used for stabilization of oil-in-water emulsions. Historically, flavor emulsions for soft drinks have been stabilized by acacia gum and modified starches. An innovative process which produces an acacia gum–based emulsion stabilizer with significantly enhanced emulsifying and stabilizing properties.
F.M. Ward, TIC Gums, Inc., described a new modified gum acacia, named TICamulsion 2010. It has been recently granted GRAS approval. The gum acacia octenyl-butanedioate is derived by chemical modification of the natural polysaccharide extracted from acacia species found widely in Africa.
J.J. Kester, The Procter & Gamble Co., described IsoGard™: a natural preservative derived from white mustard seeds and containing white mustard essential oil (WMEO). The essential oil is extracted from white mustard seeds (Sinapis alba) by supercritical carbon dioxide extraction after grinding in the presence of moisture to activate the endogenous enzyme myrosinase. Myrosinase hydrolyzes the glucosinolate (sinalbin) naturally present in white mustard seeds to yield the active antimicrobial agent, 4-hydroxybenzyl isothiocyanate.
--- PAGE BREAK ---
L.H. Stahnke, Chr. Hansen A/S, discussed fighting Listeria monocytogenes with the bioprotective culture B-SF-43. It significantly prevents growth of L. monocytogenes as a natural—and often more efficient—alternative to chemical additives.
M. Weir, Milliken Chemical Speciality Elastomers, described how a new antimicrobial rubber helps address contamination issues in food processing by controlling spread of microbes on rubber parts. The chemical constituents used in traditional rubber products provide an ideal source of nutrients that support microbial growth. The Elastoguard family of antimicrobial heat-cured rubber compounds demonstrates excellent control over microbial growth, both on the surface and within the treated rubber materials.
F. Weber, Weber Scientific, Inc., described SpotCheck™, a non-instrumented color hygiene test for on-the-spot cleaning validation. The swabs measure, in 60 sec or less, whether surfaces are thoroughly clean. A surface may visually appear clean but could still contain traces of food residue, providing a major nutrient source for harmful microorganisms to grow. The test detects invisible amounts of sugar residue, a constituent of practically all foods and beverages.
G.M. Dunn, Microbiology International, discussed use of the Microgen Bioproducts Ltd. Pulsifier® in food sample preparation for microbiological analysis. Instead of crushing the food sample, it beats the sample bag very rapidly using an oscillating metal ring. This generates a great deal of turbulence within the sample, resulting in intensive shear forces across the surface of the food particles which drive the bacteria off the food matrix and into the broth.
A. Pappas, Spiral Biotech, described enumerating 3M PetriFilm® aerobic count plates using the PetriScan® automated colony counter. The automated dry film colony counter saves valuable time and labor, and improves efficiency in the microbiology laboratory.
T.J. Hendra, Neogen Corp., presented a quick and simple verification tool for determining wheat allergen cross-contact. The new Veratox and Alert for Wheat Allergen rapid test kits verify that equipment, raw material, push-through product, CIP solutions, and final product are free of wheat proteins.
--- PAGE BREAK ---
Maintenance Plays an Important Role
In a session sponsored by the Food Engineering Division, Chris Miller Miller, discussed maintenance's role in food production.
K. McManus, Da Vinci Gourmet, Ltd., said that most facilities determine effectiveness through the use of measures such as downtime and work orders completed. Other dimensions, however, should also be considered, such as internal customer satisfaction and daily service costs.
J.M. Stout, Kraft Foods, Inc., said that attention to good sanitation practices during maintenance is critical to protecting food safety. Sanitary design techniques combined with appropriate GMPs can ensure protection of products produced on a food production line.
J.P. Clark described how maintenance issues affect food process engineering. Keeping a building, machinery, etc., in a state of good repair and working properly might be achieved by fixing parts that have failed, but is best done by anticipating possible failures and taking steps to prevent them.
M.A. Swanson, University of Mississippi, explained why, when feeding 25 million children in the National School Lunch Program, preventive maintenance pays. The National School Lunch Program provides nutritionally balanced low-cost or free lunches to more than 25 million children each school day.
by J. Peter Clark, Contributing Editor
The author is a consultant to the process industries, based in Oak Park, Ill. E-mail: [email protected].