The frozen-food case is alive with new ideas. Birds Eye Foods' new microwavable Steam & Serve and Herb Garden gourmet vegetable dishes steam right in their tray. Kraft Foods' South Beach and Cedarlane Natural Foods' Dr. Barry Sears' Zone frozen foods make weight loss a snap. Golden Gate Foods' Loving Spoonfuls brings baby foods to the frozen aisle. And Stouffer's Lean Cuisine Spa Cuisine™ takes healthy frozen foods gourmet.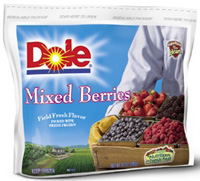 New gourmet appetizer platters, such as Yankee Trader Seafood's Seafood Platter with scallops, crab cakes, and Lobster Rangoon are perfect for America's home entertaining boom. And restaurant-style frozen meals—such as Stouffer's Corner Bistro and Catelli's Italian Bistro premium veal entrees for two—make it very difficult to dine out.
From dollar stores to drug chains, distribution opportunities for frozen foods are also fast expanding. White Toque opened a chain of frozen-food-only grocery stores in New York City. Kraft Foods' Tombstone Pizzeria and Kraft Carry Out Café are new vending systems that dispense hot food items from a frozen state. With more than 100 million Americans using a vending machine every day, the opportunity is enormous.
Frozen foods have found a key role in keeping "fresh" food staples on hand. ACNielsen reports that unprepared meat, beef, and steak once again topped the "Top 10" list of the largest sales gainers in the frozen foods department, up 19% for the year ending June 11, 2005. Ground beef sales rose 15%, seafood entrees 13%, meat entrees 9%, and poultry entrees 7%.
Resealable-bagged, individually wrapped, and microwavable frozen entrees—such as Fast Fixin's pre-cooked Beef Steak Tips & Gravy and Castle Point's ready-to-cook Premium Salmon in Honey & Mustard and other flavors—are right on target. Jennie-O sells a frozen Oven Ready Home-Style Whole Bird Turkey, cleaned, seasoned and ready-to-bake, packaged in a cooking bag with a pop-up timer.
Frozen fruits (with sales up 11%) and breaded vegetables (up 7%) also made the Top 10 list, albeit from a small base. Dole's new Fresh Frozen Fruit line is 100% natural and says "just as nutritious as fresh fruit." Frozen vegetables—still the largest frozen segment—is shifting to gourmet blends, such as Birds Eye Foods' Szechwan Vegetables in Sesame Sauce.
Also finding a welcome market are microwavable frozen snacks, such as Hot Pockets' new Subs (up 7.7% last year); upscale frozen appetizers, like VLR Food Corp.'s Jonathan T.'s Spanakopita; and single-serve frozen treats, like Schwan Foods' Mrs. Smith's frozen pie slices.
Fast becoming popular meal staples are frozen, bagged, portionable biscuits and rolls; meal kits like Contessa's Kun Pao Shrimp in bag and Banquet's Crock Pot Classics; and creative sides like Heritage Family Specialty Foods' ImiTaters, which use cauliflower for potatoes. Jimmy Dean's new Breakfast Skillets and Pillsbury's expanded Dunkables toaster-friendly waffles are keeping breakfast foods very hot.
New American Kitchen's Huxtables gourmet comfort food line and Buenatural™'s "naturally good Mexican cuisine" helped move the mature $7.8-billion frozen dinners/entree category up 4.3% for the year ending August 7, 2005, according to IRI. Making ACNielsen's Top 10 list of frozen-food sales gainers were Oriental dinners with sales up 17%, seafood meals 17%, and poultry dinners 10%. According to Mintel's 2005 Frozen Meals Report, frozen entrees outsell dinners 3:1 and pot pies 13:1.
Frozen food purchasers are experimenting with new flavors. Watch for more Indian, Thai, Island-like, and kosher entries such as Macabee Kosher Foods' Eggplant Cutlets; more gourmet dinners for two, such as Unilever's Bertolli's Dinner for Two skillet entrees; and vegetarian options, such as MorningStar Farms' Meal Starters with Steak Style Strips.
Finding a welcome market are healthy basics like Pilgrim's Pride Corp.'s EatWellStayHealthy fresh and frozen chicken in Key Lime and Szechwan flavors and Lean Cuisine's Dinnertime Selects™ reduced-calorie meals with 30% more food than their regular Classics.
Organic frozen foods are another hot segment, reaching $206 million in 2004 with increases of nearly 20% per year since 2001 in mass channels according to ACNielsen. Organic frozen meat entrees posted the largest unit gains in 2004, up 356%, followed by organic meat 308%, seafood 148%, poultry 166%, poultry entrees 107%, snacks and hors d'ouvres 41%, and frozen breakfast foods, fruits, pizza, and snacks all up 26% respectively.
And the foods are getting healthier. Amy's Kitchen introduced a sodium-restricted organic line, and Ian's Foods' has a new line of wheat- and gluten-free "mini's" for small meals or snacks, such as Popcorn Turkey Dogs and Mini Cheese Burgers.
by A. Elizabeth Sloan,
Contributing Editor
President, Sloan Trends, Inc., Escondido, Calif.
[email protected]