Analyzing beverage flavor trends these days is like reading a good mystery novel: You never quite know what new twists you're going to see next, or what impact these twists will have on the rest of the plot—in this case, the shaping of future development and marketing of beverages.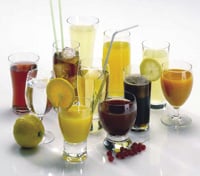 Take, for instance, some of the recent line extensions appearing in the United States. From PepsiCo, we saw two new versions of Mountain Dew—grape-flavored, dark-colored Pitch Black, and orange-flavored LiveWire—as well as Holiday Spice, a spicier version of Pepsi-Cola that came out for the Christmas season. Then there's Cherry Vanilla Dr Pepper, Gatorade's Propel Fitness Water in new grape and tropical citrus flavors, calcium-fortified, mixed-berry-flavored 7 Up Plus, Coca-Cola with Lime, and many others.
Prototype beverage formulas demonstrate countless variations on traditional flavors such as orange or berry. But now there's Blood Orange and Acai or Goji Berry. You might here Pommelo instead of grapefruit, or Minneola instead of tangerine. And other names for flavors from Africa, South America, Asia, and other places around the world keep coming so fast that it is difficult to keep track of their meanings. Furthermore, with flavor manufacturers always eager to meet the needs of their clients, unique flavor combinations can be created that impart any number of notes to the beverage formula, including tropical, spicy, hot, and cooling.
And, of course, there are some beverages introduced throughout the world where the word "novel" doesn't quite do justice when trying to describe them. For example, the South African firm Lanquedoc recently unveiled H2Olive drink, said to be the first drinkable olive-based beverage. The raw materials come from the company's own mineral water source and olive farm. With olive oil used in cosmetic products, the new beverage is promoted for its effects on "inner and outer beauty." And, in light of the Food and Drug Administration's recent qualified health claim for monounsaturated fat from olive oil and reduced risk of coronary heart disease, beverages like this one may prove to have added health benefits.
Despite its number of potential health advantages, I doubt that an olive-flavored drink will be the next "hot" beverage. However, it does raise an interesting question: How do certain flavors become rising stars, especially in a market where there are so many twists and turns, so many line extensions, limited editions, unusual taste sensations, flavors marketed to specific demographic groups, flavors masking the taste of nutraceutical components, and so on?
This month's Ingredients section attempts to answer that question, as it looks at several of today's most popular or emerging flavors in beverage formulations. The article focuses on the reasons for the rise of these flavors, including health, taste, functionality, compatibility with other foods, new beverage categories, marketing demographics, and economics, and how these different factors can ultimately help determine the success of certain flavors in beverages in the marketplace.
--- PAGE BREAK ---
Some of these flavors will probably be very familiar, while others, especially those coming from different parts of the world, may seem quite unusual. But one thing seems especially clear: beverage flavors are playing an increasingly important role in formulation throughout the world.
The future value of flavors is underscored by the current status of the beverage industry. According to a study published by Beverage Digest/Maxwell, in 2004, the U.S. carbonated soft drink industry posted volume growth of more than 1% overall—a figure slightly higher than 2003's growth rate of 0.6% but below the industry's 2-4% growth rate experienced in the 1990s. Retail value of the industry grew 3.25% to about $65.9 billion, up from $63.8 billion in 2003, as prices increased faster than volume.
Helping to revitalize certain segments of the beverage industry while sustaining the growth of others can be a tall order, and it's no wonder that flavors are being called on to play a more aggressive role in product development and marketing. The flavors that manufacturers choose may help stimulate the traditional carbonated soft drink industry as well as continue to fuel the growth of diet soft drinks. Furthermore, the flavors used can positively affect the growth of products such as energy drinks, juices, and other beverages that can be fortified for health promotion.
Let's now look at some of these rising stars:
Putting de lime in da cola
Citrus flavors represent more than 50% of the global market for beverage flavors. Lime flavor, in particular, has become increasingly popular in drinks, especially carbonated beverages such as colas. In early 2004, the Coca-Cola Co. introduced Diet Coke with Lime, which reportedly gained a 0.7% share of the U.S. soft drink market. A year later, hoping for similar success, the company launched Coca-Cola with Lime. Not to be outdone by its rival, PepsiCo plans to bring to market Pepsi Lime and Diet Pepsi Lime, over the next few months.
Because drinks such as bottled waters and juices have been eating (or perhaps more accurately, gulping) into market shares, soft drink manufacturers are using lime flavor, with its light, refreshing, and tropical connotations, to revitalize traditional carbonated beverages. In the case of Diet Coke with Lime, the drink proved successful because its citrus taste appealed to diet cola drinkers. Regarding Coca-Cola with Lime, it is too early to speculate, but we are dealing with a different marketing segment—i.e., the success of the beverage will ultimately depend on how well individuals respond to the flavor in a cola that is not diet.
Interestingly, a note of convenience or added value has been mixed into the formula, as well. Providing rationale for the new lime-flavored version of Coca-Cola, Randy Ransom, Senior Vice President, Coca-Cola Trademark, Coca-Cola North America, commented, "Many people already enjoy a slice of lime with their Coca-Cola, so it seemed like a natural step for our flagship brand to include a taste of lime."
With Pepsi, "War of the Limes" may prove to be an accurate catch phrase, as the lime flavor not only serves to provide a new dimension to the regular and diet versions of the beverage, but is also positioned to counter the efforts of its rival in the marketplace. This, of course, is not the first time that such a maneuver has been used in the beverage industry—other rallying cries in the battlefield include "War of the Vanillas" and "War of the Cherries." Recently, Dr Pepper chose to combine (rather daringly, I might add) both flavors—vanilla and cherry—in its beverage. With strategies such as these, I can't help wonder if lime, because of its versatility, might find new partners other than lemon in carbonated and noncarbonated drinks.
--- PAGE BREAK ---
In addition to refreshing taste and competition considerations, lime flavor may bring other benefits to carbonated drinks. For example, lime has been a popular flavor for Hispanics, especially in culinary applications. Recent food products introduced into the marketplace include Swift's Carne de Puerco Estilo Pibil, a pork seasoned in a red spice mixture and marinated in lime, and Frito-Lay's Flamin' Hot Limon Cheetos crunchy cheese snack. With food launches such as these, it is quite possible that cola drinks formulated with lime may achieve "crossover" success in beverages, appealing to this particular demographic or to any other consumers who might associate the use of lime with products representing international cuisines. Furthermore, besides its citrus taste, lime may also impart a characteristic aroma which consumers of the carbonated beverage may find pleasing and distinctive.
Citrus flavors are also being incorporated into a wide variety of other beverages. As noted earlier, bottled waters have become an increasingly popular category. According to a new report from a global market research firm, Mintel, the U.S. bottled water market is estimated to reach $8 billion in sales this year—an increase of 7.9% over 2003 sales. While carbonated drinks still dominate the overall beverage market with a 90% consumption rate in terms of sales, two-thirds of consumers drink bottled water, making it the second-most-consumed beverage based on volume in the U.S.
Not too surprising based on these statistics, new bottled water launches are also increasing. For example, the Coca-Cola Co. introduced two flavors of water—lemon and raspberry—under its Dasani brand. PepsiCo debuted Flavor-Splash in raspberry, citrus blend, and wild berry flavors, and Aquafina Sparkling in original, lemon-lime, and berry versions. And in Europe, Swiss-based Nestlé offers a non-sparkling flavored water, Nestlé Pure Life, in orange, lemon, strawberry, and raspberry flavors.
Not too long ago, the Coca-Cola Co. added Minute Maid Limeade with 3% lime juice. Two things on the bottle immediately caught my attention: the words "made with real limes" (are you feeling the warm breezes of the Caribbean yet?) and the words "limeade-limonada," the latter obviously going after the Hispanic market.
And, on the other side of the beverage spectrum, alcoholic drinks are highlighting citrus flavors. Consumers can enjoy recently introduced Burnett's Lime-Flavored Vodka from Heaven Hill Distilleries, Bardstown, Ky. Furthermore, the future development of custom drinks is made easier by a line of flavors, called Citrus Sensations, that provide alcoholic beverages with a refreshing, fruit flavor. The citrus flavors, suited for low, mid-proof spirit and malt-based drinks, were developed by Danisco USA, Inc., P.O. Box 26, New Century, KS 66031-1113 (phone 913-764-8100; fax 913-764-7407; www.danisco.com). Manufacturers can create specialty drinks by adding the appropriate flavoring to alcohol, combined with water and fruit juice. Flavors include Sweet Indian Lime, Honey Tangerine, Blood Orange, Pommelo, Citrus Spice, and Tangelo. The innovative concepts were created by flavor teams from Mexico, Brazil, China, England, and the U.S.
The line of citrus flavors from Danisco is only one example of a variety of developments that may help enhance the formulation of future beverages with citrus flavors, especially lime. Here are some other examples:
• Citrus flavors, marketed under the name Citrusense, offer beverages improved stability and profiles that duplicate the taste of the original fruit. The cold-pressed flavors, including orange, lemon, lime, mandarin, and grapefruit, were recently introduced by Quest International, Huizerstraatweg 28, 1411 GP Naarden, The Netherlands (phone 31-35-699-9111; fax 31-35-694-6067).
Cold-pressed citrus oils are said to be more aromatic than their distilled equivalents, but they are very unstable. "The challenge for our citrus team was to develop technology than can deliver the aromatic profile with up-front notes while at the same time providing stability for the flavor in applications," said Scott May, Quest's Citrus Global Product Manager.
According to May, the Citrusense brand encompasses Citruclear, a water-soluble flavoring system for clear drinks that are carbonated or noncarbonated, and Citrustable, a flavoring system that delivers extended shelf life, enabling the creation of lemon and lime flavors that are more stable.
--- PAGE BREAK ---
• A line of flavors called Aura offer a cleaner, more refreshing citrus note to lemon and lime carbonated beverages while masking the bitter aftertaste of alternative sweeteners in diet soda and no-added-sugar juice drinks. The flavors, developed by Danisco USA, Inc., include citrus versions such as lemon-lime and orange, as well as blueberry, chocolate, fruit punch, peach, raspberry, strawberry, tropical, and vanilla. The flavors are said to perform well in fortified waters, zero- and mid-calorie carbonated beverages, 10- and 25%-juice no-added sugar beverages, yogurt drinks, flavored milks, ice cream, and yogurt.
• A low-calorie prototype formulation, Orange Blossom Drink, highlighted at the recent InterBev Show, demonstrates a customized solution based on specific flavor and tagatose blends. The development of new flavor systems containing the natural sweetener, Gaio tagatose, is the result of a cooperative agreement between SweetGredients (a joint venture of Arla Food Ingredients and Nordzucker) and Symrise Flavor Div., North America, Teterboro, N.J.
When used in combination with flavors, the functional sweetener serves as a flavor potentiator, boosting the flavor profile, imparting mouthfeel, and providing a desirable fresh impact. Used at very low levels, the sweetener can produce a beverage, such as the highlighted formulation, that can have a fresher, more desirable taste with potential health benefits. Although tagatose has the physical bulk and sweetness of regular sugar, it is metabolized differently, offering a low caloric value and acting like a fiber with prebiotic effects.
• The flavor of lime was effectively combined with green tea in a prototype beverage, Lime Green Tea, formulated by Virginia Dare, 882 Third Ave., Brooklyn, NY 11232-1902 (phone 718-788-1776; fax 718-768-3978; www.virginiadare.com). The beverage was made with a Natural Lime Flavor WONF Emulsion, Natural Green Tea Flavor 300X, Natural Green Tea Flavor Powder, and Natural Tea Flavor Powder.
Will lime continue to be a "rising star" in beverages, ranging from colas to bottled waters to alcoholic drinks? Certainly, the above flavor developments seem to indicate that the current spotlight is on the advantages that citrus flavors offer beverage formulators, and that these developments can create future opportunities in beverage formulating.
Also keep in mind that in 2004, food and beverage manufacturers launched 247 new products with lime in the U.S.—an increase of 16% over a two-year period. With those kinds of numbers, a variety of markets—meats, snacks, bakery, confectionery, and beverage—are taking advantage of lime flavor, and the possibilities that consumer interest can cross over to different categories are enhanced.
Perhaps the most novel application of lime flavor that I have seen is the recent lime-flavored dill pickle, Vlasic's, proving once again that anything—and I do mean anything—is possible. The lesson to be learned here is that the beverage formulator, by not putting the lime in a variety of beverages, might find himself in one heck of a pickle.
Providing Pomegranate Power
Pomegranate, a fruit which has been around since around 3000 B.C., has recently become a rising star, finding use as a flavor in a number of applications, especially beverages. In fact, this fruit of a semitropical shrub or small tree native to Asia was named "the ingredient of the year" in 2004 by Mintel. The market research company tracked more than 50 products that used the fruit as an ingredient.
The pomegranate, which is about the size of an apple or orange, contains many seeds enclosed in a juicy scarlet-red pulp that has a mildly acidic flavor. (Appropriately, the Romans called the pomegranate pomum granatum, that is, "apples with many seeds.") The seeds and pulp are edible, while the tough, dark-red or brownish rind is not. Throughout its history, the pomegranate has been used medicinally by various cultures to treat inflammations and stomach ailments.
--- PAGE BREAK ---
Today, pomegranate is known as a significant source of antioxidants and is also high in potassium, vitamin C, and some of the B-vitamins. It contains anthocyanins, botanical estrogens, and polyphenols, which have been found to protect against LDL cholesterol and cardiovascular disease, prevent oxidative stress, improve blood pressure, and relieve symptoms associated with menopause. Preliminary research has shown that consumption of pomegranate juice may also protect against certain cancers.
Because of these potential health benefits, juices derived from pomegranate have been launched into the marketplace. POM Wonderful, Los Angeles, Calif., introduced a refrigerated pomegranate juice in 2003. According to the company, the product's antioxidant activity exceeds that of other popular beverages known for their antioxidant properties, including red or white wine, and juices such as cranberry, blueberry, orange, red or white grape, apple, and grapefruit.
Various pomegranate extracts and oils are available from Extracts and Ingredients, Ltd., an affiliate of Morre-Tec Industries, Inc., Union, N.J. (phone 908-688-9009; fax 908-688-9005). A 4-p technical brochure, "Pomegranate: The Fabled Fruit," provides a summary of the benefits of pomegranate derivatives, particularly cold-pressed seed oil.
A free-flowing pomegranate powder has been developed by FutureCeuticals, 300 W. 6th St., Momence, IL 60954 (phone 888-472-3545; fax 815-472-3850). According to the company, pomegranates can prove to be problematic for product developers. The fruit's tiny seed sacs are difficult to process. Therefore, freeze-dried pomegranate powder is the choice for many applications. The company's free-flowing powder may be encapsulated, and its refreshing, sweet/tart flavor and brilliant red color lends itself as an ingredient in food and beverage applications.
Additionally, pomegranate has been used as an ingredient in the skincare and cosmetics area. This is important to food professionals for three reasons.
First, consumers who are using pomegranate in their personal care products will likely be more aware of the ingredient's benefits and relate them to the broader area of health and food and beverage applications. Second, especially in the international marketplace, beverages are being created that contain ingredients that reportedly can revitalize skin, hair, and nails. While I'm sure more studies need to be done, pomegranate might be one such ingredient that would fall into this beverage category. And third, the two industries, food and personal care, use similar ingredients and possibly technologies. They can learn from each other, and ingredients such as pomegranate might provide a basis for cooperative efforts, especially in the area of beverages.
With pomegranate's history, it shouldn't be too surprising that products are appearing in the marketplace that feature pomegranate flavor. For example, Izze Beverage Co., Boulder, Colo., a manufacturer of sparkling juices, recently launched its seventh and newest flavor, Sparkling Pomegranate. The drink is an all-natural blend of pure fruit juice and sparkling water. According to the company's founder, pomegranate was chosen because of its complex flavor profile. It offers a taste that is clean, light, and refreshing, and "makes an excellent culinary complement."
Because beverage manufacturers are considering pomegranate for upcoming line extensions, flavor companies are working to create concepts that duplicate the taste of the fruit. These flavors are targeting consumers who are looking for the latest trend-setting tastes, and may be used in a variety of beverages, including drinks that offer healthier alternatives.
--- PAGE BREAK ---
For example, Symrise has developed a flavor that replicates the taste contained in the aril seed of the pomegranate. In the natural fruit, these tiny sacs of juice are responsible for the pomegranate's distinctive sweet and tangy flavor. According to Tom Sutherland, the company's Director of New Business Development, "Our pomegranate flavor works as a stand-alone taste or in combination with other fruit flavors." He added that the company's beverage application laboratories are evaluating the pomegranate flavor in fruit drinks, flavored waters, alcoholic beverages, and healthy beverage alternatives. Applications specialists and sensory groups are finding that these prototypes are demonstrating exciting potential for new beverage product development.
A pomegranate flavor using chemical extraction and analysis techniques was created by Belmay Inc., 200 Corporate Blvd. South, Yonkers, NY 10701 (phone 914-376-1515; fax 914-376-1784; www.belmay.com). The flavor is said to recreate the authentic profile of pomegranate, using only natural materials. It works well in a range of food and beverage applications, either alone or with a subtle partner such as mint. Furthermore, pomegranate with additional floral notes such as lavender or orange blossom provides interesting new dimensions to alcohol applications.
Natural Pomegranate Type Flavor for use in alcoholic and nonalcoholic beverages was recently released by Sethness Greenleaf, Inc., 1826 N. Lorel Ave., Chicago, IL 60639 (phone 773-889-1400; fax 773-889-0854). It can be used in conjunction with fruit juice concentrates or as a stand-alone flavor enhancer.
Although pomegranate has a long history, it certainly does not have the familiarity that lime has had. This is quickly changing, however, as pomegranate achieves mainstream appeal for several reasons. First, as a juice, the fruit offers potential health benefits. Second, as a flavor, its authentic taste can help reinforce the properties of this fruit, allowing a broader range of consumers to become familiar with both its taste and health benefits. And finally, as an exotic fruit flavor, it might find use with other less familiar exotic fruit flavors in beverage applications, and as this familiarity grows, might achieve a successful crossover in food applications, especially those representing international cuisine.
Picking Berry Flavors from Around the World
Another fruit that is associated with freshness, health benefits, and color is the berry. The antioxidant potential of the berry has been discussed over the past few years, as well as its natural color properties which add to the appearance of the food or beverage product. More recently, the exotic sources of the berry are being emphasized.
New berry flavors are coming from places such as Brazil. For example, acai (pronounced ah-sigh-ee) is a small dark, purple berry indigeneous to Brazil's Amazonian basin. Clusters of these berries are found on the branches of the wild acai palm tree. It is similar in appearance to a grape, but has less pulp and a larger pit. The pulp has a delicious flavor, often likened to a sweet berry with a hint of chocolate. Although small in size, acai is considered one of the most nutritious fruits of the Amazon—it has an antioxidant content greater than other berries and is rich in vitamins, minerals, fatty acids, amino acids, and fiber.
Extracts, distillates, and infusions of the acai berry are available from Arome America, 2 Van Fleet Rd., Neshanic Station, NJ 08853 (phone 908-806-7003). The products, which have the flavor characteristics of acai berries, may be used in natural flavors, carbonated beverages, and juice drinks, as well as fruit fillings, variegates for ice cream, frozen desserts, and yogurts. They are rich in antioxidants, anthocyanins, amino acids, and other health-promoting components.
--- PAGE BREAK ---
Natural aromatics have been utilized to recreate the flavor profile of the acai berry by Robertet Flavors, 10 Colonial Dr., Piscataway, NJ 08854 (phone 732-981-8300; fax 732-981-1717). The flavor is part of a line of flavors with Brazilian profiles, including Acerola, Cherimoya, Coconut, Feijoa, Guanabana, Guarana, Guava, Mango, Papaya, Passionfruit, Pineapple, and Starfruit.
Of course, more mainstream—or more familiar—berries are still on the rise in beverages. One example that quickly comes to mind is the blueberry, which has been especially promoted for its health, color, and flavor benefits. Blueberry products are being used in a variety of new beverages, ranging from juices and iced teas to beer and coffee. For example, recently introduced into the marketplace is a blueberry-containing smoothie, Berry Fulfilling, part of the Enlightened Smoothies line offered by Jamba Juice. Other products include IzzeTM Sparkling Blueberry Beverage, Snapple-a-DayTM s fortified blueberry beverage, and Lifeway's Lowfat Blueberry Kefir.
One nontraditional beverage that makes use of blueberries is beer. Interestingly, according to the U.S. Highbush Blueberry Council, at least 12 microbreweries in the U.S. are producing blueberry beer. Blueberry products (fresh, frozen, and aseptic-pack blueberries; blueberry juice; puree; and concentrate) can be used during or after the brewing process to produce beers with distinct blueberry flavor notes.
Blueberries are also very compatible with other fruit juices. Although blueberry juice has a pronounced and desirable flavor, its sugar/acid ratio makes it ideal for blending with other high-acid fruit juices, such as red or black raspberry, cranberry, passion fruit, black currant, Marion blackberry, boysenberry, and cherry juice.
More information about the use of blueberries as a flavor can be obtained from the U.S. Highbush Blueberry Council, 300 E. Bidwell, Ste. 300, Folsom, CA 95630 (phone 800-824-6395; fax 916-983-9022; www.ushbc.org).
The essence of the natural raspberry is said to be captured in a line of flavors by Robertet Flavors, 10 Colonial Dr., Piscataway, NJ 08854 (phone 732-961-8300; fax 732-981-1717). These natural raspberry flavors—Red Raspberry, Black Raspberry, Blue Raspberry, and Sour Raspberry—exhibit a variety of profiles, including fresh, floral, jammy, ripe, and seedy. They are all-natural, liquid, water-soluble, and kosher and may be used in teas and other beverages, as well as yogurt, ice cream syrups, and nutrition bars.
A natural Black Raspberry Flavor WONF is offered by Flavor Dynamics, Inc., 640 Montrose Ave., South Plainfield, NJ 07080 (phone 908-822-8855; www.flavordynamics.com). The liquid product imparts the sweet seedy flavor of freshly crushed black raspberries without their overly acidic background notes. The heat- and freeze/thaw-stable flavor is suitable for use in beverages and food products.
And let's not forget the cranberry. A number of beverages, including juice drinks, juice cocktails, light juice drinks, and tea beverages use cranberries or blends of cranberries and other fruits. And the beverage category can easily be expanded to include dairy products such as a cranberry-raspberry milkshake or a flavored water.
One major push for the cranberry has been its potential health benefits. Research has shown that a serving of light cranberry juice drink each day could be as good for the heart as red wine. Cranberry boosts HDL cholesterol, may play a role in preventing heart disease, and can help ward off urinary tract infections. The cranberry's special health properties were highlighted at Switzerland-based Vitafoods 2005 by Ocean Spray Cranberries Inc., Ingredient Technology Group, One Ocean Spray Dr., Lakeville, MA 02347 (phone 508-946-7658; www.oceansprayitg.com). Products showcased include the company's cranberry concentrates, powders, juice drinks, and cordials.
In December 2004, official approval of the North American cranberry as a healthy ingredient was extended by the French government's food safety authority, AFSSA, to include cranberry juice drinks and cordials. The ruling confirmed that the regular consumption of certain cranberry juices and cordials "helps reduce the adhesion of certain E. coli bacteria to the urinary tract walls. Such a ruling will further help French beverage manufacturers to promote their cranberry-based products.
--- PAGE BREAK ---
Creating Quite a Sensation
In its publication, 2005 Flavor Forecast, McCormick & Co., Inc., said that two of the top 10 flavors to watch are mint and cinnamon. When applied to beverages, they serve as good examples of flavors providing different taste sensations, ranging from iciness to spiciness.
Let's look at the cooler side first. Because of its importance in a variety of international cuisines, mint consumption in the U.S. has increased 83% over the past two decades. Mint is simultaneously pleasant, fresh, and aromatic, with a cool aftertaste, which can balance spicier foods. When thinking about beverages, the first image that comes to mind is that classic alcoholic beverage, mint julep. But that may change soon.
Take, for instance, a breath-drink available from Tasker Capital Corp., Danbury, Conn. Breath-Rephresh™ is designed to eliminate the cause of bad breath and provide long-lasting relief. It comes in three flavors—spearmint, cinnamon, and peppermint—developed by Wynn Star Specialty Foods & Flavors, Allendale, N.J.
Another innovative beverage application for mint may be bottled water. Imagine the tingling feeling that your mouth would get when mint and cold water combine. Tea beverages would be another application for mint, especially when combined with a fruit flavor.
Spicier flavors may also be finding their way into beverages. Remember Pepsi Holiday Spice? Some beverages such as cider, punch, eggnog, cocoa, and even coffee applications have been "seasonalized" by flavors such as cinnamon and nutmeg. The influence of spicier flavors may be extending beyond the holidays, however, partly because of the Hispanic influence. Flavors of North America, Inc. offers Natural Horchata Flavor, a combination of creamy cinnamon and rice notes which captures the authentic taste of the traditional Latin beverage; Natural Cilantro Lime Flavor, which provides a high-impact, balanced blend of these two flavors; and Honey Cinnamon Flavor, which combines red-hot cinnamon with clove and honey for a sweet-heat taste.
As consumers look for new taste sensations, sweet and spicy flavors are becoming more common in beverages. For example, Symrise's Piquante Pepper Flavor—derived from the small, delicate, red fruit indigenous to South Africa—is described as "not too hot and not too sweet, with just the right impact for a smooth and highly acceptable bite."
Symrise has tested the flavor in martini and screwdriver mixes, and has received positive feedback from consumers who are consistently ready to welcome new taste sensations, noted Tom Sutherland, Director of New Business Development. He added that the flavor has also been effectively used in tea, carbonated beverages, orange juice, and other fruit drinks.
Brewing Developments in Tea Flavors
While varieties of tea such as green or black are more familiar, white tea is rapidly gaining the spotlight for its flavor and potential health benefits. Described as having a mild flavor, it is the least processed of the teas.
Recently, The Republic of Tea, Novato, Calif., a leading purveyor of premium tea, introduced a new line of five ready-to-drink bottled White Iced Teas, including the first decaffeinated bottled white iced tea. The collection of teas includes Orange Blossom, Kiwi Pear Decaf, Vanilla Coconut, Pineapple Guava, and Honeydew Melon.
--- PAGE BREAK ---
According to the company, it was the first to introduce a full line of white teas available in unbleached tea bags to the American marketplace in 2002. The subsequent demand from consumers for more white tea selections, together with the company's successful 2004 launch of its bottled green and black iced teas, prompted the rollout of the white tea offerings. Each spring the white buds of Camellia sinensis grown exclusively in China's Fujian Province are hand-picked over a two-day period. The rare, white downy buds undergo limited processing, with virtually no oxidation, producing a delicate, light, and antioxidant-rich tea.
Helping to fuel the marketing of white tea is recent research which indicates that this variety may contain more healthful properties than even green tea. Scientists from the Dept. of Biology at Pace University's Dyson College of Arts & Sciences suggested that white tea extract could help retard the growth of a number of bacteria. "Past studies have shown that green tea stimulates the immune system to fight disease," said Milton Schiffenbauer, primary author of the research. "Our research shows White Tea Extract can actually destroy in vitro the organisms that cause disease." The researcher noted that white tea extract could retard growth of bacteria that causes Staphylococcus infections, Streptococcus infections, pneumonia, and dental caries.
A number of companies have developed white tea flavors for use in both beverage and food applications. For example, Virginia Dare's Natural White Tea Flavor WONF and Special Natural White Tea Flavor Powder may be used in beverages and ice creams. White Tea formulations also work well with other flavors. A prototype White Tea Drink combining pomegranate and cranberry was created by Wild Flavors, Inc., 1262 Pacific Ave., Erlanger, KY 41018-1260 (phone 859-342-3600; fax 859-342-3610; www.wildflavors.com).
White tea may also represent the beginning of a new wave of tea products that could reach the mainstream. These might include roobios, a rich red tea that comes from South Africa, black tea that has a pomegranate twist, and a number of teas with customized flavor blends such as apple, lemon, strawberry, blackcurrant, and cinnamon.
Making a Bigger Splash
More than ever before, beverage flavors are making a big splash in terms of product development. The above examples specifically demonstrate this, but I think beverage flavors overall are becoming increasingly important, their value expanding well beyond that of just providing flavor in a beverage. There are several reasons for this rise.
Factors such as weather and the length of a growing season can have an impact on the need and subsequent development of certain flavors. For example, cost-effective alternatives to grapefruit oils are available from a number of companies in response to recent global grapefruit shortages caused by hurricanes. These flavors eliminate bitterness associated with the natural fruit, impart authentic taste, and retain the integrity of their topnotes.
Flavors are playing an important role in masking off-notes caused by vitamins, minerals, and other nutraceutical components. Some companies are even offering customized systems that combine flavor with fortification benefits. It only follows that as nutraceutical applications grow more important, so will flavors.
--- PAGE BREAK ---
The use of different ingredients can also create opportunities for beverage flavors. For example, dairy ingredients such as whey proteins are finding use in such beverages as energy drinks, isotonics, enhanced waters, meal-replacement beverages, and smoothies. As beverages make use of these ingredients, which are said to provide superior flavor, versatility, functionality, and nutritional benefits, formulators will also be looking for flavors—both traditional and novel—to meet different market segments.
Not surprisingly, sensory work continues to be done to determine which flavors appeal to specific marketing segments. For example, flavors are being developed with children in mind. Danisco recently developed fruit-based flavors for milk to encourage children to consume the calcium they require without adding extra sugar to their diet. And International Flavors & Fragrances created a line of flavors called Kidazzle™ for children's beverages, including dairy, still, and carbonated drinks.
Wherever there is innovation in the development of future beverages, flavors will certainly be part of the picture. And while some rising stars can burn out, the value of flavors will only increase in a marketplace influenced by a variety of factors, including economics, demographics, marketing trends, functionality, and, of course, health.
---
Sweetener Systems Enhance Flavor of Low- and Mid-Calorie Beverages
During 2003, high-intensity sweetener manufacturer Nutrinova pioneered work to investigate the needs of U.S. consumers for carbonated beverages that combine a regular taste profile with reduced calories.
The company's research showed that nearly 50% of consumers who drink carbonated soft drinks (CSDs) have a strong desire to reduce calories. However, of these, 23% consume only diet beverages. The remaining 77% either consume only regular CSDs (38%) or switch between both regular and diet CSDs (39%). The majority of these dual drinkers consume both diet and regular beverages to balance calories and taste.
The research evaluated different calorie-reduction concepts, and found that the best way to meet the needs of dual drinkers would be to design a beverage with a regular taste profile as well as high calorie reduction. Depending on the flavor and the brand, mid-calorie beverages can provide a calorie reduction of 50-80% while still retaining the regular taste.
When incorporating single sweeteners with sugar/high-fructose corn syrup into CSDs, taste is often compromised. However, a higher percentage of sugar/HFCS can be replaced if sweetener blends such as Sunett (acesulfame K)/sucralose/HFCS 55, Sunett/aspartame/HFCS 55, or Sunett/aspartame/sucralose/HFCS 55 are used. These combinations provide optimal regular-like taste while enabling significant calorie reduction. Nutrinova has conducted a detailed sensory study on sugar replacement which shows that up to 80% of sugar can be successfully replaced using optimum blends without compromising taste.
Nutrinova also conducted a series of sweetener/flavor interaction studies which showed that taste can be improved by tailoring the sweetener system to suit the individual flavor. Producers of both mid-calorie and low-calorie beverages can capitalize on the findings of these studies.
The studies revealed that for each flavored beverage, certain sweetener combinations taste better than others. Orange, strawberry, peach, lemon-lime, and cola-flavored beverages were studied by a panel of 12 independent experts. Attributes, such as the sweetness profile over time, flavor and mouthfeel, aftertaste, and side taste components, as well as overall quality, were analyzed quantitatively.
--- PAGE BREAK ---
The results highlighted the optimum sweetener combination for each flavored drink.
For lemon-lime, three sugar-free sweetener blends were closest to the sugar profile. However, the combination of Sunett/aspartame (30/70 and 50/50 sweetness ratios) scored the highest marks.
For orange, two sweetener blends enhanced the orange flavor and yielded the best results: Sunett/aspartame (30/70) and Sunett/aspartame/cyclamate (35/35/30).
For cola, the sweetener blend played a significant role in how the cola flavor was perceived. Shifting the blend from 100% sucralose to a 20/80 Sunett/sucralose blend increased the overall cola flavor as well as the "spicy" and "lemon-lime" flavors.
It is vital that manufacturers take full advantage of every opportunity to improve the taste of low-, diet, and mid-calorie beverages to stay ahead in these competitive market sectors. Increasingly, manufacturers recognize that taste is a key factor for successful products and can be optimized using sweetener systems that are individually tailored to the given flavor. The role of the sweetener has progressed beyond that of a "calorie-reducing agent" to an ingredient which can add real value in influencing taste and stability of foods and beverages.
For more information, contact Nutrinova, Inc., 285 Davidson Ave., Ste. 102, Somerset, NJ 08873 (phone 732-271-7221; fax 732-271-7235; www.nutrinova.com).
---
New Program Provides Beverage Solutions
A newly introduced program provides beverage manufacturers with flavor essentials to launch products that contribute to healthier lifestyles while maintaining their taste. The program—called TasteSolutions™ for Health & Wellness—was created by Switzerland-based Givaudan Flavors SA.
While food and beverage manufacturers are responding to the importance of health and wellness, they face substantial product development challenges. The program makes available a portfolio of ingredients such as masking agents, taste modifiers, and flavor enhancers, along with the experience and knowledge necessary to customize these ingredients to meet specific needs of the beverage manufacturer. Expertise in flavor science, product formulation, sensory science, ingredient development, and regulatory affairs are key components of the program.
"A focus on taste receptor research has led to the discovery of novel ingredients that can modify common negative taste attributes that occur when formulating healthful foods and beverages," said Mike Davis, the company's President. "These ingredients have become essential components of the program."
Partnerships with the Monell Chemical Senses Institute, the German Institute of Human Nutrition Potsdam-Rehbruecke, and the Institute of Food Chemistry at the University of Muenster, broaden Givaudan's internal knowledge and research efforts. This technology foundation, combined with the company's creativity in concept and flavor design, helps overcome taste challenges associated with fortified or functional foods and beverages, and with systems reduced in sugar, salt, and fat.
For more information, contact Givaudan Flavors Corp., 1199 Edison Dr., Cincinnati, OH 45216 (phone 513-948-8000; fax 513-948-3582; www.givaudan.com.
--- PAGE BREAK ---
Artificial Throat Studies Flavor Release
A new instrument consisting of glass and rubber tubing simulates the way a human throat releases flavors from beverages. The artificial throat was developed by Dutch flavor company Quest International in a cooperative effort with Nizo Food Research.
The new technology, which could lead to faster flavor development and reduced costs, investigates the connection between swallowing drinks and the first breath that takes the flavor into the nasal cavity. A test liquid is put into the top glass tube, and a clamp attached to rubber tubing is then opened, allowing the liquid to coat the tube. Air is then passed up the tube, acting as the human breath. The exhaled breath containing the flavor compounds is analyzed by a mass spectrometer to determine the nature and level of volatile compounds that lead to flavor release and perception.
On that first breath, up to 80% of the volatiles are reportedly released from beverages to the olfactory system. "This technology can help us understand why that first breath matters so much and how individual differences in swallowing physiology contributes to taste perception," said Nizo leader researcher Alexandra Boelrijk.
She noted that the artificial throat is particularly pertinent for research into sports or low carbohydrate-positioned beverages, considered to be more complicated because their proteins and sugars interfere with flavor perception. The new instrument is currently suited to liquids and liquid beverages, but will be extended to other products such as breads, crisps, and chewing gum.
According to Quest, the new technology would benefit food and drink manufacturers and flavor developers by modeling and predicting volatile release. More valuable information would be delivered, allowing faster turnaround to market for new product concepts.
For more information, write to Quest International, Huizerstraatweg 28, 1411 GP Naarden, The Netherlands (phone 31-35-699-9111; fax 31-35-694-6067).
---
New Yeast Concept Provides Wine with Better Flavor
An innovative blend of several species of yeasts for winemaking provides a controlled alcohol fermentation, while contributing to flavor development in wines. These blended yeast products, including species of Saccharomyces and other wine yeasts, are available from Chr. Hansen, Inc., P.O. Box 14428, Milwaukee, WI 53214-4298 (phone 414-607-5700; fax 414-607-5709; www.chr-hansen.com).
Commercial yeast starter cultures have been used in wine and other fermented beverages to achieve a successful fermentation and to avoid the risk of wine spoilage. However, their use may result in a standardization of wine types, with loss of flavor and complexity in wines. The concept of blended yeast products gives winemakers a possible solution to this common functionality challenge.
Five years of testing in the laboratory and at several commercial wineries in the U.S. and Europe demonstrated that the blended yeast products give winemakers the improved complexity found in successful natural (or "wild") fermentations, and the control and reliability of conventionally inoculated fermentations.
According to Chr. Hansen, 24 different comparison trials of several wine varieties were carried out in 2003 at 15 wineries in California, all with excellent results. In blind tasting, the majority of winemakers said that the wine was richer in texture and more complex, giving better mouthfeel.
Next month, the Ingredients Pre-Show coverage of the 2005 IFT Annual Meeting + FOOD EXPO® will present a jambalaya of the hottest ingredient developments.
by DONALD E. PSZCZOLA
Senior Associate Editor
[email protected]