Positioning chocolate as a "new" ingredient may, at first, seem a little audacious. After all, chocolate's story goes back more than 2,000 years. Today, it is a common ingredient in many kinds of sweets, candies, ice creams, cookies, cakes, pies, desserts, and beverages, and it continues to be one of the most popular flavors in the world.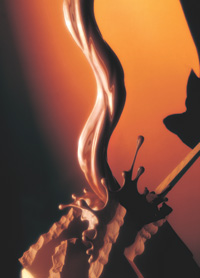 However, there are also some interesting surprises ahead. Chocolate is finding a broader range of applications, especially in savory products, and it can be combined with a variety of components not traditionally associated with chocolate.
A number of trends further underscores chocolate's popularity and its potential value in product development. For example, fueled by the gourmet chocolate trend, there is a rising interest in single-origin chocolates—products made from cocoa beans grown in one country, region, or local plantation. Depending on their origin, these cocoa beans provide a certain flavor profile or other sensory characteristics, and their ability to differentiate a product has been compared to that of coffee or vanilla beans, or even that of grapes for wine making. It is quite possible that someday you may be enjoying a Madagascar-source chocolate mousse or a Venezuela-source chocolate ice cream instead of traditional chocolates from unnamed sources or those consisting of different blends.
The growing emphasis on dark chocolate also reminds us that chocolate is not just chocolate, but the variety—and, in particular, the percentage of cocoa in the chocolate—can make a big difference in a formulation, imparting a richer, more indulgent taste. The interest in dark chocolate is being driven, in part, by the gourmet chocolate trend, but also by general health perceptions. Cocoa is a natural source of flavanol antioxidants—the higher the natural cocoa content, the greater the flavanol antioxidant levels and the more potential for health benefits. Results of a recent study conducted by the Hershey Co. in conjunction with Brunswick Laboratories and Cornell University demonstrated that antioxidant levels are greatest in natural cocoa powder followed by unsweetened baking chocolate, dark chocolate, milk chocolate, and chocolate syrup.
The Food and Drug Administration is keeping a closer eye on the health claims that chocolate products can make, as we have seen in the CocoaVia case. From a research perspective, however, results of studies on cocoa's potential health benefits keep pouring in, ranging from heart health to brain power. For example, the Journal of Cardiovascular Pharmacology recently highlighted new research on the first observed brain-blood-flow improvements linked to flavanol-rich cocoa. Also, the Journal of Hypertension published research that supported previous findings that cocoa helps to improve blood vessel function, especially in older adults. And one emerging area that is gaining particular interest today is the possible connection between chocolate and skin care, with both internal and external uses being studied.
--- PAGE BREAK ---
Chocolate's value as an ingredient, especially in the health arena, may be further enhanced by new technological advancements. In the past, traditional cocoa processing techniques significantly lessened the amount of antioxidants in chocolate manufacture, but this may be changing as new methods are developed which can preserve these valuable components which otherwise would have been lost. According to the Hershey Co., its Natural Cocoa Powder is specially processed to preserve flavanol antioxidant levels. In a study conducted by the Yale Prevention Research Center, the Hershey product was used in hot cocoa and sugar-free cocoa drinks, the consumption of which improved arterial function and blood flow within two hours.
Next month's Ingredients section will look at how formulators go about "globalizing" mainstream foods, and chocolate will play an important role there as well. Because of its versatility, chocolate is very compatible not only with sweet ingredients, but with those that provide saltiness, spiciness, levels of heat, and even acidity. It can provide a background chocolate taste to a non-traditional application, or it can be combined with other ingredients such as wasabi or chipotle, to create a unique confectionery, dessert, or snack application.
So what's in store for chocolate as an ingredient? In addressing this question, several ingredient companies shared their thoughts, marketing insights, innovative prototypes, and new technological developments. From our discussions with them, one thing seemed especially clear. Well, actually two things—the first being chocolate will never go away so for those who feel emotional about the subject, don't worry. The other is that product developers are thinking of chocolate in a variety of creative, non-traditional ways—a thinking, I might add, that goes beyond a conventional box of chocolates and into territories well worth exploring and, in some cases, rediscovering.
Wild Flavors
Your mission: chocolate.
Predicting future trends in the food and beverage industry is not a simple task and certainly does not happen by chance. That's where the N.E.X.T. team comes in. Although it sounds like a secret rescue group found on television prime time, this elite group of trend spotters from Wild Flavors, Inc., Erlanger, Ky. (phone 859-342-3600, www.wildflavors.com), provides the necessary insight and expertise that enables the company to forecast the approaching direction of the marketplace and then help their customers with innovative concept ideation to meet that direction.
--- PAGE BREAK ---
Basing its name on an acronym for New and X-citing Trends, the team represents a diverse mix of cultural, socioeconomic, and educational backgrounds. Together, the members take a cross-focused look at trends, anticipate changes, and comment on the potential success or failure of formulations, packaging, and marketing strategies.
The potential of chocolate as an ingredient, especially in non-traditional applications or paired with ingredients not normally associated with chocolate, is one of the emerging developments that this team has focused on. For example, at the 2005 IFT Food Expo, the company featured a prototype, Chocolate Balsamic Vinaigrette, which combined the cocoa flavor of chocolate and the tanginess of the vinegar. And at this year's Food Expo, the company showed a creamy chocolate confection that combined the flavors of red wine and peppercorn (I'm thinking adult, here). For children, however, there was also a milk beverage formulated with white chocolate and raspberry flavors.
According to Jessica Jones-Dille, Wild's Industry Trends Analyst and the head of the N.E.X.T. team, chocolate is "rounding the bend" when it comes to hot, new high-end flavors. And as formulators continue to assimilate flavors and flavor combinations from different cultures and regions, chocolate's presence will continue to grow.
Another factor that may help fuel chocolate is its use in nutraceuticals or health-promoting products. Wild recently formed an agreement with Cognis Nutrition & Health, LaGrange, Ill. (phone 800-328-6199, www.cognis.com), to combine health ingredients with flavor systems for a broad spectrum of foods and beverages. Considering the popularity of chocolate and its expanding use as an ingredient, one would expect that chocolate could play a part in formulations developed between the two companies.
ADM
Over the past year, Archer Daniels Midland, Decatur, Ill. (phone 217-424-5200, www.admworld.com), developed a number of prototypes that showcased the different directions that chocolate is taking as a food ingredient. Joe Richardson, the company's Senior Research Applications Scientist, commented on some of these prototypes.
--- PAGE BREAK ---
• Children's Chocolate Drink. In the past, cocoa or chocolate was added to milk to boost the flavor for children and adults, noted Richardson. This led to an explosion of innovative flavored milk products for the ready-to-drink beverage market. He hopes that chocolate will provide a similar boost to soy milk products. Chocolate Kids Beverage demonstrated how chocolate can enhance the flavor of soymilk while helping to create a better-for-you product. The use of CornSweet® crystalline fructose as a sweetener provides a lower sugar content compared to regular chocolate milk.
• Savory Sauces. The application of cocoa/chocolate in culinary products is expanding to sauces such as mole—a blend of chocolate, chilies, tomatoes, and spices that is usually served with meat or poultry. Richardson added, however, that desserts are also taking advantage of combining a hot flavor against a sweet taste. For example, the prototype, Bread Pudding with Chili Chocolate Sauce, is made with Merckens® Falls dark chocolate, De Zaan® cocoa powder, chili paste, ginger, and vanilla.
• Snack Bars. Recently, ADM introduced a food systems platform, Aspire, which is designed to help snack food formulators create healthier snacks while maintaining a sense of indulgence. The program, which offers co-innovation opportunities, provides the formulator with ingredients, tools, and expertise to improve nutrition, flavor, and functionality of new or existing snack foods and bars. One prototype snack bar formulated using the new approach was Aspire™ Chocolate Trail Mix Bar, made with Ambrosia® semisweet chocolate drops and CardioAid™ plant sterols. In these applications, it isn't too difficult to figure out which ingredient will be providing that sense of indulgence.
• Dessert Pizzas. When thinking of a traditional pizza, its crust, tomato sauce, cheese, and toppings quickly come to mind. But what if you use cookie dough for pizza crust, chocolate sauce or glaze instead of tomato, cream cheese for mozzarella, and toppings like fruits, raisins, and chocolate (of all sizes and forms) for the usual pepperoni or sausage. And suddenly, you have a dessert pizza—an innovative concept that ADM showcased at the 2006 International Pizza Expo.
And don't be too surprised to see a wide range of other such prototypes on the horizon. One factor that could help broaden chocolate's use as an ingredient is the development or acquisition of new cocoa lines which will add variety to existing lines and, because of their special properties, will open up new territories for formulating.
For example, in 2005, ADM launched a bright red cocoa powder under the De Zaan brand which was intended for such applications as chocolate milk, ice cream, desserts, and confectionery coatings. The bright red color is designed to enhance visual appearance of the finished product and help differentiate it in the marketplace. In 2006, ADM acquired the Cook cocoa power line from World's Finest Chocolate. These powders, ranging from natural to highly alkalized, were integrated under the De Zaan brand.
--- PAGE BREAK ---
David Michael & Co.
A variety of truffle concepts developed by David Michael & Co., Philadelphia, Pa. (phone 215-632- 3100, www.dmflavors.com) combine chocolate with ingredients such as chipotle, jalapeño, green or red tea, and blackberry and other fruit flavors. These prototypes, in addition to responding to different trends in today's marketplace, underscore chocolate's ability to work with a variety of ingredients, whether they are sweet, savory, spicy, or hot.
Because of chocolate's versatility, its use as an ingredient continues to expand. In an interview, Frank Calabro, Senior Food Technologist for David Michael, shared some of his thoughts on chocolate and its role in today's food formulating.
One popular trend is gourmet liquid chocolate. A drinking chocolate resembling Italian hot chocolate is very thick and viscous, pouring more like a syrup than traditional mainstream products that Americans have been accustomed to. "It's like drinking a melted chocolate bar," said Calabro. (And speaking of melted chocolate bars, see sidebar on page 55 for a description of the recently launched Lava Bar, a liquid chocolate confectionery that you squeeze into your mouth.) Another example of this trend is the chocolate fountain. Literally flowing with chocolate, these fountains can be found at weddings and other special events, with flavors such as champagne or rose added to the gourmet chocolate.
Another manifestation of the premium chocolate trend is the increasing interest in single-origin chocolate—made from cocoa beans grown in one country, such as Colombia, Madagascar, or Venezuela. "Chocolate is being treated almost like coffee from a separate estate or plantation," observed Calabro. With the chocolate product's taste depending on the source of the cocoa bean used, a number of different flavor profiles are available for the formulator. Similarities and differences between these profiles can be emphasized and the most appropriate profile used for a particular application. Single-origin chocolate, although high-priced, is becoming a popular niche in the $700 million U.S. market for dark chocolate. Currently, David Michael flavor chemists and sensory analysts are working on flavor enhancers that capture the essence of single-origin chocolates. These flavor enhancers, designed to mimic cocoas from different origins, could be used in hot cocoa mixes, ice cream bar coatings, and flavored milks.
Calabro believes that the renewed interest in gourmet chocolate is here to stay because of its quality, taste, and nutritional benefits, and that this interest will fuel the development of a number of innovative products using chocolate as an ingredient. With the wide variety of cultural influences coming into play in product development, he expects to see more flavor combinations with chocolate and nontraditional ingredients such as Szechuan pepper, wasabe, tea, and red beans.
--- PAGE BREAK ---
Danisco
Health and indulgence, once perceived as very distinct and separate demands, is increasingly being combined, especially when formulating with chocolate. A sweet snacking seminar, under this theme, is planned by Danisco (phone +45-3266-2000; www.danisco.com), and will be held on May 21-23, 2007, in Denmark.
The event, which is inviting food manufacturers from the confectionery and bakery sectors, will present demonstrations on how to meet both demands when formulating innovative chocolate products and other sweet goods. Relying on its portfolio of functional ingredients, flavors, sweeteners, and sweet snacking concepts, Danisco will show how to create healthy and indulgent products with exciting new tastes and textures, as well as discuss future opportunities for these markets.
One example of a prototype developed by Danisco USA, Inc., New Century, Kan. (phone 913-764-8100) was Mind Body Chocolates, formulated with cocoa liquor and cocoa butter, Litesse® polydextrose (a high-fiber, low-glycemic ingredient), and a combination of flavors. Peppermint-Ginger Dark Chocolate and Cinnamon Rosemary Milk Chocolate are an excellent source of fiber for improving digestive health; contain antioxidants which studies have shown can improve cardiovascular function; and provide lower glycemic load and 1/3 less sugar.
Kerry Ingredients
A number of prototype chocolate coatings developed by Kerry Ingredients, Beloit, Wis. (phone 800-334-4788, www.kerryamericas.com), not only demonstrate the popularity of chocolate as an ingredient, but also encompass trends in the areas of health, gourmet and indulgence, and spicier flavor combinations.
"Kerry's primary market research has identified stress as the leading health concern among consumers," said Keith Parle, the company's Director of Functional Foods Sales and Strategic Development. As a result of this research, the company created a dark-chocolate, high-protein nutrition bar that reportedly can reduce stress, which can lead to more serious problems such as hypertension and stroke.
Besides its potential health benefits, the bar provides the indulgent taste of chocolate as well as multiple textures for an enhanced eating experience, noted Parle. The bar contains a cocoa-caramel layer and has a pure chocolate coating.
--- PAGE BREAK ---
Varietal chocolate novelty coatings provide a rich flavor and indulgence while delivering a trans-continental flair. This emphasis on gourmet was demonstrated by Kerry's Intercontinental Chocolate Ice Cream Bonbons, enrobed in coatings highlighting different flavor profiles of specific origins or countries. These profiles include Ghanaian (sweet raisin, roasted peanut, and mild smoky notes complementing a rich cocoa background); Cote-d'Ivoirian (cocoa and chocolate flavors complementing notes of vanilla, malt, dairy, and cooked caramel); Ecuadorian (rich and full bodied with hints of ripe berries and milk chocolate); and Peruvian (rich flavor revealing a complex array of dairy, vanilla, and tobacco notes).
Combining chocolate with savory or spicy flavors is creating interesting opportunities in the upscaling or globalizing of traditional foods. Instead of a chicken coated in bread crumbs, how about a chocolate-coated chicken, using chocolate as a marinade ingredient paired with something a little spicier? Kerry's Choco-potle Chicken Thigh Strips combine dark chicken meat with dark chocolate flavored with chipotle pepper in the mole tradition of southern Mexico. The fusion of these flavors should appeal to consumers who are looking for authentic Mexican flavor profiles or for something a little different from what traditional fast-food restaurants offer.
Cargill
A new product line, marketed under the name Veliche, provides high-quality Belgian chocolate for use by chocolatiers and pastry chefs in North America. The line from Cargill, Wayzata, Minn. (phone 952-742-7575, www.cargill.com), includes three bittersweet chocolates, Chocolat Noir 72%, Chocolate Noir 62%, and Chocolat Noir 58%; two milk chocolates, Chocolat Lait 34% and Chocolat Lait 31%; and a white chocolate, Chocolat Blanc. Manufactured in Belgium, the chocolates are made with vanilla and non-alkalized liquor, and provide a superior flavor. The new line further builds on the company's portfolio of chocolate products, creating new ingredient opportunities for applications using chocolate.
At the 2006 IFT Food Expo, Cargill showcased two innovative chocolate-containing prototypes. A fiber-containing dark chocolate bar allows consumers to indulge in a convenient snack that provides a good source of fiber without affecting taste or texture. The new fiber crisp, containing Cargill's Wilbur® Victorian™ Semisweet Chocolate, can be customized to yield different sizes, colors, and shapes, as well as reformulated to reach higher fiber levels. Also highlighted was a low-fat, soft-serve ice cream served in a cone coated with chocolate (yes, that's cone, not the ice cream). The ice cream part is formulated with Cargill's Gerkens® 10/12 Russet Plus Cocoa powder, and for the chocolate-dipped cone, Wilbur Compound Coating.
In response to the growing popularity of chocolate fountains, Cargill introduced a new premium line of milk and dark fountain chocolate. "Wilbur Tambora™ Milk Chocolate and Bandelier™ Dark Chocolate are the best products of their types for use in fountains because of their rich flavor, smooth mouthfeel, and excellent flow properties," said John Urbanski, Wilbur's Vice President of Technical Sales and Services. "By incorporating additional cocoa butter in them, we eliminate the need to thin the chocolate with oils, which makes the whole process of running a fountain easier and more efficient."
Confectioners and bakers are also beginning to experiment with flavors that traditionally have not been paired with chocolate. The Hot Coats™ Confectionery Coating line from Cargill combines chocolate with such spicy flavors as chili, ginger, and jalapeño. In addition, the company also features the next generation of sugar-free chocolate coatings under the New Frontiers™ name, which provides less calories without compromising on flavor or texture.
--- PAGE BREAK ---
Barry Callebaut
Studies have shown that polyphenols, a natural part of the cocoa bean, may play a role in the prevention or treatment of cardiovascular disease, cancer, and other health problems. However, traditional cocoa processing techniques can significantly reduce the amount of these antioxidants and consequently lessen their potential health value.
In response, Barry Callebaut, St. Albans, Vt. (phone 800-556-8845, www.barry-callebaut.com), has created a new processing method for the preservation of polyphenols in cocoa which otherwise would be lost during chocolate manufacture. The method—called Acticoa™—involves several steps covering harvesting; processing of cocoa beans, a portion of which are unfermented; and the production of the finished chocolate.
According to the manufacturer, chocolate produced by the process is available in a variety of forms. Acticoa Dark Chocolate has a minimum of 3.2% polyphenols (reportedly three times more than red wine and six times greater than green tea) and Acticoa Milk Chocolate contains a minimum of 1.1% polyphenols (two times greater than traditional milk chocolate).
Through its cocoa processing technology, Barry Callebaut has also been able to create Crystal Cocoa, a cocoa powder with a non-hygroscopic character. While traditional cocoa powders quickly take up moisture from the dessert itself or from condensation in packaging, this powder does not absorb any moisture, making it especially suitable for decorating or topping desserts. The new powder retains its powdery texture and color, even in a moist environment or on a creamy or liquid-based dessert. Potential applications for the powder include tiramisu, ice cream, ice cream cakes, mousses, and other desserts.
The company has been able to create a range of dark and milk chocolates made with cocoa beans from specific geographical and botanical origins.
Treatt USA
Chocolate-flavored water? It's possible with a new natural flavor distillate from Treatt USA, Lakeland, Fla. (phone 863-668-9500, www.treatt.com).
"We are seeing an increased demand for chocolate-flavored clear and carbonated beverages," said Giles Bovill, Global Group Marketing Manager for the company. "In response, we have developed Cocoa Treattarome™ 9900, a 100% natural distillate which is entirely water soluble. It is made by manufacturing techniques which ensure maximum flavor extraction, with no extended heat processing involved."
Wholly distilled from cocoa, the ingredient delivers an authentic chocolate character with a creamy, nutty front end; powdered cocoa and white chocolate notes; and a dark roasted finish. It offers a well-rounded cocoa flavor to food and beverage systems, and is particularly suitable for clear beverages, alcoholic drinks, juices, and dairy products. At the 2006 IFT Food Expo, the distillate was highlighted in a clear beverage which I sampled and it delivered a nice smell and taste very reminiscent of chocolate.
--- PAGE BREAK ---
According to Bovill, the water-soluble product can be used at varying dosage levels, depending on the desired flavor profile. For example, at 0.1% as a sole flavoring, it provides an intense chocolate character, while at 0.05% or less, it produces a mild, creamy aroma. Furthermore, it blends well with banana and other flavors used in beverages and milk shakes.
Since Treatt is headquartered in the United Kingdom, I asked Bovill to comment on the perception of chocolate in Europe. He answered, "In Europe, despite the formation of the European Union, each country has very distinct perceptions when it comes to chocolate flavor. Some countries prefer more intense, dark chocolate flavors, whereas others like lighter milk chocolate. These preferences have developed over hundreds of years and reflect each country's culture." It will be interesting to see if products such as chocolate-flavored water will appeal to markets on both sides of the ocean.
Aalst
From Singapore comes a variety of chocolate innovations developed by chocolate manufacturer, Aalst Chocolate, Ltd. (phone +65-68632626, www.aalst-chocolate.com).
A range of premium chocolates, The Patissier Series, was recently launched for culinary use. (The word "Patissier," by the way, is French for pastry cook or pastry chef, which sort of gives you an idea for what use these chocolates have been developed.) Available in a variety of types, including pure origins, these products are especially suitable for ganaches and mousse.
Aalst Chocolate has also reinvented the chocolate chip, developing twin-chocolate products. These eye-catching, dual-colored chips are bake stable and may be used as inclusions for applications such as bakery products and ice creams.
Pass the Chocolate, Please
Chocolate's somewhat paradoxical status as a "new" ingredient, especially in non-traditional applications ranging from salad dressings to skin care products, will continue to grow—fueled, in part, by new technological advances. Earlier, for example, this article discussed a number advances from Barry Callebaut, including the production of cocoa powders that are non-hygroscopic in nature and powders that retain high levels of polyphenols during processing. Both developments will obviously open up new opportunities for chocolate's use as an ingredient.
Also, a cocoa bean powder that is rich in fiber and low in fat has been developed by Natraceutical, a biotechnology company of the Spanish food producer, Natra S.A. According to Natra U.S., Inc., Chula Vista, Calif. (phone 619-397-4120, www.natraus.com), the product has an intense cocoa flavor and color, making its suitable for use in a range of applications. It contains 36 to 40% insoluble fiber and 4 to 8% soluble dietary fiber. The powder is available in reduced-fat (10-12% fat) and low-fat (less than 2% fat) versions.
--- PAGE BREAK ---
Researchers at the Institute for Surface Chemistry in Sweden have developed technology allowing them to map the surface of chocolate more effectively. They are currently focusing on structures in chocolate, mechanisms of bloom formation, oil migration mechanisms, and recrystallization in chocolate. Solving the problem of fat bloom would not only lessen significant product losses for confectionery manufacturers, but might encourage the development of new products, especially those that have a soft fat center.
Food scientists at the Cocoa Research Institute of Nigeria have produced a heat-resistant chocolate that is said to compare favorably with conventional milk chocolate in terms of color, taste, smoothness, and overall acceptability. The researchers found that the use of 10% cornstarch acts as a chocolate thickener preventing the outflow of cocoa butter when the heat is on. While most brands of chocolate melt at temperatures between 77°F and 91°F, this product reportedly stays firm up to 122°F. Previous efforts at developing a heat-resistant chocolate resulted in a product that did not melt in the mouth, but required chewing and had a waxy characteristic. Taste tests showed that this new corn-starch-containing chocolate does not have this problem. If so, then this confection may increase the consumption of chocolate in tropical areas as well as create some interesting product development opportunities.
Recently, the Hershey Co. established the Hershey Center for Health and Nutrition, which, based on cutting-edge scientific research, will develop products and technologies that provide consumers with health benefits. The center is designed to be a significant source of new-product innovation as it draws upon clinical studies and scientific analysis of the health benefits of cocoa, nuts, and other ingredients. The facility will utilize the company's internal scientific capabilities as well as partnerships formed with internationally-known researchers and institutions.
Technological developments such as these should help spur chocolate's use as an ingredient in an expanding range of applications—a point further emphasized in a press release from Hershey. "Move over salt and pepper—there's another ingredient appearing in America's restaurants across the nation. Restaurateurs are discovering new ways to utilize cocoa in recipes and menu selections to accommodate Americans' healthier eating habits. Cocoa is being added to old favorites as well as innovative new dishes—from fresh fruit to salmon to chili."
By associating cocoa with salt and pepper, the press release suggests that cocoa may be used to spice up dishes, providing enhanced flavor options for a wide range of healthy cuisines. Coffee houses have been making available "chocolate shakers" for awhile now and some supermarkets are selling chocolate as a seasoning. Such a perception of cocoa or chocolate as a new spice could easily lead to increased efforts by product developers to find creative ways to incorporate natural cocoa into their formulations. And, of course, because of chocolate's versatility, the possibilities would be endless.
So, don't be shy…pass the chocolate, please.
Next month's Ingredients section will look at how food formulators use ingredients, flavors, technologies, and concepts from around the world to "globalize" traditional foods and beverages."
--- PAGE BREAK ---
Chocolate Concepts in the Marketplace
A number of innovative chocolate-containing products have been recently launched in the marketplace. These new products demonstrate the different directions that chocolate as an ingredient is taking, its versatility with other ingredients to create new innovative concepts, and the benefits that chocolate can bring to product formulation.
• Vinegar. A cocoa-based vinegar, Vinecao, provides sauces and dressings with a balance of sweet-and-sour, bitter, and acidic flavors. The newly launched product was developed by Bruno Menard, former executive chef of The Dining Room at the Ritz-Carlton in Atlanta, in conjunction with Chocolat Weiss, a French producer of fine chocolates. Menard created a number of recipes using the vinegar, including red wine- and port-based sauces for meat or poultry, orange and basil sauces for cooked fish, and a vinaigrette for salads, carpaccio, shellfish, or oysters. The product is commercially available from Chocolat Weiss.
• Seasonings. A line of chocolate-based grilling rubs and spice blends are suitable for seasoning beef, poultry, and pork. The seasonings, available from Diva Chocolates, Portland, Ore., combine chocolate with ingredients such as orange peel, lemongrass, espresso, cinnamon, corlander and fennel to create an innovative alternative to traditional barbecue products. According to the company, the rubs use roasted cocoa beans or unsweetened cocoa powders to complement the smokiness of the grilled meats. The line of new seasonings includes Mocha Java Steak Rub, Orange Chocolate Chicken Rub, Spicy Cocoa Rib Rub, Kickin' Chocolate Beef Rub, and Cocoa Fennel Burger Mix.
• Ice Cream. Talk about going back to the beginning. According to Haagen-Dazs, its recently launched Mayan Chocolate Ice Cream is inspired by the original chocolate crafted by the Mayans more than 2,500 years ago. The rich, creamy product combines the flavors of dark chocolate and cinnamon. The dark chocolate is swirled with fudge, with the cinnamon masking any hint of bitterness. The ice cream may be topped with ginger fruit salsa, jalapeño fruit salsa, or warm ginger bananas. Definitely worth "sacrificing" for although not in the traditional Mayan sense.
• Liquid Chocolate Bar. A confectionery product, The Lava Bar™, contains 2.5 oz of gourmet liquid chocolate in a flexible film, foil-lined package featuring an easy-open notch-top that facilitates squeezing the thick liquid into one's mouth. The product from Los Angeles-based Lava Chocolate LLC can be eaten directly from the package or added to milkshakes, poured over ice cream, or served over fresh fruit. In development for three years, it will be available in supermarkets and convenience stores across the country.
--- PAGE BREAK ---
Colorizing Chocolate
What does artificial turf and chocolate have in common? Answer: Possibly a new form of colored coating.
Scientists at Cornell University have created an "edible paint" that someday may be used in confectionery coatings, dietary supplements, and other foods. To test their technology, the researchers applied their coating to artificial turf. This was done by first spraying an aqueous solution of calcium chloride, which functions as a gelling agent, and then spraying sodium alginate with 1% red color. The sprayed solutions combined to form a colored thin film. A range of other colors can also be used. But does it have GRASS status?
There are, of course, other ways to colorize your chocolate. For example, natural color blends in emulsion form can be easily incorporated into cocoa butter or palm kernel oil for chocolate and confectionery applications. Products such as "red" or "green" white chocolate can be created. The colors are available from D.D. Williamson, Louisville, Ky. (phone 502-895-2438, www.ddwilliamson.com), in conjunction with colorMaker, Inc.
And from Terri Lynn, Inc., Elgin, Ill. (phone 847-741-1900, www.terrilynn.com), comes extensive confectioner coating capabilities in the areas of Milk, Dark, and White Chocolate. For instance, the company can "color match" the product, creating a blue-colored white chocolate to cover a blueberry. Whether you need to color match the foods you eat with that blueberry is your call.
by Donald E. Pszczola,
Senior Associate Editor
[email protected]