Since the 2005 Dietary Guidelines for Americans recommended that consumers increase their whole grain consumption to at least three servings a day, sales of whole-grain products have soared. From the time the recommendations were made in January 2005 through mid-June of the same year, according to data provided by the Whole Grains Council (www.wholegrainscouncil.org/wgfacts+figures.htm) sales of whole-grain bread and baked goods rose 18.3% to $1.1 billion; whole-grain crackers 10.2% to $330 million; whole-grain muffins 287% to $23.4 million, and whole-grain buns 23% to $22 million.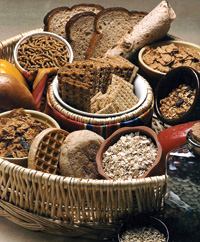 "We truly think that whole grains are not the latest add-in fad," comments Cynthia Harriman ([email protected]), Director of Food and Nutrition Strategies at Oldways/Whole Grains Council, Boston, Mass. (www.wholegrainscouncil.org). "Rather, we foresee the day, in not so many years, when all grain foods are made with whole grains, in whole or in part."
Consumers are finding an increasing number of products touting their whole grain content, including nutrition bars, baked goods, and prepared meals. "Breads and cereals, of course, lead the pack, because they've been around the longest," says Harriman, "But we're seeing big growth in foods like bars and waffles, as well as croissants and biscuits."
In addition to introducing new products, companies are also reformulating existing product lines to provide whole grain benefits. For example, New World Pasta Co., Harrisburg, Pa. (800-730-5957, www.healthyharvestpasta.com) recently reformulated its line of Ronzoni Healthy Harvest® pasta to be an excellent source of whole grains.
"The primary driver for the formulation change was to improve the nutritional value of our product and capitalize the importance given whole grains in the U.S. Dept. of Agriculture's new Food Pyramid," says Dave Hahn, Director of Research and Development. One serving of Healthy Harvest pasta contains approximately 30 g of whole grain. "We incorporated the equivalent of more than 50% whole-wheat flour with the nutritional benefit of the endosperm, bran, and germ. Healthy Harvest is a unique blend of whole durum wheat flour, semolina, and wheat fiber that provides most of the benefits of whole wheat without the negative flavor and texture normally associated with whole-wheat pasta products."
Health Benefits
The health benefits of whole grains can be attributed to the fact that they are a rich source of phytochemicals, bran, fiber, minerals, and vitamins. Harriman supplied data from a December 2005 study by the Whole Grains Council and Unilever, Englewood Cliffs, N.J., the maker of Knorr®–Lipton® Sides™ Made with Whole Grain. The response to "What benefits of eating whole grains can you name?" were don't know any (22%), maintains body regularity such as helps digestion/regularity or provides fiber (39%), provides vitamins and minerals (17%), helps lower cholesterol (12%), helps maintain a healthy heart (8%), helps prevent cancer/diseases (5%), helps lower blood pressure (2%), helps reduce risk of diabetes (1%), and provides protein (1%).
--- PAGE BREAK ---
With weight management and heart disease ranking as two of today's top health concerns, consumers can certainly reap the benefits of whole grains, thanks to ongoing research in both areas. "I think the most interesting work being done now is related to weight control and satiety," says Harriman. "For so long, we've thought we have to feel hungry in order to control our weight, and now we're learning that you can feel full and satisfied and still keep your weight under control if you eat the right foods, including whole grains.
The Whole Grains Council's Web site cites several studies related to whole grain consumption and weight. For example, a study of the diet and health records of 27,000 men found that those who ate 40 g of whole grains/day cut middle-age weight gain by up to 3.5 lb (Koh-Banerjee et al., 2004). The researchers concluded that the increased consumption of whole grains was inversely related to weight gain, and the associations persisted after changes in added bran or fiber intakes were taken into account.
An observational study indicated that more than 3 whole-grain servings/day could reduce the risk of metabolic syndrome and cardiovascular disease in older adults (Sahyoun et al., 2006). Metabolic syndrome is characterized by central obesity, hypertension, and disturbed glucose and insulin metabolism. The syndrome has been linked to increased risks of both type 2 diabetes and cardiovascular disease. The study of 535 healthy people, age 60–98, showed a significant inverse trend between whole grain intake and the metabolic syndrome and mortality from cardiovascular disease. The researchers concluded that whole-grain intake is a modifiable dietary risk factor, and both older and young adults should be encouraged to increase their daily intake to at least 3 servings/day."
Grain by Grain
Amaranth, barley, buckwheat, corn, oats, rice, rye, triticale, and wheat, when consumed in a form that includes the bran, germ, and endosperm, are examples of generally accepted whole-grain foods and flours. Harriman says that according to USDA data, the most popular whole grains in the United States are wheat (73.5%), corn (12.3%), rice (11%), oats (2.6%), barley (0.4%), and rye (0.3%). She adds that there is growing interest in two grains: barley and quinoa.
• Barley. This grain is currently enjoying the limelight thanks to its newly approved health claim. In early 2006, the Food and Drug Administration finalized a rule that allows foods containing barley to claim that they reduce the risk of coronary heart disease. Specifically, whole-grain barley and dry-milled barley products such as flakes, grits, flour, and pearled barley that provide at least 0.75 g of soluble fiber/serving, may bear the claim.
--- PAGE BREAK ---
"It's the highest-fiber grain, with fiber throughout the endosperm as well as in the bran layer," says Harriman.
Recent ingredient innovations from suppliers will help include barley in mainstream products. For example, ConAgra Mills, Omaha, Neb. (www.conagrafoodingredients.com), offers high-fiber Sustagrain® Barley, an identity-preserved, waxy barley variety, high in dietary fiber and low in starch. It is available in flour, thick and quick-cooking flakes, as well as steel-cut and whole kernel.
Cargill Health & Food Technologies, Minneapolis, Minn. (www.cargillhft.com), recently discussed the benefits of its Barliv™ barley beta-glucan. Results from a Cargill-sponsored clinical study on its effects on biomarkers of metabolic syndrome indicated that adding barley beta-glucan to the diet can significantly improve multiple risk markers for cardiovascular disease and after-meal metabolism among individuals with metabolic syndrome. The test subjects' intake of barley beta-glucan was either 3 g or 5 g/day (Cargill, 2006).
• Quinoa. This is a small, light-colored round grain, similar in appearance to sesame seeds. According to the Whole Grains Council, the abundant protein in quinoa is complete protein, which means that it contains all the essential amino acids our bodies can't make on their own.
• Oats. The heart-health benefits, specifically lowering cholesterol, of oats and oat beta-glucan are already well known. Several ingredient suppliers offer oat ingredients that benefit cardiovascular health. For example, Oat Ingredients LLC, Boulder, Colo. (www.oatingredients.com), offers OatWell® high-fiber oat bran and flour products that contain soluble fiber (beta-glucan) up to 22% and total dietary fiber up to 44%. GTC Nutrition, Golden, Colo. (www.gtcnutrition.com), offers Natureal™ oat bran concentrate, an all-natural soluble and insoluble oat fiber rich in oat beta-glucan.
• Rice. The protein in rice is highly digestible and is well balanced because all eight amino acids are present in proper proportion. Rice contributes more than 15 essential nutrients to the diet, but is especially rich in B-vitamins, potassium, magnesium, selenium, fiber, and iron, according to the USA Rice Federation, Arlington, Va. (www.usarice.com). A study by Betres- Marquez et al. (2005) found that people who eat rice have healthier diets, eat more fruits and vegetables, consume less added sugar and fat, and are likely to have a lower body mass index than non-rice eaters.
--- PAGE BREAK ---
• Wheat. New wheat ingredients are also making it easier for manufacturers to incorporate whole grains into products, such as Sara Lee's Soft & Smooth™ White Bread made with Whole Grains. Creative Research Management, Stockton, Calif. (www.crmcorp.net), offers GrainLife™ ingredients that preserve all the nutrients of the whole grain. Ingredients in this line include WheatLife, CornLife, and RiceLife. The production of GrainLife ingredients begins with separating the components of whole grains, then subjecting them to cooking and a mild enzymatic process. These cooked and digested components are then recombined to produce an ingredient with such functional properties as increased milk-like emulsion, liberated proteins that readily form films and foam, absence of chewy pulpy texture, and soft non-abrasive insoluble fibers.
Last year, Horizon Milling, Minneapolis, Minn. (www.horizonmilling.com), a joint venture between Cargill, Inc. and CHS Inc., launched WheatSelect™ white spring whole-wheat flour. It delivers the health benefits of whole grain nutrition but with a lighter color, softer texture, and milder taste that consumers prefer. Advanced flour milling processes produce a fine-grind flour that optimizes granulation size for baking performance.
---
Defining Whole Grains
In 2006, the Food and Drug Administration issued a draft guidance on what the term "whole grain" may include. It considers a "'whole grain' to include cereal grains that consist of the intact, ground, cracked, or flaked fruit of the grains whose principal components—the starchy endosperm, germ, and bran—are present in the same relative proportions as they exist in the intact grain." FDA currently permits foods that contain at least 51% whole grains by weight and are low in total fat, saturated fat, and cholesterol to carry a health claim linking them to reduced risk of heart disease and certain cancers.
To help consumers keep track of their consumption, the Whole Grains Council initiated the Whole Grain Stamp program in 2005. The stamps are widely used on foods such as breads, cereals, crackers, and granola bars. Last month, the U.S. Dept. of Agriculture's Food Safety and Inspection Service approved the use of the stamps on products that contain meat and poultry in addition to grains.
The stamps currently appear on more than 800 food products in the United States. They indicate the whole-grain content of products by weight and recommend how much to consume each day. To qualify for the stamp, products must contain at least 8 g of whole grains. Stamps on products with at least 16 g of whole grains may also add "100 %" if all the grain in the product is whole grain.
by Linda Milo Ohr,
Contributing Editor, Denver, Colo.
[email protected]