Sure, Chicago in July is going to be hot. But this year's IFT Food Expo is shaping up to be hotter than ever. Where else can you find the hottest healthful food trends and innovations in the food industry?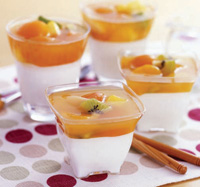 On the Food Expo floor, specific pavilions will provide exhibitors a forum to showcase similar products and services under one roof. For example, the Healthy Food Ingredients Pavilion features the latest nutraceutical and functional products. The Organic Food Ingredients Pavilion provides an exciting forum for innovative companies and certified organic products.
Other innovations on the show floor range from a flaxseed–fish oil combination and a rice yogurt to a pea protein and a calcium inulin granulate. You'll definitely need more than one afternoon to cover all of the exhibits.
Exhibitors will also host various presentations on the Food Expo floor. Mintel, Chicago, Ill. (Booth 3113), will conduct fast-paced presentations in the Global New Products Pavilion that will cover the most important new food trends.
• "The Next Big Thing in Health" focuses on the future of health though the analysis of food and flavor trends on U.S. restaurant menus. It is scheduled on Sunday, Monday, and Tuesday at 11:30 a.m.
• "Products for Enhanced Memory and Brain Function" discusses the trend for enhanced mental function, covering development, key product examples, and insight into future developments. It is scheduled on Sunday, Monday, and Tuesday at 12:30 p.m.
• "'Free-From' Foods" covers a new generation of allergen-free foods, now often positioned to attract a more mainstream group of consumers. It is scheduled on Sunday, Monday, and Tuesday at 2:30 p.m.
--- PAGE BREAK ---
Another exhibitor, the Burdock Group, Vero Beach, Fla. (Booth 3722), will present current solutions for moving functional ingredients into the food sector, looking at functional foods and structure/function claims. The presentations are scheduled for July 29 at 11:30 a.m.; July 30 at 11:30 a.m. and 2:30 p.m.; and July 31 at 11:30 a.m.
New this year are two New Products & Technologies Forums, right on the Food Expo floor, that will feature half-hour presentations on the top six submissions to the traditional New Products & Technologies sessions. The forums will take place on Sunday and Monday afternoons and will include, among others, presentations on health-related products, including a non-allergenic vegetable protein, a beta-glucan-rich oat hydrocolloid, and an insoluble fiber from sugarcane. Tabletop exhibits in conjunction with the forum will cover such health-related items as a mid-oleic soybean oil for frying, a method that enables native starch to function like dietary fiber, a nutritional texturizer, and a dextrin-soluble fiber for healthy confectionery products.
The traditional new Products & Technologies sessions will as usual take place during the Scientific Program. Six sessions will feature 31 presentations from companies presenting cutting-edge information on newly commercialized products and technologies, including those related to health and wellness.
In the Scientific Program, more than 40 sessions will address the theme "Health, Wellness, and Foods." A General Session, "Senior Executives Cut the Fat on Industry's Approach to Health, Wellness, and Foods" (July 30, 8:30-10:15 a.m.), is one not to be missed. Senior industry executives representing leading global food companies will speak on issues pertaining to health, wellness, and foods and will address the opportunities and challenges. Another General Session, "Food Technology Presents: Where Do We Go from Here? The Experts Speak Out!" (July 31, 8:30-10:00 a.m.), will include leading trend/product tracking experts and regulatory experts providing insights into future food and beverage opportunities and regulatory issues.
And don't miss the other sessions covering such topics as nutritional proteins, metabolic syndrome, weight reduction, functional beverages, prebiotics, and health claims.
--- PAGE BREAK ---
Antioxidants
Antioxidants for health promotion
Free radicals and oxidative stress are becoming increasingly recognized as potential causes of many human diseases. Novel antioxidants are potent scavengers of free radicals and oxidative stress. They also maintain the integrity of genomic DNA. Proper supplementation of antioxidants may promote human health and disease prevention. Antioxidants also prevent the oxidative deterioration of formulations in the food, pharmaceutical, and nutraceutical industries.
In this session, attendees will be able to learn about antioxidants and human health, cancer chemoprevention, neurodegeneration, and memory loss. Session 62
Antioxidants from nature
De-bittered olive powder, lycopene, and cocoa polyphenols are part of the Antioxidants from Nature portfolio. The one-of-a-kind olive products are produced from fresh, semi-defatted and de-stoned olives. They are excellent sources of nutritionally active compounds, notably antioxidants (e.g., hydroxytryosol, tocopherol, and squalene) and dietary fiber (insoluble and soluble fiber), which are beneficial to health, and provide a convenient way to add savory taste to soups, sauces, dressing, breads, and pasta.
Lycopene is a powerful antioxidant made via CO2 supercritical extraction from natural tomatoes. Lycopene belongs to the family of natural compounds known as carotenoids, and is about twice as powerful as beta-carotene.
Cocoa extracts deliver a minimum of 20% polyphenols and are rich in other functional compounds including theobromine, phenyl ethylamine, tyramine, and more. In the company's manufacturing process, the undesirable insolubles are removed while at the same time the flavor components are selectively concentrated. CPC Ingredients Conesa, www.olivepowder.com, www.e-conesa.com, www.chocolatepowder.com, Booth 5520
--- PAGE BREAK ---
New study supports lutein's role in eye health
Researchers at the Institute of Ophthalmology, St. Franziskus Hospital, Muenster, Germany, recently showed that Xangold® natural lutein esters have potential benefits to those at risk or already showing early signs of Age-Related Macular Degeneration (AMD). They gave 108 adults a daily supplement containing antioxidants—including 12 mg of lutein from Xangold lutein esters—for six months. The subjects, with an average age of 71.5 years, nearly all exhibited early symptoms of AMD. A control group of 28 subjects received no food supplements.
Results in the intervention group showed substantial increases in blood levels of lutein and a statistically significant average increase of 16% in macular pigment density. Moreover, 25% of the group had increases in MPOD averaging an astonishing 50%. The supplement used in the study consisted of 12 mg of lutein and 1 mg of zeaxanthin (both provided in the ester form as Xangold), 120 mg of vitamin C, 17.6 mg of vitamin E, 10 mg of zinc, and 40 μg of selenium. Cognis Nutrition
Energy
Sweetener provides long-lasting energy
With its ability to provide long-lasting energy in the form of glucose, Palatinose™ has a natural, sweet taste and low glycemic response and is tooth-friendly. Samples of commercial applications will be on display, including multi-flavored sports, nutrition, and energy drinks, biscuits and bars, fitness waters, nutritional supplements, meal replacers, baking mixes, vitamin-rich beverages, nutritious dairy drinks, healthy snacks, and ice cream.
Visitors will also learn of new scientific studies confirming that Palatinose™ significantly boosts metabolic fat oxidation, promoting the mobilization and use of fatty acids as an energy source. These findings verify the value of Palatinose™ as an aid for weight management and weight control applications. Palatinit, www.palatinit.com, Booth 4939
Energy drinks featured
Beverages that address energy and bone health will be among the prototypes on display. Responding to consumer and customer demand for health-oriented, great-tasting, and convenient food and beverage products, Cargill will showcase more than a dozen prototypes from the bakery, beverage, cereals and snacks, confectionery, and dairy categories.
--- PAGE BREAK ---
From addressing consumer health issues such as weight management and heart health, to satisfying consumer cravings for pure indulgence, Cargill will demonstrate how it helps customers meet their business goals through its ability to help customers formulate new products through a combination of market insights, technical capabilities, and ingredient innovations in flavor, sweetness, texture, and health-promoting ingredients.
Other prototypes showcased will include baked goods with flavor variety and healthier fats; adult-focused indulgent cereal and convenient snacks with health benefits; a healthful dairy drink and indulgent dairy treat; confections with no or reduced sugar and low calories; and an organic confection and refreshing organic low-calorie beverage. Cargill Health & Food Technologies, www.cargillhft.com, Booth 2348
Premixes provide energy
Nutrient premixes are formulated to address specific consumer health concerns such as bone health, cardiovascular health, immune system health, and diabetes. Also available will be premixes to provide energy, balanced nutrition, and nutrition for children.
Watson manufactures nutrient systems to improve the nutritional value of foods and beverages. Custom vitamin/mineral premixes eliminate the need to scale each ingredient and assures potency.
The company also micro-encapsulates vitamins, minerals, botanicals, and amino acids to mask odors and flavors while preventing ingredient interactions and increasing the stability of the nutrient. It also produces functional bakery ingredients, stabilizers, texturizers, fat replacers, beta carotene, and water-soluble films. Watson, Inc., www.watson-inc.com, Booth 2327
Fruits and Botanicals
Cranberries for health
Findings at the Worcester Polytechnic Institute revealed how the cranberry's A-type proanthocyanidins work to reduce the risk of bacterial adhesion. Ocean Spray ITG's health milestones brochure, designed to explain the myriad of studies providing evidence of cranberry's health benefits, presents this recent study as well as a wealth of other research findings in a concise, at-a-glance guide.
--- PAGE BREAK ---
An innovative range of BerryFusions™ Fruits allows manufacturers to include process-tolerant fruit pieces in a variety of natural flavors. Sweetened dried cranberries (SDCs), including the less-sugar, high-fiber SDC, and the cost-effective diced and double-diced SDCs, will also be on display. Ocean Spray ITG, www.oceansprayitg.com, www.oceanspray.com, Booth 3713
Plant extracts line extended
A plant extracts line, NAT'Activ™ now includes maca, black cohosh, guarana, and pesticide-free ginseng (GinseniPure™). This line includes more than 300 botanical extracts in a wide range of different forms (water soluble, liquid, powder) to ease their use. The level of active compounds and the traceability of each extract are guaranteed, thanks to the internal quality control laboratory.
NAT'Arom™, a line of spices and herbs, oleoresins, and essential oils for the food industry, has been extended to include a range of flavoring extracts such as tamarind, St John's bread, licorice, chicory, and fenugreek.
The NAT'Color™ line includes carotenoids from carrot, tomato, paprika, and annatto. Naturex is able to enhance the stability of its blends with NAT'Stabil™ products, a line of rosemary extracts (more than 100 different extracts from this single raw material). It enables producers to enhance the shelf life of many food and beverage products naturally. Naturex, www.naturex.com, Booth 939
Blueberries high in antioxidants
Blueberries are a source of vitamins, minerals, dietary fiber, phenolics, and flavonoids. Based on data from the U.S. Dept. of Agriculture's Human Nutrition Research Center on Aging, blueberries are among the fruits with the highest antioxidant activity.
The US Highbush Blueberry Council promotes the consumption of cultivated blueberries in the United States and abroad. The council represents producers, handlers, and exporters of highbush blueberries. Real fruit, true blue, easy-to-use, highbush blueberries come in a variety of forms to meet industry needs. These forms include fresh, frozen, dehydrated, liquid, canned, and preserved. US Highbush Blueberry Council, www.blueberry.org, Booth 2974
--- PAGE BREAK ---
• A whole cranberry powder, PACran™, has been tested and certified by Brunswick Laboratories to contain guaranteed levels of cranberry proanthocyanidins (PACs). It supplies no less than 1.5% of cranberry PACs measured via the published and USDA-recognized HPLC analytical method. Decas Cranberry Products Inc., www.decasbotanical.com, Booth 332
• A pomegranate ingredient, PomegranateP40p™, with 40% punicosides is kosher certified. Its antioxidant benefits come from the array of polyphenols present in the fruit's seeds, husk, and juice. It is manufactured by Polinat. A natural colorant, Tomat-O-Red SG 2% is water and lipid soluble, and ideal for coloring because it is a natural alternative to carmine/cochineal. It delivers the healthy benefits of lycopene as it contains 20,000 ppm of the phytochemical. PL Thomas & Co., www.plthomas.com, Booth 970
• High-quality, low-cost botanical, nutraceutical, and fruit extract ingredients are available. In May 2007, The Ingredient House signed a strategic alliance with Novel Ingredient Services, an established player in high-quality ingredients for the dietary supplements market with significant sourcing capabilities and expertise. The companies will demonstrate their ingredients capabilities for creating nutrition-enhanced healthier food and beverage products with a series of great-tasting prototypes. The Ingredient House, www.theingredienthouse.com, Booth 4925
Fiber
Chicory and inulin innovations
A sweet, liquid chicory fiber, Frutalose® L92, comes in the form of a 75 Brix syrup, contains 92% fiber (d.b.), and provides approximately 45% the sweetness of sugar. Published in January 2007, a clinical study showed that consuming 5 g of Frutafit® inulin/day elicited a significant increase in the bifidobacteria levels of healthy adults. The data pave the way for a variety of claims related to a healthy digestive system.
Whether trying to replace sugar or fat, these inulin ingredients are said to help optimize both the taste and texture of "light" products. With a value of 1.5 kcal/g, these products offer the calorie reductions needed to bring that "better for you" product to market with success. Sensus America Inc., www.sensus.us, Booth 3925
--- PAGE BREAK ---
Whole-grain flour supplies nutrients
A whole-grain corn flour, Hi-maize, is made from specialty hybrid high-amylose corn to deliver a wide range of functional and nutritional benefits. These include total dietary fiber content of 30-33%. The ingredient contains resistant starch, a natural dietary fiber found in legumes, seeds, and partially milled grains. This resistant starch provides the wholesome and natural fiber lacking in conventional flours.
The whole-grain flour also has an extraordinarily high antioxidant content, nearly the same as blueberries. Most of the antioxidant activity is from bound phytochemicals that survive digestion to reach the colon, a mechanism that can lead to cancer prevention. The Hi-maize whole-grain corn flour has the highest amount of folic acid.
The company also offers Nutriose® soluble fibers and Homecraft™ functional flours. National Starch Food Innovation, www.foodinnovation.com, Booth 942
Yeast beta-glucan promotes immune health
Yeast beta 1,3/1,6 glucan is clinically proven to enhance immune responses. WGP 3-6 is a food ingredient that has demonstrated benefits in general immune support, protection against infectious agents, wound healing, anti-cancer properties, and recovery of white blood cell (WBC) counts due to bone marrow damage. It improves the body's immune defense against foreign invaders by enhancing the ability of white blood cells including macrophages, neutrophils, and natural killer cells to respond to and fight bacteria, viruses, fungi, and parasites. The specific conditions of manufacture, safety data, and product specifications apply only to the beta 1,3/1,6 glucan produced by Biothera's patented process as defined in the GRAS dossier and FDA notification. Biothera, www.biotherapharma.com, Booth 4227
Nutritional Fats
Innovative technology for omega-3s
A chef will use MEG-3® healthy food ingredient in various food applications for visitors to taste. Ocean Nutrition Canada Limited will highlight its MEG-3 brand omega-3 eicosapentaenoic acid/docosahexaenoic acid healthy food ingredient from fish oil.
--- PAGE BREAK ---
This ingredient is one-of-a-kind due to a patented, microencapsulation technology, called Power-loc™, which turns high-quality fish oil into powder that is finer than flour. The technology uses double-shell protection, which keeps the EPA/DHA locked into the microcap, while keeping the smell and taste of fish locked out of the food. It also provides superior process tolerance and ease of formulation without altering the taste or smell of the finished food product. Ocean Nutrition Canada Ltd., www.ocean-nutrition.com, Booth 1365
A myriad of healthy fats
Natural ingredients for heart health, Vegapure® plant sterols and sterol esters are clinically proven to lower cholesterol up to 15%. The sterols have been used in eight major published studies.
Thirteen major published studies have shown that Tonalin® CLA (conjugated linoleic acid) works as a fat fighter to produce leaner, healthier bodies. The ingredient reduces up to 9% of body fat and prevents fat regain.
Cognis is also introducing Omevital™ 1812 TG Gold and Omevital 30% Omega-3 Powder for use in food-grade applications. They are ultra-refined, high purity products and sourced from a supplier with more than 20 years of experience. Newtrition from Cognis Nutrition and Health is your opportunity to meet the increasing demands for innovative, effective, and safe functional foods. The company offers naturally-sourced ingredients that can help you create cutting-edge products, and position your business for long-term growth. Cognis Nutrition and Health, www.cognis.com, Booth 342
Company celebrates 50th anniversary
While celebrating its 50th Anniversary, The Wright Group has launched a line of product concepts that demonstrates its expertise in the application of functional ingredients in innovative foods and beverages. One example, the Omega-3 Orange Breakfast Drink, positioned for the children's nutrition market, has to date generated considerable interest and is a must see for all marketing managers.
--- PAGE BREAK ---
The company is focused on formulating fortification systems that are used to develop the health products that have been embraced by markets around the globe. The Wright Group, www.thewrightgroup.net, Booth 3928
Flaxseed–fish oil combo provides benefits
A new flaxseed–fish oil combination offers the benefits of all three omega-3 fatty acids: alpha linoleic acid from flaxseed, along with docosahexaenoic acid and eicosapentaenoic acid from fish oil. Pizzey's MeadowPure™O3 Ultra contains MeadowPure™'s premium selected flaxseeds. The very high antioxidant acid content of this flaxseed allows it to act as a natural stabilizer for the fish oil, which will otherwise be vulnerable to oxidative breakdown. With a shelf life of up to a year, the ingredient does not compromise the taste or smell of the food in which it is incorporated.
The company offers educational and research data and co-branding opportunities that will ultimately benefit health conscious consumers.
A press conference will be held at 9 a.m., Tuesday, July 31, in Room S102D. Pizzey's Milling, www.pizzeys.com, Booth 2573
Rice bran oil packs nutrition
Rice bran oil has a high level of components with that have nutraceutical value such as gamma-oryzanol and tocotrienols. Studies have shown several physiological effects related to gamma-oryzanol and related rice bran oil components. These include the ability to reduce plasma cholesterol, reduce cholesterol absorption, and decrease early atherosclerosis.
Tocotrienols belong to the vitamin E family and are powerful natural antioxidants. Oryzan™ rice bran oil is extracted from the bran layers of rice. It is processed by a non-conventional vegetable oil refining technique to provide several unique properties. It retains much of the oryzanol that is naturally present in the crude oil. Rito Partnership, www.ricebranoilinfo.com, Booth 3513
--- PAGE BREAK ---
Qualified health claim for canola oil
In order to raise consumer awareness of canola oil and the foods that contain it, Canola Info developed a "Made with Canola Oil" logo for restaurants and food manufacturers using the oil. Canola oil is one of the healthiest food oils in the marketplace. Last October, the Food and Drug Administration authorized a qualified health claim for canola oil due to its ability to reduce the risk of coronary heart disease. It has the lowest amount (7%) of saturated fat of any common culinary oil and 0 g of trans fatty acids and cholesterol.
In addition, canola oil is a good source of plant-based omega-3 fatty acids and vitamin E. Given this healthy profile, canola oil is a natural replacement for partially hydrogenated oils, which are the primary source of trans fatty acids in the diets of North American residents.
Grains, Nuts, and Seeds
Improving food, changing the world
Stabilized rice bran significantly enhances the nutritional profile of any food to which it is added. Through NutraCea's human-grade stabilized rice bran technology, it has the capacity to convert the 60 million metric tons of annually wasted rice bran into nutrient-dense products that are clinically proven to help reverse malnutrition. RiSolubles® is a beneficial food supplement for malnourished children because of its rich bounty of protein, carbohydrates, healthy fats, and a wide range of vitamins and minerals. It is made from the highly nutritious soluble fraction of NutraCea's proprietary stabilized rice bran, which can be mixed with water and consumed. It is also easily digested.
In January, the company announced the distribution of 80,000 lb of its RiSolubles supplement to thousands of orphans through Community Based Organizations in Malawi. Sampling of NutraCea's food products will be available at the booth.
A press conference will be held at noon on Sunday, July 29, in Room S102D. NutraCea, www.nutracea.com, Booth 3370
--- PAGE BREAK ---
New flax lignan extract
A unique, water-soluble flax lignan, LignateSDG30-WS™, is designed specifically for food-based applications such as beverages, baked goods, and nutrition bars. It is a high purity 30% flax lignan extract, (secoisolariciresinol diglycoside, or SDG). The main flaxseed lignan, SDG is a precursor to the mammalian lignans enterodiol and enterolactone. Lignans may protect against certain cancers, especially those cancers that are estrogen related.
Other new products for 2007 include pine nut oil, green tea oil, tomato seed oil, and LignateSDG-OS™, a micro-suspension of LignateSDG30-WS™ in premium quality organic flaxseed oil. Sanmark LLC, www.sanmarkltd.com, Booth 334
Alternative to dairy and soy yogurts offered
A cultured rice product, Ricera® Rice Yogurt, adds a new dimension to the yogurt category: whole grain. Each 6-oz serving has less than 200 calories, contains only 1 g of fat (naturally occurring rice bran oil), and provides 24 g of whole grain and 3 g of fiber.
The rice yogurt is made possible by the development of RiceLife® (patent pending), a processed organic whole brown rice ingredient that delivers all the nutrients of whole grain without the typical texture and taste of whole grains.
The rice yogurt is fortified to be an excellent source of calcium, vitamin A, and vitamin D. Organic inulin boosts the fiber content and functions as a prebiotic. Six culture organisms provide the typical yogurt "tang" that complements the natural flavors of organic fruit and vanilla bases with which Ricera is blended to make the smooth-textured finished product. Creative Research Management, www.crmcorp.net, Booth 1159
Protein
Beverage contains casein hydrolysate
A cutting-edge sports beverage, Lock+Load™, from Kooz Beverage Co., combines DSM Food Specialties' casein hydrolysate, PeptoPro®, with time-released carbohydrates to help fight fatigue from the inside out. PeptoPro's water solubility and short-chain peptides means it is easily incorporated into beverages and, unlike other peptides, it is exceptionally clean and smooth. This results in an outstanding, tasty choice for sports people on the go.
--- PAGE BREAK ---
Much of beverage's fatigue-fighting effect is due to PeptoPro's patented peptide mixture consisting of small di- and tri-peptides, which are absorbed without digestion and assimilated into the system faster than single amino acids or intact proteins. The ingredient therefore provides direct energy to muscles and helps reduce fatigue, speed up recovery, and repair damaged muscle tissue. DSM Food Specialties, www.peptopro.com, www.dsm-foodspecialties.com, Booth 4148
Dairy proteins' versatility
Three specialty whey protein ingredients include BioZate® 1 hydrolyzed whey protein, BiPRO® whey protein isolate, and pure alpha-lactalbumin.
The company will have a kiosk at the booth for its contract manufacturing services. Available samples will include dark chocolate hearts enriched with BioZate 1 and Southern Snooze, a flavored milk beverage with added alpha-lactalbumin. To further promote the alpha-lactalbumin ingredient, the company will hold an hourly drawing for an alarm clock. Booth staff will also hand out bottles of Kellogg's Special K2O™ Protein Water to demonstrate the functionality of pure whey protein isolates. Davisco Foods International Inc., www.daviscofoods.com, Booth 4153
Pea protein featured
An all-natural pea protein, Nutralys®, offers nutritional benefits. The company provides Smart Calories™ innovative solutions, which deliver multiple health benefits, including added fiber, enriched protein, and reduced sugar.
Maltisorb® easily replaces sucrose, is low in calories, and contributes to glycemic control. Nutriose® soluble fiber can be used in confectionery and nutritional products. Polysorb® FM is a sugar replacement system offering the benefits of added fiber and calorie reduction. Samples featuring these ingredients will be presented. Roquette America Inc., www.maltitol-maltisorb.roquette.com, Booth 737
Whole-grain rice protein offers complete amino acids profiles
A line of whole-grain rice protein concentrates, called Oryzatein™, offers a complete amino acid profile, superior taste, hypoallergenicity, and is vegan, gluten-free, kosher, and non-GMO. It is produced by Axiom Foods Inc. using proprietary technology.
--- PAGE BREAK ---
The company also offers rice sweetener syrups, Oryzose™, and rice sweetener powders, Oryza™. Premium Ingredients International is a distributor for Axiom. Premium Ingredients International, www.premiumingredients.com, Booths 159, 559, 560
Soy and Dairy
Soybutter is alternative to peanut butter
With more and more restrictions on or the outright banning of the use of peanut butter and peanut products at schools, restaurants, hotels, and many other institutions, there is an increasing need for healthy alternatives.
The soybutter from Hilton Soy Foods was specifically developed to be used in any application that would typically use peanut butter. It has a taste that is said to be equal to or better than peanut butter. The nut-free alternative is a source of omega-3 and omega-6 fatty acids, low in saturated fat, trans-fat–free, and a good source of complete protein containing significant amounts of all nine essential amino acids. Hilton Soy Foods, www.soybutter.com, Booth 5449
Soy ingredients go organic
Textured vegetable protein, soy flour, soy grits, and soy/rice grits are U.S.- manufactured organic soy ingredients that are chemical-free and available in a conventional non-GMO form.
The meat analog works well in many product lines and is said to have superior yield and flavor, while the organic soy flour is perfect for pasta, baked goods, and beverages. The soy grits are well-suited for use in breakfast cereal, energy bars, and soy milk beverages. The soy/rice grits will be marketed to nutritional bar manufacturers.
In addition to its four new organic or non-GMO soy ingredient offerings, the company markets soy protein isolates, concentrate, and soy crisps. It is also active in the identity-preserved soybean market. The Scoular Co., www.scoular.com, Booth 4517
--- PAGE BREAK ---
Updating whey protein research
"Expanding the Functionality of Whey Protein in Foods and Beverages" will feature new ways to maximize whey protein's functionality in bars, beverages, and other food systems. Session highlights include new research on whey protein stability, clarity, and flavor as well as extending the shelf life of nutrition bars made with whey protein. Dairy Management Inc., www.innovatewithdairy.com, Booth 4548 and Session 217
Soy isoflavones useful in functional foods
Soy isoflavones will be among the variety of innovative products on display. Novasoy® brand isoflavones are available in a variety of forms and in concentrations from 20% to 70%.
This year, ADM Natural Health and Nutrition will showcase a variety of innovative products including its CardioAid™ plant sterols, Decanox™ Mixed Tocopherols, Natural Source d-Alpha Vitamin E, ideal, and Novasoy® Soy Isoflavones. ADM R&D experts use these ingredients to develop high-performing and great-tasting functional foods, beverages, and dietary supplements for customers. ADM Natural Health & Nutrition, www.admworld.com, Booth 148, 153
Vitamins and Minerals
Fortification frontiers
Various application samples will demonstrate Fortitech's versatility and technical expertise. Custom premixes are designed to improve overall health and wellness and target key health conditions such as weight management, energy enhancement, and overall wellness.
The company will also discuss how incorporating multiple nutrients in various applications can successfully boost the nutrient content, while not affecting the taste, texture, or stability of the product. Sharing his unparalleled human nutrition expertise, Fortitech's senior executive vice president and chief scientific officer, Ram Chaudhari, will discuss custom designed nutrient systems as a practical approach to food fortification. Fortitech Inc., www.fortitech.com, Booth 3313 and Session 121-4
--- PAGE BREAK ---
Calcium phosphate fortifies beverages
A highly soluble monocalcium phosphate, VersaCal® Clear, can be used in all beverage applications. It is specially formulated for use in clear beverages, where it has minimal shifts in pH and a clean after taste. As a calcium phosphate, it provides an exceptional opportunity to fortify beverages for increased health benefits.
Calcium phosphate is essential to human life. The latest scientific studies have shown that consuming sufficient amounts of both calcium and phosphorus, as defined by the Food and Drug Administration, are crucial for developing good bone health and preventing osteoporosis. Innophos Inc., www.innophos.com, Booth 3155
Calcium inulin granulate
In cooperation with Orafti S.A. of Belgium, Paul Lohmann has developed a granulate containing Orafti's inulin product, Beneo™ Synergy1 and the company's own Tricalcium citrate-4-hydrate. The calcium inulin granulate is a white, odorless, slightly sweet-tasting granulate consisting of 65% Beneo Synergy1 and 35% Tricalcium citrate-4-hydrate. It can be used for nutritional supplementation, in the production of chewable tablets, and for direct consumption.
Calcium Lactate Plus is a mixture of calcium lactate and malic acid. Due to its excellent water solubility, it is used as a fortificant in beverage applications. It contains 17.5% elemental calcium. Premix Salt Replacer is a mineral salt–based sodium reduction blend and can be used as a complete substitute for table salt. Dr. Paul Lohmann Inc., www.lohmann-inc.com, Booth 4222
Information about dosages offered
Although there is good evidence for an increase in vitamin D dosages in nutraceuticals, there is equally good evidence for taking great care in using substantially higher dosages. It is important to remember that vitamin D is one of the vitamins that is actually stored in the body, so that excessive dosages can lead to health problems.
Get information on what should be done regarding the problems of dosage increases for food and beverage products. Freeman Industries LLC, www.freemanllc.com, Booth 856
--- PAGE BREAK ---
Weight Management
Dairy proteins' role in weight
The latest nutritional benefits of dairy protein will be explored in "Macronutrient Approaches to Weight Management and Reducing Risk of Metabolic Syndrome: The Emerging Role of Dairy and Dairy Protein." The symposium will describe the role that dairy and higher-protein diets can play in weight management, body composition, and risk of metabolic syndrome. Emerging research suggests that increased dairy and/or dairy protein consumption may help manage metabolic syndrome. Dairy Management Inc., www.innovatewithdairy.com, Booth 4548 and Session 110
Almonds pack nutrition
Samples of the winning entry in the Almond Board of California's 5th Annual Almond Innovations Student Contest will be featured. The contest's theme was "200 Calorie Indulgences." Almonds are a good source of proteins, lipids, fiber, vitamin E, and certain minerals and are valued for their nutritional and sensory properties.
A press conference, "Almonds as a Solution for Global Health and Wellness", will share the findings of recent almond nutrition research (weight management, cholesterol reduction, flavonoid content, blood glucose management, and more) as well as compelling consumer insights. Almond Board of California, www.almondsarein.com, Booth 3476 and Poster 188-28
Weight-smart products
A wide variety of prototype snacks, including 100-calorie snack packs will feature Super CitriMax® and ChromeMate®. The ingredients are clinically proven safe and effective for use in weight management, insulin function, and cardiovascular formulations.
A "Meet the Author Happy Hour" will be held on Sunday, July 29, 3:30-4:30 p.m., and feature Harry Preuss, co-author of The Natural Fat-Loss Pharmacy. Also present will be Debasis Bagchi, co-editor (with Preuss) of Obesity: Epidemiology and Pathophysiology and Prevention and author of several chapters within. He is also the incoming chair of the IFT Nutraceuticals & Functional Foods Division. InterHealth Nutraceuticals Inc., www.interhealthusa.com, Booth 1526, Symposium 36, and Papers 62-2, 85-4, 74-5
--- PAGE BREAK ---
Building nutrition solutions
Sample nutritious ice cream toppings to get a taste of GTC Nutrition's unique ability to Build Nutrition Solutions for Life™ for today's health conscious consumers. The company provides customized solutions for food, beverage, and supplement manufacturers that address top consumer health demands in the areas of bone, digestive, immune, glycemic, and heart health.
Stop by to learn more about GTC Nutrition's capabilities in the areas of ingredient solutions, scientific expertise, marketing ingenuity, applications innovation, QA and regulatory support, and personal customer service. GTC Nutrition, www.gtcnutrition.com, Papers 131-1, 214-4, and Booth 3148
---
• A line of natural carotenoids includes lycopene, lutein, beta carotene, phytoene, and phytofluene. The company also offers natural colorants, premixes, and microencapsulated ingredients. The company recently launched in Europe a comprehensive line of vitamin B-12 formulations. It includes vitamin B-12 formulated on a variety of carriers and with concentrations of 0.1%, 1%, and 5%. Other high-value formulations include triturations on carriers of dicalcium phosphate, mannitol, and maltodextrin. All of the vitamin B-12 formulations are non-GMO, allergen-free, halal, kosher, and vegetarian. LycoRed Corp., www.lycored.com, Booth765
• Astaxanthin (AstaPure™) is a very powerful, natural antioxidant with superior shelf life. Market forms available include 2% Cold-water Dispersible Beadlets, 2% Veggie Beadlets, 2.5% Beadlets, and 10% Oleoresin. PureLo™, a brand of Luo Han Guo, is natural, GRAS, non-caloric, highly water-soluble, kosher certified, clean tasting, and about 300 times sweeter than sucrose. It is used for flavor enhancement and as a sweetness potentiator. Also offered are highly soluble enrichment minerals, phosphate salts, and multi-nutrient blends for beverage and functional food applications. These include GadoCal Extreme™, a calcium fortification for syrups and concentrates, and Gado MultiMin™ and GadoCal K™, a calcium fortification for soy and dairy products. Barrington Nutritionals, www.barringtonchem.com, Booth 4070
• L-carnitine's role in fat metabolism may result in multiple benefits such as optimization of performance, delayed onset of fatigue, and improved recovery process for athletes and physically active people. Lonza offers nutritional products such as Carnipure™ Crystalline and Carnipure™ Tartrate, niacin, niacinamide, and FiberAid® prebiotic fiber. Lonza Group, www.carnitine.com, www.niacin.com, www.lonza.com, Booth 1427
• D-ribose is a naturally occurring pentose sugar that enhances tissue energy and function. Supplemental D-ribose is designed to enhance quality of life by improving heart function and reducing fatigue, soreness, cramping, and stiffness. Bioenergy, www.bioenergy.com, Booth 758
--- PAGE BREAK ---
• Caffeine in moderation has also been shown to promote health, alertness, and cognitive performance. Tea has inherent health benefits ranging from its high content of antioxidants to anti-cancer and cardiovascular benefits. Cocoa polyphenols have been shown in numerous clinical trials to improve vascular function. The evidence for the health benefits of these products will be reviewed and evaluated. Paper 174-3
• Coenzyme Q10 (CoQ10) is essential for the production of energy within the cell; however, due to its poor solubility in drinks, CoQ10 needs to be incorporated by a carrier system such as nanoliposomal delivery systems. This presentation will discuss the preparation of a CoQ10 nanoliposome-fortified sports drink and the assessment of its anti-fatigue effects. Paper 11-32
• Extracted from the naturally growing seaweeds of the Gelidium genus, Pronagar® powder's beneficial effects on the human gut include holding water, adding viscosity, carrying bile acids, and generally allowing smoother transit of the food through the intestines. It reduces the amount of cholesterol absorbed, contributes virtually no calories, and assists the feeling of satiety. It contains 94.8% fiber. Global Bioingredients Inc., www.pronagar.com, Booth 861
• A new resistant starch is classified as RS3 (re-crystallized), may be labeled as "corn starch," and is made from a native, non-GMO starch. The resistant starch provides 58% minimum fiber (dsb) according to AOAC 991.43 and provides only 1.5 kcal/g. Human glycemic response testing shows that it gives only about 3% glycemic response compared to dextrose. Tate & Lyle, www.tateandlyle.com, Booth 140
• High-performance, cellulose-derived soluble dietary fiber products, Fortefiber™ Soluble Dietary Fibers, are ideal for use in certain food and nutritional supplement formulations to increase the soluble fiber content. Clinical data shows that Fortefiber offers proven benefits in the management of health issues related to blood glucose and cholesterol. Many different product grades are available to offer broad formulating latitude for different applications. Dow Chemical Co., www.fortefiber.com, Booth 722
• Non-GMO and organic edible oils are offered. Oil solutions include trans fatty acid–free, expeller-pressed non-GMO and organic soybean oil, non-GMO and organic canola oil, organic palm/soy shortening, organic high-oleic sunflower oil, organic safflower oil, and organic palm oil products. Nexsoy® non-GMO and organic liquid soybean oils are "expeller-pressed" and "physically-refined" without chemical solvents and caustics, giving it the stability of partially-hydrogenated soybean oil without the trans fats from hydrogenation. Nexcel Food Ingredients, www.nexcelfoods.com, Booth 664
--- PAGE BREAK ---
• Specialty nutritional lipids include Neobee® Medium Chain Triglycerides as well as delivery systems for sensitive bioactives. They contain no trans fatty acids and provide a readily absorbed low-calorie source of fat for use in foods designed to have nutritional benefits. They also function as solubilizers for flavor oils and as clouding agents for beverages because they are highly stable to oxidation and impart no taste or odor. Stepan Co., www.stepan.com, Booth 1858
• Research has shown that docosahexaenoic acid omega-3 is important in proper brain and eye function. Martek's life'sDHA™ is derived from a sustainable and vegetarian source. Made from microalgae under tightly controlled manufacturing conditions, the ingredient is free of oceanic contaminants that may be present in certain fish or fish oils. Martek Biosciences Corp., www.martekbio.com, Booth 362
• A novel designer oil, Nutridan, contains very high amounts of essential polyunsaturated fatty acids. The oils used are of vegetable origin, extracted by physical means, and solvent-free. Nutridan provides not only balanced essential fatty acids, but also a high dosage of natural antioxidants. It helps to lower the ratio of omega-6/omega-3 fatty acids in human nutrition, and can be used for producing various kinds of table spreads, mayonnaise, salad dressings, baking fats, and more. Arista Industries Inc., www.aristaindustries.com, Booth 5014
• An organic heat-stablized omega-3 vegetable oil blend has balanced essential fatty acids and is suitable for cooking, frying, and baking. It provides a new label-claim opportunity for snack manufacturers. Other new organic ingredients include baking powder and black carrot juice concentrate. Marroquin International Organic Commodity Services Inc., www.marroquin-organics.com, Booth 522
• Discover healthful and functional soybean oil solutions for your food products. Visit the Qualisoy booth to learn more about trait-enhanced soybean oils that can offer alternatives to partially hydrogenated vegetable oils, such as low-linolenic and increased oleic varieties. These varieties can help eliminate trans fatty acids in foods without increasing saturated fats. Sample snacks made with some of the soybean oils. Qualisoy, www.Qualisoy.com, Booth 4424
• Flaxseed is an excellent source of alpha-linolenic acid, an omega-3 fatty acid, fiber, and lignans. Taste roasted flaxseed and pick up copies of new bakery recipes, the Flax Facts nutritional brochure, and a flaxseed supplier list. AmeriFlax, www.ameriflax.com, Booth 3773
--- PAGE BREAK ---
• Learn more about the health benefits of California grown almonds. Golden West Nuts is one of the largest handlers and processors of inshell and shelled California almonds. Natural and blanched forms of whole, sliced, and diced almonds are available. Golden West Nuts Inc., www.goldenwestnuts.com, Booth 1154
• The Hazelnut Council works to increase awareness and increase the distribution and consumption of hazelnuts in the United States. It seeks to reach key food industry professionals and culinary experts with relevant hazelnut information such as emerging trends, research, consumption statistics, growing facts, and hazelnut uses and recipes. Hazelnut Council Inc., www.hazelnutcouncil.org, Booth 4432
• A processor of conventional and certified organic oats, wheat, barley, rye in the form of flakes (rolled), whole flours, brans, fibers, meals, whole grains, cut grains and mixes, Grain Millers operates additional manufacturing facilities that clean and package mustard, flaxseeds, soy beans, and other specialty grains requiring a high level of
• Specialty and commodity wheat proteins and starches for food and non-food applications are available. Breakthroughs in recent years include a host of wheat-based and other plant-derived specialty proteins and starches created for use in multiple food systems, personal care products, pet products, and bio-based products. MGP Ingredients Inc., www.mgpingredients.com, Booth 4739
• Dairy proteins, nutritional supplements, and ready-to-drink beverages are available. Capabilities include custom blending, toll agglomeration, packaging, tablet pressing, product development, and more. The company's research and development team will help create ready-to-drink beverages, nutritional dry blends, drink powders, and protein products. Century Foods, www.centuryfoods.com, Booth 1032
• Six grams of protein, or 12% of the Recommended Daily Value, is provided in one egg. Eggs provide the highest quality protein found in any food because they provide all of the essential amino acids in a near-perfect pattern. The American Egg Board will introduce a CD-ROM that includes educational information about egg products. American Egg Board, www.aeb.org, Booth 2226
• Hydrolyzed collagen is a 97% pure protein made of all essential amino acids except tryptophan. Rousselot® Hydrolyzed Collagen plays an important role in weight management, smooth skin, and bone metabolism and joint health. Rousselot Inc., www.rousselot.com, Booth 3170
• Learn about soybeans, soy-related health news, soy-based ingredients such as soy protein, flour, and oil, and soy product research and development. Soybean oil and protein experts are available to answer questions and provide information about developing soy-based trans fatty acid solutions, including low-linolenic soybean oil. Additionally, pick up the 2007 Consumer Attitudes about Nutrition brochure. United Soybean Board, www.soyconnection.com, Booth 2717
--- PAGE BREAK ---
• A peanut butter substitute made from soy is an all-natural ingredient that is completely peanut free. The company will explain how it can be used as a substitute for peanut butter in food applications such as sauces, candy bars, nutrition bars, snacks, and others. The SoyNut Butter Co., www.soynutbutter.com, Booth 1617i.
• Probiotics will be among the ingredients on display. The company is geared to meet the increasing consumer demands for products that support personal well-being and comfort. Natural and clean are keywords for its constant innovation and development of new products. Other ingredients that will be showcased include a full range of natural colors and flavors, natural cure systems for meat products, sweetness enhancers for reduced sugar systems, and clean label and natural dairy flavors, including mouthfeel enhancers. Chr. Hansen Inc., www.chr-hansen.com, Booth 1527
• Sodium caseinate, calcium caseinate and potassium caseinate, edible caseins, soluble micellar casein, hydrolyzed milk proteins, hydrolyzed whey proteins, milk protein isolate, and milk protein concentrate are offered as way for manufacturers to add calcium and other minerals to food and beverage products. The edible caseins are made from precipitated skim milk. American Casein Company, www.americancasein.com, Booth 1027
• A distributor of functional food ingredients, Brenntag North America has been named by Specialty Minerals as the preferred distribution partner for specialty calcium carbonates for food and beverage applications. The company also offers various vitamins and minerals to use in the fortification of foods and beverages. Novozymes enzymes are a strategic part of the company's performance products line. For nutritional, dairy, and bakery applications, Brenntag offers the full line of Protient soy milk and whey proteins. Brenntag North America, www.brenntagnorthamerica.com, Booth 2522
• Top quality vitamin ingredients are offered. Product quality and consistency has been the key to the company's success and growth. Some of the ingredients include ascorbic acid, d-biotin, natural vitamin E, vitamin A, direct compressible vitamins, and others. The company also offers a full line of amino acids, nutritional, and food ingredients. Pat Vitamins Inc., www.patvitamins.com, Booth 734
• An all-natural, satiety ingredient, PinnoThin™, suppresses the desire to eat, reduces prospective food intake, significantly increases the release of CCK, and significantly increases the release of GLP1. Lipid Nutrition B.V., part of Loders Croklaan Group, www.croklaan.com, www.lipidnutrition.com, Booth 1135
• A water soluble acacia dietary fiber, Quick Fibre™, fortifies beverages, dairy products, snacks, pastries, and cereal bars that provide the body with essential elements for a balanced nutrition and good digestion. Fighting obesity starts with low-calorie, high-fiber foodstuffs. Samples of Fresh 'n Healthy, a summer drink with a nice functional kick to quench your thirst. Alfred L. Wolff Inc., www.alwolff.com, Booth 4413
• New anti-obesity vegetable and fruit extracts, Slim&Slim (water soluble) and Fatclean (water insoluble) are composed of biofiber, antioxidants, polyphenols, bioflavonoids, cholorophyll, vitamins, and minerals. Bionutrigen Co., Ltd., www.bionutrigen.com, Booth 5015
• Low-calorie foods and beverages have become part of the lifestyle of millions of men and women who want to stay in better overall health, control their weight, or simply enjoy the many low-calorie products available. NutraSweet aspartame helps provide calorie-conscious consumers with a wide variety of good-tasting, low-calorie products. Premium Ingredients sources and distributes high-quality, competitively-priced ingredients. Premium Ingredients International, www.premiumingredients.
by Linda Milo Ohr,
Contributing Editor, Denver, Colo.
[email protected]