Omega-3s continue to garner consumer interest, as these beneficial fatty acids are now found in dairy products, orange juice, nutrition bars, and baked goods. Already boasting a health claim related to a reduced risk of heart disease, omega-3 fatty acids' benefits include improving cognitive function and brain development, as well as helping to ease the symptoms of arthritis. And thanks to advances in ingredient development, omega-3 fatty acids no longer have a strong fishy taste; rather, they are virtually tasteless. Also, new technologies allow for their inclusion in a variety of products.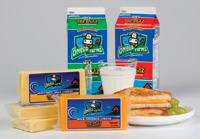 Omega Farms, Hayward, Calif. (phone 866-634-7655, www.megsomegafarms.com), last year launched a full line of dairy products containing two all-natural omega-3 fatty acids: eicosapentaenoic acid (EPA) and docosahexaenoic acid (DHA). The line includes milk, cheese, yogurt, and chocolate milk. Tropicana Products Inc., a division of PepsiCo Inc., Chicago, Ill., (phone 312- 821-1000, www.tropicana.com), this past January, introduced Tropicana® Healthy Heart, an orange juice that is an excellent source of EPA and DHA.
There is still more innovation to come. From new ingredient developments and novel research to a growing variety of applications, there is no stopping the power of omega-3 fatty acids.
Recent Research
Research is being conducted on the effects of omega-3 fatty acids on heart health, cognitive function, and joint health.
Heart health. Omega-3 fatty acids are already linked to a reduced risk of coronary heart disease. Schwellenbach et al. (2006) concluded that the American Heart Association's recommended daily dose of 1,000 mg of DHA and EPA can significantly lower triglycerides in patients with coronary artery disease. The researchers gave 116 subjects either 1,000 mg of DHA or 1,252 mg of DHA plus EPA per day for eight weeks. Triglyceride levels decreased by an average of 21.8% in the subjects who took DHA and 18.3% in the subjects who took DHA plus EPA.
--- PAGE BREAK ---
Cognitive function. Kotani et al. (2006) suggested that supplementing the diet with arachidonic acid (ARA) and DHA can improve the cognitive dysfunction that results from organic brain damage or aging. The researchers studied whether ARA and DHA have beneficial effects in human amnesic patients. They gave 39 subjects a daily dose of either 240 mg of ARA and DHA or 240 mg of olive oil for 90 days. Subjects with mild cognitive dysfunction showed a significant improvement in immediate memory functions and attention. Subjects with organic brain lesions showed a significant improvement in immediate and delayed memory functions.
Freund-Levi et al. (2006) showed that omega-3 fatty acids had positive effects in patients with very mild Alzheimer's disease. They gave 204 subjects a daily dose of 1.7 g of DHA and 0.6 g of EPA or placebo for six months. After this period, all of the subjects received omega-3 fatty acid supplementation for an additional six months. The subjects who took DHA plus EPA showed a significant reduction in Mini-Mental State Examination decline rate when compared with the subjects who took the placebo.
Joint health. Sundström et al. (2006) showed that taking high-dose omega-3 supplements daily decreased the severity of symptoms associated with ankylosing spondylitis (AS), a chronic disease that mainly affects joints of the spine and hips. The researchers gave 24 subjects with AS either a high-dose (4.55 g) or low-dose (1.95 g) daily supplement of omega-3 fatty acids. The subjects in the high-dose group exhibited a significant decrease in disease activity according to the Bath Ankylosing Disease Activity Index. This decrease was not seen in the low-dose group. The researchers concluded that taking omega-3 fatty acids in adequate doses may decrease the disease activity of AS.
Maroon and Bost (2006) showed that supplements of omega-3 fish oil appeared to be an alternative treatment with fewer side effects to non-steroidal anti-inflammatory drugs (NSAIDs) for the treatment of nonsurgical neck or back pain. They stated that their results mirrored other controlled studies that found compared to ibuprofen, omega-3 fatty acids had an equivalent effect in reducing arthritic pain.
Ingredient Developments
The variety of omega-3 fortified foods available in stores indicate the versatility of these ingredients. Omega Farms orange juice contains taste and odor-free omega-3 oil from Norway-based Denomega Nutritional Oils (phone +47-6939- 5200, www.denomega.no). General Mills, Minneapolis, Minn. (phone 763-764-7600 , www.generalmills.com, www.yoplait.com), in January introduced Yoplait Kids® yogurt featuring Martek's life'sDHA™, a proprietary vegetarian form of DHA. The ingredient is also featured in Silk® Plus Omega-3 DHA soy milk from WhiteWave Foods, Broomfield, Colo. (phone 303-635-4000, www.whitewave.com). The milk provides 32 mg of DHA/serving.
--- PAGE BREAK ---
Martek Biosciences Corp., Columbia, Md. (phone 410-740-0081, www.martek.com), last August announced a branding initiative under which it changed the name of its flagship product, Martek DHA, to life'sDHA™ and included the tagline "Healthy brain, eyes, heart."
A.C. LaRocco, Spokane, Wash. (phone 509-924-9113, www.aclarocco.com), includes MEG-3® EPA/DHA in the crust of two of its pizzas, and is working to add it to its entire line of pizzas. A serving of the company's high-fiber, whole-wheat pizza crust contains 32 mg of EPA/DHA from fish oil.
OMU brand drinkable yogurt is also enriched with MEG-3. This ingredient, offered by Ocean Nutrition Canada, Nova Scotia (phone 888-980-8889, www.ocean-nutrition.com), uses a unique micro-encapsulation technology called Powder-loc™, a patented, double-shell protection that is said to lock in the health benefits of omega-3 EPA/DHA and lock out the taste and smell of fish. Last year, the company introduced a new version of MEG-3 with a DHA: EPA ratio of 5:1 that can be used to formulate more-healthful foods for infants and nursing mothers.
Expect more products to be developed as omega-3 ingredient suppliers join forces and introduce more innovative ingredients. For example, an agreement between National Starch Food Innovation, Bridgewater, N.J. (phone 800-743- 6343, www.foodinnovation.com), and Omega Protein Corp., Houston, Texas (phone 800-345-8805, www.omegaproteininc.com), resulted in the development of Novomega™, an encapsulated menhaden oil formulated to resist harsh processing conditions. Other company alliances include the purchase of Nutrinova's DHA business in late 2005 by Switzerland-based Lonza's (phone +41-61 316-8111, www.lonza.com), and a joint venture in 2006 by Wright Group, Crowley, La. (phone 337-783-3096, www.thewrightgroup.net), and Spain-based Puleva Biotech. The partnership is aimed at creating new products and markets for omega-3 fatty acids based on Puleva Biotech's fish oils and Wright's formulation and marketing expertise.
Cognis Nutrition and Health, LaGrange, Ill. (phone 708-579-6150, www.cognis.com), through its acquisition of Norway-based Napro Pharma, in 2006 introduced Omevital™ omega-3 fatty acids, which are of marine origin and contain high-potency concentrations of up to 60% combined EPA/DHA long-chain fatty acids in ethyl ester and triglyceride forms. "We offer a broad portfolio of EPA/DHA concentrations which are developed, based on published research, for various health conditions like heart and brain," said Rob Bailey, Marketing Manager. "This ensures our customers have the right product for reaching their target customers."
---
Omega-3 Options
Although much research and ingredient development have focused on marine-derived omega-3 fatty acids, other sources offer beneficial omega- 3s as well. Griel et al. (2007) showed that consuming foods rich in the plant omega-3 alpha-linolenic acid (ALA) like walnuts and flaxseed oil improved bone health. For the study, 23 people consumed one of three diets for six weeks in a randomized, 3-period crossover design. The diets were an Average American diet of 34% total fat, 13% saturated fatty acids (SFA), 13% monounsaturated fatty acids (MUFA), and 9% polyunsaturated fatty acids (PUFA) (7.7% LA, 0.8% ALA); linoleic acid diet of 37% total fat, 9% SFA, 12% MUFA, and 16% PUFA (12.6% LA, 3.6% ALA); and alpha-linolenic acid diet of 38% total fat, 8% SFA, 12% MUFA, and 17% PUFA (10.5% LA, 6.5% ALA). Walnuts and flaxseed oil were the predominant sources of ALA.
Concentrations of the bone resorption marker, N-telopeptides, significantly decreased in the subjects on the ALA diet. The results indicated that plant sources of dietary omega-3 PUFA may have a protective effect on bone metabolism via a decrease in bone resorption in the presence of consistent levels of bone formation.
Paschos et al. (2007) showed that omega-3-rich flaxseed oil may lower blood pressure. The study examined the effects of dietary supplementation with flaxseed oil rich in ALA (8 g/day) on blood pressure in middle-aged dyslipidaemic men. The control group received safflower oil. Supplementation with ALA resulted in significantly lower systolic and diastolic blood pressure levels than the subjects in the control group.
by Linda Milo Ohr,
Contributing Editor,
Denver, Colo.
[email protected]
References
Freund-Levi, Y., Eriksdotter-Jönhagen, M., Cederholm, T., Basun, H., Faxén-Irving, G., Garlind, A., Vedin, I., Vessby, B., Wahlund, L., and Palmblad, J. 2006. Omega-3 fatty acid treatment in 174 patients with mild to moderate Alzheimer disease: OmegAD study: A randomized double-blind trial. Arch. Neurol. 63: 1402-1408.
Griel, A.E., Kris-Etherton, P.M., Hilpert, K.F., Zhao, G., West, S.G., and Corwin, R.L. 2007. An increase in dietary n-3 fatty acids decreases a marker of bone resorption in humans. Nutr. J. 6: 2
Kotani, S., Sakaguchi, E., Warashina, S., Matsukawa, N., Ishikura, Y., Kiso, Y., Sakakibara, M., Yoshimoto, T., Guo, J., and Yamashima, T. 2006. Dietary supplementation of arachidonic and docosahexaenoic acids improves cognitive dysfunction. Neurosci. Res. 56: 159-164.
Maroon, J.C. and Bost, J.W. 2006. v-3 Fatty acids (fish oil) as an anti-inflammatory: An alternative to nonsteroidal anti-inflammatory drugs for discogenic pain. Surgical Neurology 65: 326-331.
Paschos, G.K., Magkos, F., Panagiotakos, D.B., Votteas, V., and Zampelas, A. 2007. Dietary supplementation with flaxseed oil lowers blood pressure in dyslipidaemic patients. Eur. J. Clin. Nutr. Advance online publication; doi: 10.1038/sj.ejcn.1602631.
Schwellenbach, L.J., Olson, K.L., McConnell, K.J., Stolcpart, R.S., Nash, J.D., Merenich, J.A. for the Clinical Pharmacy Cardiac Risk Service Study Group. 2006. The triglyceride-lowering effects of a modest dose of docosahexaenoic acid alone versus in combination with low dose eicosapentaenoic acid in patients with coronary artery disease and elevated triglycerides. J. Am. Coll. Nutr. 25: 480-485.
Sundström, B., Stalnacke, K., Hagfors, L., and Johansson, G. 2006. Supplementation of omega-3 fatty acids in patients with ankylosing spondylitis. Scandinavian J. Rheumatol. 35: 359-362.