Watch out, restaurants—supermarkets are taking a "fresh" approach to home cooking, and they're hell-bent on making meals easier, fresher, healthier, and more exciting than ever before.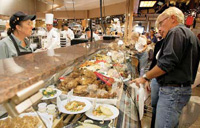 Giant Food Store's WiFi-friendly Marketplace Café contains a sandwich bistro, a hot buffet, a hot panini bar, and a self-serve wing-and-grilled-vegetable bar. Wegmans Food Markets look and feel like a European open market with a Chef 's Case with chef-prepared entrees, side dishes, and salads, an extensive cheese shop, wood-fired brick oven for breads, and an authentic French pastry shop. A&P's prototypes have a LavAzza gourmet coffee shop, a phone-in fresh-pizza program, and a shrimp/sushi counter. Giant Eagles' Pittsburgh Market District store has an authentic Brazilian-style churrasco, makes fresh pasta/sauce daily, and stocks more than 500 kosher foods, while Supervalu's Shop the World has become an international food lovers' dining destination.
And their timing is perfect. Higher gas prices and other economic pressures are causing consumers to "cook" more at home and find alternatives to dining out. Technomic Inc. (2006) reports that 67% of adults said they tried to eat at home and bring more food from home, instead of going to restaurants last year; and 48% bought more ready-to-eat (RTE) foods from grocery stores, up 9% from December 2005.
More encouraging for retailers, 51% of grocery shoppers said that a greater variety of prepared foods for quick dinner assembly, and 48% that new meal ideas/meal solution products, would increase their visits to grocery stores (FMI, 2006a).
Putting more emphasis on perishables continues to be the most effective competitive retail food strategy (see table) (FMI, 2006b). Right after a clean, neat store, high-quality fresh meat and fruit/vegetables are the top reasons consumers opt to shop at a particular store (FMI, 2006a). Nearly half (47%) of shoppers changed supermarkets last year for better produce (PMA, 2006a).
Freshness remains the most desirable food claim, cited as very important by 76% of food shoppers (HealthFocus, 2006). Use-by and sell-by dating were also very important for 65% when choosing a store. Twenty-nine percent of shoppers said they were buying more refrigerated foods at the expense of frozen (Thayer, 2006).
With more control over portion size and specific ingredients because of labeling regulations, supermarkets offer distinct advantages for health-conscious shoppers. More than half of shoppers looked for health claims in 2006, stressing whole grains (57%), high fiber (54%), and low fat (53%), according to FMI (2006a). Nearly half sought out low sugar (48%), low calorie (44%), low sodium (44%), no trans fats (42%), and low in/lowers cholesterol (40%).
Take-Out Rules
With restaurant take-out at an all-time high and on-premise dining declining, it is not surprising that adding more RTE meals topped the list of food retailers' marketing strategies for 2007 (cited by 83% of retailers), followed by natural/organic (82%), demos/sampling (82%), private label (81%), health concerns (79%), and ethnic foods (79%), according to McTaggart (2006).
The vast majority, 94%, of supermarkets offer fresh food for take-out, 89% ethnic foods, 88% a fresh-food deli, 87% scratch/bakeoff bakery, 79% fresh seafood, 72% gourmet/specialty foods, 68% a coffee bar, 57% a natural/organic section, 49% sushi, 48% sit-down dining, 40% a quick-stop area with items for dinner, and 18% an olive bar (FMI, 2006a, b).
--- PAGE BREAK ---
The heaviest users of supermarket take-out are consumers age 65 and older; those age 29–43 (Gen Xers), who are most likely to have children at home); and two-person households. But retailers can quickly increase take-out sales by refocusing programs to appeal to Gen Yers and singles—the heaviest users of take-out meals.
With 24% of those age 15–25 eating out four or more times a from fast-food restaurants, fresh pizza, Italian, and Chinese to-go stations are a must (FMI, 2006a).
With pizza, Chinese, and other non-fast-food accounting for 44% of foods eaten in the home but not prepared there, compared to 23% from fast-food restaurants, fresh pizza, Italian, and Chinese to-go stations are a must (FMI, 2006a).
Schwan's Freschetta Build & Bake is a premium line of refrigerated components—including sauces, cheese, and crusts—that allows consumers to make and bake their own fresh pizzas at home.
Gen Yers, the heaviest users of ethnic foods, cite Chinese, Mexican, Japanese, Italian, Indian, Mongolian BBQ, and Middle Eastern as their favorite cuisines (Packaged Facts, 2006). And with 73% of female Gen Yers enjoying grocery shopping—the highest proportion for any age group—and cost being a consideration, the potential for getting their take-out business is very high (FMI, 2006a).
Singles and unmarrieds—the least likely groups to regularly prepare home-cooked meals—now account for one-quarter of U.S. households; 12 million Americans are single parents (FMI, 2006a).
Attracting more of the nation's 78 million high-spending Boomers with healthier, home-spun, and traditional American prepared meals is a very big idea. Boomers want balanced meals, driving incremental business with starch and vegetable side dishes and specialty breads, and are the highest consumers of desserts and salads.
Easy Gourmet
With consumers' ever-increasing level of culinary sophistication and 75% of shoppers still preparing and eating meals at home at least three nights a week, the timing for ready-to-cook prepared entrees such as pre-prepared fresh foods, upscale convenience foods, and fresh ingredients is perfect (FMI, 2006a).
Consumers age 65+ are the most likely to cook at home more than three days/week, Gen Yers the least (85% vs 55%). More than half (56%) of older Boomers and 58% of those age 65+ cooked dinner more than 5 nights/week, compared to 38% of Gen Yers, Gen Xers, or younger Boomers. Young adults—75% of Gen Yers and 68% of Gen Xers—are the highest users of packaged foods and frozen entrees, 39% and 36%, respectively. Younger Boomers are the most likely to use prepared foods and, along with Gen Yers, ready-to-cook foods (FMI, 2005).
In terms of meals and their respective cuisines served in the home last year, 60% of American and/or comfort dishes were made from scratch, as were 48% of barbecue dishes, 46% Italian, 33% Mexican, 13% Chinese, 8% French, 8% Indian, 12% Asian, and 8% Middle Eastern (Tanner, 2006). One-quarter (28%) of the American-cuisine meals were made from prepackaged/prepared products, compared to 19% of barbecue meals, 21% Italian, 19% Mexican/Latin, 10% Chinese, 9% Asian, 5% French and Indian, and 4% Middle Eastern.
--- PAGE BREAK ---
Specialty and gourmet foods/ingredients are another high-potential business builder for supermarkets—especially among Gen Yers. Young adults age 18–24 (74%) are most likely to purchase specialty foods, followed by those age 25–34 (72%). Those age 18–24 are the highest purchasers of specialty meats, pasta/sauce, prepared RTE foods, barbecue sauce, chocolate, cookies, salsa, and salty snacks (Tanner, 2006).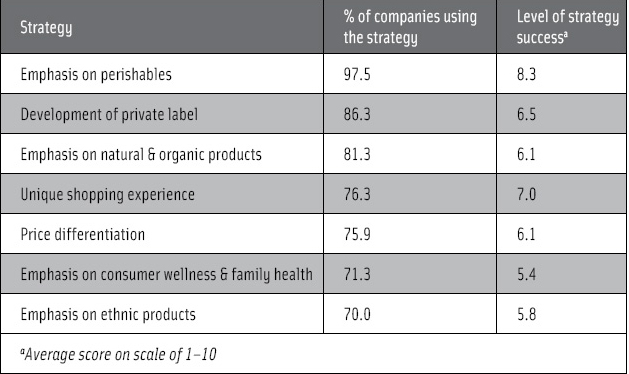 Self-service soup and specialty bread/cracker bars are some of the supermarkets' hottest takeout stations, and Fairfield Farms Kitchen's new Moosewood all-natural vegetarian Carrot Ginger and Lentil Soups are going to give them a healthier twist. And with an eye for turning less-experienced cooks into loyal customers, 37% of supermarkets have space for cooking demonstrations and 29% hold cooking classes (FMI, 2006b).
Fresh-Picked, Please
Supermarket shoppers shop in the produce section more often than any other fresh department, making 33 trips/year vs 28 for bread/baked goods, 18 fresh meats, 16 deli items, and 4 fish/shellfish (Lutz, 2006a). Nearly one-third of retailers carried more than 300 produce items, and 59% added more organics last year.
Fresh-produce supermarket sales topped $43 billion for the year ending 8/30/06, up 5% over 2005; fresh-cut produce approached $6 billion (Chanil and Major, 2006). Fresh-cut fruit is projected to top $1 billion by 2008 (PMA, 2006b). Frieda's pre-sliced, peeled ready-to-eat kiwis are an exciting new entry.
Energized by ethnic kits, including Ready Pac's Parisian and Dole's Taco Toss, fresh-cut salad mixes posted the largest produce sales gains last year. Dole's Selections of the Seasons seasonal blends and Glory Foods' Southern-Style vegetables such as collard greens were two noteworthy new fresh-cut products.
Ready Pac's Asian and Santa Fe Style Caesar single-serve salads, sold in compartmentalized bowls, targeted the on-the-go lunch crowd, and its Fruit–Cheese–Vegetable Sampler and Party Bowl Salads are just right for the home entertaining boom.
Produce-based meals have moved center stage. 7 Paths' new fresh line of Asian stir-fry sauces, noodles, and complete dinners includes a Spicy Peanut Noodle Steamer that steams in its own bowl. Green Giant Fresh's Freshtables line of stir-fry kits come in Garlic Szechuan, Spicy Thai, and Sweet & Sour versions. Dole's Broccoli Ranch Pasta Kit provides a quick, fresh meal. Ready Pac's Fast 'N Fresh vegetable line steams in its microwavable package. Clamshell packages for Domex pears have a ripening sensor that changes color to indicate when flavor is at its peak.
Campari's premium hot-house-grown tomatoes are sold on the vine. North Shore Greenhouses' Living Herb line, including Zesty Arugula, has the roots intact. Duda Farm Fresh Foods' new value-added Dandy Celery line contains celery snack sticks, cooking sticks, and a proprietary variety of hollow celery that can be used as a drinking straw. Birds Eye offers Heirloom Fingerling Potatoes in various colors. Dulcinea Farms, famous for baby watermelons, unveiled Rosso Bruno, a deep-reddish-brown tomato. Dole offers Rugby, a new lettuce variety that is a blend of iceberg and romaine. And Sun-Kist is promoting specialty citrus, e.g., Moro oranges, Cara Cara navels, and Minneola tangerines, as a new wave of super fruits—guava, yuzu, mangosteen, and açai—move into the spotlight. Emeril Lagasse's Gourmet Produce is pioneering chef-branded produce, and A.M.S. Exotic broke new ground with its New Earth Exotic's Cooked Vegetables, the first fully cooked, RTE vegetable line.
Smooth Sailing
The fish/seafood counter is in for some smooth sailing, and sales in the frozen case are on fire. Consumption is at an all-time high, and USDA (Lin et al, 2005) predicts that fish/seafood will enjoy the largest per capita gains through 2020 behind citrus.
--- PAGE BREAK ---
Boomers prefer fish/seafood over chicken and red meat (Mintel, 2006). Seafood and sushi are the top foods teens say they have tried most recently and liked (Y-Pulse, 2005). Most important, the belief that previously frozen fish/seafood is somehow inferior in quality seems to have disappeared.
Crustaceans racked up 41% of all seafood-counter sales in 2005 (Lutz, 2006a). Shrimp contributed 72% of category sales, crab 22%, lobster 7%, and crawfish 1%. In the frozen meat/seafood category, unbreaded crab posted the biggest gains for Y/E 2/25/06, 10%, followed by unbreaded shrimp 8%, unbreaded fish 7%, and breaded shrimp 4%; breaded fish sales fell 10% (ACNielsen, 2006a).
Fresh fish, with 30% of sales, was the second-largest category. Salmon, catfish, tilapia, cod/scrod, and tuna accounted for 72% of seafood-counter sales; prepared fish/seafood 15%; mollusks 4%; party platters 3%; and imitation seafood (surimi) 2% (Lutz, 2006b).
Although shrimp, canned tuna, salmon, Pollock, and catfish are America's most-eaten fish/seafood, shopper interest is shifting as casual-dining and quick-service restaurants add less-familiar species to their menus. And shark, skate, black cod, barramundi, cobia, and Vietnamese basa are swimming onto fine-dining menus.
Salmon, tuna, cod, catfish, mahi mahi, tilapia, anchovies, whitefish, trout, and haddock, in descending order, were the most-mentioned fish on chain restaurant menus last year; shrimp, crab, lobster, scallops, clams, calamari, oysters, mussels, crawfish, and octopus were the most-menued seafood (Food Beat, 2006).
Seafood America's Dockside Classics line of "fresh, never frozen, refrigerated entrées" includes Southern Style Catfish Cakes and Fettuccine Alfredo with Crabmeat. Morey's Marinated Tilapia in Chili Lime Sauce comes complete with a pop-up timer.
Ethnic and boldly flavored recipes such as SeaPak's WorldCatch All-Natural Tilapia with Artichoke Pesto and High Liner Foods' Seafood Selects Cioppino are examples of another strong trend.
"Certified wild" American shrimp; regional seafood, such Morey's ready-to- cook fresh Marinated Wild Alaskan Sockeye Salmon (with a pop-up timer), and organic seafood continue to hold premium positions. Farm-raised species—bred in a well-controlled environment—are also taking on a safer, more-natural aura. EcoFish's Certified Organic White Shrimp, raised on an eco-friendly aquaculture farm, has 30% less cholesterol than regular shrimp.
While price is still the major barrier to greater seafood consumption, lack of cooking skills is another concern. The Alaska Seafood Marketing Institute's Cook It Frozen campaign is teaching consumers to cook seafood directly from the frozen state.
Icelandic, USA's Wild Alaskan Sockeye Salmon is packaged with a cedar plank, Marder Trawling's shrimp Bar-B-Skewers, are grill-ready, and Sea-Pak's Wrapped Shrimp in a spring-roll-type wrap are ready-to-bake and packaged with dipping sauce.
Meatier Options
With fresh oven-ready roasts, like Smithfield's Stuffed Pork Loin with Garlic Mashed Potatoes or Purdue's new tropical Coconut Chicken Breast Tenders perfect for hot deli take-out, meat and deli departments are targeting the growing number of in-home family meals.
--- PAGE BREAK ---
In 2006, 90% of shoppers prepared dinner with fresh "meat" at least once a week, 43% ready-to-heat, and 35% ready-to-eat (FMI, 2006c). Overall, 4.3 home-prepared dinners/week included a "meat" item; 90% of shoppers used chicken at least once a week, 83% beef, and 58% pork.
Refrigerated entrées outsold frozen products in supermarkets during the 12 weeks ending 8/13/06, according to IRI (Leathers, 2006). Juanita's Foods' new authentic Mexican refrigerated entrées, such as Chicken Chile Verde and reduced-fat Carnitas, are ready in 4 minutes.
Boldly marinated meats, new cuts of meat and seasonings not usually associated with meats are other key trends. Examples are Agri Bee Foods' Double R Ranch's Quick Check Chile Flat Iron Blade Steak; Jimmy Dean's Bold Country Sausages in seriously bold and hot flavors; Pilgrim's Pride Chicken Master Pieces in Maximo Chicrizo; and Premium Standard Farms Marinated Pork Loin Filets in Italian Parmesan and Herb flavor.
Organic deli meats and sausages are the latest wave in the explosive organic and natural meat segment—17% of shoppers bought natural or organic meats in 2006 (FMI, 2006c). California Turkey's Just Perfect premium deli line is now all-natural. Maverick Ranch Natural Beef is now USDA Process Verified for no pesticides and antibiotics. Brandt Beef's True Natural Beef touts its birth to consumption source-verification program, GlobalTrack.
Animal welfare is fast becoming a mainstream meat issue. Pure Foods' new Spiral Carved Uncured Ham is Certified Humane and has no antibiotics, nitrate, nitrite, or MSG.
Western Grasslands Inc. produces Panorama Organic Grass-Fed Beef. All cattle are born and raised in the United States on natural grasses, legumes, and range forage, with no antibiotics or hormones.
Kosher meats like Empire Kosher Poultry's Pre-Made Chicken and Turkey Burgers are another fast-growing segment, as are halal products. American Foods Group is among the meat marketers introducing fresh cuts and flavors popular with Hispanics, such as Chef Merito's Puerco Adobada Steak Cuts.
Premium Angus and Hereford meats continue to set a gourmet pace. Upscaled burgers are another hot category—witness Quaker Maid Meats' Philly-Gourmet Sirloin Tip Beef Patties and Jennie-O's Premium White Turkey Burgers. Artisanal charcuterie, like Fabrique Délices' Pheasant Sausage with Gogi Berries, is another lucrative niche.
But convenience and health still drive the fresh-meat and deli cases. Oscar Mayers' Fast Frank hot-dog-and-bun combination is microwaved in 35 seconds. Klement's Honest to Grillness sausage line delivers full grill marks and flavor without striking a match. John Morrell's ham and chicken Tub Salad Kits are another time-saving entry.
Smithfield's Lean Generation pork has 50% less fat than conventional pork and is certified by the American Heart Association as low in saturated fat and cholesterol. Natural Harmony Foods combines 90%-lean all-natural beef with soy protein to deliver 75% less fat, 83% less saturated fat, and 60% less cholesterol than traditional burgers. And Pilgrim's Pride's EatWellStayHealthy Kids Chicken Breast Nuggets is one of its newest healthier products for kids.
--- PAGE BREAK ---
Doin' Dairy
Yogurts, spreads, natural and specialty cheeses, and milk drinks/shakes have been the bright spots in the traditional refrigerated dairy category.
CoolBrands' Breyers Light! Plus yogurt delivers an extra dose of good bacteria and is fortified with vitamins A and D and calcium. Popular healthy additions are omega-3, DHA, and whole-grain cereal, such as in Stonyfield Farm's YoBaby Plus Fruit & Cereal with DHA. Dannon continues to make inroads with Activia, claimed to naturally regulate the digestive system in two weeks, and DanActive, for an immunity boost.
Indulgent yogurts, such as Blue Bunny Swirl Sensations and New York Cheesecake, and yogurt mousses have gained a loyal following. Specialty yogurts such as Fage, an imported Greek yogurt with honey, and Hispanic yogurts like Johanna Foods' Sabor Latino in guava and mango flavors are attracting a wider audience. Litehouse Foods has formally taken yogurt into the dip category with a new line of fruit and chocolate dips.
Borden Cheese shook up the shredded cheese category with Shred Medleys™, which contain complementary spice packs; Sargento added Bistro™ Blends such as Mozzarella with Sun-Dried Tomatoes & Basil; and Kraft Foods offers Grate It Fresh, a 7-oz block of cheese in a plastic jar with its own grater.
Your Ultimate Milk from Promised Land Dairy is fat-free milk enriched with natural plant sterols to lower cholesterol. Lightfull Foods' Satiety Smoothie includes a fiber and protein-rich nutritional mixture that gives a feeling of fullness. Probugs from Lifeway Foods is a new kid-friendly kefir with 10 live cultures. Even butter has changed—Odell's Chef's Butter™ is offering Clarified Butter, Seafood Butter, and Popcorn Butter.
But today's dairy case goes far beyond milk-based products. According to ACNielsen (2006b), vegetable juice/drinks were the biggest sales gainers in the dairy case, up 33%, followed by refrigerated fruit juice 17%, pudding 14%, spreads 12%, cider 9%, fruit drinks 9%, specialty cheese 9%, and milk drinks/shakes 7%.
Campbell Soup's V-8 Fusion provides a full serving of vegetables and one of fruit. While Kraft's Jell-O gelatin and low-sugar puddings have gotten a boost from dieters/weight managers, Kozy Shack has focused on adults with its new Bananas Foster and Black Forest pudding cups. Kraft also recreated Lunchables with a substantial reduction in calories, fat, saturated fat, and sodium.
The dip and spread category is on fire, with hummus leading the way. Sabra's Hummus "To Go" is packed with crackers in flavors like Greek Olive and in tubs with Fresh Roasted Red Pepper or Roasted Pine Nuts.
Pillsbury's refrigerated Fresh Breads are designed for long-lasting freshness, while Kraft's Philadelphia Ready to Eat Cheesecake Filling just needs to be poured into a pie shell to be ready to serve. Bisquick has also taken a fresh approach with Shake 'n Pour Buttermilk Pancake Mix.
Soy milk is keeping pace, with Eden's Original Soy Milk, made with "free-range" soy. Silk Live! offers a Blueberry Soy Yogurt Smoothie with omega 3 and 6, calcium, magnesium, folic acid, potassium, and vitamins A, B, C, D, and E.
From cage-free to specialty eggs with omega-3s, the egg category is enjoying a renaissance. Radlo Foods innovates further with its ready-to-eat line of premium Born Free All Natural Omega-3 hard-boiled peeled eggs.
--- PAGE BREAK ---
New-World Baking
Ciabatta rolls at Jack-in–the-Box, Gorditas at Taco Bell, Focaccia at Panera Bread, and Toasted Gourmet Bread Bowls at Quizno's—no wonder fresh-baked, Old World, ethnic, and artisan breads are the bakery's star performers.
Expect a greater demand for more boldly flavored and savory breads, such as Asiago cheese and tomato basil. Seeded breads, such as Panera's Sunflower, Pumpkin Seed, and Sesame Semolina Breads, are gaining in popularity, as are stone-milled and specialty flours.
Naan and other Middle Eastern flat breads and sweet tropical rolls are fast-emerging trends. Regional breads such as Franz Family Bakeries' Northwest-focused Columbia River Sweet Dark Grain Bread fit right into the American regional trend. Old-fashioned potato, buttermilk, and classic egg breads are regaining their popularity, as innovative sliced breakfast sweet breads such as Pepperidge Farm's Cinnamon and Whole Wheat Swirl Breads take the market by storm. Thomas' Squares Bagelbread matches the size and shape of traditional cold cuts—without a hole. Sara Lee's Hearty & Delicious breads are thicker for heartier sandwiches.
And the future looks good for fresh bakery items. Fresh muffin sales led category growth, up 8% for Y/E 6/17/06; sales of cheesecake and rolls were up 6%, fresh buns and cakes 3%, and fresh bread 1%; pies sales were flat; and sales of fresh bakery breakfast cakes/sweet rolls fell 3% (ACNielsen, 2006c).
Organic, no-artificial-colors/flavors, and whole-grain products continue their dominance, as more bakers fortify with omega-3 and soy and tout their vitamin and mineral content. Sara Lee's Soft & Smooth whole-grain white bread is a good source of fiber, vitamin D, and folic acid and an excellent source of calcium.
Heart-healthy breads, led by Tip Top Bakeries' new Tip Top® Up™ White Omega 3 DHA bread line, continue to grab the spotlight. Tumaro's Gourmet Tortillas has a new Soy-Full Heart Flatbread with omega-3, soy, and flax. Flowers Foods Bakeries Group's Nature's Own wholegrain specialty bread line calls out the grams of whole grain/slice, while George Weston Bakeries touts Arnold Double Fiber 100% Whole Wheat and Brownberry Double Fiber breads.
The Tortilla Factory's Smart & Delicious Wraps are gluten-free, and Alvarado St. Bakery offers Lifestyles low-glycemic bread for diabetics.
Thomas' Light Multigrain English Muffins and Light Bagels  have 33% fewer calories than its regular products and are excellent sources of fiber.
Low-calorie and portion control are sweet spots in the sweet goods segment. Dawn Foods' Weight Watchers Snack Cakes and Entenmann's Enten-Mini's mini cakes are two of the most-sought-after new additions.
But indulgence still takes the cake. Entenmann's added a piña colada flavor to its Ultimate Cake line, and Tastykake added Boston Crème to its KandyKake products.
Theme-decorated cakes such as those bearing The Little Mermaid cartoon characters, and cupcake cakes such as DecoPac's CupCake Bouquet are proven impulse purchases. And Elgin Dairy's Fiesta! Tres Leches pourable liquid mix for bakery foodservice makes classic Hispanic favorites easier than ever.
Deli To Go
Specialty cheese grew 8% in dollar sales and 6% in units in food/drug/mass merchandisers for Y/E 2/25/06 (ACNielsen, 2006b). Examples include Bel Gioioso Cheese's new handcrafted Burrata, which can be used as an alternative to Mozzarella; VOD Gourmet's Whiskey Blue with a hint of Kentucky Bourbon; and Fiscalini Cheese's new signature Alpinestyle Lionza.
Roth Käse USA broke new ground with its Mix 'n Match Minis line of 4-oz individually wrapped portions of specialty cheese, such as Red Spruce Cheddar and Landaus Butterkäse, that are perfect for sampling, snacking, and party trays.
Refrigerated side dishes posted one of the best performances of all in 2006, with a 21% gain in dollar sales (Leathers, 2006). Reser's Fine Foods' Continental Cuisines line of fresh heat-and-eat pasta entrees includes Pad Thai and Buffalo-style Chicken Pasta. Harry's Fresh Foods offers refrigerated mini-lasagnas.
Harry's Fresh Foods' new upscale organic soup line, including Organic Tomato Gorgonzola, will surely attract "Foodies" to the self-serve deli soup counter. Delimex Tamales to Go is an innovative addition to the deli's appetizer section, as is John Morrell's Premium Deli Tray with low-fat meats and cheese, designed to serve 12.
For a detailed update on deli trends, see Sloan (2006).
by A. Elizabeth Sloan, Ph.D., a Professional Member of IFT and Food Technology Contributing Editor, is President, Sloan Trends & Solutions, Inc., P.O. Box 461149, Escondido, CA 92046 ([email protected])