Heart health, immunity, and weight management are three major wellness concerns for today's consumers. Dietary fiber in its various forms can help in these areas, as well as bone and digestive health. Here is a look at some prebiotic fibers along with new research and fiber ingredient developments.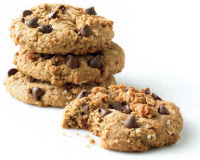 Resistant Starch
Natural resistant starch is a prebiotic fiber and may be the next hot consumer buzzword thanks to recent media coverage on Prevention magazine's Web site and under the "Health and Fitness" banner on MSN.com. The story, "Top Medical Breakthroughs of 2008" (Landau, 2009), appeared on both Web sites and referred to a Swedish study in which healthy people ate bread rich in natural resistant starch at dinner and felt less hungry the next morning compared with healthy people who had consumed plain white bread at dinner (Nilsson et al., 2008). The breads in the study included white wheat flour bread enriched with Hi-maize® natural resistant starch from National Starch Food Innovation, Bridgewater, N.J. (phone 800-797-4992, www.foodinnovation.com, www.resistantstarch.com), and barley-kernel bread, both of which provided the satiety-inducing resistant starch.
Hi-maize, from high-amylose corn, has been shown in more than 70 published human clinical studies to support weight, energy, and glycemic management and digestive health, says Rhonda Witwer, Senior Business Development Manager, Nutrition, National Starch Food Innovation. The company offers Hi-maize brand whole-grain corn flour (Type 1 resistant starch) and Hi-maize brand corn starch (Type 2 resistant starch) from high-amylose corn. Witwer explains that published studies have shown that resistant starches from different sources are structurally different and impact intestinal fermentation differently, leading to the conclusion that their benefits will likely be different, as well.
Animal studies with rodents are helping to explain the mechanisms underlying the benefits of natural resistant starch. Researchers at the Pennington Biomedical Research Center and Louisiana State University are examining the specific mechanisms: bulking, energy density, or fermentation. They have found that the fermentation of Hi-maize resistant starch turns on the genes that produce anti-diabetes/anti-obesity hormones linked to satiety.
Kendall et al. (2008) showed that other maize-based dietary fibers could lower glycemic and insulin responses. In the study, 12 healthy volunteers consumed seven test beverages containing maize-based fiber ingredients (25 g total carbohydrate) along with two control meals on separate occasions and in random order. The maize-based ingredients were PROMITOR™ Soluble Gluco Fiber and PROMITOR™ Resistant Starch from Tate & Lyle, Decatur, Ill. (phone 800-526-5728, www.promitorfiber.com, www.tateandlyle.com). All test fibers resulted in significantly lower glycemic and insulinemic responses at all time points compared with the control. The researchers concluded that these fibers may be effective in applications for dietary strategies to control diabetes and other chronic diseases.
Maltodextrin
Digestion-resistant maltodextrin added its fiber benefits to two new products last year. SOYJOY® nutrition bars and Mott's Plus Applesauce both feature Fibersol-2® from Matsutani America Inc., Itasca, Ill. (phone 630-250-8720, www.fibersol-2.com), each providing 3 g of fiber per serving.
The soluble fiber is generally recognized as safe (GRAS) as maltodextrin and provides benefits for digestive health, weight management, and lower blood glucose after meals, says Yuma Tani, Vice President, Matsutani America Inc. In a recent meta-analysis, Mattes and Popkin (2009) showed that maltodextrin can attenuate the glycemic response to carbohydrate foods. The addition of 6 g of maltodextrin to a formulation attenuated glycemic response by nearly 20% in drinks and by 10% in foods.
--- PAGE BREAK ---
Beta-glucan
Beta-glucans are classified as water-soluble dietary fiber, have been shown to lower low-density lipoprotein (LDL) cholesterol, and are present in cereal grains such as barley and oats. Both barley and oat beta-glucans have FDA-approved health claims linking them to a reduced risk of cardiovascular disease. Barliv™ barley beta-glucan from Cargill, Minneapolis, Minn. (phone 866-456-8872, www.cargillhft.com), is extracted from barley and boasts > 70% beta-glucan. According to the company, a human clinical study using Barlív revealed that people who consumed the barley beta fiber for six weeks reduced their LDL cholesterol by 10 percent on average. Researchers also added that barley beta fiber may also help in weight loss and management of blood sugar levels, though further research is needed.
In addition to the FDA-approved health claim in the United States, an oat beta-glucan health claim was approved in France early in 2008. CreaNutrition (phone 41 41 747 01 99, www.oatwell.com) is the Swiss-based oat bran specialist that applied for the claim. Approved by the French Food Safety Agency (AFSSA), it reads: "Consumption of oat bran containing foods and other eligible oat sources containing oat soluble fibers (oat beta-glucan), as part of a balanced diet, without excess of particularly saturated fats, and physical exercise together help to reduce your cholesterol." In its letter affirming the success of CreaNutrition's application, AFSSA recommended that, for products to bear the claim, they should contain 3 g of beta-glucan per 100 g, or 1.5 g of beta-glucan per 100 kcal. A similar beta-glucan claim related to reduction of blood glucose and insulin response has been in place in Sweden since 2002, and the UK approved a claim in 2004.
CreaNutrition develops, produces, and sells OatWell® oat bran products rich in beta-glucan, up to 28%. Only 2.68 g of the oat bran needs to be added in a formula to ensure 0.75 g of beta-glucan per serving. Oat Ingredients LLC, Boulder Colo. (phone 303-818-1117, www.oatingredients.com), is a U.S. distributor of OatWell®.
Another oat beta-glucan ingredient, OatVantage™ from GTC Nutrition, Golden, Colo. (phone 800-522-4682, www.gtcnutrition.com), contains 54% beta-glucan. It increases the viscosity of stomach contents, which slows stomach emptying, prolongs the absorption of energy from a meal, and decreases the absorption of fat. These effects exert strong control over insulin release, which reduces cholesterol production, extends satiety, and benefits heart and glycemic health.
Natural oat fiber and an organic oat fiber, produced from oat hulls, are available from Grain Millers, Eugene, Ore. (phone 800-443-8972, www.grainmillers.com). To help add oat fiber to baked goods, cereals, and snacks, the fibers are offered with two different water absorptions.
Fructooligosaccharides
In addition to heart health and weight management, certain forms of dietary fiber also benefit bone health, digestive health, and immunity. For example, Paineau et al. (2008) conducted a multi-center study that included 105 human subjects in two groups who, over a 6-week period, received either 5 g/day of NutraFlora ® short-chain fructooligosaccharide (scFOS®) prebiotic fiber from GTC Nutrition (www.nutraflora.com) or 5 g/day of a placebo. Data showed that the intensity of minor functional bowel disorders decreased by 43.6 percent in the scFOS group, while the placebo group showed a 13.8 increase. Further, the symptoms of minor functional bowel disorders were less frequent in 75 percent of the scFOS group, while 53.8 percent of the placebo group experienced no change.
In addition, NutraFlora has also been shown to increase calcium absorption. According to GTC, prebiotics help create an environment in the digestive tract that allows minerals, including calcium, to stay in a form that is easily absorbed by the body for a longer period of time, enhancing the body's natural processes for mineral absorption.
In November 2008, the company also launched a prebiotic galactooligosaccharide (GOS), Purimune™. It is 90% GOS and supports the immune system by nourishing and stimulating the growth of beneficial microflora in the colon.
--- PAGE BREAK ---
Inulin
Inulin is a prebiotic found in bananas, artichokes, and onions. Commercial forms are extracted from chicory. For example, Oliggo-Fiber™ inulin from Cargill is a naturally occurring fructan extracted from chicory root. It is fermented in the lower intestine by bifidobacteria, resulting in the production of short-chain fatty acids. This can cause a lowering of the pH in the large intestine and result in increased calcium absorption, as well as slower growth of certain bacteria that can weaken the immune system. OliggoFiber™ inulin was recently added to Cargill's Healthy Cookie Base. The convenient new base makes it easy to create whole-grain cookies and bars with added fiber. In addition to inulin, it also contains the company's GrainWise™ Wheat Aleurone and WheatSelect™ White Whole Wheat.
Inulin is a prebiotic found in bananas, artichokes, and onions. Commercial forms are extracted from chicory. For example, inulin from Cargill is a naturally occurring fructan extracted from chicory root. It is fermented in the lower intestine by bifidobacteria, resulting in the production of short-chain fatty acids. This can cause a lowering of the pH in the large intestine and result in increased calcium absorption, as well as slower growth of certain bacteria that can weaken the immune system. inulin was recently added to Cargill's . The convenient new base makes it easy to create whole-grain cookies and bars with added fiber. In addition to inulin, it also contains the company's and .
An oligofructose-enriched inulin was recently added to a new cottage cheese product. Friendship All Natural Digestive Health Cottage Cheese (Friendship Dairies, Friendship, N.Y., www.friendshipdairies.com) delivers digestive and bone health benefits with 3 g/serving of Orafti®Synergy1 oligofructose-enriched inulin from BENEO-Orafti, Morris Plains, N.J. (phone 973-867-2140, www.orafti.com). This enriched prebiotic fiber helps stimulate the growth and activity of beneficial bacteria in the digestive tract. In addition, it has been clinically shown to provide an extra boost to calcium absorption and bone health. Abrams et al. (2005) gave 100 adolescents either 8 g Orafti®Synergy1 or an equivalent amount of placebo every day for a year. Calcium absorption and bone mineral density were improved in those who consumed the oligofructose-enriched inulin. At six-week and one-year interventions, calcium absorption had increased significantly. After one year, bone mineral density was significantly higher.
Larch arabinogalactan
Larch arabinogalactan (LAG) is a natural soluble fiber extracted from harvested Larch trees and is GRAS. LAG consists of galactose and arabinose in a 6:1 ratio. It has been found to offer many significant benefits, the most important ones being in the fields of digestive health and immune support.
As a prebiotic fiber, FiberAid™, a form of LAG for digestive health produced by Lonza, Allendale, N.J. (phone 201-316-9200, www.lonza.com), provides the ability to increase beneficial microflora, thus improving gastrointestinal heath. It has been shown to decrease the generation and absorption of ammonia in the gut. High levels of ammonia in the large intestine appear to contribute to detrimental health conditions, having a toxic effect toward epithelial cells.
Lonza also offers a new LAG ingredient, ResistAid™, for use in immune formulations. The LAG in ResistAid™ consists of polyphenols and has already been shown to increase the proliferation of immune cells.
In 2008, the Australian authorities approved LAG as a therapeutically active ingredient for oral use. In Australia, LAG had been approved before as a food additive only. In the European Union, arabinogalactan is listed in the Novel Food Catalog published on June 17, 2008, for use as a food supplement.
Glucomannan
A refined glucomannan ingredient, LuraLean® from AHD International, Atlanta, Ga. (phone 404-233-4022, www.ahdintl.com), is a finalist for a NutrAward at this year's Nutracon in Anaheim, Calif. The water-soluble dietary formula is supported by more than 60 clinical trials and 14 safety studies for promoting healthy weight loss in overweight individuals. LuraLean interacts with liquid in the stomach to swell to nearly 200 times its original size. Once expanded in the system, it promotes a feeling of satiety while traveling through the gastrointestinal tract, causing individuals to eat less. Additionally, the glucomannan acts as a magnet, attracting and binding excess oils and calories and carrying them out of the system through normal digestion.
--- PAGE BREAK ---
Soluble Cellulose Fiber
High-viscosity hydroxypropyl-methylcellulose (HV-HPMC) FORTEFIBER™ is a modified cellulose fiber produced by Dow Food & Nutrition, Midland, Mich. (www.dow.com), that affects glycemic response and cholesterol. It was shown in two separate studies to reduce postprandial glucose and insulin excursions in overweight and obese men and women (Maki et al., 2007; Maki et al., 2008). This may help delay glucose absorption and alter risks for diabetes and cardiovascular disease. The glucose-control effect was also demonstrated in type II diabetic patients (Reppas et al., 1993). In addition, nine human trials (Dressman et al., 1993; Reppas et al., 1993; Maki et al., 2000) showed that HV-HPMC significantly lowered cholesterol at well-tolerated doses in mildly hypercholesterolemic humans.
Another ingredient introduced last year by Dow was SATISFIT™ Weight Care Technology. Derived from cellulose, it is a 100%, highly functional soluble dietary fiber. "In pre-clinical studies, SATISFIT was shown to reduce absorption of saturated and trans fats, reduce weight gain, and promote healthy fat metabolism," says Stephanie Lynch, Global Market Manager, Dow Food & Nutrition. "The animal studies showed that consuming a diet with SATISFIT™ resulted in a 7% reduction in weight gain compared to the control diet. Another advantage is that it does not add calories to formulations."
Polydextrose
Polydextrose is a highly branched polymer of glucose. Its unique arrangement of glycosidic linkages makes it resistant to hydrolysis by human digestive enzymes. After ingestion, it passes intact into the colon, where it is partially fermented by the colonic microflora.
As a prebiotic, Litesse® polydextrose from Danisco, Elmsford, N.Y. (phone 913-764-8100, www.litesse.com), has shown its positive effects at doses as low as 4 g/day in humans. Its ingestion has been shown to increase the amount of beneficial bacteria in the lower intestine and to decrease the amount of detrimental bacteria. Fermentation of Litesse® by the beneficial bacteria leads to a lower fecal pH through the production of important short-chain fatty acids, notably butyric acid, which are believed to play a role in reducing cancer risk.
Information from Danisco reports that a large, double-blind, placebo-controlled study confirmed the physiologic benefits of Litesse® as a fiber. It concluded that daily intake of 4–12 g of polydextrose improved gastrointestinal function without adverse effects. In addition, other human clinical studies have shown that Litesse® can actually reduce subsequent food intake, with total caloric reductions of 5–25%.
---
Defining Fiber
For information on the
Guidelines for Use of Nutrition Claims: Draft Table of Conditions for Nutrient Contents (Part B Containing Provisions of Dietary Fiber),
which was discussed at the 30th Session of the Codex Committee on Nutrition and Foods for Special Dietary Uses, visit
http://www.fsis.usda.gov/codex_alimentarius/Delegate_Report_30CCNFSDU/index.asp
. Delegates discussed the topic of revising the draft definition for dietary fiber.
Linda Milo Ohr,
Contributing Editor,
Denver, Colo.
[email protected]
References
Abrams, S.A., Griffin, I.J., Hawthorne, K.M., Liang, L., Gunn, S.K., Darlington, G., and Ellis, K.J. 2005. A combination of prebiotic short- and long-chain inulin-type fructans enhances calcium absorption and bone mineralization in young adolescents. Am. J. Clinical Nutrition. 82: 471-476.
Dressman, J.B., Adair, C.H., Barnett, J.L., Berardi, R.R., Dunn-Kucharski, V.A., Jarvenpaa, K.M., Parr, D.D., Sowle, C.A., Swidan, S.Z., and Tobey, S.W. 1993. High-molecular-weight hydroxypropylmethylcellulose. A cholesterol-lowering agent. Arch. Intern. Med. 153: 1345-1353.
Kendall, C.W.C., Esfahani, A., Hoffman, A.J., Evans, A., Sanders, L.M., Josse, A.R., Vidgen, E., and Potter, S.M. 2008. Effect of novel maize-based dietary fibers on postprandial glycemia and insulinemia. J. Am. Coll. Nutr. 27: 711-718.
Landau, M.D. 2008. Top medical breakthroughs of 2008 for women. www.MSN.com. Dec. 24.
Landau, M.D. 2009. Top medical breakthroughs of 2008. www.Prevention.com. January.
Maki, K.C., Davidson, M.H., Malik, K.C., Albrecht, H.H., O'Mullane, J., Daggy, B.P. 1999. Cholesterol lowering with high-viscosity hydroxypropylmethylcellulose. Am. J. Cardiol. 84: 1198–1203.
Maki, K.C., Carson, M.L., Miller, M.P., Turowski, M., Bell, M., Wilder, D.M., and Reeves, M.S. 2007. High-viscosity hydroxypropylmethylcellulose blunts postprandial glucose and insulin responses. Diabetes Care 30: 1039-1043.
Maki, K.C., Carson, M.L., Miller, M.P., Turowski, M., Bell, M., Wilder, D.M., Rains, T.M., and Reeves, M.S. 2008. Hydroxypropylmethylcellulose and methylcellulose consumption reduce postprandial insulinemia in overweight and obese men and women. J. Nutr. 138: 292-296.
Mattes, R.D., and Popkin, B.M. 2009. Nonnutritive sweetener consumption in humans: effects on appetite and food intake and their putative mechanisms. Am. J. Clinical Nutr. 89: 1-14.
Nilsson, A.C., Östman, E.M., Holst, J.J., and Björck, I.M.E. 2008. Including indigestible carbohydrates in the evening meal of healthy subjects improves glucose tolerance, lowers inflammatory markers, and increases satiety after a subsequent standardized breakfast. J. of Nutr. 138: 732-739.
Paineau, D., Payen, F., Panserieu, S., Coulombier, G., Sobaszek, A., Lartigau, I., Brabet, M., Galmiche, J.P., Tripodi, D., Sacher-Huvelin, S., Chapalain, V., Zourabichvili, O., Respondek, F., Wagner, A., and Bornet, F.R.J. 2008. The effects of regular consumption of short-chain fructo-oligosaccharides on digestive comfort of subjects with minor functional bowel disorders. British J. of Nutr. 99(2): 311-318.
Reppas, C., Adair, C.H., Barnett, J.L., Berardi, R.R., DuRoss, D., Swidan, S.Z., Thill, P.F., Tobey, S.W., and Dressman, J.B. 1993. High viscosity hydroxypropylmethylcellulose reduces postprandial blood glucose concentrations in NIDDM patients. Diabetes Res. Clin. Pract. 22(1): 61-69.