Falafel chip and hummus dip, anyone?
Yes, snack time has certainly changed over the years. There can be no doubt of that. Today, instead of your traditional potato chip or pretzel, there are products such as pretzel crisps or pop chips that offer a distinctive look or texture while providing better-you-benefits. Bold and bolder flavors abound as Doritos offers its line of First-, Second-, and Third-Degree Burn tortilla chips. And at the 2010 Sweet & Snacks Expo, products such as Chocolate-Covered Candy Coated Kettle Corn, M&M's Pretzels, and Silly Seeds (sunflower seeds in flavors such as cherry, green apple, lemon, berry, watermelon, tangerine, and fruity-tooty) were launched, many of them blurring the boundary lines of different product categories.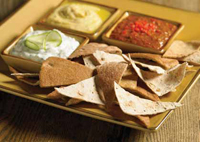 As you can probably already guess, answering the question, "what is a snack?," is not easy. Today, this particular type of eating occasion is not limited to traditional snack categories but rather it can cover a very broad territory—so broad, in fact, that a snack could be described as anything you choose it to be, ranging from a yogurt to a piece of fruit to a snack bar.
One thing remains clear though: Snacking is very popular. According to the NPD Group, a global provider of consumer and retail market research information, 87% of U.S. consumers snack between meals, and the sales of food or beverages eaten during snacking occasions are estimated at more than $90 billion annually and growing. Snacking accounts for 20% of American eating occasions at home, and that is expected to increase another 18% by the year 2018. Studies also indicate that the lines between meals and snacking are starting to blur—currently 30% of consumers claim to eat mini meals throughout the day rather than three main meals.
Statistics such as these demonstrate that the snack area can be a very fertile one for many ingredient sectors. The fact that traditional snacks are frequently targeted in the obesity epidemic (as they account for one-fourth of calories consumed) can help create exciting opportunities for many ingredient developments. Whole grains, healthier oils, and salt alternatives, to name a few, can help create better-for-you snacks without compromising their sense of indulgence. And that can make a very strong statement in a marketplace where there is a continuing demand for healthier products.
With the growing focus on better-for-you snacks, the time may be especially right for these ingredient developments. For example, in July 2010, Kraft Foods Inc. announced it will more than double the amount of whole grain in many of its Nabisco crackers. Kraft will increase the whole grain in more than 100 products over the next three years. Ritz and Premium crackers will contain whole grains for the first time. Boulder Canyon Natural Foods, a brand of Inventure Foods Inc., recently expanded its Totally Natural line of kettle-cooked potato chips to include 60% Reduced Sodium, No Salt Added, 40% Reduced Fat, and Olive Oil. And Pop Weaver reformulated its entire line of microwave popcorn with a heart-healthy canola oil.
This month's Ingredients section will demonstrate the benefits that a variety of ingredients specifically offer in the development of snacks for tomorrow. So please, welcome to my party and enjoy munching on the different snack concepts you will find. And, by the way, did you remember to bring that wonderful hummus dip of yours?
--- PAGE BREAK ---
The Fats Behind Snacks
Heart-healthier ingredients utilizing omega-9 canola oil developed by Dow AgroSciences, Indianapolis, Ind. (phone 800-678-2388, www.Omega9Oils.com), can find particular application in snack foods. The company's new Omega-9 Oils Ingredients Solutions can help snack food manufacturers eliminate trans fats and reduce saturated fats from their products without compromising food quality, functionality, or performance. The company worked with Indiana-based Weaver Popcorn Co., a producer of more than 30% of the world's popcorn, to develop a healthier product formulation for the Pop Weaver brand of microwave popcorn. Made with a canola oil blend, the new formulation offers more than a 30% reduction in total fat, including 60% less saturated fat, while delivering the rich buttery flavor of the previous version.
A new canola/flaxseed oil blend from Cargill, Wayzata, Minn. (phone 952-742-9246, www.cargill.com), is suitable for use in snacks, crackers, cereal bars, spreads, and other such products. Clear Valley® Omega-3 Oil reportedly has a neutral taste, will not interfere with established flavor profiles, and is shelf stable for more than nine months. It is designed to overcome formulation challenges associated with incorporating ingredients such as omega-3s and fish oils into a formula. (Specifically, incorporating the volume of polyunsaturated oil required to make an omega-3 claim is difficult in products that have a low fat content such as crackers; in addition, fish oil, a primary source of omega-3s, can impart a "fishy taste and does not possess a long shelf life.) The new blend provides a minimum of 160 mg of ALA in most applications.
A new line of diglycerides, Trancendim™, earned Caravan Ingredients Inc., Lenexa, Kansas (phone 800-669-4092, www.caravaningredients.com), a 2010 IFT Food Expo Innovation Award. The range is intended to provide opportunities to significantly reduce saturated fat in trans-fat free applications, while maintaining taste, mouthfeel, and flavor release. The diglyceride products developed are tailored for a number of applications, including a popcorn oil which has 2.5 g of saturated fat vs a palm oil blend that contains 4 g of saturated fat.
Through the process of enzymatic inter-esterification, Bunge Oils, St. Louis, Mo. (phone 800-828-0800, www.bungeoils.com), has produced a new line of shortenings and oils recommended for such snacks as popcorn, crackers, cookies, and tortillas. The process, by which the company produces its UltraBlends Enzymatic Solutions, rearranges fatty acids to provide structure and functionality at room temperature. The process has the ability to eliminate trans fat content and optimize saturated fats, while delivering a wider plasticity range. The resulting products made with domestically sourced soybean oil, provide an alternative to traditional hydrogenated shortenings and palm-based products.
New soybean varieties are being developed that will help deliver oils that offer improved functionality benefits to snack food formulators. For example, DuPont, Wilmington, Del. (phone 302-774-1006, www.dupont.com), recently received USDA regulatory approval for its Plenish™ high-oleic soybeans. These soybeans contain more than 75% oleic acid content, which significantly increases the stability of the oil made from these beans and provides greater flexibility in food applications. High-oleic soybean oil also has 20% less saturated fat than commodity oil and 0 g of trans fat. According to the company, Plenish can be used as a spray oil for crackers, nuts, candies, and other products, and has shown superior performance in taste and stability in shelf life comparisons.
A new soybean oil derived from stearidonic acid-enriched soybeans is the result of a collaborative effort between Monsanto and Solae LLC, St. Louis, Mo. (phone 800-325-7108, www.Solae.com). The oil, Soymega™, can provide omega-3s to snack bars while maintaining flavor and shelf life. It has also been shown to work in bakery products, beverages, yogurts, soups, processed meats, and vegetarian meat analogs—all of which may provide snacking opportunities. While food companies continue to evaluate the new offering, Solae is working to develop new product concepts that incorporate the SDA soybean oil. Pending completion of the regulatory process, commercialization of this ingredient is expected around 2012.
Other sources of oils also seem to show a promising future in the snack sector. "With the continued strong demand for healthy, stable cooking oils, cottonseed oil production may rise by nearly 25% over last year," said Ben Morgan, Executive Vice President of the National Cottonseed Products Association, Cordova, Tenn. (phone 901-682-0800, www.cottonseed.com). "Our crushers are expected to produce close to 770 million pounds of cottonseed oil in 2010-2011, compared to the 610 million pounds in 2009-10 and 669 million pounds in 2008-09." He added that cottonseed oil consumption is projected to surge to more than 600 million pounds in 2010-11, compared to 510 million pounds in 2009-10. More cottonseed oil may be good news to snack food manufacturers who use the versatile ingredient to prepare such products as potato chips. The trans-fat-free cooking oil is known for its "rich buttery" neutral flavor and naturally high stability.
--- PAGE BREAK ---
Nutty Kinds of Snacking
Eating a handful of nuts is a nutritious and tasty way of snacking. But even this simple practice has adapted in a variety of exciting ways. For example, Blue Diamond Almonds is available in such bold versions as Wasabi & Soy Sauce, Habanero BBQ, Cracked Black Pepper, and Lime 'n Chili, to name just a few.
Or how about nuts with a cinnamon roll flavor? Mellace Family Brands, Carlsbad, Calif., recently launched a line of kettle roasted nuts combined with Cinnabon's signature Makara® cinnamon. Can't decide which nut you want to snack on? Nutorious Nut Confections, Green Bay, Wis., offers Cherry Vanilla Va-Voom, a threesome of nuts (walnuts, almonds, and pecans) mixed with dried Montgomery cherries and vanilla. General Mills' Nature Valley Granola Clusters introduced a bite-sized snack—a lightly sweet, yet salty combination of roasted pecans, cashews, and peanuts rolled in granola with a touch of honey.
Even glazed nuts are reaching a new level of sophistication, as demonstrated by these products from Seattle-based Sahale Snacks—Cashews with Pomegranate & Vanilla, Almond Peanut Butter and Jelly with Peanuts and Berries, and Almonds with Cranberries, Honey, and Sea Salt.
In addition to eating them by the handful, nuts are appearing in a variety of interesting formats. At the 2010 IFT Food Expo, the California Walnut Board, Folsom, Calif. (phone 916-932-7070, www.walnuts.org), showcased walnuts in a Muhamarra Dip served on a pita chip. (Muhamarra dips, by the way, are flavorful Middle Eastern concoctions made with walnuts and bell peppers and frequently served on warm pita bread.) Another possible concept that strays away from your traditional French Onion or Ranch party dip might be a Walnut Hummus Spread served with vegetables or falafel.
As we can see, nuts are being paired with a variety of other ingredients, including fruits, granola, vanilla, chocolate, honey, soy sauce, sea salt, and so on. But what if formulators take into consideration the pairing of a particular nut with other foods or beverages and the different taste experiences that can arise from these pairings? At the 2010 IFT Food Expo, the Almond Board of California, Modesta, Calif. (phone 209-549-8262, www.almondboard.com), presented an eye-opening taste exercise that paired different flavored almonds with different ales. For example, Chocolate Almonds were paired with Guinness®. Well hopped and dark malts lend bitterness, which initially pairs with the bitterness of the cocoa. This harmony is perhaps resolved with the contrast of the sugar-coated almond on the inside. However, if you eat the chocolate first, and then sip the beer, the stout might seem sweeter than if you tasted them in the reverse order. This is due to a sensory phenomenon called "release from suppression." The bitterness of the chocolate can "suppress" the bitterness of the beer, and "release" the inherent sweetness normally very well-balanced in the beer. Other pairings included Ginger-Citrus Almonds with Sierra Nevada Summerfest®, a much more hoppy ale than Guinness, with components that can be perceived as citrusy, lemony, and flowery) and Beer-and-Bacon Glazed Almonds with Blue Moon® (an ale that contains white wheat and oats, which lends a creaminess, while the light, spicy flavors of coriander and orange complement the savory/sweet almonds).
As we learn more about the science underlying successful pairings, this may have further influence on product development—leading to a better understanding of which ingredients to pair with other ingredients to create distinct textural contrasts and new flavor symphonies. Also, understanding pairings may lead to new packaging developments—what if almonds were packaged with Guinness, for example, along with instructions on how to experience these two for maximum effect.
Nutty? Only in the literal sense.
--- PAGE BREAK ---
Snacks with a Grain of Sense
"A big surprise for us is that despite the attention, wholegrain snacks are not well penetrated—they only account for 9% of snack bars, crackers, salty snacks, cookies, and snack cakes," noted Dave Sheluga, Director of Consumer Insights for ConAgra Mills, Omaha, Neb. (phone 402-240-5153, www.conagramills.com). "Of those, only snack bars are well penetrated with 41% whole grains. Surprisingly, cracker sales are only 16% whole grain. And the remaining three categories have a tiny presence of whole grains."
Consequently, the snack category represents "a tremendous opportunity for growth for product developers using whole grains and better-for-you formulations," emphasized Sheluga. "Because there are so many unique whole-grain types and forms to choose from, any product in the snack category can benefit from the addition of whole grains."
ConAgra Mills offers a wide range of ingredients based on whole grains. These include Ultragrain® (whole-wheat flour that combines nutritional benefits with the taste, texture, and appearance of refined flours), Sustagrain® (ultra-high-fiber whole grain), Ancient Grains (whole-grain flours milled from amaranth, quinoa, millet, sorghum, and teff), Eagle Mills® Gluten-Free All-Purpose Multigrain Flour (whole-grain flour combining Ancient Grains with tapioca flour for glutenfree applications), and Mumbai Gold™ Fresh Chakki Atta (flour milled from specially selected durum wheat to traditional Indian specifications for taste, texture, and functionality).
At the 2010 IFT Food Expo, Chef Steve Hodge, Senior Executive Chef for the company, showcased two snack concepts. Pita Chips demonstrated the versatility of Ultragrain (36% of the formula) with Ancient Grains (15%). The rest of the formula used traditional refined white flour. Mumbai Gold Fresh Chakki Atta, designed to meet traditional specifications for flatbreads, was recommended by the chef for use in this snack prototype. The resulting pita chip has a mildly exotic flavor that will maintain mainstream appeal and was served with a Mediterranean dip. A second snack concept, Gluten-Free Orange & Pistachio Biscotit featured Eagle Mills Gluten-Free All-Purpose multi-grainFlour Blend. From a culinary perspective, this formula brings out the flavors of the Ancient Grains while providing gluten-free benefits.
According to Mike Veal, the company's Vice President of Marketing, ingredients such as Ultragrain and Sustagrain, can be used in a wide range of snacks, including cookies, crackers, bars, cakes, and pastries. "From sweet to savory, the snack category is extremely broad, and even though whole grains are underrepresented overall, snacks are perhaps the category most ready to accept them," Veal said. Ultragrain 100% whole wheat flour brings the sensory characteristics of traditional white flour—lighter color, smoother texture, and mainstream taste—while providing a boost of fiber, vitamins, and minerals. Snack products made with Ultragrain may qualify for whole-grain label claims depending on the percentage of Ultragrain used. Sustagrain, made from a proprietary variety of barley, is available in flour and flake forms so it is easy for snack formulators to incorporate these ultra-high fiber ingredients into their formulas. Sustagrain offers 30% fiber, reportedly giving it the highest fiber content of any commercially available whole grain. At least 40% of this fiber is present as beta-glucan soluble fiber.
A new sorghum flour from Archer Daniels Midland Co., Decatur, Ill. (phone 217-424-5200, www.adm.com), has potential use in the development of gluten-free and multigrain snack applications. For example, one such snack concept, Sorghum Crisp, can be created using either white sorghum flour or whole-grain white sorghum flour. The pillow-shaped snack is gluten-free, and can be formulated with savory or sweet flavors.
Grain sorghum originated in Africa and India, and is one of the oldest known grains, with color varieties ranging from dark brown to red to white. This sorghum flour has a light color and neutral flavor, which makes it suitable for use in the above mentioned snack concept as well as other snacks such as cookies, crackers, brownies, cakes, and muffins. Processed similar to wheat flour, it can be used to provide nutritional benefits associated with whole grains. The company claims that the sorghum flour can offer customers a gluten-free solution that is more economical that most specialty flours.
--- PAGE BREAK ---
A potato flour that has been gently roasted to develop savory flavor and warm color is available from Briess Malt & Ingredients Co., Chilton, Wis. (phone 920-849-7711, www.briess.com). The natural ingredient, Briess® Roasted Potato Flour, can provide benefits to a variety of snack applications. In extruded snacks, it can increase expansion, improve flavor and color, and reduce ingredient costs. It can increase potato flavor and improve color in extruded and baked potato snacks and chips. And it can add savory flavor to seasoning mixes for snacks. According to the company, the ingredient can partially replace standard potato flour in existing formulations, or can help create new formulations. Derived from roasted potatoes, the flour is gluten-free, low-fat, and a good source of dietary fiber and protein.
Whole-grain purple corn flour from Suntava, Afton, Minn. (phone 651-998-0723, www.suntava.com), is suitable for use in corn chips, tortillas, and other types of snacks. Snacks produced from this flour are said to have a high concentration of antioxidants as well as health-promoting vitamins, minerals, and amino acids. The company recently formed an alliance with Zumbro River Brand Inc., a contract processor, to manufacture extruded snack products, cereals, and crispy pieces using the flour derived from purple corn. The extruded natural purple/blue corn pieces can be seasoned with a variety of fruit or savory flavors, with berry and salsa being some examples.
Opportunities for Dairy
Sales of foods eaten during the snack occasion are estimated to be approximately $90 billion and are increasing. This presents a potential growth area for dairy products and products containing dairy, which currently account for 13% of all between-meal snack choices for people two years and older.
These were among the findings of a new white paper, "Snacking: Identifying a World of Opportunities for Dairy." The paper, drawing on 18 months of consumer and industry research, was released by the Innovation Center for U.S. Dairy, supported and staffed by USDEC/Dairy Management Inc., Rosemont, Ill. (phone 717-794-1050, www.InnovateWithDairy.com).
Dairy's nutritious profile naturally aligns with consumer demand for healthy snacks. To fully realize this potential, the white paper recommended the dairy industry develop products that go beyond what is available today and identified five key marketing segments for dairy-based ingredients or products: Morning Energy (these snacks are part of the morning routine, in addition to or in place of breakfast); Tasty PM Meals (foods eaten in addition to or in place of lunch or dinner and usually consumed outside the home); Substantial Crunch (more filling snacks eaten in the afternoon to tide the consumer over until dinnertime); Naturally Nutritious (less processed foods consumed between breakfast and lunch); and Sweet Bites (bite-sized, poppable sweet treats eaten between meals).
At the 2010 IFT Food Expo, USDEC featured several dairy-based prototypes that demonstrated some of the different directions that snacking can take. These included a Protein Chiller—a novel, on-a-stick frozen snack that may be positioned as an alternative to snack bars—and Breakfast Bites, a convenient, protein-packed breakfast or snack that can appeal to consumers on the go.
Snacks—including cheese, yogurt, and snack bars—can take advantage of protein solutions from Fonterra (USA) Inc., Chicago, Ill. (phone 847-928-1869, www.fonterranorthamerica.com). For example, the PowerProtein line can combine the nutritional advantages of dairy protein while overcoming flavor and texture challenges. A functional milk protein, DeluxeProtein™, can enhance the taste and texture of a thick, creamy Greekstyle yogurt. And for those cheese snackers out there, a savory cheddar cheese was developed that has 40% less salt, a distinctive semi-mature flavor profile, a uniform cream color, and a firm, smooth body.
--- PAGE BREAK ---
A snack bar prototype, Cherry Almond Cereal Plus Bar, utilizes bar-GAIN 381, a blend of whey and soy proteins from Glanbia Nutritionals, Fitchburg, Wis. (phone 608-316-8521, www.glanbiausa.com). The balance of proteins provides a clean flavor profile, a soft texture, and extended shelf life, preventing the product from hardening over time. It also features SelectGrad whole milled flaxseed and a specialty premix of 20 vitamins and minerals.
Sargento cheese can be paired with crackers, pretzels, meats, and other snacks, using Duets™, a new portion-controlled packaging system. According to Sargento Food Ingredients, Plymouth, Wis. (phone 800-795-7090, www.sargentofoodingredients.com), the system gives customers the option to fill two packets simultaneously with products that cannot normally be comingled—cheese, meat, dried fruit, grains, and others. Each pouch can hold up to four ounces of product, but each one can be filled to different weights if desired.
Flax Snax
Prototype tortilla chips made with flaxseed were showcased by Grain Processing Corp., Muscatine, Iowa (phone 563-264-4265, www.grainprocessing.com) at the 2010 IFT Food Expo. To expand its product line, the company formed an alliance with Enreco Inc., Newton, Wis., to offer Sterling Choice® flaxseed, which it incorporated in several formulations including the tortilla chips.
Consumers are becoming more concerned with their eating habits and effect on their overall health. Snacks were once only an indulgence but are now an excellent venue for health benefits. To demonstrate this, Grain Processing chose a popular snack, tortilla chips, and added to them ALA omega-3 fatty acids and fiber content. (Two different types of chips were produced at Wyandot Inc., Marion, Ohio, a custom manufacturer of snack foods and related grain-based products, and are from proprietary formulations developed by that company.)
One tortilla chip formulation contains Sterling Choice Traditional Grind golden flaxseed to provide an "excellent source of ALA omega-3 fatty acids" at 320 mg per 30 g serving of chips. The flaxseed also supplies dietary fiber—insoluble and soluble—and contributes high antioxidant levels. In a corn tortilla chip, the ground flaxseed offers a clean flavor profile, a crisp texture, and a golden color.
A second chip formulation contains a combination of TruBran® F80T oat fiber and Sterling Choice Traditional Grind golden flaxseed to provide a "good source of fiber" and a "good source of ALA omega-3 fatty acids." The oat fiber has a high percentage of insoluble dietary fiber, a light tan color, and a clean flavor.
The most apparent functional characteristic of ground flaxseed is adding moistness to finished products, especially bakery items (which can have a snacking appeal). Furthermore, its combination of components can improve machineability of chips and flat breads, and it can be used as a partial replacement for saturated fats.
Whole flaxseed can also be used in various snack applications for its visual appeal. Some examples might include crackers, bars, snack chips, tortillas, breads, and many others. Flaxseed, which has a pleasant flavor and slightly sweet and nutty aroma, pairs well with whole-grain products.
--- PAGE BREAK ---
Getting a Leg Up with Legumes
In January 2010, Bean Brand Foods, Austin, Tex., launched Beanitos, a gluten-free snack chip made from beans. Since then, the company has added two new flavors to its line—Pinto Bean Cheddar Cheese and Black Bean Chipotle BBQ. The commercialization of this product demonstrates the growing potential that legumes have as a nutritious ingredient in the snack category.
A line of cooked bean ingredients, marketed under the name VegeFull by Archer Daniels Midland Co., Decatur, Ill. (phone 217-424-5200, www.adm.com), can help increase vegetable protein and fiber in snack foods. Made from such bean varieties as black, small red, navy, pinto, or garbanzo, the ingredients are offered in a variety of formats (powders, grits, pieces, noodles, and whole quick-prep). One snack prototype developed by the company was Navy & Black Bean Tortilla Chips. A good source of fiber, it contained stoneground corn masa flour, sunflower oil, black bean grits (cooked dehydrated black beans, sugar), navy bean power (cooked dehydrated navy beans, sugar), and salt. A combination of navy bean powder and sorghum flour was used in place of wheat flour to create gluten-free versions of two snacking favorites—chocolate chip cookies and brownies.
Canadian-grown lentils, the edible seed of a legume or pulse plant, are suitable as a nutritious ingredient in snack foods. High in protein and fiber, low in fat, and containing no cholesterol or sodium, they may be ground into a flour and successfully incorporated into crackers, puffed snacks, and other products, claimed Kofi Agblor, Director of Research for Saskatchewan Pulse Growers (phone 306-668-5556, www.saskpulse.com). Lentil puffs, for example, are processed with direct twin screw technology using a blend of 70% lentil flour and 30% corn meal.
High-fiber snacks, ranging from crackers to nutrition bars, can be formulated with pea fiber. American Key Food Products, Closter, N.J. (phone 800-767-0237, www.americankeyfood.com), offers a product made from pure de-hulled pea flour that has a fiber content of 58%, a neutral color and taste, and high water binding capacity. Pea Fiber 300, in organic and conventional forms, is available from SunOpta Ingredients Group, Chelmsford, Mass. (phone 781-276-5100, www.sunopta.com). Containing up to 90% dietary fiber, the ingredient is made from the hulls of field-dried peas and is a by-product of pea splitting. It has a bland flavor, light color, smooth texture, and moisture-binding properties.
A very low viscosity soy protein isolate, Solpro 842, was developed to meet the processing demands for soy crisps, extruded snacks, and cereals. The 90% soy protein, launched by Israel-based Solbar Industries Ltd. (phone 847-459-1400, www.solbar.com), is said to have consistently low viscosity when subjected to the heat and shear of extrusion while maintaining a bland flavor profile.
Starches in Snacks
Satiety can be described as the effect after eating the meal or snack has ended and its impact on subsequent feelings of hunger and fullness and ultimately the amount of food you eat at your next meal or snack. National Starch Food Innovation, Bridgewater, N.J. (phone 908-685-5555, www.foodinnovation.com), has published a new position paper on the satiety benefits of Hi-maize resistant starch and Hi-maize whole-grain corn flour. Previously, the food industry's main approach to weight management has been reducing calorie intake alone. However, research described in the position paper may prompt snack food developers to explore new ideas. The company's resistant starch has been proven to have positive effects on satiety, according to numerous published studies, and more intricately designed studies are being undertaken to follow up on those positive effects. The discovery of the short-term and long-term satiety benefits of the resistant starch and the even greater effects of the whole-grain corn flour has led to an important breakthrough (in comparison to other dietary fiber sources).
A pregelatinized waxy maize starch, X-Pand'r® 683 from Tate & Lyle, Decatur, Ill. (phone 217-423-4411, www.tateandlyle.com), delivers expansion and crispness in a wide range of snack cracker and snack chips containing flours, dried vegetables, and potato flakes, as well as provides a crispy coating with excellent adhesion on nuts and dried fruits under baking conditions. A new addition to the company's line of starches, the ingredient reportedly provides lower process viscosity during extrusion and delivers expanded and crisp texture with a uniform network of air cells. It is suitable for cold-forming or low-temperature extrusion applications.
--- PAGE BREAK ---
A healthy way to enjoy snack chips and crackers, fruit salsa can incorporate a modified food starch, Pure-Gel® B994, to provide the acid and heat stability required to attain long-term shelf stability. Benefits of the starch, available from Grain Processing Corp., Muscatine, Iowa (phone 563-264-4265, www.grainprocessing.com), include heat-stable viscosity without syneresis or setback, extended steam table stability, excellent freezethaw stability, and low cooking temperature.
A native pea starch from American Key Food Products, Closter, N.J. (phone 800-767-0237, www.americankeyfood.com), can provide crispiness and volume improvement in extruded snacks. It exhibits properties similar to those of modified starches, such as stability under high temperature, and acid and shear stability.
New Tastes for Tomorrow
At a media event, Virginia Dare, Brooklyn, N.Y. (phone 718-788-1776, www.virginiadare.com), served up a popcorn made with a vanilla flavor. The vanilla, described as an Indonesian early pick, had a smoky characteristic resulting from the curing process. In this particular application, it helped push the popcorn flavor through the butter, creating a somewhat distinctive snack product.
The use of vanilla in popcorn is one example of the many exciting ways that flavors can be used to create tomorrow's snacks. For example, Butter Buds Food Ingredients, Racine, Wis. (phone 262-598-9900, www.butterbuds.com), recently introduced a natural bacon concentrate which can be used in snack seasonings. Wixon Inc., St. Francis, Wis. (phone 414-769-3000, www.wixon.com), developed a number of flavor profiles that can impart to snack chips the tastes of other favorite foods. These might include Sweet Potato Pie Chips (a blend of spices, including cinnamon, nutmeg, allspice, ginger, and clove, infused with brown and white sugar, vanilla, and marshmallow), Cheeseburger Potato Chips (flavors of beef, cheese, onion dill pickle, and mustard), BBQ Baby Back Ribs Potato Chips (flavors of honey, sugar, and tomato combine with the kick of Worcestershire, smoke, and chili peppers), French Toast Corn Puffs (a medley of cinnamon, nutmeg, vanilla, and maple combined with butter and white and brown sugars), Chicken Soup Corn Puffs (flavors of chicken broth, carrots, celery and cream with spices such as onion and garlic), and Baked Mac & Cheese Corn Puffs (flavors of cheeses, including cheddar, Parmesan, and blue, blend with butter, milk, roasted garlic, and smoked paprika).
Many of these distinctive flavor profiles are being paired with sodium and sugar alternatives. Wixon demonstrated this in the above snack formulations. KCLean™Salt  looks, tastes, and mimics the texture of regular table salt while reducing sodium content and removing bitter aftertastes. It can be used in any high-sodium snack food such as popcorn or potato chips. Mag-nifique Sweet Lift has a synergistic effect with sugar that enhances perceived sweetness while using less sugar or adding lingering aftertastes. Recently, the company introduced Magnifique™ for Stevia, which can be used to create such snack products as Low-Sugar Teriyaki Beef Jerky or No-Sugar Spiced Mango Pomegranate Sweet Bean Spread (an alternative for flavored cream cheese spreads).
In its line of SaltTrim flavor modification products, Wild Flavors, Erlanger, Ky. (phone 859-342-3600, www.wildflavors.com), offers SaltTrim Plus for topical applications such as salty snacks. Kikkoman Sales, USA, Inc., San Francisco, Calif. (phone 415-229-3605, www.kikkomanusa.com), developed a savory flavor booster (NFE Flavor Enhancer) which it high-lighted in a French Onion Dip served with potato chips. And Morton Salt, Chicago, Ill. (phone 312-807-2513, www.mortonsalt.com), featured an Extra Fine Refined Sea Salt for salted nuts, potato chips, and snack seasonings.
Flavors can help make better-for-you products more exciting and distinctive in the future marketplace. Not only can they pair well with technologies used to reduce sodium or sugar from the formulation, they can form interesting combinations with the other ingredients discussed in this article. Imagine, for example, a vanilla-flavored popcorn made with heart-healthy canola oil. Or a salt-reduced, Middle-Eastern-flavored tortilla chip with flax seeds. Or a flavored bean chip made with resistant starch.
--- PAGE BREAK ---
The possibilities are, of course, endless—when it comes to snacking, there are whole new areas left to explore. And with each product introduced, another statement can be made about the reality of bridging health with indulgence.
Next month's Ingredients section will look at the different ways that pastas are being reformulated, helping to make them healthier and more carb-conscious without sacrificing their traditional texture or taste.
---
IngredienTalk:
Is it strawberry cheesecake? Or isn't it? My fifteenth blog, as it appeared in its entirety, looks at how formulations can be recreated using flavors inspired by other foods or beverages. If you care to add your spoonful of flavor—and you're an IFT member— visit www.ift.org, type in your name and password, click on the IFT Community button, and go to the blog section. And get ready to indulge.
Things Aren't What They Seem
"Close your eyes and try this," my mother would say, holding the wooden spoon up to my mouth. And because a pleasant experience would soon follow, I complied. Even with my eyes shut, I recognized what I was tasting—beef stew, chili, mushroom sauerkraut, and other favorite dishes my mom prepared.
That was the good thing about the old days. If something tasted (or smelled) like apple pie—well, guess what—it probably was apple pie. Or if something looked like a seafood entrée, it really was just that. Today, though, in this more complex, unpredictable age, tastes (and appearances) can sometimes be deceiving. To put it simply, things aren't what they seem. But then, that isn't necessarily bad, as I learned several times over this past year.
Take, for example, some of the yogurt varieties that the Dannon Company came out with in its Light & Fit line—Strawberry Cheesecake (my favorite), Orange Bliss (sort of like a Dreamsicle in a cup), and Apple Pie (a seasonal item that I hope returns to the marketplace again as the temperatures begin to drop and holidays such as Thanksgiving come to mind.) In each case, as I spooned down the yogurt and even licked the spoon, I could swear I was tasting the real thing. These varieties demonstrated how well products with a healthy image (80 calories with no fat) could take advantage of indulgent flavors to help revitalize them and possibly make them more appealing to a broader audience.
At the 2010 Sweets & Snacks Expo, Wrigley Jr. Co. launched Extra Dessert Delights, its newest variety in the Extra gum line. Available in Mint Chocolate Chip, Strawberry Shortcake, and Key Lime Pie, these flavors offer gum chewers an indulgent treat that is inspired by the taste of the real desserts (but at only five calories). Also at this event, Atlanta-based Innovative Candy Concepts introduced Cheaters Squeeze Candy in flavors that included Strawberry Cheesecake, Blueberry Cobbler, Banana Crème Pie, and Cinnamon Apple Pie. Promoted as guilt-free, the candy consists of no sugar and fat.
Several companies at the 2010 IFT Annual Meeting and Food Expo showcased prototypes made with flavors that duplicate the tastes of other foods. BBQ baby back ribs…cheeseburgers… French toast…and sweet potato pie, these were only some of the flavors that Wixon Inc., St. Francis, Wis., imparted to potato chips and corn puffs. An added bonus was that these specially flavored snacks were made with technologies that helped reduce sodium and sugar content. Gum Technology Corp., Tucson, Ariz., demonstrated the use of its gums in a ravioli that featured the flavors of a cheeseburger. And in the spirit of sushi-type preparations, a "sushi" treat was created by Gold Coast Ingredients, Commerce, Calif. Okay. It may not taste like sushi, but certainly plays off its appearance. The fun treat consisted of puffed rice crispies (bed of rice), flavored fruit snack (fish), pistachio paste (wasabi mustard), and chocolate sauce for dipping (soy sauce). The prototype included several of the company's flavors—natural coconut cream, natural mango, natural and artificial strawberry, natural and artificial toasted marshmallow, and artificial guava. So now we have snack bars, nutrition bars, and sushi bars.
--- PAGE BREAK ---
Recreating the tastes of foods or beverages and then transplanting them to a different product category is not entirely new. Perhaps the first company to seriously take this approach was the Jelly Belly Co. in 1976—its confection currently has 50 official flavors (such as Blueberry, Bubblegum, Buttered Popcorn, A&W Root Beer and Cream Soda, Toasted Marshmallow, Lemon Drop, Caramel Corn, French Vanilla, and Orange Sherbet, to name a few.) The company also developed 42 additional flavors, including rookie flavors (Superfruit Mix, Citrus Mix, Dark Chocolate, Honey Bean, and Cold Stone Creamery Ice Cream Parlor Mixes) and "just plain weird flavors" (remember the Harry Potter-inspired varieties such as Earwax and Earthworm). This year, the company introduced its nonalcoholic Jelly Belly Classic Cocktail Flavors (Mojito, Pomegranate Cosmo, and Peach Bellini), which joined the ranks of previously developed Margarita, Pina Colada, and Strawberry Daiquiri. And the company also pioneered the "recipe" idea of combining flavors to make a new taste. (For example, a Strawberry Shortcake Flavor can be created by adding one Strawberry Jam with one French Vanilla with one Honey Graham Cracker.) The resulting combinations are endless, of course. Novelty and fun, of course, play an important part in creating products that use flavors inspired by other foods or beverages. But over the years, there may be other reasons as well for this approach.
Take the case of yogurt, mentioned earlier. Although yogurt is a healthy food, it really wasn't until it started coming out in varieties such as Strawberry Cheesecake that it became a breakfast staple for me. I can only guess that these indulgent flavors can help stimulate the consumption of a variety of better-for-you foods.
Flavors are frequently used to help differentiate products in the marketplace. Creating a potato chip that is flavored to taste like a cheeseburger can help draw attention to your product and may satisfy the consumer's desire for something different or more exciting.
For an individual who is concerned about weight management, chewing a gum flavored to taste like strawberry shortcake can provide caloric advantages over the real dessert while maintaining the flavor of the dessert. And while chewing gum may not offer the same culinary experience as strawberry shortcake, at least it allows the consumer to indulge in the flavor, which depending upon the individual, may or may not be enough.
The use of these flavors may help spark the development of applications where sugar, salt, or fat have been reduced, and can play a particularly important role in creating better-for-you snacks. In some cases, the flavors may have a satiating effect. In other cases, these flavors may help elicit a sense of comfort, evoking memories of a particular food experience.
And flavors can help reshape how we view the parameters of traditional food and beverage categories, revitalizing them and taking them into different directions previously unimagined.
Not too long ago, a company joked that it created a Cheeseburger Chili Smoothie. Now while it may not be actually possible to create a smoothie that provides the taste of a cheeseburger (why would you want to in the first place?), it is certainly possible, as we have already seen, to create a variety of formulations inspired by the tastes of other foods and beverages.
I'm suddenly reminded of that Shakespeare quote, "There are more things in heaven and earth, Horatio, than are dreamt in your philosophy." Apparently that includes not only the ghost of Hamlet's father but also strawberry cheesecake yogurt, cheeseburger-flavored ravioli, key lime pie chewing gum, and sweet potato pie chips. And I haven't forgotten the sweet sushi either.
So who knows what's really next? If you're brave enough, close your eyes, open your mouth, and give this a taste. Or at least open your mouth and let's IngredienTalk.
--- PAGE BREAK ---
---
Munching on New Snack Concepts
Let's look at how two companies—J.R. Short and Clextral—are approaching the development of new entries in the snack category.
Celebrating 100 years of business, J.R. Short, Kankakee, Ill. (phone 800-544-8734, www.shortmill.com), is developing several innovative snack food concepts. These prototypes make use of different flavor combinations, textures, shapes, and forms, and nutritional benefits that help snack manufacturers address current and emerging consumer trends.
For example, the company's advancements in extrusion technology allow inclusion of sweet potato, an ingredient new to the extruded pellet category. "One of the interesting things we have discovered while working with sweet potato in extruded snack pellets is the variety of textures we can develop depending on shape, proprietary extrusion methods, and the expansion process used," said Mike Shafiabady, the company's Director of Research and Development. This basic formula (rice, whole ground corn, sweet potato, sugar, and sodium chloride) works well in a variety of shapes that can be fried, air popped, or pressure puffed. A ridged wedge that is fried and an air-popped short cut tube are some examples of prototypes created using sweet potato as an ingredient. Sweet potato can deliver such benefits as fiber, "good" carbs, protein, vitamins A and C, iron, and calcium.
Advancements in extrusion technologies also made possible a multi-grainshape that includes cocoa powder and marshmallow flavor internally in the extruded pellet. This technology allows the development of new products that deliver distinct flavor profiles without adding topical seasoning generally used with pellet-based snacks. Consumers can munch on this sweet snack during the morning commute without worrying about getting sugar or icing on their fingers, noted Terry Gieseke, the company's Director Sales and Marketing. The treat—consisting of wheat, corn, rice, cocoa powder, sodium chloride, marshmallow flavor, and sucralose—can be fried, air popped, or pressure puffed. When air-popped, it can provide a low-fat, low-calorie option—a full ounce serving (about 22 pieces) delivering 100 calories while maintaining its distinctive taste.
A twist-shaped pellet is made with whole ground corn, corn bran, sugar, sodium chloride, and baking soda—its formula works well in low-expansion shapes developed for frying. A standard 28-g serving is said to deliver more than 3 g of fiber, 5 g of protein, and a wholegrain claim. According to the company, it has pioneered the utilization of various vegetable proteins and grains to deliver "good sources" of protein or fiber in extruded shapes that can be deep fried, air-popped, or pressure puffed into finished foods. For example, the company developed a twist-shaped pellet that contains soy protein isolate, soy protein concentrate, tapioca starch, and sodium chloride. Extruded pellets are also available with benefits such as no added salt or formulated with 100% whole grain.
Other prototype concepts include whole ground ripple chip (whole ground wheat, whole ground corn, sugar, malt, and sodium chloride); ripple stick (rice, potato starch, dehydrated potato, and sodium chloride), which can be produced to qualify for a non-gluten claim; and a corn straw (a thin walled square tube) made with whole grain corn that qualifies it for a 100% whole-grain claim.
According to Clextral, Tampa Fla. (phone 813-854-4434, www.clextral.com), consumers on the run are choosing cereal bars for snacking opportunities, and twin-screw extrusion gives food processors the tools they need to supply this market with new and exciting products. What's more, processors can make a variety of product types on one extruder—from crispy flat-bread-style products to filled (co-extruded) bars, simply by changing the processing parameters. And the extruder can also produce healthy whole-grain and high-fiber recipes to reach the active, health-conscious consumer market.
The company utilizes its twin-screw extrusion to create a wide range of cereal bars for snacking applications. Co-extruded snack bars with a crispy cereal shell and soft filling offer virtually unlimited flavor combinations. Filling flavors, such as fruit puree, cream, jelly, cheese, or meat, can be tucked inside a crunchy cereal bar for a dual-textured mouthfeel. Outer shells can incorporate corn, wheat, rice, bran, oats, soy, and others in a variety of recipes. The company's coextrusion processing line can manufacture these snack foods continuously at high production efficiency and reduced energy consumption, when compared to traditional processing. Many coextruded products are enrobed in outer coatings that may range from sweet icings to ethnic spices, which can create excitement, interest, and delicious flavor.
--- PAGE BREAK ---
Other recent snack innovations from Clextral include soy and rice crisps, a multi-grainwavy chip, crackers in a variety of shapes and textures, crispy nuggets of soy, whey, and rice for granola mixes, and even "snack croutons"—an emerging concept that makes use of different flavors (chocolate, spices, garlic, and olive oil) and varied textures ranging from crunchy to crispy. The company works with manufacturers to develop recipes, test formulations, and processing parameters. Snack companies can forge partnerships with Clextral to improve existing products, implement advanced manufacturing technologies, or create entirely new snack foods.
---
www.ift.org
Members Only:
Read more about snack ingredients online at
www.ift.org.
Type the keyword into our search box at the upper right side of our home page.
by Donald E. Pszczola,
Senior Editor 
[email protected]