Consumers are learning more about the importance of lean protein consumption for various age groups. Muscle synthesis and maintenance is particularly important through all life stages. And research supporting protein's various benefits in weight management, muscle building, satiety, and heart health is growing. "Many consumers are trying to increase protein intake and look for products that provide a good or excellent source of protein," says Loren Ward, Ph.D., Director, R&D, Glanbia Nutritionals, Fitchburg, Wis. (phone 800-336-2183, www.glanbianutritionals.com). "Products are being launched containing 5–15 g of protein per serving to provide options for consumers."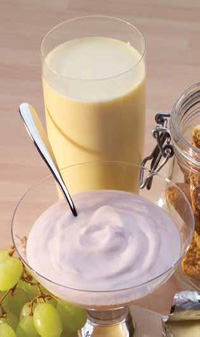 Proteins are also appearing in more innovative applications. For example, CLICK Espresso Protein Drink® (CLICKco LLC, Clovis, Calif., phone 559-299- 1211, www.drinkclick.com) is a protein-based, espresso, all-in-one energy drink. It provides 15 g high-quality protein per serving and comes as a 14-serving powder drink mix. At last year's IFT Food Expo®, the U.S. Dairy Export Council, Arlington, Va. (phone 703-528-3049, www.innovatewithdairy.com), showcased dairy proteins in unique applications: yogurt-infused waffles packed with protein and calcium; reduced-sodium Cheddar cheese snacks mixed with high-quality dairy protein; whey protein-fortified pasta; and protein-fortified bread pudding.
The versatility and reported health benefits make proteins desirable for both consumers and food and beverage manufacturers. Here is a look at some of today's protein ingredients as well as some new ingredient offerings.
Dairy Proteins
Dairy proteins have been shown to be beneficial in weight management, body composition, and satiety. Josse et al. (2011), for example, showed that diet-and-exercise-induced weight loss with higher protein and increased dairy product intakes promoted more favorable body composition changes in otherwise healthy premenopausal overweight and obese women. This was seen in a greater total and visceral fat loss and lean mass gain.
Whey protein, in particular, is garnering much attention. Mojtahedi et al. (2011) demonstrated that a higher protein intake (2 x 25 g/day whey protein) during caloric restriction maintained muscle relative to weight lost, which in turn enhanced physical function in older women. In a review of 25 intervention trials, Graf et al. (2011) showed that whey protein may affect glucose metabolism and enhance the effects of exercise on muscle protein synthesis.
Whey protein suppliers are creating ingredients that capitalize on the benefits and functionality of whey. Grande Custom Ingredients Group, Lomira, Wis. (phone 800- 772-3210, www.grandecig.com), offers Grande Bravo whey protein, which has been shown to boost the protein content of a product when used as a replacement for the cream cheese in a cheesecake or for the cream in Alfredo sauce. In addition, this past year Grande introduced Grande Ultra® WPI, which is specifically targeted at products in the high-protein supplement and sports drink segments. The whey protein isolate allows for manufacturers to boost the protein in sports and health drinks with an ingredient that offers a clean taste and excellent clarity over a wide pH range.
--- PAGE BREAK ---
Glanbia Nutritionals Ingredient Technologies recently launched PepForm™ Leucine Peptides for the sports nutrition market. "This is a patent-pending high-leucine (>40%) peptide product that uses a whey protein or peptide backbone to bind L-leucine," explains Ward. "Research has highlighted the role of branched chain amino acids and in particular leucine in supporting muscle  growth and development. Recent animal studies showed that this form of amino acid is better utilized compared to free amino acids form. Clinical research continues to show the importance of this amino acid in the role of muscle physiology."
Glanbia also launched Optisol 1000 as a functional whey protein. The unique aspect of this whey protein system is that it has about twice the level of high molecular weight proteins and provides better emulsification characteristics. The sensory attributes of Optisol 1000 are also improved.
Soy Protein
Hodis et al. (2011) suggested that isoflavone soy protein supplementation may reduce subclinical atherosclerosis in healthy women (median age 53 years) at low risk for cardiovascular disease and who were less than five years postmenopausal. A group of 350 postmenopausal women 45 to 92 years of age without diabetes and cardiovascular disease were randomized to two evenly divided daily doses of 25 g soy protein containing 91 mg aglycon isoflavone equivalents or placebo for 2.7 years. Among the subgroup of women who were randomized within five years of menopause, the isoflavone soy protein participants had on average a 68% lower carotid artery intimamedia thickness progression rate than placebo participants.
In the previous study, soy product was provided by Solae LLC, St. Louis, Mo. (phone 800-325-7108, www.solae.com). The company offers soy protein isolates and concentrates and soy protein nuggets. The isolates are 90% protein on a dry weight basis. For soy protein concentrates, a portion of the carbohydrates from defatted and dehulled soybeans is removed. Soy protein concentrates retain most of the fiber from the original soybeans and must contain at least 65% protein on a moisture-free basis. Soy protein nuggets are soy protein isolates used as a nutritional, functional, or economical alternative to traditional proteins in a crisp form.
A unique isolated soy protein, CLARISOY™, ADM Protein, Decatur, Ill. (phone 800-637-5843, www.adm.com), has an extremely clean flavor and offers a soy protein with minimum protein levels of 90% on a moisture-free basis. Specially processed for use in beverage systems with pH levels of less than 4.0, CLARISOY™ 100 is 100% soluble and transparent in beverages. Best used in sports nutrition beverages, citrus-based drinks, fruit-flavored beverages, lemonades, powdered beverage mixes, fruit juice blends, and fortified waters, it offers clarity, solubility, and nutrition.
Egg Protein
Eggs contain very available, easily digestible protein compared to many other types. One large egg contains 6 g of protein, and 97% of an egg's protein is in the form of easily digestible, essential amino acids, which means the body is able to quickly and efficiently utilize it to fuel muscles.
--- PAGE BREAK ---
Collagen
Collagen peptides have been shown to be beneficial for both skin and joint health. For example, GELITA AG, Sergeant Bluff, Iowa (phone 712-943-5516, www.gelita.com), offers VERISOL for systemic beauty applications and FORTIGEL® for joint cartilage recovery. Both stimulate increased production of connective tissue from within. VERISOL bioactive collagen peptides substantially increase skin elasticity and prevent the formation of wrinkles by stimulating skin metabolism and the formation of new collagen from within. FORTIGEL has been shown to stimulate measurable regeneration of joint cartilage. The optimized collagen peptides that comprise FORTIGEL stimulate the cartilage cells to increase the production of both collagen and proteoglycans, the two major components of cartilage.
Proteins with Increasing Potential
• Canola protein. Canola protein (sulfur rich) has been found in animal studies to have significant benefit to delaying metabolic syndrome and cardiovascular disease. Canola proteins offer all the essential amino acids that the body requires for proper growth and muscle tissue synthesis.
Burcon NutraScience Corp., Vancouver, British Columbia, Canada (phone 888-408-7960, www.burcon.ca), has successfully extracted and separated the two naturally occurring proteins in canola: napin and cruciferin. Processing of these two fractions results in the cruciferin-rich canola protein isolate Puratein® and the napin-rich canola protein isolate Supertein™. Both are  protein isolates rich in essential amino acids, suitable for human consumption. Moreover, emerging research has indicated the high biological value of canola protein in human nutrition as a result of high levels of sulphur-containing amino acids methionine and cysteine. The company is also currently working on processes for extracting flax protein and hemp protein.
• Pea protein. Pea protein is an up and coming vegetable-based protein ingredient. Roquette USA, Keokuk, Iowa (phone 319-524-5757, www.roquette.com, www.pea-protein.com), for example, offers Nutralys® pea protein, extracted from the dry yellow pea. In November of this year, Burcon announced that it had also developed a pea protein isolate. Branded Peazazz™, it is 100% soluble and transparent in low pH solutions, has clean flavor characteristics, and is heat stable, permitting hot fill applications. The company also announced that it is engaged in  discussions with a potential partner to commercialize Peazazz™ and the associated protein extraction technology. In that regard, Burcon has entered into a confidentiality and material transfer agreement to facilitate these discussions.
• Potato protein. In August 2011, Cyvex Nutrition, Irvine, Calif. (phone 949-622-9030, www.cyvex.com), and Holland-based Solanic (phone 31(0)88 7 65 26 42, www.solanic.eu) announced a global distribution alliance for the dietary and weight management supplement, SolaThin™. The alliance will streamline global operations, with Cyvex assuming all duties relating to the supplement's sales, promotion, support, and further development. SolaThin—introduced to the U.S. market in March 2011 by Cyvex Nutrition—is a pure potato protein extract consisting of several low molecular weight proteins, including protease inhibitor PI-2. PI-2 enables the release of cholecystokinin, a naturally occurring peptide clinically shown to produce a feeling of gastric fullness, and thereby helping to reduce food consumption. Additionally, SolaThin contains no added compounds and features more than 90% protein, PI-2 included, to promote optimized satiety and healthful, effective weight control.
--- PAGE BREAK ---
• Aquatic crop-based protein. In October 2011, PetroAlgae Inc., Melbourne, Fla. (phone 321-409-7970, www.petroalgae.com), a global provider of licensed technology that produces micro-crops for renewable protein, feed, and fuel products, announced the completion of the first phases of two studies showing that PetroAlgae micro-crop protein achieved successful test results for human consumption. PetroAlgae's protein is derived from renewable aquatic crops using no pesticides or heavy metals.
The company's patent-pending technology employs a hydroponic system using indigenous aquatic plants and is designed to enable its licensees to produce high-value protein, animal feed, and a cost-effective alternative to fossil fuels, while absorbing carbon dioxide. The studies are being performed at the College of Agriculture at Purdue University and the College of Animal Sciences and Industry at Kansas State University. Test results indicated that PetroAlgae protein has the potential to be used in common foods such as noodles, tortillas, crackers, and smoothies. Researchers at Purdue found that PetroAlgae protein is rich in carotenoids, chlorophyll, antioxidants and other organic compounds of nutritional value. The PetroAlgae protein contains high concentrations of lutein.
Linda Milo Ohr,
Contributing Editor, Denver, Colo. 
[email protected]
References
Graf, S., Egert, S., and Heer, M. 2011. Effects of whey protein supplements on metabolism: evidence from human intervention studies. Curr. Opin. Clin. Nutr. Metab. Care. 14(6): 569-80.
Hodis, H.N., Mack, W.J., Kono, N., Azen, S.P., Shoupe, D., Hwang- Levine, J., Petitti, D., Whitfield-Maxwell, L., Yan, M., Franke, A.A., Selzer, R.H.M. and the Women's Isoflavone Soy Health  Research Group. 2011. Isoflavone soy protein supplementation and atherosclerosis progression in healthy postmenopausal women: a randomized controlled trial. Stroke 42(11): 3168-75.
Josse, A.R., Atkinson, S.A., Tarnopolsky, M.A., and Phillips, S.M. 2011. Increased consumption of dairy foods and protein during diet- and exercise-induced weight loss promotes fat mass loss and lean mass gain in overweight and obese premenopausal women. J. Nutr. 141(9): 1626–1634.
Mojtahedi, M.C., Thorpe, M.P., Karampinos, D.C., Johnson, C.L., Layman, D.K., Georgiadis, J.G., and Evans, E.M. 2011. The effects of a higher protein intake during energy restriction on changes in body composition and physical function in older women. J. Gerontol. A. Biol. Sci. Med. Sci. 66A(11): 1218-1225.