Facts belie perception: Packaging is indispensable for retail and institutional consumer goods, and food packaging is essential for the preservation and distribution of consumer, institutional, and industrial foods. The great majority of American packaging— valued at more than $60 billion—is dedicated to food protection. But, incredible as it might seem, no academic institution in this or any other geographic region offers or grants a degree in food packaging at any level.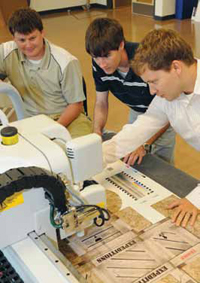 Why Is Food Packaging Not a Lofty Profession?
When the credentials for food packaging teachers and instructors at the universities offering food science and technology degrees and including a single course in their food science curriculum are examined, a remarkable paucity of prior experience or even academic exposure to packaging appears. Does this mean that food packaging for the food scientist is so absent of complexity that merely skimming a primer textbook is sufficient to transmit all of the world's intelligence on the topic? Any graduate with a bachelor's degree in enzymology, chemical or mechanical engineering, polymer chemistry, marketing, or microbiology is automatically credentialed for explaining the principles of integration of food deterioration, preservation, plastics, or thermal sterilization—or so you might believe based on the actual backgrounds of many of those who are on the ground in classrooms for this topic.
In contrast to the situations at universities offering food packaging in their food science curricula are the 14 or so universities that grant degrees in packaging and include food in their programs. Might Michigan State University or Clemson University packaging groups and their power-laden academic programs attempt to support those suffering from a paucity of qualified professionals? One approach might be to have online or visiting professors enhance the education model.
Perhaps food packaging—sadly, not yet a major profession, but certainly a demanding one—should be a primary objective from our great university packaging departments, sharing resources with colleges and students who would greatly benefit from the assistance. Universities frequently staff with temporary specialists, and food packaging technology fits the definition of needing all the help that might be mustered.
History Is a Powerful Educator
Few instructors or students have any notion of yesterday, much less the sources and relevancies of the past in food packaging. Might thermal processing via hot fill or retort have been accomplished absent of the principles of Pasteur, Prescott, Ball, Stumbo, and Pflug? Might retort pouches, bowls, and trays be achieved without the tenets of these historic and contemporary professionals? Who among the many assigned to teach in the domain of food protection are communicating from actual knowledge and who from words in a textbook—and who would be preferred by employers?
--- PAGE BREAK ---
Graduates Require More Training
From my perspective, and that of many of my learned professional colleagues, the field of food packaging suffers from a paucity of direct information on its vast complexity. Too many of our students and young graduates must be trained by their employers after graduation to perform routine tasks—shelf-life testing, food product flavor retention, distribution testing, package engineering, water vapor permeation and migration, oxygen transmission, plastic selection, and structural design, etc. We have concluded that these adverse results arise from the general superficiality of lessons. When food packaging is relegated by academic institutions to the realms of unnecessary or not worthy of peer review research publications, it is a secondary study, and yet dozens of IFT annual meeting presentations and posters deal directly with food packaging.
And folks, two peer-review publications exist: The Institute of Packaging Professionals (IoPP) offers a highly regarded certification (Certified Packaging Professional or CPP) And IoPP offers courses on packaging taught by experienced professionals using the classic Fundamentals of Packaging Technology as the text.
The three most influential organizations focused on food packaging are IoPP, Institute of Food Technologists' Food Packaging Division, and Packaging Machinery Manufacturers Institute (PMMI). The packaging profession depends on them to a greater or lesser extent for learning and information. And today PMMI certifies instructors for qualifications to teach packaging machinery for industry organizations.
Standards for Teaching Food Packaging
Not too many years ago, in an effort to unify food packaging as a learning opportunity—especially for food scientists and technologists—IoPP and IFT Food Packaging Division appointed three veterans to develop a course syllabus to act as a basis for teaching food packaging. Professors Bruce Harte and Theron Downes of Michigan State University School of Packaging and I wrote the program, which was approved by the two societies and widely distributed and is still used in many places.
Comprised of theory in food chemistry, deterioration vectors, food preservation, materials and structures and shelf life, plus field trips to base material makers, converters, machine makers, and food processing and packaging plants, plus guest experts sharing their life experiences, the courses comprehended the depth and breadth of food packaging. Canning, freezing, dehydration, water activity control, pH control, equipment, distribution packaging, consumer use, graphics, public policy, sustainability, and economics are all encompassed to enable the food science and technology graduate to understand and apply the language and principles.
Many of the essential pieces for development of food packaging are extant and can be incorporated into a proposed resurrection: the course syllabus—revised and updated; solid experienced professionals willing to cooperate in growth to assist the universe of food; well-equipped laboratories at major universities; chronicles that establish the past and present continuum that constitute our foundation; an expanding database of information that is the lifeblood of progress; and a cadre of young folks eager to drive food packaging to the forefront of food distribution support.
--- PAGE BREAK ---
Needs for the Profession
As utopian as this list appears, as with any pioneering effort, it is incomplete. To successfully integrate packaging into any food program, we must establish a number of elements to serve the entire food community. We need an archive bigger, better, and more comprehensive than the Arbor (Ann Arbor, Michigan) packaging collection derived from Bob McMath's shelves and accessible to all, not just historians. Such a resource was initiated several years ago at the great Michigan State University School of Packaging but faltered for lack of funding. And Clemson University harbors a wonderful growing collection—but still too small. We should entertain the idea of a central information database to harbor all the world's records on food packaging, cataloged and open. As all food packaging professionals know, the great majority of their information lies in private volumes from proprietary conferences and reports and, unfortunately, not in the open peer review literature. In addition, valuble information is sketched in industry periodicals.
Someone must harvest the vast fountain that exists and is expanding exponentially to support the ongoing technical developments that are one leg of food packaging. Most valuable to the food and food packaging communities would be a single center dedicated to the objective evaluation of the exploding new food packaging technologies. Over the years, thousands of claimed innovations have been introduced from offshore sources, from patents, from suppliers, and from universities. Too many of these developments were promoted heavily with little or no basis for the assertions. Testing of these highly publicized concepts by food companies has been an expensive and resource-burning exercise that could have been obviated by independent reports, much as food processes are often evaluated by government agencies. The existence and operation of a third party laboratory to assess the claims and capabilities of food packaging proposals would be a powerful tool for all in food packaging. And, of course, the integration of all of these components— education, history, archiving, and evaluation—would be a major benefit to all in food packaging.
A Bright Future
Can it be done? After all, we have lived virtually without such elements since our beginnings, and so we can continue, assert the uninitiated. But might it not have been far less expensive and stressful to have been supported by the intelligence, knowledge, and experience throughout? Private enterprises profited mightily for a relative paucity of investment at the university and government levels in this country. The models from Canada's University of Guelph and England's Camden have demonstrated the effectiveness of expanding the knowledge and education base to a wider audience. And with food processing and packaging technologies becoming so much more complex, would we not become more efficient with training, education, and objectivity for all of our programs applying the resources suggested?
In the coming years we shall invest more in packaging for our food supply here and around the world. How wisely and well this allocation of resources is applied depends on how well we educate our incoming food professionals. This is our obligation to our future for food.
Aaron L. Brody, Ph.D.,
Contributing Editor
President and CEO, Packaging/Brody Inc., Duluth, Ga., and Adjunct Professor, University of Georgia
[email protected]