Food scientists play a vital role in ensuring the safety and security of foods throughout the world. In recognition of these professional contributions to an increasingly complex, global food supply chain, IFT has launched the Certified Food Scientist (CFS) credentialing program. The CFS is the first formal global certification program recognizing the applied scientific knowledge and skills required of food scientists.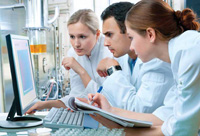 "I think many people don't understand what food science is and what food scientists do," said Bob Gravani, IFT President 2010–11 and Food Science Professor, Cornell University. "Having a certification program, like many other fields that have certification programs, will elevate the profession to a level where people will become aware of what food science is and what food scientists do. I think that's really important as we think about all the activities we're engaged in, such as improving health and wellness throughout the food supply."
"Food scientists are critical to the creation of safe, nutritious, and scientifically-based food products," said Roger Clemens, IFT President 2011–12 and Chief Scientific Officer, Horn Co. "It is important for IFT to develop ways for these food professionals to differentiate themselves throughout their careers. Through the creation of the Certified Food Scientist program, food scientists will now be formally recognized for their experience and expertise, and can obtain the professional recognition that they deserve."
The purpose of the CFS program is to:
• Demonstrate the profession's commitment to safe and quality food for consumers;
• Build a foundation for ethical standards moving forward that will benefit the entire profession;
• Promote lifelong learning that complements both academic learning and work experience;
• Provide food scientists with a way to demonstrate their applied professional skills and knowledge through a third-party, independent assessment;
• Raise the visibility and credibility of the food science profession.
CFS Credential and Exam
The CFS credential is a formal certification program obtained by passing an exam. The goal of the exam is to assess the critical knowledge and on-the-job experience that builds on academic degrees and contributes to successful food science careers. It is not designed to test knowledge learned in a university setting, but rather to test how food professionals apply knowledge and skills in a work environment.
--- PAGE BREAK ---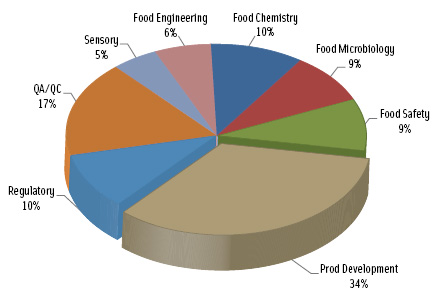 The CFS exam content was developed by rigorously evaluating the global practice of food science and is firmly grounded in the established fundamental knowledge and skills food scientists apply in all aspects of their daily jobs. A research study (practice analysis) involving 1,800 global food science professionals (both IFT members and nonmembers) helped to ensure that the exam truly reflects the diversity of the profession and tests the applied knowledge that food scientists use every day. The computer-based exam features 120 multiple-choice questions in the following content areas: Product Development, Food Chemistry and Food Analysis, Food Microbiology, Food Engineering, Quality Assurance and Quality Control, Regulatory, Food Safety, and Sensory Evaluation and Consumer Testing (Figure 1).
The questions are scenario-based. They present a problem situation that requires consideration of all the available information and selection of the best response. For example, a question related to Product Development may present four types of flour (e.g., rye flour, rice flour, semolina flour, whole wheat flour), and ask which one of these ingredients would be suitable in the formulation of a gluten-free pasta/macaroni product. A question related to QA/QC may present four sample preparation techniques (e.g., filtration, acidification, centrifugation, solid phase extraction), and ask which one of these techniques would not assist in an accurate analysis of a fermented beverage that is enhanced with a natural fruit flavoring added post-fermentation, which increases turbidity.
"With the rise of social media and the fact that anybody can be perceived as an expert, it is important to have certification from a professional association like IFT for that recognition," said Cathy Kapica, Senior Vice President – Global Health &Wellness, Ketchum. "It's more important than ever to get that recognition and certification that you are the expert. It's important not only for you personally to promote yourself professionally in the workplace, but I think it will also help the food industry get more credible recognition in their ability to communicate and bring forth foods that serve public health needs."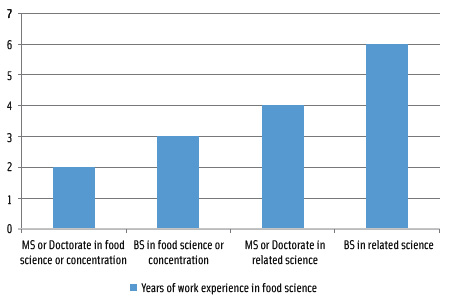 In order to take the CFS exam, candidates must have qualifying degrees and up to six years of experience (Figure 2). Some of the experience requirement may be waived based upon the type of degree(s) obtained. Post-doctoral work may be counted in work experience calculations. However, work experience must be in the food science and technology sector. Degrees with a concentration in food science may include food technology, food processing, food engineering, or commodities (e.g., meat, poultry, dairy). Related sciences include agricultural sciences, physical and chemical sciences, life sciences (biology, nutrition, microbiology, medicine, culinary science) and engineering (chemical, food, biological, process).
The exam will be offered at Pearson VUE testing centers, with hundreds of locations in North America and around the world. The exams will take place during three testing windows in 2013—February 1–22, May 6–28, and October 14–November 1. For the February test period, IFT is offering a special inaugural fee of $350 for IFT members and $550 for nonmembers. CFS application fees for the May and October/November exams are $550 for IFT members and $750 for nonmembers.
--- PAGE BREAK ---
IFT will be offering an optional CFS Preparatory Course to help individuals brush up on their applied knowledge in a group setting. The course has been developed by an independent group of volunteer experts based on the published content outline. To maintain the integrity of both the prep course and the CFS exam, these content experts were convened separately from those who developed the CFS exam. The course includes 1½ days of face-to-face instruction, followed by a series of 4–6 weekly webcasts and check-in calls with course faculty and participants. In addition, participants will have access to a practice exam which will include questions mirroring those content areas found on the CFS exam. CFS Preparatory Course classes will take place December 4–5, 2012 at the Renaissance Arlington Capital View Hotel, Arlington, Va., and February 25–26, 2013 at the InterContinental Chicago O'Hare, Rosemont, Ill.
Benefits for Employees & Employers
The CFS credential may benefit both employees and employers. Individuals who achieve a CFS credential demonstrate their practical skills and knowledge and further their careers, potentially making them more marketable. This stature elevates food science as a profession. In addition, the credential shows a commitment to professional development and staying abreast of food science advancements and technological innovations.
If you do not have a degree in food science, earning a CFS credential demonstrates that you can apply your fundamental science knowledge to the food sector and you have the real-world skills of a food scientist.
"Certification is a way to communicate to employers and colleagues that you have a certain body of knowledge that you have shown that you are competent in," said Brenda Knapp-Polzin, Director of R&D and Technical Services, Cargill Kitchen Solutions.
For employers, the CFS credential will assist them in identifying, hiring, and retaining the talent needed to address critical issues impacting their businesses and the global food supply. It also offers employers a consistent method of differentiating job applicants. It can also be used to evaluate employees eligible for promotion. And it benefits the bottom line as knowledgeable personnel are integral to business success.
"I believe strongly that the credentialing program will upgrade the quality of the people in the field because having the certification adds to people's professional level and education," said Herbert Stone, IFT President 2004–05 and Sensory Evaluation Consultant. "It will improve the scientific rigor that the field can benefit from, and I also believe that companies will look for people with certification and will consider them for leadership and executive positions."
History of CFS Program
In a 2007 membership study, 63% of members and 89% of nonmembers said that IFT should pursue an initiative that results in certification. A subsequent membership study in 2008 revealed that 85% of members expressed some form of interest in a certification program.
--- PAGE BREAK ---
This led to a more thorough investigation of the feasibility of an IFT credentialing program. In-depth research in 2009 included studies of 2,400 food scientists and 3,000 supervisors. The results found that nearly one-third of all individuals, regardless of age, indicated they would be likely to apply to become certified in the next five years. And almost six in 10 survey participants age 18–34 said they would be likely to participate in the CFS program in the next five years.
Supervisors were very supportive of the CFS credential. About 70% of supervisors agreed that IFT should develop a credential to recognize food scientists' applied knowledge and to help employers identify qualified personnel while 63% indicated that certification would benefit their employees. About 58% of supervisors indicated it would benefit their organization while 66% indicated it would benefit the food industry. Nearly three of four supervisors agreed that the program would increase the stature and visibility of the profession, and 61% of employers indicated they would pay or reimburse for their employees to obtain the CFS certification.
The CFS program will be governed by the International Food Science Certification Commission (IFSCC). This policy-making volunteer group, established by the IFT Board of Directors, will oversee the programmatic development and overall governance of the Certified Food Scientist program. While part of IFT, the IFSCC will operate autonomously from the Board of Directors and will adhere to the International Standards Organization ISO/IEC 17024 standards for program governance, exam creation, and administration. The members, appointed by the IFT Office of the President, will represent a diverse group of stakeholders, including the academic community, industry practitioners, HR professionals, international governments, and NGOs.
For complete details on the CFS credentialing program, please visit www.ift.org/certification.
---
Do you qualify for the One Time Alternative Assessment?
Food scientists with a Bachelor of Science degree or higher degree in food science or related science and a minimum of 15 years of fulltime experience (post-degree) are eligible to apply for certification under the One Time Alternative Assessment (OTAA). Post-doctoral work may be counted in work experience calculations. Qualified individuals can obtain their CFS credential without taking the exam. Applying for the OTAA is free. This limited-time opportunity is available through January 18, 2013.
The OTAA is designed for experienced leaders in the food science profession. To apply for the OTAA, candidates submit an application to demonstrate their professional accomplishments and knowledge in the CFS content areas and an optional reference letter from an employer, client, or colleague. A peer review group will evaluate and approve the application.
For more information on the OTAA, please visit www.ift.org/cfsota.
Douglas L. Marshall, Ph.D., a Professional member of IFT, is Chief Scientific Officer, Eurofins Scientific Inc., Fort Collins, Colo. 80528 ([email protected]).