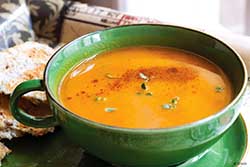 Whatever you have on hand probably could go into the making of a soup. Soups—and the ingredients that go into them—are that versatile. Of course, some of those ingredients are more closely associated with that particular dish than others. Meat stocks, vegetables, potatoes, salt and salt alternatives, spices, cream, noodles, and thickeners, are just some examples that cry, "It's soup time!" But as mainstream consumers become more adventurous—and soups get their inspiration from specific regions not only in the United States but throughout the world—this allows for a greater range of ingredients not commonly associated with soups.
For example, when I think of maple syrup, pancakes and candy quickly come to mind. But how about soup formulations? Roasted Carrot-Ginger Soup with Maple—one of 75 recipes found in the book Modern Maple—demonstrates how maple can be used to sweeten, season, and flavor a range of dishes, including soup. Maple syrup is a genuine product of the North, made only in the northeastern quarter of the United States and adjoining Canadian provinces. The Ojibwe and Dakota used it as a seasoning and also cooked it down to a crystallized state to preserve and transport it. Today, maple syrup is regarded as an artisan product, prized by cooks and bakers alike. Such a soup formulation is an example that maple syrup is not only used as a topping for pancakes, although I might be willing to try a maple soup for breakfast.
Or how about a Cream of Chestnut Soup? Usually, we think of chestnuts roasting over an open fire. But there are other ways to enjoy them such as in this delicious, warming soup. Peeled chestnuts can be cooked along with chicken stock, carrots, onion, butter, and heavy cream to create this formulation. Cooking them allows for a sweeter, more delicate flavor. And chestnuts are full of antioxidants, vitamins C and B-6, fiber, and potassium.
Vegetables and blueberries go together, but let's not forget chilled fruit soups such as blueberry. Several recipes can be found on the web, and blueberry soups can provide striking color as well as the potential health benefits of antioxidants. And since we're talking about a fruit base, the soup can be further enhanced by other colorful inclusions. Imagine, for example, a blueberry soup paired with mango pieces.
Farro, a European grain derived from wheat may be used as an alternative to rice in soups for a heartier, earthier flavor. It can be cooked into soups, and combined with vegetables or chicken stock. Farro has a nutty flavor, a firm, chewy texture, and is lighter than most traditional grains. It is high in magnesium, vitamins A, B, C, and E, and also has a high fiber content. It is known for its low gluten levels, making it easier on the digestive system than most wheat-based grains.
Or how about a pumpkin soup that may especially be appropriate for the autumn season? Wixon (www.wixon.com), St. Francis, Wis., developed a recipe, Harvest Pumpkin, which is a colorful soup blend of pumpkin, red bell peppers, leeks, celery, spinach, carrots, and sweet potato. Jean Meeder, Wixon's Director of Industrial and Consumer Products Development, said the flavor is a reflection of increasingly changing consumer tastes. "Soups are becoming a more dynamic category," she said. "Flavor profiles are shifting away from condensed, heavy creamy soups to more sophisticated, restaurant-style flavors and ready-to-eat varieties." Butternut squash is an excellent example. It was not a flavor often seen, Meeder said, yet is now among the top 10 flavors of soups.
Fueled in part by consumer interest in getting more dietary fiber and having gluten-free options, ancient grains are also making an appearance in soups. Vegetable, lower-sodium, and nutritionally fortified are likewise rising in popularity while demand for pasta- and potato-based soup is declining, according to Meeder. Wixon offers a variety of flavor technologies that can be used to improve the flavor of these more sophisticated soups under its Mag-nifique brand. These include Mag-nifique Mouthfeel to help improve the creamy perception in low-fat soups. Mag-nifique Miner and Vita-Minimizer can mask off-notes in nutritionally fortified soups. The company also specializes in helping food producers create finished gluten-free offerings with products such as Mag-nifique Pro-No, which can mask the beany notes that are typical of products where gluten protein has been replaced with soy or pea. And Mag-nifique Bitterless can help mask some of the off-flavors of ingredients in more sophisticated flavors such as those in ethnic soups.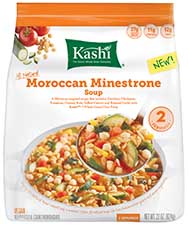 According to Mintel, recipe choice in soup is becoming more expansive from the traditional to the global/ethnic, appealing to an increasingly discerning and well-traveled consumer. Popular global varieties include those inspired by Mediterranean, Asian, and Latin American cuisines. There is opportunity for these to become more specialized and refined—for instance, by focusing on a particular region rather than country or continent, and for other ethnic cuisines to be better marketed (Middle Eastern or African). An example is new frozen Moroccan Minestrone containing chickpeas, tomatoes, onions, yellow carrots, and kale offered under the Kashi brand for the first time by Kellogg's, Battle Creek, Mich. (www.kellogs.com). Marketing authenticity is key with regard to these recipes to better compete with scratch-cooked or restaurant soup.
Here are some examples of globally inspired soups from the Mintel New Products Database. Mexican-style Azteca Skinny Soup is made with a blend of tomato, corn tortillas, and red peppers, with a shot of cayenne pepper and coriander. Pokka Spicy Chili Soup claims to replicate chili con carne; it consists of minced meat and vegetable flavors accentuated with habanero chili and Mexican spices. From Heinz come such soups as Cream of Tomato with a Twist of Chili, Cream of Mushroom with a Hint of Garlic, and Cream of Chicken with White Wine.
--- PAGE BREAK ---
The Hungry Monkey, an independent company based in Orlando, Okla., offers a variety of somewhat nontraditional soup mixes including Kickin' Tomato Soup, Texas Two Step Soup, and Coconut Lime Soup. The Hungry Monkey's Chicken Enchilada Soup is described as a combination of cheese and corn flour tortilla with a Mexican flare. The Lasagna Soup is said to have all the flavor of lasagna with the simplicity of a soup.
Innova Market Insights reports that kale, part of the brassica family of vegetables, is reinventing itself, finding use in a number of food categories including soups. Heinz recently launched its Mediterranean-Style Parmesan, Kale, and Seared Italian Sausage Soup; Fresh and Easy's Eatwell range extensions includes Super Soup Mightily Green Vegetables (with kale, spinach, peas, green peppers, and garlic). The United Kingdom has also seen a rising interest in the use of kale as a vegetable, particularly in seasonal launches in the soups sector. Chilled soups market leader New Covenant Garden introduced its Winter Broth with Bacon and Curly Kale in early 2013, followed by Soupologie's inclusion of a Spinach & Kale with Roasted Garlic variant in its spring season range of soups.
Following a Hispanic cultural tradition, U.S. Hispanics have their largest meal of the day at lunch and consume most of these meals in the home rather than away from home. As a result, this large population group is influencing overall growth in the food categories they typically consume at lunch, reports The NPD Group, a global information company. Sandwiches are the top item for Hispanics and are very closely followed by soups. The interest by this demographic group could further stimulate innovation in soup and create a variety of new opportunities in this food category.
'Asian Chicken Soups'
Congee is to Asia what chicken soup is to America, explained Benjamin Jones, Senior Flavor Chemist for David Michael & Co., Philadelphia, Pa. (www.dmflavors.com). It is synonymous with comfort, warmth, home, health, and all things nurturing and familiar. Congee is a rice porridge characterized by its smooth, creamy texture that is the result of a lengthy cooking time and the large amount of water used to perfect this one-pot dish.
There are as many variations of congee as there are family recipes for chicken soup, continued Jones. Most countries in Asia have their own distinct versions of this rice porridge, and even these vary by region and familial preferences. Congee's rice and water foundation is suitable for such a wide array of ingredients that anything from lettuce and carrots to duck eggs and shredded pork is possible, but chicken tends to be a mainstay favorite.
At David Michael's 2013 Innovation Roadshow, three flavored congees were highlighted, each representative of a particular Asian country. Japanese congee is distinguished by its strong white miso flavor. Vietnamese congee (called chao) is especially popular when cooked with a whole chicken and paired with galangal (a relative of ginger) and lemongrass. Thai congee (known as chok) boasts chicken broth and Thai green curry.
These three ethnic, savory flavors would work well in versions of instant, dry-mix, or ready-to-eat congee for food service and retail, and would translate effortlessly in soup broths, sauces, meal starters, and packaged side dishes.
--- PAGE BREAK ---
Ingredients for Reducing Salt in Soups
A new formulation from Israel-based LycoRed (www.lycored.com) may be used to reduce salt and enhance flavor in powdered and canned soups. Soup makers can now eliminate the use of monosodium glutamate, salt, and other such ingredients used as flavor enhancers with the company's Sante formulation.
"Sante's secret is that it is the concentration of all the tastes and flavoring components that exist naturally in tomatoes, delivering true umami and kokumi taste characteristics," explained Roee Nir, Color and Flavor Global Commercial Manager for LycoRed. "Using only a small amount of Sante in canned and prepared soup formulations—typically high in sodium—will boost the overall soup flavor and allow salt reduction of up to 30%, without tomato flavor notes."
Sante also allows replacement of a wide variety of artificial flavor enhancers while retaining—and even improving—the overall taste balance. The formulation smooths out rough, unbalanced, and "peaky" tastes, creating a cohesive finish and boosting the taste profile. Because of the blend of components extracted from tomatoes, it extends the perceived flavor's dwell time on the palate, improves mouthfeel and texture, and achieves significant reduction in sodium and other ingredients used as enhancers. The formulation is suitable for use in liquid or powder formulations and is highly stable at high temperatures and variable pH.
In test, replacing 0.2% MSG in a standard chicken soup mix with an equivalent quantity of Sante liquid reduced sodium content by 25% and maintained high flavor quality. "We also ran several trials using the powder form of Sante in a commercial dry pea soup mix," noted Ehud Zach, Food Applications Manager for LycoRed. "We found that it can perform as an excellent alternative for the partial or total replacement of standard flavor enhancers."
Kokumi is another sensory phenomenon of the formulation. Ingredients with kokumi attributes, when combined with other molecules, have three distinct effects in foods: They enhance the initial flavor onset; they round off, or balance, the overall flavor profile; and they extend these perceptions for a more pleasant, longer-lasting experience, enhancing other aspects of the food.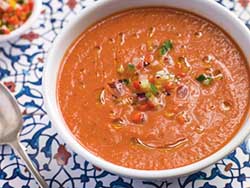 Savoury Systems International, Branchburg, N.J. (www.savourysystems.com), also now offers a tomato-derived flavor enhancer. Tomato Salt Replacer potentiates the qualities of tomato as well as adding a unique savory profile of its own. Tomato Salt Replacer was introduced at the 2013 IFT Food Expo® alongside Non-GMO Light Corn HVP, which is great for poultry applications including chicken soup. According to David Adams, founder and President of Savoury Systems International, the two products are intended to help give food producers the means of reducing sodium without compromising flavor while also maintaining a clean label.
New HVP Provides Low Sodium, High Flavor
A hydrolyzed vegetable protein from Innova, a Griffith Co., Lombard, Ill. (www.innovaflavors.com), provides low sodium but high flavor enhancement in soups. The company's advanced technology Vegamine® product does not rely on potassium driving the acid hydrolysis process; rather, the resulting HVP still uses sodium salts, providing the product with a number of advantages over previous HVPs that generated potassium rather than sodium chloride during the hydrolysis process.
The company's full line of lower-sodium Vegamine AT products enables sodium reduction without sacrificing taste in soup applications already using HVPs. It also increases natural enhancement, facilitates flavor creation due to higher protein levels, supports cost-reduction initiatives by allowing for a reduction in usage of expensive ingredients, and extends or partially replaces higher-cost ingredients such as autolyzed yeast extract and meat powders. Furthermore, the proprietary technique creates the low-sodium HVP from soy, corn, wheat, or all three combined, which requires no changes to ingredient lists.
The company demonstrated the capabilities of the new HVP line in a chicken bouillon application. "This really is just the beginning of the journey," said Dafne Diez de Medina, Innova's Vice President of Innovation, Research, and Development. "Substituting Vegamine AT for a conventional HVP can help achieve a 25% reduction in sodium with a cost impact of only one cent per serving with sensory attributes comparable to the control. Even greater sodium reduction solutions are possible, reflecting the improved flavor profiles of the new product line."
Previously, Innova introduced SaltSavor™, a salt-reduction portfolio of taste modulation technology based on the enhancement of sodium channels and the binding of umami receptors. SaltSavor delivers an increased salty perception through stimulating taste buds compared to using salty-tasting compounds. Flavor enhancement is an added benefit.
--- PAGE BREAK ---
Globally Inspired Soup
Global cuisine, especially soup varieties, provides an abundant landscape for sensory exploration as consumers of all ages experiment with the flavors of the world, experiencing tastes that vary from bold flavors to subtle accents. Whether authentic representations or mainstream product translations, these flavors offer consumers opportunities for sensory pleasure.
Latin American and Asian cuisines have continued to interest consumers as they have evolved beyond the taco and fried rice to more authentic yet sophisticated regionally inspired dishes. Inspired by the growth of these cuisines, Sensient Flavors, Milwaukee, Wis. (www.sensient.com), developed mouthwatering concepts such as these two varieties highlighted at the 2013 IFT Food Expo: Latin-inspired Chili Verde Soup, served with Mojo on corn bread, and Asian Bouillabaisse Soup with a Bahn Mi sandwich.
The sodium replacer used in the soup concepts is from Sensasalt, a line of yeast extract products custom-formulated for savory applications. It was developed as a result of the growing demand from food manufacturers to produce low-sodium alternatives. This line of yeast extracts can deliver up to a 50% sodium reduction without compromising the taste or functional integrity of the finished product. The Sensasalt product line includes poultry (used in the Chili Verde Soup), cheese, dairy, beef, vegetable (used in the Asian Bouillabaisse), and baking varieties.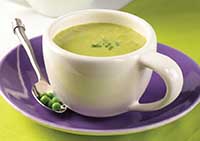 One common factor between Latin American and Asian cuisines is rich, robust flavor. Southeastern Mills, Rome, Ga. (www.semills.com), has just the right thing for these soups in the form of concentrated paste food bases and seasonings. The company's Better Than Bouillon line of products includes premium concentrated stocks made from meat or vegetables, as well as certified organic, Star-K certified Kosher, all natural reduced sodium, and vegetarian food bases.
Venturing into new territories of flavor with soup is made easy with the Flavors of the World line of broth concentrates and seasonings offered by Southeastern Mills. These range from Asian to European to Hispanic. With a team of more than 30 scientists, culinary professionals, regulatory experts, and a full team of chefs on staff, the company's core strength is the development and manufacture of tailored ingredient systems to deliver texture and flavor.
Ancient and Whole Grains
Nutritional appeal from ancient grains and whole grains doesn't have to mean sacrificing flavor or mouthfeel in soups. Grain Millers, Eden Prairie, Minn. (www.grainmillers.com), provides several families of products that are applicable in soups, including natural oat fibers, functional whole oat flours, and ancient grain blend flours.
The company's ancient grains blends are easily adapted for taste, nutrition, or a balance of both. For example, AG51 is a combination of emmer, quinoa, millet, and amaranth designed for best flavor; AGF2, consisting of chia, buckwheat, quinoa, and teff, has an optimal nutritional profile; and AG53 balances cost, nutrition, and flavor with a combination of quinoa, buckwheat, and millet. In addition, other ancient grains such as kamut, einkorn, spelt, or sorghum can be included in any ancient grains blend.
Grain Millers oat fiber products are offered in a variety of different types including soft and short or soft and long for adding viscosity and texture to soups. To maximize dietary fiber without viscosity, FiberMaxx™ products are a cost-effective way of using a blend of oat fiber, resistant starch, and corn soluble fiber.
Rajen Mehta, Ph.D., Senior Director of Specialty Ingredients, said the company also customizes products to suit food manufacturers' needs. "For example, we work with customers who may want to make a claim related to ancient grains, whole grains, or they may want a 'heart-healthy' claim," he said. In each situation, individualized options are available depending on the marketing and texture strategy.
--- PAGE BREAK ---
Soy Sauce Adds Aroma, Color, and More
Although associated with ethnic applications, soy sauce from Kikkoman Sales USA, San Francisco, Calif. (www.kikkomanusa.com), offers functionality in a variety of soups. For example, in soups Kikkoman soy sauce enhances overall flavor profile, contributes aroma, and adds color. In dry mixes (instant soups), dehydrated soy sauce dissolves easily and adds savory notes, enhances aroma and flavor, and contributes color.
An alternative to Kikkoman soy sauce is Kikkoman NFE Natural Flavor Enhancer (also available in liquid and dehydrated forms). With the same benefits and applications as regular Kikkoman soy sauce, NFE allows a natural umami boost without adding color, making it ideal for clear broths or creamy soups.
Kikkoman gluten-free soy sauce (available in liquid and powder) can be used to boost flavor naturally in soup products such as dry mixes, soup bases, and bouillon. It's naturally brewed using Kikkoman's fermentation process; however, the traditional wheat is replaced with rice, creating rich flavor and a complex, pleasing aroma that enhances umami and blends seamlessly with other ingredients. Kikkoman gluten-free soy sauce is produced in accordance with FDA mandatory guidelines for a gluten-free declaration, enabling manufacturers to offer a wider range of globally inspired soups and other products to customers with gluten-restricted diets.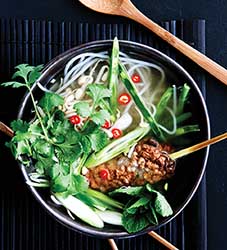 Salt Reduction Toolbox for Soups
A comprehensive portfolio of yeast extracts and natural process flavors from DSM Food Specialties, Parsippany, N.J. (www.dsmfoodspecialties.com), can reduce salt and boost flavors in soup applications. DSM's salt reduction toolbox allows manufacturers to reduce sodium in savory products by up to 50% without losing taste or mouthfeel.
Rich in natural free glutamate, yeast extract Gistex HUM LS strengthens bouillon notes and enhances the umami character in soups. Yeast extracts Maxarome® Pure and Maxarome Select contain highly neutral taste-enhancing nucleotides to provide a lingering salty taste in milder culinary-flavored products, while Multirome LS contains less salt and requires only a third of the dose of other basic yeast extracts to deliver a long-lasting and well-balanced umami taste in soups. When paired with Maxavor® YE and the Maxagusto range of all natural process flavors, these ingredients can deliver authentic and intense chicken, beef, roast, and vegetable flavors in a variety of low-sodium applications. All the ingredients in DSM's low-sodium toolbox are 100% natural, kosher, and Halal certified, offering a natural and effective way of reducing sodium without compromising on taste.
DSM offers a new addition to its portfolio, Multirome® LS, which generates 30% more taste components than basic yeast extracts despite using the same amount of raw materials. This enables the savory market to use twothirds less yeast extract products with the same taste impact. Because of its efficient use, savory food producers can save up to 50% on yeast extract costs. Moreover, a new report by DSM indicates that food producers could reduce their yeast extract carbon footprint by approximately 81% by using Multirome LS. The new ingredient is described as a low-salt yeast extract generating strong umami taste that provides flavoring and seasoning developers with the opportunity to meet consumer demands for intense taste, indulgence, salt reduction, and naturalness without compromising on product quality or affecting profitability.
An additional tool for reducing sodium content is offered by Jungbunzlauer Basel, Switzerland (www.jungbunzlauer.com). The company produces a range of products and applications for foods including Sub4salt®. This salt substitute is designed to reduce sodium content by 50% and, reportedly, a straight 1-to-1 replacement of salt with Sub4salt can provide a 35% reduction of sodium in a product. Of course, the question is really a matter of how it tastes in comparison; Sub4salt is described as having a "purely salty taste" without any metallic off-flavor.
Sodium-reduction tools are also offered from an unlikely source—Cargill, Minneapolis, Minn. (www.cargill.com), a company that has been in the salt business for more than five decades. Janice Johnson, Ph.D., Technical Service Leader for Cargill Salt, said that because most food producers are looking for 25% to 50% reduction in salt, Cargill offers three systems designed to achieve those goals. FlakeSelect™, for example, is a thin flake with high solubility and large surface area for topical applications such as meat seasoning blends. More specific for use in soup and many other applications is SaltWise®, and for an easy-to-use 1:1 replacement for salt, there is SodiumSense™. In her lab, Johnson also uses X-ray tomography to better understand the functional role of salt in specific products such as soups for further improvement of distribution to enhance flavor.
--- PAGE BREAK ---
Texture and Mouthfeel with Gums and Hydrocolloids
One of the most important attributes a soup must have to appeal to consumers is its texture and mouthfeel, especially in any kind of dairy-based or creamy soups. For thickening soups without addition of extra carbohydrate grams and calories, the solution can be found in gums. Gum Technology, Tucson, Ariz. (www.gumtech.com), offers just the right kind. According to Janelle Litell, Marketing Director for Gum Technology, its Coyote Brand GumPlete ST-FF-402 is a synergistic blend of native starch and tara gum that is ideal for binding moisture while holding emulsions as well as providing freeze and thaw stability in soups. The suggested usage level is 1.5% to 3%, she said.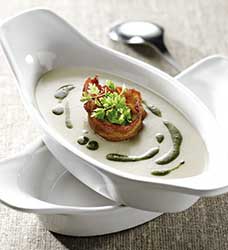 Hydrocolloids are quick and easy tools to create a variety of desired texture profiles, according to food technologist Karen Constanza of TIC Gums, White Marsh, Md. "They can be used to adjust the mouthfeel and body of soups by increasing attributes like viscosity, heaviness, and mouth coating," she said. Sean Choi, culinologist and research chef for TIC Gums, adds that one product that he recommends for layering textural profiles and enhancing flavor is Ticaloid® 210S, because it "increases viscosity and improves freeze-thaw stability."
Gums can also add a more appealing nutritional profile to a soup in the form of heart-healthy soluble dietary fiber. Glucomannan-based Ticagel® Konjac High Viscosity is ideal if health is the goal. The gum can work synergistically with carrageenan and xanthan gum to form texture and can be used in a range of food applications.
Dairy Flavors for Soups
Dairy flavors for soup applications are available from Edlong Dairy Flavors, Elk Grove Village, Ill. (www.edlong.com).
Originally developed for topical seasoning applications, Natural Sour Cream Flavor WONF #1412012 performs well in soup products. This powdered ingredient is water- and oil-dispersible, is certified Kosher Dairy, and has a cultured and astringent profile with curd backnotes.
Natural Romano-Type Flavor #1412030 features upfront savory and lipolytic notes and a buttery, fatty finish. Nondairy and kosher certified, this water-dispersible powder is suitable for soups and other products.
Recently the company changed its name to Edlong Dairy Technologies to reflect how it is increasing its value to global customers through expanded capabilities in food ingredient technologies. The new name is also accompanied by a new logo.
According to Laurette Rondenet-Smith, the new name and logo "defines Edlong as more than flavors, helps us further differentiate our products, and shows our commitment to investing in solutions that best serve our customers." Name du jour!
Pumping Up the Parmesan Flavor
A flavor-intensified version of freshly grated Parmesan cheese may be used in soups and other commercially prepared foods for retail and foodservice markets. The new DairiFusion™ line was launched by DairiConcepts, Springfield, Mo. (www.dairiconcepts.com), with this ingredient, Parmplus, designed to replace Parmesan cheese in formulations.
The ingredient is said to deliver a sharper, more assertive flavor than traditional Parmesan cheese at reduced cheese usage rates. Sensory evaluations verified the product's more intense Parmesan flavor and overall total flavor notes compared to standard Parmesan cheese. Because of the increased flavor intensity, Parmplus works well to lower standard cheese usage while matching full-flavored, traditional Parmesan profiles.
Parmplus is available in a freshly grated format with a maximum moisture level of 32% and can be incorporated into most food systems without grinding or pre-processing. The product contains no phosphates and is made from real Parmesan cheese.
--- PAGE BREAK ---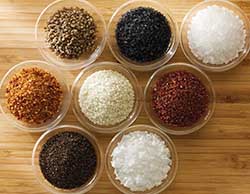 Catching the Sea Salt Wave
Most of the focus on salt in this article is on its reduction in soups, but a growing trend is making the most of whatever salt is used with inclusion of sea salt. Unlike the addition of regular salt, sea salt has marketing appeal. Already, potato chips and other snack foods found at the supermarket tout "Made with Sea Salt" on their labels. Why not soups? Cargill offers a line of food-grade sea salts from the Pacific Ocean. These include Sea Salt Grinder, a gourmet salt containing no anticaking or free-flowing additives that is intended for use in salt mills and seasoning blends for gourmet applications such as soups.
One company that's riding the sea salt wave in marketing its line of refrigerated and frozen soups is Kettle Cuisine, Chelsea, Mass. (www.kettlecuisine.com). The company stays at the cusp of marketing trends with several categories including "Gluten Free," "Lower Sodium," "Vegetarian," or "Global/Regional." Nearly all of their soups—whether it be their Coconut Curry Chicken, Portuguese Kale Soup with Linguica, or sweeter-tasting Butternut Squash & Apple—list sea salt as an ingredient. "Increasingly, specialty retail food products and gourmet restaurants are broadcasting their use of sea salt as a positive alternative to refined salt," according to Levon Kurkjian, Kettle Cuisine's Vice President of Business Development. He also noted that sea salt was more flavorful and healthier (because of its inclusion of other natural minerals).
The sea salt in the Kettle Cuisine line of soups comes from family-owned SaltWorks, Woodinville, Wash. (www.seasalt.com). The company's president and co-founder, Naomi Novotny, expects the sea salt market to grow as consumers become more aware of sea salt's unique attributes and as more food producers find that they can gain an edge through sea salt in their marketing. What's more, she said, when flake sea salt is used in soups such as those from Kettle Cuisine, it can add more rounded flavor and texture, allowing for reduction in total salt used. The company's eight different grain sizes can help food technologists to best balance flavor and functionality in soups.
To kindle additional interest for high-end soups, SaltWorks also offers the natural smoky flavor of gourmet smoked sea salts. The company recently also achieved kosher certification for its entire line of gourmet smoked sea salts. The gourmet smoked salts, which are produced one batch at a time using wood smoke from bark-free logs, go by brand names including Salish® Alderwood, Bonfire® Extra-bold Wood Blend, Yakima® Applewood, El Dorado® Mesquite, Wildfire® Pecan Wood, and Hellfire® Mesquite Wood Smoked Salt and Habanero Blend. "Smoked flavor is an all-natural way to add flavor to salt," Novotny said. "It's not liquid smoke with chemical flavor."
Cost-Effective Systems Replace Frozen Broth
Broth replacement systems, StockPlus™, were developed by Eatem Foods Company, Vineland, N.J. (www.eatemfoods.com). The systems were created by the company to provide a solution to the rising costs of standard frozen broths.
According to Eatem, use of proprietary technology enables the company to create a product where 1 lb of StockPlus can replace up to 5 lbs of 32 Brix stock. This provides customers a significant cost savings as well as a replacement that is labeled only as stock and flavor. These stock replacements are easy to use, streamlined, and cost-effective solutions, addressing the rising costs and shortages of standard frozen broths and stocks.
Eatem Foods is celebrating its 30th anniversary, and to commemorate this milestone, the company launched a new marketing campaign that includes a new logo and new website as well as innovative products like StockPlus. Applications that Eatem is involved in include soups, sauces, marinades, processed meats, broths/stocks, frozen entrees, and a variety of other products. Eatem has a diverse portfolio of products that are low-sodium, clean-label, organic, allnatural, concentrated, caramelized, culinary-inspired, ethnic, and kosher.
Meatless Soups
Meatless flavors from Comax, Melville, N.Y. (www.comax.com), may be used in the creation of broths. The flavors—which include chicken, roasted pork, Italian sausage, bacon, hot dog, Mexican sausage, turkey, and others—are said to work well in the finished product.
The kosher flavors are available in both natural and artificially flavored formulations, as well as in oil soluble, water soluble, liquid, and powder versions. These ingredients replace and enhance flavors of meat, while meeting the needs of those who consume soup but are looking to reduce or replace levels of meat in their diet.
Fish Powder Delivers Protein in Stocks
A new line of lean, fat-free fish powders made from a whole food source may be used in such protein formulations as soup stocks. The new fish protein ingredient, Protomine™, was added by Cyvex Nutrition, Irvine, Calif. (www.cyvex.com), to its expanding portfolio.
Protomine delivers a hydrolyzed marine protein at greater than 80% concentration in its natural unflavored form and contains naturally occurring trace elements in bioavailable organic forms, including a high 1:1 ratio of magnesium to calcium.
The ingredient, which is easy to flavor, comes from a wild catch fish source. It comes in on the high end of the 29–89% protein level defined for protein concentrates and can be delivered in an ultra-low molecular weight profile that is well tolerated and absorbed more efficiently by the human body.
--- PAGE BREAK ---
Frozen Vegetable Purees for Soups
Vegetables are essential for many soup favorites, and frozen vegetable purees from Van Drunen Farms, Momence, Ill. (www.vandrunenfarms.com), make creating these soups easy and convenient.
According to the company, the goodness of vegetables can be added to a wide variety of soup products with these frozen vegetable purees. For example, a refreshing gazpacho can be created using frozen celery puree. Or a silky-textured carrot soup can be formulated with a frozen carrot puree.
The product line for frozen vegetable purees includes carrots, celery, garlic, green onion, white onion, red bell pepper, jalapeno and habanero peppers, shallots, tomato, cilantro, ginger, and lemongrass. Many of the products are certified organic while others are certified kosher.
Yeast Extract Enhances Umami Flavor
A new yeast extract designed to enhance umami flavor in soups was developed by Ajinomoto, Chicago, Ill. (www.ajiusafood.com). The ingredient, Super-Um, enhances the initial to middle taste, which is typically missing in other existing yeast extracts in the marketplace, and naturally delivers rich and clear umami enhancement even when used at very low levels. The yeast flavor of the ingredient is very low, allowing a clean umami character to shine through.
In savory soups, the yeast extract enhances vegetable taste, particularly tomato, and gives natural umami taste while delivering enhanced cooked meat character. It can reduce vegetable powder and meat extract levels in formulations to allow for cost reduction.
Szechuan Pepper Added to Portfolio
The extensive portfolio of pungent extracts from Kalsec Inc., Kalamazoo, Mich. (www.kalsec.com), has expanded with the addition of Szechuan pepper. Szechuan (or Sichuan) peppers, which are ideal for soup products and other applications, have a special lemony aroma and flavor that is different from black, white, or chili peppers. Its active ingredient—sanshools—delivers a distinctive tingling, numbing sensation in the mouth. The Szechuan plant belongs to the citrus family, which is botanically unrelated to black peppers or chili peppers.
Starches Improve Texture in Mixes
Soup mixes can make use of starches developed and produced by Germany-based Emsland Group, reportedly the world's second-largest potato starch manufacturer. Empure potato- and pea-derived starches offer enhanced properties that surpass the functional characteristics of native starches without using chemical modification. The line of starches is manufactured through physical modification, enabling them to perform in challenging food applications. American Key Food Products, Closter, N.J. (www.akfponline.com), is Emland's distribution partner in the U.S.
Empure starches include cook-up and cold-swelling. The cook-up starches are said to be superior to native starches in shear, acid, and heat stability. They also have enhanced dispersing properties and swelling temperatures. The use of these starches gives finished products short, creamy textures and an improved mouthfeel. The cold-swelling starches have similar enhanced properties.
Maltodextrins and starches from Grain Processing, Muscatine, Iowa (www.grainprocessing.com), can add creamy, rich texture to any type of soup. MALTRIN® maltodextrin is used as a bulking agent and dispersant in dry mixes. PURE-GEL® modified food starch can be used to add viscosity without affecting flavor while INSCOSITY® cold-water-swelling modified food starch can be used for thickening instant soups.
Flavor Bases from Latin America
Tempero Baiano flavor base, recently introduced by Fuchs North America, Baltimore, Md., is a dry seasoning mixture from the Bahia-Salvador region of South America that works well for flavoring soup, meats, fish, and vegetables. It is one of several in a new line of Latin-inspired flavor bases for the food manufacturing and foodservice industries. The flavor bases add variety as rubs, marinades, and sauces, for beef, other red meats, chicken, and fish, as well as vegetables, soups, and casseroles. They serve as a starting point for developing soups and other custom product offerings for foodservice customers and processed food products for grocery and retail food segments. Other products in the line include the Hogao base, a Colombian criolla sauce for meats featuring a blend of flavors from onions, tomatoes, garlic, cumin, and other spices and seasonings.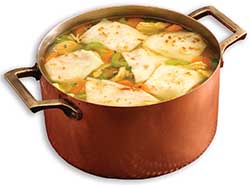 Low-Carb, High-Protein Noodles
Next-to-no-carb noodles are also finding their way into soups. Chicago-based NoOodle (www.NoOodle.com) manufactures broth-based soups that provide only around 5 g of carbohydrates and 50 calories per serving. Thanks to shirataki noodles composed primarily of glucomannan—a type of water-soluble dietary fiber from Konjac yams—the soups are not only gluten-free, but may also help consumers keep their blood sugar, cholesterol, and weight in check. Products include chicken noodle soup (prepared with chicken and fresh vegetables in a natural chicken broth) and tomato risotto (diced tomatoes, spinach, and basil prepared in a tomato sauce).
TIC Gums Ticagel® Konjac High Viscosity can also be used for making shirataki noodles for soups. The trick is to use a substrate such as calcium hydroxide or baking powder and water, then bring it to a boil for two to three minutes.
As consumers learn more about the qualities of eating meals richer in protein for greater satiety, preservation of muscle, and weight management, so will the demand increase for higher-protein soups. High-Protein Chicken Powder, presented by International Dehydrated Foods (IDF), Springfield, Mo. (www.idfrealfood.com), is a relatively low-cost protein ingredient with an inherent umami flavor that requires little to no flavor masking in soups. The chicken powder can be used to boost the protein profile of noodles used in soups. It's also highly digestible and offers the nutritionally complete protein profile sought by athletes, seniors, and other health-conscious consumers.
--- PAGE BREAK ---
Starch Has Sodium-Reduction Potential
A modified, cook-up wheat starch, Midsol™ 46 from MGP, Atchison, Kan. (www.mgpingredients.com), may be used for sodium reduction in soups.
According to the company, the starch contributes a smooth, uniform texture while providing excellent thickening properties. Because of its neutral flavor and absence of flavor-masking properties, it shows significant promise in contributing to sodium reduction by decreasing the need for added salt to enhance the finished product's taste.
For soups, it provides a number of functionality benefits, including the fact that it enhances texture and firmness and improves flavor release.
Native Starch Promises High Process Tolerance
A new line of clean-label starches—the Novation Endura™ series—has been launched by Ingredion, Westchester, Ill. (www.ingredion.com). With the highest process tolerance ever available in a functional native starch, this new series enables food manufacturers to create a wider range of appealing, natural, and additive-free products including UHT-processed soups. For example, the company featured its starch in a watercress and almond cream soup prototype.
Debuting with Novation Endura 0100 starch, the series maintains desired product texture under high heat and shear and delivers excellent stability during shelf life. The clean flavor requires no masking, even in delicately flavored products.
With the starch, manufacturers now can get both a clean label and a desirable texture in their most challenging applications.
Improved Potassium Chloride for Soups
A line of potassium-chloride-based sodium reduction products may be used in a variety of applications including soups. The product line from Nu-Tek Salt LLC, Minnetonka, Minn. (www.nu-teksalt.com), can reduce sodium by 25–50%, and according to the company, can function and taste like salt.
The advanced single-crystal potassium chloride product allows for sodium reduction without the bitterness associated with potassium chloride. The ingredient is suitable for use in highsolids, high-fat applications, where it offers a cost-effective solution.
Clean-Label Starches for Soups
Clean-label starches, part of the PenPure™ portfolio from Penford Food Ingredients, Centennial, Colo. (www.penfordfoods.com), offer functionality benefits for use in products such as soups. The starches are not chemically treated and are available in a variety of bases, including potato, corn, rice, and tapioca. The portfolio consists of cook-up and instant viscosity starches as well as starch gels.
The starches are a desirable option for manufacturers because they are versatile and cost-effective. They can function individually or in customized blends. Functionality benefits include fat reduction and replacement, freeze-thaw stability, heat stability, emulsification aid, mouthfeel and texture properties, and several others.
A Soup Synopsis
This article has demonstrated that a number of ingredient trends are making an impact on this food category, stirring the pot, if you will. One, of course, is the continued development of salt alternatives. These include a low-sodium hydrolyzed vegetable protein, a tomato-derived flavor enhancer, yeast extracts combined with process flavors, a modified cook-up starch, improved potassium chloride solutions, and several others. In fact, as we look inside the "crystal pot" for a future vision, it would be easy to write a whole article around salt reduction in soups. But that would miss the other ingredient trends that are influencing the directions that soup is taking in the marketplace.
An example would be how soup is taking inspiration from global cuisines, especially Latin American and Asian cuisines. This article has shown what "chicken soups" from Asia might look like. Or how Szechuan pepper and the special flavor it imparts can find application in soups. Or the role that flavor bases from Latin America play.
Keep stirring that pot of soup, and you'll find more ingredient trends. Starches are helping to create new textures without affecting the flavor of the final product. A number of cost-reduction systems are helping soup manufacturers. These might involve cheese, broth, yeast extracts, meat powders, dairy flavors, and other ingredients. There are innovative approaches to adding protein to soups. And let's not forget umami and how it enhances the flavor profile of today's soups.
So keep stirring the pot. What do you see?
Next month's Ingredients section will take a look at the breakfast foods category.
David Despain contributed to this article.
---
Members Only: Read more about ingredients for soups online at www.ift.org. Type the keyword into our search box at the upper right side of our home page.

Donald E. Pszczola,
Senior Editor