The results of a 2017 Food Literacy and Engagement Poll conducted by Michigan State University showed that much of the American public remains disengaged or misinformed about food. The online survey of more than 1,000 Americans aged 18 and over focused on food from genetically modified organisms (GMOs), and the survey report indicated that the proliferation of online content with conflicting messages about GMOs makes it hard for consumers to separate valid information from fads and fraud. To increase consumer awareness and understanding of accurate scientific information about hot topics such as GMOs and counter misinformation about new technologies, a number of scientific organizations are training scientists to present sound information to the media, their peers, regulatory and legislative audiences, and the public.
How IFT Communicates Food Science
One of the goals of the Institute of Food Technologists (IFT) is to promote greater awareness of food science by providing sound, fact-based, and peer-reviewed information to the public. IFT does this in a number of ways.
Food Science Communicators (FSCs) Program. IFT has a roster of 34 IFT members who are experts in food science and related areas and volunteer to speak with reporters. Rae Ulrich, IFT's senior director of integrated marketing and brand strategy, said that when IFT receives a call from a reporter asking for a comment or information on a certain topic, the reporter is referred to an FSC who is an expert in that topic; the FSC responds to the reporter as an individual expert. FSCs typically work in academia, and most have been FSCs for a long time and are very adept in dealing with the media, Ulrich said. She and her staff, working with the outside company Ink Communications, train new FSCs on how to work with the media.
Leadership Training. IFT also provides communication training to IFT leaders at its annual event via the Emerging Leaders Workshop, the Section Leadership Forum, and the Volunteer Leadership Summit—each taught by Ulrich and her staff. This year, the IFT Student Association held a Food Communicators Workshop for students and young professionals on science communication fundamentals, one of the mini workshops offered by the American Association for the Advancement of Science (AAAS).
Annual Event Programs. Information on communication is also provided via various programs at IFT's annual event. For example, the IFT18 event included the primer "Science Communication and Public Engagement Fundamentals" (an AAAS mini workshop), the hot topic session "Say What? Challenges in Scientific Communication," the workshop "Strategic Engagement of Policymakers," and the lecture "A New Wave of Effective Communication."
What IFT Communicates
IFT provides a variety of scientific information that can be used by members and the public. The Weekly newsletter, which focuses on current developments in food science and technology, and the IFTNEXT newsletter, which focuses on topics that affect the future of food and food science, are distributed via email and housed on the IFT website. IFT staff members prepare the content for these newsletters. Also on the website are IFT Food Facts videos, which are designed to be short and easy to share with friends, family, and colleagues. In addition, IFT uses Facebook, Twitter, LinkedIn, Instagram, and YouTube to provide information about food science to IFT members and the public. And IFT recently launched its IFTNEXT Food Disruptors podcast series, which features experts speaking about the future of research and development, blockchain, traceability, and other topics. IFT also has a number of webcasts discussing topics such as artificial intelligence, personalized nutrition, and supply-chain innovation. The podcasts and webcasts are accessible via IFT's website.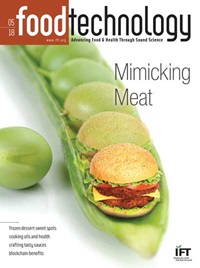 IFT members can keep up to date with food science developments via IFT's other publications: Food Technology magazine, Journal of Food Science, Journal of Food Science Education (JFSE), and Comprehensive Reviews in Food Science and Food Safety (CRFSFS). JFSE and CRFSFS are freely accessible by the public. And each month, IFT sends a newsletter to key media, providing updates on recent IFT studies, articles, podcasts, and other resources as well as profiles of the FSCs to reinforce IFT as a resource for factual information about food science and food technology. IFT contributes to public policy at the international, national, and occasionally state and local levels, providing scientific viewpoints on topics and issues relating to food science and technology. IFT's scientific papers serve as valuable resources for communicating about the science of food with a variety of audiences and stakeholders. At the international level, IFT also provides scientific input to the Codex Alimentarius Commission.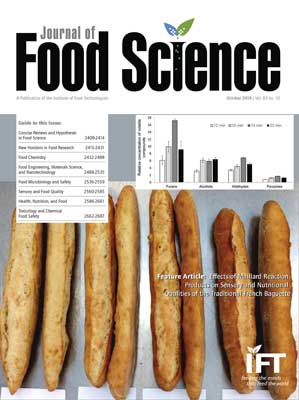 IFT commissioned the independent documentary film Food Evolution, directed by Academy Award nominee Scott Hamilton Kennedy and narrated by Neil deGrasse Tyson, to illustrate how science is important to the food system. Although IFT funded the film, Kennedy had complete creative control and decided to focus on GMOs, which are emblematic of public misunderstanding about food science and food sustainability. The film premiered in November 2016 and has had more than 660 non-theatrical screenings in 45 countries and at more than 150 colleges and universities. IFT is developing discussion guides and an educational version of the film for use as a teaching tool in schools.
How Members Can Communicate
Individual IFT members can also help communicate the value of food science to the public by taking advantage of the information and services provided by IFT and by other organizations to improve their communication skills. Ulrich said that how consumers choose which foods they eat is very complex, involving fact, science, emotion, values, how they were brought up, and other factors, so it is important for them to be well informed about the food they eat and not base their decisions on fear or misinformation. IFT works hard to provide accurate information to support the food science community, and it's important for individual members to do so too, she said. There's a shared responsibility for IFT members and staff to communicate the importance of science in a way that is thoughtful and respectful.
To help individuals communicate the benefits of food science to the public, IFT is developing a series of Food Science Advocacy Toolkits that provide resources; answers to frequently asked questions; images, videos, and infographics; and other information about food science that individuals can share with the public. The first toolkit, issued in late August 2018, is on date labeling and its impact on food waste. It is being promoted on IFT's social media channels, in IFT newsletters, and in Food Technology magazine and can be accessed via IFT's website.
The website also offers "Be a Food Science Advocate," which discusses how individuals can tell the story of the food science profession and its contributions and how to reach out to elected officials by phone, letter, and email. Also available on the IFT website is the Member Action Kit, which describes ways that individuals can spread the word about food science to the public, such as posting a comment to set the record straight when they see an online article or social media post that is inaccurate; sharing their expertise with communication professionals in their organization and letting them know of the resources available to them from IFT; and telling friends, family, schools, and community organizations about the information and resources available from IFT.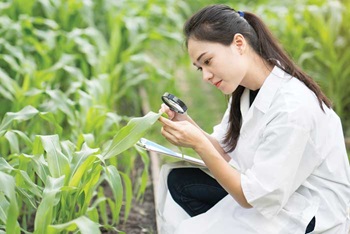 Other Resources for Communicating Science
Through its Center for Public Engagement with Science & Technology, the AAAS hosts an annual Communicating Science Seminar. Since 2008 the AAAS has also conducted more than 200 communication mini workshops at universities, scientific society meetings, and government agencies worldwide. The association also provides on its website a Communications Toolkit, which includes detailed discussions on communication fundamentals, communicating science online, working with journalists, in-person engagement, and using multimedia and visuals. The website also features the publication Scientists in Civic Life: Facilitating Dialogue-Based Communication.
The American Chemical Society (ACS) offers short courses on effective science communication, which cover how scientists can use storytelling and other delivery techniques to discuss their work with the public and colleagues in unrelated fields. Key topics include the basics of communicating science, limiting jargon, using real-world examples, making a case to nonscientists, role-playing to communicate scientific work, presenting pop-up talks, and adapting a message to various audiences. The ACS also offers a workshop on effective technical writing.
The Alan Alda Center for Communicating Science offers in-person and online workshops as well as individual training for scientists wanting to improve their communication skills. And the American Geophysical Union (AGU) recently held an event titled "Sharing Science Workshop: Communicating Your Message to Diverse Audiences." The AGU's Sharing Science program has a blog called the Plainspoken Scientist that encourages scientists to reach out to nonscientists.
The American Institute of Chemical Engineers has communication webinars, including "Communicate with Power, Tone up Your Skills," which concentrates on types of recipients, various communications, how to frame a message to address a particular need, and the effective use of visual aids; and "Media Training and Public Outreach: Getting the Message Across," which focuses on techniques for preparing and delivering effective messages for the public.
The American Statistical Association (ASA) partnered with Sense About Science USA to launch the STATS.org website, which is aimed at improving media coverage of statistical matters and helping the public to make sense of evidence in science. The ASA has ongoing media outreach and public relations initiatives, such as This Is Statistics, and Sense About Science USA has a Media Guide for Scientists, which discusses what to expect before, during, and after an interview.
The Federation of American Societies for Experimental Biology (FASEB) issues a biweekly newsletter, Washington Update, which covers developments at the federal science agencies, science policy issues, and science funding, and FASEB communicates with the public about important scientific advances via its online publications. FASEB's website includes its recent workshop "Responsible Communication of Basic Biomedical Research: Enhancing Awareness and Avoiding Hype and Its Advocacy Tool Kit," which includes videos and slide decks to help scientists communicate about science to lawmakers, other scientists, and public audiences. And the International Food Information Council Foundation (IFIC) recently updated its Food Biotechnology: A Communicator's Guide to Improving Understanding, which includes detailed recommendations for preparing for presentations, media interviews, blogging, tweeting, and other community conversations.
The National Academy of Sciences (NAS) has presented three Arthur M. Sackler Colloquia titled "The Science of Science Communication," which are available on the NAS website. The most recent colloquium focused on the 2017 National Academies of Sciences, Engineering, and Medicine consensus study report, Communicating Science Effectively: A Research Agenda, as a framework for advancing both research and practice in science communication. The next colloquium, "Advancing the Science and Practice of Science Communication: Misinformation about Science in the Public Sphere," will be held April 3–4, 2019. And the National Communications Society provides to its members resources related to education and presents public programs, such as the recent "(Mis)communicating Science," which addressed the role of media and news in spreading misinformation about science.
Neil H. Mermelstein, IFT Fellow, is Editor Emeritus of Food Technology magazine ([email protected]).