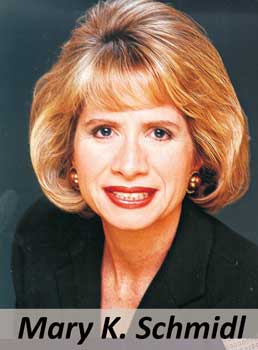 Schmidl to serve as president of IUFoST
Mary K. Schmidl was inducted as president of the International Union of Food Science and Technology (IUFoST) at the General Assembly of the 19th IUFoST World Congress of Food Science and Technology (World Food Congress) in Mumbai, India. She will serve as the first woman president of IUFoST, which was founded in Washington, D.C., in 1970 and represents over 300,000 food scientists from around the world.
"Professor Schmidl has a long association with IUFoST and the organization will continue to benefit from her pivotal role in the food science and technology profession," said Daryl Lund, who served as president of IFT in 1990–1991. "As president of the Institute of Food Technologists (IFT) and Phi Tau Sigma, Dr. Schmidl brought together innovative ideas and collaborations between industry, academia, and government, and she has been outspoken in her promotion of food science, nutrition, sustainability, and health of the individual and the planet. Her international perspective and energy will be invaluable to IUFoST as it faces new challenges and opportunities."
Schmidl has had a distinguished career as a scientist, research director, educator, and leader to public and private agencies around the world for more than 40 years. In 1993, IFT presented her with the Babcock Hart Award for Nutrition, and in 2012 she received the Phi Tau Sigma Carl R. Fellers Award. A Fellow of IFT, Schmidl served as president in 2000–2001. She is an adjunct professor in the Department of Food Science and Nutrition at the University of Minnesota, where her focus is on obesity, functional foods, and dietary supplements and their impact on global public health and wellness.
Brashears assumes food safety role at USDA
U.S. Secretary of Agriculture Sonny Perdue has named Mindy Brashears deputy under secretary for food safety at the U.S. Department of Agriculture (USDA), a role that does not require Senate confirmation. Brashears had been previously nominated by Donald Trump for the under secretary for food safety role at the USDA—a Senate-confirmed position—but her nomination expired without receiving confirmation votes by the end of the 115th Congress in early January. The President has resubmitted her nomination to the Senate in the 116th Congress.
While in her deputy role as selected by Perdue, Brashears will not be serving in an acting capacity for the position for which she has been nominated. As a result, she will not be able to exercise the functions or powers expressly delegated to the Senate-confirmed position.
Brashears is a professor of food safety and public health and the director of the International Center for Food Industry Excellence at Texas Tech University. Her work evaluating interventions in pre- and post-harvest environments and on the emergence of antimicrobial drug resistance in animal feeding systems has resulted in commercialization of a preharvest feed additive that can reduce E. coli and Salmonella in cattle. She also leads international research teams to Mexico and Central and South America to improve food safety and security and to set up sustainable agriculture systems in impoverished areas. Brashears is past chair of the National Alliance for Food Safety and Security and of the USDA multi-state research group and a member of IFT.
NutriScience names Lelah chief science officer
NutriScience Innovations, a global supplier of quality nutritional and functional ingredients, has hired Michael Lelah as its chief science officer. Lelah will lead the company's scientific and innovation initiatives as well as quality and regulatory functions.
"We are thrilled to have Dr. Lelah join our team," said Alan Yengoyan, president and CEO of NutriScience. "Not only does he bring a wealth of experience, he also brings his unique creative energy and exceptionally broad skill set. Ultimately, this will help NutriScience continue to bring innovative ideas and products to our customers along with a standard of providing world-class support."
Lelah, a member of IFT, comes to NutriScience with wide-ranging experience in the dietary supplement and nutraceutical industries. "I'm excited to join the team and bring my extensive knowledge and expertise in nutraceutical science, formulation, quality, and regulation," he said.
OSU researchers develop natural blue dye for candy
According to Columbus Business First, Ohio State University (OSU) food scientists—including OSU professor Monica Giusti and former graduate research associate Neda Ahmadiani, both of whom are members of IFT—might have succeeded in creating a veggie-based blue dye for candy such as M&M's, Skittles, and other sugary treats. Mars Inc. and Ohio State were issued a patent in November for a method to separate blue pigments similar to the synthetic dye FD&C Blue No. 1 using red cabbage, purple sweet potato, as well as some potato and carrot varieties. According to the patent, anthocyanins can be extracted from red cabbage, purple sweet potatoes, and other veggies, but until now the combination had produced an unpredictable slurry of blues and purples, even red in an acidic environment.
The Ohio State and Mars method produces more precise mixtures by adjusting the pH of the extract and using a device that can sort molecules by polarity, which is their atomic-level distribution of electric charge. The result is a mix that looks true blue. The patent says the new pigment can not only be used in "chocolates, sugar and sugarless candies of all types, chewing gum, candy bars, and sugar-coated confectionery," but could appear in any food, beverage, or pharmaceutical.
Harris Award nominations sought
Nominations for the 2019 Ohio State University Distinguished Food Science Harris Award are being accepted. The award was named for Ronald D. Harris, adjunct professor in the Department of Food Science and Technology at Ohio State University. It is presented annually to recognize excellence in and contributions to the discipline of food science. Review of the nominations will begin May 1. For more information, call 614-292-6281 or email Kelly Elisar at [email protected]. To access the nomination form, visit fst.osu.edu/about-us/harris-award-0/award-nomination-form.
---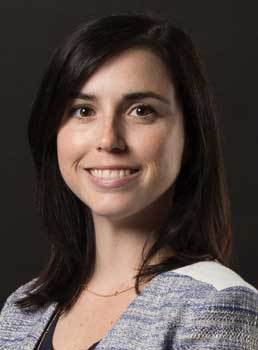 Getting to know Sarah Levy
Each month, we meet one of IFT's valued volunteers.
It's a fascinating time to work in food," says Sarah Levy, vice president with FoodMinds, a Washington, D.C.-based food and nutrition communications company that harnesses science, public affairs, food values, and communications to meet business and public health objectives.
"I lead our global food and nutrition affairs business, which requires cultivating a deep understanding of global public health recommendations and policy/regulatory actions to help guide our clients through an increasingly complex landscape," she says. Before joining FoodMinds, Levy, who is a registered dietitian with a master's degree in public health nutrition, held positions at FleishmanHillard and the Grocery Manufacturers Association.
One of the things she enjoys most about her job is working with a "passionate, super-smart staff" of more than 20 experts to develop cutting-edge strategies. "As consumer food values evolve and obesity and chronic disease continue to afflict our global population, food and beverage companies are changing the way they approach nutrition," she explains. "I enjoy the challenge of helping companies think innovatively about how to contribute to public health solutions and meet new consumer demands."
Levy has participated in IFT events since the beginning of her career. Two years ago, she was presented with an opportunity to run for president-elect of the Washington, D.C., Section. Since then, she has served as the section's president-elect and president, and currently serves as past president. "Volunteering with the D.C. section has been an excellent opportunity to network with and learn from colleagues," she says. "As a nutrition professional, the relationships I have built within the food science and technology community have led to insights that enrich my day-to-day work."
Among the experiences Levy has found particularly meaningful is her participation in the Food Policy Impact Conference that the D.C. section hosts each February. "Each year, the meeting has successfully convened leaders from government, industry, science, and public health organizations to discuss the latest developments in food laws, regulations, and policy initiatives," she explains. "The smaller setting and high-caliber speakers and attendees lead to highly dynamic conversations that help attendees understand and anticipate changes in the food and beverage environment."
When she's not studying global food policy, Levy says, "you'll find me traveling the world at every opportunity. Hiking mountains and glaciers in Patagonia makes the list of top trips!"
For someone who enjoys meeting challenges, Levy finds a rich source of possibilities in the world of food and nutrition. "Food science and technology has a critical role to play in some of the most important challenges facing our planet," she observes. "From hunger and malnutrition to food waste and environmental sustainability—I look forward to the creative and innovative solutions that are being/will be pursued."
---
Section Meetings
Aksarben and Iowa
April 2: Suppliers' Night. Omaha. Click here.
Bonneville
April 2: Suppliers' Night. Sandy, Utah. Click here.
Cactus
April 9: Suppliers' Night. Phoenix. Click here.
New York
March 20: Suppliers' Day and Career Fair. Secaucus, N.J. Click here.
Ohio Valley
April 25: Suppliers' Expo. West Chester, Ohio. Click here.
St. Louis
April 10: Suppliers' Expo. St. Charles, Mo. Click here.
Western New York
March 26: Food Industry Expo. Rochester, N.Y. Click here.
---
In Memoriam
IFT notes the passing of the following members: Gonca Pasin and Robert V. Villwock
Have some news to share about yourself or another IFT member? Email [email protected].