Chef Gerard Viverito has more than 20 years of experience as an executive chef, instructor, restaurant owner, and hospitality educator. He recently joined BlueNalu, a cellular aquaculture startup, where his passion for seafood sustainability and international culinary arts will help him show consumers that cell-based seafood can mimic regular seafood in taste and texture.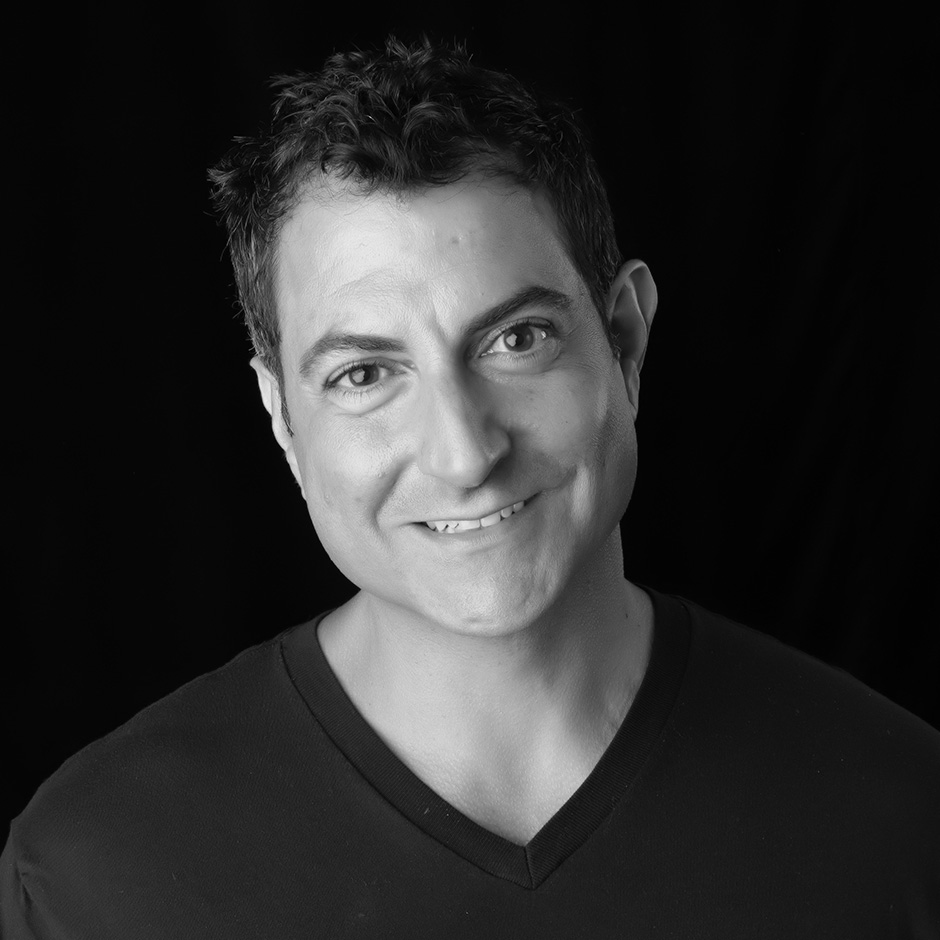 Q: When did your interest in sustainable food start? And why seafood in particular?
Gerard Viverito: In 2000, I was working in San Diego and a bunch of chef friends and I were noticing that our fish were not only getting smaller every week, but they were also becoming more expensive. And the quality was inconsistent. What I've learned over the past 20 years of research is that the quality issues can come from the long-distance shipping or freezing techniques. We've come so far in the past couple of decades, but back then, no one was even discussing sustainability or food miles. So, a bunch of chefs and I started calling our purveyors and told them what we wanted and that it'd better be the right price point or we're not going to sign for it.
We started a nonprofit called PassionFish.org in 2000. We attack the problem of sustainable fisheries and seafood from an educational approach versus advocacy. We lay out the facts and we allow people to delve in from there. We started hosting dinners, educational forums, and I went around speaking at international seafood summits. And we started spreading the word to chefs. At first, it was hard to find early adopters to the theory because no one wanted to be the one to make waves. But suddenly people started saying, "Wow, I thought it was just me. What can we do about it?"
This is how we started a grassroots movement. We all held the purveyors' feet to the fire and then they started holding the fishermen's feet to the fire, or their distributors' feet to the fire. And it just got better and better. It's still a problem. And it's more difficult than ever to teach because there are so many variables at play.
If someone asks me, "How are you going to be sustainable?" I tell them what no one wants to hear—"Eat less and vary your diet." Americans eat the same three fish every year—canned tuna, shrimp, and salmon. Sometimes tilapia is mixed in there. But at BlueNalu, we have this amazing opportunity to collaborate with the industry and take some of the pressure off our oceans and let some of these species regenerate.
Q: What are your main responsibilities as BlueNalu's corporate chef and culinary advisor?
Viverito: My main purview is helping develop products that not only taste great but have the same consistency, texture, and mouthfeel as their "swimming cousins." We started out by creating this matrix of global dishes that use seafood to see how our products can fit into the dishes. Also, I've been teaching about fish for 20-plus years and eating it for 40-plus years, so my palate is fine-tuned enough to offer feedback such as "this one isn't chewing properly" or "this one needs to be leaner." It's exciting to be in on the ground floor of this process and collaborate with this amazing team of scientists that are recreating fish muscles.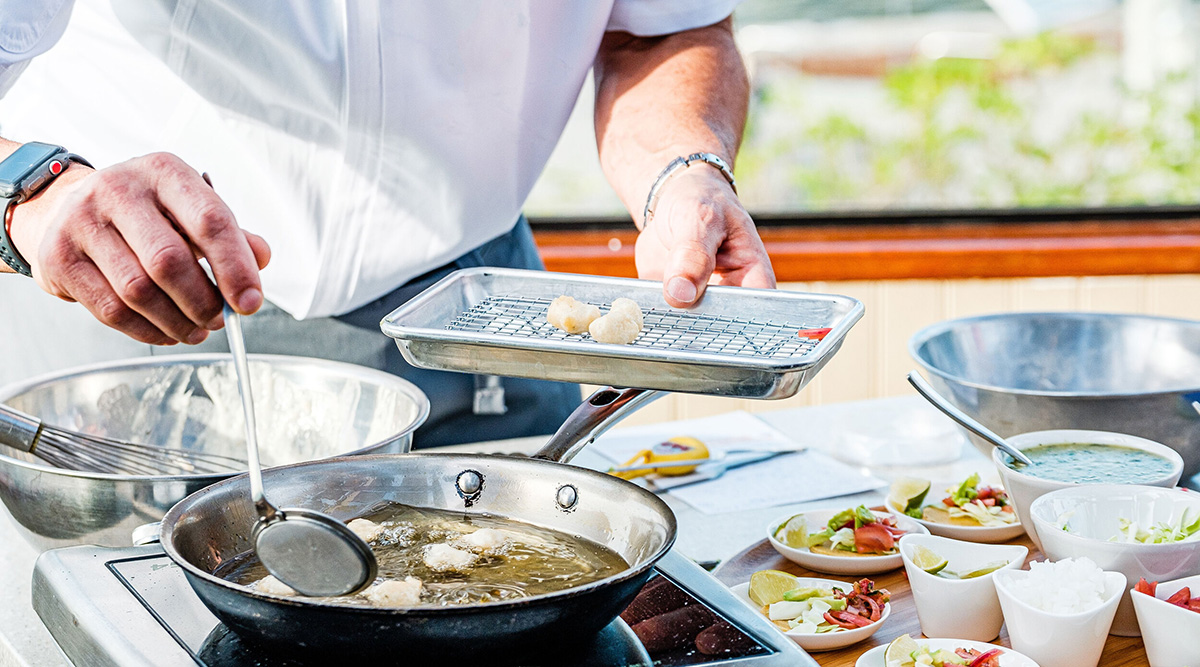 Q: From a chef's point of view, what are some of the benefits of BlueNalu's cellular aquaculture compared with regular seafood?
Viverito: Creating fish this way offers so many possibilities from a chef's perspective. The average restaurant net profit margins are 3%–5% and a chef is constantly under a microscope to keep costs in line. So, when a chef purchases an item to serve, the clock starts ticking. It doesn't matter if it is a fish or a squash—it doesn't get better the longer it sits. And unlike beef, you can't age fish for 45 days. Automatically, there's a 25%–35% yield loss in the whole fish by the time you consider the scales, skin, bones, viscera, and blood. So, a chef is actually only getting 65%–70% of usable fish meat. But with BlueNalu's products, it's 100% yield.
So, as a chef, I can tell customers, "You're enjoying a real fish protein, there's zero bycatch, reduced—if any—carbon emissions, no mercury, no PCBs [polychlorinated biphenyls], no dioxin, and no microplastics."
It's going to make restaurateurs lives a little easier, cleaner, and safer. It's a win for the ocean and for fishermen in the wild because eventually there'll be more fish for them to catch. It's also a win for people who are nervous about predatory fish, mercury consumption, and brain development—whether new mothers, nursing mothers, and mothers-to-be. I think this will really reshape and redefine protein consumption.
Consistency is the key to being successful in the restaurant industry. When line cooks aren't consistent chefs will lose their minds. Our products remove the need for consistent knife skills, eliminates inconsistent sizing, and cooks no longer have to worry about missing a bone or not removing all the scales. The chefs are just going to embrace it. It's protein, but more consistent.
If you control how the fish is grown, you can control how it tastes. For example, if a shrimp eats some anchor worms, it's going to taste like iodine. There's so many different variations in the way shrimp can taste, but if you can make the protein taste the same all the time, there's no flavor masking to be done. It's like, "This is what it's going to taste like. Now, I can build a menu around a certain flavor profile." To be able to guarantee that every portion you receive will be the same shape, size, catch, color, and flavor profile, is amazing.
Q: What projects are you working on now? Where do you see BlueNalu in five years?
Viverito: BlueNalu has created this five-phase commercialization strategy. So, we're starting with R&D right now and some small-scale pilot tests. This is where I am working with the product using different techniques—acid, heat, freezing—to see how the product responds. We're producing whole seafood medallions and playing around with different shapes and everything at a pilot scale.
The next phase will be market research testing, and then, ideally, by 2024, we're hoping to have a 150,000-square-foot food facility where we're creating the products. I know that they want to have many facilities and each facility will produce up to18 million pounds of product a year. That translates to 72 million 4-ounce seafood fillets, or equivalent units per year. So, when you think about taking that kind of pressure off the sea, it's huge.
We're working simultaneously on multiple workflows that are necessary to get our first product to market for consumer testing and validation in the next two to three years.
As an educator, if I can reach chefs from around the world and offer them education or the advocacy point of view to this product, I think they're going to get behind it and that should help it grow exponentially. If someone came up to your table and said, "Hey, we've got this special today and it's going to help save the planet—there's no waste and it is so clean. There's no chemical, physical, or biological hazards, and no fish were harmed in making it. And, it's going to taste 100% dead-on to the real thing because it is the real thing. Want to try it?" How the heck could you not at least be tempted to try it?
This interview has been edited and condensed for clarity.