During SHIFT20, renowned pastry chef Gale Gand led attendees through a virtual baking lesson in which they made Lydia's Austrian Stuffed Shortbread (full recipe here). Attendees also had the chance to ask Chef Gand questions. There wasn't enough time during the event to answer them all, so Food Technology's Senior Digital Editor Kelly Hensel followed up with the chef to get the answers to your burning questions. Chef Gand's answers to questions regarding the shortbread recipe can be found on the SHIFT20 site. The chef also provided her Grandma Elsie's Emergency Cake recipe, so if your extended family shows up at your front door unannounced—after the pandemic is over, of course—you'll be able to whip up an emergency cake in no time!
Q: Are you still hosting Facebook Live cooking classes that you started at the beginning of the pandemic?
Gand: Yes, I am still doing free Facebook Live quarantine cooking classes on Thursdays at 10:00 a.m. CST. I also started a virtual cooking school with my friend, Chef Jessica Dawson. It's called the Kitchen Sisters Cooking School, and we have virtual classes every Wednesday. We have classes for both kids and adults.
Q: You mentioned your grandmother's emergency cake recipe during the Bake Along. What is the story behind that recipe?
Gand: Sadly, I don't know the story behind the recipe because I found it after my grandma died. One of the things I asked for when she passed away was her recipe boxes. I found the recipe for her "emergency cake" in there, so it was too late to be able to ask and none of her daughters seem to recall it. I envision it's like, "Uncle Milt is coming over in 20 minutes and I don't have anything to serve with coffee," and she threw together this cocoa, sour milk kind of cake. She liked to throw a bunch of ingredients together, and if it worked, she'd write it down.
Q: What inspired you to become a chef?
Gand: Hunger, literally. I was a starving art student studying silver and goldsmithing at the Cleveland Institute of Art. I was broke, so I started waitressing at this vegetarian restaurant where I liked to eat, and one day I got thrown in the kitchen because they were short-staffed. I was terrified for like six seconds, and then this odd sense of calm came over me. I was blindsided by how good of a fit it was for me and how much I loved the dance of it—the chemistry, the physics, the social aspect, the creativity. So, it wasn't really that I picked this profession—it chose me.
I remember running home that night and calling my dad, who is a musician and not wealthy, but who had scraped together the money to send me to college. I told him, "Dad, I figured out what I want to be. I want to be a chef." And he responded, "Aw, Gale." Because, you know, it's not a very reliable business. I said, "Dad, you're a folk singer," because that profession isn't much better. He couldn't criticize me too much because the mantra in our family was, "Choose your work for love, not for money."
Q: During the Bake Along, you talked about your experience cooking with Julia Child. Do you have a favorite recipe of hers?
Gand: There's a leg of lamb dish that's in Mastering the Art of French Cooking and it's so good. I try to make it once a year. My Uncle Robert would always make this leg of lamb when I came to visit him and Aunt Greta in New York. They don't have children, so when I was 14, I started visiting them once a year. They would leave me out five subway tokens and a map and say, "Be home by 9:00 for soufflé." One year, Uncle Robert taught me how to make the leg of lamb, and now I make it myself.
Q: How did you start manufacturing Gale's Root Beer?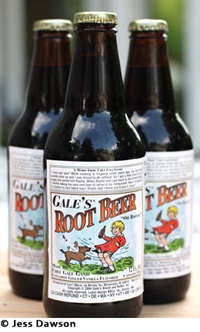 Gand: I lived in England in the early 1990s when I was working and cooking at a country house hotel called Stapleford Park Hotel owned by Lord and Lady Gretton. The problem with England for me was that they don't have root beer. That's because the sassafras flavor was used for medicinal purposes during the war. So, serving root beer in England is like if I tried to serve you Listerine soda. There's just no market for root beer in Europe.
But I'm a Midwest girl who grew up with A&W on tap—it's like my Starbucks. If I don't have a root beer float occasionally, things are not right with the world. So, when I got back to the United States from that three-year stint, I decided that I was going to learn how to make root beer so that I am never in that situation again.
I was teaching myself how to make it, and the first batches were awful. One day, the guy who was repairing the walk-in cooler at my restaurant Trio said, "You know, I fix refrigerators for this soda pop shop down on the south side of Chicago. Do you want their name and number?" And I'm like, "absolutely." It was this company Filbert's. They are third generation root beer makers, and when I talked to Ron Filbert and told him what I was trying to do, he said he could help me. We started with small batches, like 5 gallons at a time, and now I do 70,000 cases a year. It's all over the country. Filbert's is still my co-packer, and Cisco is my distributor.
Q: You are a partner with Think Jerky company, developing delicious recipes like Sriracha Honey Turkey Jerky and Sesame Teriyaki Beef Jerky. How did that partnership come to be?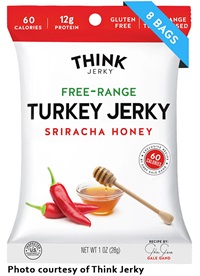 Gand: The Think Jerky partnership started when the founder Ricky Hirsch emailed me. He wrote an email to every chef in the area that either had a Michelin star or had won a James Beard Award. He sent out cold-call emails to 100 chefs saying, "Hey, I want to start this jerky company, but I want the recipes to be chef-driven. Would you be interested in developing a recipe for my new company?" Out of 100 emails, only three chefs responded—me, Matt Troost, and Laurent Gras. We came up with the first flavors for the company. Since then, Ricky has added some other chefs, including Doug Sohn, of Chicago's Hot Doug's.
Ricky didn't have much money when he first started, so I think he paid me for one recipe outright, and for the other recipe, he asked if I would be interested in royalties. Meaning if the product sells well, you'll get paid. We set up this sort of passive income stream if it did well—which it did. When I'm lecturing young chefs or culinary students, I tell them, "When someone's asking you to do some recipe work for them, always say yes, because you never know if it's going to be big or not."
Right now, I'm working on recipes for Werther's Originals caramels to develop some new fall recipes for them to coincide with their media campaign launch. I also occasionally work for Hyde Park Group, which is a company in Chicago that does food innovation, and there's a stable of chefs that they use to develop products. So, through them, I've done work for Quaker Oats, Cabot Cheese, and all kinds of corporate companies.