Coffee with coconut water. Sweet tea with whiskey. Blueberry tonic water with whey protein.
Hybrid beverages are smashing though flavor and function boundaries with aplomb, mixing and matching both formats and ingredients in a flurry of imagination. Consumers worldwide are only too happy to indulge their thirst for exciting sensations with these new offerings that combine features or benefits from two or more beverage categories.
The $6.6 billion global fusion beverage market—including coffee and tea, carbonated drinks, alcoholic beverages, fruit juices, and energy and sports hybrid beverages—is projected to grow at a compound annual growth rate (CAGR) of 6% from 2022, hitting $11.5 billion by 2032, according to research firm Future Market Insights. The United States, Germany, the United Kingdom, and China are the major drivers of demand, with East and South Asia poised for an explosion of growth.
"Not only is this new product development offering almost unlimited choice, but it is also boosting stagnating sales, particularly in the more traditional soft drink categories such as carbonates and juices," says Lu Ann Williams, global insights director at Innova Market Insights.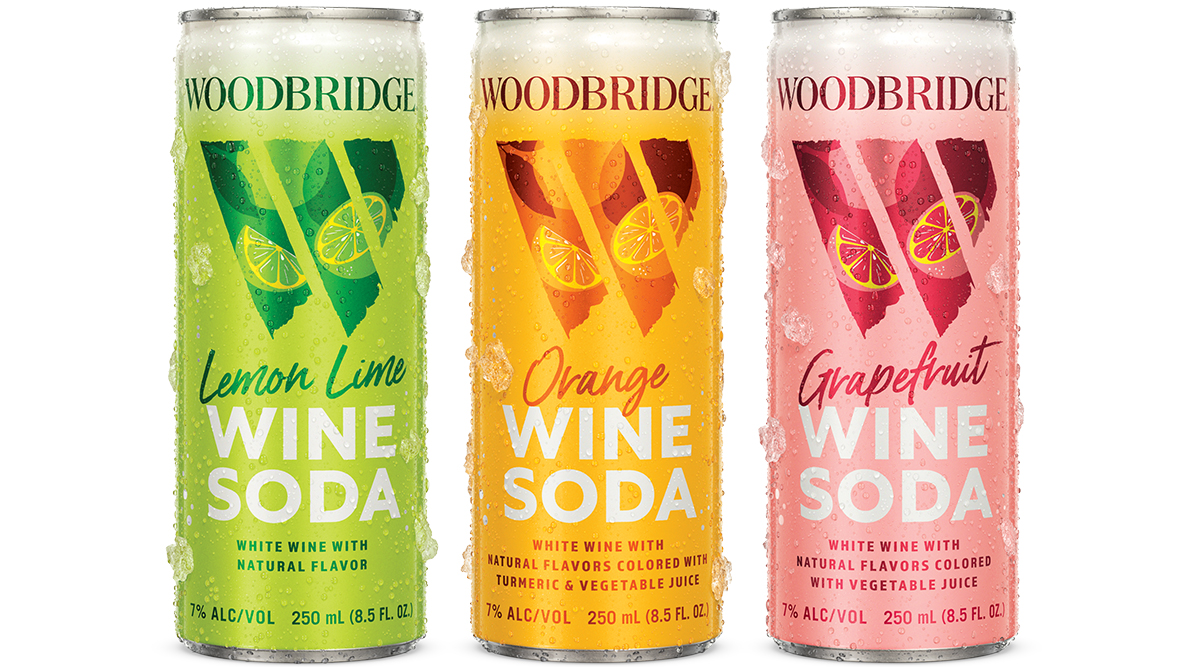 Woodbridge Wine Sodas blend white wine with classic soft drink flavors. Photo courtesy of Constellation Brands
To Your Health
The key drivers for hybrid beverages include health and lifestyle, flavor, traditional versus modern tastes, and plant-based eating, says Williams. But products that lay claim to additional health benefits, nutritive benefits, and ingredients that boost immunity are stealing the hybrid beverage show right now. That's not surprising, with 68% of global consumers saying optimized mental and physical performance for peak health is important, and one in three believing it will become even more important to them in the next two years, according to NielsenIQ's report An Inside Look Into the 2021 Global Consumer Health and Wellness Revolution.
"In general, consumers are seeking better-for-you products with functional ingredients, and hybrid beverages check all the boxes," says Amy Marks-McGee, founder of Trendincite LLC. "They offer consumers multiple benefits such as unique flavor combinations and active ingredients."
"There's a blurring going on between drinks for hydration, energy, and functional benefits and drinks that bring about relaxation or beauty or performance," says Sally Lyons Wyatt, IRI executive vice president and practice leader, client insights.
Energy and having less fatigue is the most sought-after benefit from foods and beverages, according to the International Food Information Council's (IFIC) 2022 Food and Health Survey, and more than 40% of consumers turn to caffeinated beverages such as coffee, green or black tea, and energy drinks for a boost. Hybrid drinks, however, can supplement energy-forward beverages with other healthful attributes that cater to consumer demands.
Coffee, for example, is broadening its appeal beyond those looking for just a quick jolt of energy or an indulgent treat. Lacsnac in February launched single-serve Lactation Coffee (120 mg caffeine) in tea bag sachets, blended with fenugreek and blessed thistle, both of which are said to increase lactation in nursing women, according to the company. Harmless Harvest Single Origin Coffee with Organic Coconut Water, introduced last summer, adds hydration to the caffeine mix. And Starbucks' new Oleato line of coffee beverages infuses a spoonful of cold-pressed, extra virgin olive oil in each serving.
Even cocktails are getting into the act, building on the soaring success of hard seltzers among younger consumers looking for functional drink options with low/no alcohol and low-calorie content. Billed as low-calorie and low-sugar, Sayso's craft cocktail tea bags come in four varieties including Rosemary Honey Moscow Mule and Skinny Cardamom Paloma. After steeping, consumers can add their own alcohol or just enjoy a mocktail. Beacon Beverages' new Beacon Functional Cocktail in Mai Tai and Moscow Mule varieties is the first alcoholic beverage to contain hovenia dulcis, a plant reported to relieve hangovers. Last fall, Pulp Culture debuted Build, the first protein-boosted hard juice in its line of low-calorie, no-sugar alcoholic beverages with functional adaptogens and 4.9% alcohol by volume (ABV).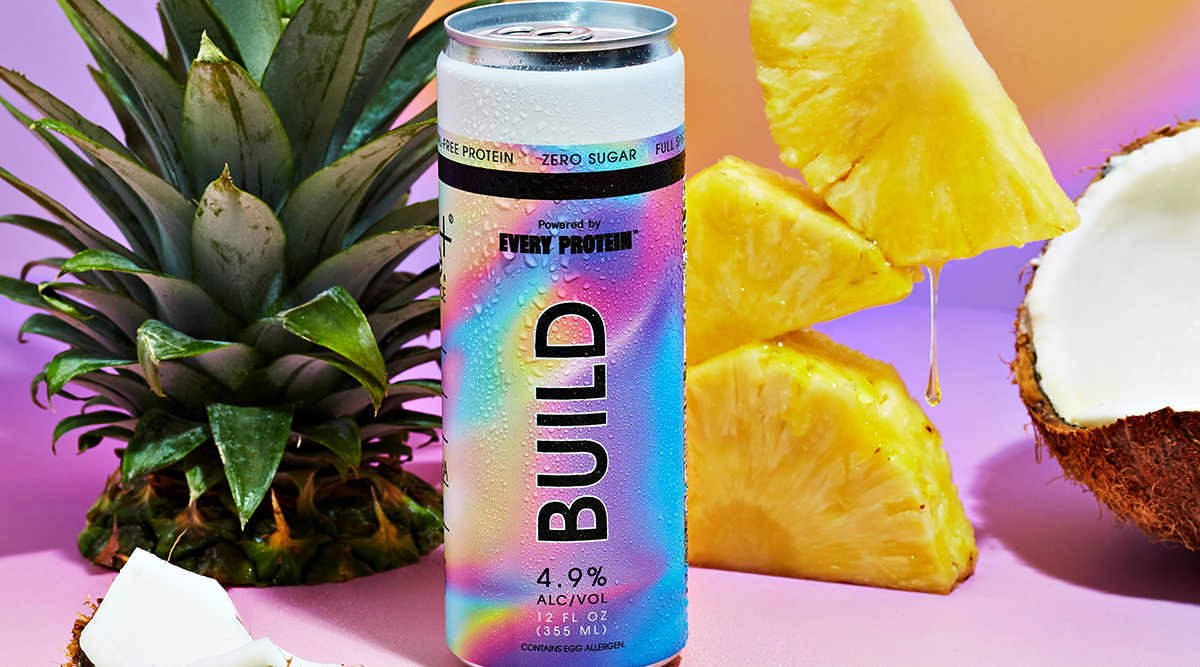 Pulp Culture's Build beverage is billed as the world's first protein-boosted hard juice. Photo courtesy of Pulp Culture
Playing Flavor Favorites
Flavor is the most important factor in consumer purchase decisions across a wide range of beverages, according to Innova, and this is where hybrid drinks shine, especially among the younger set. "The younger demographic is more experimental and willing to try new products, and they are often the target market for many hybrid beverages," says Marks-McGee.
"The experience and the taste is paramount—that's why some [hybrid beverage] products are going after flavors that people love," says Lyons Wyatt. "They really play up flavors. We see a lot of [varieties] out there that are tied to fun flavors, good old-fashioned flavors that everybody loves." Candy and tropical flavors also have wide appeal, she says, especially for hybrid drinks targeting energy and functional drink consumers.
Better-for-you energy drink maker Marquis pumped up the flavor assortment for its line of sugar-free sparkling yerba mate drinks in January with a limited-time Pineapple Passion variety. Grapefruit Tangerine, Lime Citrus, and Raspberry Lemon are the three newest flavors for Recess Mood sparkling waters infused with magnesium and adaptogens.
Adventurous happy hour flavor seekers can try Drunk Fruit's new Yoju, a canned variation on a classic Korean cocktail made with soju (alcohol typically distilled from rice or sweet potatoes), yogurt, carbonated water, and lime, with 7% ABV. Woodbridge Wine Soda in Lemon Lime, Orange, and Grapefruit flavors aims to take drinkers beyond the hard seltzer experience with an extra layer of fruity flavors and aromas.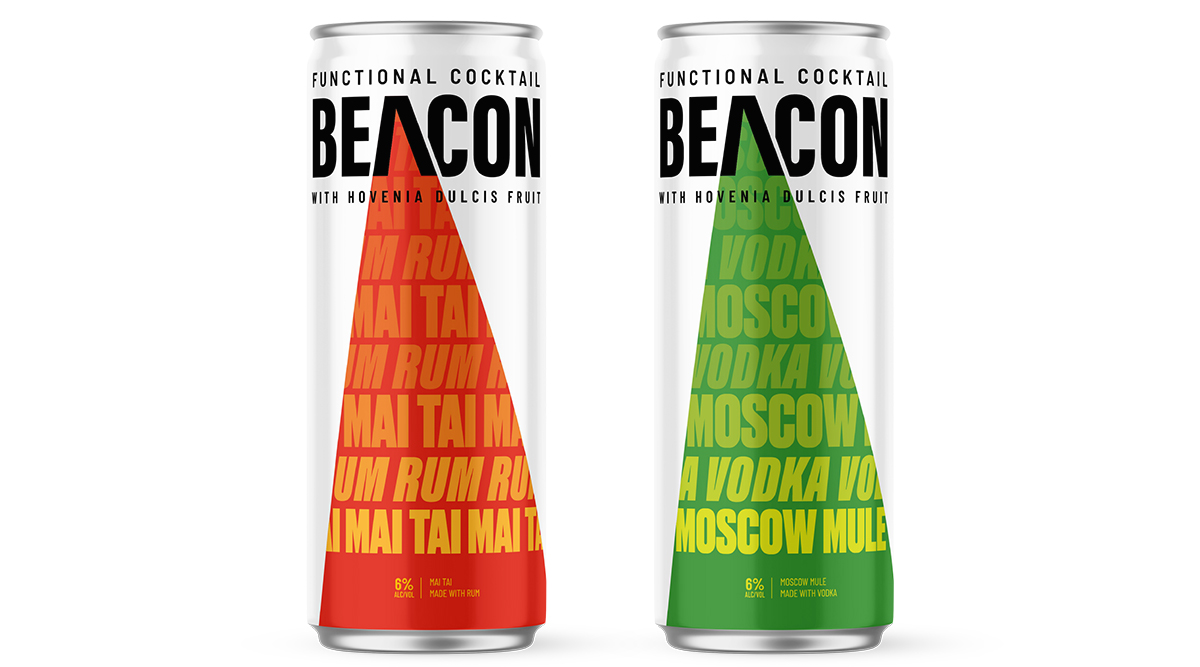 Functional Cocktails from Beacon Beverages contain hovenia dulcis, which is reported to help relieve hangovers. Photo courtesy of Beacon Beverages
Where Hybrids Are Headed
In a world that is paying a lot of attention to health issues right now, the current hybrid beverage focus on functionality isn't likely to diminish anytime soon, says Lyons Wyatt. "The question will be how big the category will get," she says.
In fact, she believes the next generation of hybrid beverages is likely to emerge from three main areas of influence: vitamin/nutrition stores, functional medicine, and trending diets.
"There's a current suite of [hybrid beverage] products out there that have been seeded from vitamin and nutrition stores," she says. "Companies have learned what is sweeping there and created combinations of hydration and function that consumers are looking for. I think that will continue."
In addition, the number of Americans who say they are following a diet/eating pattern continues to climb, from 36% in 2018 to 52% in 2022, according to the 2022 IFIC report, and the global complementary and alternative medicine market is projected to expand at a CAGR of 25.1% from 2023 to 2030, reports research firm Grand View Research.
Marks-McGee says she already sees the better-for-you probiotic soda segment expanding into new hybrids that add whey or kefir ingredients. "Brands are formulating with upcycled liquid whey from Greek yogurt production," she says, pointing to recent sparkling beverage introductions from Superfrau and Spare Food that feature discarded whey.
Nootropics (substances said to improve cognitive function) and hybrid beverages that concentrate on brain health are areas that are ripe for more activity, says Marks-McGee. Look for more products like Koios's line of sparkling brain energy drinks with lion's mane mushroom and MCT oil, and hiyo mood-boosting sparkling tonics touting adaptogens and natural nootropics under the tagline "the better-than-alcohol alternative."
---
Tea Time
All by itself, tea is the second most consumed beverage in the world (after water), according to Innova Market Insights, and its health halo is widely accepted. So what better ingredient for half of a hybrid beverage?
Hybrid tea beverage marketers are expanding far beyond the traditional Arnold Palmer (tea mixed with lemonade) to find a variety of new partners for their leaves. Coconut water maker Harmless Harvest, for example, moved into the hybrid tea segment last fall with new Yerba Mate with Organic Coconut Water, marrying antioxidant-rich yerba mate herbal tea with coconut's electrolytes. And The Ryl Co.'s new flavored green and black functional wellness teas, rolled out in January, serve up 200 mg of polyphenols in every zero-sugar, zero-calorie cup.
On the alcoholic beverage side, hybrid hard tea products like Twisted Tea's new Sweet Tea Whiskey are making inroads into the cocktail space. Broadland Drinks' alcoholic, semi-sparkling cold brew Twistea poured into the market last year with 89 calories per serving and four flavors, including Rhubarb & Ginger and White Peach & Mango.