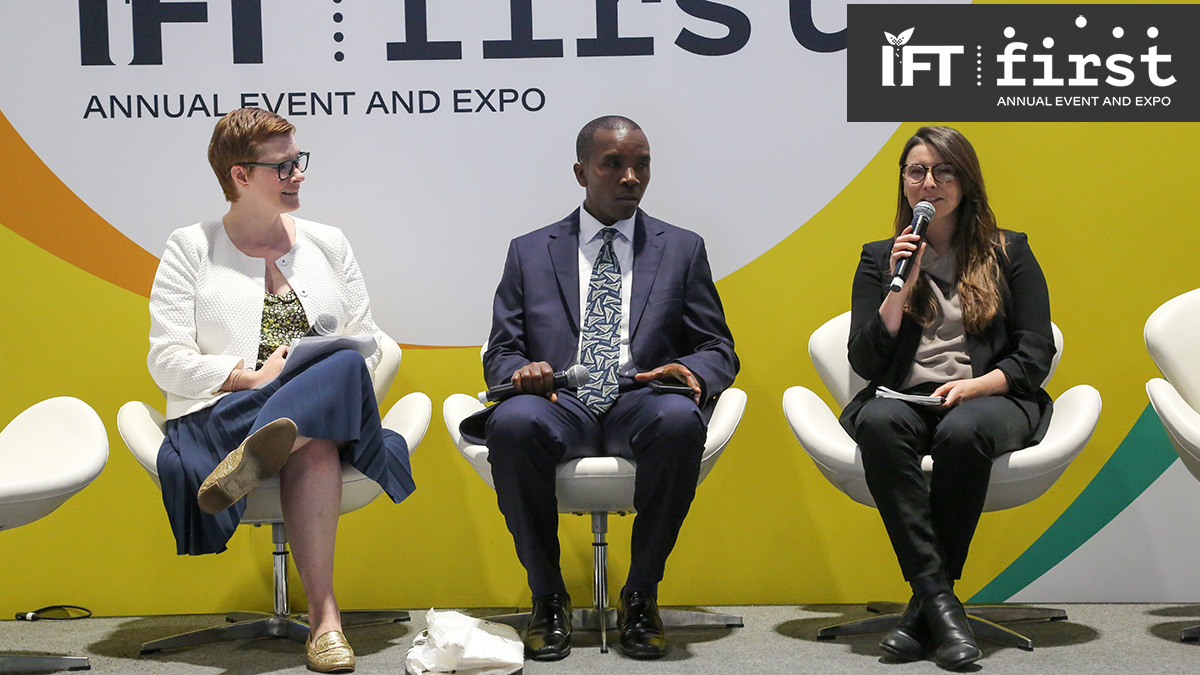 To kick off the IFT FIRST session, "Tackling Food Waste: Defining the Problem, Innovating Solutions," Alexandra Coari, vice president of capital innovation and engagement at ReFED shared some startling statistics: Addressing food waste in the United States will save four trillion gallons of water and 75 million tons of greenhouse gas emissions while creating 50,000 jobs—but it will take a $14 billion annual investment to make it happen.
Coari acknowledged the challenge and shared insight from ReFED's Insights Engine, which modeled 40 different solutions to the food waste challenge and found that there are incentives all along the supply chain for consumers, businesses, and governments to take action.
"All of the tools that we've developed at ReFED are based on using data and analytics to really understand the impact of the various types of solutions," she said. "[The tools] can be really powerful for the types of stakeholders that we're trying to help spark all these different kinds of actions that we know are needed."
Moderator Kelly Hensel, senior digital editor for Food Technology magazine, introduced Lisa Berger, co-founder of the Zero Bullshit and Dieudonné Baributsa, associate professor at Purdue University, who shared their approaches to addressing food waste with novel products.
Zero Bullshit created the Better Cracker, a sustainable savory snack made with 30% upcycled ingredients, including pomace, the pulp leftover during the production of sunflower oil.
At Purdue, the focus has been on creating products that improve food security and income for farmers, which can be addressed through reducing food waste. Researchers developed hermetically sealed plastic bags for grain storage that protect the crops from insects and reduce spoilage. The bags, which are available in 35 countries across Africa, Asia, and Latin America, allow farmers to store grain for up to two years.
Berger and Baributsa acknowledged that attracting investments for these types of products can be challenging.
In Germany, Berger participated in several startup accelerators and competitions to get feedback on their products. These programs, she added, helped build brand awareness for Zero Bullshit and connections to retailers who wanted to support sustainable foods and stock their products. It wasn't enough to create a high quality, healthy snack food; Zero Bullshit also had to overcome misconceptions about upcycled foods.
"[In] the quite competitive snack market, it's really hard to convince the consumers to buy a new product," said Berger. "It's also quite difficult to explain why upcycling is a great opportunity to fight food waste because most of the consumers associate upcycling as low quality waste, which usually goes to the bin."
Baributsa worked with university extension services, non-governmental organizations, and local governments in West Africa to introduce farmers to the grain storage bags and educate them on how to use the technology; he also worked with the private sector.
"[The private sector] needed to be aware of this innovation," Baributsa explained. "It's a new product [and] we needed to create that market for the private sector in order to adapt, to attract them, to invest more." For ReFED, the biggest challenge in addressing food waste is accessing data.
"For us, based on the fact that we're an organization that's trying to advance data driven solutions, we need to know the data and a big challenge in the food waste sector is information sharing and availability of the data," Coari said. "As you might imagine, a lot of businesses that are the biggest perpetrators or generators of waste often don't want to share the data around how much waste they're generating [or] where their waste is going."
Despite the challenges, all of the panelists agreed that reducing food waste was an essential component of addressing societal challenges like hunger, public health, and climate change and expressed hopefulness about continuing their efforts to make an impact on food waste reduction.