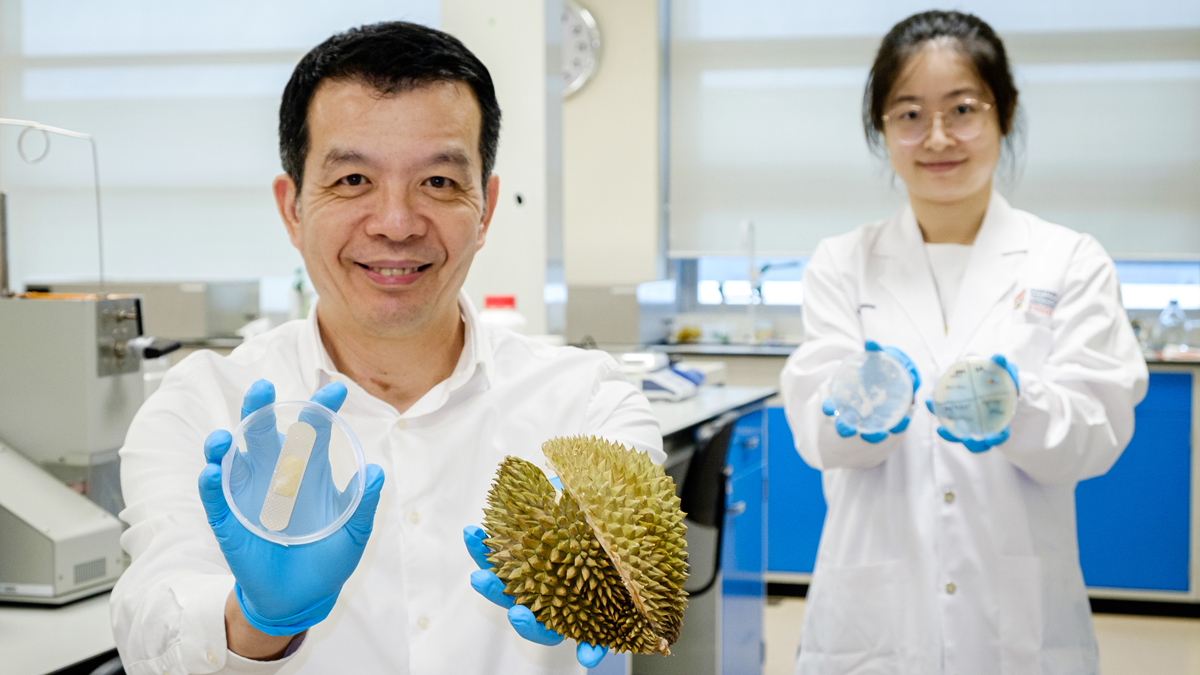 Often described as sweet and custard-like, the pungent durian fruit (Durio Zibethinus Murr) is popular in Southeast Asian countries including Thailand, Indonesia, and Singapore. "We consume 12 million durian in Singapore every year," says Professor William Chen, director of Nanyang Technological University's (NTU) Food Science and Technology Program. The fruit's hard, thorny husks make up 65%–70% of the entire weight of the fruit and are usually thrown out—contributing to environmental waste. Cellulose—an abundant renewable biopolymer—comprises 31.6% of the husks, which is "higher than other side-streams from food processing, such as soybean residues," explains Chen.
Given the abundant supply of durian husks and their valuable cellulose content, Chen and his team at NTU set out to develop a method for extracting the cellulose and coming up with potential market uses for it. The proprietary process they developed involves chopping the husk into small pieces, then freeze drying and grinding them into a fine powder. From there, the researchers treat the powder with various solutions and rinses to remove the residual lignin and hemicellulose. "The cellulose extraction technology—and removal of other impurities—is green in nature and simple in process," says Chen.
Mixing the extracted cellulose with glycerol resulted in soft, gel-like silicon sheets. As detailed in a recent study, the researchers then added organic molecules produced from baker's yeast—known as yeast phenolics—to the hydrogel to give it antibacterial properties. The result? An antibacterial bandage that can be cut to various sizes and shapes. "As our cellulose-derived hydrogel has high water absorption ability and good antimicrobial activity, it can be used to absorb interstitial fluid on the wound and prevent infection at the same time," says Chen. Conventional bandages are designed to simply protect the wounds, and their antibacterial properties come from metallic compounds like silver or copper ions, which are both expensive and inherently toxic. According to Chen, the hydrogel is "natural and sustainable; thus, its incorporation into bandages provides added function."
The technology can be used on food waste materials besides durian husks. "Our cellulose extraction technology can be applied to soybean residues, thus showing its versatile nature to be a platform technology applicable to various raw materials of similar nature—those high in cellulose content," says Chen. Additionally, the extracted cellulose has uses beyond healthcare. In 2019, the researchers published a study showing that the cellulose from durian husks could be used to make a film for food packaging that is comparable to commercial cellophane in its transparency, thermal properties, and structure, while also being biodegradable, sustainable, and low in cost.
Chen and his fellow NTU researchers have spent years developing ways to extract useful ingredients from what would otherwise end up in the landfills or incinerators. With less than 1% of land in Singapore used for farming, the country imports more than 90% of its food. According to Chen, Singapore also has a challenge in dealing with food waste, which amounted to 650,000 tons in 2020. "Food waste reduction not only helps us decrease environmental pollution, but also leads to lower levels of food import," says Chen. "It's all related to Singapore's food security."