New food products often need unusual packages to differentiate those products from others in a grocery aisle or convenience store. Sometimes it's a radical new shape, sometimes a new material that offers appearance pluses, and sometimes a new package defines the process used to make the product.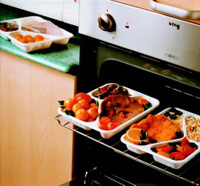 Flexible smoothie package has new shape
In one such new package, all three elements are included: Tetra Pak, Inc., 333 W. Wacker Dr., Chicago, Il 60606 (phone 312-553-9200, fax 312-553-5151) has introduced the Prisma Aseptic 330 Square, targeted at adult single-service beverages. The package is an octagonal shape, made from a metallized material that permits the use of high-quality photographic roto printing. It has an easy-open pull-tab opener with an oversize surrounding patch.
A demonstration package of Advantage/10™ was filled with a strawberry banana smoothie product, recommended by Dean Ornish, and carried a Vegetarian designation. The package can be made with or without an enclosed straw. It's lighter weight than most rigid packages, and line running costs are said to be less expensive than running costs for PET bottles, and about the same as for metal cans.
Cracker packer likes new canister
A rectangular-shaped, paper-bottom canister passed one-on-one consumer testing to win approval for use by Austin Quality Foods, Cary, N.C., for its bite-sized Cheddar-cheese crackers called Dolphins & Friends. The sea critters needed a package that would differentiate them from other sea critter–style crackers, a category with lots of competition. The canister is resealable, easy to open and close, and strong, preventing crushing. The canister, called Linearpak®, is rectangular with bowed sides, offers a high-profile, convolute label, and has a Safetop® tabbed membrane opening system. The canister is provided by Sonoco, North Second St., Hartsville, SC 29550 (phone 803-748-1190, Web Site, www.sonoco.com).
High-tech plastic trays keep kosher food fresh
Modified-atmosphere packaging of fresh kosher meals gives the products 21 days of shelf life in trays made from CPET polyester. The trays are made at MCP Performance Plastics, located on Kibbutz Ha'maapil in Israel, and meals are produced at C.I.P. Mevo Horon, one of Israel's biggest producer of kosher meals for export.
The meals are produced primarily for large tour groups that travel abroad. The groups guarantee kosher meals three times a day, and their use is expected to expand to meals produced for both kosher diners in Israel and Israeli citizens who travel abroad. The tray materials are made by Eastman Chemical Co., Kingsport, TN 37662 (phone 423-229-3078, fax 423-229-1008).
PATENTS
Patents about food packaging that may be of interest to members are described here. The patents can be downloaded at no charge at www.uspto.gov.
Foamable copolyesters prepared from divalent metal containing co-ionomers, U.S. patent 5,922,829, filed 9/16/1998, issued 7/13/1999 to K.C. Khemani, assigned to Eastman Chemical Co. Describes high-molecular-weight copolyester compositions having high melt viscosity and melt strength which render them foamable with a wide range of foaming agents.
Sustained release, transparent biocidal compositions, U.S. patent 5,922,776, filed 6/4/1996, issued 7/131999 to S.T. Wellinghoff et. al., assigned to Bernard Technologies, Inc. Describes a composition for retarding bacterial, fungal, and viral contamination and mold growth. It can be formed into a particle size of not more than 1,000 angstroms and included in a polymer for forming a food packaging material.
Plastic material for packaging. U.S. patent 5,919,863, filed 12/24/1996, issued 7/6/1999 to H. Seppanen, assigned to Borealis A/S. Describes a peelable seal for heat-sealed food packages. The patent describes the polymer composition and a method for making the composition and films, sheets, and lamination and coating products. The seal can be used on packages of dairy products (cheeses, fats, yogurt), frozen food products, ready-processed food, canned food, meat and meat products, and snack and sweet packages. The novel polymer composition is sealable and peelable at a very wide temperature area. It can be used with conventional cup or tray materials, such as polystyrene, polypropylene, polyethylene, and polyethylene terephthalate, as well as paperboard coated with plastic.
---
Products & Literature
BULK BAG DISCHARGER can unload powders, pellets, or dry ingredients from bulk bags weighing up to 4,000 lb. The products can be discharged into rotary screw feeders, pneumatic weighing systems, elevators, augers or batch hoppers. The electronic weighing systems are extremely accurate, permitting formulations to occur at the deweighing site. The hoist and trolley unit includes a 2-ton hoist with a powdered trolley. Information about the bulk bag discharger, Taylor Model DW1000 is available from Taylor Products, Inc., 1492 22000 Rd., Parsons, KS 67357-8460, phone 316-421-5550, fax 316-421-5531, website, www.taylorproducts.com —or circle 360.
IN-LINE CAPPER has consistent torque derived from spring-loaded tightening discs that provide more contact time with the cap during the tightening process. Tightening disc clutches minimize torque variances while extending disc life and reducing scuffing of the cap. The options designed into the VersaCap III product line include a snap cap pressing mechanism that allows the capper to be used on screw caps or snap caps. The unit can meet USDA requirements with the addition of plates above the capping area to avoid product contamination. Special construction for corrosive environments is available. Information about the versatile unit is offered by MRM/ Elgin Corp., 902 Parkway Drive, Menominee, WI 54751, phone 715-235-5582, fax 715-235-0512, Website www.mrelgin.com —or circle 361.
by FRAN KATZ
Editor