A food-irradiation plant being constructed in Sioux City, Iowa, will be able to pasteurize up to 400 million lb of ground beef per year, as well as chicken, fish, processed foods, and packaged meats. The plant, being built by Titan Corp., headquartered in San Diego, Calif., will use electron-beam (E-beam) irradiation rather than gamma irradiation.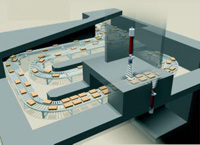 According to Eric Demarco, Titan's Executive Vice President of Finance and Chief Financial Officer (phone 619-552-9500), the plant is expected to be completed and in operation by the end of November 1999, just about the time when irradiation processing of meat is expected to be approved by the U.S. Dept. of Agriculture.
Titan developed its E-beam irradiation system as an outgrowth of its work on the Strategic Defense Initiative ("Star Wars") for the U.S. Dept. of Defense in the 1980s. In 1993, the company began selling E-beam systems, and it now has approximately a dozen systems installed to sterilize medical products such as catheters and heart valves, perform scientific research, etc. Titan also has two contract service systems installed in its own facilities in San Diego and Denver.
The Surebeam® system, shown in the accompanying figure, provides 1.5 kGy of radiation, which effectively eliminates Escherichia coli, Listeria, Campylobacter, and other pathogens. It consists of an electron accelerator, material handling conveyor system, and a computerized information, control, and validation system. The process takes less than 30 sec, and product temperature rise is less than 1ºF.
The use of E-beam irradiation has been tested successfully since about 1950, DeMarco said. It uses commercial electricity, whereas gamma irradiation uses radioactive cobalt, which leads to stigma issues. He doesn't consider gamma irradiation a competitor, he said, since many food companies would never consider using radioactive cobalt because of the public reaction. The E-beam system can go right into a production line to produce an effectively pathogen-free product.
Titan has patents on the process—71 independent claims patented and 145 pending. He predicts that in the near future, all ground beef will be sold pasteurized, just as almost all milk and juices are pasteurized. E-beam pasteurization doesn't change the taste or texture, he said, and hamburger can be pasteurized for a penny a quarter pound.
The company has established an alliance in which food companies can use the new facility to test use of E-beam processing on their products at nominal cost. So far, Titan has signed up a handful of meat processing companies in the alliance, including Iowa Beef Processors (IBP), Cargill, and others, which together manufacture more than 75% of the ground beef in the U.S. Members of the alliance can also use the facility to process commercial quantities of their products.
Emmpak Foods, Inc., a meat processing company based in Milwaukee, Wis., is one of the companies that has joined the alliance to test E-beam processing of packaged ground beef and other processed meat products. Tom Rourke, Vice President of Research and Development at Emmpak Foods (phone 414-645-6500) said that to date, none of his customers has expressed an interest in an irradiated product, but he wants to be ready when they do. Rourke describes the alliance as a nice steppingstone between a meat company's doing absolutely nothing and putting in its own E-beam facility. The Titan facility, he said, is specially designed for refrigerated foods, particularly meat products.
Emmpak has been doing E-beam pilot tests for several years, basically on meats. The company is now starting to test presliced, precooked, vacuum-packed meats to control Listeria monocytogenes.
Rourke said that as long as the absorbed doses are the same, the result is the same for E-beam irradiation and gamma irradiation. But he feels that E-beam irradiation has several advantages over gamma irradiation: (1) it's instantaneous, whereas gamma irradiation requires longer exposure to the gamma source; (2) it may receive approval for labeling products as "electronically pasteurized"; and (3) it may have more consumer acceptance—it doesn't have the NIMBY ("not in my back yard") stigma that gamma irradiation may have if a facility is to be built in a neighborhood. Once you turn off the electricity, it's off, he said; there is no radioactive source involved.
Additional information about Titan Corp. can be found on its Web site at www.titan.com.
First Ozone Treatment of Poultry Processing Water for Direct-Contact Reuse
Installation of an ozone-based water-reuse system is expected to be completed and in operation at a major poultry processor in Georgia this month. The Cascade™ system is the result of an alliance between Praxair, Inc., Danbury Conn., and Zentox Corp., Poquoson, Va. Praxair will provide the ozone generators and oxygen supply for the system, and Zentox will provide the engineering and on-site management.
The system is said to have the potential to save the poultry processing industry more than 15 billion gallons of water and $70 million each year. It is being applied first in the poultry processing industry because recent regulations designed to improve the safety of the United States food supply have caused poultry processors to substantially increase their consumption of water, according to Debra Olson, Praxair's Food & Beverage Marketing Communications Manager (phone 630-320-4128). The industry is now spending more than $300 million for clean water. By cleaning and reusing tens of millions of gallons per year for the average processor, the system can help lower water bills, increase production, and reduce costs associated with wastewater treatment.
The general arrangement of processing steps, or stations, in a poultry slaughtering plant are receiving, killing, bleeding, scalding, defeathering, whole bird washing, evisceration, final bird washing, chilling, cut-up and deboning, pack-out, and clean-up and sanitation.
According to Steve Moore, Praxair's Commercial Development Manager (phone 630-320-4185), the wastewater is collected from bird washing stations and the final rinse area using proprietary collection devices. After transfer to the Cascade system, it is treated with oxygen and goes through dissolved air floatation before being sent through two filtration stages, a settling stage, and a final ozone treatment stage, as shown in the accompanying figure. The system removes fecal material and contaminants, cleaning up the water so that it is bacteria free and suitable for reuse in direct food contact. The system can be adapted to different plants with different water sources and processing line setups.
The water fed to the Cascade system is taken from the wash cabinets rather than from the chillers, Moore said, because they use more water—250 gal/min, compared to 70 gal/min for the chillers—and the water contains less biological material such as fats, oils, grease, blood, and other organic material. The company decided to treat the larger, cleaner stream of water from the final rinse cabinets because that would be the most economical approach in terms of the cost to treat and the volume returned.
The water is approved for reuse in many direct-contact applications: scalder, upstream evisceration, chiller makeup, transfer lines, equipment wash lines, and/or first-wash plant sanitation. It can also be used in many non-product-contact points, such as defeathering screen wash, vacuum pump seal and cooling water, evaporative condenser water makeup, refrigerator compressor cooling, vehicle wash, irrigation, and live-pen holding area wash.
The difference between recycling and reuse of water is important, Olson said. Recycling is taking wastewater from one location, cleaning it, and putting it back in the same location. Reuse is taking wastewater from a number of different areas, cleaning it, and having the option of using it in any of the areas. Reuse is therefore a more versatile approach. It also involves a much larger volume of water.
Some poultry plants have restrictions on the amount of water they may draw per day from the local water supply, Moore said. This puts pressure on their physical ability to produce. Being able to reuse large volumes of water (250 gal/min x 60 min/hr x 16 hr/day = 240,000 gal/day) can allow plants to increase production—perhaps even add a shift—or avoid having to install or upgrade their wastewater treatment facilities.
Although several companies have installed ozone systems in poultry plants, the installation in the poultry processing plant in Georgia represents the first commercial-scale water-reuse system used for direct product contact. Ozone treatment of various fruits, vegetables and other food products is also currently being tested by Praxair (see the December 1998 Processing column).
PATENTS
Fried snack pieces and process for preparing. U.S. patent 5,922,386, filed 11/3/1997, issued 7/13/1999 to J.D. Reed et al., assigned to the Procter & Gamble Co. Describes a process for preparing reduced-fat snack products having a light, crispy, crunchy texture. A dough is formed from a starch-based flour, hydrolyzed starch, a fatty acid polyglycerol ester emulsifier, water, and fat and is formed into sheets from which snack pieces are cut. The snack pieces are fried to provide a snack having 20–38% fat.
Process for preparing low density soluble coffee products having increased particle strength and rapid hot water solubility. U.S. patent 5,922,385, filed 9/18/1997, issued 7/13/1999 to G.K. Stipp et al., assigned to the Procter & Gamble Co. Describes a process for making soluble coffee products having a chunkier physical appearance more like that of granular roast and ground coffee products, lower apparent bulk density than agglomerated spray-dried instant coffee products, and better solubility than freeze-dried instant coffee products when added directly to hot water. The products are made by forming a relatively thin glassy coffee strip or sheet from a thermoplastic melt of soluble coffee solids, water, coffee aroma and flavor volatiles, and optional solubility-enhancing components, then gradually applying vacuum conditions while heating the glassy strip or sheet over several cycles so that it expands to provide a porous open-celled coffee matrix. The matrix is then dried and granulated to provide a soluble coffee product that can be easily measured out by consumers to provide differing brew strengths.
Process of modifying texture of food products. U.S. patent 5,922,388, filed 8/19/1998, issued 7/13/1999 to R.E. Garwood et al., assigned to Nestec S.A. Describes a process for controlling the softness of a food product which tends to lose water and become progressively harder during storage. The process involves adding an immobilized edible plasticizer to the food product. The edible plasticizer is immobilized by encapsulation in an edible lipid or protein. The plasticizer is gradually released during storage of the food product to compensate for water loss.
Method of making dried extruded gnocchi. U.S. patent 5,922,387, filed 10/25/1996, issued 7/13/1999 to M. Parada et al., assigned to Lipton. Describes the preparation of a partially cooked, rapidly rehydratable dried food product resembling traditional gnocchi. Flour, potato flakes, and water are blended to form a homogenous paste which is then extruded into gnocchi shape and dried in two stages to a final moisture content of 5–13%. The gnocchi is storage stable, exhibits rapid cook-up and hydrostability, and has a flavor, odor, and texture similar to traditionally prepared potato gnocchi.
Preparation of filled pastas. U.S. patent 5,922,381, filed 9/2/1997, issued 7/13/1999 to R. Bajracharya et al., assigned to Nestec S.A. Describes a process for the production of a precooked, high-moisture, shelf-stable or refrigerated acidified filled pasta such as ravioli, tortellini, etc. Pasta ingredients are mixed to form a dough, which is then sheeted to form a skin and filled with a filling. The filled pasta is then cooked in acidified water to a pH of at least 4.6, a moisture content of 45–65%, and a water activity of 0.94–0.995. It is then packaged either with heat processing or under modified atmosphere.The filled pasta requires warming such as by cooking in boiling water or microwaving.
---
Products & Literature

CONTINUOUS TRAY DRYER,
the 12-ft-diameter Turbo-Dryer®, can dry a fine powder with less than 0.1 micron average particle size to less than 0.2% moisture. The dryer consists of a stack of 12 rotating circular trays in a sealed enclosure. Material is fed onto the top tray, leveled, and after one revolution is wiped onto the next lower tray, where the operation is repeated. Fans circulate heated air in the enclosure as the drying medium. An internal electrical heating system provides the heat to remove the residual moisture. A small purge of dry air or nitrogen is used to remove the water vapor from the system. For more information,contact Wyssmont Co., Inc., 1470 Bergen Blvd., Fort Lee, NJ 07024 (phone 201-947-4600, fax 201-947-0324)–
or circle 368.
CIRCULAR FLUID BED DRYERS for drying, moisturizing, and cooling of powder and bulk solid materials are detailed in a 6-p brochure. The circular configuration is said to increase operating efficiency, cut cleaning time, and reduce cost compared to traditional rectangular designs. The brochure describes eight models ranging in diameter from 18 to 84 in, along with a capacity range chart and list of standard and optional equipment. Also described is a self-contained, mobile fluid bed processing system, with material storage bin, fluid bed processor, heater, blower, and controls on a caster-mounted frame. For a copy of Bulletin FBD-99, contact Kason Corp., 67-71 E. Willow St., Millburn, NJ 07041 (phone 973-467-8140, fax 973-258-9533, www.kason.com) –or circle 369.
LOW-FAT STRIPPING SYSTEM enables processors to control the final fat content of potato chips, French fries, and other fried foods. It can also be used with the fat-free cooking oil olestra. Mounted at the discharge end of an existing fryer, the stripper uses a heated atmosphere instead of solvents to remove fat from product surfaces. The unit reduces the fat content of finished potato chips to as low as 18%. Units range from batch strippers for pilot plant or product development use to continuous production units capable of handling potato chips at up to 5,000 lb/hr. For more information, contact Heat and Control, Inc., 21121 Cabot Blvd., Hayward, CA 94545 (phone 510-259-0500, fax 510-259-0600)–or circle 370.
INFRARED OPTICAL INSPECTION of skin-on potato products, including French fries, dices, wedges, and whole potatoes, as well as dehydrated potato products, uses newly patented technology to identify and remove defective pieces whether or not the defect is covered by skin. Using specially developed cameras and lighting, the special sorting systems can differentiate between defects and peel. This allows processors to substantially improve the quality and yield of their products by detecting defects wither before the potato is peeled or during the processing of skin-on potato products. For more information, contact SRC Vision®, P.O. Box 1666, Medford, OR 97504 (phone 541-776-9800)—or circle 371.
TWIN-SCREW EXTRUDER, the Evolum HT 53, features increased torque and screw speed, providing 2–4 times the throughput of similarly sized twin-screw extruders while achieving equal or better product quality. The machine, with a 53-mm screw diameter, can pump product at 200–2,000 kg/hr. The total barrel length can range from 3 to 12 modules, with length:diameter ratios of 12–48. For more information, contact Clextral Inc., 14450 Carlson Cl., Tampa, FL 33626 (phone 813-854-4434)—or circle 372.
FRENCH FRY INSPECTION is accomplished by the French Fry 3.1 module, a combination of French Fry KeyWare® software and Tegra® optical inspection systems. The combination provides real-time product quality data, historical trend analysis, and a network communications capability and accurately removes defects from the product stream. The data can be used to alert operators about changes in product quality so that early corrective actions can be taken. The system monitors such product characteristics as defect category, strip length, and product flow rate, using advanced object-recognition technologyu and high color and size resolution imaging. For more information, contact Key Technology, Inc., 150 Avery St., Walla Walla, WA 99362 (phone 509-529-2161, fax 509-527-1331, www.keyww.com) —or circle 373.
VIBRATING MEMBRANE TECHNOLOGY, the PallSep™ Filtration System, is a microporous membrane–based solid–liquid separation device that can provide high-concentration retentates by delivering high shear at the membrane separation surface with minimum energy input through the effective use of mechanical oscillation. The vibrating membrane technology is an alternative to centrifuge and filter aid–based systems for such applications as recovery of wine from lees in wine processing. For more information, contact Pall Corp., 2200 Northern Blvd., East Hills, NY 11548 (phone 800-345-8766 or 516-484-5400, www.pall.com) —or circle 374.
EQUIPMENT FOR PEELING FRUITS AND VEGETABLES is described in a series of brochures: "Roller Peeling Machines" (brochure P 109 E1), "Step-by-Step Peeling Lines" (P 110 E1), "Blade Peeling Machines and Lines" (P 111 E1), "Onion Peeling Plants of the TT Production Series" (P 112 E1), "Conponents and Surroundings of Dornow Peeling Plants" (P 113 E1), and "Production Plants for French Fries and Potato Chips" (P 114 E1). The brochures describe batch and continuous peeling machines that can work without water, thus reducing wastewater. For more information, contact Dornow Food Technology GmbH, Schiess-Str. 62, D-40549, Düsseldorf, Germany (phone +49-211-527060, fax +49-211-596883, www.dornow.de) —or circle 375.
by NEIL H. MERMELSTEIN
Senior Editor