When writing about "technology push" vs "marketing pull," it is difficult to visualize an image that best typifies this relationship. The image of two people sitting at the opposite ends of a long table may be too organized or simple; on the other hand, two forces locked in struggle until the end of eternity may be too dramatic. The words "push" and "pull" bring to my mind some kind of an aerobics exercise, which, when you take into consideration the amount of perspiration involved in making a product a successful reality in the marketplace, may not be a bad image after all.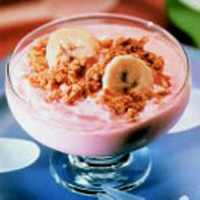 However you visualize the relationship, both sides are trying to get the most out of the basic information that they have available. The technologist has documented science to support the functionality or nutritional value of the product, and the marketer has data on what consumers perceive they need. And, of course, there are probably many different kinds of interplay between technology and marketing, and the old debate—which comes first, the chicken or the egg?—might come readily to mind. I think the four foods we'll be looking at in this sidebar will show some of these relationships, how these relationships maximize basic information to achieve their ends, and the factors that have impact on them.
Veal. For some consumers, veal may be regarded as an indulgence food—bringing connotations of special occasions, fancy restaurants, candlelight, rich sauces, and a variety of other taste and texture sensations. Today, marketing and technology are making possible veal's "entree" into the convenience market.
Case-ready veal products, such as veal loin and veal shoulder, foreshank osso buco, veal stew meat, ground veal, and veal scaloppini, are becoming available. Case-ready veal is shipped precut and prepackaged from the packer to the retailer in vacuum or gas-flushed packaging. This process minimizes the product's contact with oxygen and can increase veal's refrigerated shelf life for up to one month while decreasing labor costs at retail. Furthermore, with the issue of food safety at the forefront these days, the packaging methods used can help assure a safer product, which, in turn, marketing can then underscore.
Over recent months, the Veal Committee of National Cattlemen's Beef Association is working with several packers to shift retail packaging of veal to case-ready. For example, case-ready veal products have been recently introduced by Strauss Veal, Franklin, Wis., for national, retail, and foodservice distribution. These products, hermetically sealed in red-and-black packages, are accompanied by a line of gourmet, ready-to-use sauces. These sauces, available in 4-oz packages, include Marsala, Tomato Bailand, and Picatta. Both veal products and sauces come with cooking tips. Other companies reportedly making the shift to case-ready veal include Catelli Brothers, David Mosner Inc., Lido Packing, Mountain Meadow, Provimi, and Swissland Packing Co.
Another important development is the addition of veal bacon to the meat case. Veal bacon is said to have a leaner, meatier profile, containing nearly 50% fewer calories and 25% less fat than regular pork bacon. In addition to its potential health implications, the product can be marketed to consumers who want the smoky taste of bacon but choose not to eat pork. Veal bacon preparation is identical to traditional bacon, and it is served with many of the same standard dishes. However, it can add an upscale touch when wrapped around a shrimp or scallop and when used as a topping for salad and pasta. Packers producing veal bacon for retail sale include Swissland Packing Co., Askum, Ill. Also, Strauss Veal is currently developing a veal bacon product.
While veal currently has a small percentage of the market, such developments may have a potential impact. However, until we find out the extent of that impact, it is interesting to note the number of ways that technology and marketing can interplay, including emphasis on health, convenience, food safety, food indulgence, packaging methods, improvements in the quality of veal, cost effectiveness, and the list goes on. Put all these pieces together and it may spell out a successful niche for veal products.
--- PAGE BREAK ---
Cranberries. In recent months, at least three factors have had influence on the cranberry industry: (1) Production has been at an all-time high—North American growers have been harvesting a reported 7 million barrels of cranberries per year for the past two years. (2) Because of these record surpluses, prices of cranberries have fallen, with some unfortunate economic consequences. (3) Partly because of successful marketing campaigns, especially those focusing on the health benefits of cranberries, competition between cranberry producers has become fierce. All of this means that there is a greater push to incorporate the cranberry into as many products as possible. And, if my guess is correct, there is a greater pressure on technologists and marketers to achieve this.
Ocean Spray Cranberries, Inc., Lakeville, Mass., has been promoting its North American cranberries to the European market as ingredients for use pastry products. Also, the company has launched in the United Kingdom a chilled "smoothy" fruit drink in cranberry and cranberry-and-raspberry flavors as well as a cranberry jam and cranberry marmalade. At the 1999 IFT Annual Meeting, Ocean Spray Ingredient Technology Group highlighted several of its cranberry ingredients, including sweetened dried cranberries, naturally flavored fruit pieces, and fruit powders.
Northland Cranberries, Inc., Wisconsin Rapids, Wis., launched a line of four cranberry juice drinks—cranberry juice cocktail, cranberry apple, cranberry grape, and cranberry raspberry—at the 1999 FMI trade show. The drinks, which consist of 27% juice blended with other products, are fortified with calcium in the hopes of capturing consumers who drink calcium-fortified orange juice and other such products. In 1997, Northland had launched a line of 100% juice products. In 1998, Ocean Spray introduced a 100% juice line under the name of Wellfleet Farms. Based on past history, one can expect that there will be other developments to come.
Another quickly developing market for cranberries may be the nutraceutical one. Research has shown the health benefits of cranberries, which contain high levels of vitamin C and fiber and are associated with reduced risks of urinary tract infections. Cranberries contain anthocyanin, which is an antioxidant and appears to treat urinary tract infections, and phytochemicals which may contribute to anticarcinogenic effects. Health food manufacturers are developing cranberry capsules that contain fresh, whole dried cranberry concentrate to support a healthy urinary tract function.
A purifed extract from cranberry juice reportedly having high antioxidant and antimicrobial activities has been developed by ShanStar Biotech, Inc., Chadwick Bay, N.Y. Produced by a process which removes nearly all sugars and acids, the extract is said to have a high content of polyphenols. It may be used in beverages, power bars, cereals, nutritional supplements, and other products. (See the July 1999 issue of Food Technology for more information.)
As one can see, there has been quite a bit of action for one little berry. And one can assume that this may be only the beginning, especially when taking into consideration the emerging nutraceutical market.
Eggs. In the past, concerns over health prompted a market for an enhanced egg. We have seen whole shell eggs having less cholesterol, increased vitamin E, and more omega-3 fatty acids. Making these products possible were a number of technological developments, such as special feed programs and patented processes for removing cholesterol from the yolk. (See the March 1999 issue of Food Technology, pp. 60–64, for more information.)
Recent research, however, may have an impact on some of the future technological and marketing developments of the egg. In particular, an epidemiological study conducted by researchers at Harvard School of Public Health found that "an egg per day is unlikely to have substantial overall impact on the risk of coronary heart disease or stroke among healthy women." Reported to be the largest and most prestigious epidemiological study conducted to date, it examined the association between egg consumption and CHD among approximately 120,000 adult men and women.
--- PAGE BREAK ---
Results of the study may help influence the development of future products using egg as a nutritional and functional ingredient. For example, eggs may be increasingly positioned as an alternative to a variety of egg-replacing ingredients that have been used in recent years.
As in the case of cranberries, eggs may also find a role in the nutraceutical market. For example, eggs contain (1) carotenoids, such as lutein and zeaxanthin, which have been shown to decrease the risk of age-related macular degeneration a leading cause of blindness; (2) lecithin, a source of choline, which can help in brain development and may aid memory; (3) vitamin D, essential to bone health; and (4) folate, which, like vitamin D, plays an important role in the absorption of calcium and phosphorus. Recently, technology made possible the introduction of an egg powder called Egcel™ ACF which can significantly support the human immune system against a variety of diseases. The product, developed by DCV Inc., Wilmington, Del., is blended with 63 vitamins, minerals, and amino acids.
Yogurt. People who are vegetarian, Jewish, or Muslim may have dietary rules that prevent them from eating products that are made with gelatin. Consequently, there is a marketing need to create a yogurt formulated with a gelatin-replacing ingredient which can then allow manufacturers to expand their consumer base to include these people. A gelatin-replacing starch called Struct-Sure™ has been developed by National Starch and Chemical Co. to stabilize regular, low-fat, no-fat, and light yogurts. Texture profiles with this starch are said to be similar to those associated with gelatin and modified food starch in combination.
Yogurt and other dairy products may be made with colostrum-derived components which can provide various health benefits. Marketed under the name Proventra™ by GalaGen Inc., the ingredient was developed in response to research which has shown that concentrated forms of colostrum are able to block the effects of harmful pathogens and aid in the maintenance of a healthy gastrointestinal tract. Using such ingredients to fight pathogens and help the GI tract are gaining increasing marketing attention and will prompt future product developments. In Sweden, a yogurt called R-Light was recently launched which contains healthy Lactobacillus reuteri bacteria which have a positive effect on the body's immune system, are effective against harmful bacteria and certain viruses, and have been shown to reduce the risk of diarrhea. The yogurt products were developed by the Finnish company Ingman Foods Oy AB in cooperation with BioGaia Biologics AB.
A new light yogurt product has been recently unveiled by the Dannon Co., Tarrytown, N.Y. Called Dannon Light, the product is said to improved and is available in 17 flavors.
In 1997, the U.S. Dept. of Agriculture approved yogurt as a replacement option for meat in the National School Lunch Program. Consequently, yogurt processors will be pursuing this new market, which means that they will be looking for ingredients to achieve desired physical and sensory attributes, provide novel flavors and flavor combinations, and possibly add nutraceutical benefits.
by DONALD E. PSZCZOLA,
ASSOCIATE EDITOR