Today, Americans have a great interest in and a keen understanding of food. They read recipes like novels, are more interested in the "Food Channel" than soap operas, and complain bitterly when they can't find the latest trendy product or pill. Indulged by restaurant takeout and over-the-top tastes, today's "virtual cooks" favor flavor, fast-forward service, and fun!
Americans will continue to try to simplify their lives. Frazzled by fusion and overwhelmed by product options, time pressures, and chores, they will demand a simpler, well-seasoned, sensible approach to food. Watch for signature ingredients, simpler meals, and samplers to proliferate. Tired of the hassle, consumers will demand simplicity in selecting and obtaining everyday fare. On-line shopping and couponing, "street food," and "round-the-clock" foodservice will be important to meet America's new penchant for late-night snacks, revamped dining patterns, and "on-the-go" demands.
Despite the growing number of techno-optimists, concerns over food safety, environmental contamination, and country of origin will make "natural" the norm. "Fresh" will be forced to get "fresher," while vegetarian, organic, and locally grown foods will abound. Chefs—now trained in sustainable agricultural techniques as well as the culinary sciences—will embrace heirloom vegetables, lesser-known varieties, seasonally available foods, literally "living foods," and more. As the basis for classic culinary training shifts from France to the Far East, watch as exotic varieties of seasonings, sauces, and snacks provide snappy substitutes for everyday fare.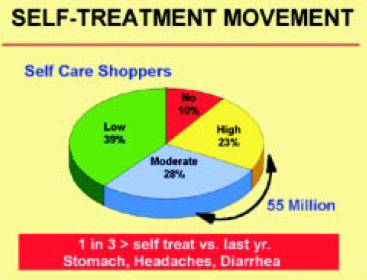 During the past few years, we've seen a redefinition of nutrition. Our struggle to look great and feel good has shifted nutrition from healthy eating to problem treating. Nutrition is now perceived as a tool for disease prevention and the self-treatment of specific health conditions. The Food Marketing Institute (FMI, 1998a) estimates the supermarket "self care" movement to be 55 million shoppers strong. One-third of shoppers are more likely to self-treat than last year (Fig. 1). Nutraceuticals—the fastest-growing segment of today's food industry, with annual sales of $92 billion—are perfectly positioned to capture these shifting mainstream attitudes toward health and well-being.
Clearly, the shift to "very" healthy foods reinforces the innate desire of consumers to indulge. Indulgence is back, but in milder form. Today, some consumers wixll opt to give up a few grams of fat for taste, while others will eat cheesecake today and enjoy Slim-Fast™ tomorrow and others, burned out by the "battle of the bulge," will go hog wild. It's a marketer's dream!
Whether for fuel or fun, consumers want easy, entertaining, and enjoyable fare. With that in mind, this article will discuss the top ten trends believed essential to meeting developing millennium demands. While not in order of importance, they should stimulate thinking and guide marketers in the millennium ahead.
Trend 1: The Americanization of Flavor
If there are two words that will characterize the next few food years, they are flavored and familiar. Over the past decade, several factors have contributed to the development of a flavor-demanding American palate. Some of these factors are demographic, like the growing ethnic minority and the aging population, while others are the result of changes in eating patterns, such as increased restaurant exposure, a preference for lower-fat foods, and semi-meatless eating. In addition to flavor intensity, mainstream tastes continue to diversify, with more than half of all Americans now regularly enjoying Mexican and Chinese cuisines (Roper Starch Worldwide, 1998a). In fact, renewed consumer passion for a "flavor adventure" has been credited with last year's rise in new food product trials, up 9 points since 1995, a considerable change from the 13-point slump experienced from 1987 to 1995 (Parade Magazine Survey, 1998).
--- PAGE BREAK ---
• Different, But Not too Different. It appears that creative restaurateurs and food marketers may have gone too far, too fast. Haphazard mixing of ingredients, ethnic flavorings, and cuisines produced some spectacular menu bombs. Not surprisingly, fusion cooking is fading, with chefs bypassing culinary complexities and contrasts for simpler and more sensitive Americanized fare. America's "armchair" travelers—in contrast to the few jetsetters—want their food to taste familiar, different but not too different, with only a hint of foreign intrigue. Watch for the continued widespread acceptance of a simpler version of ethnic fusion, as chefs and food marketers focus on cuisine that highlights only one signature spice, vegetable, or other exotic ingredient to grab trendy, but true mainstream attention (Yee, 1999a).
Despite growing consumer affinity for spices and ethnic flavors, "plain American" is the cuisine that three out of four say they enjoy most, up 8 points since 1995 (Roper Starch Worldwide, 1998a). Although three-quarters of consumers expect to see home-style foods on menus today, one-third now search for those with a "twist" (Market Facts, 1998). While the last highly lucrative generation of comfort foods—mashed potatoes, meat loaf, and macaroni and cheese—focused on foods cooked by traditional appliances of the 1950s and '60s, the up-and-coming wave will be driven by flavor-driven techniques highlighting "true" barbecue, wood-smoked, and slow-roasted foods (Sloan, 1999a).
• Passport Passion. Despite a more Americanized approach to foreign flavors, consumers are more adventuresome than ever, with 30% "always looking for new and unusual flavors" (Roper Starch Worldwide, 1998a). Ethnic food is expected to account for one of every seven food dollars in the decade ahead, increasing by $25 billion, or about 50%. With three-quarters of ethnic foods being purchased by mainstream consumers, it will be essential for marketers to highlight mildly familiar foreign flavors and forms to ensure widespread trial and meet product taste expectations (Promar International, 1999).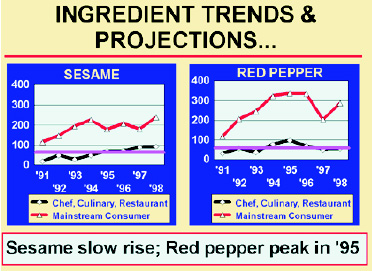 The impending shift of the technical basis for American chefs and culinarians from Classical French techniques to those of the Pacific Rim will undoubtedly have the greatest impact on the American palate (Sloan, 1999b). Sesame, soy, teriyaki, tamarind, cilantro, and ginger are already enjoying mainstream interest and use (Fig. 2). Watch as tempura-style vegetables and satay (skewered chicken) rise on appetizer charts and as heat-seeking wasabi, coconut milk, aged miso, fish sauces, rice paper, and won ton wrappers gain in popularity. Asian recipes in newspapers and magazines have increased 85% in the past five years (Smithson, 1999). It won't be long before Far Eastern varieties of basil, mint, coriander, shallots, bok choy, exotic mushrooms, water spinach, long beans, and other Asian vegetables become likely substitutes for the onions, tomato, and lettuce that defines American fare. Thai dipping sauces, Asian chili paste, Indonesian sambals, and Indian chutneys will provide our Heartland with new—yet somewhat familiar—options for traditional sauces and spreads. Even the characteristic spices of India—cumin, turmeric, fenugreek, and mustard seed—but not necessarily the cuisine, will soon sit on America's shelves (Yee, 1999a).
Watch for our Latin neighbors to the South—Cuba, Argentina, and Brazil—to add a much needed twist to the "hot 'n spicy" movement with cumin, tropical chiles, saffron, smoked paprika, fiery peppers, and even more cilantro. Today, almost half of all noncommercial foodservice operators consider Nuevo Latino—a mixture of Mexican and Latin American—to be the greatest influence on menu development (Penton Food Service Media, 1998). As Rodizio's—South American steak houses serving skewered meat and seafood—capture America's "meat and potato" fans, watch for the U.S. taste for classic Argentinean barbecue sauces to soar (Sloan, 1999a).
The mainstreaming of Caribbean cuisine will be applauded for its contribution of high-heat grilling and addition of new subtle flavors to the growing trend to "sweetness." Expect mango, papaya, pineapple, coconut, and lime flavors to stay strong and fruit salsas and citrus-based marinades to proliferate. Look for the "Island's" sweet and spicy grilling sauces, rubs, and searing marinades to get "backyard" attention as sugar cane, syrups, molasses, maple sugar, and other "brown" flavors add distinctive flavor for America's hot and tangy taste buds.
--- PAGE BREAK ---
• New Flavor and Cuisine Descriptors. As the influence of foreign and regional cuisine matures, Americans will require a more sophisticated and specific set of flavor descriptors to talk about their food. For example, terms like zesty, roasted, and spicy are already passé. How will we describe the trend to sweet 'n spicy, caramelized sugar flavors, or the soothing, subtle sensations of mint, citrus, and dill? While hot will continue to remain a viable term, expect the nature of hot to shift away from red-hot peppers and jalapeño, now becoming less important, and move toward specific hot "stuff" like habañero and guajillo peppers (Fig. 2).
While the terms barbecue and grilling convey dramatically different taste sensations and techniques, they also need new descriptors. Watch as the terms sauté, marinade, marinated, and smoked continue to define flavors and textures. Rotisserie has lost appeal, while mesquite has failed to conquer the mass market (Sloan Trends & Solutions, 1999). At the same time, dry rubbing, cooking in parchment or foil, or crushing and pressing herbs, spices, and seeds will open a lexicon of culinary terms and appliances alike.
Identifying the most-attractive cuisine descriptors will also be a new challenge. Today, Asian is the preferred term over Oriental, and Southwestern is a more popular term than the fast-fading Santa Fe. Interest in the Caribbean will define tropical. Cuban will connect best to Latin cuisine, but Havana may be the real surprise! And interest in Mediterranean—now on a par with interest in Southwestern—may finally allow Tuscany and other sub-European cuisines to gain widespread appeal.
Speaking of tradition, kosher foods, with overall sales of $43.1 billion in 1999, are expected to grow to $58.9 billion by 2002. With current concerns about purity and quality, this often unnoticed but extremely strong market segment will play an even more integral role in the food world of tomorrow (Packaged Facts, 1998a).
• Burned Out? Loving Lighter Flavors. The influence of Pan Asian cooking will introduce a softer flavor movement to complement the bold and burning trends of prior years. The popularity of Vietnamese and Singaporean fare among trendsetting chefs will help fuel our demand for new and lighter fare. Today, basil, dill, parsley, coriander, ginger, and rosemary are quickly moving mainstream. Maple, lemon, lime, honey, mango, balsamic vinegar, and red wine are keeping pace (Sloan Trends & Solutions, 1999).
Applying a lighter touch to food flavors has long been one of the basic principles of California's cuisines (Yee, 1999b). Watch for simple broths, vinaigrettes, and infused oils to enjoy widespread appeal. Both Kraft and Lipton believe that vinaigrette will be the Italian of the new millennium, both with major entries into the $1.34-billion pourable salad dressing category (Pollack, 1998). Expect greater use of citrus and fruit bases, reduction techniques such as roasting vine-ripe tomatoes and then reducing the juice, and new forms of pasta, rice, and noodles that contribute mild tastes and absorb flavors. Look for the addition of cleansing spices—such as mint or lemon—as a taste trailer to provide a light, bright finish to almost any meal.
Trend 2: Super Simple
Consumers are on a mission to simplify their lives. In fact, eight out of ten professionals admit that simplicity is a major goal (Yankelovich Partners, 1998a). With stress levels expected to increase 7% for adults overall and 33% for those 50–64 by 2005, we can anticipate pleasure-seeking and time-crunched meal preparers to eliminate unpleasant chores (Gallup,1998a). Americans will strive to spend even more time at home, and eating will be no exception (Find/SVP, 1998).
--- PAGE BREAK ---
Clearly, consumers are choosing to make cooking—in any form—a low-priority chore. Scratch and ingredient cooking declined for the seventh year in a row (NPD Group, 1998). Only half of home-prepared dinners now contain an item made from scratch, down from 65% in 1985 (Gallup, 1998b). Despite explosive sales, cookbook usage has fallen, as collectors turn out to be "armchair" cooks. Weekend recreational cooking has declined, and half of women confess to knowing less about cooking than their mothers and grandmothers (AMI, 1999).
• Simplifying Supper. Although 40% of Americans eat out on any given day, 672 meals per person were prepared and consumed at home in 1998, down only slightly from 700 meals in 1984 (NPD Group, 1998). While the definition of cooking is clearly in the "eye of the beholder," 30% say they cook dinner three or four nights a week, 25% once or twice per week, and 15% never cook (AMI, 1999).
Consumers are reducing the number of side dishes—frequently cooking only a main dish—and often increasing the amount of food prepared. Sixty-four percent of dinners still include one side dish, while only one-third contain two or more (FMI, 1997a). In fact, the trend to one-dish meals is so strong that Bon Appetit named casseroles as one of its "Top Ten Trends for 1999." "Big-bowl meals" are the latest highly flavorful manifestation of the one-dish trend and will ensure the success of products like Con Agra's Healthy Choice Bowl Creations™ and Uncle Ben's Rice Bowls™ long term (Sloan, 1999c). Last, to ensure leftovers, meal preparers are intentionally cooking larger "batches." Today, 11% of all meals include at least one leftover (NPD Group, 1998).
Today, less is more. Five or fewer ingredients seems to be the magic number to entice consumers to try a recipe for a weekday meal: 23% say three (Yankelovich, 1998b). Since nearly 70% of meal preparers said they'd like to get out of their "cooking rut" and 58% have a repertoire of only eight recipes, memory-driven "lessipes" may well be the key to guiding everyday meals. Since 60% of consumers don't know what's for dinner at 4 p.m., impulse meal purchases should also increase (Peebler, 1998).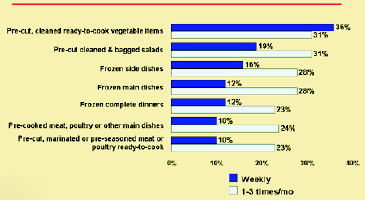 Consumers are responding to manufacturers' efforts to find simpler meal solutions. As shown in Fig. 3, value-added foods are the most popular among supermarket shoppers, with more than half of those shoppers purchasing pre-cut vegetables and salads on a monthly basis (FMI, 1999b). Sales of fresh-cut fruits and vegetables (excluding salads)—growing at 23% annually—are expected to jump from $7 billion today to $16 billion in 2003. Fresh-cut salads hit $1.5 billion in sales in 1997 (FCPA, 1999). Value-added meats captured 8% of total meat sales, $3.6 billion (Litwak, 1999). For the first time in 20 years, supermarket seafood sales also showed a significant increase, directly linked to value-added, pre-prepared items.
Consumers are clearly recognizing the value of frozen foods as "food solutions." Over the past ten years, frozen foods have gained 20% more supermarket space and now top $24 billion in consumer sales. The fastest-growing frozen categories for "dinner solutions" are frozen pizza, poultry, meat, seafood, and dinners/entrees. Frozen skillet suppers—catering to the 53% who say they're most comfortable preparing one-dish meals—may well be the last vestiges of the "home-cooked meal." Stouffer's Skillet Sensations™, Pillsbury's Green Giant's Create a Meal™ and Agrilink's Birds-Eye Voilá™ line are recording record sales. "Meal kits" represent a $1.2-billion market, enjoying a 31% annual growth rate since 1993 (Packaged Facts, 1998b). One in four consumers complain about not having ingredients on hand, so canned and frozen products will serve as "standins" in tomorrow's "emergency pantry." With more chefs relying on frozen items to prepare their fare, added-value frozen food service opportunities will explode in years to come (AFFI, 1999)!
• Simpler Shopping. While studies indicate that consumers want to participate to some degree in meal preparation and some may even want to cook from scratch, everyone seems to want the shopping experience to just go away! Two-thirds of consumers classify grocery shopping as unpleasant and rank shopping 24th out of 25 favorite household tasks. During the average 24-minute shopping trip—down 25% from five years ago—shoppers scan 917 items (Kramer and Pollack, 1998). Reynolds Kitchens (1997) reports that 40% of Generation Xers look to the meat section and recipe machines for dinner and cooking ideas. Food kiosks, such as "Kraft's Meal Center," recipe machines, and meal-driven displays—such as Pillsbury's/Giant Eagle's highly sophisticated, manned, in-store "One-Stop Dinner Shop"—will be critical merchandising tools in the years ahead. Adopting a chef mentality by cross-merchandising spices, salads, serving suggestions, and wines will add convenience and guarantee restaurant-quality results for even a store-prepared meal.
--- PAGE BREAK ---
• Easy Eating. Bistros and brasseries are back! They epitomize the way America wants to eat . . . fresh, affordable, casual, and fun (Yee, 1999c). In fact, the National Restaurant Association projects that casual and family restaurant segments will experience the greatest sales increases in the next few years (Yee, 1999d). Ease of eating will move center stage. Bone-in chicken and ribs and shelled seafood are giving way to fingers, nuggets, seared sandwich slabs, and surimi. Spectacular, but difficult to eat, restaurant presentations—like towering entrees and crispy casings—are losing favor fast. To consumers, the simpler it is to eat, the better it probably tastes!
Trend 3: Street Foods
Today's "on-the-run" society has spawned a new generation of hand-held foods—street food, a category of satiating, often hot, portable, hand-held fare that's easily sold from carts, kiosks, and convenience stores or made to "grab-and-go" from home.
Street foods exist for good reasons. Men spend an average of 81 minutes and women 64 minutes per day behind the wheel of a car. With 100 million Americans commuting to work, it's not surprising that more than 15% of all meals are eaten in the car (Larson, 1998; NPD Group, 1998). And what about our knapsack-sporting kids? More than half of those enrolled in grades K-12 are transported to school by bus (DOT, 1998). Opting for errands, only one in three workers uses the lunch hour—now down to 36 minutes—to eat (DOL, 1997). No wonder we have tablecloths for desks, bibs for the car, and console car tables for those needing a more formal driving/dining experience!
• The Drive/Buy Opportunity. Hand-held foods—growing at a rate of 7% per year—are expected to reach $2 billion in sales by 2002. Entrees such as pocket sandwiches, burritos, hamburgers, and toaster pop-ups account for about 70% of the hand-held food market. The remainder includes appetizers and snack rolls (Packaged Facts 1998c).Frozen hand-held non-breakfast items, which include Hot Pockets™ and other such products, had sales of $193 million for the 52 weeks ending January 31, 1999, up 10.5% from the previous year (IRI, 1999).
With more than one billion Lunchables™ eaten since 1998 and snack kits exploding to $1 billion plus in sales, it's no wonder that competition is heating up, literally! Recently, Frito-Lay developed Chili & Scoops™, shelf-stable microwavable chili and chips, while Patrick Cudahy rolled out fully-cooked, ready-to-eat bacon slices, rounds, and bits that can be eaten right from the package or microwaved warm to go! Imagine the diverse possibilities: Kellogg Co.'s Snack-a-Longs™ (consisting of a small bag of cereal, a Nutri-grain™ bar, juice, and a toy); J.M. Smucker's Super Snackers™ (peanut butter, jelly, crackers, Hi-C™ Fruit Snacks, and a Rice Krispies™ Treat Bar), and even a Taco Bell™ Taco Pizza.
Street foods will take on a bite-sized quality as more consumers "surf the net," spend time on cell phones, or simply watch TV (Sloan, 1998d)! Post's Snackabouts™ cereal snacks are one great example. What about utensils? Colombo Yogurt's Spoon in a Snap™ carries a spoon in its lid, while General Mills" Yoplait offers Go-Gurt™, the first yogurt in a tube.
With Gen-Xers as their largest consumers, sandwiches are destined to remain strong. More than 45 billion sandwiches are eaten every year, with four out of five consumers claiming to have eaten at least one in the past week. Almost 65% of workers eat a hand-held meal, 39% say their typical lunch is a sandwich, and 14% identify the sandwich as a hamburger (NPD Group, 1998; NRA, 1998a). Hamburgers are the third-best-selling U.S. restaurant item, after French fries and ranch dressing, and appear most frequently on American menus (Dulen and Sheridan, 1997).
--- PAGE BREAK ---
Concern for lighter fare continues to propel the popularity of grilled as well as all-vegetable sandwiches. Chicken breast, club, and turkey sandwiches, BLT's, grilled cheese, and Reuben's still top the list of America's favorite foodservice sandwiches. Wraps were the most-often added sandwich item in recent years, but breakfast sandwiches boomed and all-veggie, grilled veggies, and veggie burgers gained mass-market appeal.
The next generations of sandwiches will be complete meals or hand-held feasts which will make lunch seem like dinner. They'll feature vegetables, flavored sauces, spreads, and condiments, in addition to the protein and the starch that hold it all together. Grilled ethnic breads, signature wraps, mini-portions, specialty greens, and condiments will add contrasting textures and flavors and give America's favorites a more adventuresome flair (Yee, 1999e).
As we "grab-and-go," we're going to need more steam. Total energy bar and beverage sales are nearing $3 billion. Three-quarters of adults—142 million—report that they are "concerned about" energy/fatigue. This is about the same number that express concern about heart disease and only slightly fewer than those who worry about cancer, 81% (Sloan Trends & Solutions, 1998). Gallup estimates that the number of adults suffering from fatigue will increase by 8% overall and by 32% among those ages 50–64 by the year 2000 (Gallup, 1998a).
• The Drive/Buy Equation. Not surprisingly, creative restauranteurs are also targeting our mobile stomachs. Autobistro serves dashboard diners in Newport Beach, Calif., upscale bistro-food from three toll-booth lanes. Arby's is testing Panini, a popular grilled Italian–style sandwich. McDonalds is partnering with Chipotle Mexican Grill, a Denver-based chain focusing on providing high-quality, health-driven, more sophisticated Mexican hand-held foods. Rival Burger King has opened the world's first "flythru" at London's Gatwick heliport, so helicopter passengers can pick up their lunch. Today's open-air kiosks, newsstand-like mini-grills, and gourmet street carts are already setting the pace for the next generation of hand-held food. Hot skewered foods, meat or veggie hand-held pies, Asian salad and shrimp rolls, cups of steaming "cappuccino-like" soup, and cones filled with seafood or dim sum are just a few of the new items we'll soon grab and go (Sloan, 1999d).
Convenience stores and similar combination stores will remain the most obvious beneficiaries of the growing trend to street food. In 1997, the nation's 96,000 C-stores posted foodservice sales of $8.7 billion. At the top C-store chains, 30% of total yearly sales come from takeaway meals (Take-Out Business Magazine Survey, 1998). Chevron, which operates 5,000 gas and C-stores across the nation, has opened new prepared meal markets called Foodini's, and rival Conoco spawned Breakplace, upscale gas and C-store prototypes featuring fresh baked goods, a specialty coffee bar, a deli, and a café-like environment. Ironically, 4.7% of grocery chains, such as Albertson's Express fuel center, now offer gasoline pumping privileges (Donegan, 1999a).
• Up-Front Opportunities. Access is the name of the game and retail opportunities for the increased sales of hand-held foods will continue to proliferate. Impulse-driven checkout lanes are an ideal venue to merchandise street foods, especially with the availability of freestanding refrigerated units. Recently, Dechert-Hampe estimated it could bring supermarkets an additional $1 billion in sales and increase same-store sales as much as 24% if the checkout was managed as a separate department. Checkout stands account for more than $4.3 billion in supermarket sales, contributing 1.1% of all store sales and 1.5% of profits. Almost 46% of shoppers buy an item displayed at the checkout stand once a week or more, and 38% buy one to three times a month. Young shoppers with lower incomes and less education tend to be heavy buyers at checkout stands (Elson, 1998).
Recognizing the power of convenience and impulse, savvy retailers are developing focused in-store "snack and beverage centers" to grab the on-the-go crowd. Both Frito-Lay and Nabisco have been instrumental in developing such concepts. Marketers are also eyeing the nation's more than one million vending machines to catch today's mobile market.
--- PAGE BREAK ---
Trend 4: Living Foods
In the next few years, products carrying fresh or natural labels will attract more consumer attention than those carrying today's healthy food claims. Currently, there is no stronger competitive advantage than being fresher, or being perceived to be fresher, than a rival product. According to HealthFocus, the freshness claim is "extremely/very" important to 64% of shoppers and has topped the list of most desirable food claims since 1994 (Gilbert, 1998).
Freshness dating has become a serious issue for both shoppers and retailers and is now the third most important reason for selecting a primary supermarket—just behind "high quality fruits/vegetables" and a "clean, neat store" (FMI, 1999b). The vast majority also feels "strongly" that supermarket delis should mark "sell-by" or "use-by" dates (88%) and "prepared on" dates (73%) for freshly prepared foods and meals. Almost three-quarters disagreed that it would be confusing and said they would buy more if assured the meals were fresh (Consumer Research Network, 1998a). Rose Acre Farms, Seymour, Ind., offered the ultimate response by stamping "Laid On" dates on each of their eggs, complete with day, month, and year!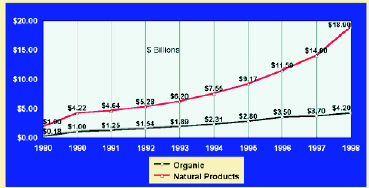 Natural food products sales remain strong across all traditional retail channels, topping $18.9 billion in 1998 (Fig.4). An additional $6.4 billion was sold through nontraditional food channels, including multi-level marketers and the Internet, for an overall total of $25.3 billion. Last year, natural products outperformed the market by 30%, natural brands out-paced mass-market brands in mainstream stores, and natural products retailer growth out-stripped conventional stores by 6% (Raterman, 1999).
Organic foods, now a $4.2-billion market across all traditional channels, are also enjoying double-digit growth (20–24% per year). The Organic Trade Association and Packaged Facts predict that sales of organic foods will increase to $6.6 billion by year-end 2000 (OTA, 1999). Dairy products, convenience foods sold in the frozen and refrigerated cases, grain snacks, and candy products (with an estimated 89% growth rate), will lead the list. With 33 million shoppers already purchasing organic foods and 40% showing great interest, no wonder General Mills has pursued Sunrise, the first mainstream organic cereal and targeted the new green mainstream!
Nearly nine out of ten shoppers who look for natural products—compared to 41% of shoppers overall—consider a "grown without pesticides" label an "extremely/ very" important reason to change brands (HealthFocus, 1998). Not surprisingly, as concern over food safety, environmental contamination, and origin continues to rise, marketers should begin to differentiate products by the quality and timeliness of processing parameters, use of sustainable agricultural techniques, and the quality of water fed to crops and livestock. With environmental concern returning to late 1980s levels and 60 million Generation Y kids—who learned about ecology in preschool—just graduating from high school, look for earth-friendly and wallet-friendly values to remain strong longer term (Phillips, 1999).
Another strong and somewhat parallel trend involves the steady rise in interest, purchase, and sophistication of vegetarian menu and processed food items. More than half of restaurants with an average check of $15+ and 43% of those below, report more frequent ordering of vegetarian dishes (NRA, 1998b). Grilled veggie sandwiches were the "rising star" among all sandwiches, while grain- and legume-based dishes graced 14% of menus nationwide in R&I's Menu Census (Dulen and Sheridan, 1997). Vegetarian category sales grew by 31% to $166.3 million in traditional supermarkets and by nearly 20% to $84.3 million in natural food stores during the year ending June 1998 (SPINS/ACNeilsen, 1999). While 20 million Americans are considered "true vegetarians," today's meatless eating is more likely driven by a desire for variety, our sporadic healthy eating habits, and our love of pasta and other ethnic foods. With 15% of college students describing themselves as vegetarians and another 12 million adults categorized as regular "semi-meatless" eaters, expect the new "vegetarian" to finally come of age as a new strong and sophisticated mainstream cuisine (Vegetarian Resource Group, 1999).
--- PAGE BREAK ---
• From Dock to Wok. As white-table-cloth chefs embrace organic—and those trained at the Culinary Institute of America's Greystone Campus study sustainable agriculture alongside of creative food preparation—look for the trend to fresh, simple, and seasonal food to close the gap toward "living foods." Farmers' market look-a-likes, roots and all, local products, and baby versions of old favorites are on the rise. Selecting fish and seafood from live tanks, the further mainstreaming of sushi, and the wide acceptance of products like seared and "black and blue" tuna are all part of the emerging "living food" trend. Authenticity will clearly be part of tomorrow's fresher trends. Look for growing interest in "heirloom" vegetables as well as less familiar—and foreign—varieties of our favorite veggies, seeds, and herbs.
Freshness will be challenged, and pressure will be put on manufacturers to offer even fresher foods. More natural-looking labels, glass containers, greater attention to color, piece integrity, and, of course, aroma, will be emphasized. Natural colorants—up from $265 million in 1994 to nearly $1 billion in 1998—will gain a higher priority (Mirasol, 1998). There will be greater use of naturally derived antibacterial agents from seasonings, fruits, honey, and more (Billing and Sherman, 1998)!
Clearly, fruits and vegetables help signal the "living food" trend. The presence of fruits and vegetables—even bits—helps to convey a more natural healthy product image. According to HealthFocus (1998), 43% consider "provides one serving from the fruit and vegetable group" extremely/very important on labels—on a par with the importance of low-calorie and high-fiber label claims.
As consumers continue to move down the "food-as-medicine" continuum, phytochemicals from fruits, vegetables, and grains will become an integral part of Americans' health strategy. More than 95% agree that "certain foods have health benefits that go beyond basic nutrition and may reduce the risk of disease or other health concerns" (IFIC, 1998). Broccoli and oranges/juice (57%) top the list of foods consumers eat more of to reduce their "risk of disease"; they are followed by fish (50%), dark green veggies (49%), tomatoes (45%), garlic (43%), oat bran (42%), beans (41%), olive oil (36%), yogurt (33%), sweet potatoes (26%), and soy products (10%) (HealthFocus, 1998).
Trend 5: Deliver Me
The American ideal of simplifying life is to have someone else cook the meals, walk the dog, and mow the lawn! Today, 70% of U.S. households make at least one carry-out purchase a month, 33% order meals to be delivered, and 25% do both (NRA, 1998a). Frequent users make take-out purchases almost every other day and are responsible for 80% of the take-out business. Take-out sales hit $100 billion in 1998 and are projected to grow 63%, soaring to $176 billion by 2003 (Datamonitor, 1999). As time pressures mount and patience wears thin, consumers will continue to cry for simpler solutions, causing home delivery, personal catering, and on-line shopping to increase radically.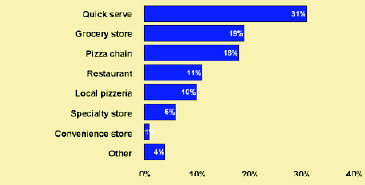 As shown in Fig. 5, the quick-service restaurant is the leading channel for home meal replacement (HMR) purchases, particularly among heavy buyers. Grocery stores were the second choice. The leading outlets for heavy buyers were McDonalds and Wendy's, with Pizza Hut and Papa John's leading for light buyers (ACNeilsen, 1999; Donegan, 1999b).
• Let your Mouse do the Walking. During the 1990s, technological cost and performance improvements seduced customers with new options for computerized shopping convenience. With more than 42% of U.S. households having at least one personal computer, household PCs are poised to become a replacement for the TV and the telephone. Approximately 54 million American adults used the Internet during an average 30-day period in fall 1998, up 23% from 44 million in spring of the same year; 52.3% were men and 47.5% women (Media Mark Research, 1999).
Demographically, Internet shopping increases 8% when there are one or more teens in the home. The future of Internet shopping will be assured by the strong interest in the Internet among college students. When Student Monitor's latest college poll asked what was "hot" on campus, 72% cited the Internet, beating beer out of its number-one slot for the first time in history (Wolf, 1999)! Telecommuting will also boost the home shopping trend. America's 11.1 million telecommuters—who are increasing at a rate of 30% per year—will find it hard to justify spending the eight hours per month consumers typically spend in the supermarket (Wolf, 1999). Also, consider that younger shoppers are least satisfied with supermarkets (FMI, 1999b).
--- PAGE BREAK ---
According to www.shop.org, yearly on-line shopping is tripling and is projected to reach $112 billion by the end of 2000. Peapod data indicate that the average on-line grocery bill is higher than an average in-store order (Wolf, 1999). According to Forrester Research (1998), food and drink accounted for only 6% of total on-line revenue in 1998. Anderson Consulting (1998) predicts that PC food ordering will reach $85 billion or 10–12% of food sales by 2007. The number of households food shopping on line will grow from fewer than 200,000 households today to 12–20 million by 2007.
Despite the popularity of milk and grocery delivery during the first half of this century, some executives believe that people inherently prefer to shop at a supermarket. Market studies conducted by the Food Industry Management Program at Cornell University have shown that consumer-direct sales of produce are actually higher than the percentage of sales of produce in-store. Peapod reports that produce accounts for 14% of sales, several percentage points higher than the present in-store average (Wolf, 1999). Note also that Web sites like www.omahasteaks.com are selling upscale meat. It seems that today's families are more willing to let experts pick out perishables, as long as the cost and quality of the delivered product are as good as for the product found in their local supermarkets.
The Internet is also in its infancy in terms of a promotion-delivery medium for packaged goods. In 1998, 249 billion coupons were issued by consumer packaged-good manufacturers, with only 0.004% delivered over the Internet (Weinman, 1999). The important point is that Internet coupons have an average 7.5% redemption rate, compared to 1.5% for free-standing inserts (FSIs). In January 1999, Valassis, whose FSI coupons currently reach 58 million households, bought 50% of Merge L.L.C., Pacific Palisades, Calif., a company that spent three years developing a proprietary Internet coupon distribution and targeting system. Catalina Marketing is already offering its "Supermarkets Online" program. Launched nationally in 1998, it has already jumped into the top 10 e-commerce sites, with some 600,000 people visiting the site each month. Coupons linked to more than 30 retailer sites send surfers to supermarkets via the online Value-Page site, where 43 consumer packaged-goods companies offer deals in 145 product categories.
Clearly, online presence of traditional supermarkets (e.g., www.aptea.com), direct vendors (e.g., www.kraft.com), and intermediates (e.g., www.peapod.com) is preparing consumers for the next transition phase.
Trend 6: Eatertainment
Sharing, sampling, socializing, and super-sensations are all part of the trend to "Eatertainment." When it comes to eating, the "me" generation of the '90s is becoming the "we" generation of the decade ahead . . . reminding everyone again just how much fun everyday meals and formal restaurant dining can be!
• Shareables. As the trends to simplification, family interaction, and casual eating and living continue, family-style dining will become the predominant way of life. Watch for the Europeanized-style of large communal one-dish platters and trays of appetizers, breads, and treats. Not surprisingly, today's most popular time-saving dishes—casseroles, Big Bowls, stir-frys, and pasta—lend themselves well to this friendlier form of no-clean-up dining. Taco Bell's new Grande family meals and Pizza Hut's Big New Yorker pizza—a 16-inch crust with larger holdable, foldable slices—are perfectly positioned to ride this socially directed trend. And what about sweets? Dunkin Donuts' dozen donuts boxes are like a "hug" for office mates, family, and friends.
At the same time, restaurant operators and patrons are enjoying the success of both appetizer and dessert samplers. Diners can experience new tastes and interact with each other at the same time. Sampling is also "good business" for restaurants, as it is a great way to promote their menus and build customer loyalty. In an effort to encourage sampling, nearly 89% of all operators now say they encourage patrons to order appetizers instead of entrees, and nearly 39% of restaurants offer half portions at reduced prices (NRA, 1998b). With recommendations from family and friends still the number-one way by which potential diners choose a restaurant—more than 80% across all age groups—menu sampling remains a very good idea.
--- PAGE BREAK ---
With the con-"fusion" caused by fusion cooking, it's not surprising that three-quarters of Americans say sampling is the best way to evaluate a food product (Weiner, 1998). In fact, the ability to sample a wide variety of unfamiliar items may be one of the reasons for the phenomenal success of Chinese buffets across America. Not only are they fun, but you can see, smell, and sample your food prior to eating.
The trend to appetizers, dim sum, and tapas reflects not only the interest in sampling but the desire to interact with food as well. The three most popular reasons to order an appetizer are the fun of sharing with friends (63%), trying new flavors (62%), and "hungry, can't wait until the dinner entree arrives" (61%) (Land O'Lakes, 1999).
It's clear that breaded and fried characterize America's favorite types of appetizers. According to R&I's most recent Menu Census, chicken strips, chicken nuggets, and onion rings are among the top-ten-selling appetizer menu items (Dulen and Sheridan, 1997). Seafood now represents 50% of all restaurant appetizer sales, while crab cakes are the most frequently added menu appetizer items. Baby riblets, potstickers, and spring rolls are also growing in popularity. As the variety of "dippable" appetizers continues to grow, look for a new generation of tasty dipping condiments, sauces, and spreads. Wise manufacturers should keep a close watch on appetizer trends as they condition America's tastes. On the home side, rice paper, baby tortillas, egg won ton wrappers, and other appetizer-packaging staples will form the basis for familiar in home everyday treats.
• Sensations. As Americans get acclimated to higher levels of stimulation through increased workloads, instant multimedia information access, a heightened entertainment threshold, and constant instant gratification, they will seek adventure through the pleasant and provocative sensory novelties of foods. For example, products that offer "crunch" have increased 40% over the past three years (IDDBA, 1998). America's favorite, fried chicken, is also now preferred super crispy. Note new crispy M&Ms. Don't forget the "intense" sensations from breath mints or the super-sour candies. Do you expect a jolt from your energy drink, get giddy from Pop Rocks, or melt from three-alarm foods?
Being entertained while eating is becoming almost as important as the meal itself. Not surprisingly, theme restaurants and "kitchens as theater" are still gaining in popularity. Creative dinner show concepts appear to be the next hot wave (Sloan, 1999e). Innovative table cooking is also getting hot. For example, at Boomerock in Pasadena, Calif., diners are given slabs of heated volcanic granite on which to cook their entrees. The unusual cooking technique with the sizzling sound and smells dates back hundreds of years.
Lastly, sports arenas and other fun places are upscaling their food fast. According to NRA, 1998 food and drink sales were $3 billion in recreational and sports facilities, up from $1.8 billion in 1990 and $2.4 billion in 1995. While 4% growth is predicted for sports arenas vs 1.8% for restaurants overall, theme parks are predicted to run a close second. Private clubs and golf resorts are also expected to increase by 6–10%, while movie theaters will experience smaller but still notable gains. Americans spend $1.5 billion in the nation's 6,000+ movie theaters (Williams, 1998).
Trend 7: Freestyle
Today, anything goes. Meal time is any time and different times altogether than it was just a few years ago. And they're not called meals any more—they're called eating occasions. More frequent eating occasions, shifting priorities within traditional patterns, and truly new eating venues will spur new products, priorities, profits, and problems in the years ahead.
--- PAGE BREAK ---
• On Schedule . . . Not! Today, only one in four Americans eats only three or fewer meals per day, down from 33% in 1995. And only 15% of young mini-meal-directed Americans—those age 18–29—focus only on breakfast, lunch, and dinner. More important, nearly two-thirds eat two to three meals daily along with snacks. About half of this group eat two meals and two snacks, while the other half eat three meals and one snack. The remaining 10% simply snack more frequently. Women, consumers under age 25, and those age 65+ are the most likely to eat more frequently (Roper Starch Worldwide, 1998b; Kramer and Pollack, 1998).
Our erratic freestyle eating habits are forcing foodservice operators to keep pace by expanding their hours and menu variety. NRA reports that dinner is now most typically consumed anytime between 4:00 p.m., which attracts the growing senior, second-shift and early-bird crowds, and 10:00 p.m., frequented mostly by busy professionals, young single adults, and chore-ridden two-income households (NRA, 1998a). With breakfast hours now stretching from dawn until 10:00 a.m., lunch, not surprisingly, is getting later. NRA reports that a growing number of diners aren't starting lunch until 2:00 p.m. Undoubtedly, the most exciting change is the increase in the number of restaurant operators seeing brisk business in the mid-morning and mid-afternoon day parts. Sales of after-noon snacks rose 6% and of morning snacks about 3% in restaurants from 1996 to 1997. The late-night day part showed no growth (NPD/Crest, 1998). Interestingly, the increased consumption of hors d'oeuvres and a stream of health consciousness have sent restaurant dessert sales plummeting (Taylor Nelson Sofres, 1998).
Another major shift in meal patterns involves the growing number of consumers (36%) who say they frequently eat their main meal in the middle of the day. Those 18–25, those 65+ and/or retired, and African-Americans were more likely to follow this pattern than other population groups (FMI, 1997b). With all of these changes, it's not surprising that the practice of serving typical breakfast, lunch, and dinner only during their respective day parts is gone forever. Limited-menu fast-food operators, kiosks—like Chomps at the University of Illinois' Urbana campus—that stay open until 2:00 a.m.—and casual-dining chains such as TGI Fridays are best equipped to respond to America's new irregular eating schedules and are predicted to grow steadily as a result.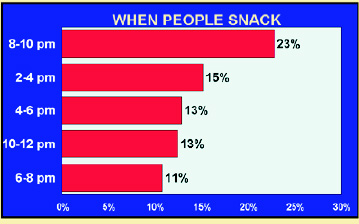 • Late Night Gets Nifty. With our harried lifestyles and work-day commitments, it is not surprising that late-night eating occasions, 8:00–10:00 p.m., have now become the most frequent snacking day part (Fig. 6). Cakes, cookies, and pies (12%), dairy desserts (9%), grain-based salty snacks (8%), fluid milk and soft drinks (each 8%), coffee and tea (5%), and alcoholic beverages (4%) are commonly consumed. While initially it might seem that this new occasion is simply an extension of dessert, further investigation reveals that traditional snack items represent less than 50% of food actually consumed. While nearly one quarter of adults snack between 8:00 and 10:00 p.m., 13% snack further away from dinner—from 10:00 p.m. until midnight—leaving the options open for more substantial and savory fare. This day part will be traditional food manufacturer turf, since the majority prefer to spend their late-night hours at home and restaurants have not observed a similar trend (USDA, 1998).
With three-quarters of Americans saying they take regular snack or beverage breaks, the 2:00–4:00 p.m. mid-afternoon (23%) and 4:00–6:00 p.m. late-afternoon snacking occasions (15%) remain strong. Between 2:00 and 4:00 p.m., carbonated beverages (13%), cakes, cookies, and pies (11%), non-citrus fruits and juice (10%), and grain-based salty snacks (8%) are preferred. However, with Americans eating later and often needing increased stamina to do "after work" activities, consumers will be looking for more satiating and not necessarily sweet snack food extensions to "hold them over" to the next meal. Kellogg's, clearly after the "can't wait till lunch bunch" is offering Fruit-full Squares, one of the first morning snacks designed to tide consumers over until the next meal. They are larger and more rectangular than Nutri-Grain bars and designed to be more satisfying.
--- PAGE BREAK ---
• Break Fast. In the old days, breakfast meant to "break the fast." Today, it means "break fast" and get going! Breakfast—the fastest-growing take-out and take-from-home segment—is booming. NPD/Crest (1998) reports industry-wide sales of $16 billion and a gain of 9.5% for the year ending August 1998. Similar gains were posted for quick-service, drive-through, and restaurants overall.
In restaurants, breakfast is outpacing lunch and dinner, particularly in the casual-dining arena, where it posted a 29% gain in dollar spending. In terms of traffic, breakfast also grew by 14% in 1998, compared to a drop of 6.2% in 1997. Quick-service restaurants (QSR) showed strong gains as well, with an 11.7% increase in sales and a 6.1% increase in traffic. Although burger chains dominate QSR, with more than 80% of the breakfast market, other manufacturers are coming on strong.
This all makes sense. About one-third of Americans now eat breakfast outside the home, while the number of breakfasts eaten at the office has doubled since 1990 (NPD Group, 1998). More important, retro-indulgent comfort-driven consumers are developing a tendency for more elaborate breakfasts, particularly on weekends. Applebee's Cinnamon roll French toast and Bob Evans' Fresh Baked Belgian Waffles are two mass-market chain offerings addressing this comfort-craving crowd. In addition, as diners' cravings for foods long connected to traditional day parts accelerate, watch for creative offerings like Big Boy's American Focaccia Breakfast Sandwich and Country Kitchen's Breakfast BLT. Texas T-bone and Eggs and Big Eater Steak Breakfast are intended to please the developing heartier food crowd.
As time pressures mount and morning priorities change, the take-from-home breakfast movement will explode way beyond toaster pastries. With the vast majority of workplaces equipped with microwave ovens, breakfast brown-bag microwave options will appear. Oscar Mayer's Lunchables for Breakfast kits—pancake- and waffle- combinations—are once again positioned for blockbuster success. Consumed cold, one variety has eight mini pancakes, syrup for dipping, and icing for decorating, while the other offers four waffle sticks with two sausage patties, syrup, and icing. Kellogg's Snack Stix are similarly positioned.
Although a bit-player compared to lunch, school breakfast should gain a higher profile due to recent studies continuing to link the morning meal to increased student achievement. Smart manufacturers should be poised with nutritious hand-held tasty fare.
Trend 8: In-Dull-Gence
Balanced diets are back, this time balancing very, very "bad-for-you" foods with very, very "good-for-you" foods. Indulgence is "in," but all in all, it looks like a more moderate, bad-one-day, better-the-next, taste-directed form. Although concern over fat has dropped 15 points from a high of 65% in 1995, it clearly has conditioned a significant number of consumers to be forever cognizant of this nasty nutrient (AMI, 1999b).
America is showing signs of both indulgence and affluence. Traffic at casual steak houses has soared 73% since 1993 (NPD/Crest, 1999). Outback's sales climbed 21% to $1.1 billion, and its sister, pasta-lovin' chain Carrabbas' Italian Grill, delivered net income of $66 million, up almost 18% from last year. The stampede will continue as the nation's 1,187 upscale casual-dining steak houses are expected to post an additional 6% increase in 1999. Interestingly, consumers in the Southeast consume 20% of all steaks sold in restaurants nationwide (Otto, 1999).
Heartier fare and larger portions are also getting significant attention. Big is back! Wendy's has the "triple decker," Burger King has the "Great American," and McDonalds is testing a beefier MBX burger. Even A&W has chosen to celebrate its anniversary with the "Big Beef " hamburger, while California-based El Torito chose "Sizzling Enchi'Wow'das," hearty platters featuring filet mignon, crab meat, and chicken enchiladas, for its 45th anniversary (Hutchcraft, 1999).
--- PAGE BREAK ---
And then there's dessert. Interestingly, a combination of healthy eating trends and the rise in popularity of hors d'oeuvres has resulted in restaurant sales of desserts plummeting by 18% (Taylor Nelson Sofres, 1998). Cheesecake has returned as the best-selling restaurant dessert and most frequent restaurant dessert menu item. Taste-starved Americans will unquestionably crave Sara Lee Bakery's Cheesecake Bites and Cheese Cake Singles and Pepperidge Farms' new Strawberry Lace Frozen Cake that says "rich" and "indulgent" right on the label. In restaurants, creamy is in, and tiramisu is the most frequently added new dessert menu addition. Apple and berry pies, cookies, carrot cake, chocolate cake, brownies, cobblers/crisps, ice cream, and fresh fruit remain on the top-ten list for diners' desserts. Rising interest in tropical fruits is one evidence of the rising semi-indulgent trend on dessert menus (Dulen and Sheridan, 1997).
Snacks sales are also indicative of the indulgence movement. While Doritos and Tostitos posted 4.9 and 5.7% gains, respectively, Baked Tostitos dropped 30.7%. While Guiltless Gourmet snacks declined 5.1%, meat snacks continue to soar. Slim Jim sales are up 21%, and Hormel meat snacks jumped 15 points in the year ending January 1999 (IRI, 1999).
At the same time, candy is doing dandy! The U.S. Dept. of Agriculture reports that, in 1997, confectionery consumption grew to a record high of 26.7 lb per person, up 1.85% over the previous year (Paddock, 1999). Candy sales totaled $8.3 billion, a 3.3% increase over the previous year (IRI, 1999). Following the trend to Eatertainment, novelty candy, including what has recently emerged as interactive candy featuring imbedded sound chips, has become a fast-growing subcategory. Sales of novelty candy jumped 10.2% among food, drug, and mass merchandisers combined. Even milk is indulgently flavored now!
We can't talk indulgence without talking kids. Last year, kids age 6–11 spent $25 billion of their own money and influenced another $187 billion of spending. Food ranks first on the list of things kids buy with their own money. Of the items kids age 6–17 can choose without parental permission, candy or snacks and soft drinks share the top of the list (72%), followed by fast food (66%), games and toys (46%), then other nonfood items (Chaplin, 1999).
Trend 9: Self-Treatment & Trial
Nutraceuticals—now the fastest-growing segment of the U.S. food industry—are flourishing! Vitamin and herbal sales just topped $12 billion. Energy drinks, bars, and powders hit $3.14 billion, and antioxidant- and calcium-fortified juices grew at double the rate of their traditional counterparts. Recognizing the strength of the food-as-medicine market, industry giants Campbell, Heinz, Johnson & Johnson/McNeil, Kellogg, Lipton/Unilever, Quaker, and Hunt Wesson are breaking new ground with products that help lower cholesterol, help prevent cancer, and more!
Nutraceutical sales estimates vary depending on the definition of the term, ranging from $64 billion—which includes traditionally fortified foods—to $92 billion when generalized to include fat-free and lower-calorie foods. Foods and beverages promoted specifically for their medicinal properties totaled $14.2 billion in 1998 and are expected to grow to $17.6 billion by 2001 (Anonymous, 1998). More important, sales of dietary supplements in supermarkets jumped 18%, placing grocery stores just behind drug stores as the leading marketing channel and giving additional support to the mainstream mind-set for health of traditional shoppers.
--- PAGE BREAK ---
Today, nutraceutical products range from more-traditional options like Dannon's higher-calcium yogurt, Minute Maid and Tropicana's calcium/antioxidant juices, and Dreyer's calcium-added ice cream, to more-specific approaches such as antioxidant-enriched eggs, cutting- edge soy milks, hypervitaminized and energized teas, and superoxygenated waters. Candy manufacturers have integrated health and sweet treats, offering everything from nutritionally enhanced gummi bears to bars, bursts, and bubble gum! Campbell, Hunt Wesson, and Heinz teamed up through the Tomato Research Council to promote the cancer-preventive properties of tomato products. Farmaceuticals is the term for the next generation of crops genetically altered to provide health benefits (Promar International, 1999). Melissa's in Los Angeles, Calif., is already offering maroon carrots loaded with vitamin A and calcium (170% and 26% of the RDA, respectively). With a cholesterol-lowering claim pending before the Food and Drug Administration, soy will most likely be the next major beneficiary of phytochemicallly induced health benefits.
This year brought the arrival of Benecol and Take Control—margarine-like spreads that have been well documented to lower cholesterol levels. More and more, U.S. dairy cases are beginning to reflect the health-promoting technologies of Western Europe and Japan. Probiotics and prebiotics will be seen with increasing frequency in the next few years. "Good-for-you" bacteria—long promoted as "live cultures" in yogurts—are now being touted to consumers by products like Stonyfield Farm's new organic yogurt, which actively displays a "multiple organisms" claim and boasts six natural strains of bacteria. Prebiotic products contain "fructooligosaccharides" (inulin, or simply FOS), believed to ensure a healthy intestinal tract, improve calcium absorption, and lower cholesterol. Helios Nutrition Organic Kefir with FOS is one of the first product entries in the U.S..
Several other products are featuring psyllium husk and its derivatives and oat bran—both approved by FDA as cholesterol- lowering agents and the active ingredient in Kellogg's Ensemble line. As an interesting aside, psyllium forms the basis for Pepto Bismol. Watch out OTCs, here comes a new generation of yummy-for- the-tummy digestive aids and cholesterol-lowering options!
• The Next Generation. Undoubtedly, the greatest change in the nutraceutical market in the past year has been the emergence of the "self-treatment" movement. More than half of all shoppers (52%) now believe that foods can be used to reduce their use of some drugs, up from 42% in 1994. One-third regularly choose foods for specific medical purposes, such as honey for a sore throat or cranberry juice for urinary infections (HealthFocus, 1998). According to the American Pharmaceutical Association (APA, 1997), the vast majority of Americans are looking to self-treat the majority of common ailments such as upset stomach, headaches, and diarrhea.
Eight out of ten primary food shoppers admit their purchasing decisions are "at least a little influenced" by their desire to either manage and/or prevent a specific health condition or to follow a doctor's advice. About half of the nation's primary shoppers now fall into the highly or moderately involved self-care category, which means that there is a self-care market of 55 million shoppers (FMI, 1998a). It's not about fat-free, it's about a new generation of food selected for the ability to deliver an end benefit. Avoidance is no longer an aggressive enough strategy to achieve Americans' health goals.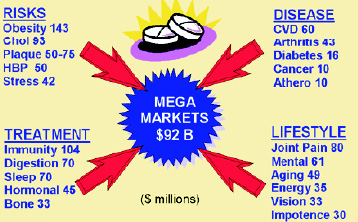 The sheer size of current individual health markets is daunting. Many of the key markets outlined in Fig. 7 are far larger segments than the total U.S. market for kids under age 18! In terms of preventive markets, eight out of ten adults are concerned about developing cancer, 75% fatigue/lack of energy, 75% heart disease, 73% cholesterol, 68% stress, and 59% diabetes (Sloan, 1999f). With cholesterol, digestive, blood pressure, cancer, and prostate problems predicted to increase 30% or more within the 50–64 age group, consumer interest in the positive role foods can contribute to health will gain momentum (Gallup, 1998a).
As we look to the next generation of functional foods, ten categories are expected to lead the way:
1. Gut maladies afflict more than 70 million Americans every year.
2. Joint health is a popular concern. With 1 million new cases of arthritis, aging of the Boomer population, and increased levels of exercise, aching joints are expected to annoy 80 million annually.
3. Blood lipids are a continuing concern. As 96 million consumers continue the fight to lower cholesterol, watch for the market for lowering triglycerides, LDL/HDL, and plaque to segment.
--- PAGE BREAK ---
4. Skeletal strength will attract both men and women beyond the 38 million with osteoporosis.
5. Hormonals will provide more natural relief for the 40+ million women suffering menopausal symptoms.
6. Body fat implies a new terminology and a shift to healthy dieting. Obesity interest is back to the high levels seen in the late 1980s and early '90s.
7. Optimal vision is now one of the hottest trends in Japan. Watch Boomers opt for antioxidants and phytochemicals to help delay reading glasses and improve eyesight.
8. Emotional commotion includes increased sleeplessness, stress, and digestive upsets and will trigger consumers to seek relaxing and replenishing foods and beverages.
9. Breast and prostate disease becomes an issue as the incidence of gender-specific concerns continues to rise. Natural preventive measures will move mainstream.
10. Gender-specific and age-related nutritional needs are answered by customized bars and beverages. While more manufacturers are simply fortifying foods, this self-care message is clear. The real opportunity lies much further down the food-as-medicine continuum (Sloan, 1999g).
Trend 10 : Trusting Technology
Americans are more trusting of technology than ever before. As far back as 1997, more than 70% of consumers said they were comfortable with self-service gas, VCR/playing tapes, ATMs, voice mail, and telephone ordering. Just about half said they were comfortable with computer basics, fax machines, e-mail, and CD-ROMs (Consumer Research Network, 1998b).
There are technology optimists in every generation, individuals who are willing to integrate technology into their lives. These people stand at the technology gateways and, to some degree, determine what will eventually be acceptable to the masses. As America draws on biotechnology, irradiation, and other lesswell-understood scientific procedures, it will be essential to identify and focus continuing efforts on this influential group of Americans.
Technical optimism declines with age. Individuals less than 25 years old are twice as likely to be hopeful as those age 65+. After age 30, people increasingly resist learning about new technologies. College education is the single most significant indicator for technology optimism. Males demonstrate a high propensity for technology optimism, although Generation X females and young parents as a group are not far behind. Surprisingly, young parents with children are more apt to be technophiles than their childless peers (Forrester Research, 1998).
Fortunately, consumer support for agricultural (72%, vs 66% in 1996) and medical biotechnology (90%, vs 83% in 1996) has gained strength over the past three years. The most acceptable uses continue to be foods with less fat or more vitamins, as well as crops that reduce the need for pesticides; they have a higher degree of acceptability than plant breeding. In fact, these food uses are more acceptable than the use of biotechnology to produce human insulin and other medicines (Hoban, 1999).
The good news is that 75% believe biotechnology will provide benefits for their family in the next five years. Nearly two-thirds, up seven points since 1997, said they would likely buy genetically engineered produce that had been "modified to taste better or fresher." More than three-quarters support the current FDA labeling policy that requires biotech foods to be labeled only if they are significantly altered. One-third said they were aware that biotechnology-altered foods were already in the supermarket (Wirthlin Group, 1999).
--- PAGE BREAK ---
Europeans may be bioadverse, with 61% of shoppers from France to Hungary saying they were trying to avoid products containing biotechnologically modified ingredients and with Japan's awareness level far below that of the U.S. But it appears that U.S. consumers will now allow biotechnology to continue to play a more prominent role in U.S. food production. According to the Biotechnology Industry Organization, 38% of the U.S. soybean acreage and 25% of the corn acreage is already bioengineered (Ladage, 1999). It appears that consumers will respond to foods developed through biotechnology the same way they will respond to any other food, by freshness, price, and flavor. While we will always have pockets of rabid activists, today's increasingly knowledgeable technology-optimistic consumers should ensure a safe and prominent role for biotechnology for years to come.
Likewise, more than half (56%) of supermarket shoppers said they would be "very/somewhat likely" to "purchase food products like strawberries, poultry, pork, or beef if they had been irradiated to kill germs and keep it safe" (FMI, 1999b). Those living in the Midwest, men, those with a college education, families with three or more children, and households where older children have returned to the family are more likely to say they would buy an irradiated food product. Interestingly, these demographics coincide with those of the "techno-optimists." In a simulated supermarket setting, Resurreccion and Galvez (1999) reported that although initially a similar proportion (51.5%) would buy irradiated beef, the percentage grew to 71.3 after an effective education program.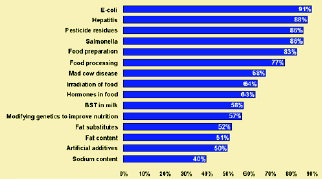 Today, Escherichia coli (91%) and hepatitis (88%) remain on top of the consumer's list of "very concerned" food issues—almost double the level of concern about fat in the diet or additives in general (Fig. 8; CMF&Z, 1998; Dulen, 1999). Despite these specific concerns, half of consumers surveyed by Restaurants & Institutions magazine have not changed the way they order eggs or hamburgers because of safety concern. Salad bars are being visited "less frequently" by 21%. The majority of patrons surveyed said the incidence of restaurant-based outbreaks is increasing or unchanged. Clean dishes, clean tables, and clean restrooms are the top influences on confidence in the safety of the food being served (Dulen, 1999).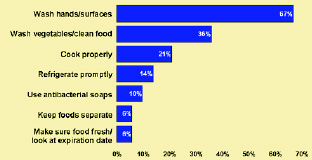 On the other hand, most shoppers' confidence in their own supermarket's safety remains strong, 79% vs 81% in 1998 (FMI, 1999b). Shoppers are more aware of the safety dangers in home food preparation, and four in ten think it is at least "fairly common" to get sick as a result. As shown in Fig. 9, shoppers report using a variety of safe handling techniques at home. Clearly, consumers' growing interest in washing their hands with antibacterial soap is driving the recent antibacterial product movement. While sales are hot, if manufacturers are not careful, resistant organisms may well be the next food safety wave.
Unfortunately, food irradiation, biotechnology, and confidence in food safety are all media-driven and media-vulnerable issues. Nearly two-thirds of consumers (60%) said they would refrain from purchasing irradiated foods if there was negative media coverage, while 87% said they also believe everything they hear about food safety from the press, up from 63% in 1997. Most important, more than three-quarters verify that reports of foodborne illness have an effect on future consumption of that food item (CMF&Z, 1998).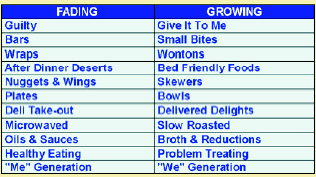 In Cordial Conclusion
We are simplifying our meals, our cooking, and our tastes. We are replacing plates with bowls, moving our main meal to the middle of the day, and indulging ourselves with new pleasures and priorities. Fig. 10 outlines some changing food attitudes and behaviors for trend trackers to watch.
by A. ELIZABETH SLOAN,
CONTRIBUTING EDITOR
The author, a Professional Member of IFT, is President, Sloan Trends & Solutions, Inc., P.O. Box 31946, Palm Beach Gardens, FL 33420-1946