As more product is sold in foodservice or prepared to take out, intermediate products and ingredients are held in packaging of various types until the ingredient or partially prepared food is used in final food products.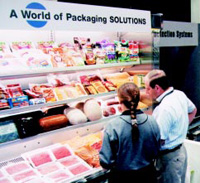 Changes in processing technology have triggered a need for new packages, particularly for foods in the minimally processed area, and new materials for modified-atmosphere packaging are appearing. While most of the packaging shown at this year's IFT Food Expo was geared to bulk handling, it is plain that new packages are being developed rapidly, and that these have many new functions. Technical presentations offered insight into the effect of processes and packages on the final flavor and aroma of products, particularly juices (paper 62-6) and the effect of antimicrobials incorporated in packaging materials to control spoilage of semi-fresh materials placed inside (paper 62-8).
Bulk Packages in Easy-to-Clean Materials
Packages used for holding and shipping partially prepared foods are useful for companies that receive these products in bulk. A major attribute for preferred bulk containers is ease of opening and complete, fast removal of contents for further processing without the possibility of introducing any contamination. For the containers themselves, recyclability or reusability is important, and ease of storing containers and of identifying the correct product by clear labeling or indications of what the package contains is essential. A useful mix of sizes is helpful.
Containers that support packing preweighed amounts may be required, if the ingredient is used in a batching operation. Packaging can also be designed for use in continuous operations.
Easy to clean, stack, and unload, the A-2000 Payloader and Polycombo bins feature removable pallet bases, and the 120-gal cone-bottom-discharge Payloader handles wet or dry ingredients with ease. For more information, contact Bonar Plastics, 1005 Atlantic Dr., West Chicago, IL 60185 (phone 630-293-0303, fax 418-293-0930)—or circle 374.
Aseptics with Particulates Find New Packages Useful
With the approval of aseptic systems that provide processes to ensure safety of particulates, as well as sauces, purees, and condiments, more sizes and types of aseptic containers are being offered.
Rapak LLC introduced its "1680" bag-in-box filler for high-acid products, featuring bag sizes from 1 to 6 gal that can be filled at speeds of up to 18 bags/min. Its Intrasept™ filler can fill bag-in-box units with shelf-stable cheese sauce and other foods, including high- or low-acid foods. The firm makes bags in sizes ranging from 3 L to 300 gal for bulk handling, and provides a specially constructed bag-in-box for edible oils. For more information, contact the company at 737 Oakridge Dr., Romeoville, IL 60446 (phone 815-372-3670, fax 815-372-3636)—or circle 375.
Totes Replace Drums for Bulk Liquids
Longiew Fibre Co. provides cube-shaped, disposable totes for shipping liquids. Sizes up to 330 gal are available. The totes are economical to use and are easily flattened for disposal. The shape of the containers makes them stackable, easy to move on forklift trucks, and economical to store. The totes are biodegradable, making them ideal for export use. For more information, contact the company at 6055 E. Washington Blvd., Suite 318, Los Angeles, CA 90040 (phone 323-725-6150, fax 323-726-6341)—or circle 376.
Core-Wound Construction Improves Drums Used for Ingredients
While fiber drums may seem an unlikely product to generate excitement at the Food Expo, food manufacturers who have to dispose of a lot of drums and other large packaging appeared to welcome the SpaceKraft™ wound-core fiber drums. These units are easily recyclable, completely biodegradable, and waste-to-energy efficient. Unlike eight-sided corrugated IBCs, there are no staples or other metal parts to be removed, and ease of disposability makes them preferable to returnable totes in some systems. They are available in sizes from 110 to 330 gal, or 1,000-L sizes for export. Liners are offered that meet USDA, FDA, or kosher requirements for either aseptic or nonaseptic filling. For more information, contact MacMillan Bloedel Bulk Packaging, 1811 W. Oak Pkwy., Marietta, GA 30062 (phone 800-635-4475, fax 770-429-3535)—or circle 377.
Container Takes the Sticky Out of Molasses in January
We all know how difficult it is to get molasses out of a jar, and getting it out of a bulk container can be even worse, which is why the EZ Drain™ container for sticky stuff got a lot of attention at Food Expo. Also featured was the EZ-Cube™, which is waterproof, permitting it to be stored outside, and stackable to 70,000 lb top-to-bottom compression. The EZ-Cube is used for tomato sauces, pastes, and sauces, and the EZ Drain is used for honey and molasses, among other hard-to-empty materials. For more information, contact Paper Systems Inc., P.O. Box 6188, Des Moines, IA 50309 (phone 800-342-2855, fax 515-280-9219)—or circle 378.
Produce-Friendly Bulk Containers Offered
Plastic bulk containers and Hytek hygienic containers were shown by Perstorp Plastic Systems, who also introduced a USDA- and FDA-appropriate reusable plastic container designed to hold produce. The line of products also includes plastic pallet containers and an integrated program for container repair. For more information, contact the company at P.O. Box 99057, Tacoma, WA 98499 (phone 800-423-3221, fax 253-588-5539)—or circle 379.

Bulk Containers for Temperature-Sensitive Ingredients
An insulated bag-in-box with a capacity of 225 gal is recommended for temperature-sensitive and viscous liquids. Insul-Stor™ containers are easily filled and easily emptied. Dry-Stor™ hoppers are used for metering and discharging bulk powders. For more information, contact H&R Industries, Inc., 30553 S. Dixie Hwy., Beecher, IL 60401 (phone 800-526-3244, fax 708-946-3251)—or circle 380.
New Constructions for Films Offered
Cryovac–Sealed Air Corp. was an early entry into the shrink-pack field. Shrink film with protection against bones assists the shelf life of fresh meat, and particular constructions of film protect the quality of frozen foods and fresh vegetables. A wide variety of special films were shown, including coextruded films that control cost and improve protection. For more information, contact the company at 100 Rogers Bridge Rd., Duncan, NC 29334 (phone 864-433-2000, fax 864-433-2134)—or circle 381.
by FRAN KATZ
Editor