The Institute of Food Technologists' 1999 Annual Meeting & FOOD EXPO® in Chicago, Ill., July 24–28, broke all records. Attracting the largest attendance in IFT's history—more than 24,300 registrants—and bearing the theme, "Window to the World—Food Science for the 21st Century," the event featured papers on all aspects of food science and technology and its related disciplines, as well as the largest number of companies ever to exhibit at FOOD EXPO and the largest number of exhibit booths.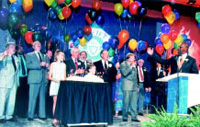 Opening Event Featured Interview Format
At the Opening Event on Saturday evening, Orion Samuelson, the Agricultural Services Director for WGN radio and host of the syndicated National Farm Report, served as master of ceremonies for the program, which included talk-show-type interviews with IFT Executive Vice-President Daniel E. Weber, President Bruce Stillings, and President-Elect Charles Manley.
Daniel Weber remarked that next year IFT will introduce a new IFT Internet portal that will become the gateway to food science and technology, an on-line version of Journal of Food Science, and two new Internet publications—a Journal of Food Science Education and an international newsletter.
Bruce Stillings mentioned some of the highlights during his term as president, including the Executive Committee's approval in principle the preceding day to establish an IFT office in Washington, D.C., to strengthen IFT's science communications and governmental affairs program; completion of a business plan for Food Expo; development of guidelines for establishing alliances with other organizations; and development of policy and procedures for communicating advocacy positions. He also mentioned that video conferencing, which was started during Mary Wagner's presidency, has now become part of IFT's basic communications program and that as many as 18 sites throughout the United States and Mexico participated in conferences on functional foods and food safety during the past year.
In addition, he mentioned IFT's signing a five-year contract with the Food and Drug Administration to provide expertise on food processing and human health. This contract also sparked a new IFT program—the Department of Science and Technology Projects—to provide food science and technology assistance to outside organizations throughout the world. He also said that since IFT is a U.S.-based organization with global interests and obligations, the Executive Committee earlier this year developed a global vision and business plan that will focus our efforts over the next five years on providing food science and technology knowledge; developing strategic alliances; increasing member participation; and providing educational and professional development programs. He concluded by saying that IFT is considering forming an IFT Food Council to identify and develop consensus and recommendations on major food issues, particularly issues related to food regulations, new foods such as functional foods, and new technologies such as biotechnology.
Al Clausi, Vice Chair of the IFT Foundation, announced that the Foundation has received a $500,000 anonymous donation to support scholarships for future food scientists and a $2,500 gift from the St. Louis Section, joining the six other Sections that have donated in the past. A videotape presentation featured James Behnke of the Pillsbury Co., a former recipient of an IFT fellowship; Foundation board member Susan Harlander; teacher Cheryl Lipke; and current scholarship winner Adam Hoffman of the University of Nebraska—all talking about the benefits of the scholarship/fellowship program.
--- PAGE BREAK ---
The student-chapter-of-the-year award was presented to the Food Science Club at North Carolina State University for having made the greatest contributions in public service, fundraising, and IFT involvement during the year.
Four journalists were honored for excellence in food science reporting. Martha Groves, staff writer in the Metro Department at the Los Angeles Times, was the winner in the newspaper category with her story, "Less-Than-Glowing Image Hampers Food Irradiation." published on March 15, 1998. John Wasik, special projects editor of Consumers Digest, was the winner in the consumer magazine category. His story, "How Safe is Your Produce?"was published in the September/October 1998 issue of Consumers Digest. Bob Gilmartin, Dateline NBC producer and Lea Thompson, Consumer Interest Correspondent, were the winners in the television category as a result of their investigative story, "Where's the Beef?: Adulterated Ground Beef," which aired on NBC Television Network on June 8, 1998.
Newly elected Fellows of the Institute were announced (see p. 76), and IFT's Achievement Awards were presented (see p. 84).
Keynoter Delivered Inspirational Message
In a keynote address dynamically delivered and laced with humor, IFT's 1999 Annual Meeting keynote speaker Herman Cain delivered an inspirational message: Great leaders are born, but good leaders can be made. Not all of us are born leaders, but we can all be good leaders.
He described the three critical characteristics of leaders, what he called the DEF factors. D refers to Peter Drucker, the management thinker who said that people must motivate themselves. Great leaders instinctively recognize this, Cain said. E stands for entrepreneurial, another word for risk. Leading means taking risks. F stands for focus. We must focus on the problem in order to solve it, he said. We must block out the unnecessary stuff.
He also mentioned three critical things leaders must do, what he called the ROI factors. R refers to removing barriers that prevent self-motivation. O stands for obtaining the right results. This involves recognizing and working on the right problem. He illustrated this point with a story of how his company at that time, Godfather's Pizza, had four types of pizza crust, with four different flour formulations, rather than the one crust that had made the failing company initially a success. He recognized the problem as having too many formulations and threw out the three that didn't fit the company's original goal. And I is inspiration. Leaders know how to inspire others to motivate themselves.
Cain reiterated that great leaders instinctively have DEF factors and know how to remove barriers, obtain the right results by working on the right problem, and how to inspire others. He said that the same characteristics and principles apply to each of us in our own life. He illustrated his talk with a story of how his father worked hard, leaving the farm at age 18 and working three jobs so that he could finally realize his dream of owning a home for his family.
Cain, now President and Chief Executive Officer of Digital Restaurant Solutions, Inc., based in Stamford, Conn., was until June 1999 President and CEO of the National Restaurant Association. He has held a variety of leadership positions in the restaurant and hospitality industry and is the author of the book Leadership Is Common Sense.
--- PAGE BREAK ---
Technical Program Was Largest Ever
The technical program began on Sunday morning and continued through noon on Wednesday. More than 1,500 papers were presented (compared to 1,285 last year) in 116 sessions, with as many as 14 concurrent sessions each morning and afternoon. There were also 4 student competitions and 4 video theaters. Audio-cassettes of the technical program are available (see p. xxx).
• Symposia. There were 248 presentations in 43 symposia.
• Oral and Poster Papers. There were 202 papers presented in 21 oral sessions and 976 presented in 37 poster sessions.
• Hot Topic Sessions. Three Hot Topic sessions were held (see p. 72). "The Food Medicine Show: From Snake Oil to Fish Oil," presented on Sunday morning, featured five speakers from various organizations discussing functional foods, nutraceuticals, and dietary supplements. "Policies, Politics, and Passion: What Keeps the Food Industry in Line?" featured five panelists from industry, government, and associations discussing food regulatory policy. And "Innovation or Iteration: All that Glitters Is Not Gold" featured five panelists from various companies discussing innovation.
• Special Forums. Ten Special Forums, with 50 speakers, were presented on various topics, including retail and foodservice time/temperature food safety specifications; effective food information management; the Congressional Science Fellowship; introducing food science into the high school science curriculum; team building in industry and the classroom; vitamin A fortification: stability, quality, and cost:benefit; regulatory issues with use of ozone in food processing; food allergens; and at-line analytical solutions for rapid quality control.
• New Products & Technologies Sessions. A total of 24 papers were presented in two New Products & Technologies sessions, one on ingredients and the other on analytical and processing.
• Division Lectures. IFT Divisions can sponsor a Distinguished Scientist or Professional in their field to present a Division Lecture during the Annual Meeting Technical Program. Four Division Lectures were presented this year. They covered moving boundaries in food engineering; the worlds of food science and technology; international regulatory control of Listeria monocytogenes; and the CAST report on foodborne pathogens that recommended that practical intervention strategies should be used to enhance seafood safety at the producer level—farm, aquaculture facility, or seafood harvesting site.
Eight Continuing Education Programs Presented
Eight concurrent educational programs and workshops were presented on the Friday and Saturday preceding the Annual Meeting. They covered such topics as emerging technologies, emulsifiers, new software tools, healthy food ingredients, system optimization, microwave technology, microbiological risk assessment, and natural colors (this year's Basic Symposium).
--- PAGE BREAK ---
Appert's Birthday Commemorated
Several events at this year's Annual Meeting commemorated the 250th anniversary of the birth, on November 17, 1749, of Nicolas Appert, long recognized as "The Father of Canning." During the Opening Event on Saturday evening, Donna Berry, chair of IFT's Chicago Section presented to IFT, as a gift of the Section, a bust of Nicolas Appert by the French sculptor Richard Bruyere. President Bruce Stillings accepted the gift on behalf of IFT. The bust is displayed in the IFT headquarters office.
A symposium, "We Are All Appert's Children," on Sunday morning opened with greetings from Bernard Charpentier, Scientific Attache of France in Chicago. Then the symposium speakers recapped Appert's achievements and showed how he laid the groundwork for methods of thermally treating foods in use today.
A ceremony was held on Sunday evening to honor the past and present winners of the Nicholas Appert Award, IFT's most prestigious award. Jean-Paul Barbier, president of the Association Internationale Nicolas Appert, presented honorary membership certificates in the association to the 13 Appert Award winners attending. The association, headquartered in Chalons en Champagne, France, is dedicated to propagating the memory of Nicolas Appert's contributions to mankind. It has been responsible for the erection of a statue to Appert in Chalons, the naming of Appert Streets in several cities, and the placement of plaques on Appert's birthplace in Chalons, the site of his first commercial cannery in Massy, and the house where Appert died in Massy in 1841 at the age of 91.
The ceremony concluded with a presentation by Kenneth Marsh on "Fulfilling Appert's Dream: Using Technology to Insure a Secure Food Supply for the World's Population."
FOOD EXPO Was Biggest Ever
More than 866 companies exhibited in 2,561 booths this year, compared to 853 companies in 2,412 booths last year and 703 companies in 1,855 booths in 1993, the last time IFT met in Chicago. This year's FOOD EXPO included a record number of pavilions representing foreign countries, including Belgium, Chile, China, England, France, and Peru.
Some of the more interesting products exhibited at the FOOD EXPO are discussed in the individual columns in this month's Products & Technologies section (see p. 132).
Many Committees Met
The Executive Committee and the IFT Council met on the Friday and Saturday prior to the Annual Meeting. The Executive Committee approved, among other things, the creation of an Internet Journal of Food Science Education and increasing the content, frequency, and subscription rate of Journal of Food Science. Among other things, the Executive Committee and Council discussed changing the qualifications for Professional Member of IFT but sent the matter back to the Task Force on Professional Membership for further differentiating and enhancing the benefits of Professional Membership.
Most IFT committees and Divisions met throughout the Annual Meeting, and resource rooms were provided by the Committee on Diversity and the Religious & Ethnic Foods Division for use by groups and individuals throughout the Annual Meeting.
Various other activities and awards were presented during the Annual Meeting, including the Atwater Lecture, the Reister-Davis Award, and others.
--- PAGE BREAK ---
Resource Room showcased IFT Products & Services
New this year was The World of IFT Resource Center, which combined the IFT Store, the IFT Internet & Technology Café, and other IFT services and products. There were also booths providing information about Professional Development and continuing education programs, Science Communications Dept. activities, IFT publications, membership, awards, and scholarships. And the IFT Store featured an increased array of products, including t-shirts, pens, laser pointers, and other items.
Many Student Activities Held
IFT's Student Association sponsored many activities at this year's Annual Meeting. They included the Student Association booth providing information; the undergraduate and graduate research paper competitions; the product development competition and poster session; a symposium entitled "Looking into the 21st Century: Futuristic Trends in Food Science"; an open forum for food science clubs; and the Welcome Assembly and Food Technology College Bowl Competition. Winners of the student paper competitions were announced at the Phi Tau Sigma breakfast on Wednesday (see p. 96). In addition, IFT sponsored a career fest, where students could meet with representatives of companies.
Daily Newspaper Published
The IFT Today daily newspaper was distributed to attendees as they entered the McCormick Place convention center Sunday, Monday, and Tuesday. The 32-page newspaper included news and articles prepared by the IFT publications staff—Fran Katz, Neil Mermelstein, Don Pszczola, James Giese, and Betsy Baird—and several contributors, including Pierce Hollingsworth and IFT staff members Lay Quek, Carol Wargo, Angela Dansby, Pamela Pierson, Paul Grassman, Ellen Sullivan, Therese Schaley, Dean Duxbury, and Stephanie Chamberlain.
Many Other Activities
There were too many other activities to show all of them in this article. They included press conferences, various presentations, and many social activities. A few are shown on this page.
Sponsorships Help Support IFT Activities
Several companies sponsored various activities at the Annual Meeting & Food Expo. AC Humko provided videos shown on the shuttle buses each day, promoting Chicago tourism and listing the day's events. Mane USA, Schouten USA, and Idexx Laboratories, Inc., sponsored the people-mover trams that operated down the extra-wide center aisle at Food Expo. Cargill Foods sponsored the badge lanyards. Carmi Flavors & Fragrances sponsored the ExpoScan™ Datacard that enabled attendees to electronically locate exhibited products, company booths, technical session papers, and friends. And McCormick Flavor Division sponsored the Camp IFT Children's Convention day care center. Such sponsorships help support IFT activities and give additional exposure to the sponsors.
Dallas Next Year
IFT's next Annual Meeting & Food Expo will be held in Dallas, Tex., on June 10–14, 2000. Plan now to attend.
--- PAGE BREAK ---
Food Donations Exceed 17,000 lb
After FOOD EXPO closed at 12:30 p.m. on Wednesday, the following exhibitors donated 17,009 lb of food to the Greater Chicago Food Depository. This is an increase from 8,100 lb in 1997 and 11,776 lb in 1998. The Freeman Cos. also donated manpower to collect the donated products from booths, as well as to transfer materials left in refrigerated/frozen storage.
Ajinomoto U.S.A., Inc.
AMPC, Inc.
Basic Vegetable Products
Brewster Dairy, Inc.
Burns Philp
California Date Commission
Carmi Flavors & Frangrances Co.
Cerestar
Cherry Marketing Institute, Inc.
Chr. Hansen, Inc.
Dairy Management, Inc.
Danisco-Cultor
Davisco Foods International
Del Monte Fresh Produce N.A
Erie Foods International, Inc.
Farbest Brands
Fortitech
Frutarom Inc.
Galagen Inc.
Giorgio Foods, inc.
Global Essence, Inc.
Hagelin & Co., Inc.
I.T.I., Inc.
Mane USA
Maselli Measurements, Inc.
McIlhenny/Tabasco Brands
MD Foods Ingredients, Inc.
Moody Dunbar, Inc.
National Starch and Chemical Co.
New World Pasta
Newly Weds Foods
Optimum Quality Grains LLC
Norton Performance Plastics
Perstorp Plastic Systems
Portion Pac/Thermo Pac
Quaker Oats Co.
Robern Australian Fruits
Robertet Flavors, Inc.
Roche Vitamins Inc.
Rykoff Sexton
Sabroso Co.
SKW Biosystem
Soylife/Schouten USA
Spicetec, Ltd.
A.E. Staley Manufacturing Co.
SupHerb Farms
Traina Dried Fruit Co.
USA Dry Pea & Lentil Council
Van Drunen Farms
Watson Foods Co., Inc.
Wixon Fontarome
J.R. Wood, Inc.
by NEIL H. MERMELSTEIN
SENIOR EDITOR