As part of the Institute of Food Technologists' 50th anniversary celebration in 1989, IFT's Expert Panel on Food Safety and Nutrition selected aseptic processing and packaging as the most significant innovation in food science developed during IFT's existence (see "Top 10 Food Science Innovations, 1939–1989," Food Technology, September 1989, p. 308).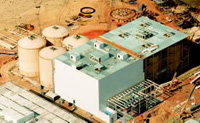 In aseptic processing and packaging, which began in the 1940s, a food or beverage is sterilized, then packed and sealed in a sterile container under sterile atmosphere. The most common container is the ubiquitous "juice box" made by Tetra Pak, Combibloc, and International Paper Co. There are, however, other sizes of packages, ranging from bag-in-box units to aseptic bulk storage tanks and even aseptic ships.
According to Philip E. Nelson (phone 765-494-8256), Professor and Head of the Dept. of Food Science at Purdue University, West Lafayette, Ind.—and recently elected 2000–01 President-Elect of IFT—aseptic bulk storage has taken off "like a firecracker."
In 1976, Purdue University and Bishopric Products Co., Cincinnati, Ohio, were joint recipients of IFT's Food Technology Industrial Achievement Award for the development and commercialization of a system for aseptic bulk storage and transportation of partially processed foods (see Food Technology, June 1976, p. 23). The award-winning system overcame the basic problems caused by the seasonal nature of the fruit and vegetable processing industry—it allowed raw product to be harvested in optimum growing regions, partially processed, then stored or shipped to other locations for final processing later. Processors could draw off as much product as they want any time they want without losing the sterility of the remainder.
The basic process for aseptic bulk storage was developed and patented by Purdue in 1972 and licensed exclusively to Bishopric for commercialization. In the process, raw product is sterilized, cooled, and stored in sterilized tanks made of carbon steel lined with a resin material. Prior to filling, the tanks are washed and chemically sterilized by a clean-in-place system, then purged with nitrogen and filled with product. An aseptic valving system maintains sterility, and the entire aseptic system is continuously monitored by an automatic control system.
The first commercial system, consisting of eight 40,000-gal tanks, was installed at Naas Foods, Portland, Ind., in 1973 for the storage of single-strength chopped tomato, and eight 80,000-gal tanks were installed at Kikko Foods in Haronamachi, Japan, a year later, for storage of tomato puree. Since then, 40,000- and 80,000-gal tanks have been installed at numerous companies for aseptic storage of grape juice, tomato solids, and apple products.
According to Jeff Raasch (phone 513-641-0500), Executive Vice President of the company that was known as Bishopric until 1984 and is now known as Enerfab, Inc., Cincinnati, Ohio, the major use of aseptic bulk storage has been for not-from-concentrate orange juice (NFCOJ).
Since January 1991, the company has provided more than 125 million gal of aseptic processing and storage capacity for orange juice in Florida.
Enerfab, allied with FranRica/FMC FoodTech, Stockton, Calif., provides complete turnkey aseptic bulk storage facilities, Raasch said. It manages the engineering and construction of the entire project, including the foundations, buildings, sterilization and deaeration systems, aseptic storage tanks, tank lining, piping, instrumentation, and controls. He said that the aseptic bulk storage tanks developed with Purdue in the early 1970s were used for quite a few tomato applications for 3–4 years. But then the market changed, and customers started looking for smaller storage units. The technology halted until the mid-'80s, when the citrus industry recognized bulk storage tanks as a way to store NFCOJ. In 1992, to drive cost down compared to other technologies, Enerfab increased the size of the storage units to 1 million gal each. Now more than 125 million gal of orange juice is stored in tanks built in the past five years.
Raasch described the aseptic bulk storage of NFCOJ in a presentation on aseptic processing and storage of citrus juices at the 42nd American Society of Mechanical Engineers Citrus Engineering Conference, March 21, 1996, in Lakeland, Fla. The key to successful long-term aseptic storage of sensitive juice products, he said, is the proper and thorough sterilization and deaeration of the product. FranRica provides the tubular sterilization system coupled with a flash deaeration system.
The sterilization unit is a fully automatic, self-contained processing system consisting of a product feed tank, feed and flow control pumps, tube-in-shell heaters and chillers, and tubular regenerative preheating/precooling sections, insulated hot hold tube, hot water heaters, integrated clean-in-place/water startup system, and full PLC control system. A separate deaeration system removes oxygen and other noncondensable gases from the product. The two systems are controlled by a central PLC system.
The entire aseptic processing system is sterilized with hot water at 250ºF for at least 30 min. The deaeration system is bypassed during the system sterilization cycle because it is not in the sterile zone. Orange juice at approximately 40ºF is heated through a series of steps to up to 150ºF before entering the deaerator system. There, the preheated product is cooled back to 130ºF by flash evaporation, and the deaerated product is returned to the sterilization system. The flash vapors are condensed, and the condensate is added back into the process juice flow. Oil and essence are removed, and the essence is also added back to the juice. The product is then heated to approximately 210ºF and held for a period of time required for sterilization. It is then cooled to 35ºF and stored in the bulk storage tanks. The aseptic system is designed to maintain sterile conditions during interruptions.
To sterilize the aseptic bulk storage tanks prior to filling, they are rinsed with potable water, followed by a caustic wash to remove any residual soils and a phosphoric acid rinse. The tank is then filled with an iodine solution, then drained with overpressured sterile nitrogen. The interconnecting piping is sterilized with hot water. Raasch said that the tanks have been maintained in an aseptic condition for more than four years at one Florida installation without the need to clean and resterilize them.
Over the years, Enerfab, in conjunction with Purdue and FranRica, modified the technologies related to tank lining and mixing technology. In the past, aseptic bulk storage tanks were usually constructed of stainless steel and held up to 250,000 gallons. Larger volumes required alternative materials of construction. They therefore tested and selected an epoxy lining for carbon steel that is suitable for use with orange juice. The lining, Enerfab's proprietary Lastiglass Munkadur, does not significantly scalp flavor, and is not affected by the juice.
Mixing technologies also had to be modified to satisfy manufacturing requirements for larger-volume storage tanks. A fluid dynamics computer model was developed to predict flow patterns in larger tanks and was used to understand flow details for the scaleup to larger vessels. The agitators are mounted at the lowest point in the sloped-bottom tanks. Juice at the bottom of the tank is subjected to pressures of 2.5 atmospheres.
The size of the tanks has increased over the years. Typical tank sizes are 40,000–120,000 gal for tomato products, 600,000 gal for grape juice and apple juice, and 1 million gal for citrus juice. As the size increases, the cost per gallon for the entire complex drops considerably, Raasch said, and operating and maintenance costs also decrease.
With regard to aseptic bulk transportation, Purdue and Bishopric, with Sea-Land Container Corp., conducted trials in the 1970s with 4,000-gal portable aseptic bulk tanks that could be mounted on trucks or rail cars. Purdue and Bishopric developed a rail car, called the Asepticar, capable of aseptically holding and completely emptying 20,000 gal. The rail cars were used for tomato paste but were later discontinued and the cars converted to other purposes. Nelson added that 300-gal bag-in-box containers are now being used in place of rail cars. Raasch said that Enerfab is currently developing other aseptic transport systems for orange juice, including converting existing tankers and ISO international containers. The bulk tanker trucks typically carry 5,400 gal of product.
Nelson pointed out that ships are also being used for aseptic transport. The ships, the length of two football fields and capable of holding 3.2 million gal each, serve the Citrosuco transport and distribution system. Citrosuco North America, Inc., sister company to Citrosuco Paulista, S.A., one of Brazil's largest producers of orange juice, has made multiple deliveries of chilled Brazilian NFCOJ to Florida in recent months. Citrosuco North America, formerly Juice Farms, Inc., has been the exclusive North American distributor for Citrosuco Paulista since 1983.
According to Elliott Seabrook (941-696-7400), President of Citrosuco North America, Lake Wales, Fla., Citrosuco has developed technology that enables it to transport the chilled NFCOJ by bulk vessel under aseptic conditions. The technology overcomes the problem of maintaining sterility during the multiple transfers involved in transporting aseptic products by ship.
As far as other developments in the area of aseptic processing, I asked several experts what they see ahead.
Nelson said that there have been new and improved pumps, deaerators, heat exchangers, controls, and sensors, as well as a lot of developments in fillers and packaging. Probably the hottest thing in the packaging area, he said, is the use of cold-filled PET bottles for high-acid products such as juices. We'll see this area grow in the future, since it allows packages to be made of less material without deforming. There will also be new package designs that are more consumer appealing, and a lot of activity with milk and other low- and high-acid products.
Work is being done on use of steam sterilization and new ways of sterilizing materials. A major concern today is safety considerations built into the system. Currently, we're probably overprocessing products to make sure they are sterile, Nelson said. So we have a long way to go with regard to optimization of the process, while meeting food safety regulations with a continuous system.
Steve Smith (765-494-7706), Processing Specialist in Purdue University's Dept. of Food Science and coordinator of Purdue's 17th annual Aseptic Processing and Packaging Workshop, to be held on May 15–18, 2000, in West Lafayette, Ind., said that work is expanding in a number of areas, such as extended-shelf-life products. NFCOJ is a growing product, with higher sales than from-concentrate juice.
Among the areas being worked on are automation and sensor development, he said, since aseptic processing needs to rely on automation more than other types of processing. There's no room for error, from a microbiological standpoint. With regard to continuous aseptic processing, it is difficult to sample in-line, since it requires sterilizable, nonintrusive sensors. The more in-line information we obtain, the better off we'll be, he said.
Sensors are very important in aseptic processing because of the complexity of the operation. In the past five years, he said, there have been advances in use of in-line refractometry; in-line near-infrared sensors for product composition (fat, protein, carbohydrate, moisture contents); Raman laser for the same analyses; and in-line viscometry. Work is also being done on use of sensors to determine the cutoff point (boundary) between water used to sterilize the equipment and the product flow.
Ken Swartzel (919-515-2951), William Neal Reynolds Distinguished Professor and Head of the Dept. of Food Science at North Carolina State University, said that the National Science Foundation's Center for Advanced Processing and Packaging Studies, of which he is Managing Director, has 15 active projects, including many dealing with aseptic technology. The center began in 1987 as the Center for Aseptic Processing and Packaging Studies (see Food Technology, December 1987, p. 96) but exchanged "Aseptic" for "Advanced" as the University of Calfornia–Davis and Ohio State University also became members of the multi-site center with NCSU.
Through its 24 industrial members, CAPPS has funded 60 projects on basic research of industrial interest during the past 13 years. Our knowledge of continuous-flow processing and packaging has been greatly expanded, Swartzel said. In 1995, CAPPS and the National Center for Food Safety and Technology embarked on the challenge of providing consensus guidelines useful for industry to obtain the Food and Drug Administration's allowance (in the form of a "no-rejection" letter) to process low-acid products containing particulates (see Food Technology, October 1997, p. 43). As a result, industry and government agreed for the first time on safe reliable practices and methods of documentation for processing low-acid food products containing particulates. Research advances continue to be made in this area (see "Measuring Temperature and Residence Time Distribution with Magnets," Food Technology, October 1999, p. 86).
Swartzel said that numerous nonthermal and novel thermal processes are currently being examined. Much work is also being done to extend the shelf life of refrigerated products utilizing aseptic technology. Initial work in this area was also performed at NCSU and earned IFT's 1994 Food Technology Industrial Achievement Award (see Food Technology, September 1994, p. 94). This work, for the first time, provided refrigerated liquid egg products more than three months of shelf life and demonstrated to the process community the enormous benefits of utilizing aseptic technology for nonsterile products. Many advances have been made in this area since 1989, he added.
An idea of additional work being done in the area of aseptic processing is indicated by the symposium that will be presented at this year's IFT Annual Meeting in Dallas, Tex., June 10–14. The symposium, "Aseptic Packaging to Extend Refrigerated Shelf Life," cosponsored by the IFT Food Packaging Div. and the IFT Food Microbiology Div., will be held on on Wednesday morning, June 14. The speakers and their topics are as follows:
R.W. Swank of Tetra Rex, Inc., will discuss aseptic design considerations for improving the product safety and shelf life of refrigerated foods; Kurt E. Deibel of Tropicana, Inc., bulk aseptic storage of not-from-concentrate orange juice; Sevugan Palaniappan of Minute Maid Co., aseptic packaging for extended-shelf-life chilled juices; A. Guenter of SERAC, Inc., container flexibility for extended-shelf-life/aseptic bottle filling of low- and high-acid food products; G. Buteaux of Sidel, S.A., solutions for aseptic filling of juices and beverages in PET bottles at high speeds; P. Consitt of Operational Innovations, Inc., clean room technology in the food and beverage industry; Jarius David of Gerber Products Co., application of clean room technology for assurance of food safety of minimally processed foods; and T. Evans of Pacific Pre-Cut Produce, cleanroom technologies in the sprouts industry.
PATENTS
Ultra high pressure, high temperature food preservation process. U.S. patent 6,017,572, filed 12/2/1998, issued 1/25/2000 to R.S. Meyer. Describes methods for achieving the commercial sterilization of foods having a pH of 4.5 or greater by treatment of the food to two or more cycles of high heat and high pressure, with a brief pause between cycles. The pressurization schedule relies on the additional instantaneous, uniform heat from adiabatic pressurization and then instantaneous, uniform adiabatic cooling during depressurization for each cycle. The low-acid food is preheated to at least 70ºC and pressurized to at least 50,000 psi for a predetermined period of time, after which the pressure is released. Then the food is subjected to at least 50,000 psi for a second period of time, followed by depressurization and cooling. The method produces a sterile food product that retains substantially uncooked flavor and texture.
Process for producing quick-boiling pastas and noodles. U.S. patent 6,036,987, filed 6/9/19, issued 3/14/2000, T. Fukuyama, assigned to Feed Up Inc. Describes a process for producing pastas, such as spaghetti, macaroni, lasagna, and shells or Japanese or Chinese noodles such as udon, soba, and hiyamugi, that can be prepared by boiling in 3 min or less, preferably 30 sec or less, to acquire the same al dente condition or consistency as can be attained by prolonged boiling of dry pastas or noodles. Dry pastas or noodles are heated with wet heat for a short time so that only their surface layer portion is converted to the alpha-starch; they are then cooled, dried to remove the surface moisture, immersed in water to have it absorbed, and subsequently cooled for a short time.
Method for preservation under pressure. U.S. patent 6,033,717, filed 7/12/1999, issued 3/7/2000 to W. Agterof et al., assigned to Unilever Patent Holdings. Describes a continuous ultra-high-pressure process suitable for processing foods. It substantially decreases the viability of microorganisms and deactivates enzymes in a contaminated substance by passing the food in a steady flow through an open narrow tube in which the pressure difference between the entrance and exit is maintained at 100 MPa or more.
Hydraulic pressure sterilization and preservation of foodstuff and feedstuff. U.S. patent 6,033,701, filed 11/25/1996, issued 3/7/2000 to G.H. Hirsch. Describes a process for preserving foods by applying a pressure of at least 70 MPa at 18–23ºC for more than 12 hr, then reducing the pressure to ambient. Some meat and seafood require maintenance of pressure for the duration of storage, and most can be held in good condition without spoiling for more than 1 mo. Some fruits and vegetables can be stored without refrigeration for at least 6 mo.
Demineralization of milk and milk-derived products by electrodeionization. U.S. patent 6,033,700, filed 10/8/1997, issued 3/7/2000 to R. Berrocal et al., assigned to Nestec S.A. Describes demineralization of a liquid milk product, including a milk and a whey other than sweet whey, by passing it through a resin bed of strong cationic exchange resin contained in an electrodeionization dilution compartment, or through a resin bed of weak anionic and strong cationic exchange resins in the compartment. The pH of the wash solution present in the compartments is maintained at less than 5. The demineralized product can be used as components of infant and dietetic products or as ingredients for the replacement of skimmed milk in confectionery chocolate manufacture or in the manufacture of reconstituted milks.
---
Products & Literature
MODELING AND SIMULATION SOFTWARE,
Q-Mast™, enables a process engineer to create process models and predict process behavior from historical plant data. It can model complex processes with highly interactive variables, long dead times, integrating characteristics, and inverse responses, without any plant disruptions or response testing. It can identify and graphically display process gains, responses, dead times, and the effect of disturbance variables on the process. It is part of the QuickStudy™
Control System software suite, a set of software products that helps companies minimize process variability to improve process yields, quality, and throughput. For more information, contact Adaptive Resources, P.O. Box 62245, Pittsburgh, PA 15241 (phone 724-746-4969, fax 724-746-9260)—
or circle 386
.
ULTRASONIC FLOWMETER, the Time Delta, can be used with a variety of sensors applicable for a wide range of pipe sizes (0.5–235 in in diameter) and fluid temperatures (–40 to 200ºC). It is designed to provide an accuracy better than ±1.0% by dynamic correction of fully developed flow profile and improved tolerance of air bubbles and light solids. The unit has a large backlit LCD, an easy clamp-on design, and simple menu-driven programming from the front keyboard. For more information on the Fuji Electric Time Delta Ultrasonic Flowmeter, contact TTI, Inc., P.O. Box 1073, Williston, VT 05495 (phone 800-235-8367 or 802-863-0085, fax 802-863-1193, www.ttiglobal.com) —or circle 387.
PASTEURIZATION SYSTEM continuously produces safe, pathogen-free raw eggs without denaturing the protein. As a result, the raw eggs can be safely used in Caesar salad dressing, health drinks, and other foods. The system pasteurizes up to 5,000 dozen eggs/hr using an automated batch process. Flats of fresh eggs are loaded onto carriers and transferred through a warm bath of aerated water. The egg carriers are then immersed in a bath of chilled water, then sealed to prevent contamination. For more information, contact Pasteurized Eggs, L.P. (phone 603-528-3042, fax 603-524-5235). The equipment is manufactured by Heat and Control, Inc., 21121 Cabot Blvd., Hayward, CA 94545 phone 510-259-0500, fax 510-259-0600)—or circle 388.
CRYOGENIC APPLICATIONS, GASES, AND EQUIPMENTfor the food processing industry are featured on a new Web site, www.airproducts.com/food/. The information is presented by food segment (bakery and desserts, beverages, dairy and ice cream, fruits and vegetables, meats, poultry, prepared foods, seafood, and snacks) and by application (tunnel freezing/chilling, batch freezing/chilling, immersion freezing, low-temperature mechanical refrigeration, three-dimensional ice cream molding, and others). An interactive assessment guide allows users to calculate the economics of liquid nitrogen freezing for their specific applications. For more information, contact Air Products and Chemicals, Inc., 7201 Hamilton Blvd., Allentown, PA 18195-1501 (phone 800-654-4567, fax 800-880-5204)—or circle 389.
INDIVIDUAL QUICK FREEZING of foods for production of ready-meal and foodservice products such as shrimp, fruits, and vegetables is accomplished by the CrustoFreeze cryogenic prefreezing system. It provides a frozen crust on each piece via immersion in a stream of liquid nitrogen rather than in a liquid nitrogen bath, and preserves shape, flavor, and moisture content through the finish freezing process. Manufactured by Frigoscandia, the system is a compact unit that fits easily into production lines immediately ahead of a finishing freezer. Products enter the IQF pan from above, together with a continuous flow of liquid nitrogen that cushions the fall and separates the pieces while freezing a very thin layer of each piece to prevent clumping. The crust-frozen pieces then go through a combined nitrogen dip and spray to complete the crust freezing. For more information, contact AGA AB, S-181 81 Lidingo, Sweden (phone +46 8 731 10 00, fax +46 8 765 2487, www.aga.com) —or circle 390.
MEAT PROCESSING SOFTWARE offers total integration of all productivity and administrative functions in the entire meat processing operation. It allows all participants to instantly access important information regarding any of the areas in the meat processing operation. The software system consists of separate modules that can function as stand-alone units or an integrated system. In addition to business management functions, the production aspects include computer integrated manufacturing, country-of-origin labeling, integrated food compliance labeling, slaughterhouse and kill floor module, least costing, paperless HACCP, optimized batch management, and others. For a 4-p brochure describing the turnkey software system, contact CSB-System International, Inc., 3131 Camino del Rio North, Suite 580, San Diego, CA 92108 (phone 800-852-9977 or 619-640-0436, fax 619-640-0476, www.csb-system.com) —or circle 391.
PATTY FORMER, model 750, produces four hamburger patties per stroke with accurate weight control, minimum leakage, and rapid changeover. A vane pump feed system uses a rotating spiral to move product to the rotor, eliminating overworking, bridging, and backflow, while maintaining texture. The pump feeds directly to the mold plate cavity and can portion certain items at more than 48,000 lb/hr. An optional vacuum paper-interleaving attachment can place individual precut sheets of waxed paper under each patty for fresh or frozen applications. For more information, contact NuTEC Manufacturing, 908 Garnet Ct., New Lenox, IL 60451 (phone 815-722-2800, fax 815-722-2831, www.nutecmfg.com) —or circle 392.
CONTINUOUS FRYER, the HeatWave™, exposes foods to only clean, filtered oil. Foods are physically separated from unfiltered oil and fines by a divider plate. Freshly filtered and heated oil enters the fryer in multiple, gently flowing curtains. Only enough oil is used to enrobe the food, quickly transferring heat by dissipating the insulating layer of steam that inhibits heat transfer in submersion fryers. The fryer achieves the same level of cooking and color development as other continuous fryers while using less oil. For more information, contact Heat and Control, Inc., 21121 Cabot Blvd., Hayward, CA 94545-1132 (phone 510-259-0500, fax 510-259-0600)—or circle 393. 
---
WHERE CAN YOU FIND ALL THESE RESOURCES AND MORE?
Membership Information
Career & Education Information Resources
Products & Services
Advertising Opportunities
Daily Food Industry News 
Meetings & Expositions 
Annual Meeting Information
Online Publications
@www.ift.org
---
"Median salaries continue to increase, while IFT membership demographics and employment status remain essentialy unchanged."
1999 IFT Membership Employment & Salary Survey
Check it out on page 69.
by NEIL H. MERMELSTEIN
Senior Editor